What Is the Purpose of an I-9 Form?
The purpose of an I-9 Form is to verify the employment eligibility of workers hired at US-based businesses. The I-9 Form validates an employee's identity and confirms that the worker is legally eligible to work in the United States. Every employee must fill out an I-9 Form, whether or not they're a U.S. citizen. Both the employer and the employee are required by law to fill out the form.
I-9 Violations
Employers who don't complete and retain I-9 Forms can face severe punishments. Businesses that knowingly hiring and employ unauthorized workers can be fined as much as $16,000 per ineligible employee.
Technical violations aren't punished immediately. The company is first notified of a violation and given ten business days to correct the error. Technical violations of the I-9 Form can include:
Failure to include the employment start date
Failure to date either the employee or employer section of the form
Failure to disclose that an employee is under 18 years old
Failure to include the date an employee was rehired in the section of the form related to rehiring practices
How to Download Form I-9 Using Deskera People?
Using Deskera People you can Download federal form I-9 for employer with the , following  steps
Go to the Report Tab>> under Federal Forms Section>> click on  form I-9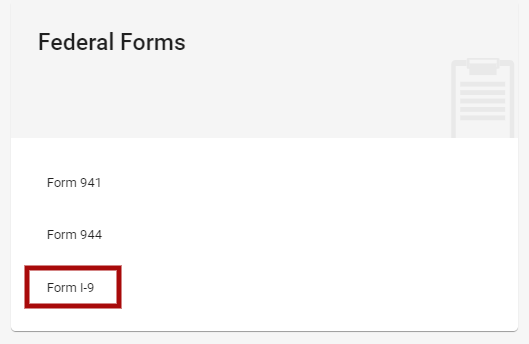 2. A below screen will appear,

Year - Select the year from drop down list
Select Employee : Select the employee from the drop down list for whom you need to download the form
After the above details are selected, click on Download form button and a below form I-9 will be downloaded for further submission to IRS,