With Deskera Books software, users can send emails to the respective party in different modules such as quotes, bills, orders, and even invoices.

Follow the steps as mentioned to send a bill, order, quote, and invoice documents to your customers and even vendors:
Go to the module you prefer and select the Bill, Quote, Order, or Invoice basket.
2. Next, click on the contextual menu (three vertical dots) of the specific document you wish to include in the email.
3. Then, select the 'Email' button.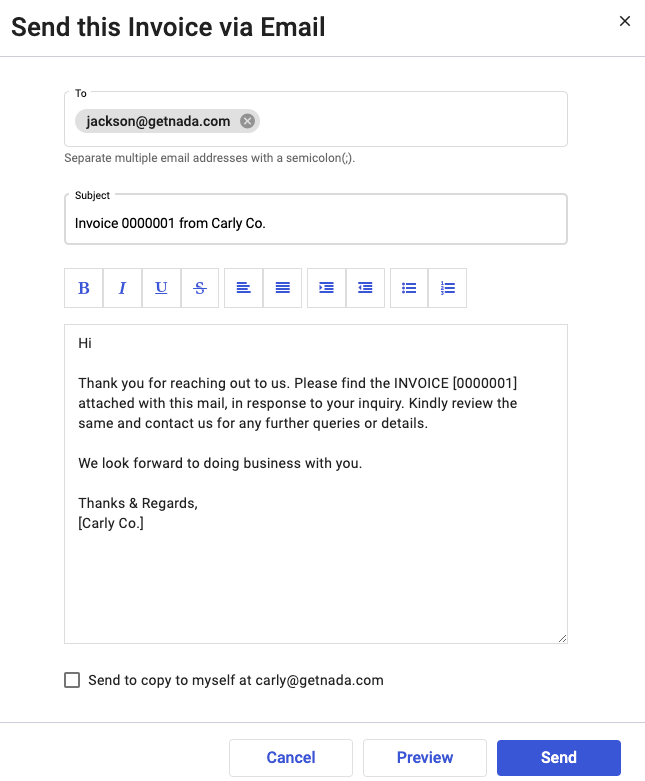 4. Next, indicate the recipient's email and the content of the selected module will appear. You may send the documents to multiple emails at a time. The system will generate a generic email template in the email body that you can also edit to suit your preference.
5. Ensure that you indicate a semi-colon(;) to separate the multiple emails.
6. Tick the checkbox at the bottom of the screen if you wish to keep a copy of the email to yourself.
6. Lastly, click the 'Send' button.
Instead of sending the documents via email, some users prefer to print out the invoice, bill, order, or quote and mail the hardcopy of the documents to their respective customers and vendors.
To print out the document, you will need to select the individual document >> Click the contextual menu (three vertical dots) >> Select the Print option.
Congratulations! You have successfully learned how to send documents via email.