Once you have connected your bank account to Stripe, you can send the Stripe link to your customers. This enables them to credit the payment to you directly via the link you send them.
Check out on the steps as mentioned below to send the Stripe link to your customers:
1. On the main dashboard, click on the Sell tab.
2. Click on the contextual menu of the Invoice you wish to get paid via email through stripe payment.
3. Select the Email option.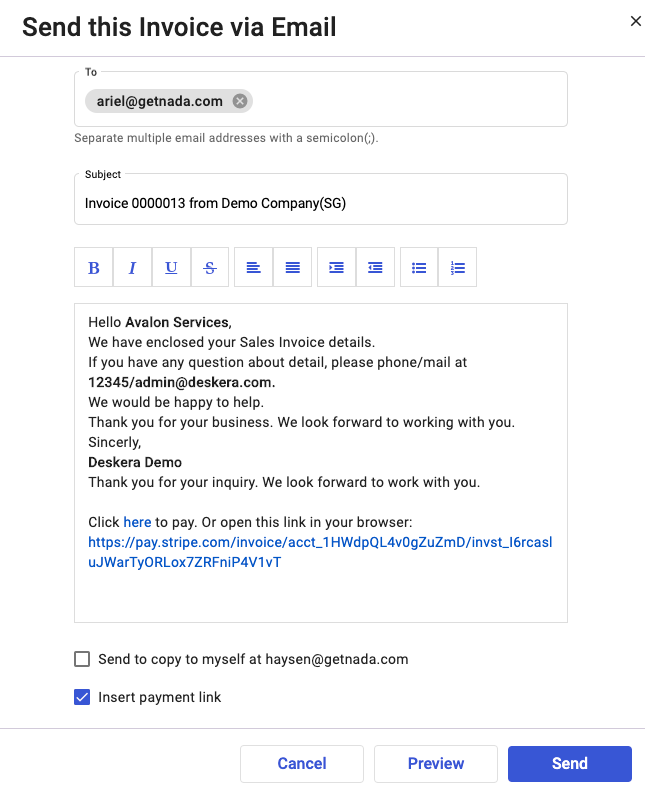 4. The email template will appear, you can enter your customer email address, add a ; (semicolon) to add more email address.
5. By ticking on the Insert Payment link, the stripe payment link will appear below in the main email body of the invoice payment which you have filled in the Bank account details under Connect to stripe.
6. If you click on the link in the email, the page below will appear where you need to add your card details. In this page you can view:
The name of the person from whom you have received the payment, bill-to details, and invoice number.
You can view the total invoice amount along with the due date.
Add the card details such as your card number and CVC.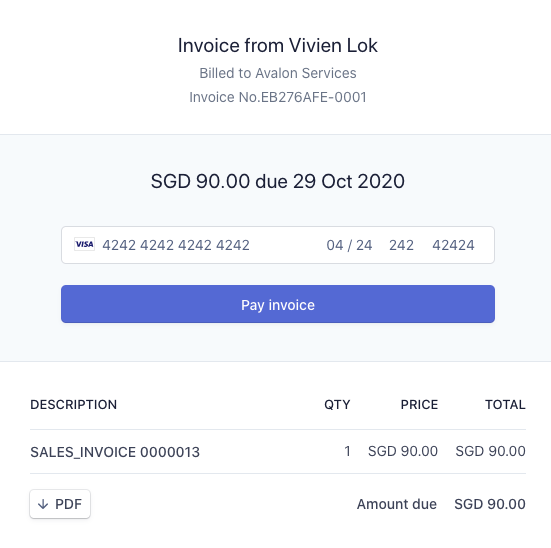 Upon confirming the product and the amount, click on the 'Pay Invoice' button. To send an invoice on email, click on the send option and the vendor will receive the payment invoice PDF attached to the email for making payment.
In the email, a separate link will also be mentioned where the invoice can be paid through stripe payment. The image below shows the email template which you will receive for making the invoice payment.
Finally, your customers can make payment to you conveniently via the payment gateway from Stripe.