In the previous article you have seen how to add company details and company tax details for India payroll compliance. Now let us see how to add employees compliance details using Deskera People.
After entering the Employee Details and Components, click on the Next button which will take you to the next screen of Compliance Details.
Fill in the following details under Compliance Details,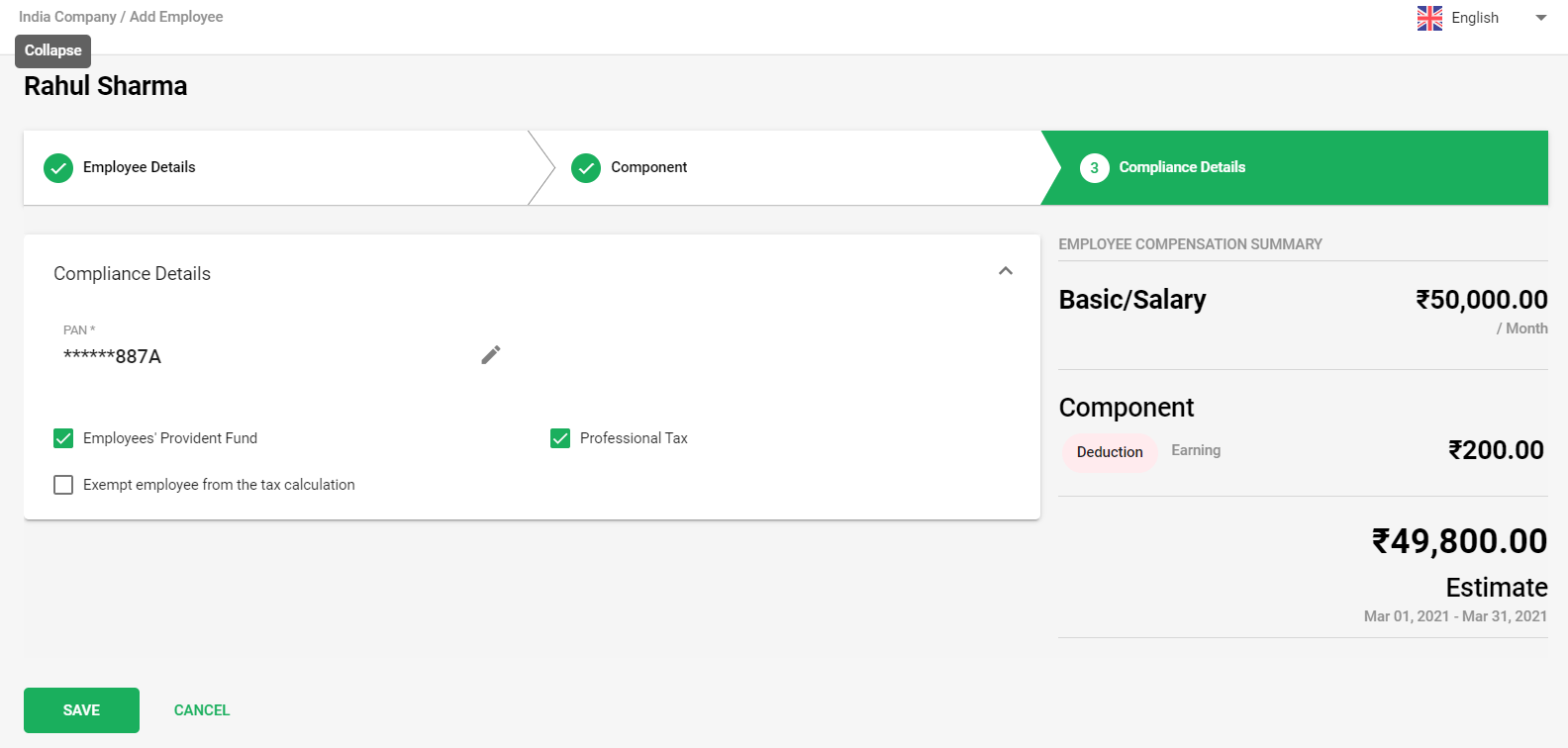 PAN -  Enter Employee PAN number
PAN, or permanent account number, is a unique 10-digit alphanumeric identity allotted to each taxpayer by the Income Tax Department under the supervision of the Central Board of Direct Taxes. It also serves as an identity proof.
Employees Provident Fund - Tick on the check box if you are applicable for EPF
Employees' Provident Fund or EPF is a popular savings scheme that has been introduced by the EPFO under the supervision of the Government of India. The EPF contribution rate for employees is fixed at 12%.
Professional Tax - Tick on the check box if you are applicable for PT
The maximum amount of professional tax that can be levied by a state is Rs 2,500. It is usually deducted by the employer and deposited with the state government. In your income tax return, professional tax is allowed as a deduction from your salary income.
Exempt employees from tax calculation - Tick on the check box if for any employee tax calculation need not to be made.
After all these compliance details are filed in, click on the save button to calculate the tax.

Import Employees with compliance Details

Now you have an option to Bulk Import Employees for India along with their compliance details.
You can do this by simply downloading the excel spreadsheet, fill in the details and upload this file. With this import function it will help you save your time.