As your business grows and you're hiring more employees, you will need to segregate them into a few different teams to check and view the leave application of each team more efficiently.
You can organize your users into different groups to get a better insight on the leave application of each team. To create a team, follow the steps as stated below:
Go to the 'Settings' on the sidebar menu >> Click on the 'User Management' tab.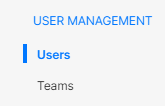 2. Under the user management, select the 'Teams' tab on the right-hand side of the page.
3. Next, click on the '+ Add Team' button.

4. Fill in the specific fields such as:
Team Name
Add new users to the team. The users here are the ones you've created here.
Add the user's role: Choose either the user or the manager.
5. Click on the 'Add Another Team' button to create another team in the system.
6. Select the 'Save' button at the top right of the page.
Once the team is successfully added, go to the Team Summary List to view all the teams you've created. On the Team Summary List, you'll see the number of users assigned to the team as well as the number of managers in that particular team. It's normal to have more than one manager in a team.