A trial balance is a list of General Ledger accounts in which the balance of the debit and credit account are reflected as equal.
A Trial Balance serves as an essential function by allowing businesses to spot discrepancies if the total of debit balances is not the same as the total of credit balances.
On the Deskera Mobile App, under the Accounting Modules, click on the Trial Balance module where you can view Trial Balance statements as of a date so that you know all accounts' Total debit or credit balance as of the filtered date.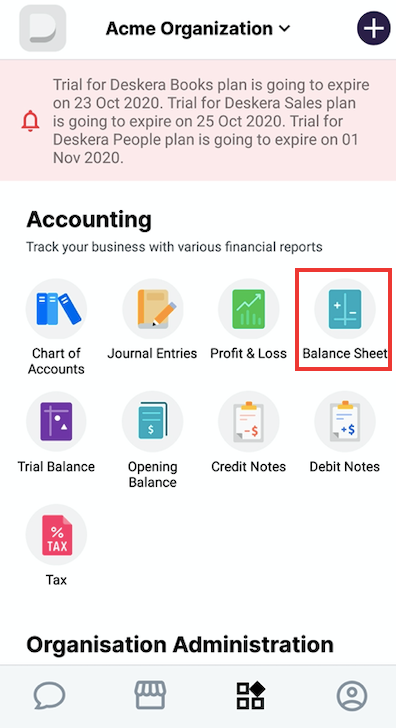 You can view the following details in Trial Balance: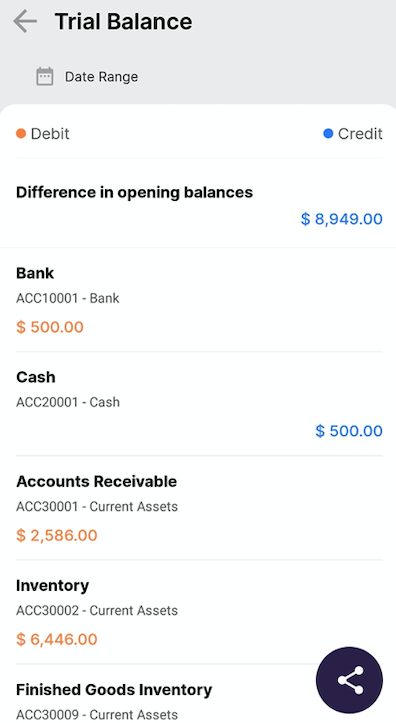 The current date will be shown as a default date
You can sort the amount as you need it by clicking on the "Sort By Amount" option
You can change the date range by clicking on the "Date Range"
You will see the "Difference in Opening Balances" if it is non-zero in either Debit or Credit accounts.
Once you have made the transactions, when you go to the Trial Balance, you will see the expected amount of each line and category is mapped based on the account you have created in the system.
By clicking on the "Share " icon, you can share the trial balance details on different Apps for easy viewing and access. The objective of balancing these accounts from General Ledger is to ensure that the double-entry system is being used correctly.
Deskera Mobile App will reduce the occurrence of your Trial Balance not being balanced as the system automatically populates your Journal Entry, and errors will be highlighted so that you can make any necessary adjustments.
Congratulations! You have successfully learned how to view Trial Balance using Deskera Mobile App.