Pay Schedules are used to set up pay runs. The pay schedule's settings are used for each pay run to calculate what to pay employees.
There is no limit to the number of pay schedules. You can create and configure for any combination of pay frequencies. You can have multiple Monthly, Weekly & Twice per month pay schedules.
Pay Schedule is a combination of two pieces of info: your pay period & your pay date. The pay period time frame during which your employee worked. The pay date is the day they receive their wages for the pay period.
Using the Deskera People, you can add multiple pay schedules for your employees at any time, before processing the payroll.
Following are the steps to add the Pay Schedules,
1. Click on the Pay Schedules located on the left-hand side of the main dashboard.

2. A screen will appear, and by clicking on the +Add Pay Schedule button you will be able to create a new pay schedule for the employees in the system

3. After clicking on the +Add Pay Schedule tab below window will pop up where you need to fill in the required information for creating the new pay schedule.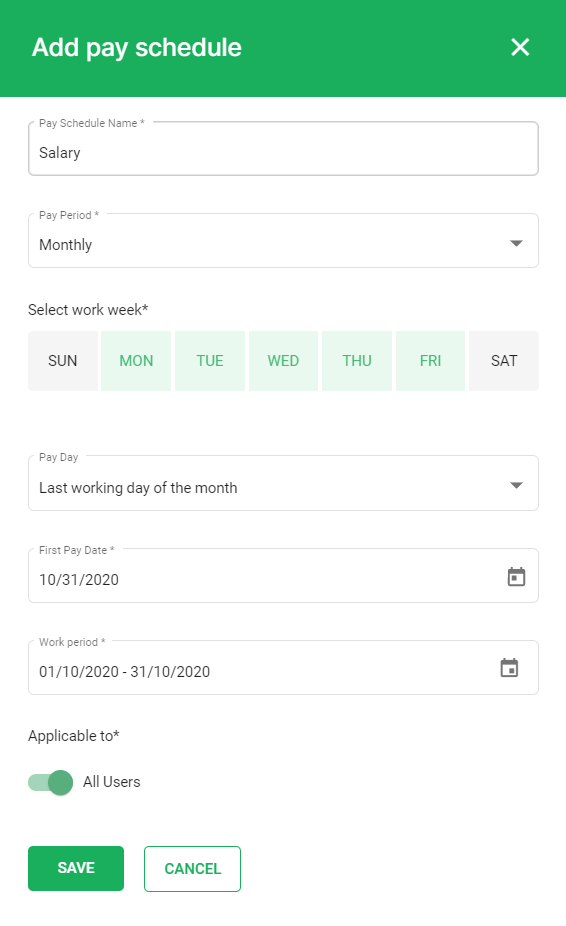 Pay Schedule Name: Select Pay Schedule Name
Pay period: You can select the pay period, When the employee is paid Options: a) Monthly, b) weekly, c) Twice per month.
Workweek: Buttons with Mon, Tue, Wed, Thu, Fri, Sat, and Sun will be visible. As a user, you can select the days involved in a workweek. (Mon to Fri will be highlighted by default), No of days checked = 5. This data will be translated to the number of days = 5 (Default)
PayDay: it will display the default date for the time period mentioned in the pay period or you can select the day from the drop-down menu.
First Pay Date: Pay date will be auto-populated as per the payday selected or also you can select the payment date from the drop-down menu
Work Period: Select the work period date range
Applicable to: Under this, the Admin User has an option to select if this new Schedule pay is applicable to all users or any particular user only.
Lastly, click on the Save button once all the information is filled and the new pay schedule will be added to the system. The added new pay schedule will be reflected in the Pay schedule list.
Congratulations! You have successfully learned How to add a pay schedule using Deskera People.