With Deskera Books+ software, you can now add multiple organizations in a single account.
For example, if you're the parent company of ABC Private Limited and you wish to oversee two subsidiary companies that you own, you can proceed to add two more subsidiary companies by following the steps below.

Go to the sidebar menu and click on the drop-down arrow next to the organization's name.
Next, select the  '+ Add Organization' button.
When creating an organization, you are required to fill in the following details:
The Organization Name
Tax Residency
Financial Start Date and Booking Beginning Date
Currency
Address Details
Tax Number (as applicable for the Country selected)
4. Click on the 'Save' button.

Finally, you have successfully added a new company on Deskera Books+. To view the information of the particular company, you can toggle between different organizations you've created by clicking on the drop-down arrow as shown above.
How to edit, view, and delete existing organizations?
You can always view your company's information by following the instructions below:
1. Go to Settings → Organization Settings on the sidebar menu.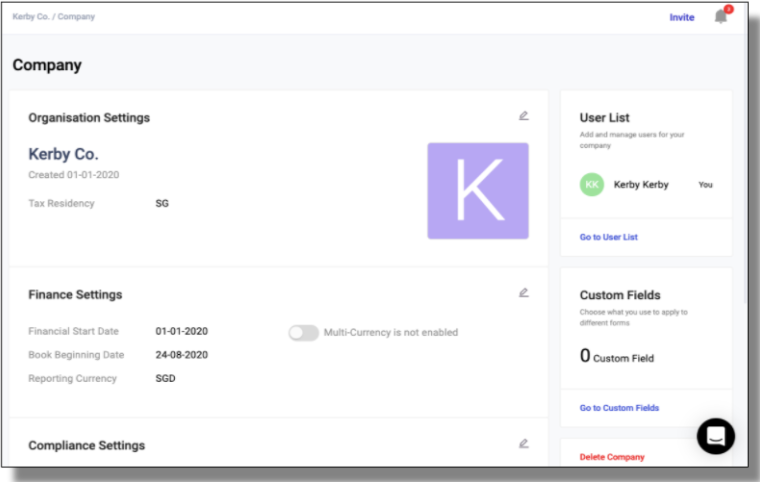 2. You can view the following fields shown on this page:
The financial setting - you cannot edit the financial setting except enable the multi-currency feature.
Compliance setting - editable and can always opt-in for e-invoicing
Company's shipping and billing address - you can update and edit the information all the time.
3. Note that you can always delete the existing company by clicking on the Delete Company button from Settings section of Go Dashboard (https://go.deskera.com/). Once you delete the organization, you cannot recover back the information for this organization.
Note: Only the owner of the organization can delete the company. If your user roles are tagged to sell&buy, accounting, auditor, or even admin, you cannot delete the organization.