As a Company Creator, when you add your organization, you can directly add new members to your organization.
These members refer to the employees in your organization. You must add your employees as members to your organization so that you can grant them the specific access to the Deskera App, wherein they can manage the required business processes.
Add Members to My Organisation via Users
You can access the user's icon to add new members to the organization as well as grant them the user level access.
On the respective organization's dashboard, click on the Users icon under the Organization Administration.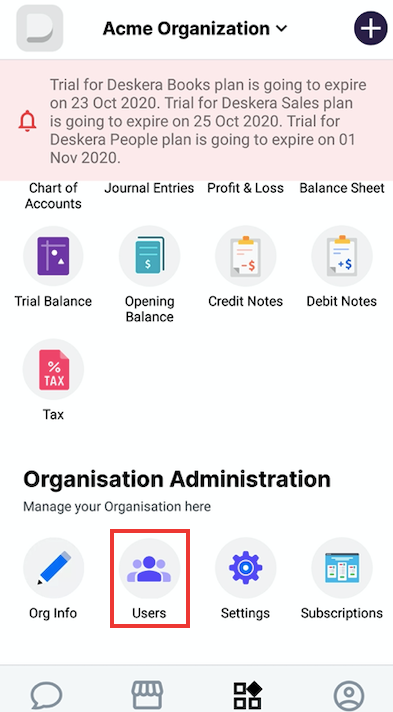 Once you have tapped on the "+ Add Users" icon, you will need to fill in the user's name and also the user's email address. Assign a role to the users by clicking on the drop-down arrow.
Choose from roles such as Admin, Accounting, Business, and Auditor.
Once this is done, tap on the 'Tick' button at the top right of the screen to save the user
Deleting users on Deskera Mobile App
You cannot delete the users from Deskera Mobile App. If you wish to delete the users or mark the users' status as inactive, you can sync your account to the web account to do so.