Generally, a deposit is a sum of money paid into a bank for the reason of safekeeping or as a pledge.
Using the Deskera Books system, the deposit term means the inflow of money to the organization. Users can create an advance payments in the system. Advance payment is the type of payment where payment is made earlier before its normal schedule. For example, some customers prefer to make payments in advance before they receive the products and services.
To create an advance payment on Deskera Books, follow the steps mentioned below:
Go to the Accounting tab on the sidebar menu.
Click on the Deposit Tab.
Click on the dropdown arrow next to the 'Create' button on the top right of the page.
Next, click on the Advance Payment button.



5. Fill in the contact, choose the account to pay from, and the payment date. If you select a cheque or bank, you will need to fill in the reference number and reference date.
6. Next, select the account related to the advance payment, the amount, and tax applied if.
7. Fill in a short description in the memo box at the bottom of the page and click Save.
8. To apply for the advance payment, go to the Sell Module.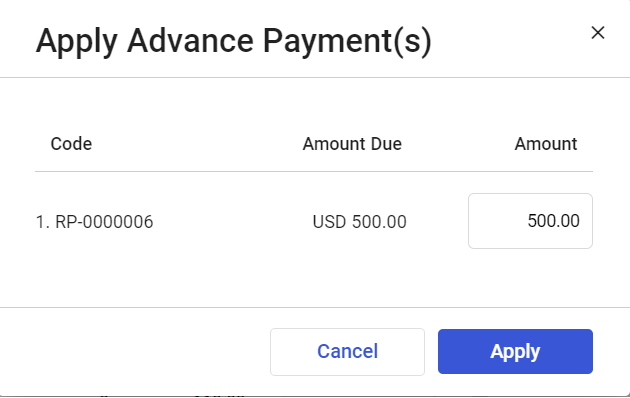 9. Click on the specific Invoice and in the Invoice page, select the Apply Advance Payment button.
10. A pop-up will appear, fill in the amount customers pay in advance. The amount here is based on the total amount you've indicated in the Deposit Module previously.
11. Once done, click on the Advance Payment button and the amount in the Invoice will be adjusted.