Using the Deskera Books+ software, your company's finance team can compare the company's sales and purchases against your bank records.
This functionality enables you to easily track the accounts payable and accounts receivable of the businesses.
Click on the "Bank" icon, and under the bank reconciliation tab, users can match the cash balances on the balance sheet to the corresponding amount of their bank statement so they can determine the differences between the two.

To check the bank reconciliation of your company, follow the steps as stated below:
Go to the Bank tab on the sidebar menu.
On the Bank page, click on the Reconcile button.
This will direct you to the respective bank page as per the image below.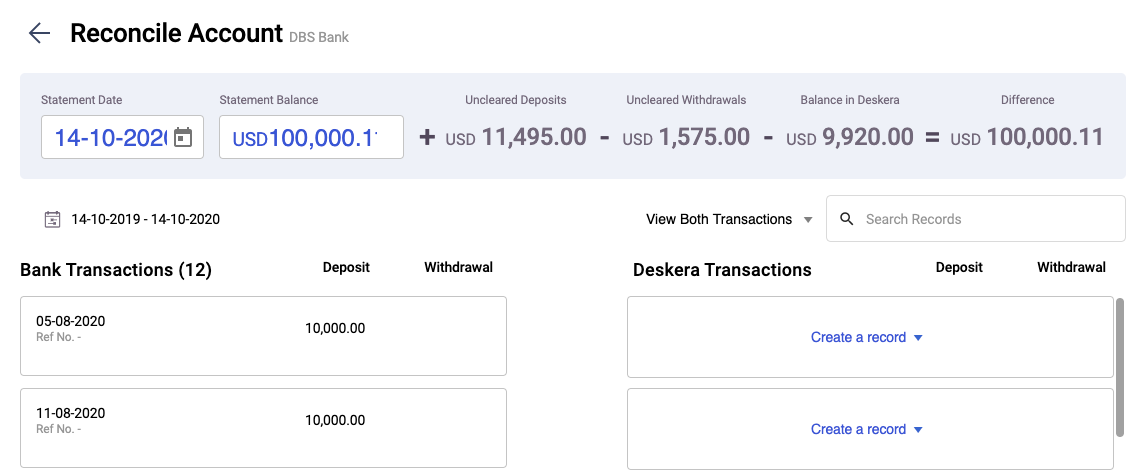 4.  In the Bank reconciliation screen, you can view the following records:
Statement Date
Statement Balance
Uncleared deposits
Uncleared withdrawals
Balance in Deskera
Difference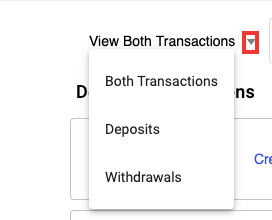 5.   Click on the drop-down arrow to filter the transactions based on:
Select both transactions: To view both bank reconciliation on deposit and payment account
Select deposit: To view bank reconciliation for the deposit account.
Select payment: To view the bank reconciliation for the payment account.

6.  Make sure that all the deposits and withdrawal entries of the bank transactions match to your business transactions.

If all the entries are accurate, click on the Match button to reconcile the record.
If users realize the entries are missing, click the create button to create a new deposit or payment entry to reconcile the account.
Congratulations! You have successfully learned how to reconcile your bank transactions with the transactions in Deskera Books.