Based on the previous article, we have already explained to you what is dropship and in this article, we will guide you on how to use the Dropship functionality on Deskera Books system.
Assuming that you have already created the documents in the Quotes/Invoices Tab, click on the 'Fulfill' button at the top right-hand side of the quote/invoice page.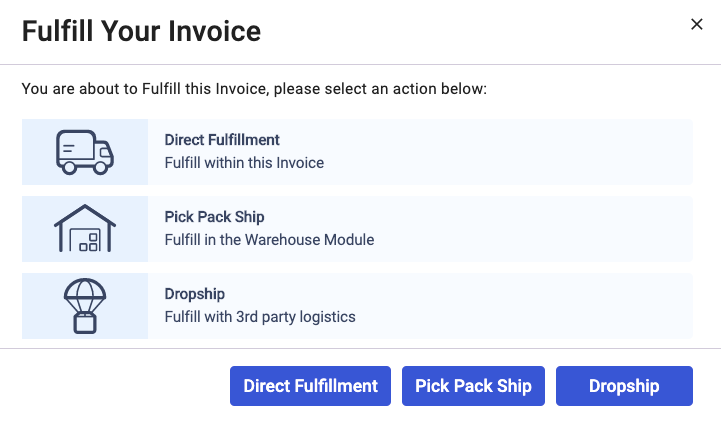 Follow the below instructions in order to ship your products out to your customers
After clicking on the "Fulfill" tab three options will pop-up, Direct, Pick Pack Ship, DropShip.
Click on DropShip and a system prompts a dialogue box," You have selected Dropship for this sales document. This will create a Purchase Order for the fulfillment of this order. Do you wish to continue?
If you click on NO, it takes you back to the sell screen where you were before.
If you click on Yes, it directly goes to the Purchase order screen.
Fill in the below details:
Select Vendor from Contact
"Bill to" address will be your Company address

6.  The product and the quantity will be auto-populated based on the information in the invoice. In the order document, you should be able to view the document number linking to the invoice number.
7.  The Price, tax, and amount as auto-populated based on your product selection
8.  Lastly, click on the "Save" button which will take you back to the main sales screen where you can see all new/old order.
9.  After saving the purchase order, go back to the sell tab and click on the "Fulfill" button on the right-hand side of the invoice page where you need to update the status manually to "fulfilled" for each line item.
Finally, the products are ready to be shipped to your respective customers based on the shipping address you entered in the system.
Congratulations! You have successfully learned how to Dropship your products on the Deskera Books system.