Hooray! Welcome on-board, and now you're officially part of Deskera Books family.
After going through the sign-up process and filing up your company's details, I hope that you're still curious to find out more about what we can offer on Deskera Books.
As the first-time user of Deskera Books, we will introduce you to the different types of Modules that we have in the system. Choose the Modules that you prefer and explore the available functionality.
Quick Start on Deskera Books
Once you have a login to your account successfully, click on Deskera Books to access Deskera Books' features. Click on Start Trial to proceed.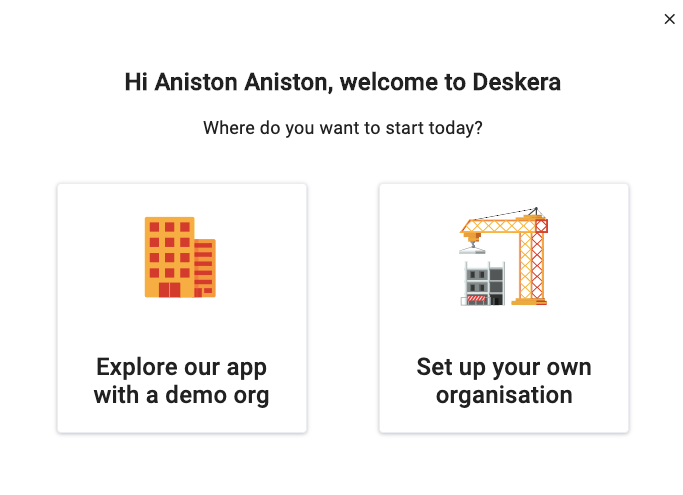 Next, you can take two actions from here, which are:
a) Explore our app with a demo organization
Choose this if you wish to create a demo organization and try out the modules in this demo organization. You will be directed to the Demo Organization page. You can do your test run here and try out all the features in the system. Once you understand the functionality of each feature, you can start filling up your company details next.
b) Set up your organization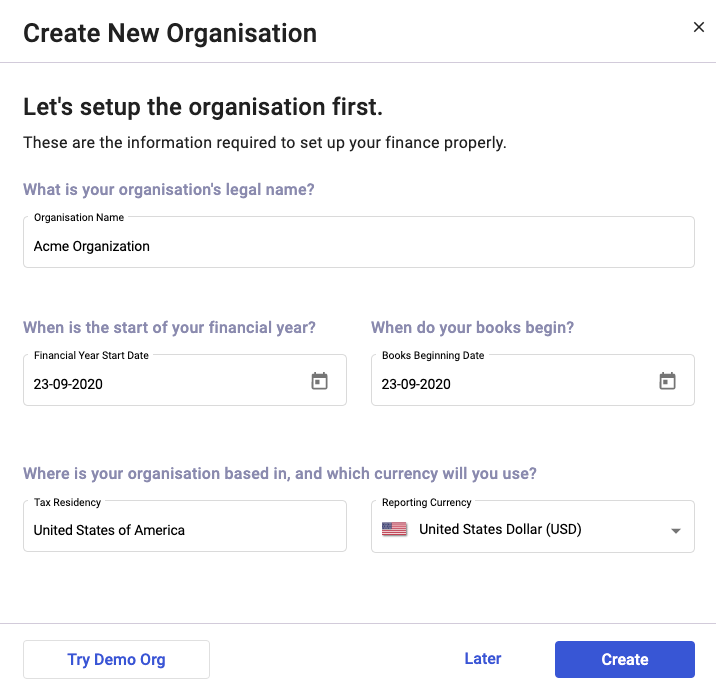 If you choose to set up your organization first, you will need to fill in your book beginning date and financial year start date. Do note to select the right date as you cannot edit these two days after saving the details.
Also, choose your tax residency and reporting currency and click on the Create button.
Here, you can also choose to try out the Demo Organization as well.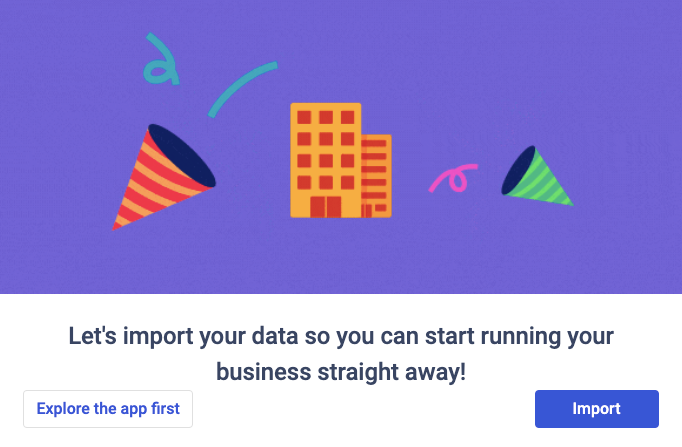 After you have successfully created your organization, you can start importing your business data to the system. Click on the import button.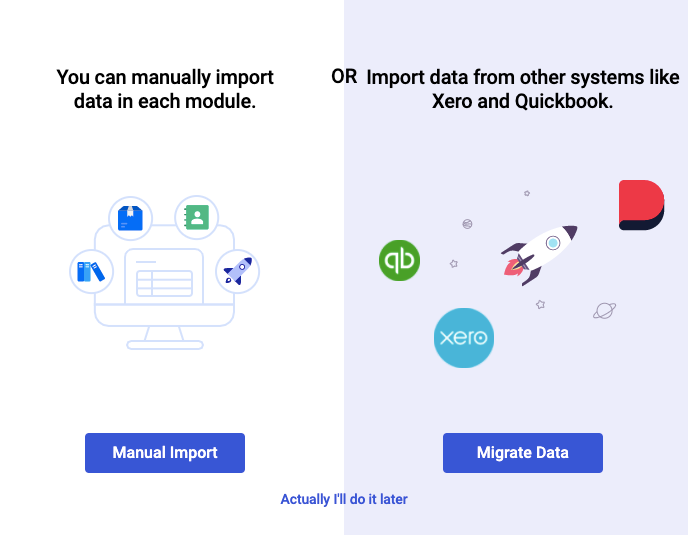 Here you can choose to manually import your contacts, opening balance, products, or chart of accounts data to the system. On the other hand, if you have an existing account with Xero and Quickbooks, you can choose to connect your Xero and Quickbooks account to sync some of the data over to Deskera Books by clicking on the Migrate Data button.
After that, you can also get an overview of the invoice creation process by clicking on the View button under the Get Started card on Dashboard.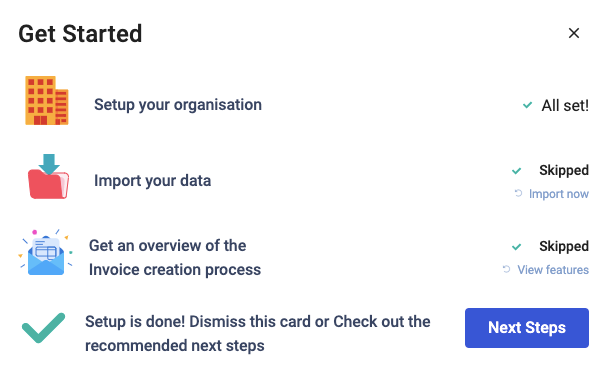 Once it's done, you can view the tick button, indicating that the set-up for your organization is done. To explore and try out other features available in the system, click on the Next Steps button.
Power User Checklist
You can use a checklist to guide you on using the features in the system. Follow the eight tasks shown in the pop-up message below: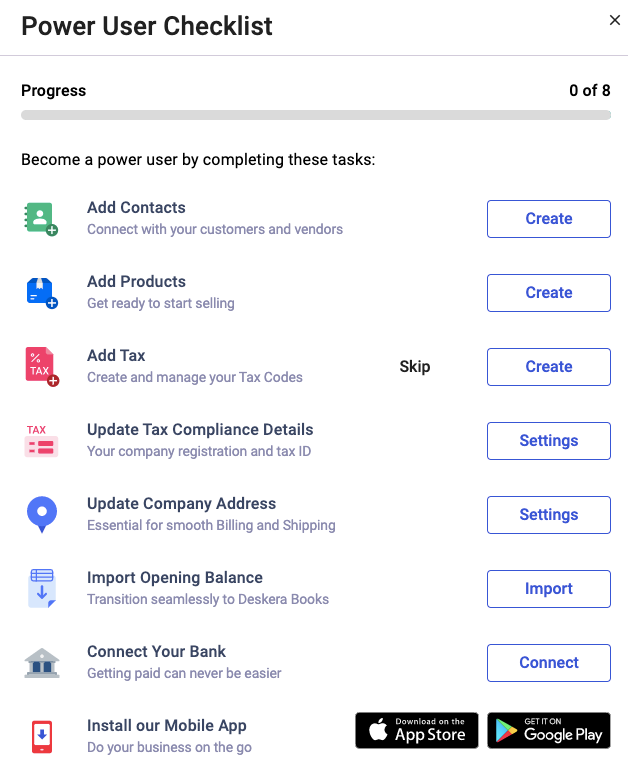 a) Add Contact: Create your first contact here
b) Add Products: Add your first product in the system
c) Add Tax: Create the relevant tax as per your tax residency
d) Update Tax Compliance Details: Fill in your UEN number, for the company based in Singapore. Businesses operating another country can fill in their business registration number and tax number.
e) Update Company Address: Fill in the company's billing and shipping address.
f) Import Opening Balance: Import your accounts' opening balance to the system.
g) Connect Your Bank: Add your business bank account here.
h) Install our Mobile App:  You can download the mobile app and log in using the web login credential. You can view your account's data on mobile app.
After checking all the tasks highlighted above, you are now officially a power user! You are now ready to use Deskera Books, and you can start creating and sending invoices and bills instantaneously.
If you skip on-boarding process, you can always continue again by following the steps mentioned below: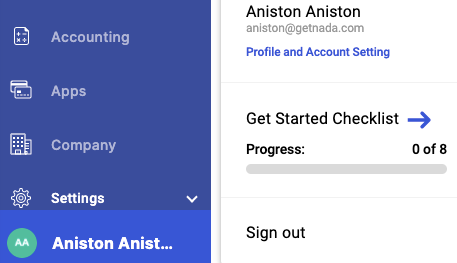 On at the bottom of the sidebar menu, click on your name.
This will open a box.
Click on the get started checklist to complete the onboarding process.
Follow the onboarding process  from a - h as mentioned earlier to complete this process. Click on the sign-out button whenever you wish to log-out from your account.