What is Ad hoc payroll?

Ad-hoc Payroll is used to run the payroll for situations whereby there is a need to run a separate payroll due to certain circumstances. For instance: a resignation/dismissal of an employee or a missing payout for the employee(s).
Using Deskera People you have an option to run an Ad hoc payrun with below mentioned simple steps,
1. Click on the Payrun option,  available on the left side of the main dashboard menu.
2. To add a new Ad-hoc Payroll, click on '+Add Payrun'
The below window will appear where you need to click on the Ad-hoc payroll tab and fill in the required fields,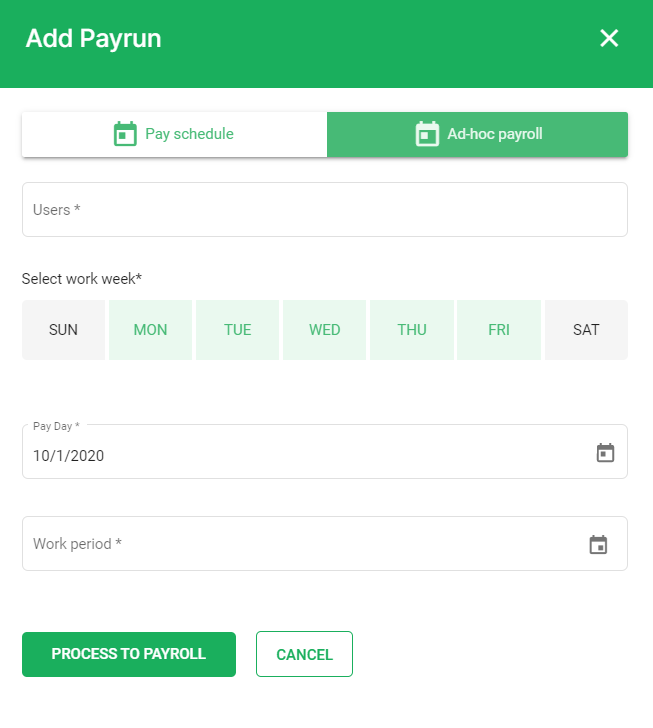 As an HR Admin, you can run an Ad-Hoc payroll to accommodate for any changes or missing employees in the previous payroll.
Users: Add the users missed earlier after processing the payroll
Select Work Week: Buttons with Mon, Tue, Wed, Thu, Fri, Sat, and Sun will be visible. As a user, you can select the days involved in a workweek. (Mon to Fri will be highlighted by default), No of days checked = 5. This data will be translated to the number of days = 5 (Default)
Pay Day: Select the pay date on which the payroll needs to be processed
Work Period: Select the work period dates from the calendar
Lastly, click on the 'Process To Payroll" for Ad hoc payroll to further proceed to the different payroll stages.
Edit and Delete Ad-hoc payroll
You can also make the changes in the ad-hoc payroll and remove it from the system by using the edit and delete options.
Edit Ad-hoc payroll
Once the Ad-hoc payroll is created and you wish to make the changes, click on the Edit button for making the further changes.
You can make the changes in all the fields as required and click on the Process to payroll button to get the changes reflected in the payroll.
Delete Ad-hoc payroll
If you also want to remove the created Ad-hoc payroll from the system, click on the Delete button and it will be deleted from the system.
Congratulations! You have successfully learned how to add a new ad-hoc payroll using Deskera People.