If you are looking for accounting software, this is the best place to start. To embark on your journey with Deskera Books, users can start by signing up on our Deskera Portal.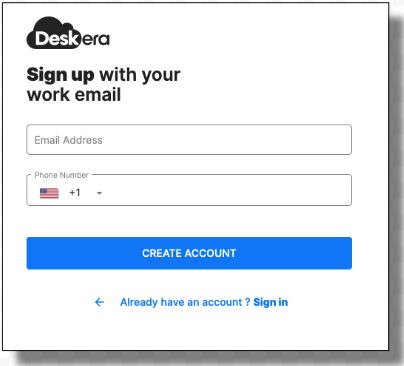 Once you are in Deskera Books page, you are required to sign up with your email address and phone number. Next, click on the 'Create Account.'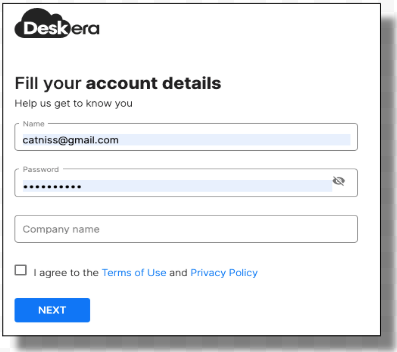 On the following page, enter your name, password, and company's name. Make sure that your password is in alphanumerics with a minimum of eight characters. Tick on the checkbox to agree to the Terms of Use and Privacy Policy.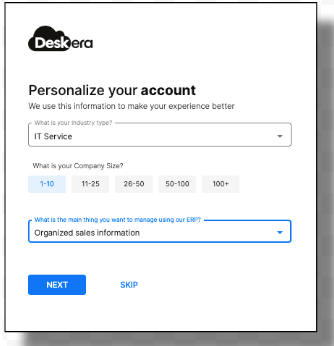 In the next step, you can select your industry type, the company's size, and what's the primary purpose you are using Deskera Books. This is optional, and you can choose to skip this process if you wish to.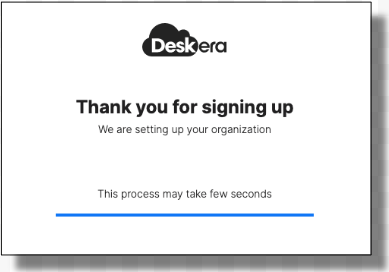 You have successfully created a new account on Deskera Books. Deskera will send two emails to you. Firstly, you will receive a welcome email—secondly, a verification email address. Click on the 'Verify your email address' button in the second email.
This step is pre-requisite to log in to the software. Next, you will be directed to a page showing you that the email verification is successful. Lastly, click on the login button and fill in your credentials for a successful login.
Please note that the users that sign-up using the Deskera Mobile App can link their account to the web browser as well by login using your registered mobile number.
Once you have log in, your organization name, the timezone, and your tax residency will be auto-populated. You will have to fill in the financial start and the booking date, the currency, your office address, GST number, and UEN number if you are operating in Singapore. For a company operating in a different country, they are required to provide different compliance details. Tick the checkbox if you choose to opt-in for e-invoicing. Provide your Peppol ID to connect to the Peppol network, this applies only for Singapore tenant.
Finally, click on the 'Save' button. You have completed creating an organization on Deskera Books. To find out more about the functionality available on Deskera Books, click here to continue with your onboarding process with us.
Forgot Password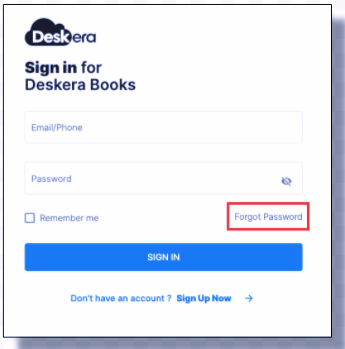 By any chance, if you forget your password, you can always reset it by clicking on the 'Forgot Password' button on the sign-in page. Follow the steps as mentioned below:
Enter your Email - If you signed up using Deskera Mobile App, you are required to enter your mobile number with the country code.
Click on the Submit Button
Check on your inbox. You will receive six digits verification code.
Enter the six-digit verification code
Enter your new password (min 8 characters)
Press the Submit button
Finally, you have reset your password and can continue to log in using the new password you have entered in the system.