Deskera has recently partnered with India's leading Fintech KredX to launch India's first embedded fintech in accounting software.
Deskera users can now leverage their sales invoices to get immediate payment from their outstanding dues with the invoice discounting facility made available.
Who is KredX?
KredX is the leading cashflow solution provider in India by providing invoice discounting platforms in order to help businesses improve their cash flow.
If you are interested in finding out more about KredX, you can check them out at their website here.
What is invoice discounting?
Invoice discounting is a facility provided by a credit/finance company that allows business owners to access their funds quickly by leveraging on businesses' sales invoices.
For example, if you have $1500 worth of invoices, you can choose to sell these invoices to the credit/finance company that offers the invoice discounting solution. In return, you will get $1350 immediately after selling your invoices, deducting any interest or fee applied.
The idea of invoice discounting is that rather than waiting for 30 days, 40 days, or even 60 days to get paid by your customers, businesses can gain immediate funds via third party finance company using this solution.
With the funds available on hand, you can use it to clear debts, pay your bills and employees, or maybe, reinvest the funds in your business long-term investment plan.
Sounds like a perfect solution for your business?
What are the application processes in Deskera Books?
To register for the invoice discounting solution, you need to complete four simple steps.
Follow the four steps stated below:
You can sign-up on the KredX platform for an account. You need to prepare some prerequisite documents, such as your cash flow report, bank statement, ages receivable report, etc.
Submit the required documents, and the verification process will take place. After the verification, you're finally on board at the KredX platform.
Next, list down all the invoices that you will sell to KredX.
Finally, the working capital funds will be disbursed to your business bank account in 24-72 hours, or longer, depending on the verification process.

How to access to the invoice discounting in Deskera Books?
Note: This feature is currently only available in India. We will slowly roll this out in other regions as we expand our partner network.
Follow the steps below to access the invoice financing feature:
Login to your Deskera account. You will need to have an account with us to access this feature. If you do not have an account with us, you can sign-up for a new account here.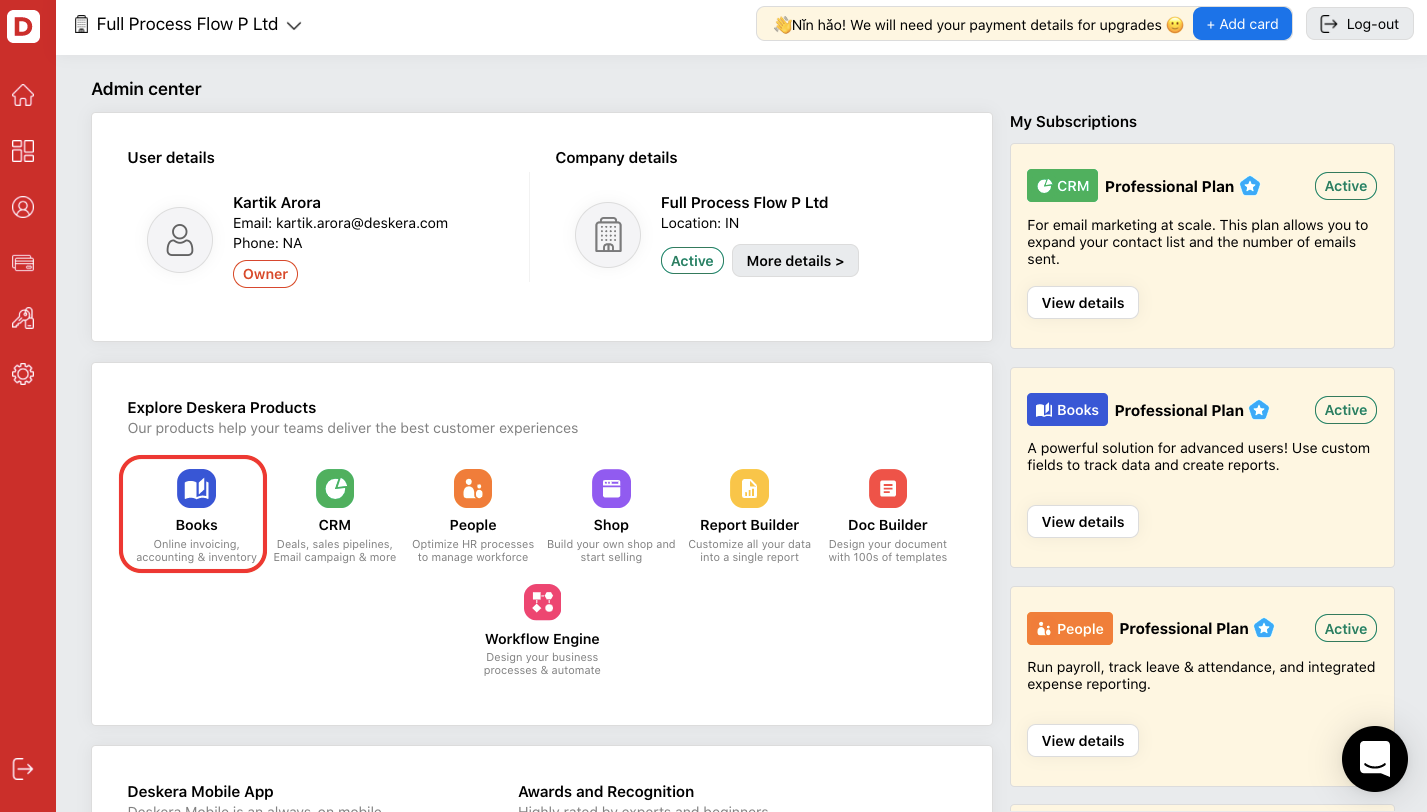 2. In Deskera Main Console, click on Books icon. This action will redirect you to Deskera Books Main Dashboard.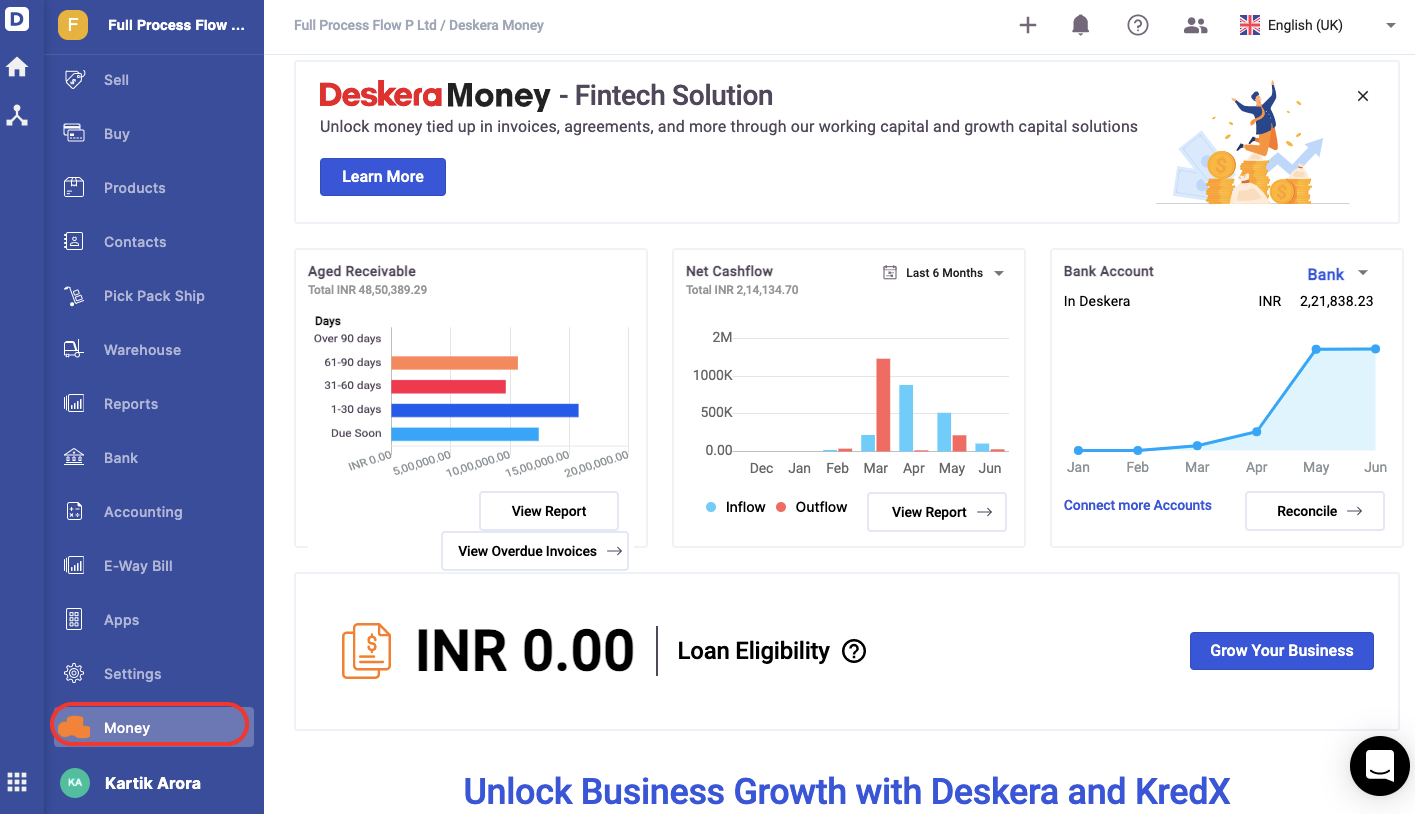 3.  In Deskera Books Main Dashboard, click on the Money tab via the sidebar menu. In Deskera Money tab, you can view the summary of your company's aged receivables, net cash flow, bank account, etc.

4. Click on the Grow Your Business button to submit your application for the invoice discounting here.
5.  A pop-up will appear. You will need to enter the following details for your application: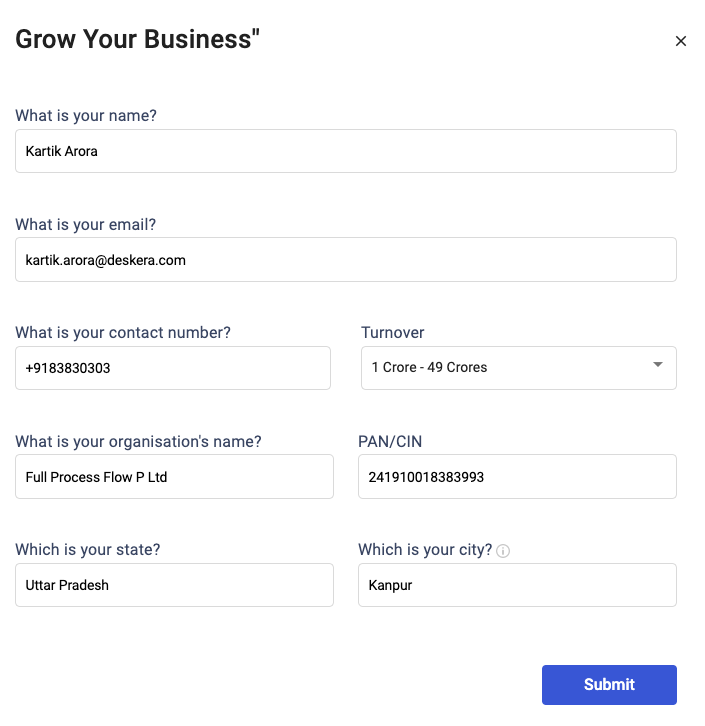 Your name - Fill in your name here
Email - Enter your email address so that KredX team can reach out to you here
Contact Number - Enter your contact number
Turnover - Choose your business's turnover from the drop-down selection
Organization Name - Enter your business name
PAN/CIN- Enter your PAN or CIN number
State - The state where you're running your business
City - The city where your business is located
6.  Click on the Submit button.
Once the KredX Team has received your application, they will contact you via email or the contact number you have provided them.