Segmentation is essential when you're sending mass email marketing to your contacts. You can send different types of email templates to different contacts based on your segmentation.
You do not want to send similar email marketing to every contact because it simply shows that you put zero effect to keep your contacts happy and satisfied.
With Deskera CRM, users can create a variety of segmentation based on their preferences. For example, if you wish to segment your contacts based on their purchasing power; low, medium to high, you can do so by using Deskera CRM system.
Once you have grouped your contacts based on segmentation, you can now send mass email marketing just by a click of a button.
Create Multiple Segments on Deskera CRM

There are two ways you can create multiple segments on Deskera CRM. First of all, you can create the segment when creating the campaign in the Campaign Module.
In the recipient section, click on the drop-down in the category field. Select the "+ Add Segment" button. This will open the dialog box. Fill in the fields in the dialog box and click on the Save button.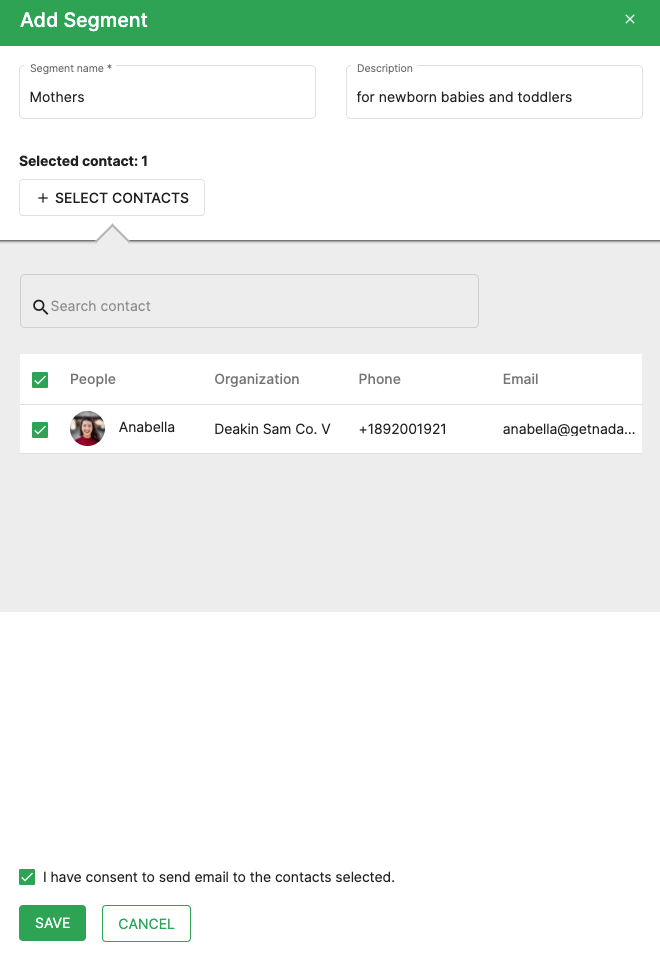 Secondly, you can also click on the Assets on the sidebar menu to add segments. Next, select the Segments Module and click on the '+ Add Segment' at the top right of the screen.
A dialog box will appear on the right-hand side of the page. Fill in the particulars as mentioned:
The segment name
Description box
Select the contacts to be grouped under this segment. The name of contacts will appear based on the Contact Module.
Click on the Done button. You will see the number of contacts selected.
Enable the toggle to publish the segment
Finally, click on the Save button.
Repeat the steps as mentioned to create more segments.
Edit, Copy and Delete Segments

To edit the segments, hover your cursor on the right end of each segment. The edit, copy and delete icon will appear. Click on the edit button to change the details in this segment and click on the Save button to update the changes made.
Select the copy button to create a duplicate segment and to remove, just click on the bin icon to delete the segment from the system.
Users can also choose to view the segments in both grid view and card layout based on your preferences.