If Peppol ID sounds foreign to you, you can read up on this article to have a better understanding of what Peppol ID is.
When you receive a message from a contact saved on your phone, you can immediately recognize who the person is.
Similar rules apply when people on the Peppol network receive e-invoices; they can immediately identify the companies that send them in their accounting software.  
In order to do so, you will need to join the PEPPOL network.
The PEPPOL Access Points (AP) connects all the companies registered under the Peppol network to allow them to exchange electronic documents such as invoices based on the PEPPOL guidelines.
Buyers and suppliers can choose to engage different Access Point providers to connect with all the existing PEPPOL participants.
How do I indicate my organization's Peppol ID in Deskera Books?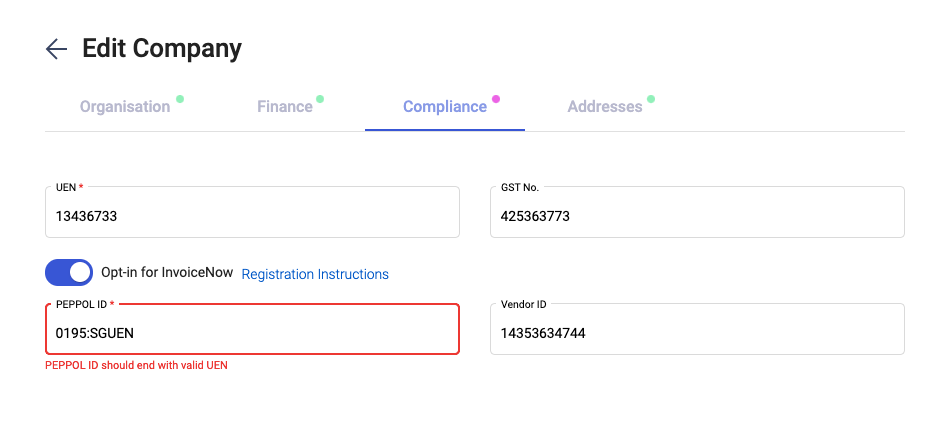 Go to Deskera Books Main Dashboard
Click on Setting via the sidebar menu.
Click on Organization Profile > Select Compliance tab
Enter your UEN, GST number, and enable the toggle "opt-in for Invoice Now" button.
If you do not have PEPPOL ID created, you can click on the registration instructions link.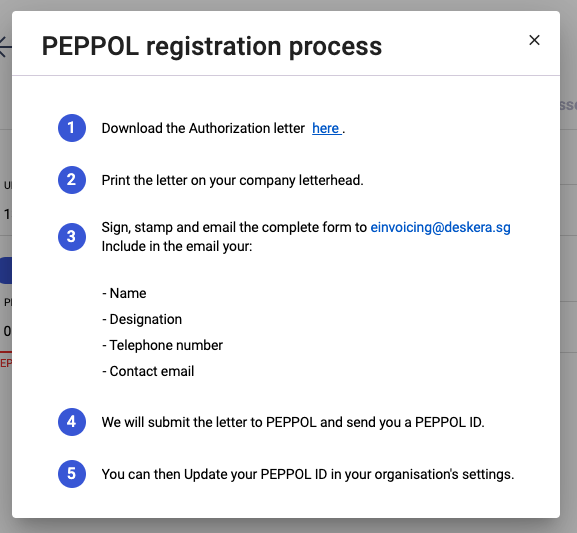 6.   Follow the steps as per the screenshot above. Our team will help you register for PEPPOL ID after receiving your request via einvoicing@deskera.sg.
7.  If you already have existing PEPPOL ID, enter your PEPPOL ID in the respective box and vendor ID.
**You have to be a Singapore-registered company to use the PEPPOL network.
How do I authorize Deskera to sign-up for Peppol ID on behalf of my company?
Once Deskera has registered your company's PEPPOL ID , you will receive an email via your company's CorpPass.
Your CorpPass representative will receive the email with the URL link in it. They will have to authenticate and authorise the AP and be registered on the InvoiceNow network.
You will have to authenticate using your SingPass ID.
After your SingPass validation, you will have to choose the right entity to access to your company's CorpPass. Choose the company you are representing.
You will see a display on your screen showing successful registration after the system confirm the credential of the company you represent.
Note: You will need to register for a CorpPass ID to complete the PEPPOL registration successfully. Also, the respective user will need to be assigned as a user by the company. If they are not the CorpPass user, the authorisation will fail.