In the previous article, we have covered how a bookkeeper can add clients and assign teammates in the system.
However, bookkeepers can only add new clients (meaning clients that do not have an existing Deskera Books subscription). For clients with existing Deskera Books accounts that wish to employ a Bookkeeper's help, clients will have to invite the bookkeeper to access their data on their side.
1. Under Settings on the sidebar menu, click on the Users tab to view all the users added in the system. Next, click the Bookkeepers section on the right-hand side of the page.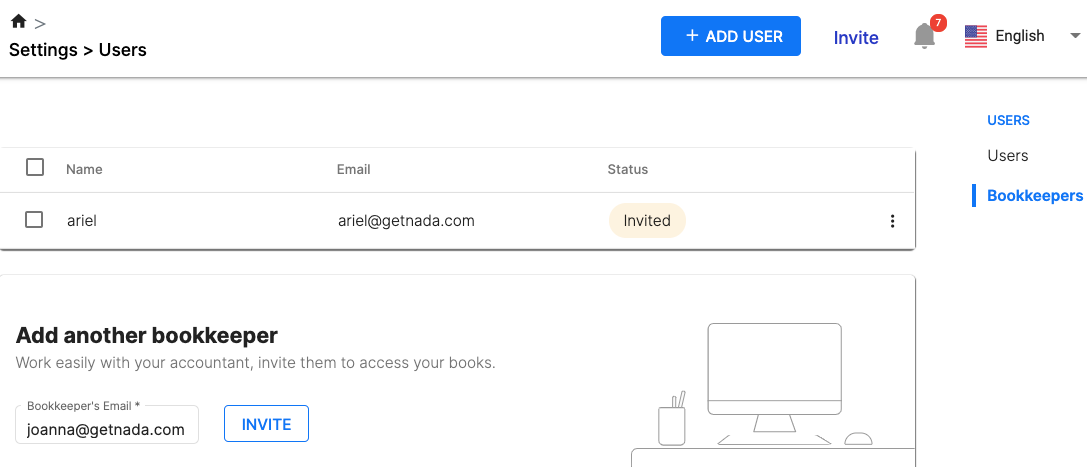 2. All Bookkeepers that can access your account can be seen on this page. You can also manage your Bookkeepers on this page.
3. To invite a Bookkeeper, input their email address in the Bookkeeper email field, and click Invite. This triggers an invite email to be sent to that email address.
4. The invited Bookkeeper will be created with status Invited.
5. The Bookkeeper has to accept the invite sent via email. They will then be prompted to either sign-in to their existing Bookkeeper account, or to sign-up for a new Bookkeeper account. Upon doing either action, they can access your organization once they have logged in to the Bookkeeper account, and their status will be updated to Active.