Job form is a simple feature in Deskera People Plus that allows applicants to fill up their personal details and upload their resumes conveniently to the system
The HR personnel will then go through the applications submitted and contact the applicants if they are interested with their profiles.
To create a job form in Deskera People Plus, follow the steps stated below:
Login to your People Plus account.
Click on Hiring Module via the sidebar menu.
Select Job Forms.

4.  On this page, click on the "+ New Form" button to create a new form.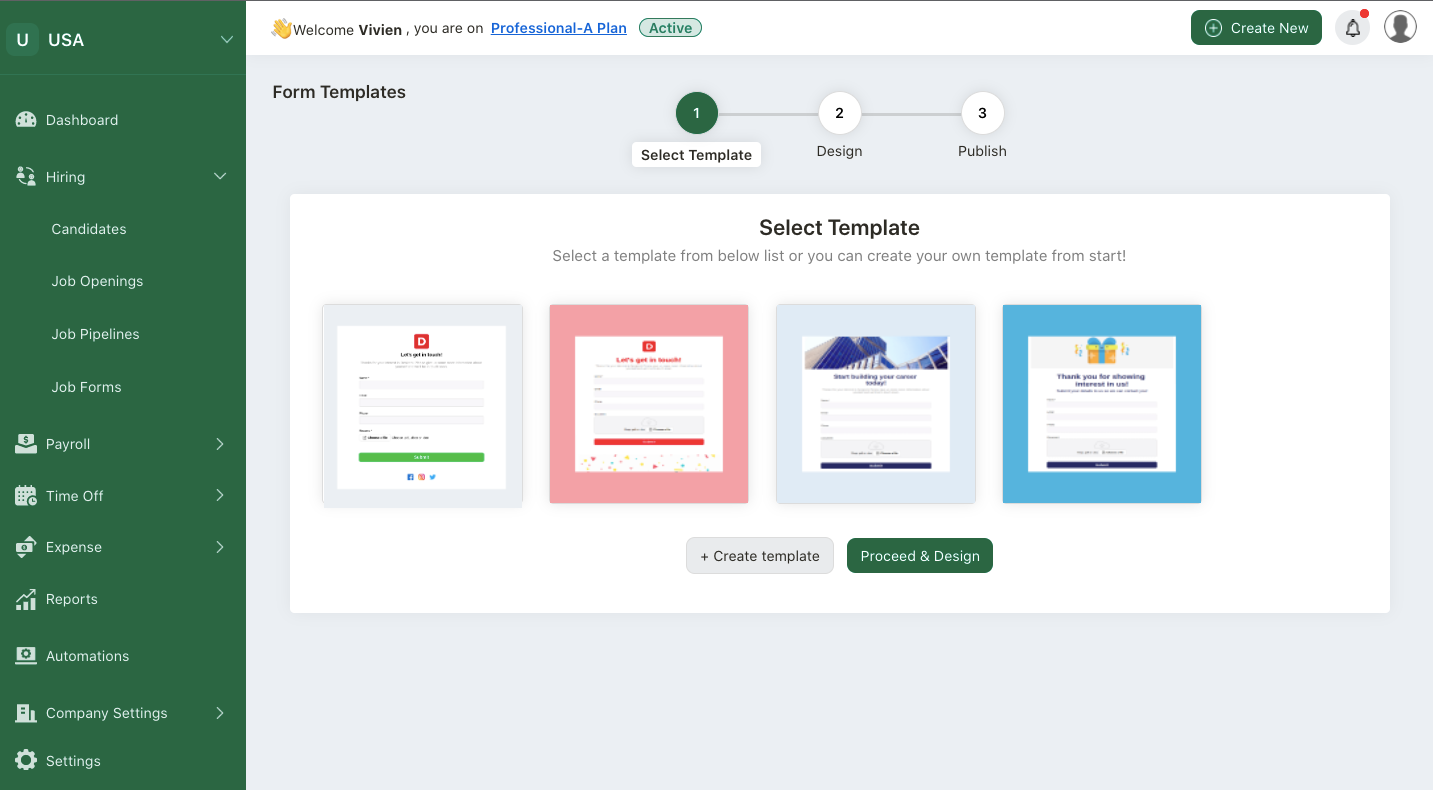 5.  Next, you are required to select the job template. You can choose from the default templates available in the system or create a new template from scratch.
6.  Once you have selected your preferred template, click on the Proceed and Design button.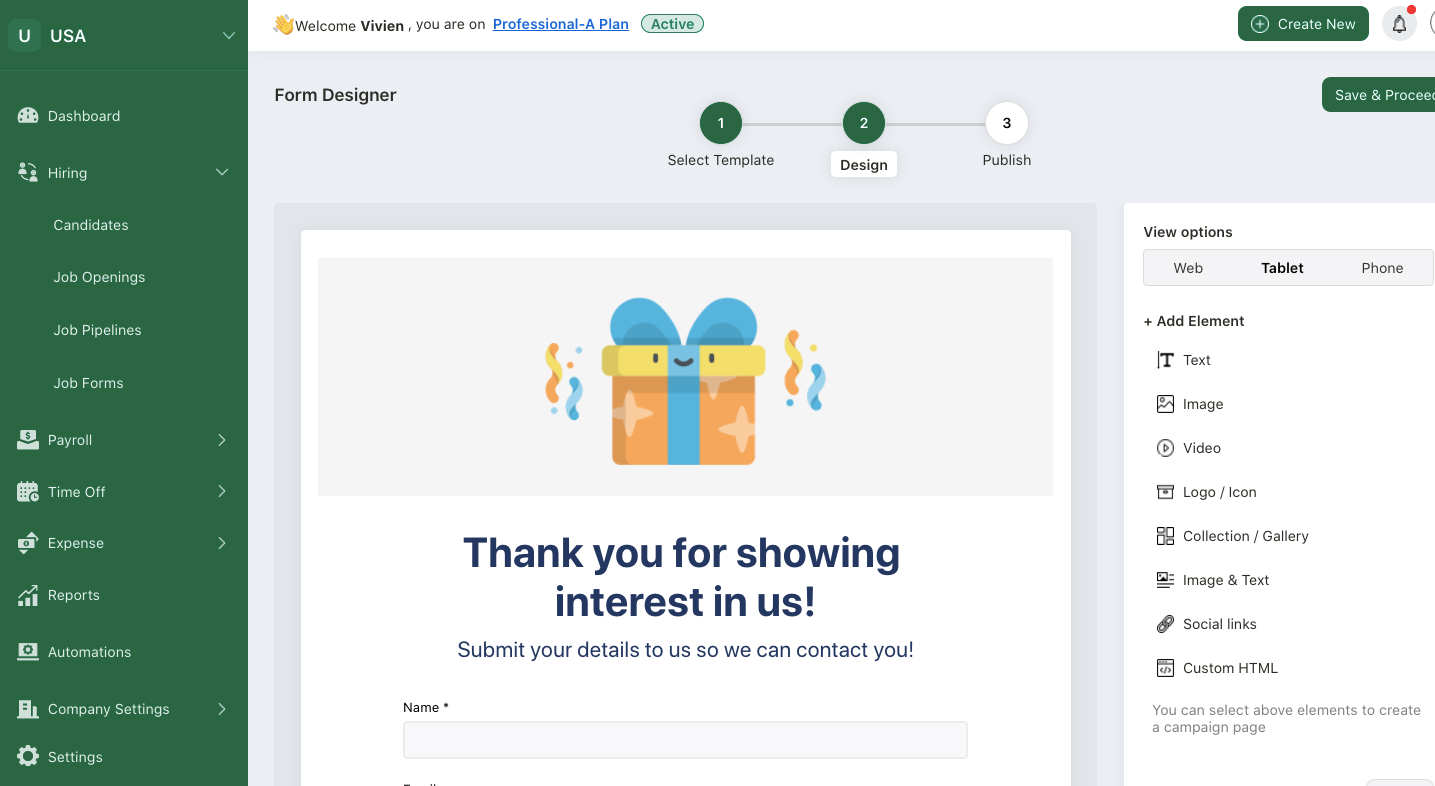 7.   On the design stage, you can add more elements using the tools available on the right-hand side panel.
8.  You can add text element, image, video, logo, gallery, image with text, social links, custom html, metadata and embed script on this template.
9.  Click Save and Proceed.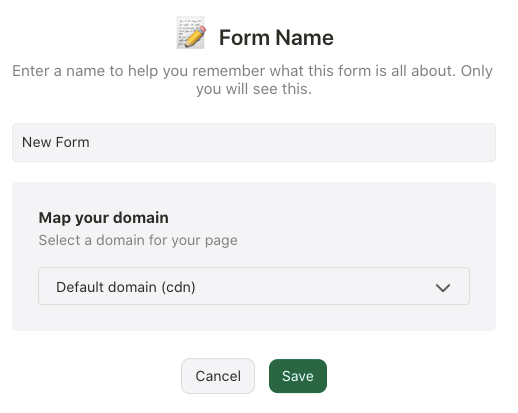 10.  Next, enter the form name. You can also choose to map the template to your domain. Click Save.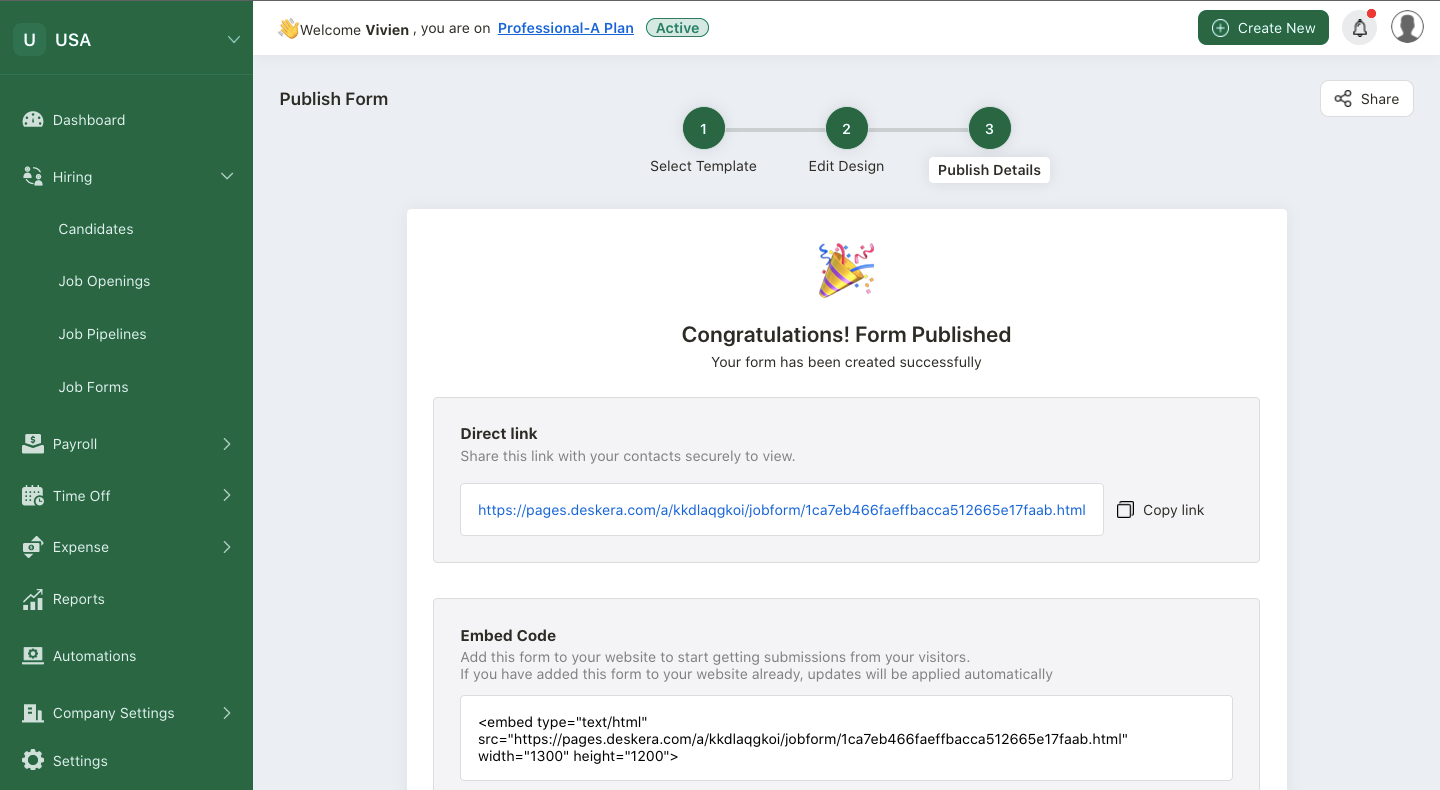 11.  Finally, your job form is successfully published. You can click on the link to view the job form.
12.  You can also copy and embed the form code in your landing page.

13.  You should be able to view the job form created in the Job Form Summary List.
How can I edit or delete the job form?
Click on the three dots under the action column.

Select edit button to make changes to the job form template.
Choose the delete button to remove the job form template from the system.
How can I configure the job opening category in the job form template?
When designing the job form template, click on the fields section appearing on the template.
This will open the editor tool on the right-hand side screen.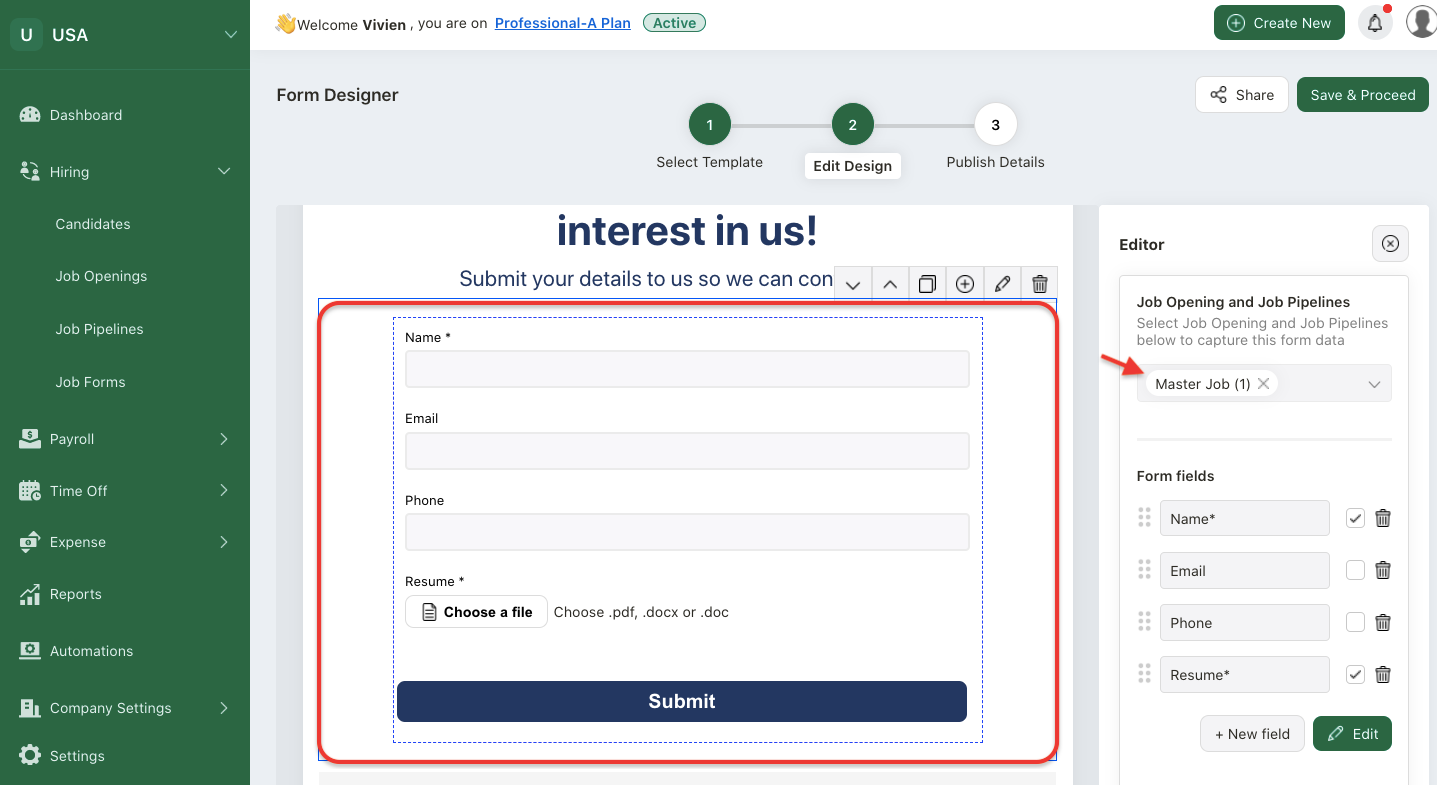 You can change the job opening category here. All the data captured in the form will flow to this category.
Also, you can add more fields in this form as well. Use the drag and drop feature to re-arrange the sequence of each field.
Save the template.
Where can I view the applicants form submission?
Once the applicants submit the job form, the data will flow to Candidates Module.
Go to Candidates Module. You can view the new candidate record auto-created here.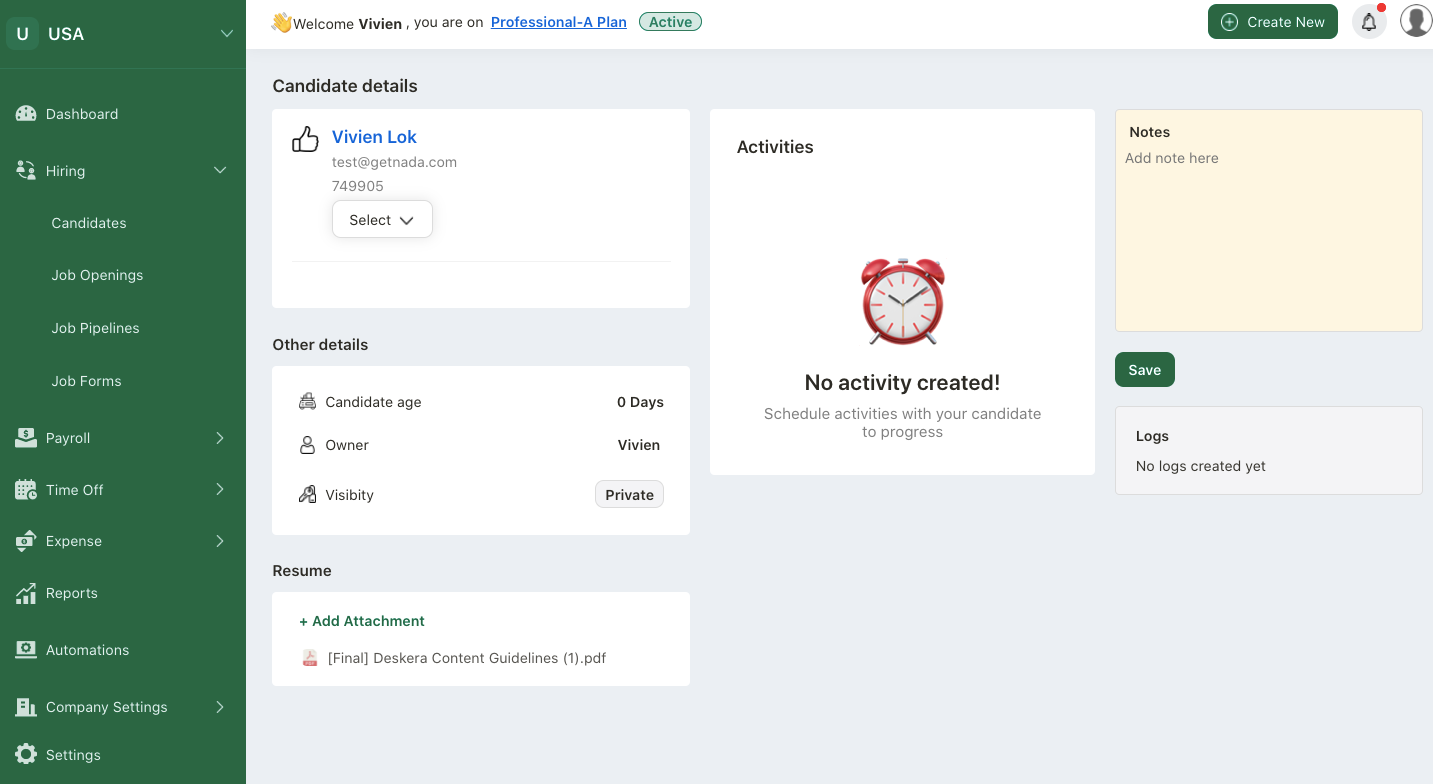 Open to candidate profile.
You can view the candidate information and the resume submitted on this page.
To view the resume, click on the respective document to open it. You can arrange a call with the candidate if required.