After you have sign-up for an account, the next thing you have to do is to add teams in the mobile app. The team here refers to the users and.as the creator of the Bookkeeper organization, by default you will be Bookkeeper Owner, and have access to the Team module.
Following are the steps to add teams Bookkeeper using Deskera Mobile App,

1. Under Book Keeper>> click on Team, to add a new team,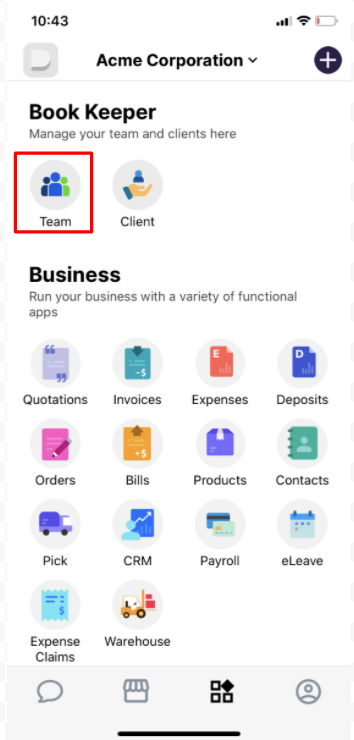 2. A window will appear where you can see the Bookkeeper owner's Details.
2. To add a new team member, click on the '+ add' Icon on the top right corner of the screen.

3. A window will appear, where you need to fill in the below details for adding a new team,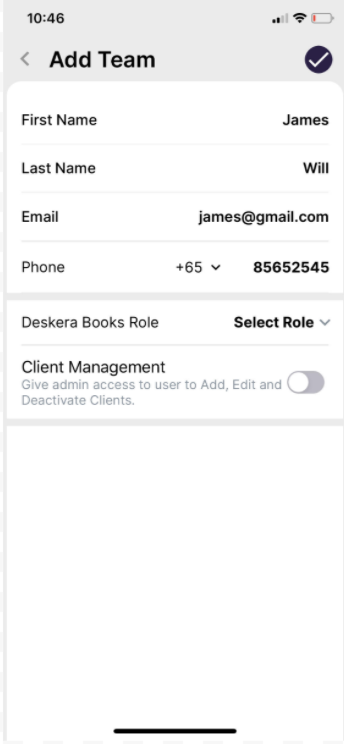 Fill in the First name, Last Name, Email address and Contact Number
Assign the Role of the user on Deskera Mobile App; Auditor, Buy & Sell, Admin or Accounting.
Enable the 'Client Management' toggle if you wish to give permission to the users to add, edit, and deactivate clients
Select the client you wish to grant access to this user. This determines which clients' Books can be accessed by the user via company switcher.
4. After all these details are filled, click on the tick icon and a team member will be added.
5. If you wish you Transfer the Bookkeeper owner, you can do so by selecting the team name from the list and click on Transfer Owner button and select the name from the drop-down list.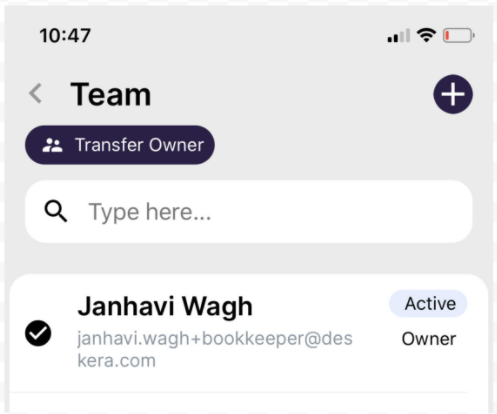 Congratulations! You have successfully learned How to add teams to Bookkeeper in Deskera Mobile App.