You can only delete Normal Journal Entries. The journal entries related to the fund transfer can't be deleted.
Other entries, such as Invoices or Bills, cannot be deleted. To amend or offset the amount for Invoices or Bills, you can use a Debit or a Credit Note.
To delete a Normal or Fund Transfer Journal Entry,
Click into the Accounting tab on the sidebar.
Select Journal Entry.
Go to the Journal Entry that you want to Delete.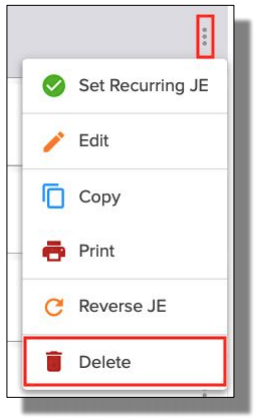 Click the 3 grey dots on the right-hand side and select Delete.
A pop-up will appear to confirm your decision to Delete the Journal Entry. Click Yes to proceed.
You may also delete multiple Normal Journal Entries by selecting them via the checkboxes on the left, and clicking the Delete button.