Introduction
You likely need the help of desk ticketing system that helps you manage, organize and execute on customer support tickets if you provide with customer support.
The most common challenge faced by customer support teams is an inability to respond to support cases promptly, which has a detrimental impact on customer satisfaction.
A sound help desk ticketing system can help you to the manager and address that challenge.

What is the help desk ticketing system?
A help desk ticketing system is a support ticket system that helps to track and collect all customer support interactions from various channel like phone, chat, email, and social media. The interaction will be logged in the system no matter how a customer chooses to reach out to you or your team.

With Deskera Ticketing system, it helps to organize, track record, and track tickets. You can also connect via email if you want to send and receive emails from the CRM with other email addresses.

By connection, the email address you can create new support email and also the email sent to any of these email addresses will show up as tickets in your service desk.
Steps to connect your email with Deskera Ticketing tool
To connect your personalized inbox, on the left-hand side menu,>> under the settings>> click on the Ticket module.
2. Then, click on the +Add Support Email button, located on the right side of the screen, a below window will appear.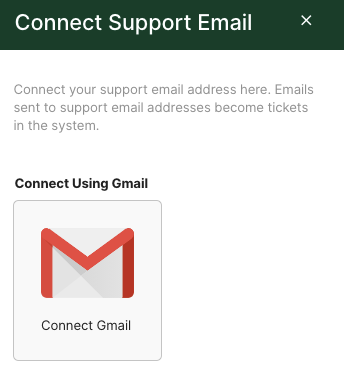 3. Click on the Gmail icon to connect your support email address. Here emails sent to support email addresses will become tickets in the system.
4. You'll be prompted to log in to your Gmail account. Enter the email address of the Google account you want to use. If you're already logged into one or more of your Gmail accounts, choose the account you want to connect

5. Review the required permissions, then click Allow.
6. You'll be redirected back to your Ticket settings, and a message box will appear to inform you that Gmail inbox is now connected to Deskera Sales.

In this way, you can add multiple email addresses in the system to create new support email.
7. You also have an option to Make the added support email as default or remove it in the system, by clicking on Mark as default and Unlink buttons.

Please note that you cannot delete the default email address created in the system.
8. Also when you select the Ticket View option, a list of tickets will appear with tickets category, ticket date and status.
Congratulations! You have successfully learned how to connect an email under Deskera Ticket system using Deskera CRM.