Deskera eLeave system has the functionality that enables our users to apply their leaves by just clicking a few steps. Users can also apply different types of leaves, such as annual leave, medical leave, emergency leave, or other kinds of leaves that are applicable to their organizations.
Using the Deskera eLeave system, users can apply a leave based on the steps mentioned below:
1. Go to the 'Applications' tab on the sidebar menu.
2. Click on the '+ New Application' button at the top right side of the page.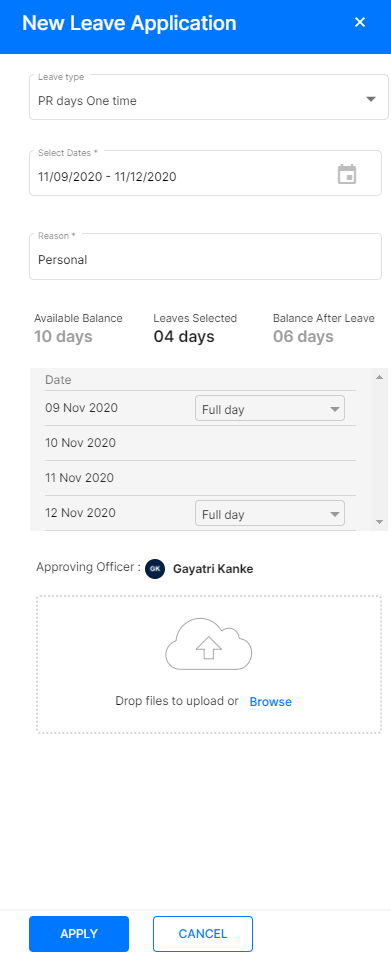 3. A pop-up will appear and fill in the specific fields as shown:
Select date range
Reason to apply for leave
Upload any leave related document if needed
After applying leaves, you can view the leave balance details and leaves taken in a table format.
By clicking on Half-day, you can avail for a half-day leave ( First / Second half)
4. Lastly, click on the 'Apply' button to submit the leave application.
Right after you applied for the leave, the admin in the system will notify, and they will decide to approve or reject your leaves.
You can choose the filter on the right-hand side of the page. Choose from All Applications, Pending Applications, Approved Applications, or Rejected Applications as per your wish.
There are three ways you can view the application lists; choose from grid view, card layout, or kanban layout. In the respective designs, users can also apply for a new leave application and view the remaining days they have for the selected leave.
Congratulations! You have successfully applied for a new leave in the system.