Performance Management Cycle is more than the quarterly performance interview or the annual performance review. All members of an organization will go through the cycle, which begins with setting goals at the beginning of the year, monitoring progress along the way, and completing the year with a final review of performance.
The main purpose of the performance management cycle is to get members of the organization to set goals and improve overall performance year after year. It gives both teams and individuals a structured process that helps them to be more efficient at achieving organizational goals.
How to Create a Performance Appraisal Cycle schedule in Deskera People?
Now, with Deskera People, you can create a Performance Appraisal Cycle schedule for your employees with the following easy steps,
To start the appraisal cycle go to setting>Performance> Appraisal Cycle schedule
2. A below screen will appear, where in you need to fill in the required information,

Appraisal Due - Select the Appraisal Due date
Appraisal Period Frequency - From the drop down list, select the appraisal period frequency if within, 3 month, 6 months , 12 months.
How to Create Self Assessment Question in Deskera People?

Self-Assessment questions are questions specifically designed to help you review your own performance in the workplace. These questions  are usually designed to encourage the employees to spend time considering what they want to accomplish within their careers.
Deskera People, allows you create the self assessment for self and Managers, both, with simple below steps.
go to setting>Performance> under Self and Manager Assessment,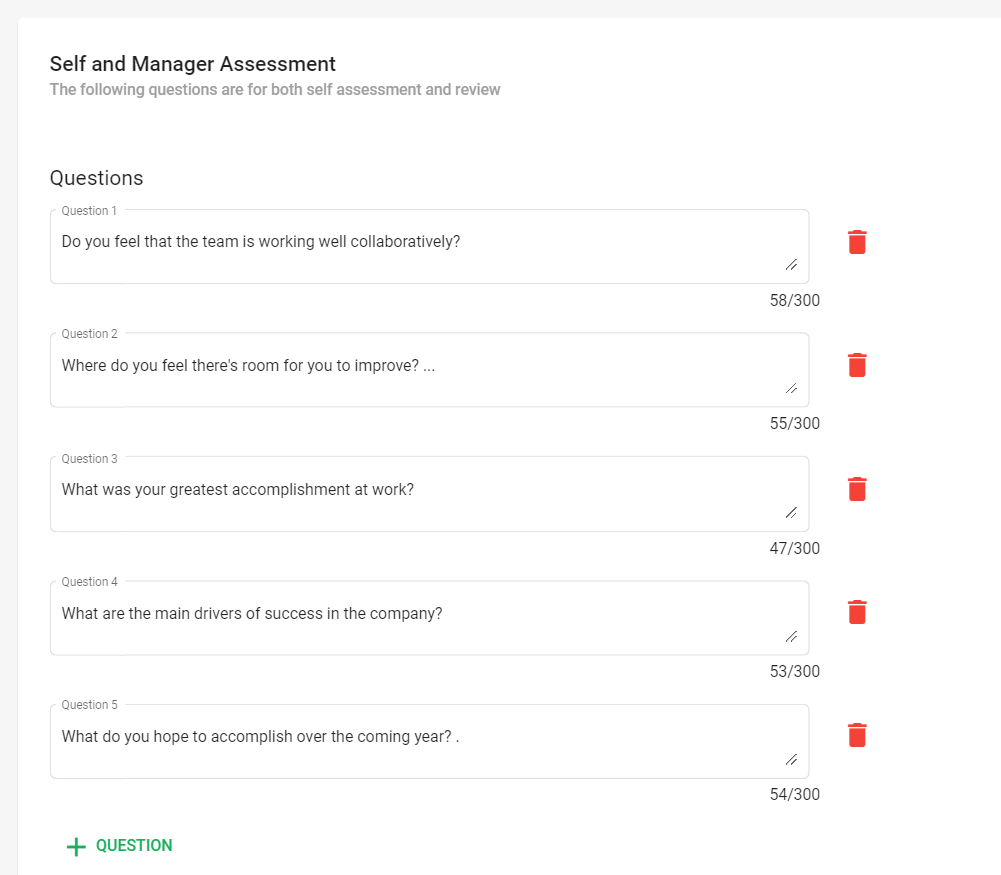 If you want to create your own questions, you can do so by simply clicking on the + Question button.
To remove the question, by clicking on the bin icon you can delete the question from assessment.
Lastly, click on the Save Button after the Appraisal Cycle Schedule and Self and Manager Assessment details are filled in.