To edit the bank account's details on Deskera Books, follow the steps stated below:
1. Go to the 'Bank' tab on the sidebar menu.
2. Click on the contextual menu (three vertical dots) of the existing bank accounts. Select the 'Edit' button.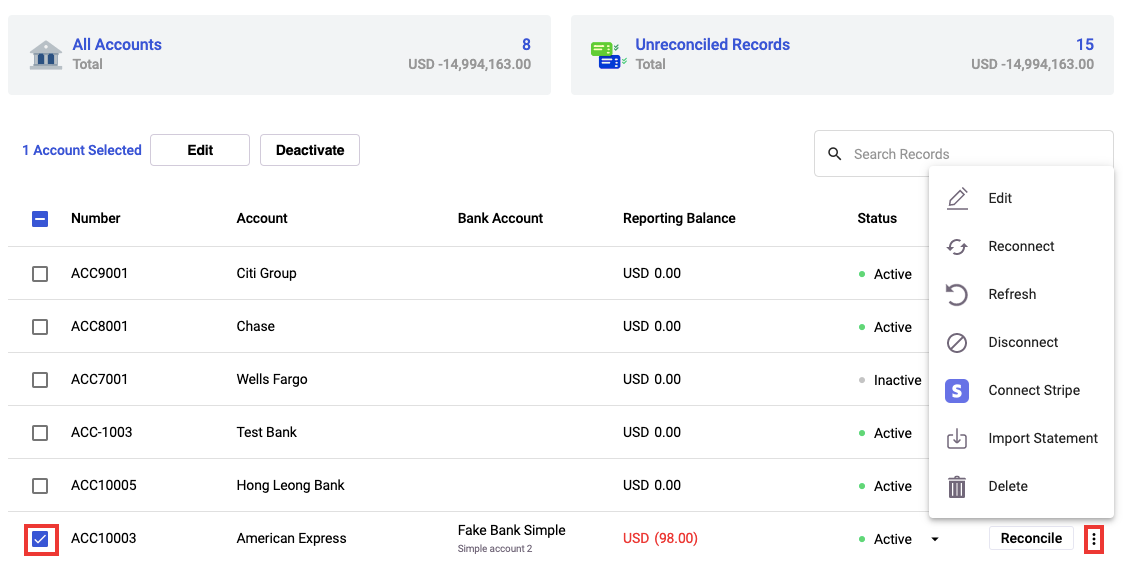 3.  Once you click on the contextual menu of the respective bank, you can choose to perform the following actions:
Edit: Clicking on the Edit button will open the dialog box. Make necessary changes to the bank's code, name, and descriptions. Note that you cannot edit the bank details that are connected to SaltEdge or Plaid.
Reconnect: Choose to reconnect your bank account via SaltEdge or Plaid, if it has been disconnected.
Refresh: Click on the refresh button to update the financial data SaltEdge and Plaid.
Disconnect: To disconnect from Plaid or SaltEdge, click on the disconnect button.
Connect Stripe: Before you make or receive payment via Stripe, you will need to connect your bank account with Stripe. Follow the steps here to connect to Stripe.
Import Statement: You can import your bank statement record to the system using Deskera's default template.
Delete: Remove the bank account completely from the system. Any transactions that's tagged to the respective bank account cannot be deleted.

4. Under the status column, click on the drop-down arrow and choose the inactive button if the account is not active anymore.
Congratulations! You have successfully learned on how to view, edit and delete your bank accounts in Deskera Books.