The Bank Reconciliation Summary is a report that makes it easy to see how organized your accounts are and if there are any remaining transactions to be matched in your Bank Reconciliation.
On Deskera Books, once all the bank accounts have been successfully reconciled, you can then view your 'Bank Reconciliation Summary Report'. This report is also useful for seeing all unmatched transactions across all bank accounts, as well as any Expenses and Payments logged account that have yet to be matched.
Below are the steps to generate a Bank Reconciliation Report Under Deskera Books.
Go to the Reports section >>Select Bank Reconciliation Summary under Financial Reports.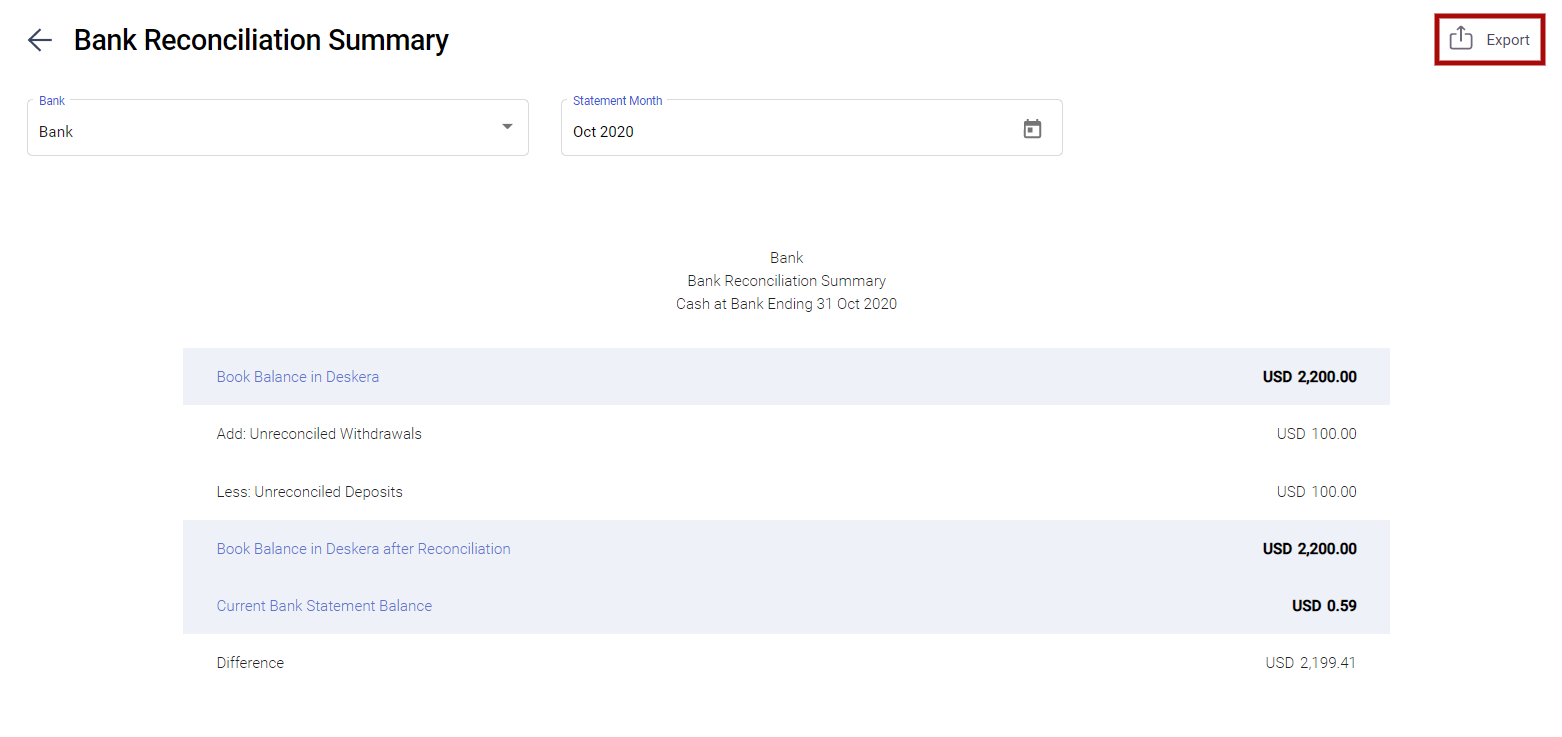 2. Bank Account -  From the dropdown list, choose which Bank Account you want to view transactions for.
3. Statement Month - Choose date range to view the statement for that particular period.
4. Under Book Balance Section in Deskera
- Unreconciled Withdrawals/Deposits- Deposits that have not cleared the account
5. Books Balance in Deskera after reconciliation - The Bank Statement Balance +  Unreconciled Deposits and Unreconciled Withdrawals
6. Current Bank Statement Balance - The balance as of the Statement Date (i.e. the ending balance)
7. Difference - This is the difference between the Bank Statement Balance and the Ending General Ledger Balance. If the reconciliation is accurate, there should be no difference.
Export Bank Reconciliation Summary Report

Now you can export your Bank Reconciliation Report in PDF, CSV, XLS format by clicking on the Export Button.