Sales reps' responsibility is to ensure that they increase sales revenue to a business. Sales reps will have to oversee, track, and convert potential customers to customers as part of their KPIs.
With Deskera CRM Plus, a salesperson can now create and send quotes, known as estimates, to potential customers.
The potential customers will then review and check whether the quotation shared fulfilled their budgets, expectations, and business requirements before finalizing their purchasing decisions.
Follow the steps below to create a quote:
Login to your Deskera CRM Plus account.
Click on Quotes/Estimates on the sidebar menu.
On this page, click on the "+ New Quote" button.
A pop-up menu will appear. Fill in the fields in the pop-up box: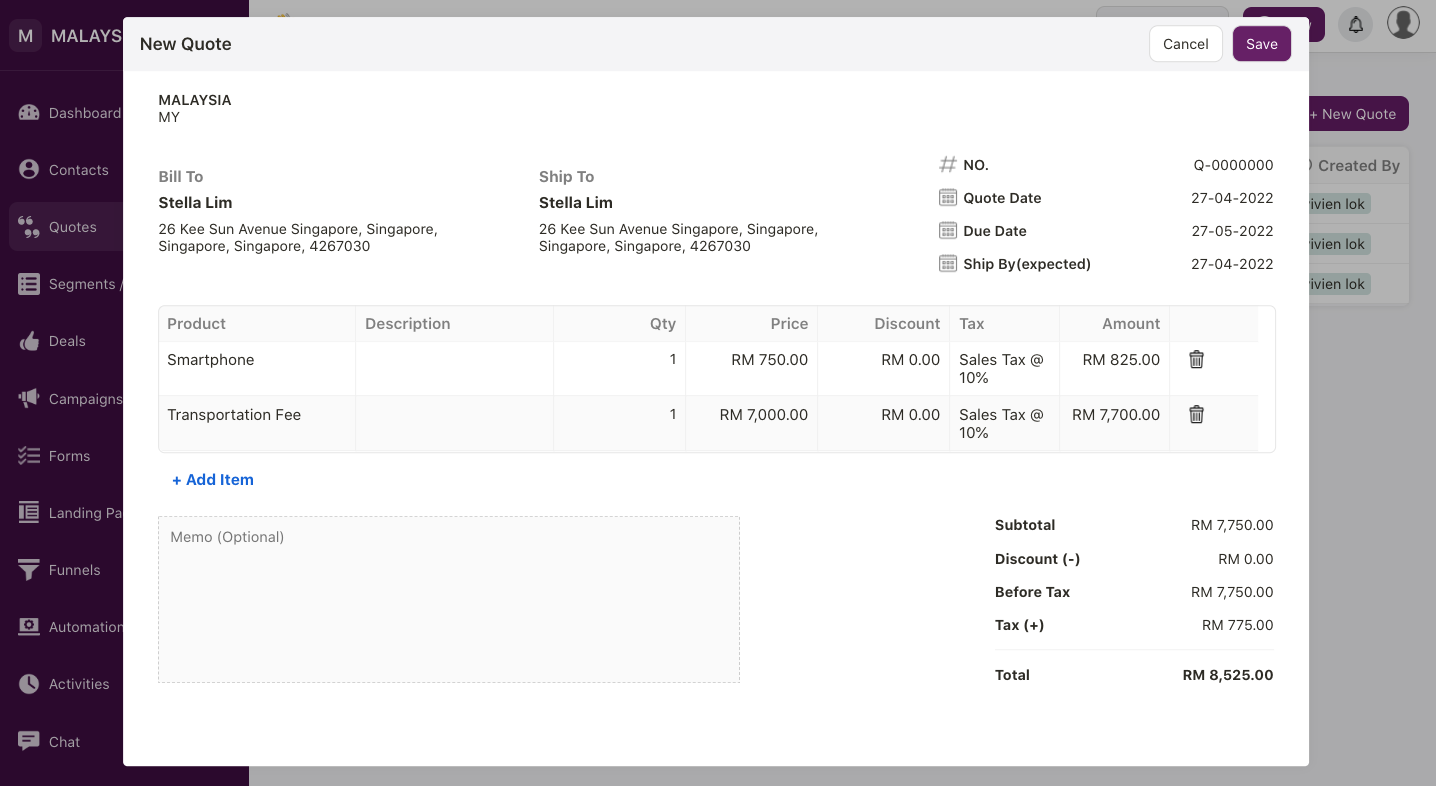 bill to: choose the contact name from the drop-down menu. The options that appear here are based on your contact listing in your CRM Plus account
no: choose the quote sequence number. This is the default quote sequence number saved in your Books Plus account
quote date: choose your preferred quote date
due date: choose your preferred due date
ship by date: choose your preferred ship-by-date
product: you can add more than one line item. The products from the drop-down menu are populated based on your product listing in Books Plus
description: this is auto-populated. You can always edit this field directly from the quote canvas screen
quantity: enter the quantity for each line item
price: this is auto-populated based on the product's sales price
discount: enter the discount amount
tax: choose the correct tax rate based on the drop-down menu
memo: enter the quote's memo
5.  Save the quote document.


6. After saving the quote, you can view this document on the Quote Module in your Deskera Books Plus account.
7. Under the actions column, click on the three dots. You can;
edit - make changes to the quote document
view - view the quote document and download it in pdf format
print - print the quote document
design - choose your preferred quote template
delete - delete the quote document permanently from the system. This will remove the quote synced to your Books Plus account as well
8. You cannot edit or delete quotes already in use. For example, quotes are in use if you have marked fulfilment, payment, or convert the quotes to invoices.