With Deskera CRM, you can check the assigned tasks and start working on the specific tasks given to you. Proper planning and segregation of work help you to save time, improve productivity, and work efficiently.
Also,  you can create the upcoming activities, view tasks, update your calendar, and get your job done within the completion date.
Under the "Upcoming Activities" by clicking on the "+(Add)" icon, you can create a new activity.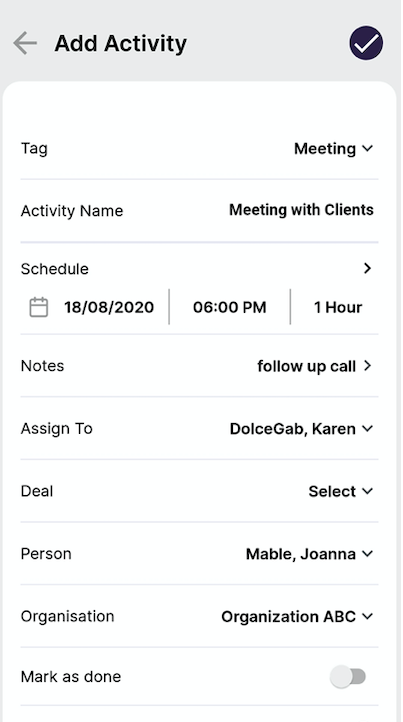 A screen will appear, and you'll need to fill in the fields, as stated below:
Tag: Select the Tag name: Eg. lunch, meeting, calls, tasks, etc
Activity Name: Label the activity name
Schedule: The selected date to complete the activity
Notes: Enter description about the activity
Assign to: The person in charge of the task
Deal: Deals that are tagged to the contacts
Person: The name of the person created in the contact page
Organization: The organization the contacts are from
Enable to toggle to mark the deal as done
Enable the toggle if you choose to send an email invitation to the attendees.
Lastly, tap on the 'Tick' icon to record the activity, and you can review the activity on the Activity page. You can also choose to view the activity either in a grid layout or calendar view.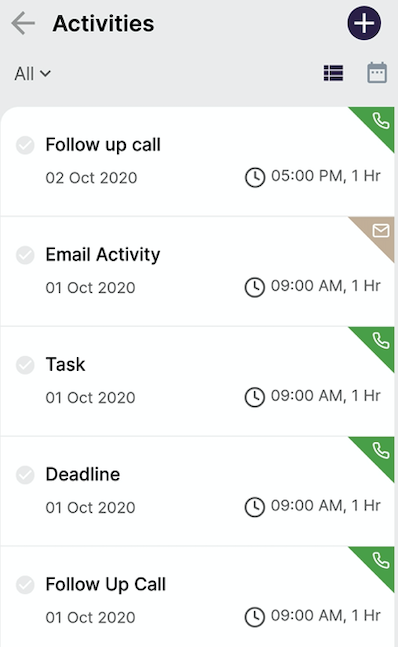 Congratulations! You have successfully learned how to create an Activity using the Desk Mobile App.