Deskera Bookkeeping can be used by accounting firms that provide accounting, advisory, and auditing services to their clients. This is because some small-medium businesses do not have accountants in their firm, they would rather outsource this task to these accounting firms.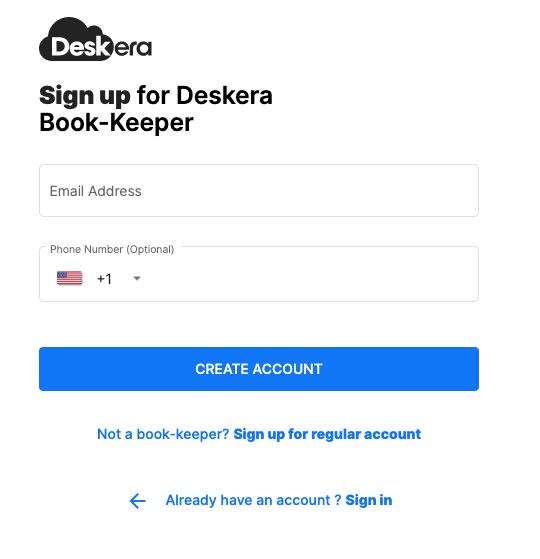 To sign-up for an account on Deskera Bookkeeping, follow the steps as mentioned below:
Go to the Deskera portal.
If you do not have any existing account with us, click on the 'Don't have an account? Sign-up Now' button.
Click on the 'Are you a Bookkeeper? Sign-up for Deskera Bookkeeper's button.
The page itself will change to Deskera Bookkeeper sign-up page.
Fill in your email address and phone number > Click Create Account button.
Enter your name, company details, and company name. Tick the checkbox if you agree to the terms and conditions to proceed.
On the next page,  fill in your industry type, the company size, and the reason to use this application. You can press Skip if you wish to skip this step.
Check your inbox, you should receive the verification email and welcome email. In the verification email, click on the 'Verify your email address' button. A page will show that the verification is done successfully.
Next, click on the Login button.
This will link you to Deskera sign-in page, where you need to fill in your credentials to log-in.
Fill in the company details to proceed to the next page.
That's it! You can start setting up your Bookkeeping firm by either Adding Clients or Inviting more Teammates.
Once you have sign-up for the account, you can start adding teams and clients to the Bookkeeping account.