The balance sheet is a statement that records entity assets, liabilities, and equity as of the end of the accounting period. In other words, a balance sheet is known as the statement of financial position. By examining the balance sheet gives the accountants, investors, or business owners insight on the net worth of the company.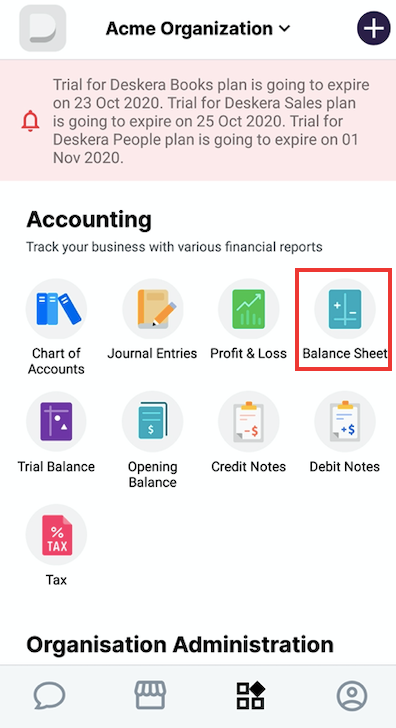 On the Deskera Mobile App, Dashboard under Accounting Modules clicks on the "Balance Sheet" module where you can view Balance Sheet statements as of a date so that you know the company's financial standing.
You can view/change the following details in the Balance Sheet: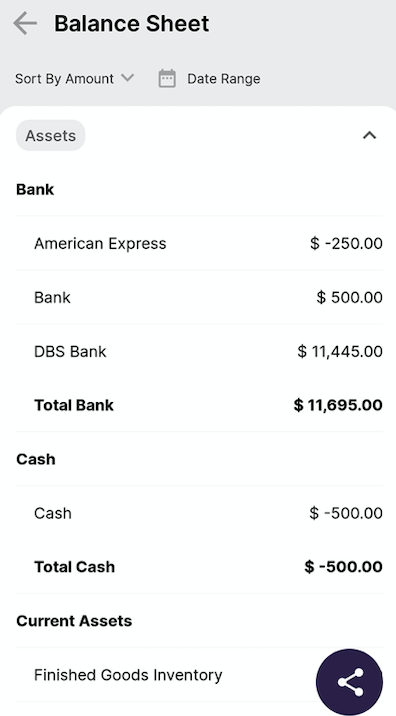 The current date will be shown as a default date
You can compare the balance sheet for two different dates by clicking on the "Date Range."
When you have made the transaction and view it on the balance sheet report, then the accounts shall be correctly classified, and also the amount of each line and category shall be accurate.
By clicking on the "Share "option, you can share the balance sheet details on different Apps for easy viewing and access to the sheet. Tap on the Share button at the bottom of the page the share the Balance Sheet report.
Congratulations, you have finally learned how to view Balance Sheet using Deskera Mobile App.