You can only duplicate Normal and Fund Transfer Journal Entries.
Other entries, such as Invoices or Bills, cannot be duplicated. However, you can use the Copy function within Invoices/Bills. This creates a new Journal Entry when the Copy is created.
To duplicate a Normal or Fund Transfer Journal Entry,
Click into the Accounting tab on the sidebar.
Select Journal Entry.
Go to the Journal Entry that you want to Copy.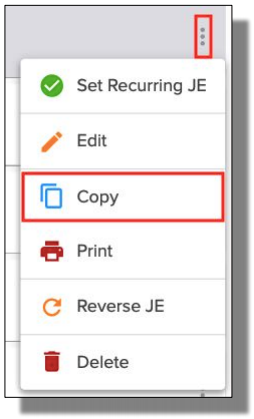 Click the 3 grey dots on the right-hand side and select Copy. The COPY Journal Entry page will appear.
Make any edits if needed, and click SAVE when you finish.