Deskera has partnered with Wise so that small businesses can make bill payments abroad faster and at an affordable rate.
Recently, we have rolled out Wise integration on Deskera Books, so you quickly connect to your Wise account and start managing your bills like a pro.
Wise's seamless payment process allows you to make multiple bill payments involving foreign currency at a cheaper rate.
You can manage your transactions and account payable better and thus improve your bill processes' efficiency.
Let's jump right in!
What is Wise?
Formerly known as Transferwise, our payment partner has recently updated their name to Wise.
Wise was founded in the year 2011 by two close friends, with a simple vision to make the international money transfer charged at a real exchange rate and lower fees, as compared to the bank.
Wise is a leading and reliable payment provider that has been helping small businesses in managing their bill payment processes for years
Do I need to have a Wise account to use it in Deskera Books?
You will need to sign-up for the Wise business account to use this app in Deskera Books.
You need a Wise account because Wise is the platform that will be processing the payment on your behalf, not Deskera Books.
Your Wise account will store all the payment details you have submitted in Deskera Books. Once you have processed the payment, you will need to transfer funds to Wise from your preferred bank account.
In your internet banking portal,  you will need to set-up the payee's name, and the payee's name will be visible for subsequent payments.
How can I set-up a Wise account?
If you already have an existing Wise business account, that's great.
It means you can skip the sign-up process and connect straight to your account.
If you do not have an existing Wise  account, you can register for a  new account here.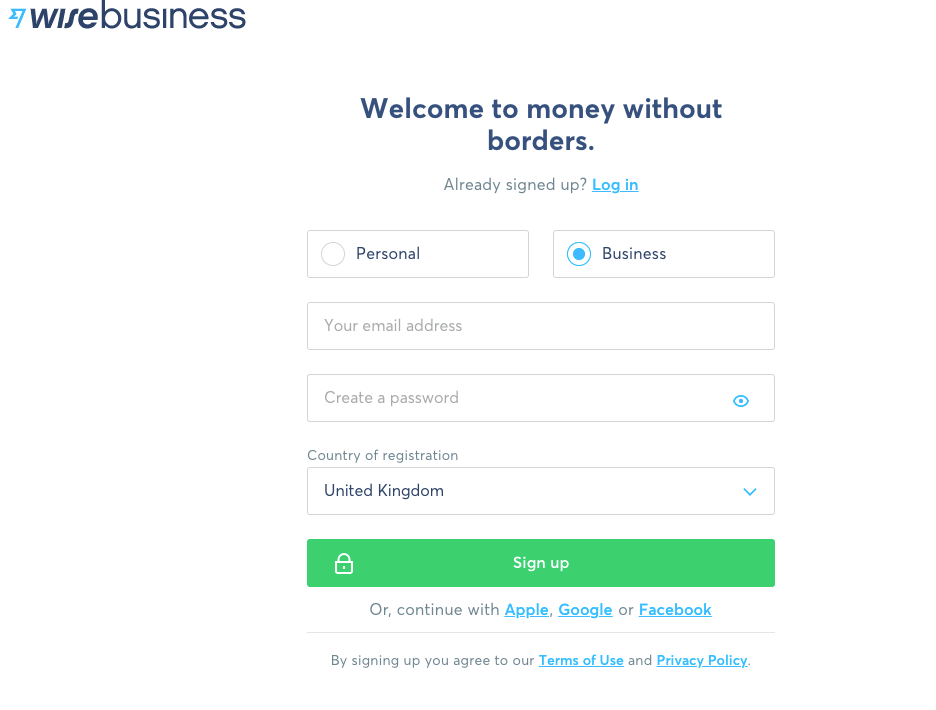 During the sign-up process, you will need to provide supporting documents such as your personal identification number or your business registration number.
The person that sign-up for the Wise account has to be the business owner or the director of the business.
Wise will then examine and verify all the information provided on your end and approve if your business meets the acceptable use policy.
The verification process will take up to three working days until they get back to you.
Where can I connect to Wise in Deskera Books?
Login to your Deskera account.
Once you have logged-in to your account, click on the Switch To button at the bottom left of the screen.
Select Deskera Books. This action will direct you to Deskera Books' Main Dashboard
In Deskera Books' Main Dashboard, select Apps via the sidebar menu.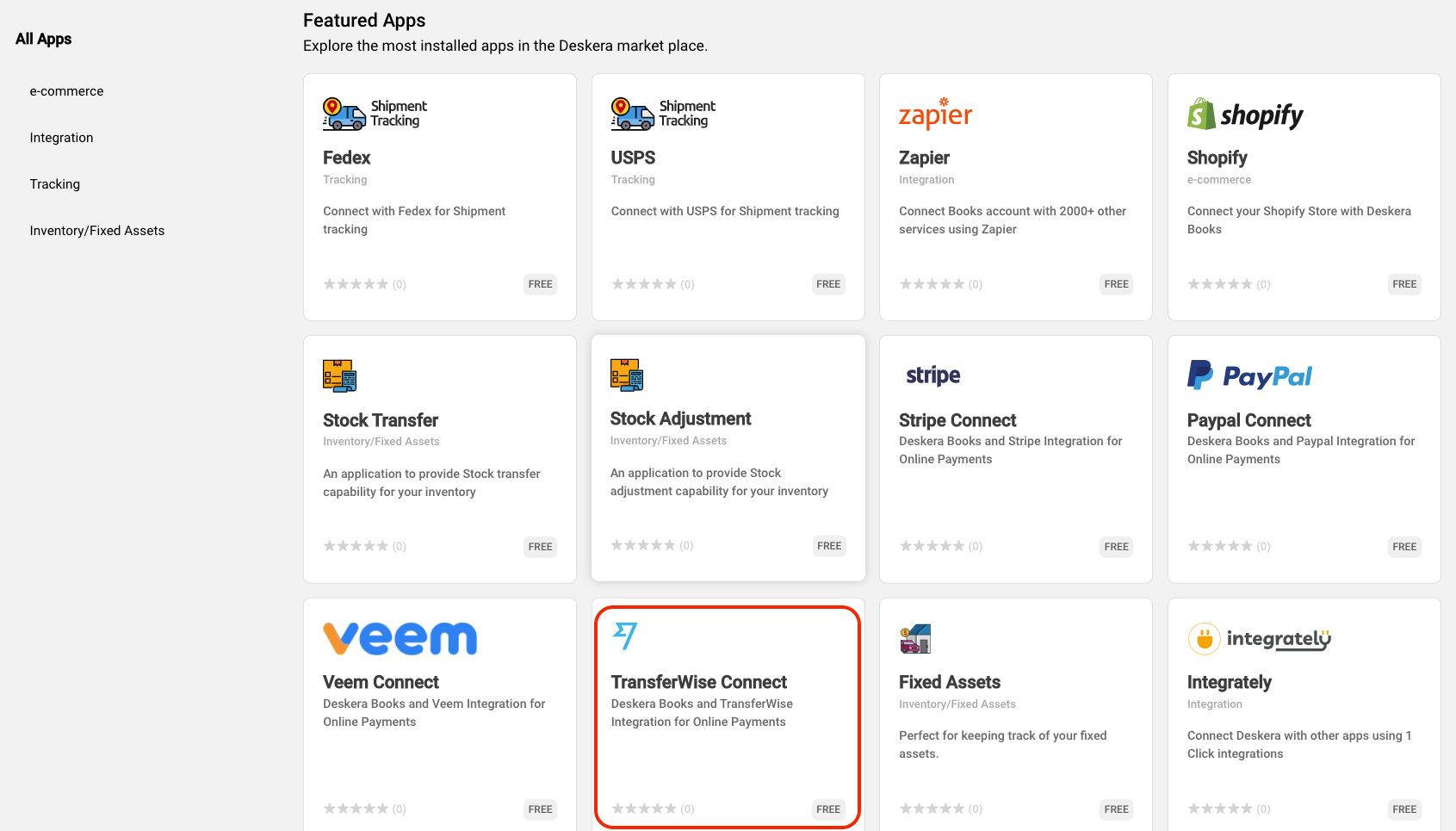 5.  You will be directed to Deskera Marketplace page, as per the image above. Click on the Transferwise Connect button.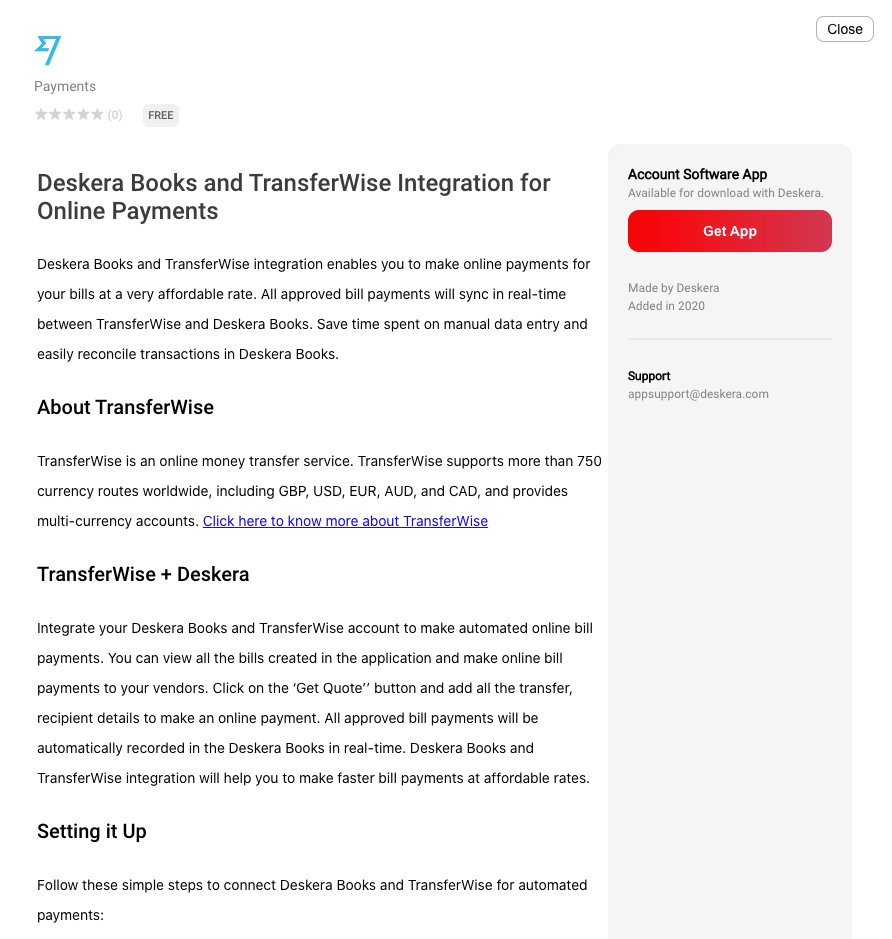 6.  A pop-up will appear and you will need to click on the Get App button.
How can I connect to my Wise account in Deskera Books?
Follow the steps below: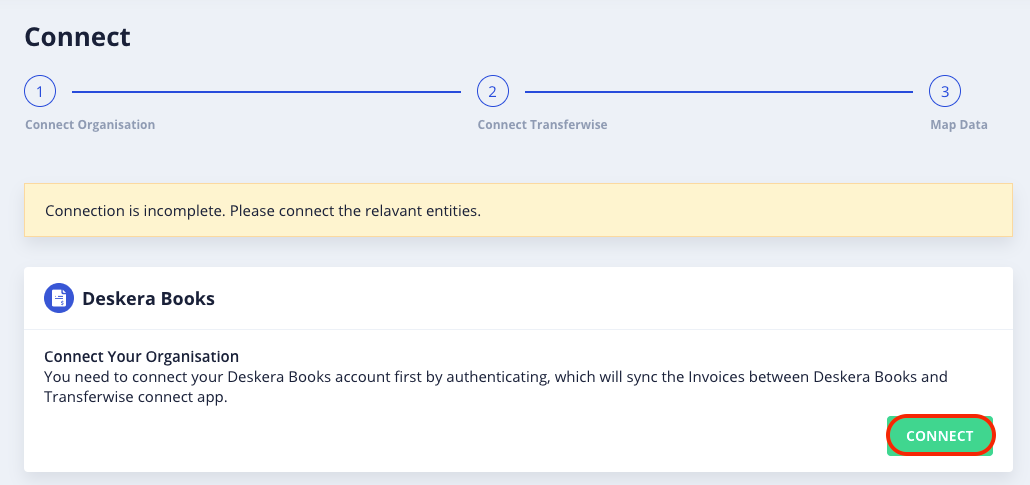 First of all, you need to connect to your Deskera Books account. Click on the Connect button.
A pop-up will appear and you will need to fill in your Deskera Books' credentials.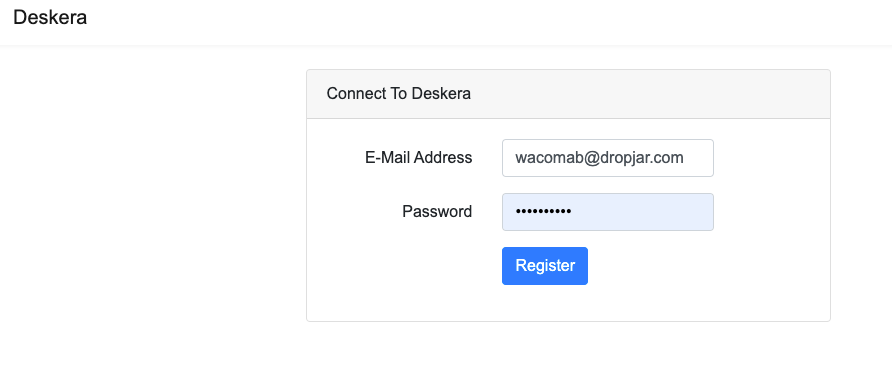 3.  Click on the Register button.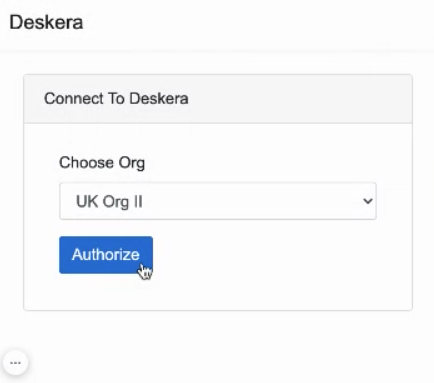 4.  Next, choose the organization from your account and click Authorize.
5.  After connecting successfully to your Deskera Books' organization,  you will need to connect to your Transferwise account.

6.  Click on Connect with Transferwise button. You will be directed to Transferwise login page, whereby you need to fill in your Transferwise account credential.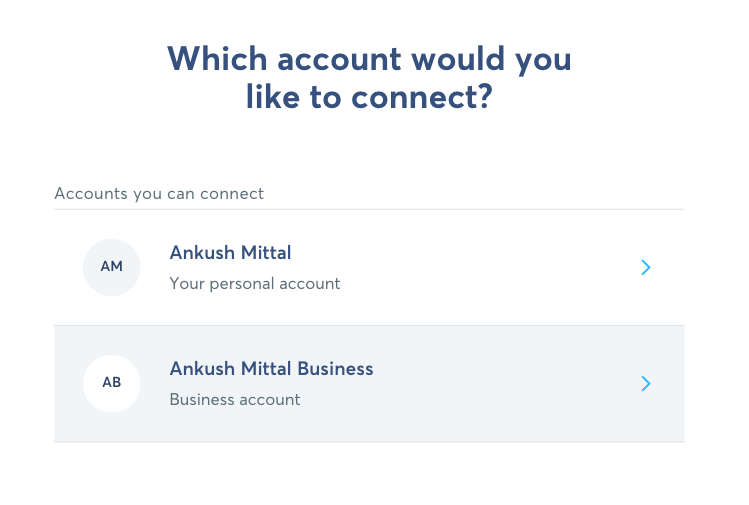 7.  Next, select from one of your existing Transferwise business account.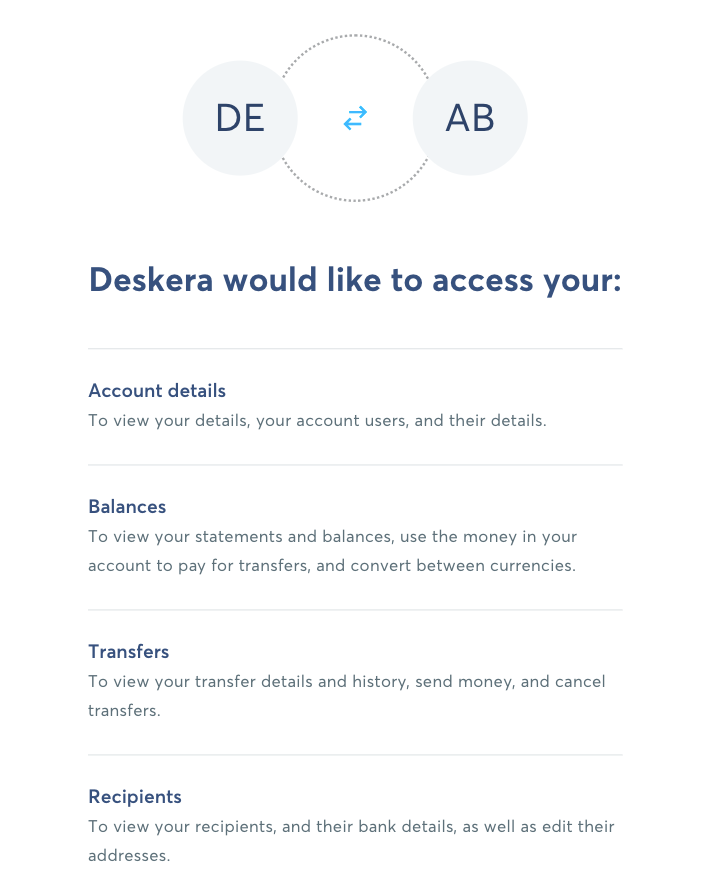 8.  On the following screen, you will need to give Deskera permission to access to the your data in your Transferwise account. Click on the Give Access button.

9.   You can view that your Transferwise Account is successfully connected. If you wish to terminate the connection, click on the disconnect button.

10.  Lastly, you will configure the bank account and Transferwise fee account by choosing the option from the drop-down arrow.
11.  Click on the Update button.
How do I make payment to my vendors after connecting to my Wise account account?
After you have successfully connected your Wise account to Deskera Books, click on the Purchase Invoice tab via the sidebar menu.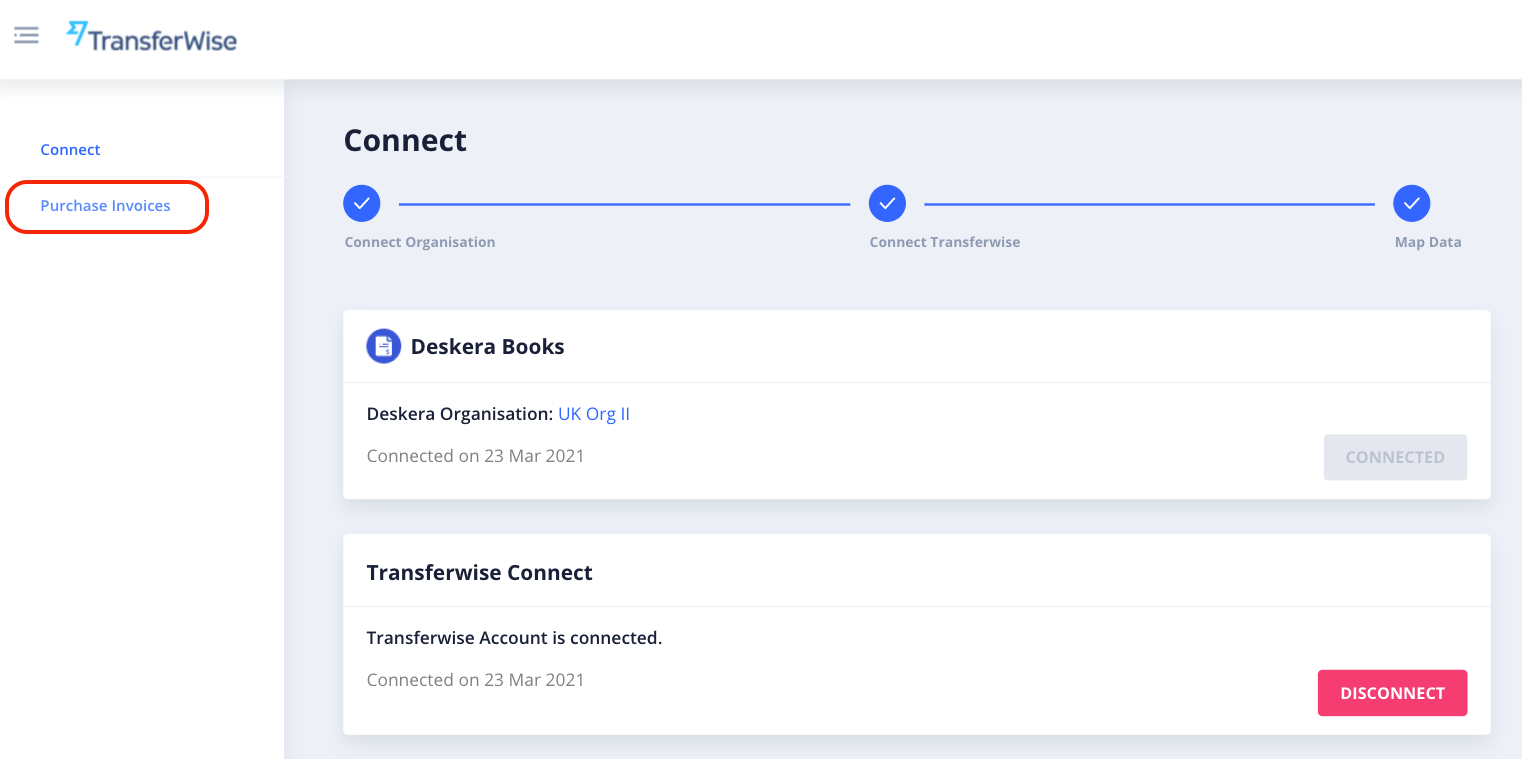 In the Purchase Invoice page, you can view all your bill documents in Deskera Books reflected here.

To make payment using Wise, follow the steps below:
Click on the Get Quote button in the Purchase Invoice tab.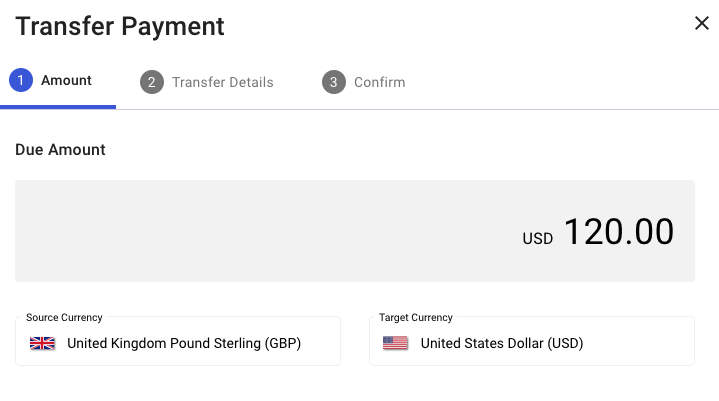 2. A pop-up to make payment will appear. The amount will be auto-populated based on the amount in the bill document. Change the source currency and target currency, if multi-currency is involved.
3.  Click Continue.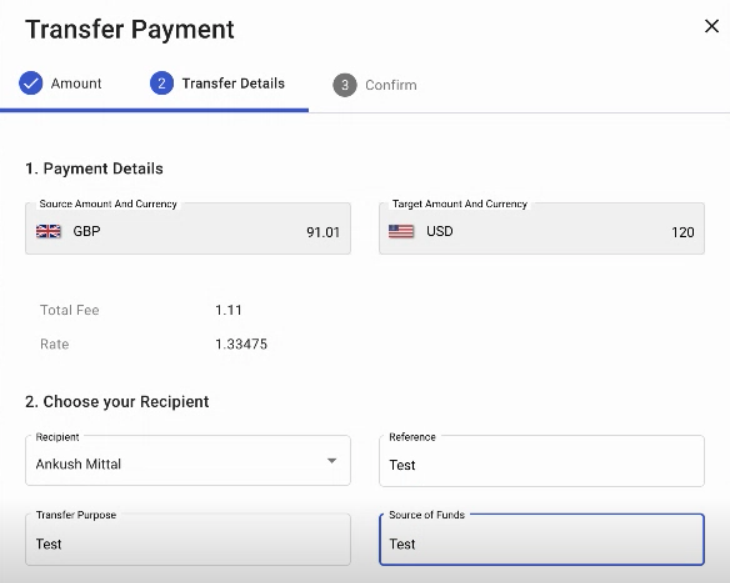 4.  In the following screen, update the payment details:
Payment details - The source and target currency, fee and conversion rate applied
Choose your recipient - Choose the recipient of the payment, reference, transfer purpose, and source of funds. The field here is populated based on your recipients in the Transferwise account.  
5.  Click on the Continue button.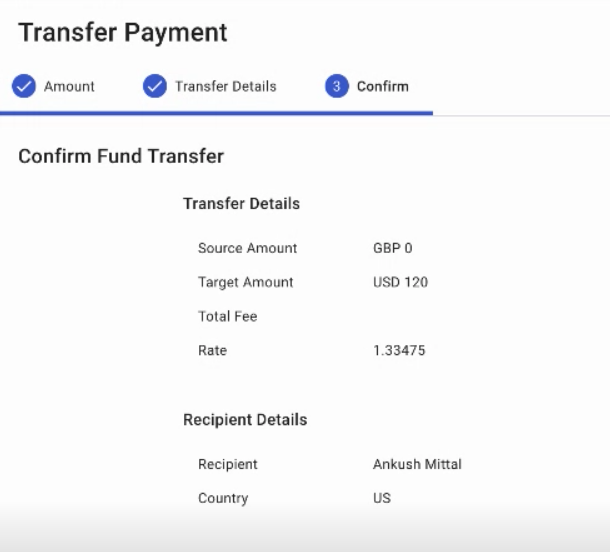 6.  Finally, verify the transfer and recipient details and click confirm, after verifying all the information.

7.  After you remit the payment, the status of the bill document will be shown as processing.
How long do I have to transfer funds for my payment?

After you have sent your payments to Wise for processing, you have 10 days to transfer the funds from your bank account to Wise, before your vendors will receive it.
If the transfer is not completed within 10 days, you will have to reprocess the payment again.
Once Wise receives and converts your funds, it usually takes up to 1-2 working days in order for it to arrive in your recipient's bank account.
Can I receive payment with Wise Integration in Deskera Books?
The answer is no.
You cannot receive payment from your customers using the Wise Integration in Deskera Books.
You can only make payment to your vendors using the Wise Integration.
Can I group different payments into a single payment for the same supplier?
No, you cannot do this at this moment.
You will have to process each bill separately, even though you are making payment to the same supplier.
Can I process my payroll and expenses using Wise Integration?
No. You can only make bill payments to your vendors now.
Is my data secure?
In Deskera Books, we are committed to protect the security of your data by providing layers of protection of your personal and financial information.
When submitting payment details through Deskera Books, the details will be securely sent to Wise via an Application Programming Interface (API).