The market size of the supermarkets and grocery stores industry is $811.5 bn in 2022 in the USA. In fact, the market size of the US supermarket and grocery stores industry has grown by an average of 2.6% each year between 2017 and 2022.
In the retail trade industry, the supermarkets and grocery stores industry in USA is ranked 2nd based on its market size, making it the 14th largest industry in the USA, which has been growing faster than the overall economy. However, when the growth of its market size is compared with the growth of the overall retail sector, it has grown slower.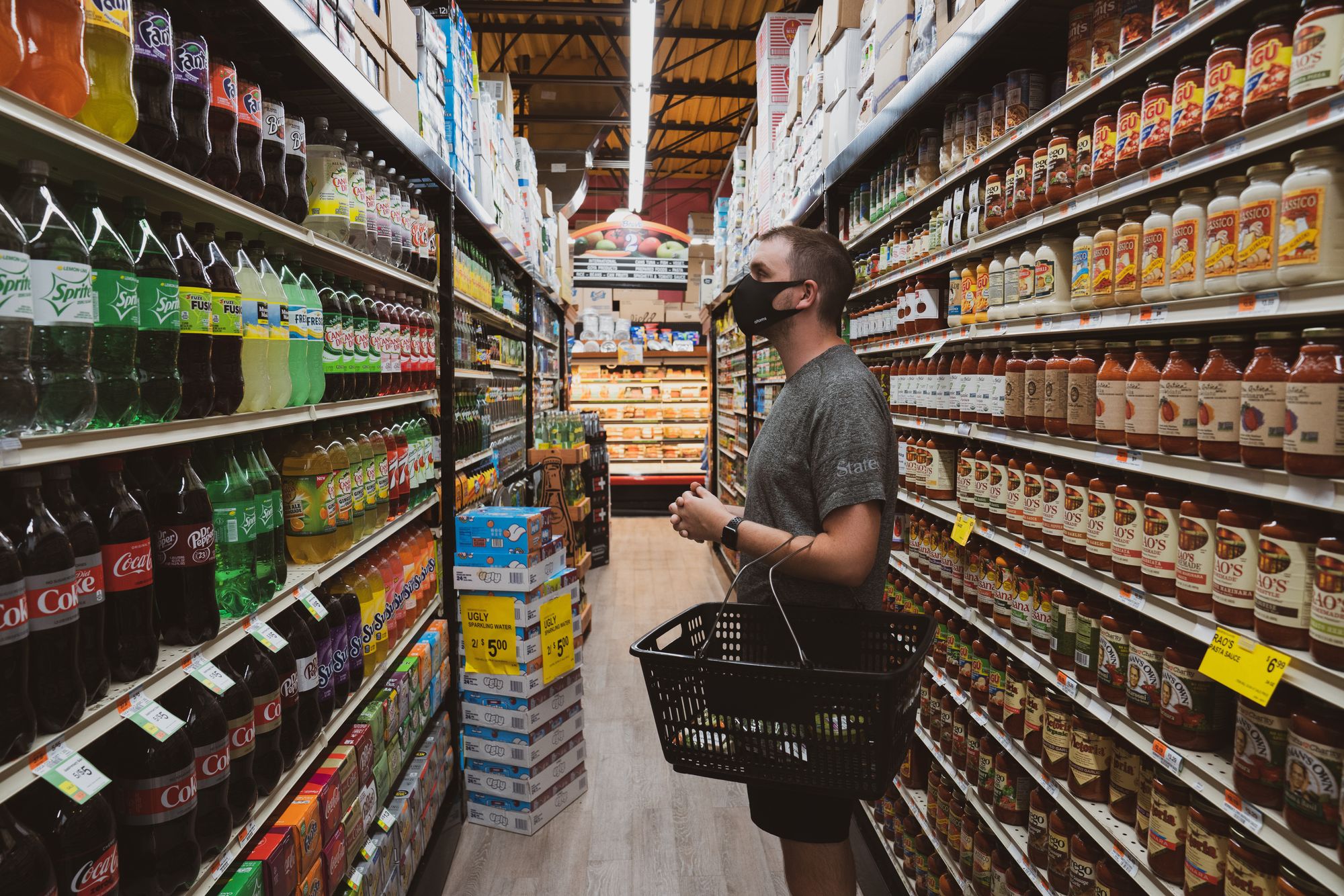 This is because of several challenges that are affecting this industry, including but not limited to ineffective inventory management leading to inventory spoilage and costs, lack of streamlining and integration between different departments, different geographical locations, and different suppliers of the grocery store and/or the supermarket, poor communication and coordination, and cash flow problems. These challenges are further amplified due to the cut-throat competition in this industry, which also features smaller profit margins.
While the supermarkets and grocery store industry of the USA play a huge role in generating employment, catering to the basic needs of its customers, and contributing actively to the GDP of the country, they also have lots of regulations and standards to comply with, high safety and quality control regimes to follow and ensure, as well as lots of management to undertake to ensure that the businesses in this industry remain profitable and successful.
An ERP software like Deskera comes with powerful and strategic business process management tools that will assist all the businesses in this industry in managing their information within their own organization while also easily the information flow between different organizations.
Such ERP software will help in increasing the net revenue and gross profit earned by your organization while also ensuring customer satisfaction and, therefore, customer retention. The efficiency granted by this ERP software, through its automation, will help in saving lots of expenses, time, and other resources, having a direct positive impact on your financial statements, financial KPIs, and other relevant business metrics. ERP software thus has the power to ensure the continued success of this industry in the USA by mitigating its challenges.
Seamlessly Streamline and Integrate Data Across Various Departments and Locations
Get Deskera ERP Today
The topics that will be discussed in this article are:
Supermarket and Grocery Stores Industry
The supermarkets and grocery stores industry accounts for the largest food retail channel in the United States. All the operators in this industry retail general lines of food products, including prepared and fresh meats, seafood and poultry, canned and frozen foods, fresh fruits and vegetables, and various dairy products. In fact, delicatessens primarily retailing food are also included.
Thus, the products and services of the supermarket and grocery stores industry include but are not limited to:
Fruits and vegetables
Fresh and frozen meat
Dairy and egg products
Beverages
Frozen foods
Other foods
Other non-food items
Bakery goods and prepared food
Most often, the activities of the supermarket and grocery stores industry include but are not limited to:
Retailing a general line of food
Retailing health and beauty products
Thus, there are a number of different types of businesses within this industry, usually consisting of supermarkets and grocery stores, which consist of small operations as well as large corporations with numerous locations.
While the supermarket and grocery store industry can be considered to be a part of the food and beverages industry, it is often seen as a separate industry because there are several considerations that only the supermarkets and grocery stores have to make, thereby making it different from running a restaurant or a cafe or such similar establishments.
While raw foods and unprepared products tend to be a staple of the supermarket and grocery stores industry, they have also started selling prepared foods, which often involves both- hot and cold foods, as well as baked goods like fresh donuts, bread, and cakes. While such additions to this industry have brought it closer to the food and beverage industry in many respects, there still exist a number of differences between the business models found within each industry.
For instance, restaurants in the food and beverage industry focus more and are more involved with customer satisfaction through good service and unique dishes. In contrast, supermarkets and grocery stores tend to promote fresh produce and a wide variety of products or local goods to attract customers. Also, their prepared meals tend to be generic and uncustomized.
In this industry, which is part of the overall retail industry of the USA, goods are sold which are not typically grown or produced by the businesses involved in operating the supermarkets and grocery stores.
This means that all the foodstuffs, including dairy products, produce, seafood, meat, and canned goods, are all provided to supermarkets or to grocery stores by other companies or individual growers. These are then sold to the consumers, satisfying their demand while also generating net revenue for themselves.
However, considering that the supermarkets and grocery stores do not have control over the production of the goods sold within their retail locations, leads to them having little control over fluctuations in prices of such goods over time, which leaves businesses in this industry vulnerable to change in buyer personas, fall in demand, lower net profit ratio, and higher losses.
What is ERP?
Also known as Enterprise Resource Planning, ERP consists of systems and technologies that companies use to manage and integrate their core business processes so that they can increase their productivity and profitability.
Some of the core business processes that can be integrated and managed with ERP are accounting, auditing, project management, procurement, supply chain operations, risk management, enterprise performance management, and compliance. However, these are only some of the key processes that can be automated through ERP. ERP software can do much more and can even be customized as per the individual needs of an organization.
Thus, as is evident, ERP software is one that will help in managing the day-to-day operations of an organization by tying together a multitude of business processes and enabling the flow of information between them. In fact, by collecting your organization's shared transactional data from multiple sources, ERP systems eliminate data duplication, thereby providing data integrity.
These days, one of the other advantages of ERP systems that you can avail is that you can have it on-premises or you can also have it in the cloud. This makes the ERP system itself, as well as the data therein, accessible to everyone and from everywhere while also keeping your data backed up as well as secure.
One of the other core benefits of an ERP system is that it imparts transparency to all your business processes by tracking all aspects of logistics, production, and financials. These integrated systems will then act as the central hub of your business for end-to-end workflow and data.
Through your ERP system, you would be able to give access to this workflow and data to a variety of departments of your organization as required and even to the people or persons who require it. One of the best parts of an ERP system is that you would also be able to regulate these accesses given.
Considering that the lifeblood of every modern company is data, including for all those companies in the supermarket and grocery stores industry, ERP makes it easier to collect, organize, analyze, and distribute the organizational information as is required by every individual, and department in your organization, so that they are able to best fulfill their role and responsibilities.
Recent Trends in the Supermarket and Grocery Stores Industry
The food retail industry of the USA has been undergoing enormous changes for quite some time now, which were further accelerated by the pandemic era and the habits developed therein.
This has affected the profile of each buyer persona of this industry, which means that there have been subsequent changes in how businesses in this industry are run, starting from their production, compliances, procurement and procurement management, marketing, inventory management, proactive customer service, and so on.
For instance, during COVID and its lockdown, each of us was used to seeing out-of-stock items in grocery stores and supermarkets, leading to stockpiling behaviors. This created new inventory management challenges for the owners of the businesses in this industry.
Today, consumers have new expectations from businesses in the supermarket and grocery store industry that go beyond the availability of products and quality in-store and online experiences. This means that for your business to survive in this rapidly changing industry that largely deals in perishables, you would need to have an adaptable business strategy that would ensure that your products are available when your consumers want to purchase them.
This, however, is not as simple as it sounds, as you would need real-time updates of your inventory, sales, expiration dates, remaining stock availability, and even insights into consumer demands to expect.
Expansion of Quick Deliveries
In the industry of supermarkets and grocery stores, quick deliveries have become the norm. The competitors of the food retailers have become the ever-fast eCommerce platforms like Instacart and DoorDash, making it a challenge for the businesses in this industry to not get replaced by such platforms.
Businesses in this industry need to ensure that they are able to offer quick deliveries because that is what their customers are looking for, especially the young shoppers. Giving quick deliveries has become one of the best ways to improve customer retention.
Only if a business is able to offer quick deliveries, often as fast as delivery within thirty minutes, or some other feature instead of it, will it be able to stay competitive and have its own customer base with strong customer loyalty, thereby ensuring a healthy profit and loss statement.
One of the best ways to ensure quick deliveries that is also accurate is by having a system like an ERP in place that will integrate and streamline all your business processes, giving you all the necessary information from one place, generate invoice, and also keep track of the entire order through its order fulfillment process.
Turning to Automation to Offset Labor Shortages
Since the pandemic, the digital businesses in this industry have been booming, leading to companies being required to handle their in-store as well as digital businesses. To do so, it requires lots of labor, a shortage of which has been observed, especially because of the perception that retail jobs are not bona fide career opportunities, making it more of a temporary job.
One of the best ways to answer this shortage sooner rather than later, such that the businesses remain unaffected, is by hastening the process of adoption of automation technology not only to manage tasks in the warehouses and backrooms but also in the customer-facing areas of the stores.
This includes adding self-checkout kiosks and aisle-scanning robots to retail floors. Down the road, it is expected that it would lead to the integration of equipment that picks center store items robotically while the customers shop for items like meat, produce, and seafood.
An added benefit of adopting automation technologies is also that it would allow business owners in this industry to offer higher salaries and better benefits to their workforce, thereby boosting longevity and satisfaction while also reducing workplace stress. Implementation of an ERP system will become one of the best investments in the automation technologies segment that will help in managing all your business processes and data in real time.
Improving the Use of Consumer Data
In the age of digitalization and data that is constantly analyzed and interpreted to predict the consumer's demand and give them personalized shopping experiences, the need for retailers to use the consumer data that they collect through their digital channels and otherwise has risen. This is because it will improve their ability to satisfy their customers by being able to not only give them personalized shopping experiences but also by being able to satisfy their needs at all times.
In fact, the use of consumer data will ensure that there are no scenarios of stock-outs that will be needed by your consumers, therefore improving not only your brand image and net profit ratio but also increasing your accounts receivable over your accounts payable. Additionally, this data will also let you improve your substitutions, thereby preventing the switching of retailers by your customers because of poor substitution offered by you.
Thus, your consumer behavior data should effectively inform your operational choices, which will, in turn, help you to increase your revenue, decrease your expenses and operating costs, and set the path for a profitable business. Additionally, the insights from consumer data will also give you the edge to address several of your supply chain issues.
Meals get Fresher and More Convenient
In recent years, there has been an ongoing trend of grocers improving their prepared meal selections. In fact, in order to be able to compete with restaurants and meal delivery services like HelloFresh, they are continuing to level up their meal selections while also adding digital ordering tools.
For example, Kroger's has an integration of ghost kitchens into select stores. This shows how grocers are looking beyond prepared foods to kitchen-prepared meals that have digital ordering capabilities through apps like DoorDash and UberEats.
In fact, in order to boost the creativity as well as the quality of the dishes offered, the grocers are even hiring more culinary talent and preparing more meals on-premises or in nearby commissaries. This has led to a whole new range of products that are: "ready-to-heat," "ready-to-eat," "ready-to-cook" meals, and even a restaurant quality fresh meal that is ready for pickup and delivery. To make this possible, supermarkets and grocery stores even partner up with the local restaurants and cafes.
Making it possible to do this, and have the perfect raw materials, inventory, financials, as well as customer service and support when required while simultaneously collaborating with different suppliers, is made possible efficiently and speedily with the implementation of the ERP system.
Expansion of Retail Media Networks
Considering that retailers, as well as eCommerce firms, have loads of customer data, retail media networks have started serving as a way to leverage all these consumer insights with brand spending, such that returns on investment can be maximized.
While for brands, retail media networks are the best way of understanding your consumers and getting consumer data, for retailers, it is an important way that will help you fund your technology investments.
Today, grocers are relying heavily on selling their own ads in order to make money from them and make up for the lost margin from the digital grocery. In fact, the costs that are faced by retailers in building their eCommerce operations are motivating them to find ways to capitalize on online relationships that have been developed with shoppers.
Acceleration in Premium Products
Premium food in various categories, like specialty coffee, meal kits, alcohol, frozen meals, spices, etc., is largely gaining popularity, seeing increasing sales. In fact, the market share at the premium category level has been towards packaged and semi-prepared meals that offer "fresh frozen" foods, thereby tapping into consumer demand for convenience.
In fact, this intersection of fresh and CPG is an underexplored area by many packaged food companies, investors, manufacturers, etc., of this industry. This demand for higher-priced, higher-quality fresh, fresh-like, or "fresh-frozen" foods is being tapped into more and more with each passing day.
Getting into the Business of B2B
While typically, sales to corporate clients, school districts, and other non-consumer entities have been the specialty of foodservice companies like US Foods and Sysco, the growth of eCommerce has leveled the competitive playing field, which has allowed businesses in this industry to turn their digital playbooks toward a new set of business customers. This is because digitalization and online portals have made everything, including pricing, more transparent, making ordering easier and possible to do with a click rather than requiring one to call someone each time an order is placed.
However, to best capitalize on this opportunity, operational updates are required by businesses in this industry. For example, your clients will now want larger pack sizes that have 64-ounce bottles of olive oil instead of 16-ounce bottles. Additionally, businesses should also incorporate technologies and operations that will allow your buyers to have a dedicated buying portal for such orders whose payment processing is such that it will allow them to pay via monthly invoice rather than on a per-order basis.
In order to best develop and maintain B2B relationships, businesses in this industry should also hire dedicated sales teams that can pitch the service, negotiate terms and manage relationships. The payoff of these dealings will be in the form of large, reliable orders that will also be profitable for your business.
A portal that records all the data of such discussions, deals, as well as movement down the sales pipeline becomes a must for there to be no confusion and chaos between various departments, and even while carrying out the business accounting, etc. Such a portal should also be able to give analytics and insights for these clients, letting you make the most of the upcoming opportunities while mitigating the maximum threats. The ERP system is an answer to all these needs.
Sustainability
One of the other most prominent trends in the supermarket and grocery stores industry is that its consumers now prefer to purchase products from those companies that boast sustainability and environmental consciousness. Grocers who are aware of this trend are ushering the food market further into the future by investing in ethically sourced, sustainable meat products.
For example, a food technology that will let companies grow meat from animal cells. Such cultivated meat is natural, healthier, non-GMO, antibiotic-free, and has a similar taste, texture, quality, and feel as ordinary meat. Also, growing meat is environmentally friendly as it helps in reducing 95% of water and land wasted during cultivation. Additionally, cultivated meat also lowers the methane gas level generated from cultivation.
Thus, such sustainable options and sourcing of food and food products are now being preferred by consumers in this industry.
Challenges Faced by the Supermarket and Grocery Stores Industry
Businesses in the supermarket and grocery stores industry face an entire set of challenges, especially because of its vast range of products, multiple suppliers, perishable nature of products, strict statutory regulations and compliances, multiple geographical locations, expiry dates, different groups of consumers, and changing trends.
Managing all of these challenges and staying on top of the game so that your business can flourish with healthy income statements and balance sheets will require help from something that automates a lot of the processes involved in such businesses. An ERP system is the answer here, but to better understand it, it is very important to first get a good understanding of the challenges faced by businesses in this industry.
Lack of Integration of Function with the Organization
For any business to succeed, it is essential that its departments, as well as different geographical locations, are all integrated perfectly so that the processes that are being carried out are on time, in the right manner, and using the right resources.
This is a challenge for businesses in this industry because lots of information sharing and integration is happening manually, making the information often outdated or prone to human errors or even forgetfulness. This leads to problems like:
The sales department is slipping in discounting products whose expiries are nearing, leading to huge losses for the company.
The production department follows methods of production that are not the most optimized.
The maintenance department carries out maintenance at the most active hours of production, resulting in a direct negative impact on the revenue earned by your company.
Your warehouse department is not having real-time updates on the inventory levels, leading to overstocking or understocking of inventory, adding on to the costs borne by your company.
Your logistics department makes late or wrong deliveries due to problems with the customer's address or products packed, etc.
Your purchase department is unable to procure goods in the manner that their freshness can be ensured because of the absence of accurate insights into what is required and by when.
Your customer service department forgot to resolve some of the customers' queries, and thereby bringing your company under the brunt of their anger and disappointment, leading to loss of their loyalty towards your company.
Outdated and Inaccurate Business Variables
Considering the vast range of products and services, suppliers, geographical locations, and departments, as well as the wide-ranging customers, updating the relevant business variables is a challenge that is faced by businesses in this industry, especially by those who are still relying on manual processes.
In such cases, the information recorded becomes prone to human errors, as well as tends to be outdated. This can be the cost of goods sold, the expenses incurred in the transportation of a batch of products, manufacturing time taken, prices that customers are willing to pay, recipes and formulas of your products, etc.
When such vital information is outdated or inaccurate or both, it becomes difficult for businesses to have a competitive advantage and, therefore, to survive in such a cut-throat industry with small profit margins and a large number of competitors, as your marketing strategy, business strategy, and all such plan and strategies would fail in bringing the desired results.
Lack of Streamlining of the Sales Process
This is a challenge faced by businesses in this industry because carrying out sales involves:
Generation of accurate quotations so that you can earn your profits and your customers do not lose their faith in you
Being able to track where your orders have reached, as well as the entire journey of your customers through the sales cycle
Doing accurate pricing of your products so that not only you are not over-charging your customers, but also not under-charging, and in fact, your prices are such that they seem fair to your customers, and you are able to retain them, and simultaneously, you are earning profits from them.
Delays in sending out invoices, with a huge possibility of them having mistakes.
Having your sales process automated as well as streamlined through an ERP system is the best answer to this challenge.
Need to Optimize Production
One of the other challenges faced by the businesses in this industry is optimizing their production by identifying the underutilized resources like equipment, raw materials, manpower, time, etc. Lack of optimized production also happens because of overutilization of certain resources, which affects its productivity as well as profitability.
When the processes of your organization as well as your various departments are all handled manually, optimization becomes especially difficult because the information gathered is prone to being outdated or being subjected to human error.
Thus, the best way to optimize your production is by resorting to the implementation of an ERP system that will not only automate several processes and integrate the information and functions of different departments and geographical locations but also increase the overall efficiency and therefore lead to optimized production.
Poor Inventory Management and Forecasting
Considering that there are lots of raw materials, ingredients, and varieties of food products involved, this is a huge challenge for the businesses in this industry, especially also when you put in the different departments and locations in the equation. Having an efficient inventory control system in place becomes difficult, especially if your business has a perpetual inventory system in place instead of a periodic inventory system.
Further on, the problem intensifies when the SKU numbers are recorded incorrectly or entered manually by your employees, making them prone to human errors. Such practices can lead to worsening your inventory turnover ratio, which can lead to cash flow problems, as well as loss of clients when their demands go unsatisfied.
Adding to this already existing complexity is the global supply chain, due to which the manufacturers and wholesalers or the suppliers of raw materials get to determine what is shipped, when, and how.
Coordinating between all these different lead times, tracking the various shipments, and then planning your production cycles and delivery times accordingly while also matching consumer demand at the right time takes away a lot of resources from this industry, which could have otherwise been used for more strategic objectives and goals.
In fact, not only this, but even inventory forecasting is a challenge because compiling the data and trends from different sources and departments in order to be able to forecast the customer demands and changes in the same often becomes a long and tedious process that is also prone to giving outdated information or the wrong information due to mistakes in manually recording this information.
The perfect solution for this challenge of the businesses in this industry is to implement an automatic ERP system that does it all for you, including but not limited to the ascertainment of the inventory, inventory reorder point, the establishment of just-in-time inventory, and overall setting up of an efficient inventory management system.
Need to Have End-to-End Traceability
Today, there have been increasing concerns about consumers wanting to know where their food is coming from, where all it travels, what it is made of, how it is being used, what its nutritional value is, whether it is sustainable or not, and so on. Added on to this is the increasing awareness of food contamination dangers in the food supply chain, which has also made end-to-end traceability very important.
However, end-to-end traceability is not only complex but also time-consuming, especially when done manually, at which point it also becomes vulnerable to human errors. Yet, having a solution for this challenge is a must because consumers prefer to buy from a business that is sustainable, accountable, and socially responsible. Implementing an ERP system is the best answer to this challenge, and thus in securing the trust of your customers.
Improper Procurement Planning and Sourcing Process
In an industry where timing, quantity as well as source can determine the success of your products and whether your customers will purchase it or not, and thus whether you will receive revenue from them or not, the procurement planning and sourcing process definitely is a challenge.
To do this correctly, real-time and accurate information and forecasts from all departments across all the geographical locations are a must which becomes a challenge, especially when these processes are carried out manually by employees of your business. In this case, they can become inaccurate, or outdated, or inaccessible because they are not backed by the cloud or the information recording system cannot be accessed by multiple devices.
Need to Optimize Supply Chain and its Efficiency
When there are lots of products involved, with each most likely having multiple variants in terms of ingredients, quantity, and even packaging type, it is a challenge to have an optimized supply chain that is also efficient. This challenge becomes worse when your business operations are carried out manually, which requires even more resources in terms of people and their time while simultaneously making them prone to human errors.
Together, all of this has a negative impact on the supply chain, especially when incorrect decisions are made from incomplete or outdated, or inaccurate information. Implementing an ERP system and automating lots of supply chain processes through it is the best solution for this challenge.
Lack of Streamlining of Economic and Financial Operations
This is a huge challenge for businesses in this industry because there are lots of departments involved, sometimes multiple geographical locations involved as well, involvement of a vast range of products, involvement of multiple suppliers and distributors, and lots of financial compliances or licenses and its fees required by the regulatory authorities.
When information from all these sources is not automated and is rather handled manually, this challenge becomes bigger by multi-folds, making it difficult to keep track of all the sales reports, income reports, forecasts, auditing requirements, taxes paid, and to be paid, and so on. This risks defaulting in the eyes of the law and putting your business in a bad light in front of them. It also leads to incorrect forecasts, which can most likely hamper your ability to fulfill the demands of your customers, resulting in loss of customers and revenue.
The answer to this challenge and streamlining all the economic and financial operations is the implementation of an ERP system. A good ERP system will even come with a system of reminders to remind you of all the important deadlines and will also keep the information updated in real-time.
Need for ERP in the Supermarkets and Grocery Stores Industry and Benefits to Expect from ERP Implementation
Businesses in the supermarket and grocery stores industry are subjected to strict competition with high turnover rates and low-profit margins, which thus makes every sale count. Businesses in this industry come under the food retail section because goods or services are sold to the consumers in retail amounts for personal consumption and not for resale.
However, considering the vast range of products, their varying expiries, how they should be taken care of, different sources and suppliers, and the various warehouses, departments, and geographical locations of the businesses in this industry, managing and streamlining its operations is a challenge that is prone to errors and losses, especially when undertaken manually.
Thus, the implementation of an ERP system in the supermarkets and grocery stores industry is a boon that will help them centralize information and increase efficiency and sale while also improving their cash flow.
Such a system will offer convenient accessibility to improve the effectiveness of your store. Using an ERP system will help you maintain stock availability and employee productivity by having information that is updated in real-time, helping to avoid duplication of work, having reminders for important deadlines, calendars that assign work to respective employees of the department, and many such features.
In fact, your ERP system will also be able to manage inventory and warehousing, ensuring efficiency in the management of consumers and finances, thus retaining customers and having accurate sales records from each location in minutes.
While an ERP system does have several benefits for businesses in this industry, its main benefit lies in the traceability and production management features that it offers. However, some of the top benefits of an ERP system include but are not limited to:
Efficiency Saves Money
Investing in an ERP system will assist you in streamlining your business operations, which will help in reducing expenses, losses, and inefficiencies. With the implementation of an ERP system, your employees will be able to focus their efforts on tasks that actually require their skills, expertise, and intellect rather than focusing on manual tasks like updating data for every area of your business, which can easily be automated.
In fact, by consolidating systems through an ERP system, the need to have multiple systems will be removed. With an ERP system, your managers will now be able to access insights, reports, and analytics like key performance indicators through the dashboard itself, thereby letting them swiftly determine whether your production line is running smoothly or not and whether the outstanding sales orders against inventory levels in one place or not, etc.
Regulatory Compliance
Your ERP system will enable batch tracking as well as serial number tracking easily, swiftly, and accurately. This is because your ERP system will be able to assist you with barcoding, labeling, auditing, and inventory management for full traceability, which is a priority for businesses in this industry.
Regulatory compliance, which is extremely essential for businesses in this industry, becomes less of a hassle because from the receipt of raw materials to the dispatch of finished goods and where it was sent, the whole product journey can be traced and logged for compliance and food safety requirements, or even for calling back batches of products if and when required.
Data Management
Your integrated ERP system will become the central source of data as it gathers information on all processes in one place, like procurement, production, warehousing, sales, quality control, and more, irrespective of their varying departments and even geographical locations.
For example, in your ERP system, the stock numbers will be updated in real time as the materials are used up in production. This can then be used by your teams to cross-reference it with outstanding orders and assess whether more stock is needed or not.
One of the main benefits of this for businesses in this industry is that you will be able to tightly monitor perishable inventory, thereby being able to avoid excessive stock levels or waste and, in the long run, improve your net profits.
Competitive Advantage
Your ERP system will help you manage and automate processes wherever possible, which will lead to optimized production, maintenance of quality and safety, minimization of waste, and improvement in efficiencies. All of this, in turn, will lead to increased competitiveness of your business in the ever-challenging markets of this industry.
KPIs and Decision Making
Some of the most important KPIs, like marketing KPIs, financial KPIs, even operational metrics, etc., having insights into cycle costs, audit pass rates, production output, inventory levels, sales pipeline, and more, will be displayed in your ERP system in an easily understandable format.
Using this business intelligence from different areas of your business, your managers will be able to efficiently decide what needs improving, develop strategies, and also be able to determine what research and development need to be invested in, in order for your business to continue to grow and succeed.
Customer Service
In order to keep your customers constant, encourage customer loyalty and retain them, improving and maintaining a high-quality customer experience is a must. An ERP system with integrated CRM like Deskera will help you in empowering your sales processes while also helping your employees in managing customer relationships.
This is because the ERP system has features that will let you record all your sales activities, communications, queries, and grievances, which can be referred to whenever required. In fact, there will also be a dashboard of solved and unsolved customer tickets. All these will translate to a greater number of happy customers in the long run and, therefore better income statement for your business.
Consistency
Consistency is at the heart of quality management, and quality is of the utmost importance if you want to ensure complete customer satisfaction. Through an ERP system, you will be able to manage your inventory at all stages of manufacturing or sales, from one platform to another, which will result in a consistency that your customers will appreciate.
Due to this, and the fact that your customers will be able to rely on your products and their consistently high quality, they will become returning customers of your brand and not look for alternatives from different businesses.
Your ERP system will be a boon here as it will help in preventing a variety of potential errors that can occur in your warehouse, or during transportation or storage, or even during final selling. With your ERP system, your fault-finding capacity will improve, helping you protect your goodwill, as well as revenue, sales, and profit.
How will ERP Help the Supermarket and Grocery Stores Industry?
Considering that the ERP system will allow planning, improving, documenting, invoicing, and consolidating the manufacturing and transportation of food products in an integrated management system, it is a boon for the supermarkets and grocery stores industry.
In fact, the ERP system is not only an essential component in the efficient manufacturing of food products but is also vital in the management of food companies' entire supply chain from procurement to distribution. This is because the implementation of ERP systems by businesses in this industry will tend to result in:
Greater productivity
Increased profitability
Shorter manufacturing and distribution times
Improved total product quality
ERP systems, thus, are appropriate not only for large companies but also for medium and small companies. In fact, to be as competitive as possible against the larger competition, mid-sized and smaller firms should use every method available to work smarter, and ERP is one of the best methods.
Thus, the number of ways an ERP system will help businesses in the supermarket and grocery stores industry are:
Better Integration of Functions with the Organization
In order to have efficient and most profitable functioning of businesses in this industry, the functions of different departments must be integrated better. With the implementation of an ERP system, the following benefits and more can be achieved in your organization:
Your sales department will be able to determine the availability of finished products from the manufacturing department and set discount policies.
Your production department will be able to track progress more accurately, being able to detect efficiency opportunities with equipment, materials, or labor, thereby finding avenues to increase your profitability.
Your maintenance department will be able to identify time and downtime to deliver proper preventive maintenance, which will let you comply with statutory requirements and also save on losses.
Your warehouse department will be able to ensure proper levels of inventory of raw materials, semi-finished goods, and finished goods so that they can be aligned with consumers' demand and expected demand and be restocked accordingly.
Your logistics department will be able to ensure that the delivery schedules are maintained and that those dates are compliant with the requirements of regulatory authorities.
Your purchasing department will be able to better manage when and how much material is procured so as to ensure freshness while simultaneously improving the cash flow of your business.
Your customer department will be able to ensure that it gives proactive customer service and solves customers' grievances immediately. This will keep your customers happy and loyal to your organization.
Updating Business Variables in Real-Time and More Accurately
Your ERP system will be carrying all your information across all your departments. Be it the prices of materials, delivery costs and times, product formulas, or any such variables, it will ensure that all these figures are updated in real-time and shared throughout the organization.
In fact, in the information stored by your ERP system, it will also include customer prices, delivery times, manufacturing times, product compositions, and more. All these variables will then be compared with historical data to draw up comparisons, as well as be able to predict future variables.
When such information, including of all the other relevant business metrics, is stored in your ERP system and not only updated in real-time but also done so more accurately, your organization will be able to focus better on your business strategy and adopt tactical changes that will let you achieve the objectives of your business, including marketing objectives, sales goals, etc.
Streamlining the Sales Process
In order to streamline the sales process, the ERP system has a set of features that will help your sales departments in increasing their productivity. These features will help your sales department with:
Generating accurate quotations quickly
Tracking quotations and delivered orders
Setting prices by adding the markup to the total costs
Sending invoices quickly and accurately
Optimizing Production
Several businesses in this industry will have machines and equipment that will transform raw materials into final products. ERP implementation will allow your organization to load information on these components into the system to define the production capacity per machine. In fact, it will also be able to immediately detect idle capacity and reallocate resources to use the capacity most efficiently.
With the ERP system, managing the bottlenecks, updating seasonal volumes and trends, as well as planning capacity increases for the future becomes possible. Collectively, all these efforts will help in optimizing your production.
Optimizing Inventory Levels in Time and Quantity
Inventory management is a huge challenge for businesses in this industry. However, with an ERP system, you would be able to address the majority of all these challenges because it allows all functions with the corresponding permissions to respective teams to have access to a unique, reliable, and updated source of information.
In fact, some of the challenges that can be addressed with an ERP system are:
Inability to locate raw materials or ingredients in the warehouse
Finished or semi-finished goods that have exceeded their shelf-life
Excess of SKUs in stock
The purchase of unnecessary materials "just in case."
Time-consuming efforts to update other departments on product availability
With your ERP system and its projection tools, you would even get insights into future demands and how to best prepare for what is ahead. Additionally, your ERP system will also let you track your material levels and update them in real time, thus letting concerned teams of your organization know exactly what is left.
All these functionalities will be especially useful for minimizing waste, making smart purchasing decisions, and maintaining success regardless of the circumstances, especially in the case of your products that are prone to seasonal fluctuations.
Simplified and Improved End-to-End Traceability
As per the recent trends, it has become very important for your customers to know how and where their products are sourced from, how they are made, and what are their nutritional values.
Today, consumers prefer businesses of this industry to have products that are responsibly and sustainably sourced. This is to such an extent that consumers tend to show more loyalty towards brands that are transparent about their products.
With an ERP system, having end-to-end traceability becomes not only simplified and improved but also accurate, as it enables your organization to have all the details from every stop and critical tracking point (CTP).
However, in order to coordinate sharing information, having the right relationships with your suppliers, distributors, and vendors is important.
However, having an ERP system will become a blessing as it will help you out by doing all the heavy lifting of maintaining and updating these records, preserving and adding to them throughout your ingredients' journey from source to the factory to store.
One of the added advantages of having complete data collection like this is that it will keep your company better prepared in the case of a food safety emergency, as you will now have complete and accurate traceability of the entire journey of your food or beverage. This will also make it easier for you to recall your batches of product at the earliest when such a need arises.
Your ERP system will thus manage your recipes, quality control, compliance, and traceability, with its integrated system tracking manufacturing orders in real-time, thereby also allowing for easily identifiable shipments. For an industry that has strict regulatory requirements and standards, and perishable products, having end-to-end traceability is a challenge that is solved best with an ERP system.
Proper Procurement Planning and Sourcing Process
For businesses in this industry, procurement and sourcing are processes that require answers to "which materials", "how much", "how often" and so on. To answer these questions accurately, inputs from logistics, inventory, production and sales departments are a must.
An ERP system is thus the solution here as it collects information from all departments, updates them in real time, and keeps it accessible from one common platform that can be accessed from anywhere and through a desktop, laptop, or mobile app. In fact, cloud-based ERPs also keep a backup of your data, therefore securing it from being lost. In fact, an ERP system makes information sharing super easy, fast, and accessible.
For example, the volume demand for a specific candy increases unexpectedly for the next period. It becomes important to ensure that all direct materials like ingredients, raw materials, and packing materials are on hand. You will also need to get output data from the master production schedule figures and let the production start without any delays.
Optimize Supply Chain Efficiency
With the information stored in ERP, updated in real-time, and then derived insights from, it will let your organization buy what is needed when it is needed and combine the factors of production on time.
An ERP system will help optimize your supply chain efficiency to such an extent that if, for example, changes are made in the sales forecast, then the system will quickly update all the dependent variables of the same. You will then be able to take your remaining decisions accordingly and in a manner that is most profitable, with the most efficient use of your working capital.
Additionally, creating production orders and streamlining the picking list are some of the added advantages of using an ERP system.
Streamlining Economic and Financial Operations
Implementation of an ERP system will streamline your economic and financial operations as it will allow your accounting and financial departments to gain visibility of trends with integrated reports of sales, costs, and profitability by product or family of products.
Additionally, your ERP system will also have all the compliance forms and reports included in the system, thereby ensuring that you are following all the statutory requirements and maintaining good standing in the eyes of the law as well.
With streamlined economic and financial operations, it also becomes easier to pay your taxes, carry out auditing, and have all the financial statements and reports ready for as and when they are required.
How Does Deskera Help with an ERP for the Supermarket and Grocery Stores Industry?
Deskera is one of the best ERP systems available in the market because it delivers a fully integrated, fully compliant, and quick-to-deploy ERP software solution. It is a cloud-based business management solution that is equipped with all the features to provide you with a real-time, holistic view of your business in the supermarket and grocery stores industry.
In fact, for seamless business operations and scaling with multiple business units, Deskera's ERP solution is one of the most preferred software. Not only that, but it will also let your organization be able to manage multiple locations while staying connected with a centralized data source that is shared across all teams and locations.
The accounting specialist of this ERP system is Deskera Books which will let you automate all your accounting tasks, including invoicing, billing, payments, reporting, taxes, multiple currency payments, approval flows, and many more. In fact, Deskera Books will also make it easy to comply with the statutory requirements as well.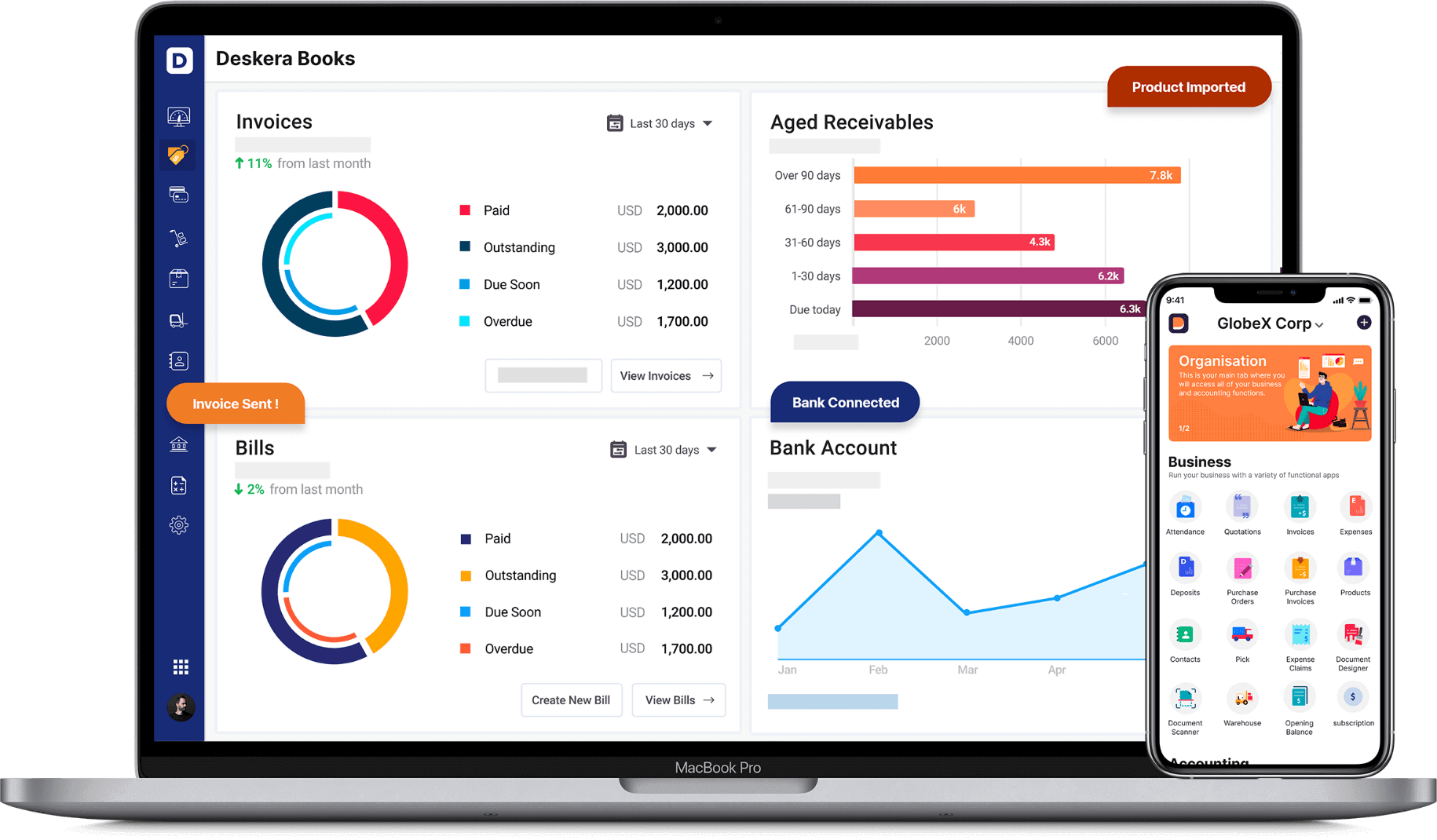 Deskera CRM is the software that you are looking for if you want one that is specialized for growing the customer base through landing pages, CTAs, digital marketing, email marketing, sustainable marketing, and so on. It also helps you stay on top of the customer tickets by having a dashboard that shows the resolved and unresolved tickets.
Such proactive customer service is also made easier through chat, email, help desk options, and so on. Additionally, this software also lets you automate your sales, including finalizing the deals and moving them through their relevant stages in the sales pipeline. All the while, it gives real-time insights on its dashboard of all these processes and more.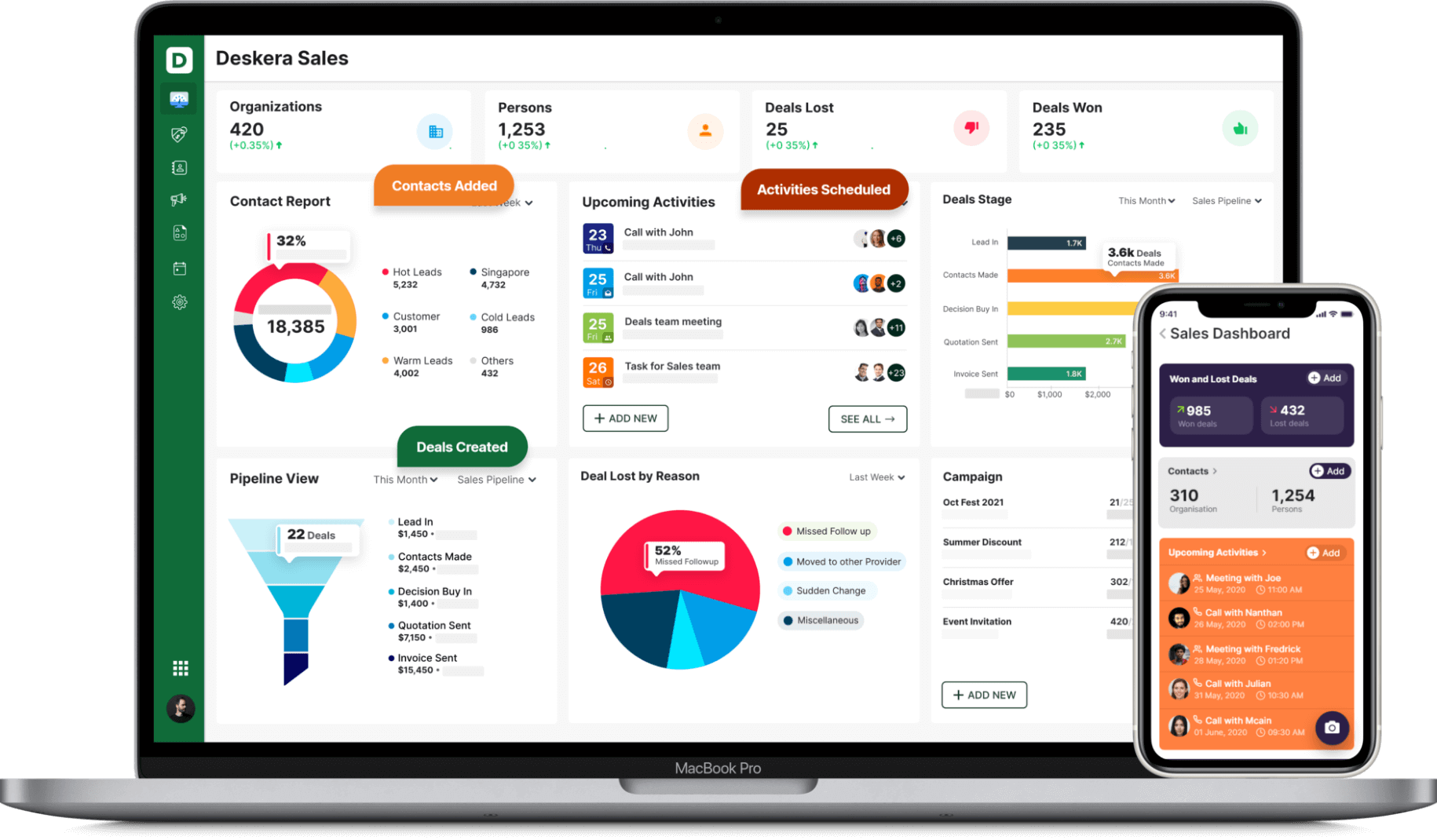 Lastly, the HR-specialized software is Deskera People, with which you will be able to easily handle your employees' deductions, bonuses, overtime pays, and payrolls. Additionally, your employees will have a self-service portal at their disposal for applying for leaves, marking their attendance, tracking the approval or disapproval of their leaves, and so on. As an employer or manager, you would also be able to make customized job applications, design your own hiring workflow, and even have payroll insights with this software.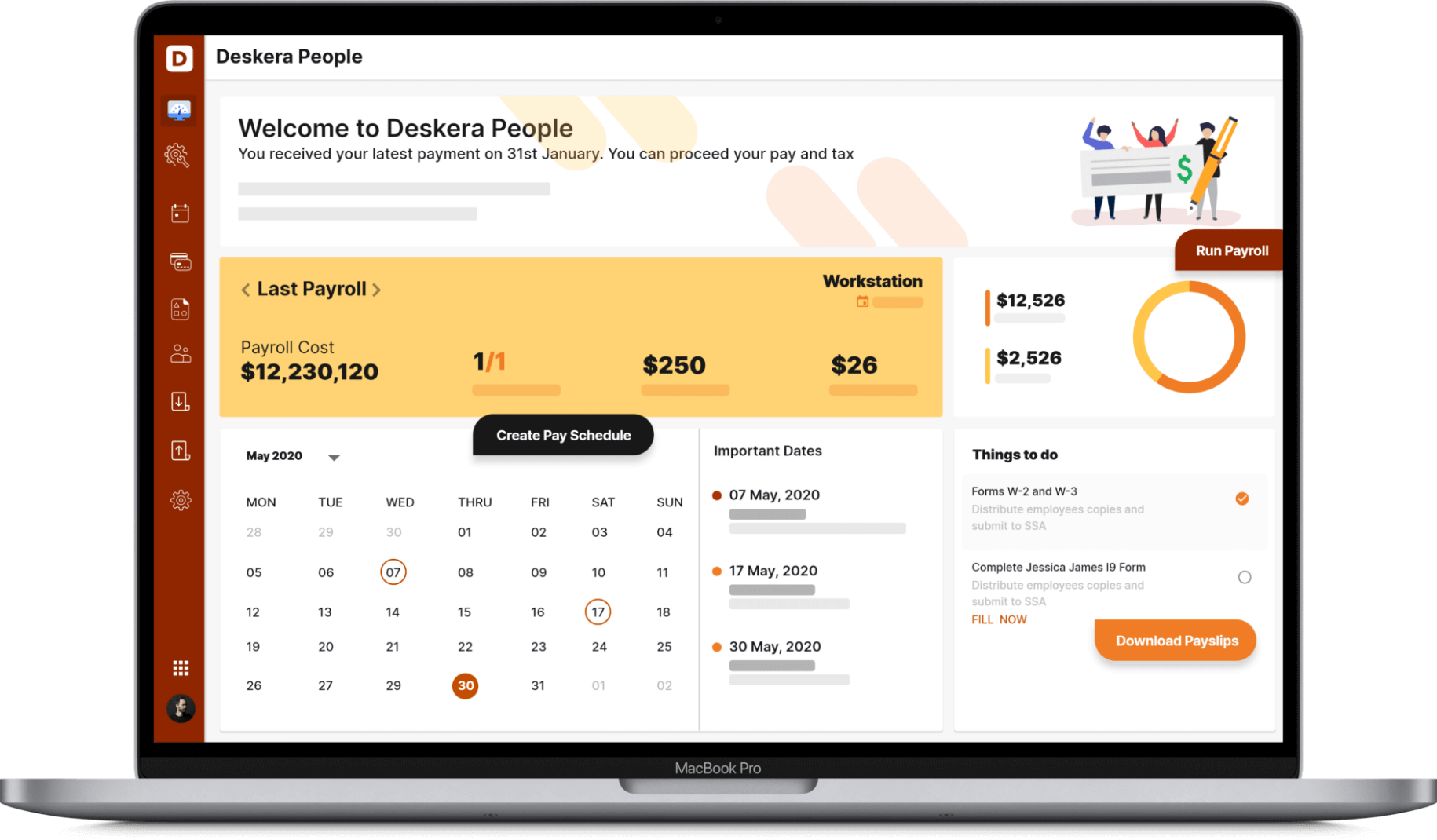 Thus, with Deskera ERP, you would be able to eliminate data redundancy, streamline all operations, integrate all the information and forecasts, and increase the productivity and profitability of your business.
Seamlessly Streamline and Integrate Data Across Various Departments and Locations
Get Deskera ERP Today
Key Takeaways
An ERP (Enterprise Resource Planning) System will be a boon for businesses in this industry as it will help them optimize their operations, achieve higher efficiency, get larger profits, streamline and integrate their operations, have end-to-end traceability, and maintain as well as grow their customer base.
This is because, through an ERP system, businesses like yours will be able to manage and optimize their business processes like production, marketing, sales, accounting, purchasing, finance, logistics, auditing, customer service, and so on.
This will involve but is not limited to procurement planning, sourcing processes, resolving customer complaints, scheduling maintenance, ensuring quality control and management, complying with taxations, processing orders, managing recipes, etc.
Some of the benefits that your business will be able to achieve through the implementation of an ERP system include:
Efficiency saves your money
Better data management
Regulatory compliance
Competitive advantage
KPIs and other analytics will improve your decision making
Better customer service and experience
Achieving and ensuring consistency
ERP hence is an integrated management system for companies in the supermarket and grocery stores industry. One of the best ERP systems that you can resort to for your business in the supermarket and grocery stores industry is the Deskera ERP system, as it will easily let you export all your data in the system, create a centralized data source for your business that is backed by the cloud, and is accessible from different devices, and different locations, thereby effortlessly streamlining and integrating all your business processes.
Related Articles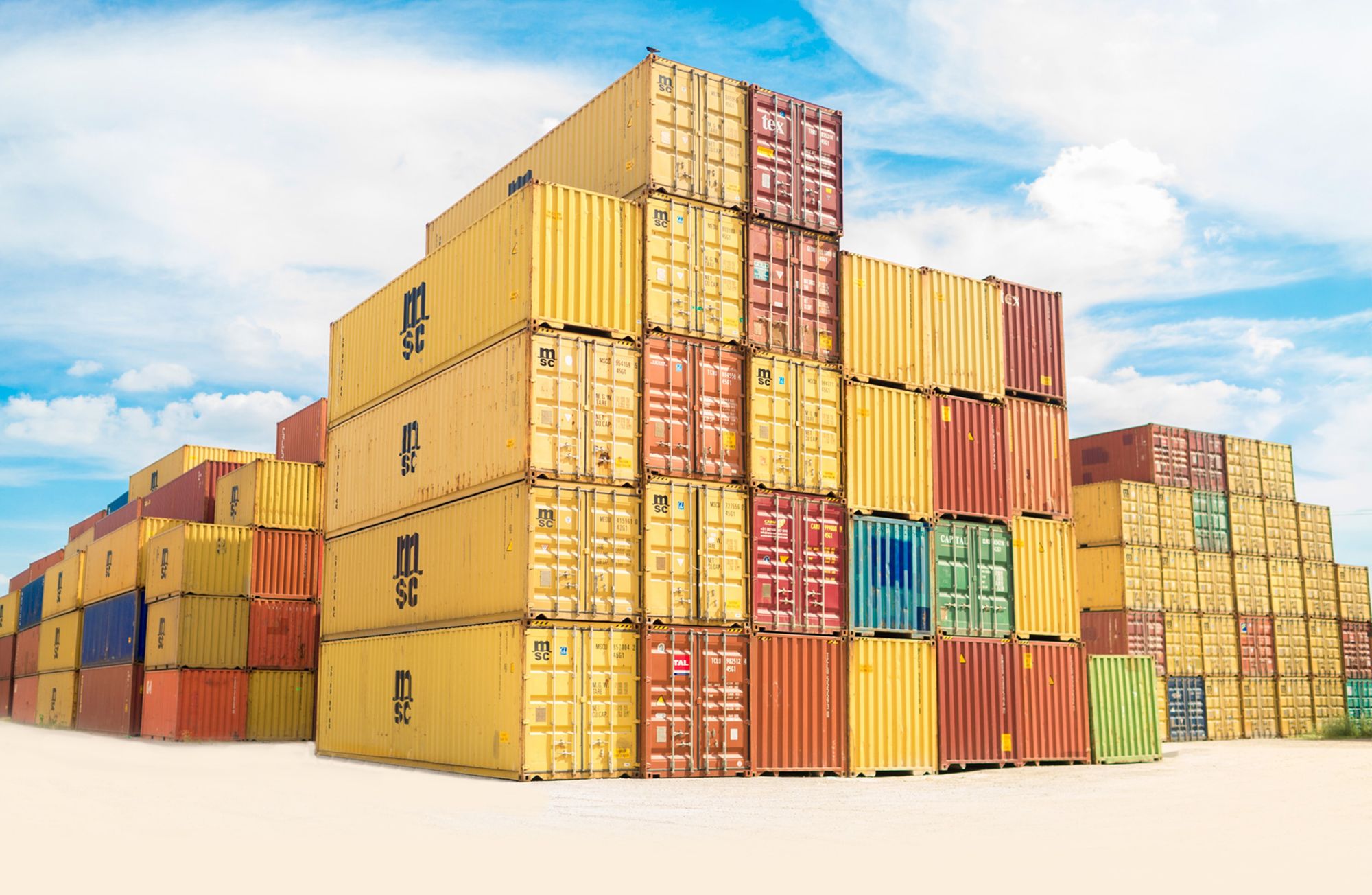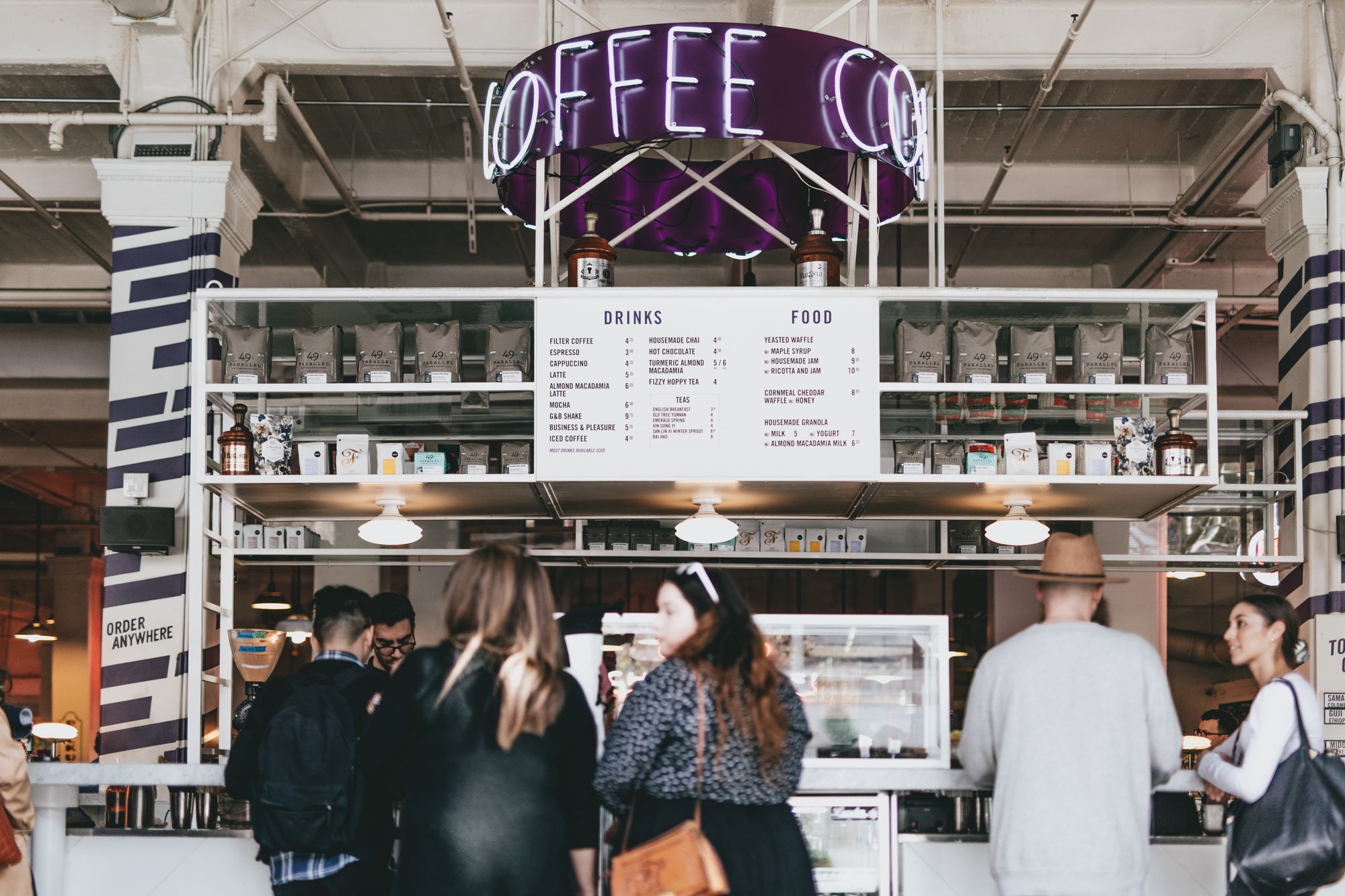 ---
---