The U.S. heavy equipment market is expected to grow at a CAGR of 4.29%, reaching US$ 93.68 billion by 2027. Government spending on construction is the main factor fueling the growth of the heavy equipment market in the United States.‌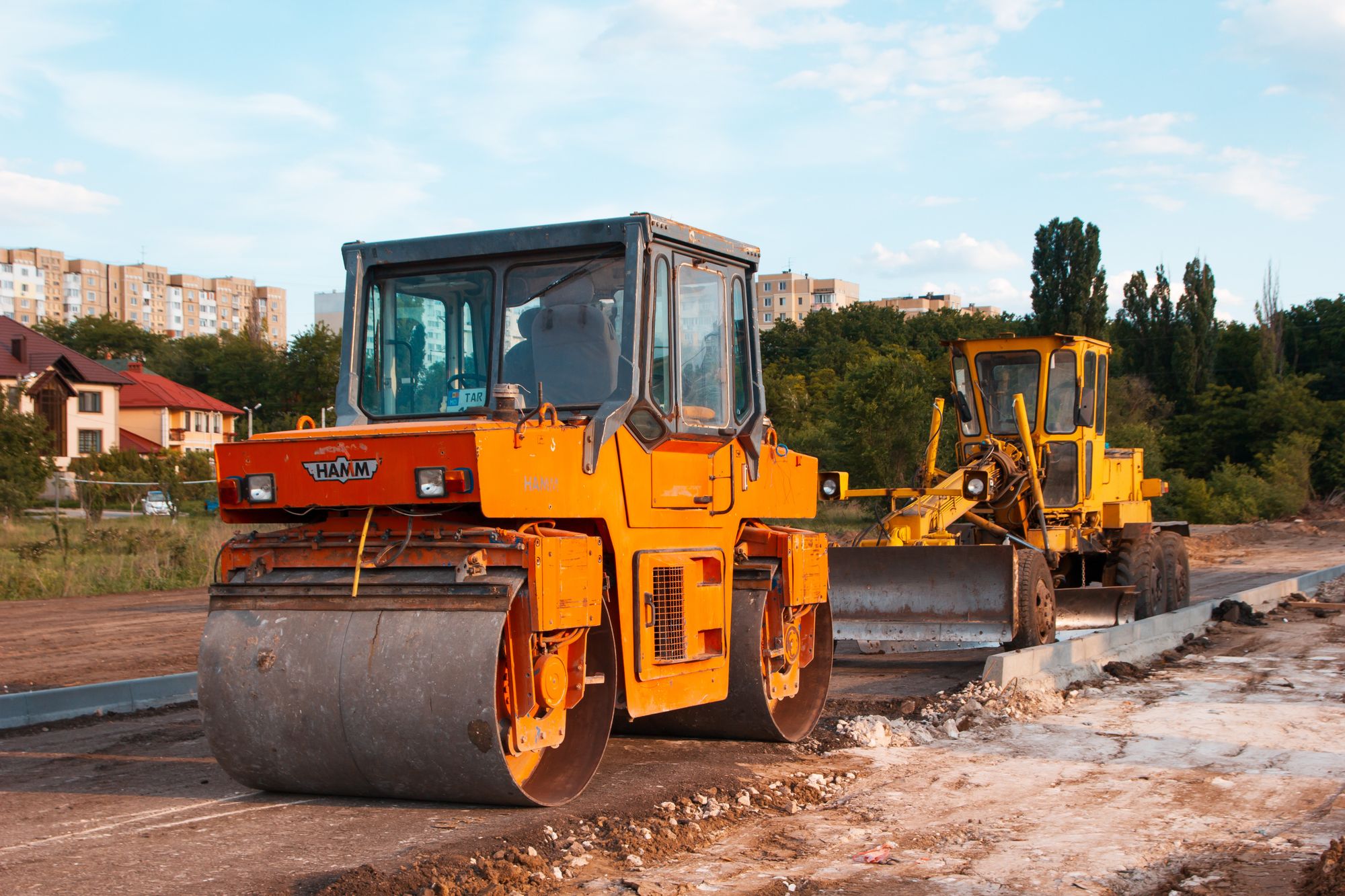 Moreover, the demand for heavy equipment also decreased in 2020 as a result of COVID-19's significant effects on the construction sector, but the market is anticipated to increase steadily over the following three years. This throws light on the fact, how Heavy Equipment Businesses are going to take advantage of ERP in the near future. This article serves as a guide towards understanding ERP for Heavy Equipment Industry. Following are the topics included in the article:
‌
Deskera provides the best ERP Solutions for your Business
Sign up for Free Trial Today!
Heavy Equipment Market Overview
Construction of roads, forestry, farming, manufacturing, oil and mineral extraction, public works, and military uses are just a few of the diverse industries that use heavy equipment.
Due to the restart of suspended construction projects and expected new investments in the construction sector as part of the infrastructure development activities, the market for construction equipment has progressively increased since the COVID-19 period.
Infrastructure investments, improvements to residential and commercial infrastructure, and an increase in institutional capital spending on a global scale are some factors affecting the expansion of construction equipment manufacturers.
Construction activity has increased in several places in the US, UK, China, and India.
A variety of heavy equipment categories can generally be grouped according to the main applicable requirements:
Mining equipment –horizontal drills, mining tractors, vehicles, and wagons
Track-type – Tractors, bulldozers, snow cats, track skidders, agricultural tractors, military engineering vehicles, graders, and skid steer loaders are all examples
Excavator – Dragline excavators, wheel excavators, front shovels, trenchers, yarders, and  pipe layers.
Underground – Equipment for underground mining, tunnel boring machines, and roads
Articulated -articulated trucks and haulers.
Backhoe – Backhoe loader, backhoe
Compactor – Wheel dozers soil compactors, soil stabilizer
Paving –vibratory compactor, a pneumatic tyre compactor, a road roller, an asphalt paver, a cold planer, a cure rig, and an asphalt paver.
Highway, Railroad –Dump truck, highway dumps, transfer train, transit-mixer, street sweeper
Hydromatic Tools –Ballast tamper, attachments, drilling device, pile driver, and rotary tiller
Loader – Wheel loader, track loader, skip loader
Timber – Track harvester, wheel forwarder, wheel skidder, buncher, harvester, and skidder
Material Handler – Aerial work and transportation platform, cherry picker, crane, forklift, trailer mount, reach stacker, and telescopic handles
Wheel tractor-scraper, scraper, and Fresno scraper
Competitive Landscape: Caterpillar Inc., Kobelco Construction Machinery Co., Ltd, CNH Industrial NV, Deere & Company, Komatsu Ltd, JCB India Limited, Volvo Group, Doosan Infracore, and XCMG are a few of the prominent businesses that controlled the Heavy Equipment Market and attained a significant market share.
The market for construction equipment is characterized by a large number of regional and worldwide competitors, creating a highly competitive market environment. Small-scale or domestic players make up a sizable portion of the market in addition to the larger players.
The construction equipment market is divided into three categories: drive type (hydraulic, electric, and hybrid), geography, and equipment type (such as cranes, telescopic handlers, excavators, loaders and backhoes, and other machinery types) (North America, Europe, Asia-Pacific, and Rest of the World).
What is ERP?
Enterprise resource planning is referred to as ERP. Finance, HR, supply chain, and inventory management are some of the fundamental business operations that enterprise resource planning software is designed to manage and combine into a single system in the heavy equipment industry.
It is essentially a collection of connected apps that a company can use to gather, organize, store, and evaluate data related to various dealers, inventory, etc. from a variety of business operations.
Many of the things we take for granted in daily life are made possible by heavy machinery, and businesses that use this equipment are subject to stringent requirements. ERP is widely utilized in heavy equipment firms of all kinds and is increasingly being used in expanding small businesses. It is regarded as a need for major enterprises.
Why do you need ERP for Heavy Equipment Industry?
Due to delays in loading, transportation, or bills, the heavy equipment industry encounters a plethora of problems. When these problems arise frequently, a significant amount of business can be lost. Industries frequently have delivery problems as a result of numerous issues.
Key operations in the heavy equipment business include transportation, warehousing, unloading, and cargo loading. ERP software for heavy machinery is the greatest option for resolving these issues.
Manufacturers of industrial machinery and equipment frequently deal with difficult standards as well as manufacturing issues. It can be challenging and complicated to translate these criteria into engineering specifications, whether for new equipment orders or modifications to current machines.
To convert requirements and incorporate them with current designs, there needs to be an organized change process supported by the right tools. These also need to take inventory needs and manufacturing schedules into account. The most effective, efficient, and precise way to address all needs is how ERP is intended for this industry.
As-is Process analysis
Heavy equipment engineering traditionally faces difficulties in creating products that can operate safely and effectively in tough settings and under difficult circumstances. Today, these challenges are amplified by as-is process analysis. As-is process analysis in heavy equipment industry has the key benefit of giving an organization's procedures a strong basis.
An organization can assess the state of its processes as-is and spot areas for improvement using as-is analysis related to end-to-end equipment manufacturing process.
Process management and improvement are difficult without this core knowledge. In other words, it will be difficult for you to get where you want to be if you don't know where you're beginning from.
Heavy equipment businesses rely on reliable procedures to accomplish goals in an efficient and effective manner. But without sound procedures, your equipment company can be losing cash, employees, and even customers. As-is process analysis fills this role.
Organizations may better perform, be more efficient, and produce better results by documenting, monitoring, and optimizing their processes.
Benefits of reviewing your as-is process
Heavy Equipment Businesses might also anticipate the following benefits from performing current state and future state process reports:
Acquire a competitive edge.
Enhance process training and communication.
Boost operational effectiveness.
Improve organization-wide consistency and control.
Your as-is process map should include all process inputs, systemic support functions, thorough instructions of how to carry out the process, and all process outputs, regardless of the style of process or diagram you choose.
How does the As Is - To Be Model Work?
In a nutshell, the concept is implemented by first documenting current practices in heavy equipment manufacturing using As Is process mappings to:
Create a detailed visual representation of the processes in your organization.
Visualize process breakdowns and risk areas before debating and revising the process maps to reflect the desired To Be method of operation.
Before you make any future process modifications, model their effects.
This method prevents the very real danger of making things worse by changing them when you don't really understand why they are done that way. It also permits the impact of the changes proposed to be understood before they happen. Additionally, without knowing the starting point, it is hard to quantify any improvement.
Process components
Inventory: The manufacturing of machinery and equipment is difficult due to your large inventory, equipment, and spare parts. With ERP Software for the machinery and equipment industry, you can manage your multi-level assemblies and workflows without any trouble.
With the best machinery and equipment ERP software, you can schedule the MRP and shop floor tasks, keep track of your real-time inventory, and determine the proper cost of each raw material to become a spectacular machinery and equipment maker for your customers.
ERP software for the machinery and equipment sector makes all duties easier and aids in comprehensive corporate management.
Stock Transfers: based on movement instructions, product, warehouse, and location transfers.
Issues and Returns: Control movements to and from consumers and suppliers for any reason. System transfers also permit modifications to product forms, such as unit of measure, quality, or kind.
Stock Adjustment: alter product entry and exit while maintaining accounting integrity
Stock Revaluation: determine the product's value change and take stock revaluation into account.Easily fix Min-Max levels, Re-Order levels, Last Purchase Rate History, Minimum Order Quantities, and Safety Stock. Accurate locations and stock status; item-wise and inventory turnover analysis.
Selling:
Sales orders: Create sales orders, challans, invoices, quotations, and electronic invoices from unbilled challans.
Service management: The full service management lifecycle, including service scheduling, execution (Job Cart), daily service reports, and service billing.
Buyer account: Accounts of Buyers, either from a single business or from huge groupings, with several consignee locations.
Record and view transactions based on a variety of criteria, including broker and salesperson basis, party- and item-based.
Sourcing:
Purchase Price Capturing: Directly importing an excel sheet containing the price list into the ERP system.
Item discounts: Item discounts can be applied on item classes depending on clients, industries, or tax situations.
Purchase orders: One can automate purchase order based on total stock, pending orders, and degree of reorder.
Integrations
Companies need an integrated system for production design, planning, and manufacturing so that the various manufacturing operations don't function independently. Not only should new specifications and modification orders be conveyed to design plans, but also to resource planning (such as the Bill of Materials and Master Production Schedule).
To guarantee that design criteria are accurately communicated and changeover plans are carried out, online engagement with suppliers is essential. Processes are streamlined, productivity is managed, and revenue tracking is aided by ERP. It also takes care of resources like equipment, workers, and more. Additionally, you can spend money on several system kinds like machine and job shops, CAM, CAM-CAD, and CRM.
Machine and job shops: Modules that fit your machine shop's requirements and operations are necessary. Developing precise, deliverable quotes and estimates for your clientele. It also includes:
Order processing: A top-notch order management/processing component allow you to keep track of and modify materials, deadlines, amounts, and more inside orders.
Scheduling: For better resource management and job classifications, get a complete picture of your equipment and staff. Analyze the active to idle states of the machinery.
Inventory management: Examine current stock levels to precisely pinpoint replenishment strategies.
CAM: A program called CAM uses computers to speed up and automate industrial tasks including designing parts for milling, turning, and other operations. You don't have to do it manually because it instructs various machinery on when and how to carry out specific jobs during production. This increases production time because you can concentrate on your individual responsibilities while the machinery gets to work right away.
CAD-CAM: Computer-aided design and computer-aided manufacturing capabilities are combined in CAD-CAM software. An equipment is designed and created using CAD, while a prototype or finished product is created using CAM after a CAD model has been created. It includes:
Milling: Milling is a material removal technique that removes extraneous parts from goods and work pieces.
Turning: Removing unwanted materials from rotating components and work pieces like gears and wheels through turning is another material removal action.
Machining: This method of material removal also involves shaping materials and work pieces into the desired shape using powerful machinery.
CRM: Businesses that use CRMs report sharp increases in productivity, managing your missed sales quota, conversion rates, profitability, and productivity.
What are the challenges faced by Heavy Equipment Industry?
Large and complicated products, many of which are engineer-to-order (ETO) items that frequently include standardized parts and components, are produced by heavy equipment manufacturers. To ensure that their output is what the client wants, engineering and manufacturing must coordinate and simplify data transfers and design hand-offs. Customers' needs, however, are subject to change even after their equipment has begun production.
Production planning and management
Manufacturing teams struggle with work tracking and production scheduling for new orders. A visual representation of the production process shows where potential delays could occur and aids in assessing the actual progress of a work.
This is necessary to guarantee on-time manufacture and scheduled deliveries. Key manufacturing and supply chain management responsibilities typically have a great deal of overlap, but when they are coordinated, they may overcome these manufacturing issues.
Critical resource management is one of the primary challenges in task planning. In order to address changes like escalations, interruptions, and absences in a timely manner, manufacturers must link resources (people and materials) to jobs.
Plotting out the project's timetable, which starts with start and conclusion dates, is the essence of planning. What you require is a system that allows you to visually schedule resources and materials in accordance with the various milestones so that everything proceeds smoothly. This can guarantee on-time manufacturing and scheduled service delivery.‌
‌
Data reconciliation
Data reconciliation is a crucial part of Heavy Equipment operations, but the fact that many businesses still use manual procedures makes it difficult to fully automate. Increased automation is a crucial operational and financial goal because the expenses of human reconciliation can reach the millions.
The importance of streamlining the reconciliation process has never been higher due to the ongoing requirement to increase operational effectiveness and control costs. Organizations looking to increase accuracy speed, and cut costs can use more automated reconciliation processes as a vital tool.
The following four problems need to be resolved:
Possibility of fraud: One of the most crucial purposes of reconciliation is to identify fraud, but if these procedures are not properly monitored, dishonest personnel may exploit them to conceal evidence of wrongdoing within the organization.
For instance, when statements are downloaded and transferred to ERP systems, a staff member performing these tasks manually may alter the statement to hide the evidence of fraud.
Data entry procedures: Reconciliation is still a time-consuming, laborious process in many businesses. Before transactions can be compared, it could be necessary, for instance, to log into a banking system, get a statement, and upload it to an ERP system.
However, because banks will employ various file formats, a user will first need to align and standardize files before uploading. This takes time, and for large companies with lots of transactions, it can quickly deplete the resources of a finance staff, leaving them with less time in the day for other crucial tasks.
Auditing: The records themselves must be securely stored and made available for audits if necessary when reconciliation operations are finished, although this can provide its own challenges. Reconciliation results that are still kept in paper formats take more space, are more expensive, are much more difficult to look through, and have limited traceability.
Reconciliation is still frequently thought of as a time-consuming, resource-intensive task despite these advantages, particularly if you continue to use spreadsheets and human labor to perform it. To ensure that these procedures run as smoothly as possible, you'll need to address a number of challenges that may arise.
Error-prone inputs: These manual inputs also increase their susceptibility to mistakes. When data is manually moved and re-entered across systems, mistakes can occur at any level, and the more steps there are in the process, the more likely this is.
Errors could occur while downloading, uploading, file standardization, and record matching, which could lead to an erroneous picture of your cash flow and increase the cost of future corrections.
Quotation management
Given that the majority of the business that IM&E manufacturers do is won through quotation, this is their main hurdle. Equipment manufacturers spend a lot of time estimating expenses in order to provide correct quotations, despite their desire to lower the cost of creating quotes and conversion rate optimization.
The success rate will be determined by prompt responses to requests for quotes, however due to the extremely slim profit margins, erroneous quotes will cost the company money.
Any company's ultimate goal is to increase its bottom line, and in order to do this, you must begin with the quotation.
Without a correct quote and costing, you risk losing the client because of astronomical expenses or failing to make a profit because you left out essential components. To give their clients accurate estimates and bids, salespeople need access to information.
The quote might not be approved, which would result in lost sales, without access to proper information, right costs, and precise production methods. As a result, sales people require access to all process information in order to provide customers with a competitive price.
Inventory management and forecasting
The majority of industrial organizations have intricate supply chains and frequently have little knowledge of the activities taking place outside of their own factories. Reduced uncertainty and improved planning and inventory management would result from more awareness of the supply chain and its subtleties.
Typical IM & E companies must store a sizable number of inventory and parts, which requires a large amount of work to effectively manage.
When dispatching this to the shop floor, it is crucial to be accurate and prompt in order to ensure that resource consumption is balanced and delivery deadlines are met.
For accurate, efficient, and timely production, accurate demand forecasting is a crucial need. In order to guarantee that clients receive their orders by the dates stated, adequate inventory levels were also necessary.
The accuracy of this data determines how accurate forecasts will be. This data must be gathered collaboratively by all parties involved in the supply chain, including customers, and is typically based on previous trends and seasonal patterns.
Following are the challenges involved:
Warehouse inefficiency: Controlling inventory at the warehouse is a labor-intensive process that includes picking, packing, and shipping as well as receiving and put away. The difficult part is completing all of these things as effectively as you can.
Inaccurate data: You must always be aware of the exact quantity of your goods. The time when inventory could be counted with all hands on deck once a year is long gone.
Manual Documentation: It is laborious and unsafe to manage inventory with paperwork and manual procedures. Additionally, scaling across several warehouses with a lot of goods is difficult.
Problem Stock: Specialized preparations for handling and storing perishable and delicate material are required. Additionally, specific loss-prevention techniques and inventory controls are required for high-value inventory.
Changing Customer Demand: Consumer demand is always changing. Storing too little could prevent you from filling customer orders, while keeping too much might cause you to accumulate outmoded inventory that you can't sell.
Using technology to design and carry out an inventory plan, as well as order tactics for essential commodities, can assist offset fluctuating demand.
Limited visibility: Incomplete, inaccurate, or delayed shipments result when your inventory is difficult to detect or identify in the warehouse. Effective warehouse operations and satisfying customer experiences depend on receiving and locating the appropriate goods.
Supply Chain Complexity: Global supply chains are always changing, which makes it difficult for you to effectively plan and manage your inventory. The wholesalers and manufacturers that determine when, when, and how your merchandise is shipped want flexibility and provide erratic lead times.
Managing Warehouse Space: Managing space effectively is a daunting endeavor. Utilizing inventory management solutions to plan and construct warehouse facilities enables you to better manage the timing of new product deliveries. It can take into account crucial elements like space availability. Find out more about the variations between inventory management and warehouse management.
Inadequate Order Management: Preventing product over sales and inventory runs out is one of the most frequent obstacles to effective inventory management. You can predict consumer orders with accuracy by using historical and seasonal data trends.
Overstocking: Having too much inventory on hand can cause problems just as much as not enough. Overstock negatively affects a company's cash flow and causes issues with storage and loss of inventory.
Reorders: To prevent stock outs and overstocks of spare parts for heavy equipment, it is crucial to establish a minimum (safety stock) and maximum inventory level. Based on a comparison of actual inventory costs and inventory expenses, spare component costs can be reduced.
JIT: JIT manufacturing can be extremely susceptible to errors of any kind. Since only the barest minimal inventory levels are kept, there is no room for error of any type. Since inventory levels are kept at significantly lower levels, JIT manufacturing will not be able to adjust adequately to a sudden spike in the volume of demand from the market.
Just in time manufacturing is a philosophy that can only be realized if all stakeholders engaged in the whole supply chain collaborate closely. If one or more of the suppliers doesn't fulfill their duties and reply to requests promptly, JIT may occasionally fail.
Inventory Loss: A supply chain issue could arise from the loss of inventory as a result of deterioration, damage, or theft. It necessitates locating, monitoring, and quantifying problem regions.
New safety concerns
The need for security and safety increases as new security threats appear. Think of a chaotic driving environment and an emergency. These problems have made the machinery safer as a result. The consequences for breaking the rules will get worse as more of the conditions are discovered.
As new safety issues like the opioid crisis and distracted driving grow more common, health and safety requirements are also changing.
These worries have led to the development of new machine features, improved reporting, and harsher sanctions for standard violators.
While gathering data on employees can help allay certain safety worries, it also brings up a new problem: protecting employee privacy. This problem is likely to gain ground over the next few years.
Getting expert counsel can help in resolving particular security issues. The difficulty of guaranteeing worker safety has also changed. The majority of people would think it usual to observe the forward motion for a little period of time.‌
‌
Quality control and traceability
Manufacturers are increasingly being held accountable for the caliber of the goods they produce. This will guarantee that items always go above and beyond the minimum requirements. Customers now expect all suppliers to be able to trace faulty goods or parts from procurement all the way through production and delivery if there are issues.
Inconsistent Tracking: Using manual inventory monitoring techniques across many programs and spreadsheets is time-consuming, redundant, and prone to mistakes. An integrated central inventory monitoring system with accounting capabilities might be helpful for even small organizations.
Lack of expertise: It can be difficult to find inventory managers with the newest technological know-how and the ability to enhance inventory strategy. It is not sufficient to just upgrade your inventory management software with a variety of capabilities. You require competent management.
Customer centricity
Understanding the short-term issues that customers are experiencing will also be very beneficial to equipment manufacturers. Planning will be enhanced, and it will make it easier to adapt to legislative changes. In the end, the collaboration should increase both businesses' profits.
Companies can segment clients based on a variety of factors by tracking customer information, which should assist create a better knowledge of customer demands and the products and services that may appeal to them.
Increasing Competition: The competition for raw resources is affected by unpredictably changing economic conditions and market pressures in globalized supply chains. Small firms may have to decide between competing for in-demand commodities and maintaining a sufficient inventory to keep prices in check.
Manufacturer-Customer Interaction: You cannot understand their expectations until you are familiar with them. If you want to profit from the heavy machinery business, performance must be raised. Collaboration between manufacturers and consumers is necessary for innovation to grow swiftly. For successful businesses, the demands of the customers come first. They understand that they cannot control the market without satisfied customers.
They draw customers by exchanging useful tactics and forming vital R&D relationships. Before the product leaves the development stage, it is essential to manage customer demands and concerns.
These include charges for operations and performance as well as for fuel and assistance. Building stronger relationships with clients is crucial.
Employee involvement
The most vital resource is people. Given the now-clear relationship between employee engagement and productivity, organizations must move immediately to foster trust in order to boost their bottom line.
This presents a particular challenge to HR departments within the manufacturing sector due to the sheer size of the workforce as well as its propensity to disperse its employee base across multiple locations and across considerable geographic distances, particularly without appropriate employee feedback and communication tools.
In many businesses, the senior leadership may be located in a separate city, state, or even country from the majority of the workers.
Salary: Compensation plans should be flexible in order to promote both long- and short-term commitment. Compensation should ideally take into account both the typical market rate for the position and the unique value each person brings to your business.
Product life cycle
Along with the actual products, manufacturers should think about the services and advancements that the products might require in the future. This necessitates careful product design as well as consideration of the specialized tools that will be needed to support them. To make these possible, apps and other digital services might need to be created. Products may occasionally undergo distinct planning and launches for their physical and digital iterations.
Product Portfolio Expansion: A lot of internet retail tactics do away with the necessity for sizable warehouse distribution hubs. These tactics facilitate product portfolio diversification and inventory expansion, but they necessitate technology and resources for ordering, shipping, and tracking.
Sustainability
Equipment manufacturers need to be mindful that consumers are becoming more concerned with the items' effects on the environment. The production of goods and services using environmentally friendly methods while attempting to conserve energy and natural resources is known as sustainable manufacturing.
Future products must take into account an expanding number of environmental restrictions that are in place in many nations.
Evolving Packaging: Compostable packaging or the elimination of packaging altogether to cut waste creates new challenges for warehouse design and storage of heavy equipment. Even new equipment or a lower shelf life for some goods could be involved.
Sales Channel
A channel is a method for distributing goods to customers, such as Construction and Mining Machinery. Products can be sold through a variety of retail outlets, service providers who are both directly and indirectly related to the product or businesses in related industries who notice a demand for the product among their clientele.
Companies can boost sales by developing targeted products or marketing campaigns that are adapted to industry demands and managing channel conflict, which occurs when several channels compete to sell Construction and Mining Machinery to the same group of clients.
Find distributors or resellers that can help businesses buy your goods more easily. Identify the kinds of competitors in related fields that you might not be aware of.
The development of distinct products that resellers can alter or add in larger, more sophisticated orders may be a more complex sales channel approach than simply locating potential retailers interested in Construction and Mining Machinery.
Rental
Renting heavy machinery also makes financial sense because it reduces ongoing expenditures like labor, maintenance, and operating costs in addition to the price of purchasing new machinery. All of these duties are routinely carried out by construction equipment businesses in order to extract long-term profit from machinery.
The cooperation of dealers, OEMs, and private spare part owners forms the foundation of an online heavy equipment rental marketplace.
Vendors post their assets on the website to get requests for rentals from construction firms or individuals.
It's reasonable to assume that renting construction equipment online is still a new market with a long way to go before it reaches its full potential.
But a number of variables, including an uptick in the demand for equipment leasing, the enormous profit margins available, and the influence of modern technology, are hastening its development and boosting its appeal to business owners.
E-Commerce/Online Rental
Nowadays, everyone buys, sells, or rents online, and the e-commerce sector is just expanding. Platform for online shopping that makes it simple for people to share information. For instance, they can make search lists, conduct equipment searches to find suppliers on specific dates, etc.
Additionally, there are available star ratings and geographic regions. As a result, it renders and organizes a vast amount of data and produces user dashboards that look good. The platform's steady operation on an Amazon server is the finest example.
OEMs
When compared to clients in industries like mining and oil and gas, customers in the agriculture and construction sectors have historically lagged behind in terms of digital adoption. Farmers have historically walked their fields to check on their harvests. On building sites, contractors utilized manual checklists to monitor progress.
Concerns regarding the technical prowess of OEMs' channel partners are raised by customers. After the warranty period, consumers who are not happy go to independent service facilities and other places.
At over two-thirds, cost is the main factor, followed by the downtime that results from taking machinery to a dealer. With contractors, it becomes slightly more challenging. Due to costs, they seek out alternative routes, yet contractors prefer them over farmers since they are more accessible and quick to reply.
Customers complain that lead times are too long. Their main complaint is that maintenance and repairs take too long. They are more time-conscious when it comes to repairs and seek greater convenience.
However, clients in the construction and agriculture industries have more recently adopted technological solutions offered by next-generation OEMs. In order to monitor field development and harvests, farmers are experimenting with applications and drones. And contractors are beginning to use their phones to keep an eye on their workforce and equipment.
OEMs in the heavy equipment industry will experience a lot of change due to an increase in technology utilization and a change in how equipment is used.
Retail
The heavy loads of work required by the earth-moving business necessitate the use of enormous machinery.
Specializes in offering a variety of heavy machinery to meet customer demands from heavy-duty dozers to hydraulic excavators with exceptionally long reaches and cutting-edge wheel loaders.
Retail is also aware of the market's shifting demands and its future-focused perspective. For many owners of construction businesses, purchasing heavy equipment is not an easy buy.
If owners have never used the equipment before, the purchase might be risky and extremely expensive—even reaching the high five and six figures.
A surprising number of possibilities for heavy construction equipment are available on eBay. The site's biggest feature is how quickly you can search for precise equipment solutions that meet the requirements of your building company.
POS
POS facilitates faster authorization and payment processing, boosting sales for your heavy equipment shop. Your business's health may be readily tracked and improved thanks to the user-friendly dashboard.
For a variety of specific transactions and industry requirements, such as card-present sales, larger average bills, and rising e-commerce use for reservations and checkouts, heavy equipment companies need bespoke commerce solutions. A higher level of security is needed for larger ticket transactions.
Operational challenges
Engineering difficulties
It can be quite difficult to receive change orders, document them, and turn them into technical adjustments inside projects in the production process. You must have a well-organized procedure in place for addressing engineering modifications that you can coordinate with the help of mobile access if you want to guarantee that quick action can be taken.
Engineering modification requests can be immediately accepted and included into the project requirements because of the mobility element.
Virtual Machinery Copy
This objective transcends 3D copy. Throughout the entire planning phase, combine framework recreations. Clients must build a 3D model of a piece of virtual machinery before submitting the primary model. Depending on the complexity of the machine, this may need several tests. This must now be carried out in a virtual environment because it was previously completed in a test environment.
This method costs money. Before buying any machinery, customers want to see it all animated. One of the major difficulties that manufacturers are currently facing is this.‌
‌
Order Processing for Heavy Items
Few things are as taxing to a supply chain as heavy items, and if something goes wrong, fulfilling them could have a significant negative impact on your business' operations and profits. Following best practices and helpful suggestions will help you properly fulfill orders for big items and keep your staff and products safe at every stage.
The location indicated on the work order has to be set up to allow alerts. To prevent pending actions, you configure task card alerts for sites in the Organization's application.
Returns processing
The management of product returns has drawn considerable interest from academics and practitioners because to recent changes in environmental rules and the rising cost of raw materials and commodities.
Reusing and recycling materials and products can boost revenue for many businesses while also establishing a reputation for being environmentally conscious.
Equipment tracking
Tags may be applied to almost any kind of equipment, and they come in a variety of materials to help them resist the conditions in which your equipment is utilized. Asset tags often have a bar-code that enables each piece of equipment to be given a special identification number.
By simply scanning the permanent equipment label, you can quickly locate the piece of equipment, access maintenance schedules; ascertain its status, and more. The real difficulty lies in tracking management.
A retailer needs inventory to operate. But do you know how much it costs to keep stock of equipment and parts? The hidden expenses of keeping inventory are something that most equipment dealers are unaware of because it can be challenging to calculate them and most estimates come in far too low.
The average dollar worth of inventory for a set period, often a year, is used to calculate inventory carrying costs, which are stated as a percentage.
The four major classes of inventory carrying costs are listed below.
Capital Cost: The cost of carrying inventory for your business involves two components: inventory finance fees and opportunity costs. The interest lost on the cash used to purchase inventory or the interest paid on a line of credit used to purchase inventory, you should be able to calculate your financing expenses quickly and simply.
Opportunity costs comprise the chance lost for all money put in inventory as well as the chance lost because your money is invested in outdated or underperforming inventory.
Cost of inventory service: The majority of your total carrying cost should be made up of your capital costs, which should normally fall between 6 and 12 percent.
Cost of storage space: This covers all charges for leasing or buying storage space for your goods, including rent or mortgage payments, lighting, heating, air conditioning, janitorial services, equipment maintenance, and all other expenses related to handling your inventory. Inventory does not arrange itself on a shelf; it needs a place to sit.
You continue to pay a monthly fee to store your product whether you own the facility or rent it. The expense of securing your facilities is another thing to take into account. Many insurance policies call for security systems, which are expensive.
These costs could likewise be mostly made up of salaries and benefits, but they could also consist of depreciation on scanners and other relevant equipment, as well as any other unforeseen costs specifically associated to your inventory control team.
Cost of Inventory Risk: You must be aware of the potential costs associated with holding inventory because it carries inherent risk. You are taking a chance by carrying unsold goods. There is far more pressure to turn over your stock if you have merchandise that quickly loses value or becomes outdated.
You can be carrying inventory that has lost a significant portion, or worse, the all, of its value if you underestimated the need for a certain item and your turnover is slower than anticipated. Your risk cost is considerably impacted by this inventory management error.
Product Cost Management
Costs of machinery and equipment are under constant pressure from more onerous regulatory requirements. Customized user requirements from all over the world have an impact on delivery, price, and quality control procedures in the heavy equipment and industrial machinery sectors.
Monitoring the cost of products sold: Compared to other industries and sectors, the operational expenses of heavy equipment are astronomically expensive. In addition to being expensive to purchase, heavy equipment is also expensive to operate and maintain, both in the short and long term.
Transporting Heavy Equipment Cost: The total cost of shipping heavy equipment is influenced by a number of factors. The cost of freight shipping is greatly influenced by features like height, length, width, and weight. In addition, different trailers are utilized to ship heavy equipment, depending on the needs.
Some shipping companies divide large, breakable pieces of equipment into two pieces to minimize size and lower shipping costs. To cut down on mileage, fuel use, and overall transportation costs, they also try to take the quickest and easiest routes to the specified locations.
What are the ERP solutions for Heavy Equipment Industry?
It is crucial for companies that deal with heavy machinery to adhere to the compliance and regulatory requirements that the sector is governed by. Then you have to consider actually producing, marketing, and delivering things of the highest caliber.
The most effective ERP is one that is all-inclusive. An easy-to-understand interface houses everything. Making informed judgments is made simpler and faster by having instant access to actionable facts. Following  are the solutions offered by ERP:
Asset management
Your manufacturing ERP solution provides you with a framework for gathering and examining all the information and histories pertaining to your industrial assets, including your production machinery, equipment, specialist vehicles, fleets, facilities, and other assets.
The ERP software can be improved with cloud analytics solutions to make it simpler to grasp this data and guarantee the highest asset returns.
You can execute preventive maintenance using data insight.
You avoid unforeseen interruptions that lower your productivity or compromise client obligations by keeping your machinery operating at its peak performance levels.
You may track asset-related KPIs using heavy equipment manufacturing ERP, such as Overall Equipment Effectiveness (OEE).
Asset service management: ERP enables you to send the appropriate experts to customer sites at the appropriate times and keeps service financials in the black, even if all you do is perform warranty services under contract.
A contemporary ERP solution is necessary to target the correct clients and provide services in a lucrative and effective manner if you offer more extensive services to enhance the business outcomes your customers accomplish with your products.
Your field service professionals won't have to waste time documenting their operations and looking for client information at an office location as they go from assignment to assignment.
Manufacturing ERP that is cloud-based is ideal for mobile access from anywhere.
Project management
Many heavy equipment manufacturers don't create standardized products; instead, they base their operations on projects made possible by ERP. Specific project goals for profitability, quality, budgets, and delivery timelines are supported by engineering designs, bids, EBOMs, and MBOMs, as well as production.
Modern manufacturing software provides planning and tracking capabilities for all resources, supplies, milestones, and activities, allowing you to manage the various moving parts of production projects.
Planning can be made simpler using tools that transform technical and quote data into project procedures and are intuitively tailored for visual use.
Projects can be saved as templates and used again, helping you improve your delivery over time. Heavy equipment manufacturing ERP analyses the effects on finance and resource management and offers you the visibility to make rapid modifications if client needs change.
Additionally, it must to be compatible with the accounting principles and project management techniques you want, such as earned value management (EVM).
Product configuration management
By using configuration management, you may plan how you'll meet customer needs while taking into account all common and uncommon production details. After taking into account engineering limitations, you develop a plausible list of product components on which to base an appropriate client quote.
To enable the complete configure, price, quote (CPQ) process and update data, your heavy equipment manufacturing ERP's configuration management technology needs to integrate with product engineering.
This is where you establish engineering bills of material (EBOM), which frequently undergo numerous revisions at the request of the customer before becoming manufacturing bills of materials (MBOM).
Quoting problems are unlikely given recent, trustworthy configuration source data.
To ensure that forecasting and planning are based on accurate revenue and profit estimates, your ERP system's product configuration should be integrated with the financials and sales modules.
Smooth transitions between BOM iterations and from engineering, to CPQ, to production are possible with manufacturing ERP.
Smart data exchanges
Equipment makers may address all of the escalating issues by utilizing end-to-end ERP software that facilitates intelligent data exchanges between various departments and the outside world. Collaboration is made possible through the sharing and visibility of data among interested parties.
ERP for manufacturers of industrial gear automatically routes new information through the appropriate channels and uses it to instantly update data repositories. A company's structure never deteriorates as it grows.
ERP software for manufacturers of industrial machinery enables you to continuously keep an eye on the most recent leads, previous orders, price of raw materials, inventory replenishment, manufacturing procedures, asset management, market trends, and general happenings.
To satisfy your picky customers, you must be able to see what is happening and react accordingly. Industrial equipment suppliers can rely on ERP to reliably predict what lies ahead for them and their clients.
Thorough documentation: Data may be entered once, shared throughout operations, and clipped together in one location for your team to access.
Inventory Management
When needed, parts are either not on the shelf or are allotted again. However, this fight does not have to last forever with a connected system. Manufacturing companies can avoid material and long-lead item shortages by using real-time inventory control, which also optimizes the supply chain to keep a rolling stock of goods on hand.
Reducing operational costs and maintaining stock levels at the proper level enable manufacturers to better allocate their resources to things like expanding their business.
Accounting
ERP software frequently leads to the development of a jerry-rigged system requiring a lot of supervision and verification, which eliminates the possibility of increased efficiency.
Everything is centralized, assigned a work number, and is trackable over time with ERP.
By eliminating the need for time-consuming manual checks and balances, accountants may devote more of their time to important activities.
Additionally, ERP aids manufacturers in improving bids and comprehending job prices. With the data provided by an ERP, you may build a more accurate quote rather than quotes and estimates being informed guesses.
Despite the fact that each custom product is distinct, ERP contains a cache of historical information from previous tasks and products that manufacturers may access and examine to aid machinery and equipment manufacturers in producing more accurate quotations.
Scheduling
ERP with flexible scheduling gives you the ability to control change and any shifting dependencies throughout your factory floor. Increase control and reliability for more timely deliveries and increased client loyalty.
Extensive Product Costing Controls
Use ERP change management software to closely monitor and control costs at every level and in real-time to keep track of contributions and plan more skillfully:
Maintain and monitor up to 8 cost factors per item.
Use the cost rollup method to automatically determine standard costs and variances, including labour and overhead.
Apply common or moving average costing techniques.
Select a weighted average that incorporates FIFO costing and is dynamically calculated.
Utilize project actual costs to keep an eye on project-based activity.
Configure-Price-Quote (CPQ) is a powerful collection of tools that are totally customization and enable you to handle price and bids effectively and transparently. To quickly and precisely estimate different product designs and client needs, use CPQ.
Estimator
As early as the design phase, take into account labor and material expenses to apply margins and establish the selling price. Keep a historical record of popular prices and quotes.
Multi-Mode Manufacturing
ERP software supports Build to Order, Build to Stock, and even Engineer to Order manufacturing, giving you the flexibility you need to manage complicated builds and satisfy client needs.
Whether you employ standard cost or moving average cost in a single-plant system or one with multiple plants, this is achieved. Manufacturing of industrial machinery and equipment is advanced by ERP software.
Engineering Management Tools
No matter how complex they are, engineering adjustments and routing can be managed by your industrial equipment and machinery manufacturing company with the aid of production engineering.
Revision Control involves additional BOM and route revisions, keeps track of status and affectivity dates, and creates work order demand by revision.
Through authorizations and approvals, Engineering Change Control (ECO) maintains ECOs and keeps track of component and operation changes.
Service Life-cycle Tracking
The Warranty/Entitlement Management module offers versatile lot control software for tracking shipped, serialized, and/or lot-controlled items, as well as the ability to keep data on warranty status and current customer locations. This includes:
View all RMA, service case, and sales order transactions and actions.
Create links between cases, returns, service requests, and other items for quick access to connected data.
Gain complete access to product and component service histories: With a customer ERP system that enables you to appear to your customers as one organization, you may close the loop by viewing the entire customer service history for each product or component.
Save product configuration by serial number so that you can quickly locate the original parts and production route when a customer offers the number.
Look up the history of all alterations made to a product, such as those that were sent back for rework.
For serialized things, view all connections among components.
Automated management of returns and warranties: With automated administration and streamlined approvals, you can easily create, assign, and manage customer service warranties and process returns in a hurry for better, quicker customer service.
Create Return Material Authorizations (RMAs) using information from sales order shippers, invoices, or service cases, taking into account the products and past customer care experiences.
Automatically handle replacements either before the items are delivered or after they have been returned and processed.
Create user-defined warranty types to set up various warranty lengths and expiration dates, as well as to keep track of customer and installation locations, warranty status information, and other information.
Gain access to connected cases, returns, and service orders' related transactions and customer data.
Service Contract Creation: Create and  manage client service agreements that adhere to all specifications, are adaptable enough to accommodate different offerings and particular customer demands, and increase customer loyalty. This includes:
Link sales orders to contracts, manage contracted pricing, and set up manual or automatic billing cycles through Service Cloud.
Combine upgrades, maintenance appointments, and other recurring costs into a single contract with flexible recurring pricing.
Create, price, bundle, and offer service contract entitlements to increase client loyalty. Price supplies based on consumption and usage.
ERP CRM Software and Sales
Customer Visibility: By combining CRM and ERP data on a single, native cloud platform, silos customer data may be eliminated. Your sales and support teams may be more responsive, spur growth, and improve the customer experience by integrating ERP and CRM.
Access all data, including open orders, shipments, invoices, credits, and open support issues before speaking with a customer.
View each customer's current credit standing and accounts receivable in real-time.
By combining sales, ordering, production, inventory, shipping, service, and support onto a single platform, you can enhance the entire customer experience.
View Margin: Customers have high expectations, particularly when producing highly customized products. With Available to Promise for inventory visibility and Margins features for more precise estimates, ERP enables you to go above and beyond the expectations of your customers.
View inventory information in real-time so that sales teams can plan delivery expectations.
To ensure lucrative bids, access the most recent order history, margins, and expenses.
To manage client expectations, view predicted production backlogs and delivery windows.
Sales Estimates & Quotes: By automatically converting estimates and quotations made in sales orders for stock items, kits, customized products, and non-physical items, you can examine all shop floor and engineering data in one location and shorten quote-to-cash cycle times.
Quotes and sales orders are identical in every way, including the capabilities that allow for precise conversions without the need for manual data entry.
Quickly see in Capacity Planning Workbench the effects of each quote on the shop floor.
Make complex orders containing a variety of product kinds or add items to existing buy orders for components or supplied goods.
Lead to opportunity process: The follow-up with a new prospect can be tracked through the lead management process, assigned to the appropriate teams or salespeople, and linked to marketing automation for formal, automated contacts.
A lead that has been qualified as an opportunity represents a prospective sale and can be followed through the whole sales process. A forecast of the sales pipeline is produced by estimating the value and closure dates of prospects.
Interactive Rental Equipment Browser: Find available rental assets by using rental item categories, along with a display of the rates and related equipment that belong with each category.
Dealer ERP
To obtain a competitive edge and maximize ROI, top equipment dealers and rental businesses select the Equipment Dealer Software. With its comprehensive range of dealer management software solutions, you can get rid of clunky add-ons and give your staff access to cutting-edge technology both in the office and out in the field.
Real-time data and analytics offer total insight at all operational levels, enabling management to take an active role in decision-making.
Part ordering Management: One of the system's main objectives and capabilities is to deliver the correct parts at the correct location at the appropriate time. Dealer efficiency has significantly increased because to its extensive integration with electronic parts catalogs, powerful AI enhanced search capabilities, and gorgeous user interface design.
The following functionalities are offered by the Dealer Portal Parts software:
Parts ordering;
Parts dealer stock;
Parts returns;
Parts invoices;
Dealer type-based pricing segregation;
Parts supersession & BOM handling;
Products catalog; and
Parts inquiry.
What are the global trends in Heavy Equipment Industry?
Asia-Pacific region global domination
China, India, and Japan hold a significant portion of the market share in Asia-Pacific, which leads the world in sales of construction equipment. Construction equipment demand will rise over the next three decades as a result of the South-North water transfer plant project in China, which is expected to be finished by 2050. This project will deploy numerous pieces of construction equipment, either by leasing or purchasing the equipment.
A few factors driving the construction machinery market in the APAC region include the rising number of dam construction projects, the real estate industry, commercial and residential complexes, and the growth of rail and road infrastructure.
Businesses are releasing products specifically for the area. As governments in Asia set ambitious objectives to become carbon neutral by 2040, manufacturers of construction equipment are attempting to lessen their reliance on gasoline and diesel.
Customer experience
Manufacturing has gone to considerable lengths in its attempts to change current operations so that it can meet customer needs in a "COVID safe" manner, from remote service to "contactless" demos and test drives.
Expect the manufacturing sector to progressively incorporate these alternatives into its long-term strategies as customers and employees grow acclimated to these offerings and new working practices.
In addition to enabling manufacturers to provide more individualized service, this will also allow them to further diversify their business operations and hire more personnel.
Moving from ownership to user ship: Products-as-a-service is supported by flexible consumption models. A "one size fits all" strategy is no longer acceptable from manufacturers. Customers will anticipate the same business models at their place of employment when they turn to user ship rather than ownership.
Subscription models: Subscription models have already been introduced by a number of industrial giants, including BAE, Caterpillar, GE, ABB, and others. In 2020, we may anticipate many more to do the same. To meet these new needs, OEMs will need to adopt new technologies, infrastructure, and business procedures.
R&D Focused on Enhancing Performance
The next generation of construction equipment, including semi-autonomous excavators and alternative fuel vehicles, is now being developed by industry leaders and will be significantly more productive, efficient, and environmentally friendly. Numerous cutting-edge technologies, including sophisticated sensors, electric motors, and data collection tools, will be included in new models.
Every industry needs to keep up with technology, and the construction equipment (CE) industry is no exception. Although there have been many technological breakthroughs in the country's CE sector over the past ten years, there is still a long way to go.
Sustainable manufacturing techniques: Governments and consumers will strive for industry to be more environmentally friendly. We employ natural resources to develop a product, advertise that product, sell it, and then discard it at the end of its existence. This is how we create value in business today. However, the circular economy seeks to minimize waste and ongoing resource consumption.
Electric and autonomous construction equipment
The construction equipment market is being shaped by electrification, which also presents substantial opportunity and design options. Most market segments, including transportation vehicles like cars, buses, and construction equipment, have seen an increase in electrification.
This has been made possible by the development of innovative technologies that are becoming more mature and accessible as well as the tightening of emission rules that have altered the outlook for the construction equipment sector.
The usage of construction equipment in a number of cities across the world has been impacted by limitations on the use of diesel inside municipal borders. Additionally, on a global, regional, and local scale, China and European nations are implementing stronger pollution standards for heavy machinery and equipment.
Electric construction equipment can readily meet the emission and noise-pollution standards imposed by these rules. Construction product makers now have the chance to promote electric versions of both new and old products.
During the anticipated period, the Earth-moving Equipment category is expected to hold the greatest market share. Hydraulic drives are typically used as the main source of motion in earth-moving machinery. Earth-moving equipment includes crawler and wheeled excavators, backhoe and skid-steer loaders, and motor graders. These tools are intended for use in building. By 2026, the earth-moving equipment market is expected to be dominated by Asia in terms of value.
Significant development potential for earth-moving construction equipment is being created by the expanding urban population and the need for greater infrastructure amenities.
During the predicted period, North America is expected to enjoy strong growth. Low-interest loans to buy construction equipment will, however, encourage those businesses to invest.
The COVID-19 epidemic has affected non-residential construction, which may have an immediate impact on the region's demand for construction equipment.
Products as a service
By the end of the decade, the bulk of OEMs' businesses will be focused on providing products-as-a-service. 40% of manufacturers are working on Internet of Things (IoT) projects, according to IDC. However, the majority of OEMs' deployed products lack IoT capabilities or are disconnected.
According to our forecast, sensor-equipped, IoT-connected goods will become the norm by 2030, giving OEMs the information and insights they want to successfully supply products-as-a-service and maximize product up-time.
Adoption of technologies
Technology will hasten the transition to product delivery as a service. Leading manufacturers have already realized that optimizing the core of their present service operations, including service parts inventories and price management, is necessary to accelerate the transition to offering products-as-a-service.
Selling products-as-a-service will be significantly accelerated and made possible by flexible, scalable technology.
Subscribers also anticipate that their equipment will always be functional, placing hitherto unheard-of expectations on manufacturers' service departments.
Increasing data-transfer bandwidths (5G), the Internet of Things, artificial intelligence, and machine learning, along with sophisticated service business transformation technologies, are enabling OEMs to more effectively support predictive and prescriptive maintenance, boost productivity, and maximize product up-time.
Cranes as the largest segment
Globally significant construction projects are anticipated to soon dominate the crane and construction machinery markets. Europe has a number of construction projects in the works. The construction projects in the area led to the highest growth rates in Germany, France, and Italy.
The projects, which involve the employment of numerous types of cranes and are driving the crane market, including the port extension, underwater tunnel connecting important European countries, and railroad tunnels.
After 2021, Africa and Latin America are anticipated to become strong markets that will boost the economy and stimulate more foreign investment in infrastructure and building projects.
The number of cranes in North America increased. In North America, the residential sector employs about 40% of the overall crane count.
With 70 cranes devoted to high-rise cooperative projects, Toronto is the market leader. The second-largest market for cranes in North America, mixed-use development accounts for roughly 25% of all cranes.
The rise in net crane count shows that the construction industry is thriving and being stable. As more cities in North America continue to add to their list of proposed developments, this expansion will continue.
Network collaboration
Due to the rapid incursion of digital disruptors across all industries, collaboration in consumer and enterprise markets has become essential for incumbents to maintain market share. And going forward, the manufacturing industry will need to adopt the same strategy.
Manufacturers must change from the typical linear supply chain contracts to multiparty collaborative partners with a higher focus on services end-customer wants if they want to stay competitive.
On popular models and equipment types, lead periods of six to twelve months are the norm for almost all brands. At a time when government infrastructure spending is high and residential development activity is rising, this is creating a huge bottleneck.
Buyers in North America are more open to considering other brands when looking for equipment, according to those who can deliver it swiftly. Those who have used these products report being pleased with the original quality.
The OEMs are currently working hard to make sure that aftermarket support is easily accessible, and success in that area is likely to encourage future repeat purchases.
Tech Trends in Construction Equipment
Technology is transforming our daily lives, from cell phones to virtual reality. The way we operate is also being impacted by technology.
We have witnessed machinery evolve in recent years, getting smarter, consuming less fuel, and emitting fewer pollution. As well as communicating with us, equipment can also establish restrictions on how deep an operator can dig or inform the owner if it is being attempted to be stolen.
It's quite astounding how smart technology is starting to have a variety of effects on the building sector. So what comes next? What does the future of construction machinery look like?
Imagine a fleet of construction equipment that can be handled remotely or entirely without a human operator. The time has come!
Smart technology: What is feasible is much greater than the data that equipment is currently producing. Different machine parts will eventually be able to connect with one another, boosting telematics and predictive systems even more.
Fuel savings: Lighter and more efficient machinery helps to cut operating expenses without compromising performance.
In order to fulfill the demands of tomorrow's high-tech construction equipment, is collaborating closely with OEMs and contractors to conduct research, gather data, and conceptualize tyres, tracks, and track systems. We think that tyres and tracks, which are an essential part of these construction technological advances, are what drive a machine and give it buoyancy, traction, and stability. We must examine each of these tendencies in more detail to get a clearer picture of why.
Digital twin
Operatability and user comfort must be the two primary development priorities. User comfort encompasses everything in the cabin, including ergonomic seating, interior and external noise, and vibration, whereas operatability tackles up-time performance, access to repair parts, and oil and fuel economy.
To maximize performance across the entire development process, multi-attribute performance engineering combining simulation and test must be used. Throughout the product development cycle, the digital twin aids in the validation of virtual performance.
Consider the concept of engine downsizing and the associated huge data. Engineers can change their approach to performance to address the engineering problems of today by embracing and using the digital twin to explore design space.
Simulation of several factors
For the purpose of improving machine performance engineering, multi-attribute simulation enables fresh insights and increases efficiency.
To quickly sign off and validate the best system architectures, heavy equipment manufacturers are employing simulation technology to create multi-fidelity digital twins made up of simulation and test models. Engineers and designers address all crucial system aspects by integrating simulation disciplines and physics for balancing attributes while maintaining a digital thread of the product throughout development.
Energy management and fuel efficiency: Engineers can design buildings that abide by emission-related standards. Through simulation, anything from thermal comfort to fuel efficiency can be examined and approved.
Durability and structural integrity: A guarantee of machine life under realistic loading is one of the customer's requirements. To make sure the machine retains integrity, simulation may test it under various loads and in a variety of environmental conditions.
Efficiency and usability: Manufacturers frequently have to demonstrate the dependability of their products before delivery. When an OEM delays assessing a product's effectiveness and operatability until after it has been produced, revisions are expensive and delivery is put off indefinitely.
Vibrations and noise: Regulations and ISO certification are required because interior and exterior noise, as well as the amount of vibration that can influence the operator, have a direct impact on safety. Simulation can demonstrate that the cabin's acoustics are secure and that the driver can control the car effectively.
Integrates under control: Manufacturers face a challenge in balancing numerous subsystems and qualities inside complicated systems. There is a larger need to make sure all components function properly and develop in a coordinated manner as more software, mechatronics, and electronics are produced with increasing integration into machines.
Combining everything using simulation tools
Modern simulation methods are being used in component design to help balance the trade-offs between various systems.
The three main trends that continue to present issues to OEMs are regulations, globalization/localization, and customer-centric tendencies, although they may all be mitigated through simulation as demands change.
With the use of a digital twin of the heavy machinery that makes use of multi-physics 1D and 3D simulation as well as other cutting-edge methods, the effects of design changes, environmental factors, and other variables may be confirmed.
This technology can help meet customer wants and expectations and lessen the need for pricey physical prototypes by showing safety and regulatory compliance.
Analytics reshaping the industry
The changing environment for the industry as big data, analytics, and cutting-edge technologies proliferate and become increasingly significant. The industry is changing as a result of advances in heavy equipment technology, which are also changing the roles of partnerships and competitors. For the contractors who have the will and means to deploy it, this technology generates double-digit improvements in productivity, cost effectiveness, and fuel efficiency.
Those who ignore technology run the risk of falling behind their tech-savvy competitors as they continue to cut costs and boost efficiency. The beginning of a protracted revolution in the sector has just lately begun.
Given the quick pace of change, OEMs, suppliers, and contractors are all scrambling to adjust to the new reality, get the best bargain, pick the best technology, and set a course for the uncertain future. There are a lot of unknowns and questions for contractors, dealers, and OEMs.
The 1960s and 1970s were dominated by mechanical innovation. The latter half of the 1970s and the 1980s saw substantial breakthroughs in hydraulics. In addition, electro-hydraulics prospered in the late 1990s and early 2000s. We are now living in the age of analytics, data, and connection.
Predictive engineering analytics: While simultaneously addressing the behavior of multi-domain systems, predictive engineering analytics within simulation helps forecast real world behaviors down to a multi-physics, multi-disciplinary, and even component level.
In order to mimic an entire system as it functions throughout the product life-cycle, predictive engineering analytics can mix 1D, 3D, Test, and CFD.
This gives your simulation more realism at every stage of development, from initial planning to final design.
To swiftly assess the simulation model you're employing, predictive engineering analytics also combines simulation and tests.
The use of historical and experimental data combined with digital twin technology can then be used to calibrate simulation models and provide data on various design constraints and parameters. As a result, simulations may be more accurate and customers may feel more certain that their needs will be met.‌
‌
What are Post COVID Effects on Heavy Equipment Industry?
Infrastructural investments
Around the world, fewer construction tools are being sold. Investments in infrastructure, residential, commercial, and industrial construction, mine and well construction, as well as institutional spending, all have an impact on producers of construction equipment.
The United States, the United Kingdom, China, and India are among the nations that have been severely impacted. However, there is a substantial need for projects like hospitals and other healthcare facilities, labs, and infrastructure for shipping and transportation.
Additionally, a few nations have started to moderately reopen several industries, particularly the building sector. China, for instance, has started construction on industrial and commercial projects.
As the nation started implementing new projects and demand for construction machinery like excavators surged dramatically, industrial output increased in April compared to January.
The construction industry was impacted in various nations by the COVID-19 outbreak and the ensuing closures. The pandemic's detrimental effects can be seen in the timetables of several important projects.
Construction equipment producers are being forced to choose electric and hybrid vehicles over the conventional hydraulic and mechanical ones due to regulatory pressures for reduced emissions and the demand for cost-effective machines.
Due to the high cost of both the equipment and the maintenance procedure, renting and leasing of construction equipment has increased. Other benefits of renting construction equipment exist in addition to cost savings. Equipment is provided by rental businesses, and the requisite qualified machine operators and drivers are included in the rent.
The construction sector is becoming more intelligent. The development is being accelerated by digitization, connection, and automation, which will have a significant effect on construction projects. In order to meet the increased demand for sophisticated construction machinery, renting businesses have also stepped up their investments in new technologies and are replacing their fleet of outdated machines with newer or improved models.
Mainstream new technology
The manufacturing sector is examining every aspect of its operations and infrastructure in light of the COVID-19 epidemic. And as a result, manufacturing companies are starting to adopt advanced computing technology more widely to assist them strengthen any potential flaws that may have been discovered during the COVID era.
For instance, more and more manufacturers are starting to employ IoT technology to verify sourcing provenance more thoroughly, while others are exploring how technology, including AI, ML, and IoT, may be used to support remote workforce and increase their effectiveness and agility.
This suggests that 2024 might mark the beginning of a manufacturing industry that, technologically speaking, is very different from anything we have seen in the past.
Labor Shortage
The heavy equipment sector has unquestionably slowed down as a result of the pandemic. The need for workers and equipment diminished as development halted. The sector suffered as a result of the mandates for stay-at-home in March and April.
Through June, there had been a 6% decrease in all construction, with the private construction sectors being the most severely impacted. Due to reductions in education-related projects, highway maintenance, and street building, public construction fell by 0.7%. But by June, the pace of development was picking up again.
In comparison to other commercial activity throughout the pandemic, construction has generally recovered quickly, and spending has even climbed by 0.3% since February.‌
‌
How does Deskera help with ERP for Heavy Equipment Industry?
Deskera is proud to offer ERP software to enterprises operating in heavy machinery. Deskera's all-in-one platform combines accounting, CRM, and HR software for the expansion of your organization. It is the finest option in ERP for SMEs as it is a reliable software solution.
Deskera Books can help you automate and mitigate your business risks. Creating invoices becomes easier with Deskera, which automates a lot of other procedures, reducing your team's administrative workload.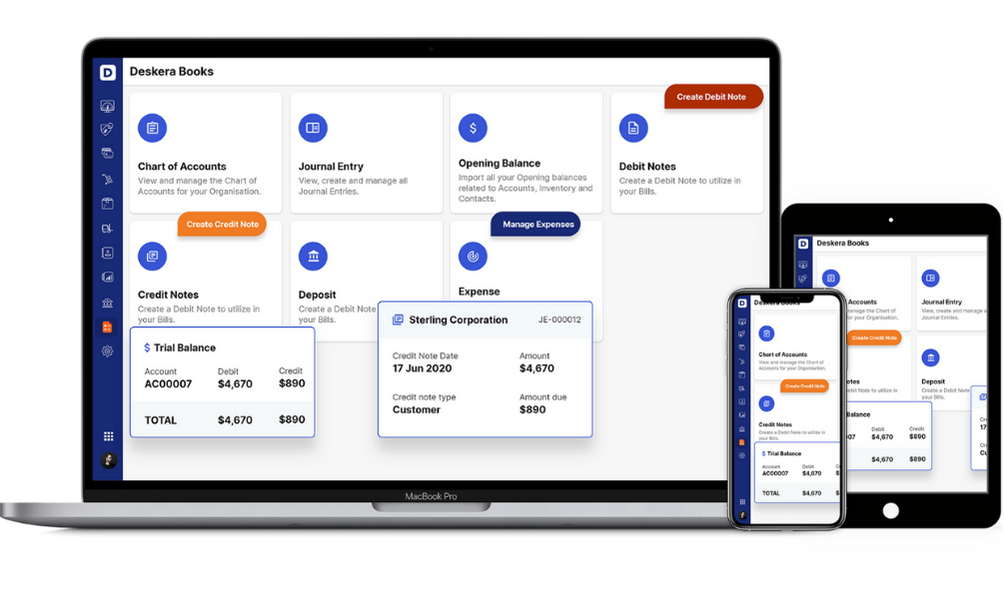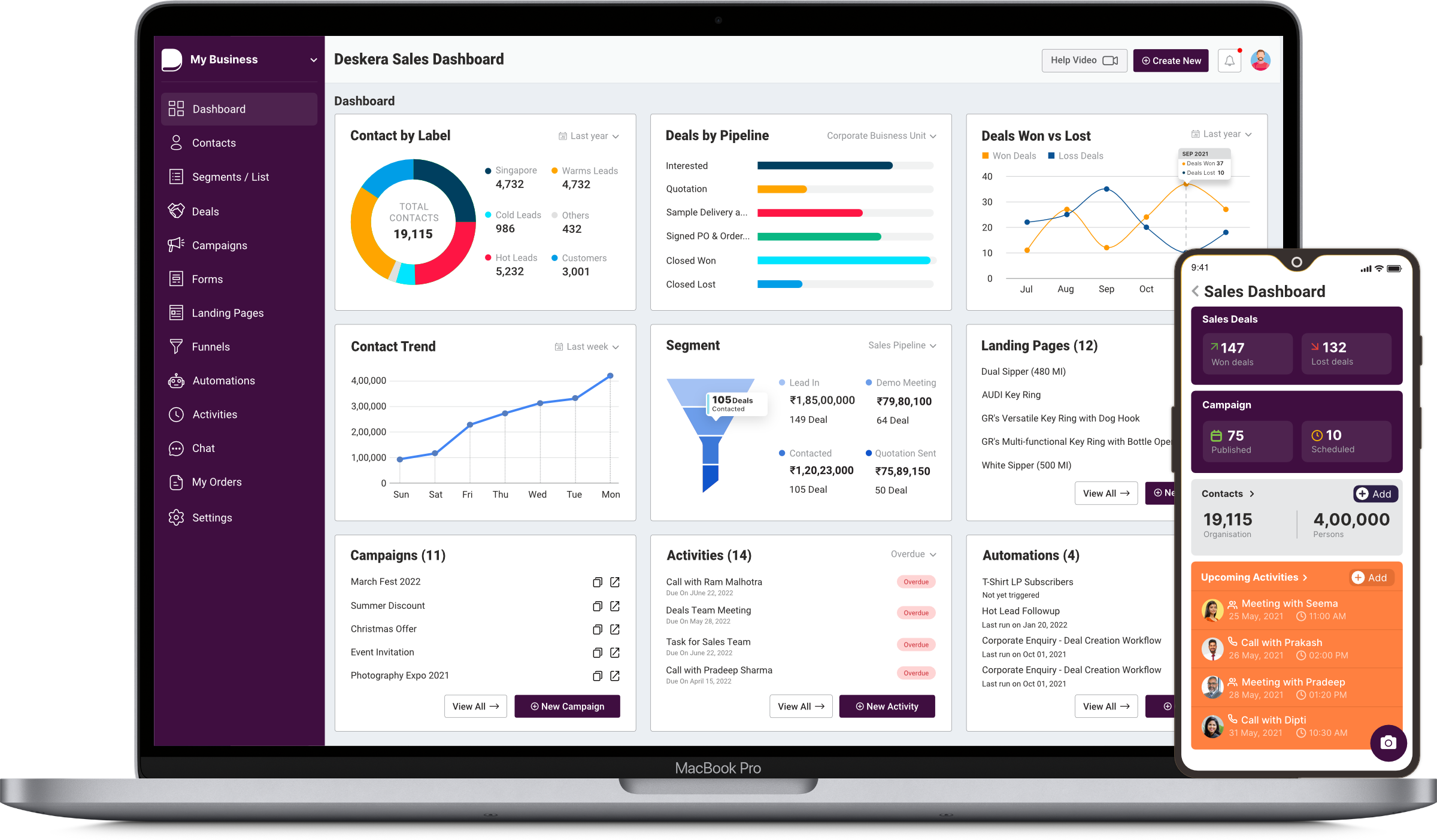 Deskera supports advanced inventory management through serial, batch, bill of materials, various warehouses, stock transfers and adjustments, among other features.
Deskera helps automate marketing, lead generation, sales, and after-sales operations of Heavy Equipment.
Deskera CRM Dashboard allows you to access deals reports, contact reports, and newly created activities in real-time.
Deskera provides the best ERP Solutions for your Business
Sign up for Free Trial Today!
Key Takeaways
An ERP system can help the heavy equipment industry track material usage by process and handle sustainability in a coordinated, integrated, and formal way.
There are demands on the heavy equipment industry to increase service, value, and product innovation. As the world focuses on operations that stimulate demand, such as upgrading infrastructure, enhancing sustainability, and moving warehouses closer to clients, opportunities are also arising. Process improvement is necessary for manufacturers to profit from this expansion cycle.
By utilizing cutting-edge ERP solutions with integrated AI-driven analytics and simple reporting, the heavy equipment industry may better handle specific difficulties, boost agility, and grasp market possibilities.
The growth of the rental industry and construction projects is the clear opportunity in the market for heavy equipment. Construction is booming in both the commercial and residential sectors across the United States and Canada, creating a demand for heavy machinery in a number of settings which triggers the need for ERP Solutions.
Related Articles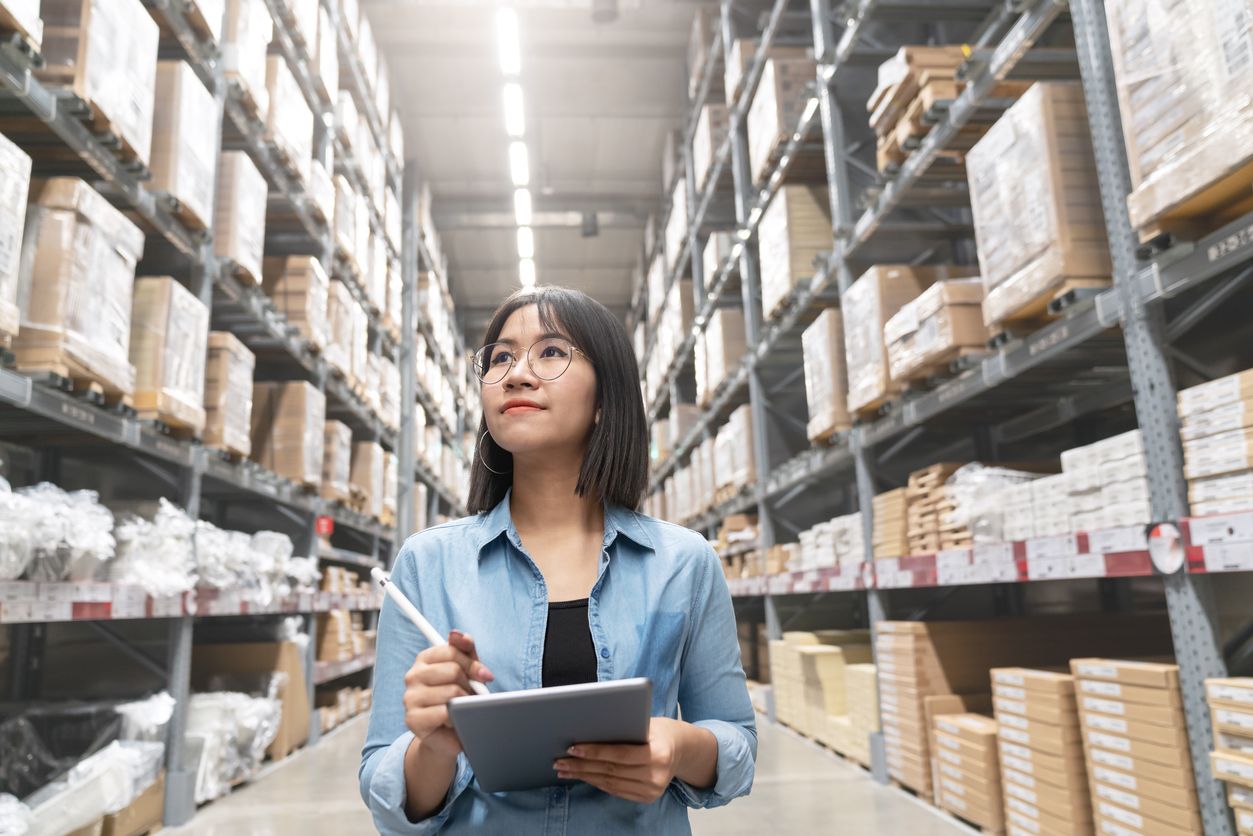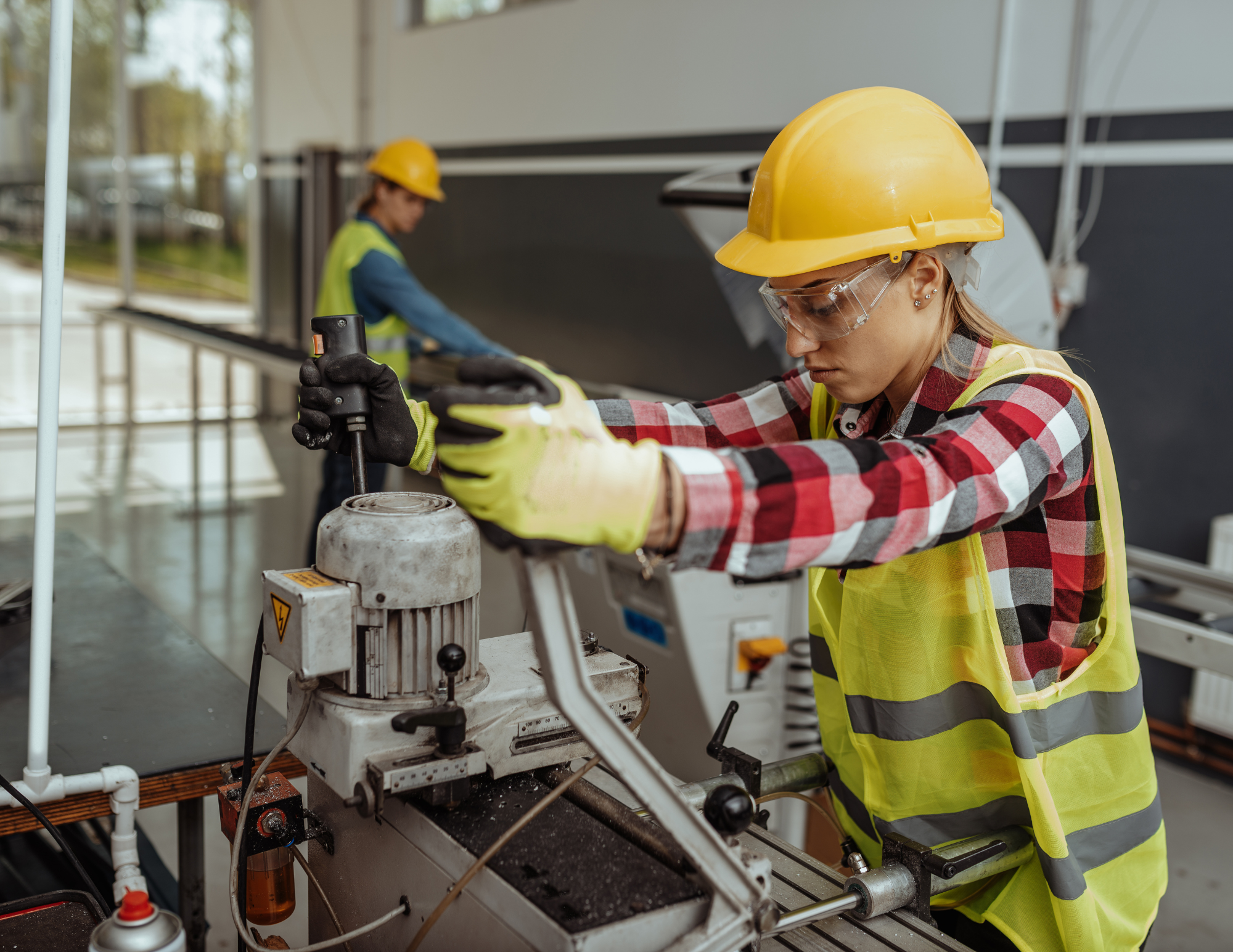 ---
---