Look around the room.
Almost every object inside your area of vision was probably made in a factory. For instance, computers, clothing, and vehicles are mass-produced on assembly lines before being delivered to warehouses and residential addresses.
According to the National Association of Manufacturers, manufacturers in the United States account for roughly 12 percent of total gross state output and employ 8.5% of the labor force.
By adhering to standard production procedures, they are able to make goods reliably, rapidly, and efficiently. The greater the complexity of the final product, the greater the number of procedures a manufacturer will likely employ to get reliable results.
What is your first thought when you hear the word manufacturing?
If your sole reference is from high school, you may envision dull black-and-white photos. You know, the photographs that photographers took in the past.
The oppressed employees, scorching conditions, and clunky machinery were sufficient to discourage anyone from pursuing a career in industrial maintenance.
Today's production requirements have evolved significantly!
Chemicals and electronics both rely on strategic manufacturing techniques to satisfy ever-increasing production demands.
In a time when Customers expect amazon-like delivery speeds, production efficiency is crucial for success.
In addition, recent challenges with the global supply chain have prompted governments to reevaluate their methods, procedures, and rules to improve their reliability. Manufacturing has never been more important to the nation's economic stability.

In this article we will discuss in detail the various manufacturing processes:
What is Process Manufacturing?
Process manufacturing is a production method that involves creating products by combining raw materials and processing them through a series of steps. Process manufacturing type of manufacturing is typically used to produce chemicals, pharmaceuticals, food and beverages, and other products that are produced in large quantities using specialized equipment and machinery.
In process manufacturing, raw materials are transformed into the final product through a series of chemical reactions, physical changes, and other processes. These processes are typically automated and controlled by computers to ensure consistent quality and efficiency.
One of the key advantages of process manufacturing is that it allows for the production of large quantities of products with a high level of consistency. However, it can also be complex and requires careful planning and management to ensure that the production process runs smoothly.
Process Manufacturing Flow
The flow of process manufacturing can vary depending on the specific industry and type of product being produced. However, there are some common steps that are often followed in process manufacturing:
Raw materials are sourced and received at the manufacturing facility.
The raw materials are inspected and tested to ensure that they meet the required quality standards.
The raw materials are then prepared for processing by cleaning, cutting, or otherwise preparing them for the next steps.
The prepared raw materials are then combined and processed according to the specific manufacturing process. This can involve mixing, reacting, heating, cooling, and other processes.
The finished product is then tested to ensure that it meets the required quality standards.
The finished product is packaged and shipped to customers or distributors.
Any waste materials or by-products generated during the manufacturing process are properly disposed of or recycled.
Process Manufacturing Benefits
Let us look at the benefits of process manufacturing:
Improves Communication
Implementing an efficient solution for process manufacturing guarantees that you and your team are on the same page.
For instance, if you receive an order for 100 pink plastic spoons, but the buyer changes the quantity to 500, you may quickly notify your workers.
You can also alert employees of machinery maintenance or other emergencies to halt production in real time so that you are aware of and able to handle problems swiftly.
Increases Quality
Quality is a top priority for your company.
High-quality, safety-compliant items keeps your clientele loyal and ensures that they will return for more.
So, when searching for a process manufacturing solution, be careful to inquire about the quality management capabilities offered by the vendor.
Consider investing in an ERP software such as Deskera, which specializes in quality and ensures that your facility complies with local and international manufacturing requirements.
Reduces costs
Investing in this or any other manufacturing ERP reduces overhead and other expenses, as well as time.
You simply need to enter information once, and it syncs in real time across all departments.
You save time on administrative jobs since you enter vital facts and monitor KPIs on a system rather than on paper, allowing you to return to the main level of the building more quickly.
Enhances Safety
Similar to quality, safety modules are included in solutions to reduce production-related accidents and injuries.
This solution could also help you conduct comprehensive safety audits, comply with safety and health standards, and get a clear picture of high-risk regions to maintain a safe workplace.
Maintaining employee safety while fulfilling the production quota is essential.
What is Discrete Manufacturing?
Discrete manufacturing refers to the production of specific, individual items or units instead of continuous processes, such as in the production of fluids or gases. This can include producing items like cars, electronics, furniture, and toys. Discrete manufacturing often involves the use of assembly lines, where individual parts are brought together and assembled into the finished product. It may also involve using computer-aided design (CAD) and computer-aided manufacturing (CAM) systems to design and produce the products.
Process Manufacturing vs. Discrete Manufacturing
Process manufacturing and discrete manufacturing are two different approaches to producing goods.
Process manufacturing involves creating products by combining raw materials and processing them through a series of steps. This type of manufacturing is typically used to produce chemicals, pharmaceuticals, food and beverages, and other products that are produced in large quantities using specialized equipment and machinery.
In process manufacturing, raw materials are transformed into the final product through a series of chemical reactions, physical changes, and other processes.
Discrete manufacturing, on the other hand, involves producing individual products or components that are assembled into a finished product. This type of manufacturing is often used to produce manufactured goods such as cars, appliances, and electronics. In discrete manufacturing, individual parts are typically produced separately and then assembled into the finished product.
Process manufacturing implements raw materials, ingredients and other supplies with steps or sequential formulas to craft products. Unlike discrete manufacturing, manufacturers usually create products in one facility with this practice, eliminating having to develop different parts at other plants.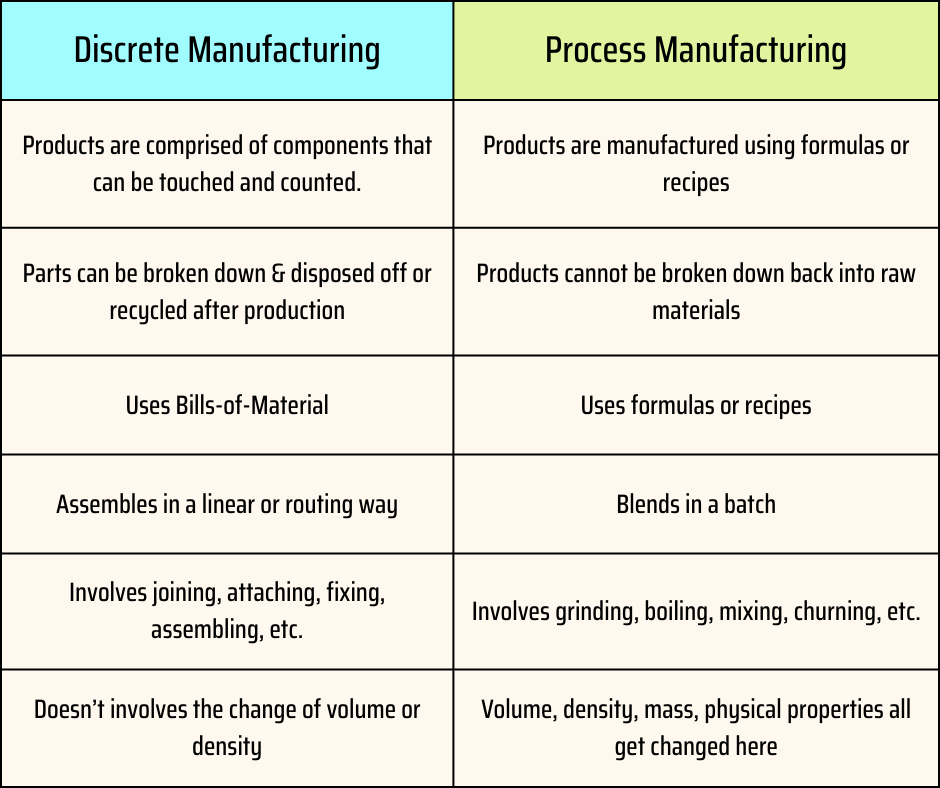 Main Types of Manufacturing Processes

There are few other types of manufacturing processes other than process manufacturing:
Repetitive manufacturing
Repetitive manufacturing is the continuous production of identical-quality goods. It is perfect for manufacturers seeking a specific production rate. Consider a facility that desires to manufacture 50,000 bottles of water every hour. The firm can modify its assembly line's production speeds based on consumer demand with little requirements and changeover. Manufacturers of durable consumer goods (such as refrigerators, dishwashers, and clothes dryers) frequently employ repeated production.
Discrete manufacturing
Discrete manufacturing as discussed above, utilizes an assembly or production line, but is far more diversified than repetitive manufacturing and permits more frequent variation and change.
With discrete manufacturing, a corporation can produce a product in a variety of designs, sizes, or variations; however, this typically increases production time due to the need for additional setup and removal.
Numerous companies that produce apparel, medical gadgets, toys, and smartphones also use discrete manufacturing.
Discrete manufacturing can be associated with:
fabrication
assembly lines
standard parts and components
bill of materials
identification of parts by numbers
measured by each part or piece
Batch process manufacturing
Batch process manufacturing is comparable to discrete and job shop processes in that it is influenced by customer demand or the availability of ingredients and raw materials.
One manufacturing run may generate a batch sufficient to meet client demands, thus production is terminated, equipment is cleaned, and production is resumed when another batch is required.
Food processing, newspaper printing, bookbinding, and pharmaceuticals frequently utilize the batch method.
Continuous process manufacturing
Continuous process manufacturing operates continuously, similar to repeated process production.
This process, however, concentrates on raw materials that are typically gases, powders, liquids, or slurries.
Continuous process manufacturing is utilized in the production of tomato sauce, juice, and peanut butter, among other culinary items.
Other Types of Manufacturing Processes
There are several types of manufacturing processes, including:
Casting: This process involves pouring liquid material, such as metal or plastic, into a mold and allowing it to harden.
Forging: This process involves shaping metal by hammering, pressing, or rolling it.
Machining: This process involves using machine tools, such as lathes and mills, to shape and finish materials.
Welding: This process involves joining two or more pieces of metal together using heat or pressure.
Assembly: This process involves putting together individual parts or components to create a finished product.
Fabrication: This process involves cutting, shaping, and assembling materials to create a finished product.
Molding: This process involves shaping materials, such as plastic or metal, by applying pressure or heat.
3D printing: This process involves creating a physical object by building it layer by layer using a variety of materials, including plastics and metals.
Each of these manufacturing processes is suited to different types of products and materials, and selecting the right process will depend on the product's specific requirements.
How can Deskera Help You with Process Manufacturing?
As a manufacturer or retailer, it is crucial that you stay on top of your manufacturing processes and resource management.
You must manage production cycles, resource allocations, safety stock, reorder points, and much more to achieve this.
Deskera MRP is the one tool that lets you do all of the above. With Deskera, you can:
Track raw materials and finished goods inventory
Manage production plans and routings
Maintain bill of materials
Optimize resource allocations
Generate detailed reports
Create custom dashboards
And a lot more.
It is also possible to export information and data on Deskera MRP from other systems. Additionally, Deskera MRP will give you analytics and insights to help you make better decisions.
So go ahead and book a demo for Deskera MRP today!
Streamline your Manufacturing Process with Deskera
Contact Us Today to View a Demo of Deskera MRP
Key Takeaways
Process manufacturing is a production method that involves creating products by combining raw materials and processing them through a series of steps
The flow of process manufacturing can vary depending on the specific industry and type of product being produced
There are many benefits to process manufacturing
Discrete manufacturing refers to the production of specific, individual items or units instead of continuous processes, such as in the production of fluids or gases
Repetitive manufacturing is the continuous production of identical-quality goods
Batch process manufacturing is comparable to discrete and job shop processes in that it is influenced by customer demand or the availability of ingredients and raw materials
Continuous process manufacturing operates continuously, similar to repeated process production
Related Articles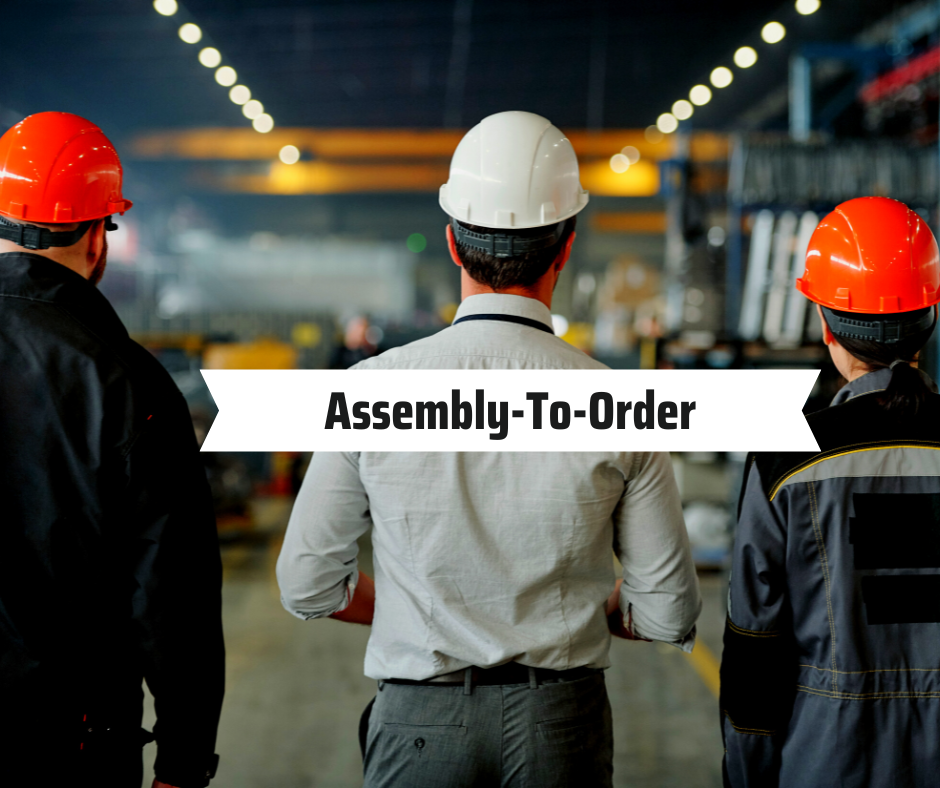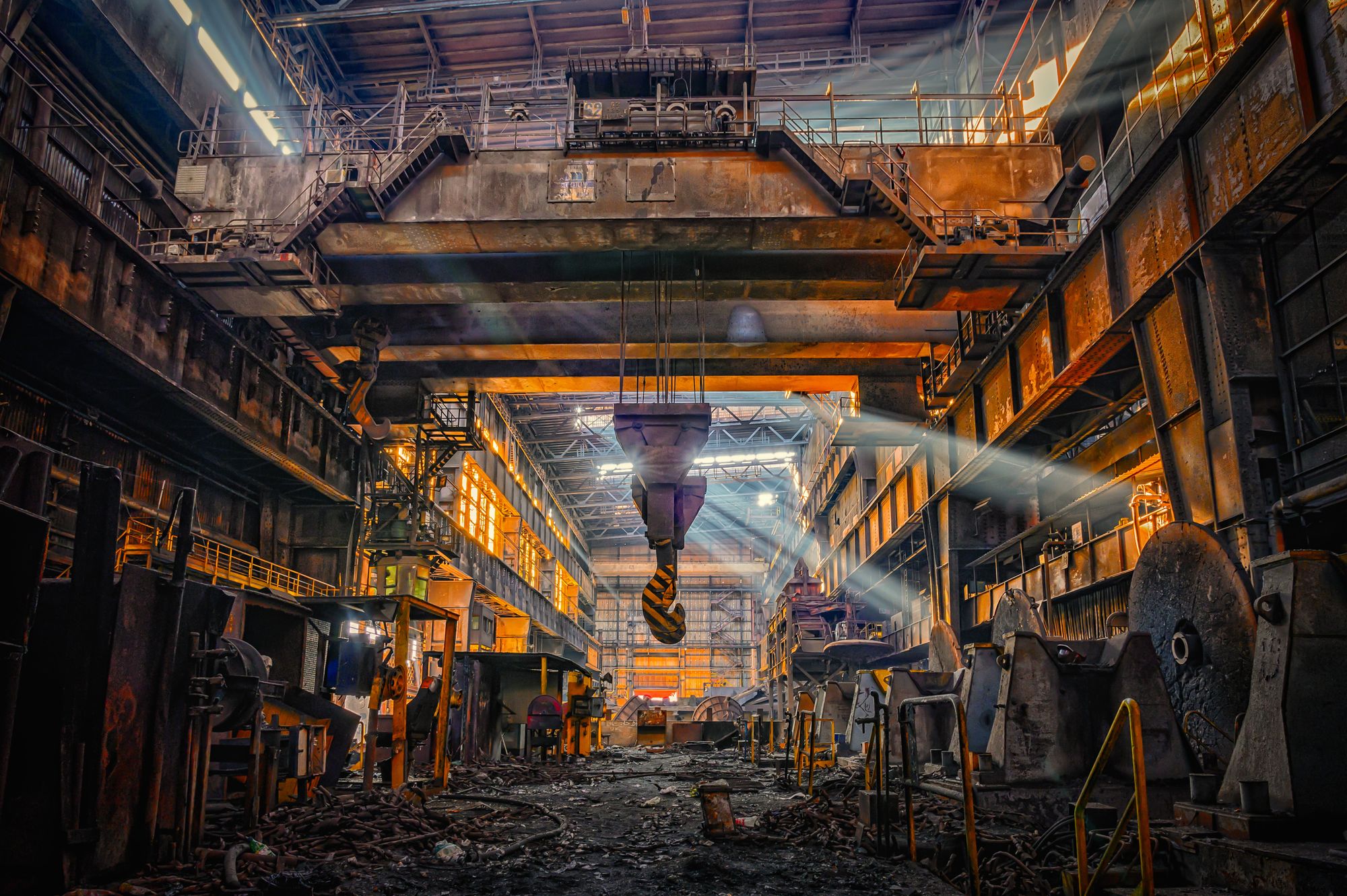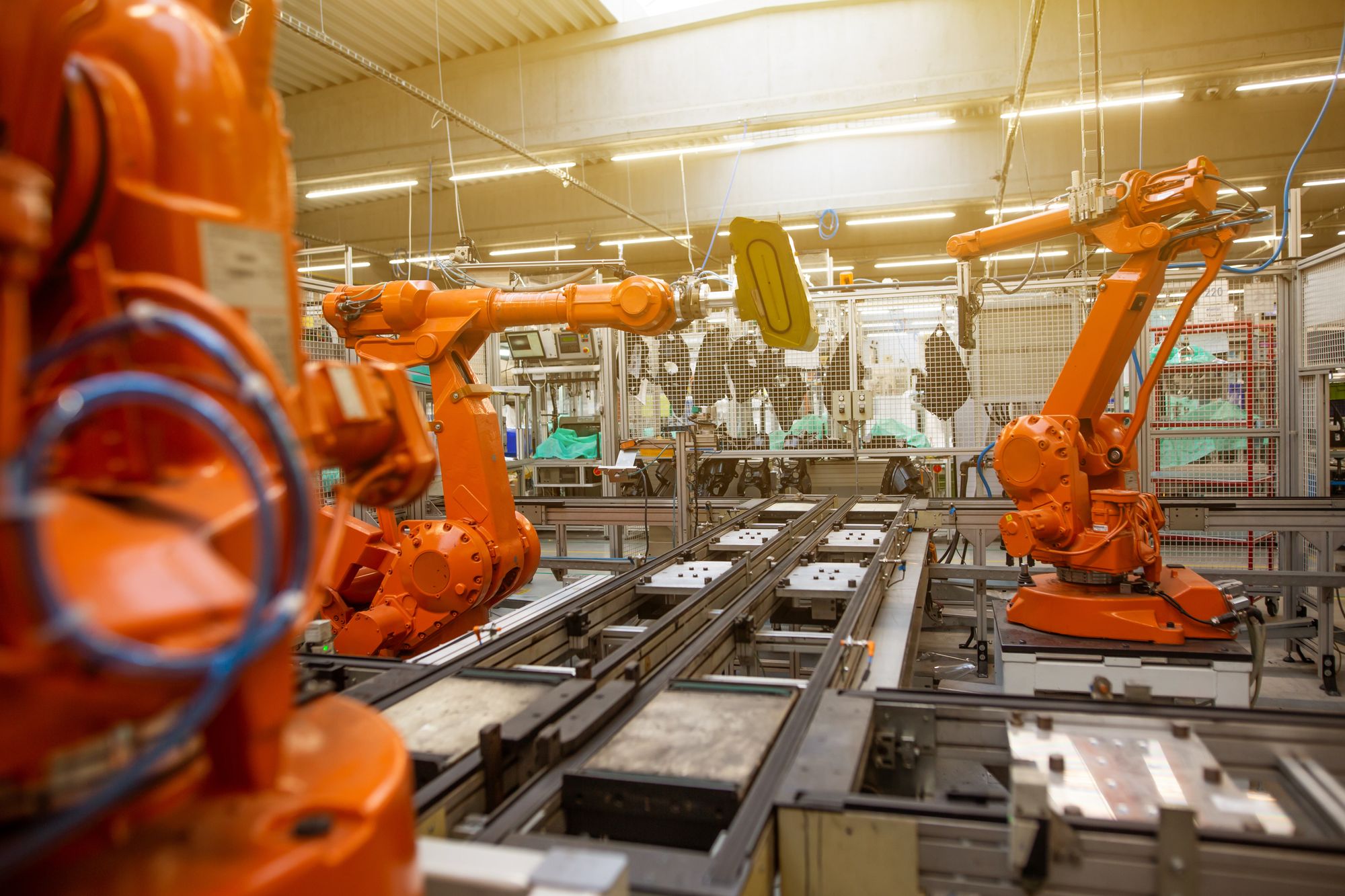 ---
---