Landing pages are that boon of digital marketing which ensures the highest returns on investment in the form of leads generated. These pages are different from the other pages on site because they are focused on specific, short-term goals. These ensure that you get the results that you want- whether it is increasing conversions, improving paid ad campaigns or yielding new audience insights.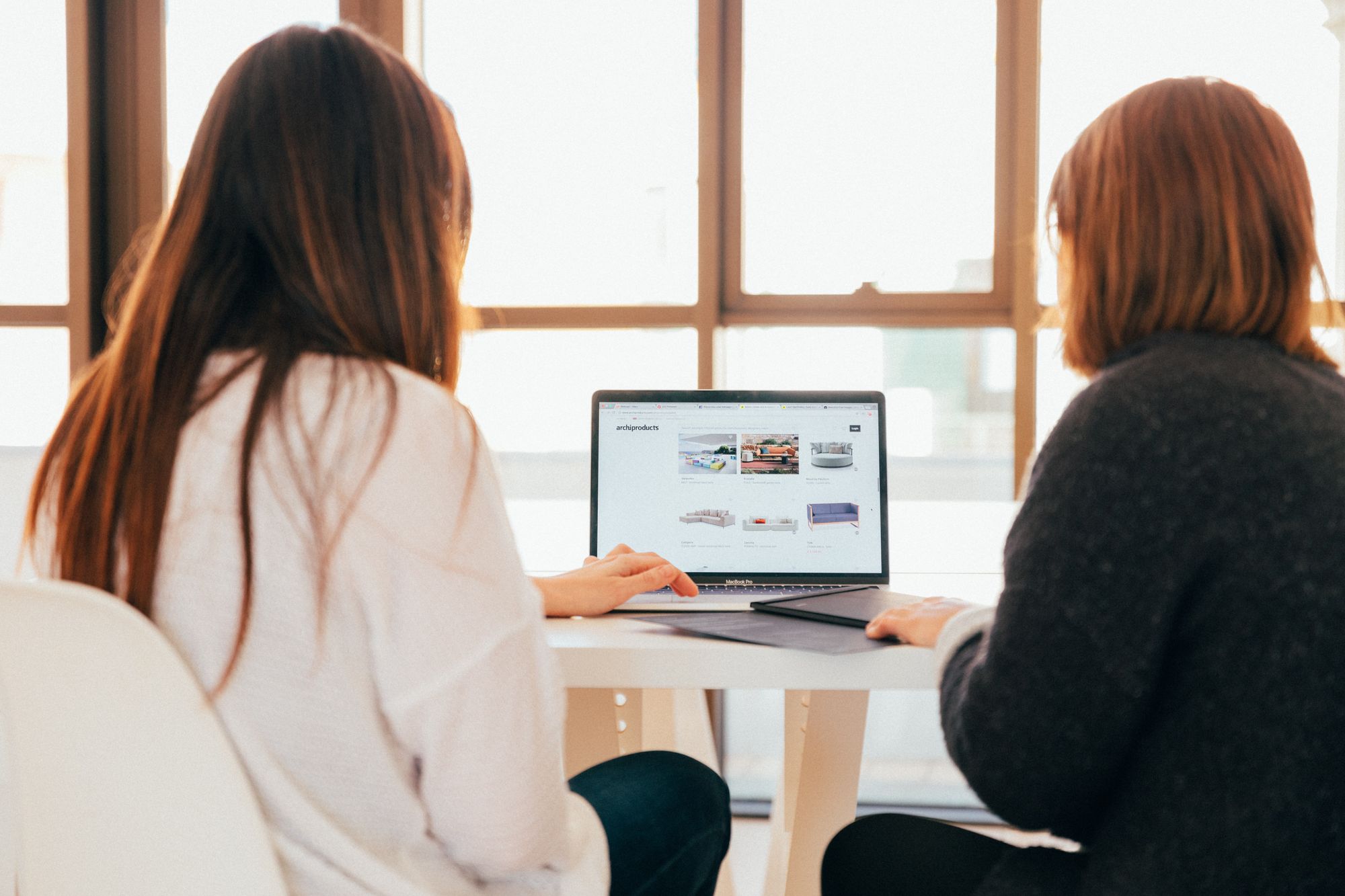 Landing pages can also boost your credibility and reinforce your brand, with the assurance that even if your users do not convert immediately, you leave a strong brand identity behind which they tend to remember and even recommend to their friends.
Landing pages are the secret to success in digital marketing and this article aims to take you through all the basics of the landing page. The topics covered in this article are:
What is a Landing Page?
The Paradox of Choice and Landing Pages
What is a Landing Page Used For?
2 Main Types of Landing Pages
Types of Landing Pages Offers
What Do You Need Before Creating A Landing Page?
When is the Best Time to Use a Landing Page?
How Do Landing Pages Work?
Benefits of Landing Pages
Landing Page KPIs
How Can Deskera Assist You With Your Landing Pages?
Key Takeaways
Related Articles
What is a Landing Page?
In digital marketing, a landing page is a standalone web page that is created specifically for a marketing or advertising campaign. The landing page is where the visitor lands after they click on a link in an email or ads from Google, Bing, Youtube, Facebook, Instagram, Twitter or similar places on the web.
The purpose of landing pages is one- that is known as "Call to Action (CTA)." This is unlike web pages, which tends to have many goals and encourage exploration. It is this single focus of landing pages that makes it the best option of increasing the conversion rates of your marketing campaigns, while also decreasing the costs of acquiring a lead or sale.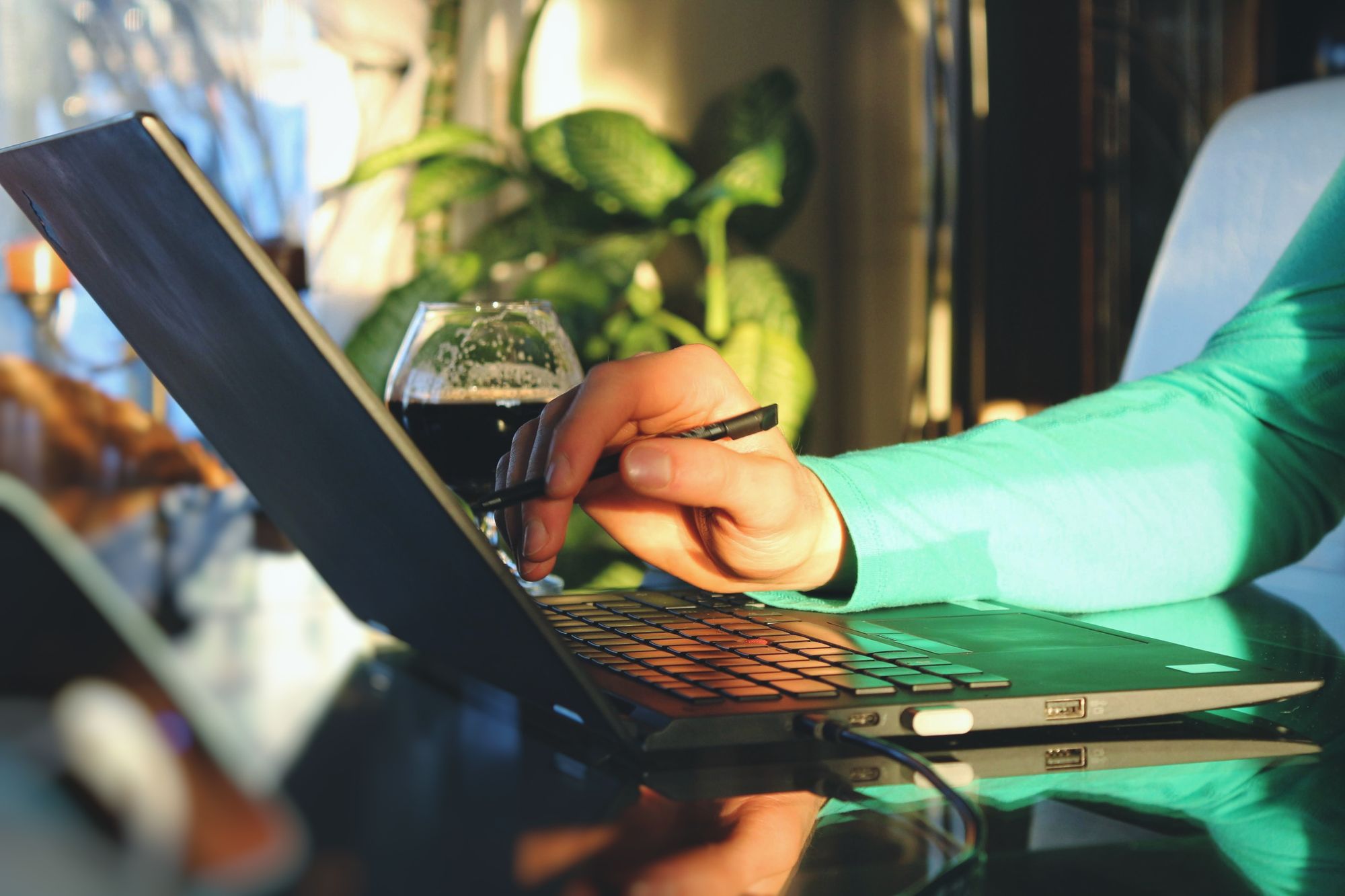 This conversion is ensured through a form that allows you to capture a visitor's information in exchange for the desired offer or a resource like an eBook. For instance, a home page with a form on it does not count as a landing page as it serves other purposes as well. A landing page should have a form on it without any distractions. This hence is the basic difference between landing page and homepage.
Typically, the visitor's information collected involves:
Name
Email address
Job title
It is only when the visitor takes the specific targeted action like buying your product or downloading or signing up for something, the landing page has succeeded in getting them to convert.
Deskera CRM+
Track your audience conversion insights from one dashboard
The Paradox of Choice and Landing Pages
Typically, landing pages offer only one action for visitors to undertake. This is because if they are given more options, it will become harder for them to make a decision and act.
For example, you have an eBook landing page. But on that page, you also invite your visitors to check out your blog, check out your social media pages and even buy a product. The more options you give them, the slimmer the chances become of your visitor downloading the eBook which was the primary objective. Now, because your form was connected with downloading the eBook, you would not be able to generate leads for future conversion into increasing sales.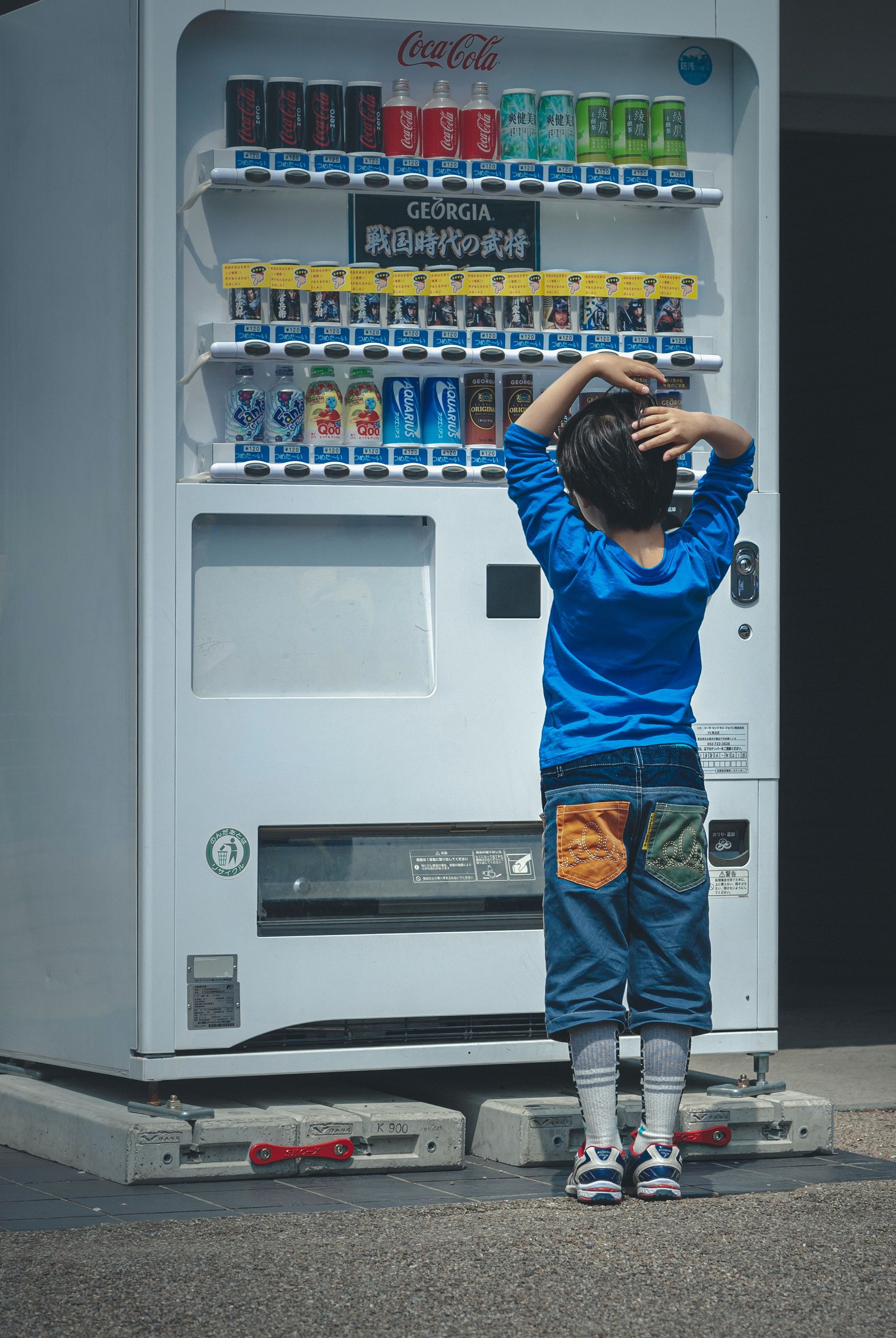 Too many choices will result in your visitors becoming overwhelmed, stalling and taking no action at all. Hence, it is essential to focus on a single call to action rather than 3-4.
To ensure that your landing page improves sales, it should have a clear visual hierarchy and value proposition and should even be tested for the best conversion optimization.
What is a Landing Page Used For?
The main goal of a landing page is to convert and build a repository of leads that can be nurtured with personalized marketing campaigns like email marketing campaigns, direct mails, paid ads and other types of targeted marketing.
This marketing is undertaken before the leads gain reaches your sales team so that they are already influenced by your business and its products and services.
The landing page that you create is hence the next step that you take to convert your visitor into your customer. It is a follow-up on any promises that you might have made through your content. Your landing page allows you to make a trade with some sort of special offer, or piece of information or deal in return for your visitor providing their contact information.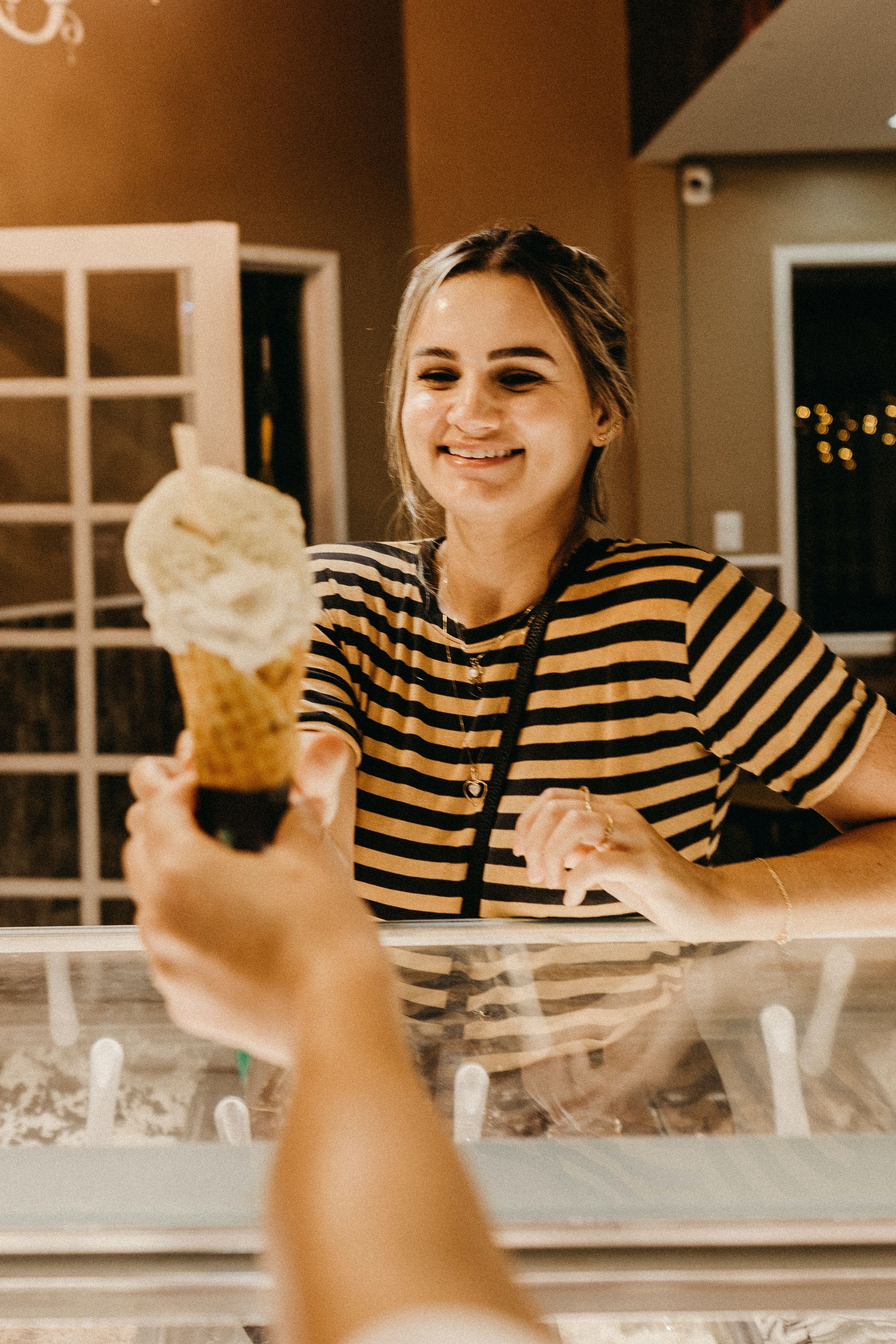 The main aim of your landing page hence becomes to provide a good user experience, especially when they are visiting for the first time as this will improve your brand image and thereby facilitate more positive brand awareness.
2 Main Types of Landing Pages
The structure of the landing pages is designed such that they serve 2 main functions:
Generating Leads
Directing Users to the Next Step
This section of the article will take you through these 2 functions, which determine the type of the landing page in detail.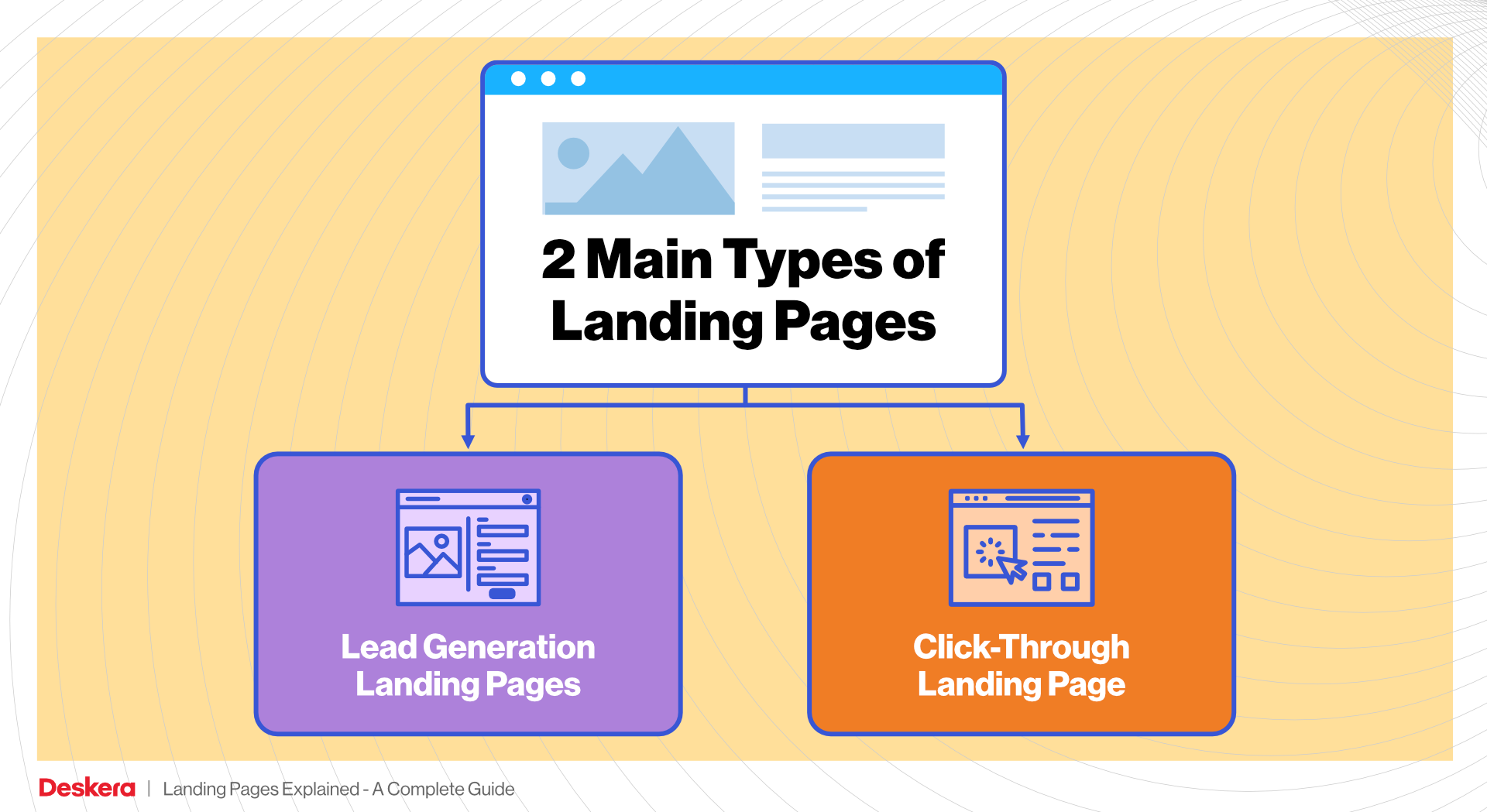 Lead Generation Landing Pages
Lead generation landing pages are also known as lead capture pages. These types of landing pages are focused on collecting lead data, i.e. information about your customers. The identifying feature of such landing pages is a form that serves as the desired CTA.
Lead generation landing pages ask the users for data like their names, email addresses and phone numbers in exchange for a product or service. The form could also be more insight-oriented in the sense that you can also ask for their age, gender, job titles and preferences in regards to your business.
These insights will help you design personalized marketing campaigns for them. It will also help you to target those people who match your products and services and thereby have a higher probability of them converting.
By doing so, you will have a 2 pronged benefit of having a way of contacting the leads of your business as well as nurturing their interest in your business. This will increase your returns on investment, gross profit as well as improve your cash flow.
Lead generation landing pages hence can improve your marketing strategy, making it more efficient, while also ensuring you do not spend money on an audience who aren't likely to convert. If lead nurturing or understanding is your priority, then lead generation landing pages should be added to your site.
Click-Through Landing Pages
Click-through landing pages are those whose focus is not on forms like lead generation landing pages, but rather on call-to-action buttons. When your users click on the button, they would be redirected to a page where they can complete your desired action.
For example, "take a free trial now" will take them to the page where they sign up for the trial, "buy now" would take them to the final checkout page and so on.
Click-through landing pages would most often be found on e-Commerce websites that are more focused on making a sale rather than on collecting the user information. In addition to the call-to-action button, these landing pages tend to include persuasive information like product details or user testimonials that will further intrigue and engage prospective customers.
Types of Landing Pages Offers
The sole purpose of landing pages is to convert leads for your business. To ensure so, your landing pages can have different specific content offers based on your business. These content-based offers hence also lead to content marketing, giving you all the benefits of it.
These content or offers which are given away to gather contact details are known as lead magnets in the marketing field. Some of the types of landing page offer or lead magnets that you can resort to for lead generation and conversion are: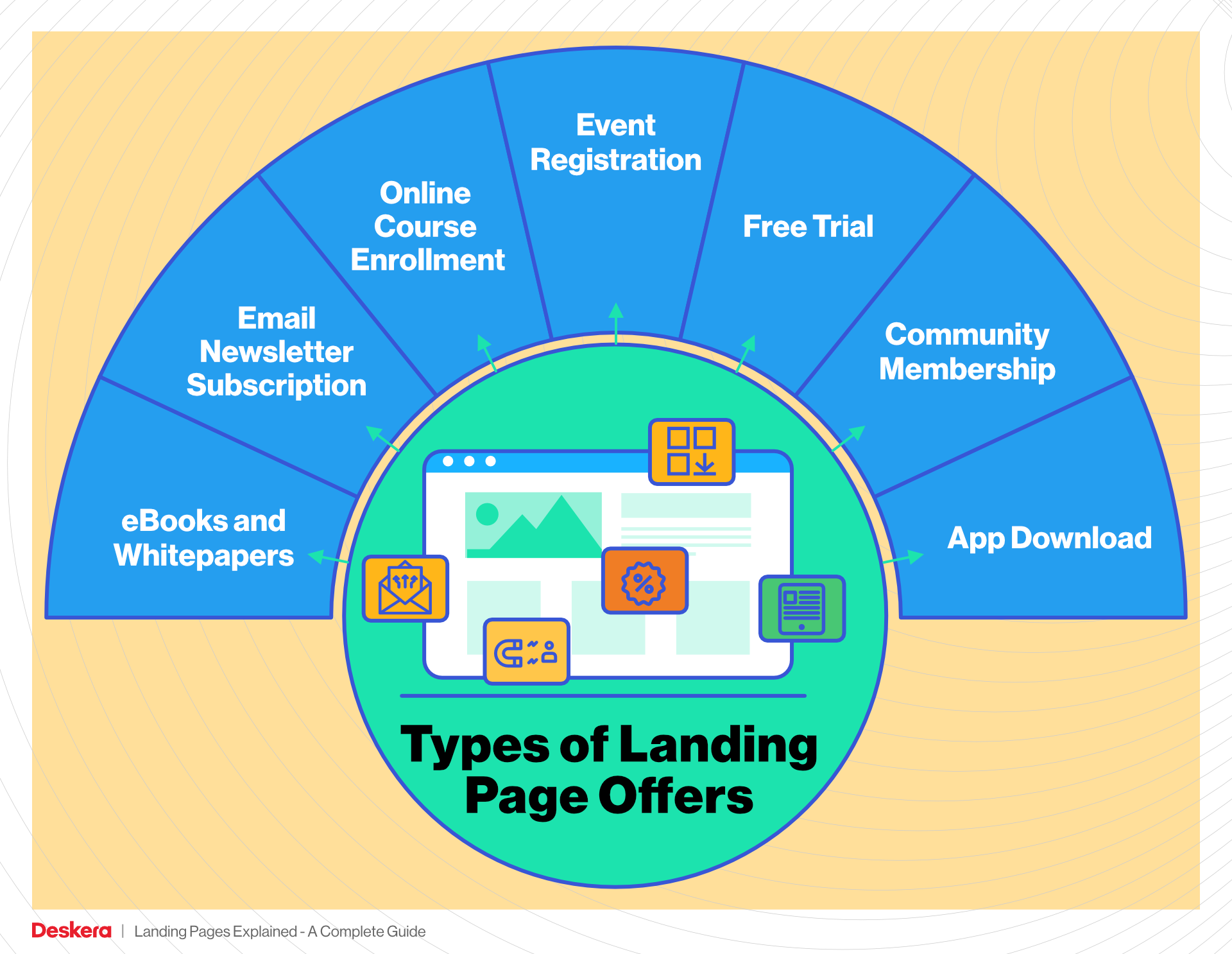 eBooks and Whitepapers
If you have written a blog post on a topic that your audience is interested in, you can elaborate on the same topic and make it an eBook or a whitepaper. Using the landing page, this resource can be gated behind a lead form that your user will have to fill up to get access to the same.
Such an offer on the landing page will also aid in improving your brand image while building their trust in your favor. The customers would feel considered and looked after. This will increase the ratio of sales as well as returning customers.
Email Newsletter Subscription
In addition to offering blogs, eBooks and whitepapers on different subjects, you can also offer email newsletter subscriptions to your readers. Email newsletters will keep them up-to-date with all the content on that topic that you write regularly.
A CTA button should be used on various blog posts for inviting readers to subscribe to your newsletter. This CTA button can link to a separate landing page where you can fill-up the form and hence sign up for the email list.
Online Course Enrollment
Online course enrollment is a good landing page offer when you are in the education industry or you offer various skill-based certifications to your audience. In such cases, online courses should have their own landing pages too.
These pages come in handy when you want new students to sign up for your courses. Another benefit of such a landing page is that you will be able to give more value to your audience as through email or any such private channel, they will be able to discuss the course content and get feedback on their progress.
Event Registration
The working of event registration is similar to that of online courses in the manner that they too require collecting information on your audience so that they can receive updates leading up to the occasion.
An event, along with its various sessions and keynotes can have its own individual landing pages. Event landing pages will have a higher conversion rate of interested prospects becoming event attendees and leads.
Free Trial
If you have your product, which offers a free demo or a trial run for a few days, this offering should have its own landing page.
The users visiting these landing pages can sign up for the free trial or demo by giving information like their name, gender, age, job title, email address and any other information which you feel is necessary for the best customer experience. A good customer experience also ensures positive customer feedback.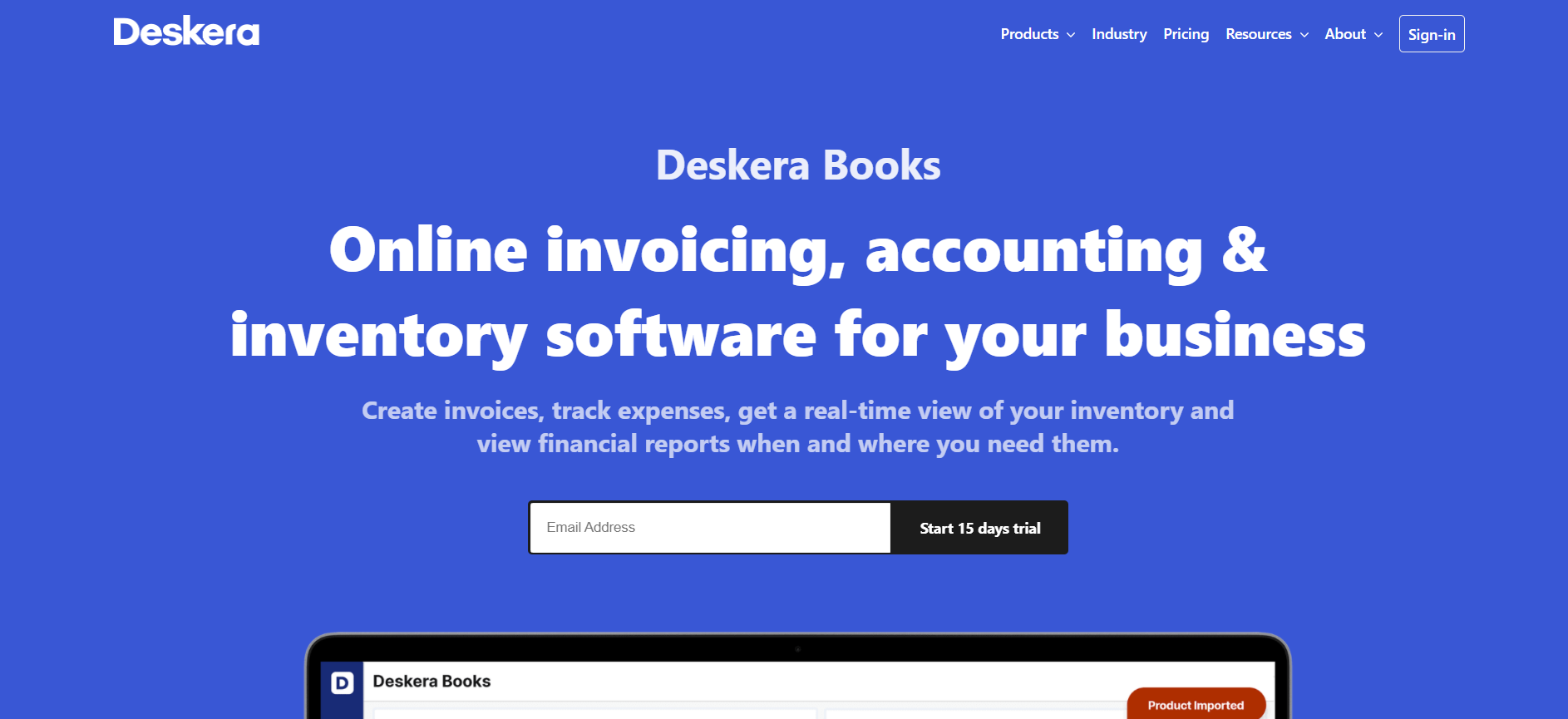 The benefit of a free trial is that they have already portrayed the interest that the visitor has in your product and services, all that you now have to do is follow up on the lead, ensure proper lead management and make sure that your sales team can close the deal. The information gathered during the sign up for the free trial can be used as a reference here.
Community Membership
If your business is one of those which thrives on building community among your customers, your landing page should offer just that. By offering a space for dialogue among your users on your landing page, is a sure way of them becoming a bigger part of your business.
Additionally, for them to dialogue among other users, they will have to sign up, hence giving you all the necessary information for making follow-ups on your lead. Such dialogue can be given access based on invitation only. A community membership landing page is hence a great way to get into relationship marketing for closing the deals.
App Download
Developing a mobile app for your product has dual benefits as it not only improves customer experience and therefore customer retention, but also becomes another avenue for your business to capture leads.
When the landing page optimization is undertaken such that it optimizes all the leads, you can expect to have more users downloading your app. Your landing page should hence be an invitation for the users to download your app.
To analyse the performance of your landing page, you can use Google Analytics to get insights into who is visiting your landing page and who is also downloading the app. Such insights will help you to make your landing page even more effective.
What Do You Need Before Creating A Landing Page?
Putting together an effective and responsive landing page requires proper background research. This background research should cover the following: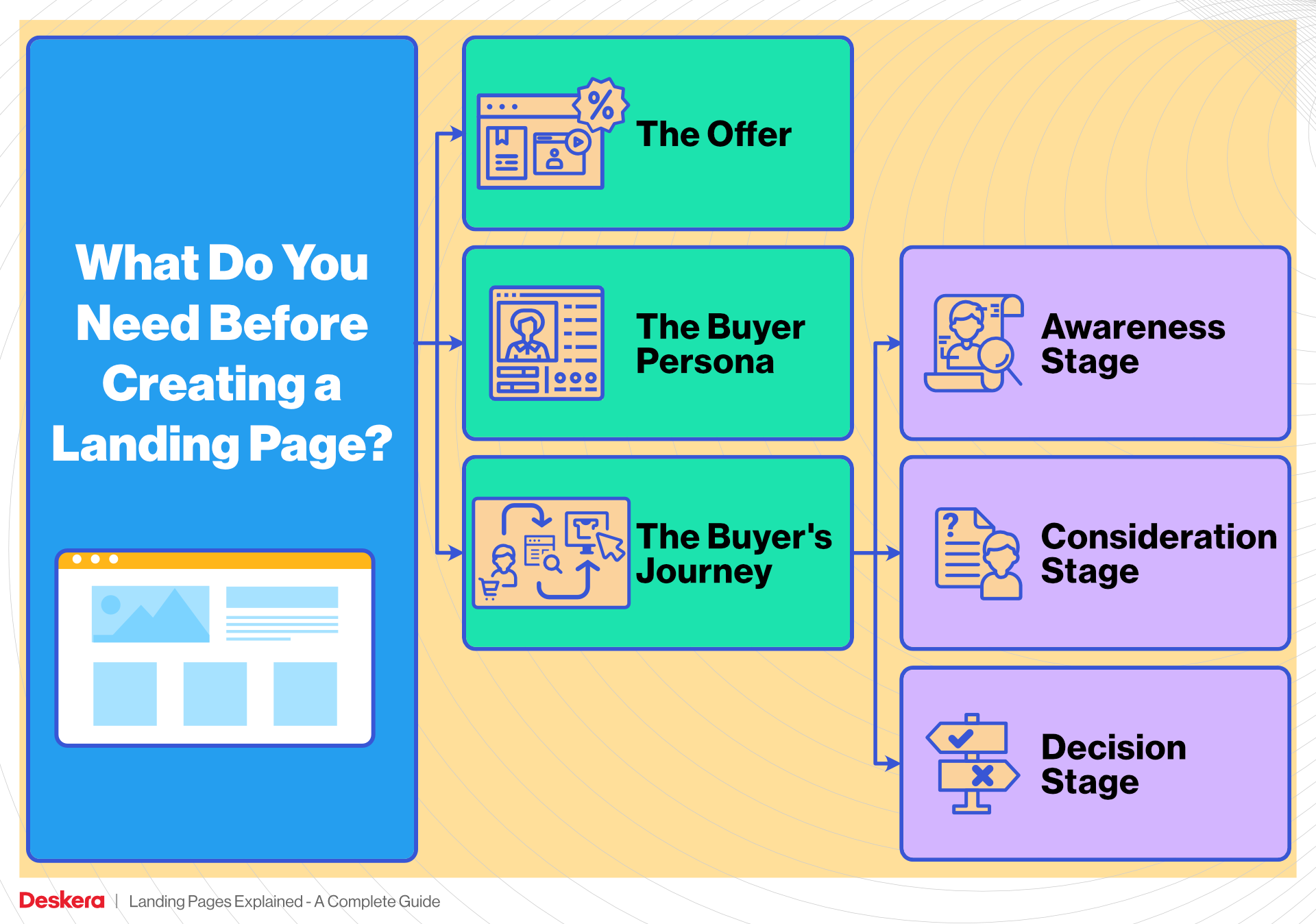 The Buyer Persona
You need to create buyer personas, which are representative of your ideal customers. These should be created based on market research and current customer data.
Buyer personas would be able to give you a clear understanding of how your customers behave and think. This understanding will enable you to develop content that would be most valuable to them.
Each of the landing pages created by you should be targeted to only one of your personas, as this will ensure it resonates with that segment of visitors and lead to higher conversion. Having a niche is better than trying to cater to the masses and reduce the conversion rate.
The Offer
An offer refers to that which gives value to your website visitors, in addition to the products and services that your organisation sells. The offer could be anything ranging from eBooks to a promo code or even a free trial.
What you offer should be downloadable and informative about the industry that you are in. Additionally, it should answer your buyer's problem, while also complementing them in the stage of the buyer's journey that they are in.
The Buyer's Journey
The buyer's journey is the entire research process that a potential buyer goes through which leads up to a purchase. This journey consists of 3 stages and different types of content should be created for each stage. The main purpose of this content would be to help your potential buyer move from one stage to the next one. The 3 stages are as follows:
Awareness Stage- A visitor in the awareness stage has expressed the symptoms of having a potential problem or an opportunity, whose specifics they do not know yet. A person in this stage is undertaking lots of research to understand their problem or opportunities. In this stage, eBooks, white papers, research appears and guides are the type of content that can help and guide them.
Consideration Stage- In the consideration stage, the prospect has defined their problem or opportunity clearly and are looking for solutions for the same. The type of content that should be created for your potential buyers in this stage includes comparison white papers, webinars, videos and tutorials.
Decision Stage- The decision stage is also known as the intent stage. In this stage of the funnel, the potential buyer knows what could be their solution, strategy and approach. To finalize a solution, they are comparing between the vendors and trying to narrow down the list, before making a final choice. To assist them with their final decision, the types of content which should be created are case studies, product demos and product information.
When is the Best Time to Use a Landing Page?
Landing pages are distinctive and designed for a particular audience as well as for a particular purpose. This means that they are not made for all the pages. Ideally, the best times to use a landing page are: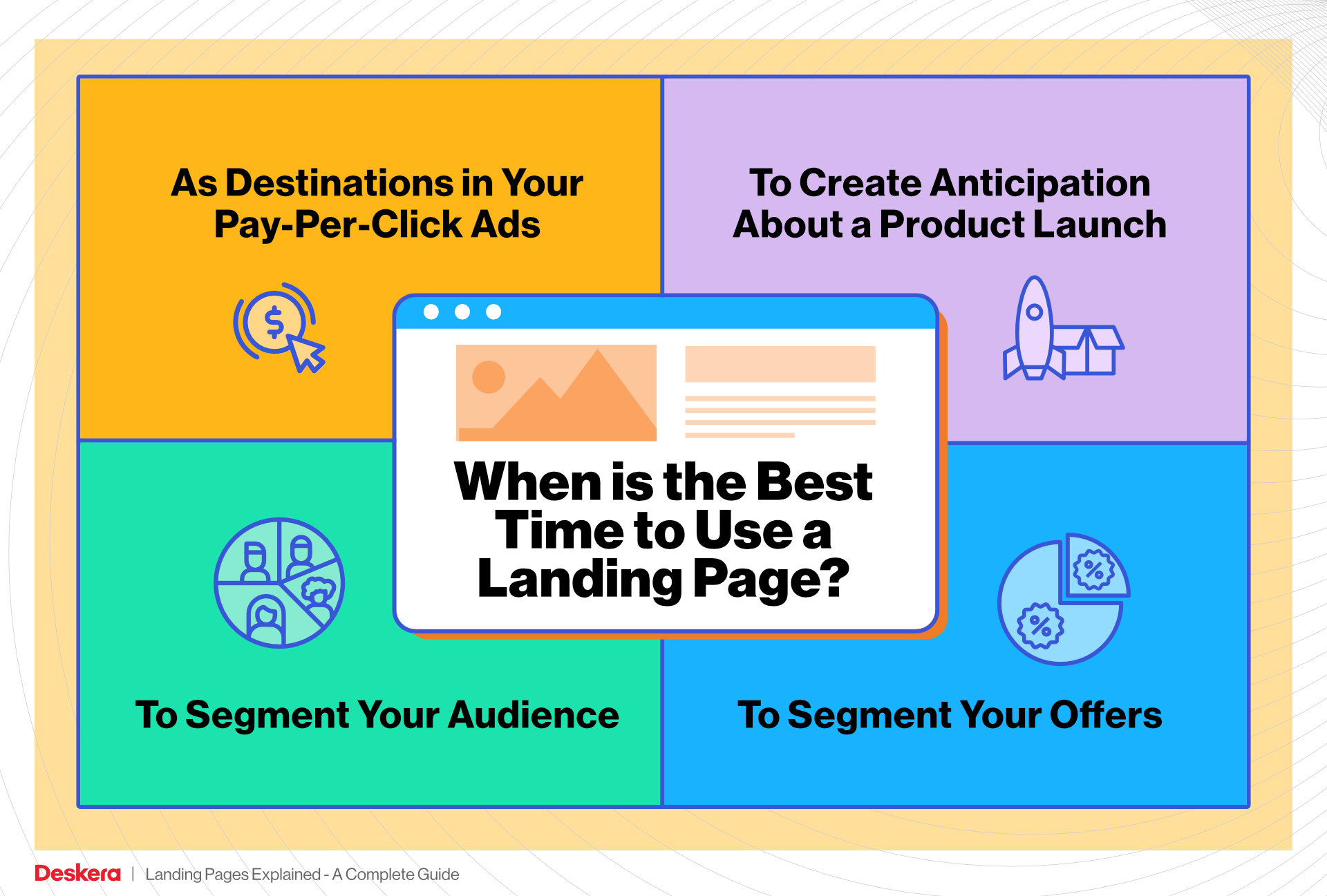 As Destinations in Your Pay-Per-Click Ads
PPC landing pages or pay-per-click ads landing pages are those that focus on performance marketing. Under this, a different landing page is created for each keyword and group so that you can test, track and see how each one performs. The insights gained will aid in increasing net sales and net profit.
To Create Anticipation About a Product Launch
Landing pages are a great way to create anticipation about a product launch through "coming soon" pages even if your product is not finished. Such landing pages can also have a "notify me" button in place, which collects the contact details of the visitor. When updated with the new launch, these interested visitors are more likely to consider it for purchase.
To Segment Your Offers
Offers are a tricky thing, with the preferences varying amongst your visitors. For instance, some would want printable coupons while others might want promo codes. Landing pages help you to steer your visitors towards where their preferences meet your desired actions.
To Segment Your Audience
Your audience would have different needs and preferences and based on this, they should be directed to different landing pages that are tailored specifically or at least in line with their needs and preferences. Following this approach against a "one size fits all" approach will ensure that you have more successful lead conversions.
How Do Landing Pages Work?
Landing pages have become the miracle cure for low conversion rates on marketing campaigns. This is because they are those strategies that complement all your other strategies with value addition.
Landing pages are designed in a manner that they bring about brand awareness, share knowledge about a product, assist the visitors with services that they are looking for, and most importantly tap into your business's potential customers. So how exactly do landing pages work?
Most of the landing pages work as follows:
A visitor sees a call to action and ends up on a landing page with a form.
The visitor fills out the form which converts them from a visitor to a lead.
The information gained from the filled forms is stored in your leads database.
You design customized marketing campaigns for the leads based on the information that you have.
Now, if you use marketing automation assistive tools like Deskera, you will be able to see what offer did the lead convert on, when they converted and what other interactions did they have. These insights will help you to nurture the lead gained in a more targeted way by designing your marketing strategies accordingly.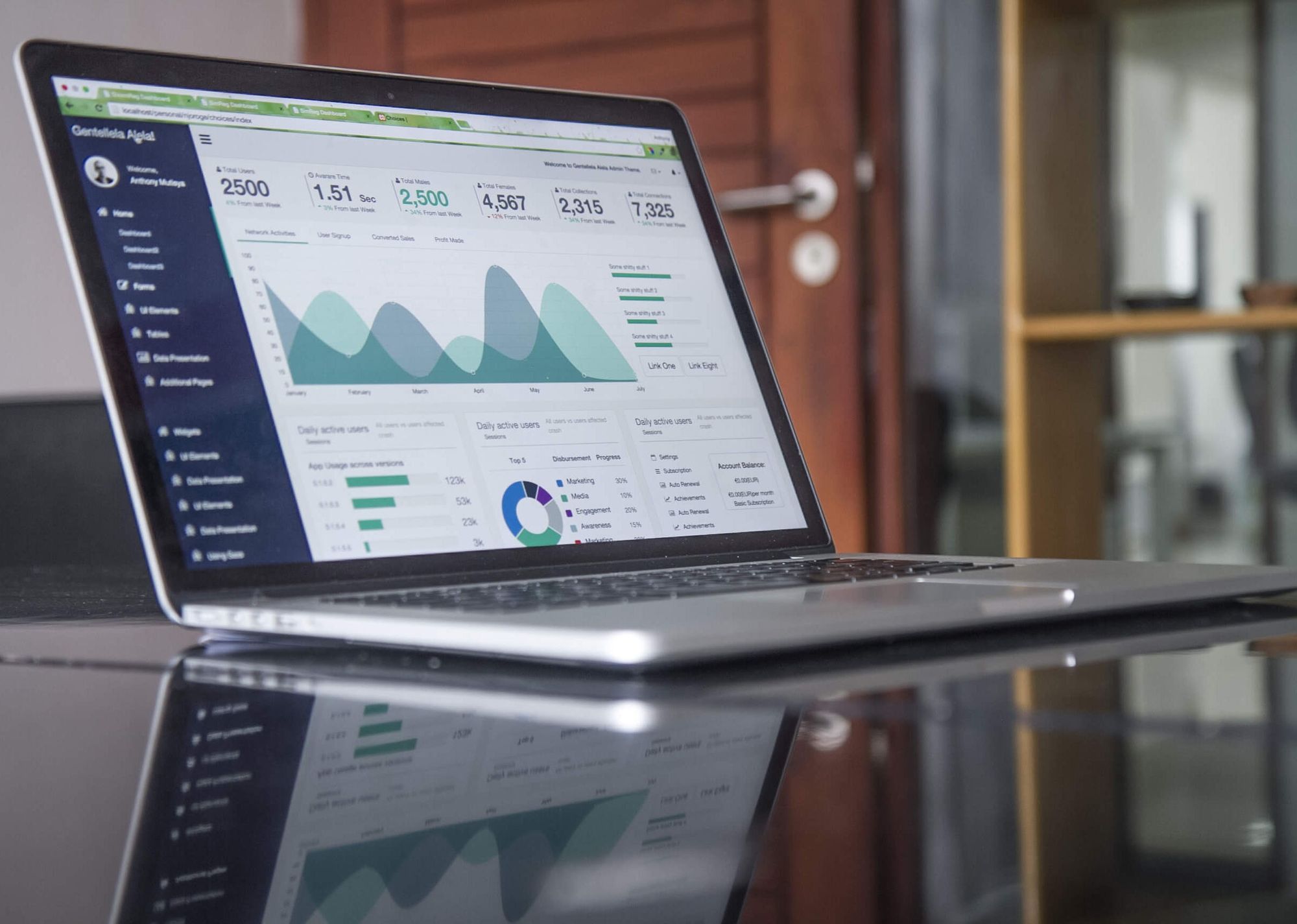 A nurtured lead is more likely to lead to sales, with it also moving faster through the marketing and sales funnel. This will not only motivate your marketing and sales personnel but also give higher returns on investment.
This in the end will lead to more customer satisfaction, as well as better business performance which will be reflected through your balance sheet, profit and loss statement, income statement as well as your cash flow statement.
Benefits of Landing Pages
The benefits of creating landing pages for each of your marketing campaigns and content offers are innumerable. However, the top 7 benefits of landing pages that make it an indispensable lead generation tool are: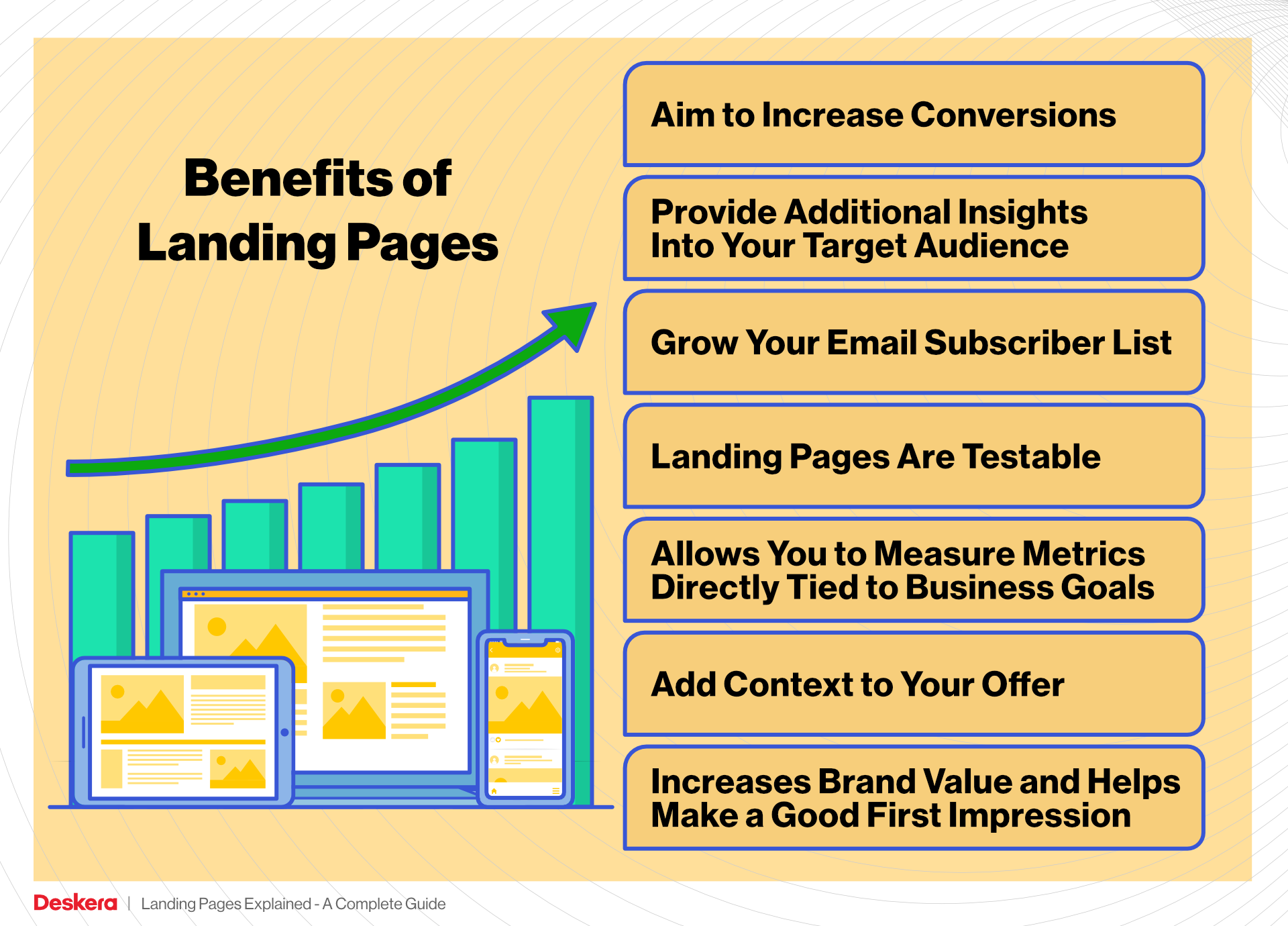 Aim to Increase Conversions
The majority of the companies tend to direct their advertising, email or social media traffic to their homepages, hence missing a huge opportunity. This is because when you know you are going to have targeted traffic coming to your website, you should provide them with an immediate, tangible reward in exchange for information.
By doing this, you will be increasing the likelihood of converting your traffic into leads by using a targeted landing page. For example, those users who convert on your social media eBook landing page are more interested in social media.
When nurturing these leads, you can do the follow-up with a personalized email that gives details on additional content that you can provide to them on social media. Additionally, because you have initially provided an eBook in exchange for their email address, they tend to give that information out easily rather than when you directly ask for their email address.  
Provide Additional Insights Into Your Target Audience
Each of your goals, call-to-action or audience segment will have their individual landing page. By tracking the performance of these landing pages, you will be able to identify your audience's interests. You will also be able to shortlist the landing page best practices, the channels your leads prefer and those call-to-action examples which are giving you the highest conversion rates.  
The insights gathered can then be used to create a more targeted, personalized marketing strategy, with a focus of engagement being on those channels that your audience prefers and are already using.
For example, your eCommerce landing pages and Facebook landing pages are found to be performing exceptionally well. This information can be used for having more marketing campaigns targeted on these 2 channels and hence have more leads generated.
Grow Your Email Subscriber List
Typically, you'll ask the users to provide their email addresses and names in exchange for the content that you have offered on your landing page. This will help you to grow your email subscriber list quickly, which can further facilitate you in providing those leads with more personalized follow-up emails.
Additionally, because people have filled out the form in exchange for content or information on your product or service, they have already shown interest in what you are offering. This means that your email subscriber list is filled with potentially high-quality leads, which on nurturing further can bring you more sales and profits.
Landing Pages Are Testable
One of the benefits of landing pages is that they are easier to take a risk with and try out new designs through. By analyzing the performance of landing pages, you will be able to determine the visuals and the copy that works best with your target audience. This is harder to experiment with and find out through blogs or websites as they would require major design and infrastructure changes.
Furthermore, landing pages can easily be changed, updated or even deleted, but the same is not the case with blogs and websites- which are representatives of your business.
Landing pages hence help in finding out new ways to drive more leads and contacts for your business, and also reduce landing page mistakes considerably. Additionally, it also becomes possible to test and ensure that you have responsive landing pages which are also mobile-friendly.
Allows You to Measure Metrics Directly Tied to Business Goals
By having individual landing pages for each product or service or audience segment or business goal, it becomes easier to measure metrics directly tied to your business goals through that landing page.
For example, your marketing team is tasked with increasing sales for your new accounting tool. To achieve this, your team would be creating a campaign with a landing page that offers a free demo of your tool.
Now, to determine how well your campaign is performing, you will be measuring the conversion metrics of that landing page. These metrics will help you to know if you need to make any changes to better communicate the value to your potential customers that your accounting tool offers.
Additionally, you will also be able to measure the sites which drive the highest conversions to your landing page. In future marketing campaigns, more focus on marketing should be placed on these sites or social media apps in particular.
Add Context to Your Offer
One of the biggest benefits of landing pages is that they allow adding context to your marketing offer. By having imagery, essential information, landing page offers like eBooks or free trials, your visitor will get all the required information to convert into a high-quality lead.
It is hence essential to use landing pages and the entire process associated with it, rather than skipping directly to the conversion page and encouraging form filling through other methods- which results in lesser high quality leads.
Increases Brand Value and Helps Make a Good First Impression
A well-designed, uncluttered, minimal, trendy and modern landing page impresses the new visitors, makes them consider what you are offering and how it will impact them positively. What your company has to offer to them is demonstrated through your landing page design as well as the offer, which when taken, turns them into leads.
Even if the visitor does not convert, your brand recognition increases through this, which can be nurtured in future to get more sales. Your landing page hence should be designed with all the time and consideration to make it more engaging, interactive and interesting while also communicating your brand positioning statement.
Landing Page KPIs
To measure the success and effectiveness of your landing page, you resort to landing page KPIs. Landing page KPIs are the values that demonstrate how effectively your landing page has achieved key business objectives.
KPIs are used to evaluate your progress towards achieving your targets. The landing page KPIs should be analyzed as a whole because it would only be on careful examination of each, that you would be able to find the relationships between them.
Marketers have become increasingly data-driven to measure the success of their marketing campaigns but to do so, it is important to have a context against which the performance should be compared. This context is determined by the purpose of your landing page. The most important landing page KPIs that each business uses are: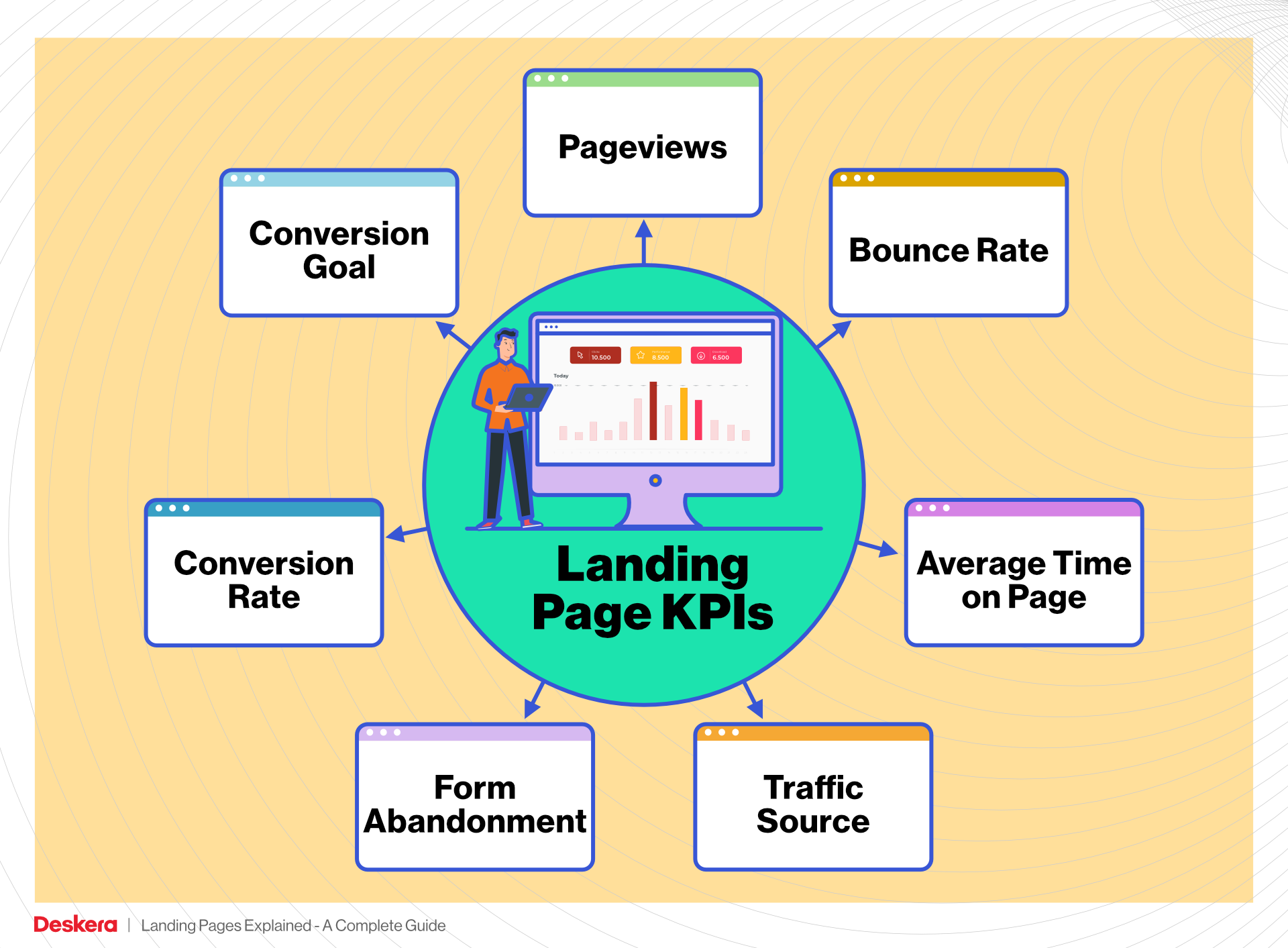 Pageviews
This is one of the most basic and yet important landing page KPIs that marketers track.
Pageviews are the number of page views in the measured timeframe.
As a landing page is the base of any marketing campaign, it is important to track the number of people visiting your page and how that number changes with time.
Pageviews as a KPI will show:
How well your landing page is optimized for searches
Helps you to identify the trends of your visitors. For example, does weekend or weekday influence the number of visitors.
It shows the landing pages which give the most views and hence should be optimized.
One of the great ways of boosting the quality of traffic that you receive from ads is by optimizing landing page views.
Pageviews is a good starting point for finding out where your visitors come from and what they do after viewing your page.
Bounce Rate
Bounce rate is the percentage of visitors who view a landing page and leave without taking another action.
Bounce rate hence provides insights into traffic analysis. Bounce rate increases when the visitor leaves a landing page by:
Clicking back
Closing the browser/tab
Staying inactive for more than 30 minutes
Typing in a new address without interacting with the page
Clicking on an outbound link
If you want to increase the conversion rate of your landing pages, you need to decrease the bounce rate as much as possible. However, if you find out that your bounce rate is too high, you need to work on your landing page user experience along these lines:
Your landing page has to be intuitive and dynamic
Your landing page should be simple, with your ads matching the tone.
You need to review your SEO practices- to check if the visitors have reached your landing page unintentionally while searching for something unrelated.
Ensure that your landing page is optimized for mobiles
Make sure that your landing page loads faster.
All the insights gathered from and through the bounce rate will help you to find out why your visitors did not take the expected action. It will also help you to rectify this scenario by optimizing your landing page according to your potential lead and the conclusions gathered from before.
Average Time on Page
Monitoring the average time spent by your visitors on your landing page is an important indicator as higher average time shows that the landing page is informative for them and provides them with valuable data. This is especially relevant in the case of educational content pages.
Average time on the page shows the average amount of time users spend viewing your landing page.
However, because each landing page's purpose, as well as content, is different, this indicator should be measured against the ideal average time to be spent on the page considering its content.
Typically, visitors will spend more time on an educational landing page, webinar landing page, professional services landing page, saas landing page than those landing pages which are conversion-driven.
If through your analytics you find that your visitors do not spend enough time on your landing page, these are the suggestions you can work on:
Lengthening the landing page's content
Adding engaging content like videos
Changing your landing page design such that it appeals to your visitors and makes them stay longer. This can be done easily if you have used a landing page builder like Deskera CRM plus.
Traffic Source
For landing page analysis, it is important to know where your visitors come from. Traffic source metrics are aimed at telling you exactly this.
They tell you which marketing campaigns are working and hence the channels to be focused on. They also help you to identify the marketing campaigns which are no longer worth investing in.
You can drive more traffic to your landing page once you know where your visitors were before they reached your landing page. Your optimizations and improvements can be carried out accordingly, but the top ways to increase traffic on your landing pages are:
Pay-per-click ads
Social media
Organic searches
Email marketing
Content marketing
Traffic sources are the foundation of your marketing funnel as they will determine the quantity as well as the quality of your leads. Getting the perfectly tailored audience will hence require you to work on and through this metric diligently.
Form Abandonment
Most of the conversion-focused landing page examples include the following 5 basic elements:
Strong headlines
Eye-catching content
Engaging copy
CTA buttons
Contact forms
It is contact forms that have the greatest impact on turning a visitor into a lead. It is because of this reason that form abandonment is one of the most important landing page KPI. This KPI will show the number of people that resign at the final hurdle.
Form abandonment is the percentage of visitors who were filling out the required information but left the page before finishing.
A higher form abandonment rate means that either your contact form was too sensitive or it was too long for filling. Your contact form hence should be as short as possible, with the inclusion of only the most essential information.
You should undertake tests on your contact forms to find out which one works better. Such a test will also help you to identify the information that people are willing to share, based on which you can design your form.
Conversion Rate
This is the most critical landing page KPI as the main purpose of a landing page is to convert visitors into leads.
Conversion rate is the percentage of visitors who take the desired action on your landing page like filling in a form, giving contact information, watching a video, making a purchase or signing up for a newsletter, to mention a few examples.
Therefore,
CR= number of conversions/ total number of visitors.
Conversion rate is that primary metric that shows you how well your audience is responding to the incentive you have added on your landing page to get them to act on your call to action. This metric shows whether your landing page is performing well or whether it needs to be improved.
However, to know whether your conversion rate is high enough or not, you need to know your industry's average conversion rate, set a realistic target for yourself and compare against it.  
Conversion Goal
For any software that you choose to track your landing page KPIs through, you should set up your conversion goals there. This software will keep a track of the conversions, how the conversion rates are fluctuating and how close they are to the target. One such software that you can use is Google Analytics.
How Can Deskera Assist You With Your Landing Pages?
Deskera is one of those unique software that facilitates the designing and management of landing pages through your CRM software. For this, Deskera CRM+ is what you are looking for.
Deskera CRM+ is a software that has a special section dedicated to landing pages. This section is designed such that it will help you throughout the process of designing, launching, tracking and optimizing your landing pages.
Deskera CRM+ comes with some pre-installed landing page templates that you can use or you can even choose to design your landing page from the start. Both of these options are supported in the Deskera CRM+'s landing page module. This will ensure that you can create beautiful and professional-looking landing pages that generate leads without the help of any designers or IT professionals.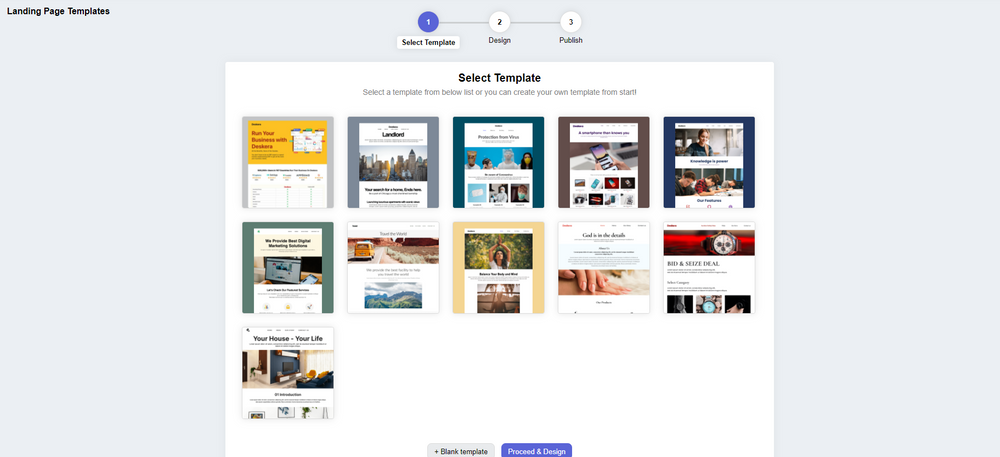 When adding elements to your landing page, Deskera CRM+ will also facilitate the addition of metadata, along with its favicon icon and canonical URL which will improve your landing page's SEO. Furthermore, to track the performance of your landing page, you can even embed scripts and add tracking scripts like GTM, Mixpanel, etc.
Considering the wide variety of devices across which your landing page will be accessed, and wanting to ensure smooth functioning across all, Deskera CRM+ also facilitates the designing of landing pages for a web format, tablet format and phone format. You can make the necessary changes or additions or subtractions from the above format according to what will look best in that particular format.
The entire Deskera CRM+ is designed such that it makes it easy to not only design and track your landing pages, but also edit them and delete any of their elements if you want to. While publishing your landing page, you will be able to give it a name of your choice and be able to add a customized domain name as well.
This customized domain name, which is different from the default domain name, will be subject to approval. After your landing page is published, you will be taken to a screen through which you will be able to share the landing page with your user easily.
Additionally, Deskera CRM+ has also made it very easy and accessible to have the insights of your landing page, all on one page. Through the landing page list, you will be able to see all your landing pages with their URLs, the total number of visitors for each page and even have the option of changing the status of your landing page to active or inactive. Based on their status, you can select multiple landing pages.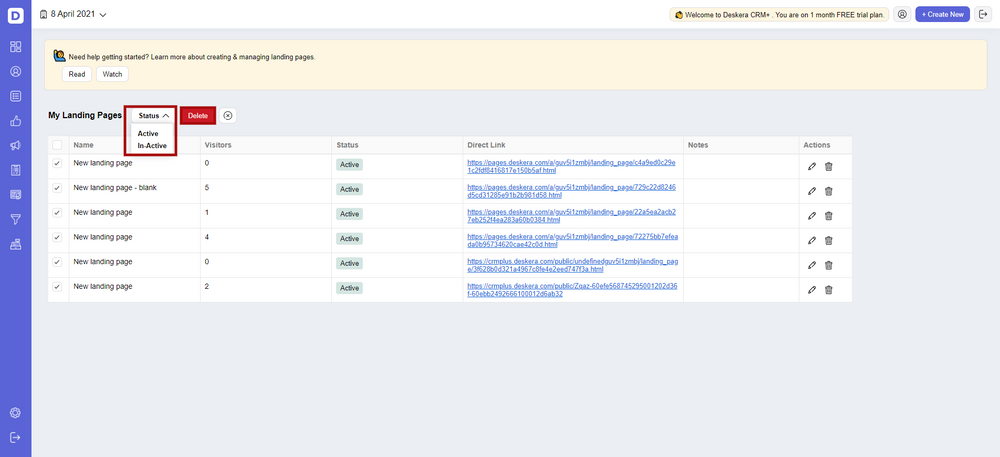 Deskera CRM+ is a boon when it comes to landing pages as it allows the uploading of forms (as designed by you), images, videos or any such landing page offers that you wish to add. Additionally, you can also create your landing page funnel through the funnel module of Deskera CRM+.
Through the landing page funnel, you can add multiple pages to your landing page and you can also add a new landing page to the existing domain. You can also add additional steps to your landing page funnel.
The funnel also facilitates the linking of your social media account to your landing page. This is important because social media plays a big role in developing and maintaining your company's digital presence. Lastly, after you have published your landing page funnel, you can go to the funnel list and get insights like the total number of visitors, the total number of clicks and the total number of leads generated.
So whether it is creating your startup landing page, agency landing page, google ads landing page or you want to have the insights of google ads quality score and web vitals along with the other landing page insights, Deskera CRM+ does it all.
Deskera CRM+
The best-friend to your landing pages
Key Takeaways
Landing pages are the key strategy in digital marketing, which are specifically designed for generating leads and increasing conversions. For each digital marketing campaign that you run irrespective of its channel, a quality landing page is a must for converting your visitors.
Without having at least a couple of these landing pages on your website, you are missing out on the opportunity to turn these visitors into paying customers down the line.
The benefits of landing pages hence are:
Aim to Increase Conversions
Provide Additional Insights Into Your Target Audience
Grow Your Email Subscriber List
Landing Pages Are Testable
Allows You to Measure Metrics Directly Tied to Business Goals
Add Context to Your Offer
Increases Brand Value and Helps Make a Good First Impression
The types of landing pages offers are:
eBooks and Whitepapers
Email Newsletter Subscription
Online Course Enrollment
Event Registration
Free Trial
Community Membership
App Download
The 2 main types of landing pages are:
Lead Generation Landing Pages
Click-Through Landing Pages
The things needed before creating a landing page are:
The Buyer Persona
The Offer
The Buyer's Journey (Awareness Stage, Consideration Stage, Decision Stage)
The best times to use landing pages are:
As Destinations in Your Pay-Per-Click Ads
To Create Anticipation About a Product Launch
To Segment Your Offers
To Segment Your Audience
And lastly, the most important landing page KPIs are:
Pageviews
Bounce Rate
Average Time on Page
Traffic Source
Form Abandonment
Conversion Rate
Conversion Goal
In the field of digital marketing, designing and optimizing landing pages is an art that is a must and is also the most rewarding one.
Related Articles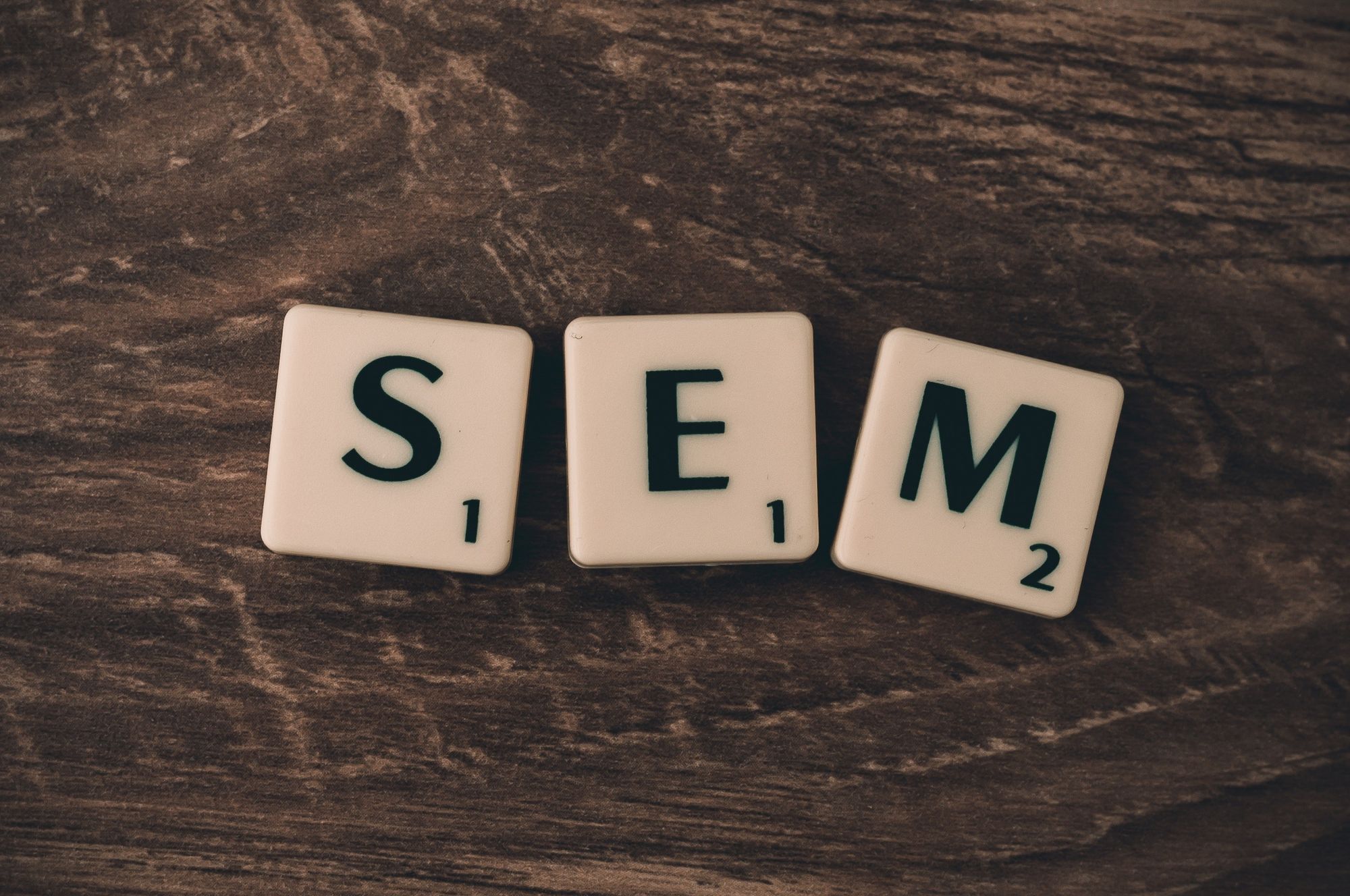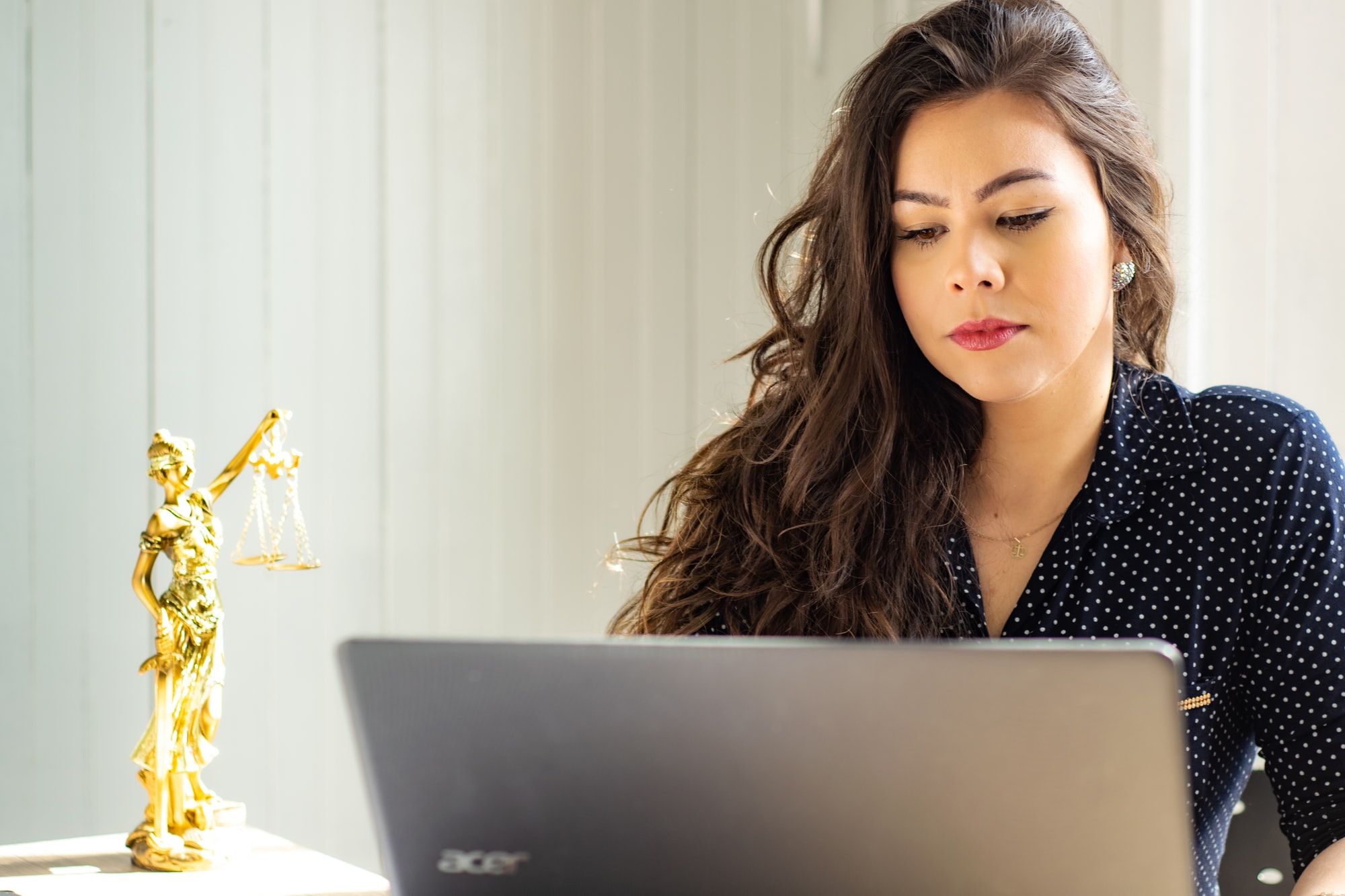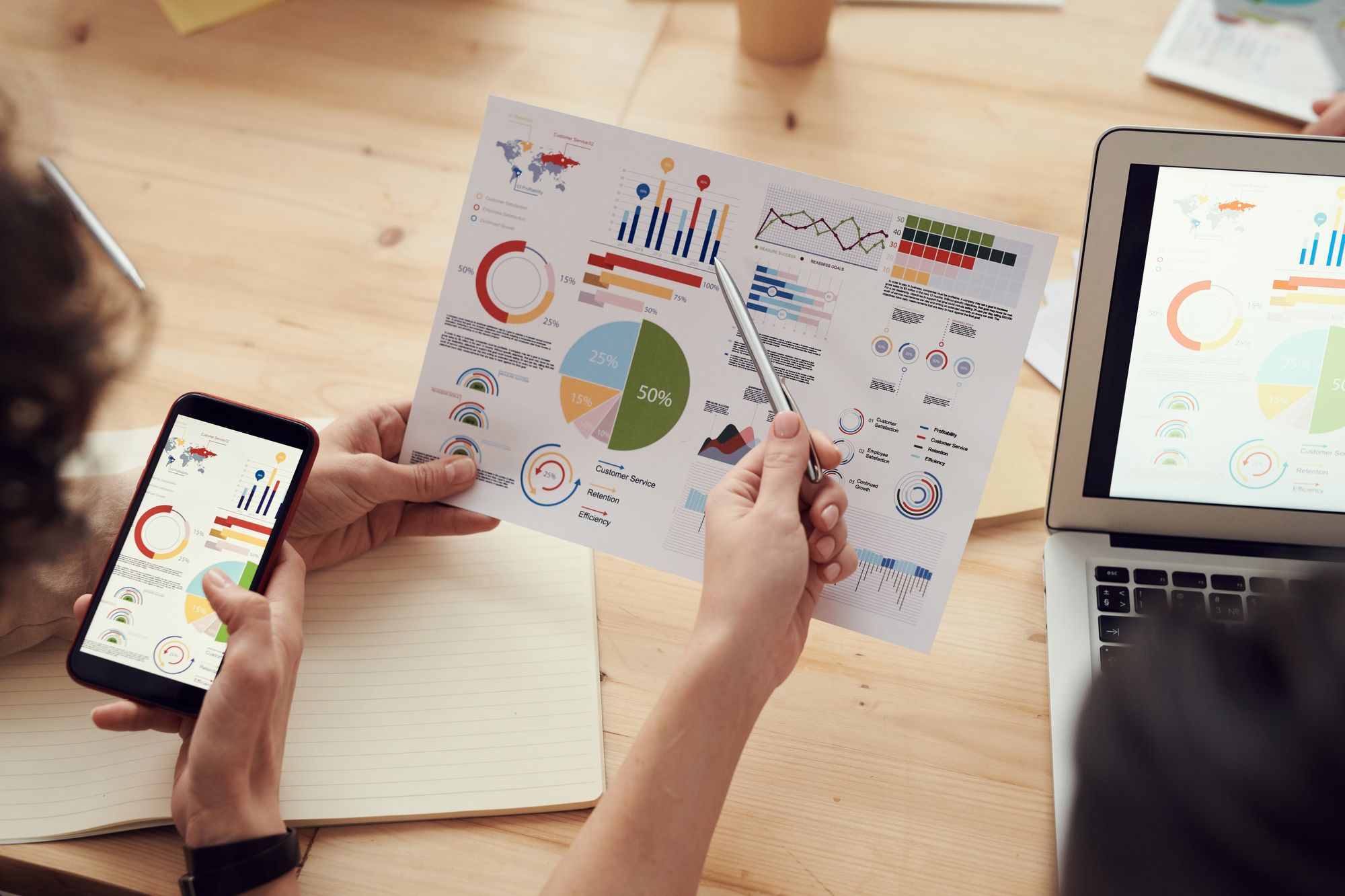 ---
---