Implementing an enterprise resource planning software, also known as ERP, often catches businesses off guard. Most businesses underestimate the effort required for the implementation of the chosen ERP solution. If the software is not correctly implemented, the business will not realize a return on investment from the new enterprise software system.
The path to a successful implementation includes many variables that need to be considered prior to establishing the solution within the day-to-day business operations flow. Let us go through some important questions and answers as an FAQ for those who want to discover more about optimal ERP implementation practices.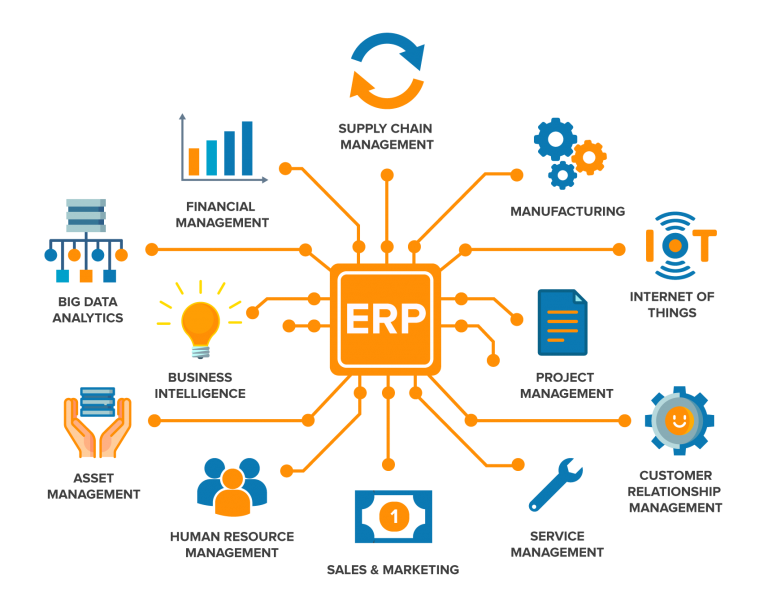 What Is an ERP System and Why Is It Used?
ERP is a type of software application used most often by medium and larger enterprises, and sometimes by smaller companies. ERP software focuses on integrating business processes into a single, streamlined database and user interface by offering modules for each of the core business areas: human resources, financials, inventory management, sales and customer relationship management, along with other business-critical functionalities.
The main goal of ERP software is to integrate formerly separate databases and processes into a single source of truth, instead of these databases and processes functioning in silos. When a customer places a product order, the ERP creates transaction information within customer relationship management and inventory management modules, along with any other modules connected to sales activities.
Thus, the ERP fosters data visibility and analysis across multiple business departments from a single system. At the same time, staff don't need to enter the transaction into multiple databases manually.
Connected through an ERP system, information sources that govern distinct business objectives can communicate with each other. This leads to reduced manual data handling, faster business cycles, IT cost savings, and business growth potential without hiring new personnel or investing additional capital.
What Are Some ERP Implementation Approaches?
Popular approaches include enterprise-wide full installation, unit by unit, and key-process installation. The system you choose must match the needs of your organization. For example, smaller business can attempt an enterprise-wide installation, while this type of approach is impossible for most larger companies.
Before implementation begins, the software selection process should have led your organization to choose ERP software that aligns well with your vital business processes. Nonetheless, during ERP implementation, minor adjustments must be made to ensure that processes fit as well as possible with the incoming software solution.
Every approach to ERP software implementation must include an assessment of the current IT infrastructure. Avoiding downtime can be achieved through redundancy, including making sure there is access to stable internet communications with the bandwidth needed to install the new system while the previous software is still in operation.
Before ERP system implementation, always remember to take full data backups to recover instances of your network quickly. This will minimize downtime if you run into any unexpected problems. The quality of the data imported from your old system into the new system will determine your ERP's initial effectiveness.
Duplicate data should be removed and antiquated data should be archived. External data sources, such as spreadsheets, need to be merged into the new database.
Reports which outline progress towards organizational goals and objectives must be part of the approach. The creation of compliance reporting, key performance indicators (KPIs), strategy reports, and daily, weekly, monthly reporting should be aligned according to business goals and the processes designed to achieve the desired end result.
What Are the Steps to Successful ERP Implementation?
A successful ERP implementation is the difference between an ERP that functions and an ERP that provides outstanding investment return by supporting specific business objectives. ERP software selection is separate from the implementation process, but choosing an ERP that meets your business's needs dramatically increases the odds of a successful ERP implementation.
Select the ERP solution which best matches your business goals and processes
Map the journey of your business interactions with the ERP system, including customizations
Create a clear implementation schedule and budget, including measurable goals and objectives
Identify a change management team, responsible for dealing with uncertainties, unexpected issues or resistance towards new business processes or IT systems
Create a team of stakeholders, including department heads and end-users, who will carry out various ERP implementation aspects, including providing or assisting with training
Clean and organize data to be imported from old systems into the new ERP database
Monitor and report on implementation process to stakeholders throughout each step to avoid scope creep and the disruption of business productivity
Successful ERP implementations will vary slightly depending on verticals and business requirements, but the basic steps remain similar regardless of the industry.
What Is ERP Implementation Methodology?
Steps to a successful ERP implementation process remain roughly the same, but the methodology behind the implementation will vary according to factors such as company size, vendor services available, industry and business requirements, and the available IT expertise within the business.
One of the best implementation methodologies involves combining the company's in-house resources and the ERP vendor or implementation partner working together to achieve a smooth installation process.
Company-driven implementations rely entirely on an IT department or a stakeholder group to lead the project. In some cases, the business recruits an external consultant or contractor to help.
Some companies may not have an IT department capable of handling complex software implementation projects. In these cases, the ERP vendor or another service provider, such as a value-added reseller, will dictate the implementation methodology.
The most expansive ERP implementation methodology is a joint venture plan that involves multiple companies operating in a specific industry or vertical. In this case, since these companies feature similar business processes, the organizations collaborate to establish best practices that help members of the joint venture make the most out of the ERP.
Multiple ERP Rollout Methodologies are :
Phased rollout (according to module, geography, business priority, business unit)
Parallel Rollout
Pilot Rollout
Combination Rollout
Software-as-a-Service (SaaS) Rollout
What Is the ERP Implementation Life Cycle?
The implementation life cycle outlines the stages of ERP implementation from start to finish. However, it's important to remember that the ERP life cycle lends itself to continual improvement by fine-tuning the technology to serve better business processes that support specific objectives. Therefore, some believe that the implementation life cycle ends only when the ERP is shelved for a new solution:
Planning and organization
System evaluation and selection
Initial software installation
Data conversion and loading
Procedure development and configuration
User training
Testing and system validation
Go live
Post-live implementation adjustments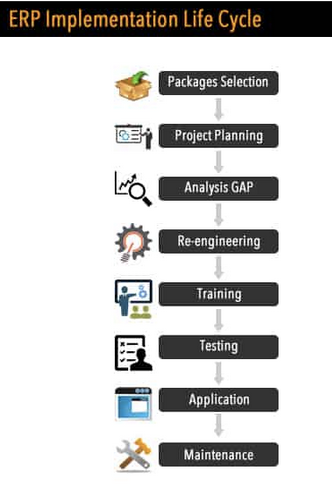 What Are ERP Implementation Statistics?
ERP implementation stats describe various aspects of software implementation that reveal important ERP and implementation processes.
Nearly 50% of ERP implementations that do not involve implementation oversight by a third party, fail the first time around.
On average, ERP implementation takes 30% longer than a company initially estimates
Nearly 74% of ERP projects require more time than the business expected
65% of implementation budgets are exceeded due to modifications for improved usability
64% of all ERP implementations end up going over budget due to poor planning or selection of the wrong software system for the business
Manufacturers save an average of 22% on administrative costs through ERP
Manufacturers save an average of 23% on operational costs through ERP
ERP systems increase on-time delivery by 24%
A 2018 Oracle study reported that 76% of businesses have already transferred processes to the cloud
58% of businesses have already integrated AI into ERP or are planning to do so
What Are Some Change Management Strategies for Successful ERP Implementation?
Adopting an appropriate ERP change management strategy reduces organizational resistance to change while extracting as much benefit as possible from the new system. Establishing a change management process reduces negative incidents related to the transformation of IT and business processes.
The goal of the change management process is to ensure that standardized methods and procedures are used for efficient and prompt handling of all changes, minimize the impact of change-related incidents upon service quality, and consequently improve the day-to-day operations the organization.
Where Can You Find ERP Implementation Plan Templates?
ERP implementation methodology varies greatly, including many options for rollout style (e.g. phased, big bang, parallel, SaaS) and the implementation personnel involved (e.g. vendor-driven, company-driven, collaborative). Add the fact that each industry or vertical differs and each business operates according to its own objectives, and it becomes clear that there's no single implementation plan template that works in all scenarios.
Templates provide a basic starting point to understand broad aspects of ERP implementation, but organizations shouldn't expect to achieve a clear understanding of their own requirements through a generic document. Instead, businesses must focus on their own objectives and how IT's implementation supports business processes that achieve goals. A qualified consultant can help define those objectives and goals and produce a specific project plan that will outshine any generic ERP implementation template downloaded online.
How Can You Best Succeed in Implementing an ERP System for Your SMB?
Small- and midsize businesses (SMBs) often work within tighter budgetary restraints, requiring more precision and discipline for implementation compared to enterprises with larger budgets.
Following steps cans be taken to ensure that the implementation results in the expected benefits -
Obtain full implementation support from the business owners, C-level executives, department heads, and managers first.
Define your business objectives, business processes, and the IT requirements that support your business goals.
Outline the expected business benefits to be derived from the ERP.
Ensure that incoming ERP is compatible with any existing systems that will remain in place.
Train staff on the new system before full implementation takes place.
Facilitate communication within and between teams and departments.
Focus on quick, short-term wins before attempting larger victories.
How Do You Plan an ERP Implementation?
Planning an ERP implementation should begin with leadership from the top of the company, starting with a clear formulation of the business objectives which the organization needs to achieve. A CIO tends to be the best person to lead the charge, although another leader may be assigned to spearhead the effort.
Once business objectives have been identified, it's important to relate the business processes that achieve these objectives to the technological solutions offered by an ERP. A tightly-controlled ERP implementation plan will avoid scope creep by maintaining a strong focus on business objectives and the ERP functionality needed to support those objectives, thus avoiding unnecessary features.
Recruiting managers and department heads to help with planning may provide additional value by relying on the specialized expertise they've gathered in your industry and in their particular operational areas. These types of leaders liaise between end-users and top-level stakeholders, explaining the benefits of new processes to employees while providing vital training to get everyone up to speed on the new system.
After your organization completes the software selection process to choose an ERP system that aligns well with your particular business requirements, you'll need to partner with an implementation team. Whether you're dealing with an independent contractor or an in-house implementation team provided by the software manufacturer, you'll need to include them as part of a detailed plan to install the new solution, transfer data, and test the ERP before you go live.
What Are ERP Implementation Challenges?
Data conversion can be one of the most pressing challenges of ERP implementation. In terms of hardware, purchasing new servers, workstations, and other items may result in additional costs and configuration headaches.
Data conversion may turn into a massive headache when attempting to merge several disparate datasets into a single ERP database. Cleaning the data prior to importing it reduces the probability of duplicated or corrupted data populating your database.
Technical ERP challenges may require creative solutions to avoid overwhelming costs of implementation. Purchasing new servers, workstations, and other hardware required for ERP may be expensive because of the high bandwidth and low latency required for the new system's efficient operation.
People tend to be resistant to change, which may cause problems when end-users or management refuses to utilize the new system, returning to legacy installations instead. A change management plan including training, communication, and stakeholders' involvement from each department will help avoid unnecessary strife caused by resistance to change.
What Are ERP Implementation Best Practices?
Mapping your implementation journey from start to finish is crucial, including dates for key milestones. Regular communications between stakeholders, implementers, and end-users helps to reduce problems with change management. Sticking closely to an implementation plan with specific, agreed-upon features prevents scope creep and extra costs.
Planning and monitoring are two of the most critical ERP implementation best practices. Mapping your implementation journey in detail and keeping tabs on its progress helps to ensure that your implementation project stays on track.
Communication across the board is another vital best practice. Updating stakeholders regularly, including managers, department heads, and end-users, will confirm that everyone involved with the new ERP stays on the same page. Training is also a crucial aspect of communication and enables end-users to make the most out of the software solution.
A strong implementation plan is necessary to prevent scope creep. Projects tend to experience bloated budgets and missed deadlines when the scope of the ERP changes and grows out of control. This can easily happen when business process optimization has not been done in advance, and the project moves forward without keeping the capabilities of the specific, incoming ERP system in mind.
Before signing off on a new ERP project, negotiate a pricing structure that requires specific milestones before the payment is released to the implementer.
What Is the ROI for ERP Implementation?
The return on investment for ERP implementation compares the software system's cost against the cost savings and increased revenue created by the solution.
Organizations should remember that implementation risks rise during compressed schedules, with the ERP less likely to align to business processes that serve specific goals. Essentially, chasing ROI with an aggressive implementation is a high risk, moderate reward proposition.
What Are the Reasons for ERP Implementation Failure?
ERP implementation failure still occurs, even if the rate of failure has been curtailed over the past few years. The following list represents common obstacles to a successful ERP implementation. All organizations should strive to avoid these pitfalls.
Lack of leadership from the top
Inadequate consideration of business requirements
Poor fit between application software and business processes
Inadequate implementation resources
No change management plan
Autocratic approach instead of collaborative
Inadequate contingency planning
Lack of due diligence when checking client references
Unrealistic expectations for ROI and other ERP benefits
Insufficient training for end-users and department stakeholders
Deviating from plans in an attempt to cut costs
No mid-to-long-term scalability
How Much Does an ERP Implementation Cost?
The cost of an ERP implementation will be different for every business and organization. The price for software licenses or a subscription is a part of the overall capital commitment, with implementation costs adding to the total cost of ownership.
Company size is a major predictor of ERP implementation cost, with most small businesses operating under tighter budgets compared to bigger firms.
ERP implementation cost variables include:
Software customization or business process re-engineering costs
Public cloud, private cloud, or on-premise implementation
"Big bang" rollout, phased rollout, parallel rollout, SaaS rollout options
Data cleaning and data import costs from legacy systems
Any business productivity disruption during the changeover from the previous system to the new ERP
Human resources costs, including hiring an implementation specialist firm to help with implementation or covering for staff pulled away from typical tasks due to implementation duties
Training for end-users, department heads, managers, etc.
Additional network security and intrusion countermeasures, including disaster recovery plans for ERP
Hardware upgrade or configuration costs
Audits performed on current processes for alignment with business objectives
Work required to comply with different compliance regulations, along with other standards demanded by specific industries or business sectors
Additional business software integrations, such as AutoCAD, Office including different types of productivity programs
Testing performed to ensure ERP stability before going live
Negotiations taking place during the software selection process regarding the implementation
What Are Some ERP Implementation Risks?
The biggest risk related to ERP implementation problems involves losing money and time due to serious issues with software and hardware installation and setup.
The risks extend to the survival of your business. Incidents with data management can destroy or distort the valuable data which underpins business operations.
Incorrect cleaning and importing data from multiple databases may result in unintended consequences in the new ERP system, negatively impacting business operations.
Your data's security is paramount to your business's continued operation, especially when regulations demand compliance with procedures to protect the sensitive private data from malicious hackers and intruders.
Key Takeaways
Hope you enjoyed this in-depth look at ERP systems. Here are the key points we covered in this article:
What Is an ERP System and Why Is It Used?
What Are Some ERP Implementation Approaches?
What Are the Steps to Successful ERP Implementation?
What Is ERP Implementation Methodology?
What Is the ERP Implementation Life Cycle?
What Are ERP Implementation Statistics?
What Are Some Change Management Strategies for Successful ERP Implementation?
Where Can You Find ERP Implementation Plan Templates?
How Can You Best Succeed in Implementing an ERP System for Your SMB?
How Do You Plan an ERP Implementation?
What Are ERP Implementation Challenges?
What Are ERP Implementation Best Practices?
What Is the ROI for ERP Implementation?
What Are the Reasons for ERP Implementation Failure?
How Much Does an ERP Implementation Cost?
What Are Some ERP Implementation Risks?



---
---