With the cut-throat competition in the market, getting a sale across the finish line has become quite difficult. This is where a sales cycle steps in! Whether you have a small company or a big one, you would want to maximize your profits. A sales cycle defines a roadmap of what steps need to be taken to ensure a successful sale, thereby maximizing ROI. Let's take a look at what exactly is a sales cycle!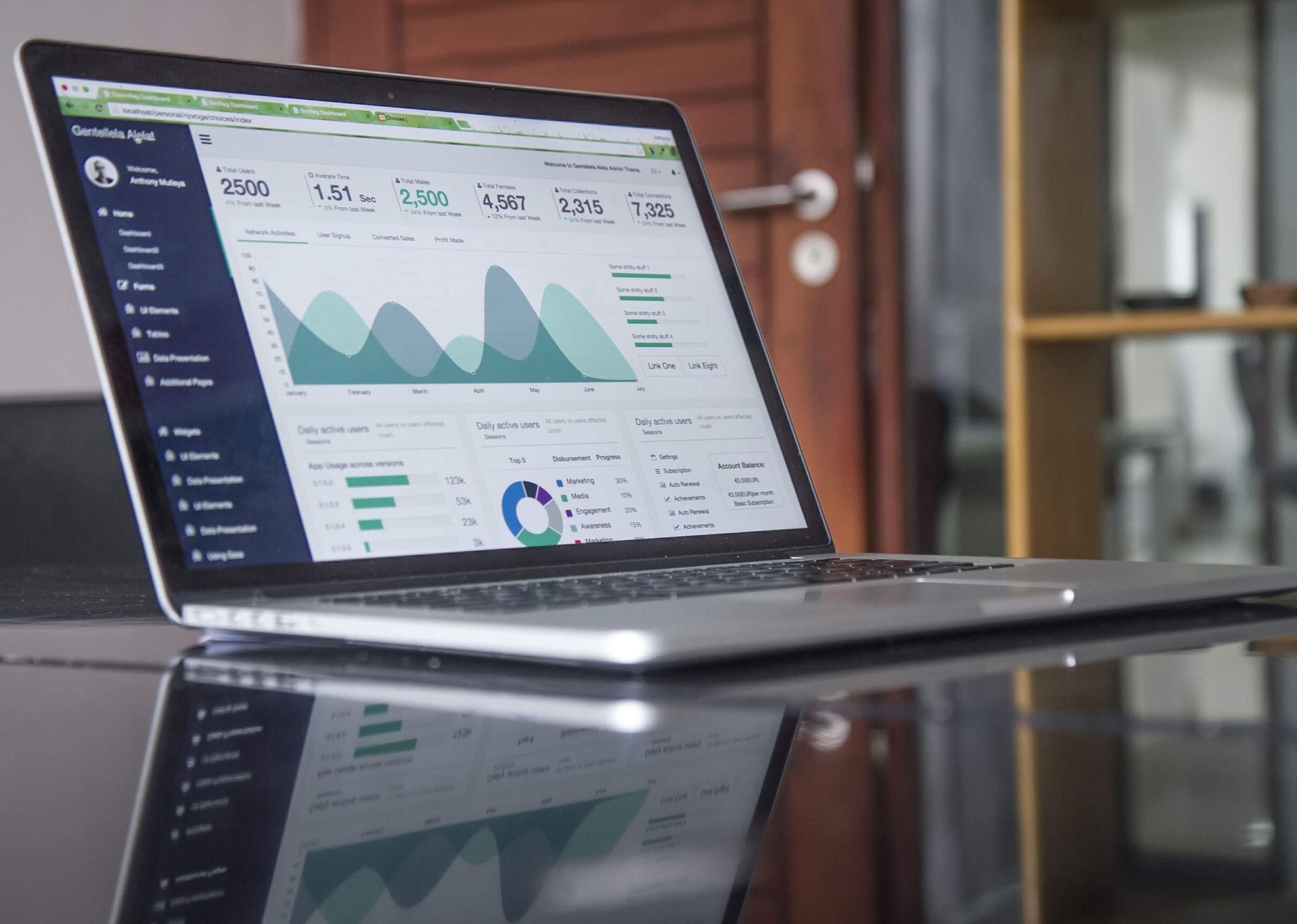 What is a Sales Cycle and Why is it Important?
A sales cycle is a process businesses follow to turn the customers into leads. There are a series of steps that every company undertakes to complete the sale. This is known as a sales cycle.  Having a sales cycle can turn out to be quite advantageous for a firm, be it a small firm or a big one.
It allows them to streamline the selling process, prioritize leads, and evaluate the sales efforts.  However, there are some stages of a sales cycle. Let us take a look below.
What are the Various Stages of a Sales Cycle?
Let us look at the various stages of sales cycle below:
Prospect for leads
The foremost step in the sales cycle is to identify potential prospects for your product. For this, you need to have a deep understanding of the product you are targeting. You need to have the answers to very important questions including:
What are the features of your product that makes it different from the others?
What problems or issues does the product solve?
Once you have the answers to these questions, you will have a clear idea of the prospect customers that you need to target. Furthermore, you can collect their information such as contact number, email address so that you can reach out to them. An ideal customer profile needs to be created to find and identify potential leads.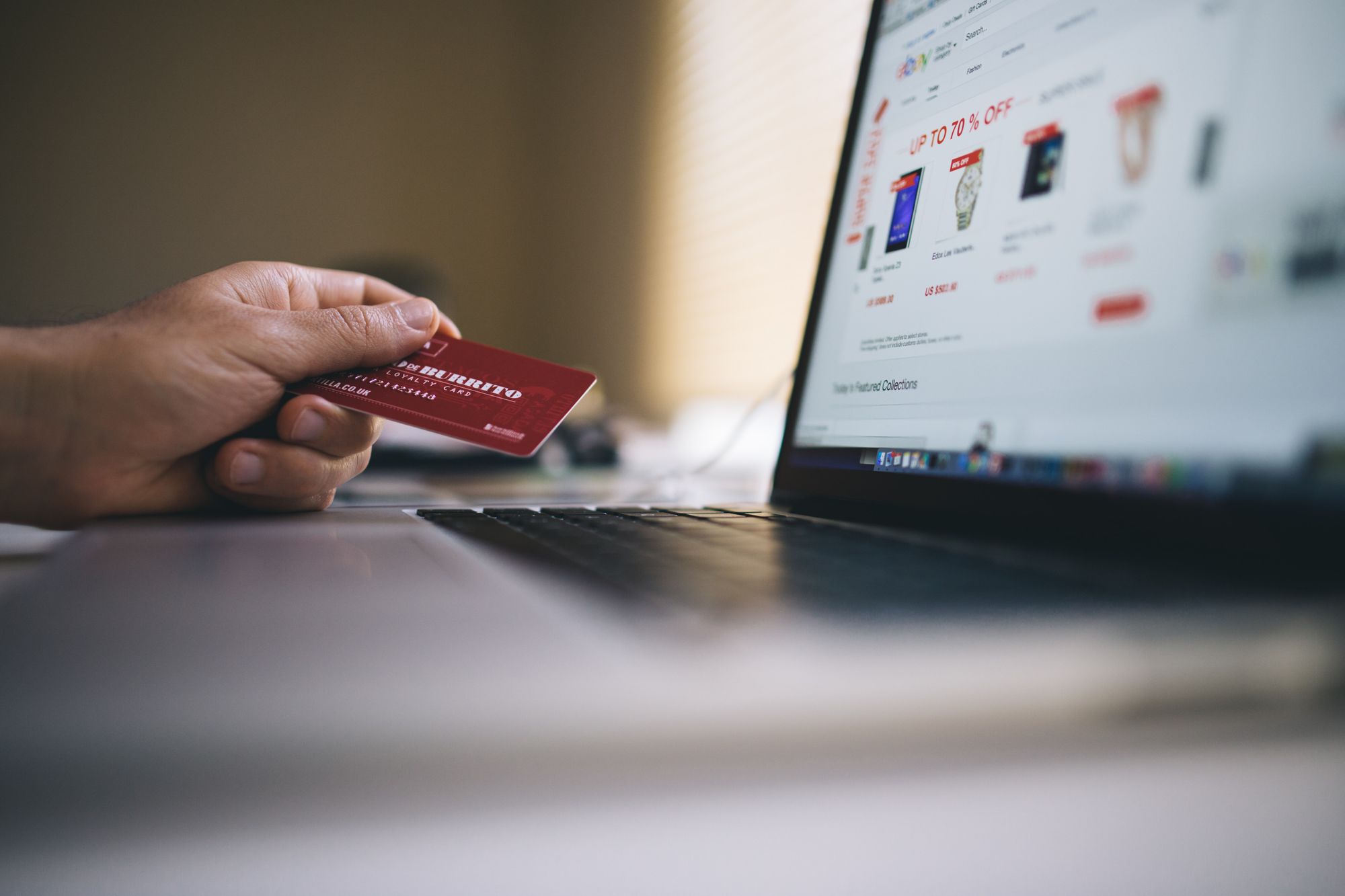 Contact Potential Customers
The second step in the sales cycle is to initiate contact with the potential prospects. The medium to connect with them will depend on the type of business you own. In certain cases, a phone call goes well while for some, sending out emails can be the best option. Narrowing down the approach according to the type of business is the way to connect with the potential customers.
Qualify the customers
Once you are done contacting the prospect leads, the next step is to qualify them. You need to assess whether the customer is the right fit for your business. Research is an important aspect while qualifying leads. You need to consider various factors such as their goals, challenges, budget, etc. to determine whether they are a good fit. In case you aren't able to find data online, you can always opt for making 'discovery calls'.
Nurture your prospect: Be a reliable resource
There are times when the lead is not ready to join immediately, in such cases you need to start nurturing them so that they can trigger the sales funnel. Forcing a sale is a big mistake that needs to be avoided. Instead, you can focus on nurturing your prospect by sending them useful resources like eBooks, articles, or case studies. You can even set up email campaigns so that these resources can end up reaching the inboxes of potential customers. Social media platforms such as Google, Facebook, and Linked In can also be used for advertisement purposes.
Present your Product
After nurturing the prospect, it's time to present your product to them. This is an important step of the sales cycle and requires utmost preparation. Try to represent your product in the best possible manner so that it solves the issue your customer is facing. Focus on how the product can be useful for the customer. There are various factors that should be taken into consideration while focusing on your product such as body language, mannerism, and a lot more.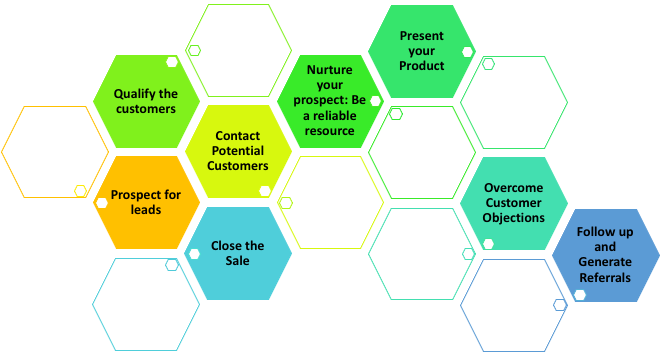 Overcome Customer Objections
The chances of the sales cycle going smooth are quite low. Your potential customers may have certain issues or concerns regarding your product. Your goal should be to manage and handle any kind of customer objections be it related to pricing, term and conditions, or contract. You need to listen patiently to the customer and make them think that you are there for them by framing your pitch accordingly.
Close the Sale
Once you have handled the customer objections, the next thing in the pipeline is to close the sale. With a plethora of approaches for closing the sale, you need to choose the one according to your preceding stages.  Make sure you have prepared all the paperwork and forms beforehand so that you do not face any problems during the closing process.
There can be times when the sale doesn't get closed during the first meeting. In such cases, don't get disappointed as there are certain products such as huge machines, complex software, etc. that can take weeks or months to sell. The sales cycle goes on until the sale is done or the potential customer declines the offer.
Follow up and Generate Referrals
Generating referrals is the last step in the sales cycle. The right time to ask for referrals is just after closing the sale. The customer is quite excited at that time and can easily recommend your services or products to others at that time. You can ask your customer whether they have any friends or colleagues who can benefit from your product or services.
Length of Sales Cycle & Its Importance
The length of sales cycle varies from industry to industry and from company to company depending on the product or services the company has to offer.
There are various factors that affect the length of the sales cycle:
Company's target market
Ideal Customer Profile
The effectiveness of the sales process
Win/loss percentage of the sales team
Cost of the product
Let us take a look at the sales cycle lengths:
Conventional sales cycle - This sales cycle can range between four to six months. It includes the eight-step sales process discussed above.
Long/short sales cycle - As compared to the average sales cycle, you can depict whether it is a long or short sales cycle. If the duration of the sales cycle is less than a month, it can be put under short sales cycle, whereas a sales cycle of more than twelve months can be categorized under long sales cycle.
How to Improve your Sales Process?
There are certain steps that can be followed to improve the sales process. Let's take a look:
Minimize Low-Value Work
Align sales with your marketing team
Follow up diligently
Request for small commitments
Schedule Meetings in a Hassle-free manner
Case Studies Can Help
Arrange Training for your team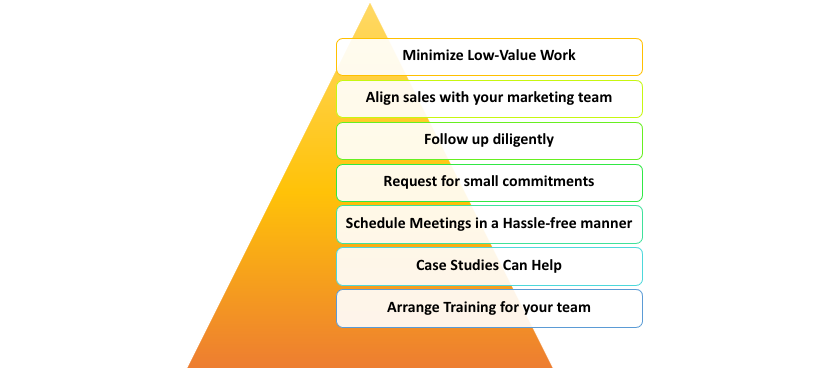 Sales Process KPIs
Tracking key performance indicators can be helpful in optimizing the sales cycle for your company. Here's a look at three important KPIs that can help you determine whether your sales cycle is going in the right direction or not:
Number of monthly sales
Number of new leads per month
The length of your sales cycle
Why should I have a Sales Process?
Having a process for sales can streamline the entire sales journey. You can focus on your team structure to smoothen the sales process. For example, if you have a clear idea of your biggest challenge, you can easily focus on that step in order to ensure a smooth flow. Also, having a sales cycle makes it quite easy to recruit new staff. You can easily figure out your short-term and long-term goals, allowing you to reach your target in a systematic way.
Another advantage of having a sales process is that you can eliminate low-ROI projects and instead, focus on the ones that will give you higher returns. Once you have a sales process, you can identify your flaws, and improve on them to achieve better results.
Best Practices for Creating your Sales Process
No matter having a sales process can prove to be advantageous for you, however knowing the best practices can accelerate the process. Let's have a look at the best practices:
Start with the Customer in mind
While starting the sales process, make sure you focus on the mindset of the customers and not on the tools. You need to have a clear understanding of what the requirements of your customer are. Use the tools according to the target audience you have. You should know what problems your customers are facing and what methods they are using to solve them! Secondly, what are the changes that are going to take place once they have your product!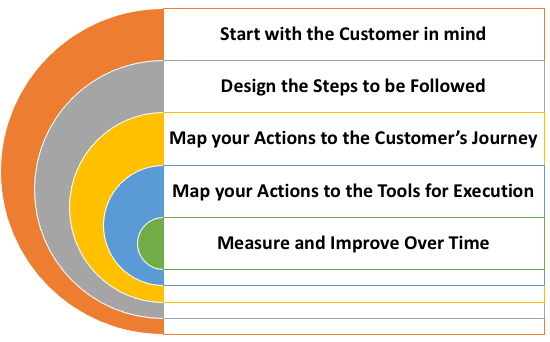 Design the Steps to be Followed
Once you are aware of the needs and requirements of the customer, you need to take the plan of action accordingly. You need to explain to the customer the benefits he/she can reap from your product or services so that he/she can be convinced that the product you are selling can be beneficial for them.
Map your Actions to the Customer's Journey
After understanding your customer's problems, make discovery calls that highlight the solution of the problems with statistics. Make sure the time is spent on the valuable questions relevant to the context, otherwise the customer will lose interest in your product.
Map your Actions to the Tools for Execution
After being clear with your plan, it's time to execute it. This can be done with the help of some specialized tools related to the sales process. While developing any step of the sales process, you need to have a clear idea of whether it solves the questions of the customer including:
Is the step good enough to encourage the customer in making the right decision?
Does adding this step give rise to any kind of complexity?
Is there any requirement for a new tool to execute the step?
Does your sales team have the required technical know-how to integrate it into the workflow?
Measure and Improve Over Time
An analysis is very important while executing a sales cycle. Before implementing new changes, you need to track sales funnel metrics to know about the pitfalls. Dial to connect rate, positive email response rate, conversion rate, sales accepted rate, and close rate are some of the metrics you need to track during your sales process. This way you will be able to overcome the loopholes and ensure improvement in your sales.
How Can Deskera Help You with Sales?
At Deskera, the team understands that the sales process is essential for your success. They will help you formulate your marketing and sales strategies according to the product or services you offer. Using Deskera CRM can be quite beneficial for you as you will be able to track your sales lead in the best possible way.
Tailoring your approach as per the needs of your business while keeping the data you collect integrated with your CRM system. This will provide you the biggest opportunities for lead conversion. Using a good CRM system like Deskera CRM can help you keep track of your sales leads. Integrating your CRM system with your attribution model will help your business move further.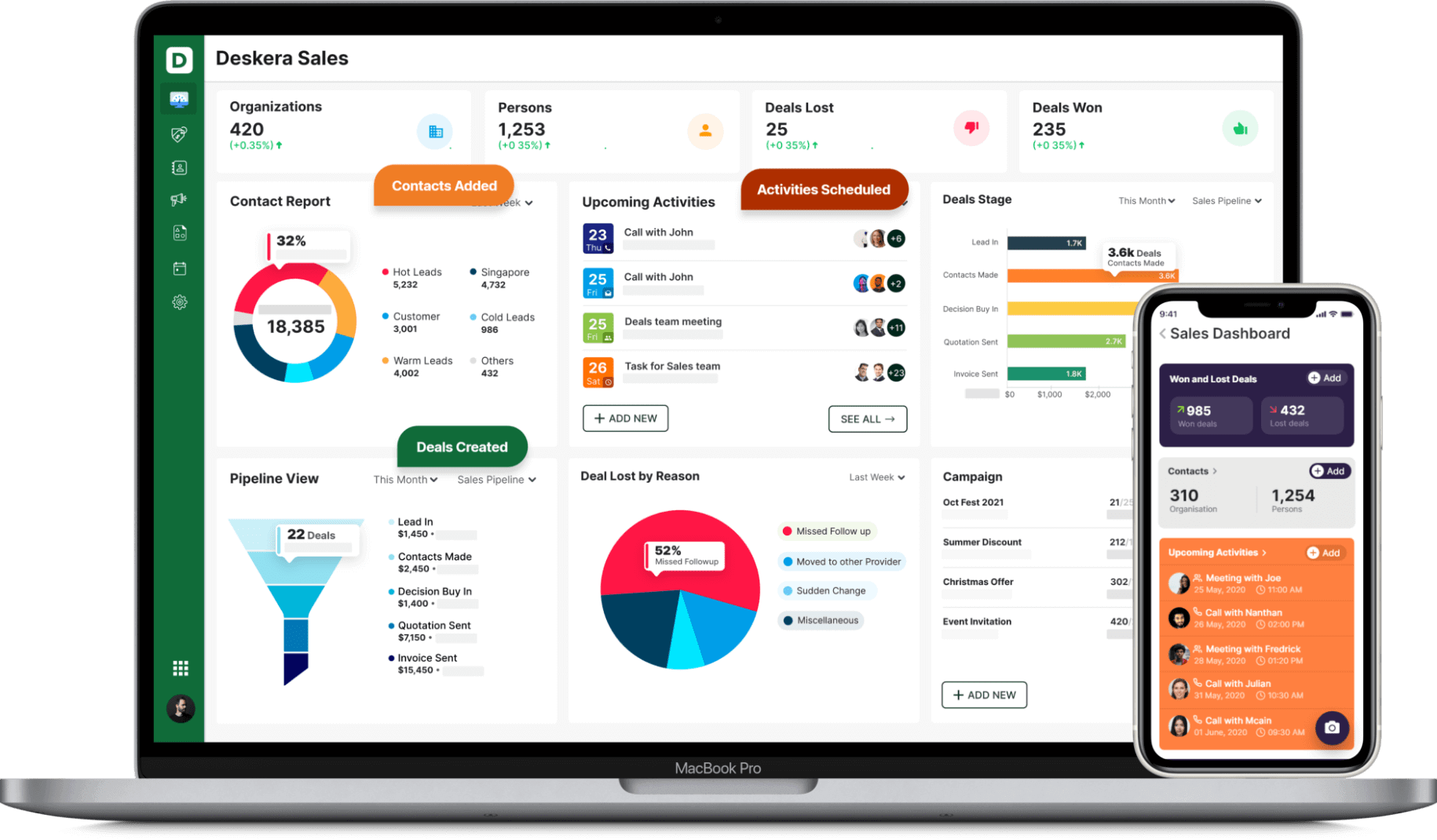 With an easy-to-use platform like Deskera CRM, you will be able to streamline your sales process. This will help you generate leads and ensure maximum profits for your business.
They offer an easy-to-use platform with advanced segmentation and marketing funnels and multiple integrations with other parts of the enterprise. Deskera is affordable with multiple features and is highly recommended for its easy-to-use features and for starting off with your email marketing.
Deskera CRM is a simple, fully-featured platform that can help you with contact and deal administration, sales pipeline management, email marketing campaigns, to name a few. You can generate leads for your business by creating email campaigns and view performance with detailed analytics on open rates and click-through rates (CTR). Deskera CRM is an easy-to-use platform that will assist you in contact and deal management, sales pipeline, email marketing campaigns, customer support, and ticketing management, to mention the important ones.
Key Takeaways
Let's take a recap of what we have discussed in this article:
A sales cycle is a series of steps that a company takes to turn the customers into leads.
There are various stages of a sales cycle including prospect, contact, qualify, nurture the lead, present your product, overcome objections, close the sale, and generate referrals.
Sales length is not the same for every company. It depends upon various factors.
A sales process can be improved in many ways as discussed in the article.
There are some KPIs that can help to determine the performance of the sales cycle. The number of monthly sales, number of new leads per month, and the length of your sales cycle are three important KPIs for the sales process.
Deskera provides you with a CRM platform that can help to improve the sales process for your company
---
---