ERP stands for Enterprise Resource Planning. ERP software comprises powerful and strategic business process management tools that can be used to manage information within an organization.
Even though most companies and organizations operating today are different, they all face a common challenge. In order to stay competitive in today's business environment, they need a dependable and efficient way to store and access information.
Globally numerous businesses are operating, each in its unique way.
There are multiple business segments out there, each of which has its own set of processes and attributes.  Is it possible to manage each of these using a single business software?
ERP systems usually integrate all facets of an enterprise into one comprehensive information system that individuals can access across an entire organization.
More businesses of all sizes today are implementing ERP systems more than ever before. Why is that so
Here are some of the main reasons and benefits why organizations are implementing and using ERP systems:
Accounting & Finance Management
Powerful reporting and forecasting tools to make informed decisions about the future of your business.
Provides business and management leaders with real-time visibility into all operations
Provide instant access to global supply chains
Enable business leaders to identify challenges, uncover opportunities, and make faster decisions that impact different areas of their businesses.
Help automate and streamline tedious tasks and redundant processes.
Give employees the tools and data they need to be successful
Provide a single point of truth for organizations
It can often be accessed from anywhere (off-site and from mobile devices).
Help increase productivity among your team
Make it easier for teams to collaborate with each other, and with third-party vendors.
Keep data secure, and help you ensure that your business continues to operate in compliance with global regulatory laws and guidelines.
A good ERPs or accounting systems should empower the user to configure the system so that the system adapts per their needs, rather than the user adapting to its processes. In today's world of business softwares, ERPs are designed such that users from any business segment can easily use them as per their needs.
Various Business Segments in Small and Medium Business Sectors
Let us start by looking at the small and medium businesses sector and their pain points:-
Wholesale Traders
The SME segment comprises a large number of traders. Wholesale traders typically require the following processes to be functioning smoothly:-
Simple and easy to track sales/purchase processes
Strong Receivables & Payables Management modules
Statutory Compliance
Support for Contact and Address Management - the wholesale traders deal in large volumes of purchases and even larger sales volume. Each of their customers may have multiple shipping addresses. Hence the system should be able to handle that easily.
Inventory Management – wholesale traders, require a flexible inventory management system that can accommodate varying product attributes. It should also generate the set of reports needed by the wholesale traders from time to time.
One too many bulk email campaign management
Other than the above, depending on the goods segment the business deals in, the accounting system must capture all attributes either via custom fields or any other method.
Retail Traders
Retail Traders like wholesale traders are also large in numbers in the SME Segment and require a solution to manage their invoicing efficiently. They often have multiple users generating invoices simultaneously. Hence, the system should be able to manage concurrent access to the invoicing module and help generate the invoices quickly.
An essential aspect for a retail trader is also the inventory part, as they need to track inventory levels, receive them in warehouses and dispatch them as per need.
Because the number of sales invoices is huge in this case, the dispatch team needs a robust tool to track each order's status. Moreover, we need to make sure the dispatched goods are the same as the ones included in the invoice.
In addition to the above, outstanding management is another critical aspect that requires regular attention. Depending on the types of goods you sell, you may need a serialized inventory or multiple attributes with the product master.
Certain softwares like Deskera, are specifically made to cater to the needs of small business's globally.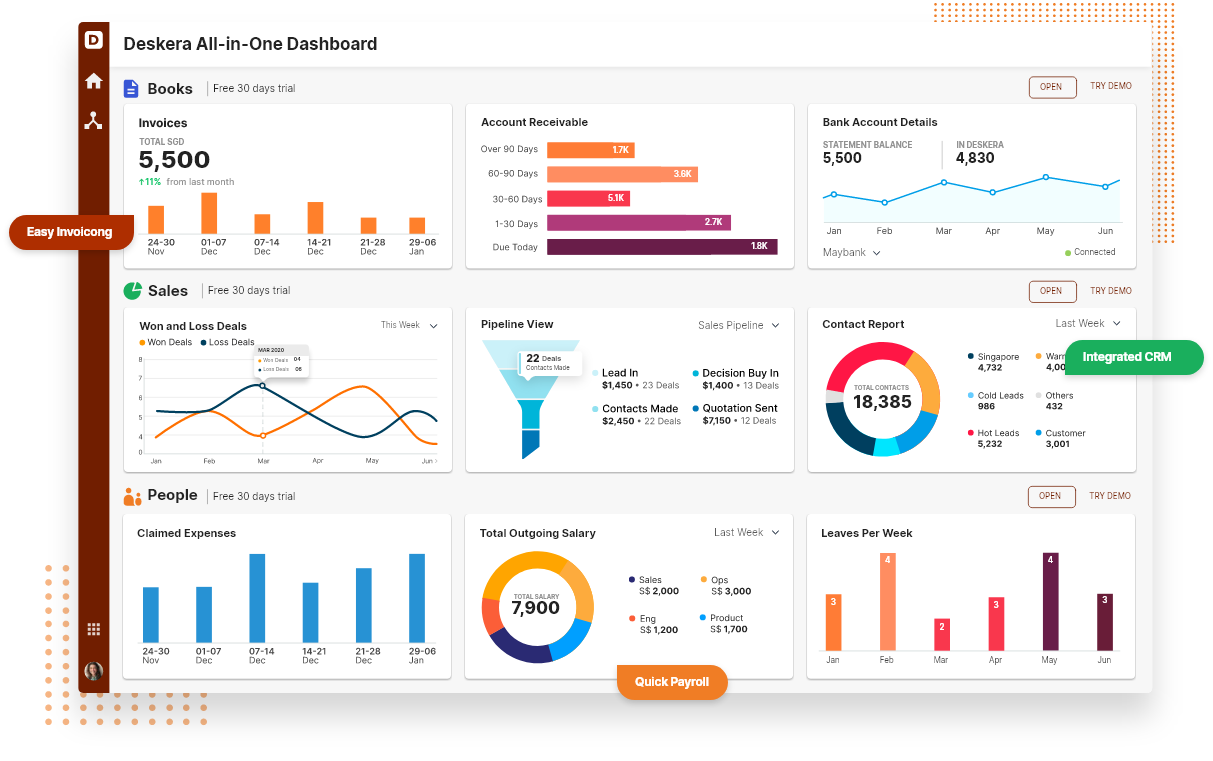 Traders and their Sub-segments
Under both retail and wholesale traders, there can be multiple sub-segments. Let us take a look at some of these sub-segments in detail below:-
Electrical and Electronic Goods Suppliers
Require serialized inventory management and outstanding management modules. Moreover, their SKUs can be large in numbers, so the system should be robust to handle a large data set.
Household Goods
They may require the ability to store goods under multiple brand names, with various attributes like size, color, product type, etc. The system should maintain inventory in this manner and generate the relevant MIS reports required later on.
Invoicing and receivables management needs to be efficient for this segment too.
Auto Parts Dealers
This segment experiences frequent price changes in its products, so maintaining price lists is a must-have feature along with price list import features. The inventory management system has to be robust as the SKUs can be large in numbers, and the MIS (Management Information Systems) report should help the business owner decide how much stock to keep and when to reorder.
Industrial Goods
For the industrial goods segment, the product master should be flexible enough to accommodate various part numbers, detailed descriptions, and specifications to be included in the invoicing. Moreover, this segment requires quality control at the procurement side to ensure the products which adhere to the desired quality are purchase and sold.
Iron & Steel
The iron & Steel segment is similar to industrial goods. Another aspect of this segment is that its inventory requires multiple Units of Measurements (UOM) tracking. Similar to industrial goods, their inventory may also require various attributes
Plastics Industry
This segment requires batch tracking specifically. Other than this, the other requirements are similar to the previous two industrial goods and iron & steel segments.
Pharmaceuticals
The pharmaceutical segment has some critical requirements, including managing large SKU sets and maintaining the expiry date for each lot of goods purchased. Batch management with Product master is an essential requirement here.
This industry is also price sensitive, so price list management is also required to ensure none of the products are ever sold above a certain price level. Reorder levels are essential along with lead time for each type of product.
IT Hardware & Software
This sector, firstly and most importantly, requires serialized inventory. Secondly, since they may procure large quantities of such products, Barcode enabled system is also a must so that data entry is hassle-free and without any mistakes.
The system must also be able to manage various commissions they receive from their vendors. A robust customer management portal is required as they have many repeat clients. The ERP integrated with CRM works very well for this segment. The integration framework is necessary to support the post-sales scenarios required for processes like AMC, installation, replacements, etc.
Food Processing and Trading
This segment requires strong inventory management, as the goods are perishable, and the system must track them efficiently. The usage of batch management with inventory products helps this segment, manage their raw materials efficiently, as the batches carry the expiry date with them. Another challenge that this industry faces is that the SKUs can be large in numbers.
Hence ,the ERP should offer a simplified solution to the warehouse team to track inventory reports and understand the stock level of each SKUs to be maintained. Their inventory masters also require multiple attributes to be able to generate MIS reports later on. Their inventory masters must also support multiple UOMs (Units of Measurements) as we can sell them in multiple packaging types. SKU management is another must-have requirement for this segment.
Lifestyle Goods
This segment may include furniture, furnishing, home decor items. This segment is inventory dependent and hence requires a very flexible and robust solution to manage inventory. It should support batch wise inventory, flexible field naming and creation mechanism, document designer, custom reports, etc.
Service Sector
The next sector that requires a solution suited to its needs is the service sector. Under this sector, there are again multiple segments which vary in their processes.
Majorly the service sectors require the ability to generate invoices as per client's requirements, flexibility to define terms & conditions as per agreement with the client in the invoice itself, and track receivables regularly. Other than this, depending on the segment given below, you can find the requirements in each of these.
Construction Companies
Their primary requirement is project-based accounting. Since they work on a project basis, but the material is bought for all projects together, it becomes essential for them to track which of the projects are profitable while which ones are not.
This requires the accounting to be done based on projects so that the MIS Reports help the management decide relevant actions that need to be taken for each project.
In addition to this, they may require frequent stock movement between projects, so the system should facilitate the same easily and track all items consumed at project sites.
Last but not the least, fixed asset management is required by construction companies to manage each of their assets being used at multiple locations.
NGOs
The NGOs also have similar requirements to any project-based company since they work on multiple projects across different geographies. They need to manage the funding they receive for a specific project and utilize it at the project site. Hence a project-based reporting system becomes quintessential for NGOs.
Another essential requirement for NGOs is flexibility in reporting formats as they have to report the P&L statement as per the format stipulated by the governing authorities. Since they do not operate on the principle of profit earning, they present it as an "Income & Expenses" report.
Restaurants
Restaurants and eating outlets typically require a quick invoicing tool, which can help manage the accounting and inventory both together. Since the restaurants rely on the purchase of perishable goods as raw materials, this segment requires real-time inventory tracking along with expiry date tracking as well.
This segment also requires a set of inventory transactions to adjust the stock as needed. Since the users need to generate invoices in large numbers, the system should facilitate a high-speed mechanism and easy-to-use interface.
IT/ITES
The IT segment belonging to the SME market requires project-based working to track billable hours for their clients. Other than that, the requirements are day to day accounting activities.
If, however, they have a channel via which they sell, then outstanding/receivables management is critical as invoices are raised very frequently to the same set of customers. Adherence to compliance is crucial for them, as well.
Healthcare & Tourism
For the tourism industry, the most critical aspect of an ERP is keeping track of expenses against each booking made. They need to keep a check on their costs to make sure they don't run into losses.
Vendor management is very crucial for them as their entire business depends on bookings made via vendors. Hence, payables and receivables management both are important.
ERP's - The Solution Provider for Small Businesses
The solution to managing the requirements of all the above segments is a generic cloud-based accounting system. The accounting system should be flexible enough so that any user can configure it from the front end. Considering the users for each of these segments can be in any location, a cloud-based system makes more sense.
A cloud-based accounting system like Deskera, will ensure that users can make transactions from anywhere, be it from the vendor's place or at the client location.
There are some crucial features & functionalities, which, when included in any ERP, allow it to address all the above segments' requirements. These can be described as below:
1. Flexible Sales & Purchase Process  - the ERP should have multiple inter-linked steps in each of the sales & purchase process, but it should depend on the user to decide which ones to use and how to link them.
Depending on your business operations' size and nature, there may be various steps required to purchase goods. In an organization where multiple teams are located in different geographical locations, the purchase process is very comprehensive.
It can start from a purchase indent and go till the purchase order step after validating all quotations. Whereas, in a smaller setup, the purchase process may only require punching in of the purchase order.
Similarly, on the sales side, depending on the organization size, it may require steps like sales quotations, proforma invoices, etc. before finalizing the sales invoice.
2. Custom Field Management - the most crucial part for providing a solution that can be implemented in any segment is that the users should be able to create fields wherever required, be it at the master level or transaction level.
Custom fields provide a great deal of flexibility to the accounting system. The user can design the forms where data is entered entirely as per their business processes. The input is then able to provide to this organization the reports and visibility in the business operations.
3. Document Templates - the system should allow users to configure the print format of various documents generated from the system like sales invoices, quotations, receipts, PO, etc.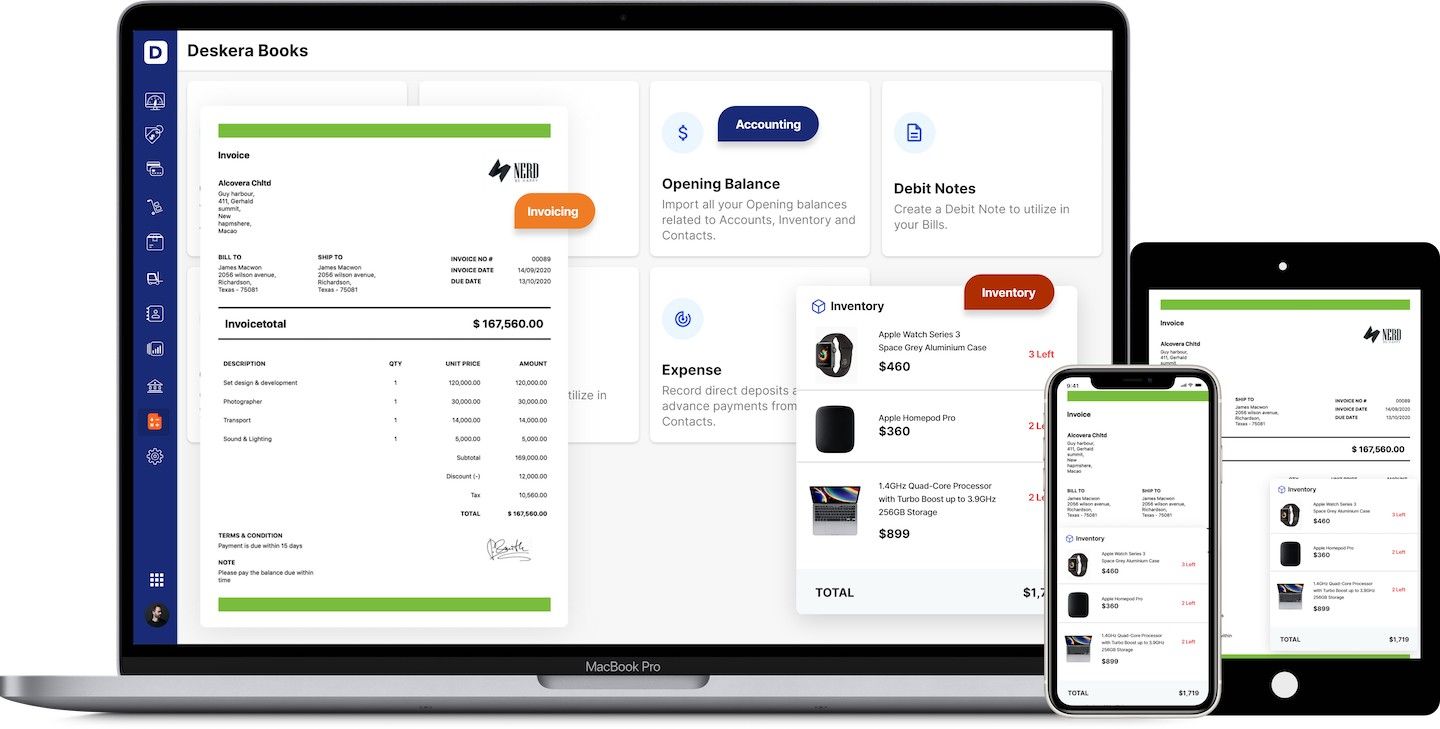 Very often, organizations require multiple formats of sales invoices to be available depending on their target audiences. They may also need these formats to meet the requirements of the contacts they are dealing with. In such a situation, it becomes effortless if the accounting system or the ERP allows users to modify the print templates as per requirements.
4. Report Designer - the report designer should allow users to create customized reports as required by users at all levels. Report designers give users the flexibility to fetch details related to sales & purchase in the required format.
These formats are needed for day to day monitoring of various business operations. Hence, the report designer for any segment helps in making sure the operations are running smoothly.
As mentioned previously, reports are the key to getting insights into the day to day business operations. A simple to use report designer goes a long way in ensuring the business organization gets the correct insights required to improve the business performance year-on-year.
5. Report Filters - the system should be flexible enough to apply filters using the custom fields. This helps any business organization get reports for any micro aspect of the business organization.
As an example, a trader dealing in goods of multiple brands can analyze which brands are selling fastest and which of the brands are not giving good profitability.
Custom filters also allow users to generate project wise, region wise, salesperson wise, etc. reporting, which gives insights into each aspect's profitability.
6. Alerts and Notifications - they form a crucial part of day to day business processes. Alert configuration should be allowed at the user level such that any user can define the event for which they want to receive a notification.
Timely alerts are the key to running a successful business organization. They help keep your receivables in check, expired stocks monitoring, important dates & events, efficient stock level management, etc.
7. Statutory Compliance - this is a must-have requirement for the system to be 100% compliant with the country's statutory requirements.
Preparing statutory returns is a cumbersome task, and any growing business needs timely taxation returns to be filed. If automated, this process saves a lot of time, effort, and money for the organization.
8. Inventory Management - the inventory management module should support all inventory types - serialized, batches, SKU, multiple UOM, etc. The system should also allow the user to define important attributes like reorder level, reorder quantity, etc.
A robust and flexible inventory management module is the key to most business segments dealing in trading or manufacturing. Greater is the ease of using and tracking the inventory faster is the speed of business operations in any segment.
Hence, the inventory module must allow users to get detailed reports of all aspects related to inventory. This may include stock levels, stock valuation, stock movement, warehouse wise reports, batch & serial wise reports, etc. These reports should also support multiple search filters to be applied to get information related to any aspect of the business operation.
9. Open to Integration - another critical aspect is that the ERP should be easy to integrate with other apps & tools in the ecosystem. This ensures that the user can link the system with any other application.
In today's time, the strength of a business application lies not only in its features but also in its ability to interact with other ecosystem applications.
10. Mobile App - This has become a very crucial aspect of every business' day today. If a mobile app can be designed to handle all processes with ease, it can offer far greater flexibility and ease of use. Businesses today require fast-paced operations that can be managed with a simple user interface.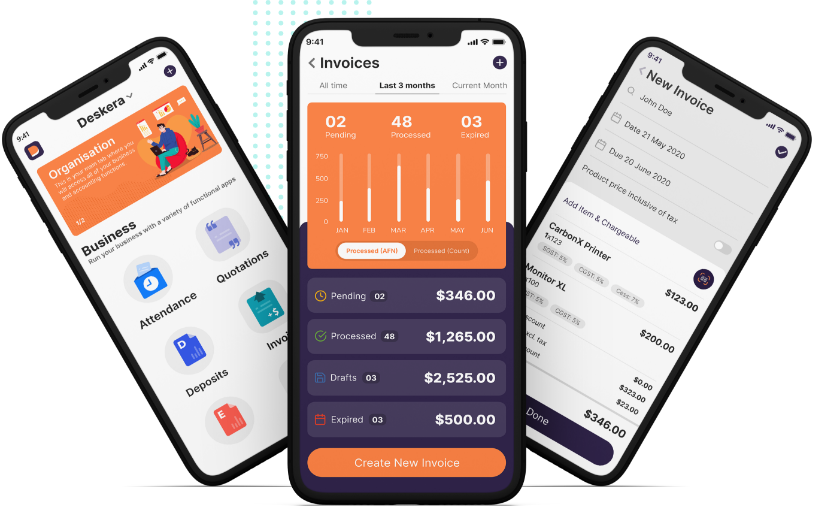 Hence, it is essential to provide an interface that the users are familiar with. Considering most users are comfortable using mobile phones, it has become very important to provide a similar user interface for the accounting systems.
These are some of the crucial aspects that can make any ERP flexible enough to handle the requirements of any segment. What is important from here onwards is configuring the systems correctly and adhering to the right methodology while using these systems.
Wrapping Up
Business benefits aside, ERP gives an information system three important capabilities: Consistency and reliability of data across the organization, streamlined transaction processing, provides operations level reporting
These capabilities, basic and important as they are, ensure that companies are ready for specific solutions that enhance and improve performance.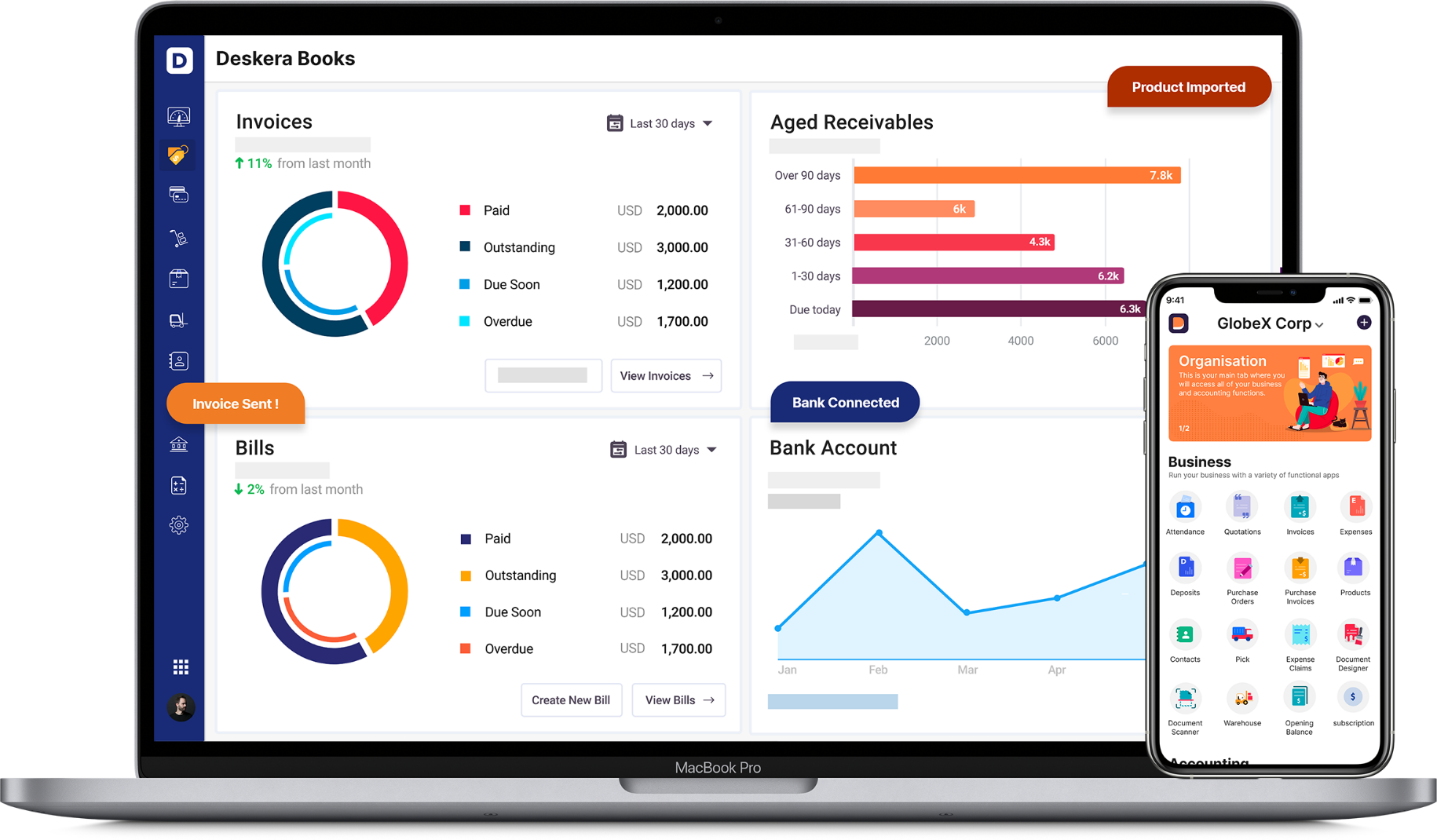 To build a sustainable, scalable enterprise in today's business environment, you need to use tools that help you streamline tasks, boost productivity, and leverage data in real-time. The right ERP system, like Deskera can put you on the right track.
---
---