You can become 397% more successful by having an organized marketing team with streamlined processes. Now, this is simply amazing, but it will require you to invest in marketing planners.
This is because marketing has a tendency to become overwhelming for all those that are associated with it. In fact, even the marketing job roles are as demanding as the core function of marketing.
Primarily, this is because marketing as a whole is highly vulnerable to consumers' perceptions, market trends, brand marketing, competitors, and even your products and services. This makes all the departments that are related to marketing fast-paced places that are busy with creatives, strategists, and even analytics.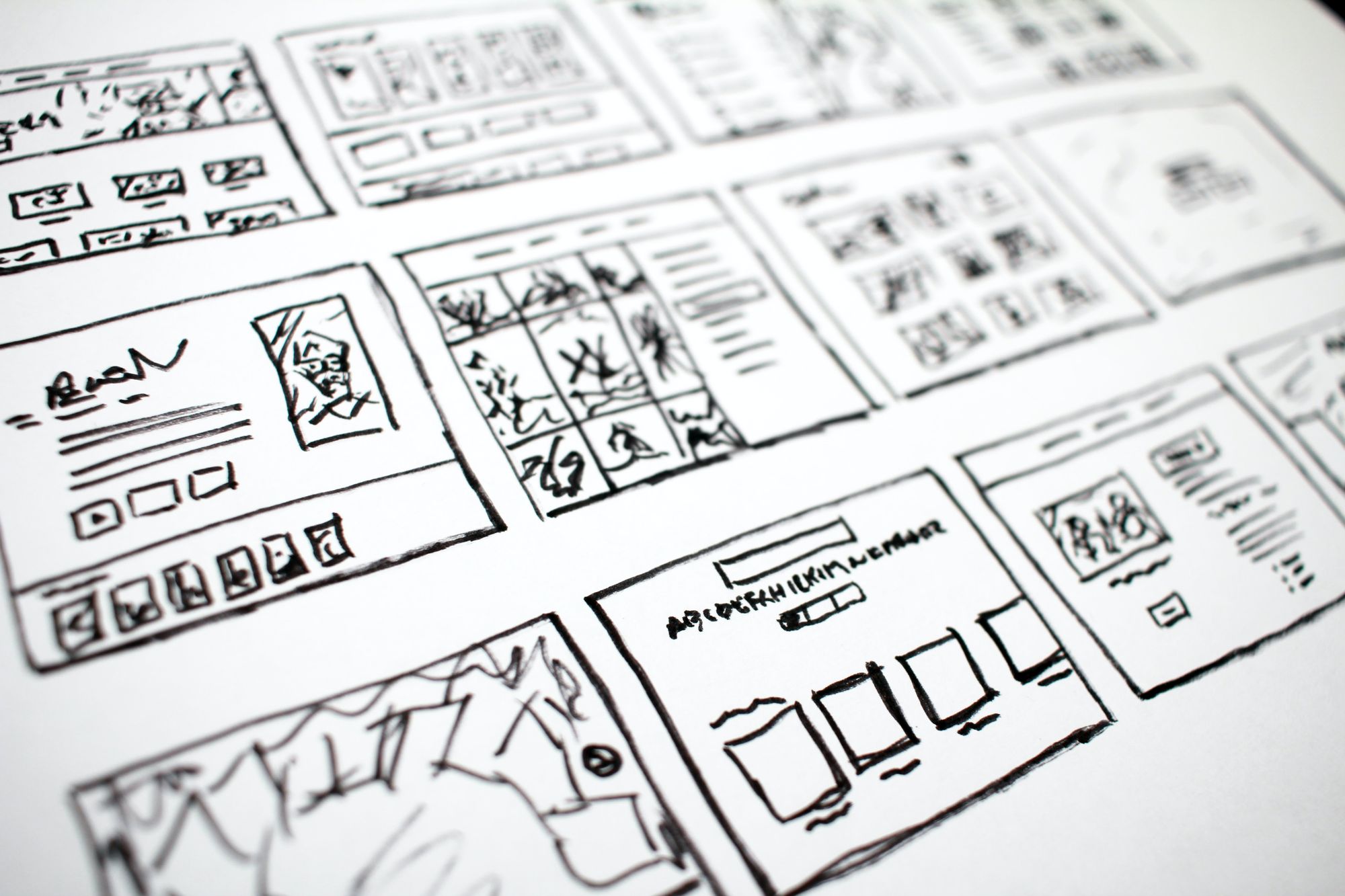 Despite all this precariousness, marketing continues to be one of those activities that can make or break your business. Marketing management hence is very important. A marketing planner is a part of organizing and managing your marketing strategies and activities.
A marketing planner will help you in prioritizing the right marketing tasks, creating repeatable processes so that you do not forget a task or a deadline, making it possible for you to publish content that your audience will relate to, and even manage workplace stress.
Marketing planners are a boon when it comes to organizing your marketing efforts in a manner that is most effective and efficient so that you can improve your cash flow, increase your net profits and win strong customer loyalty.
This article will be your guide to everything there is to know about marketing planners.
Deskera CRM and CRM+
Automating your marketing
What is a Marketing Planner?
A marketing planner, also known as the marketing strategy planner, is a marketing asset that allows you to plan and execute your marketing activities.
It is a tool that is dedicated to putting all your marketing tasks and due dates in one place in an organized manner. Marketing planners are therefore useful to all your marketing teams, even if that team is only of one person.
While once you would have had to refer to endless notes, documents, and emails to coordinate your marketing campaigns like landing pages, Instagram marketing, SMS marketing, relationship marketing, influencer marketing, and many more, marketing planner has made this task easier by becoming the central hub of all information required to achieve your marketing goals.
These goals can range from closing more deals to having faster movement of your sales prospects down the sales funnel to getting more lead prospects and improving your income statement.
Importance of a Marketing Planner
A marketing planner can help you simplify your big and complex marketing goals into small manageable projects and milestones. Marketing planners are thus very crucial because: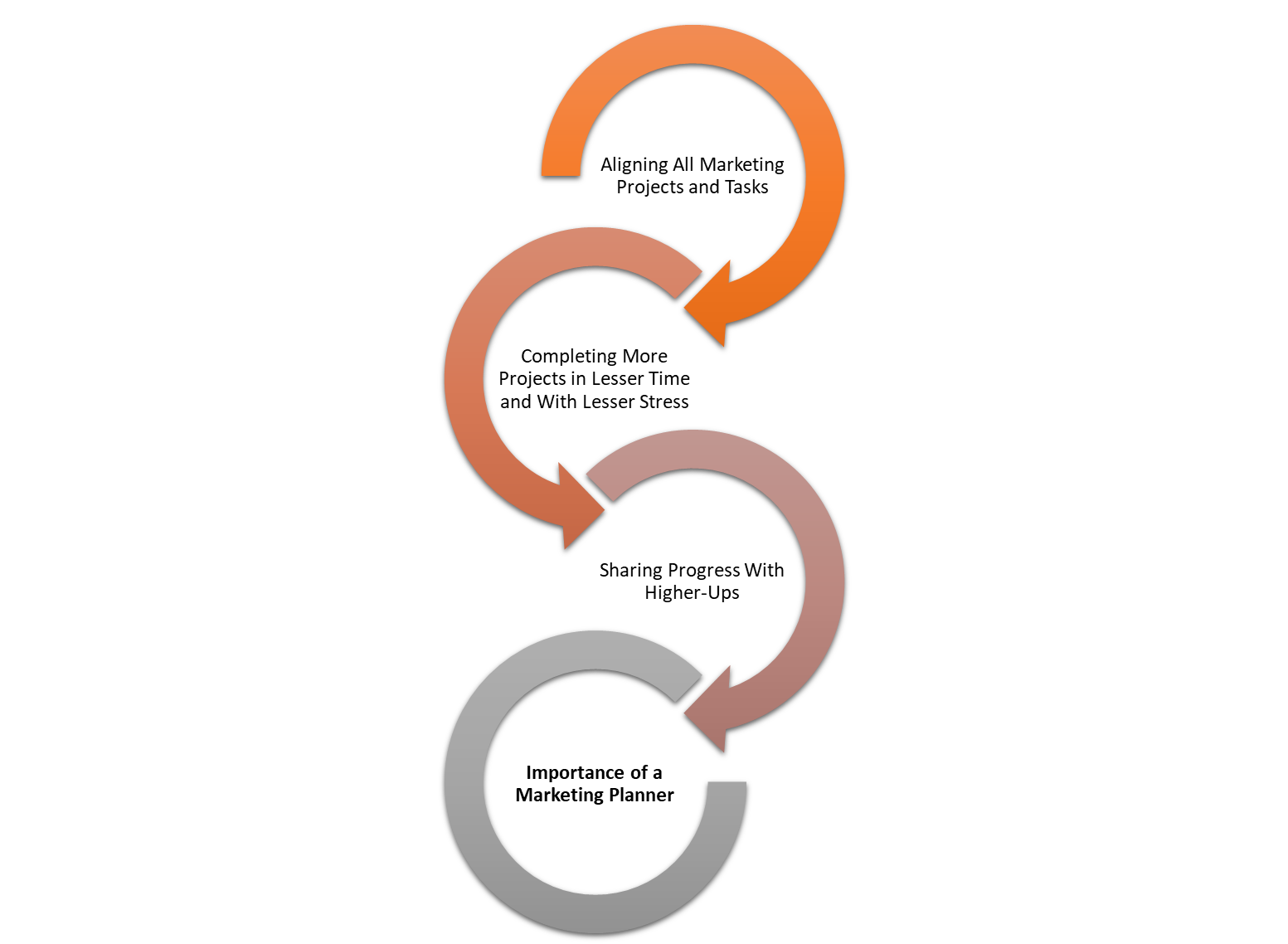 Aligning All Marketing Projects and Tasks
This alignment will help in preventing all chaos that would have otherwise arisen. Marketing plans also help you to find all the marketing tasks that have fallen through the cracks and should be dropped or updated. Whichever is more profitable and leads to higher returns on investment.
Additionally, it will also help you in avoiding low-priority projects that most likely would have just led to higher operating expenses as against operating incomes.
Completing More Projects in Lesser Time and With Lesser Stress
Through a marketing planner, every team member is always aware of what they need to do next. This reduces friction while simultaneously increasing creativity, focus, and getting more work done.
Sharing Progress With Higher-Ups
Marketing planners have also made it easier for you to share your progress with the higher-ups as from one place, you now know what you and your team members are working on, what its status is, and what you would be working on next.
Types of Marketing Planners
This section of the article will take you through different types of marketing planners, ranging from physical products to software solutions. The six types of marketing planners are: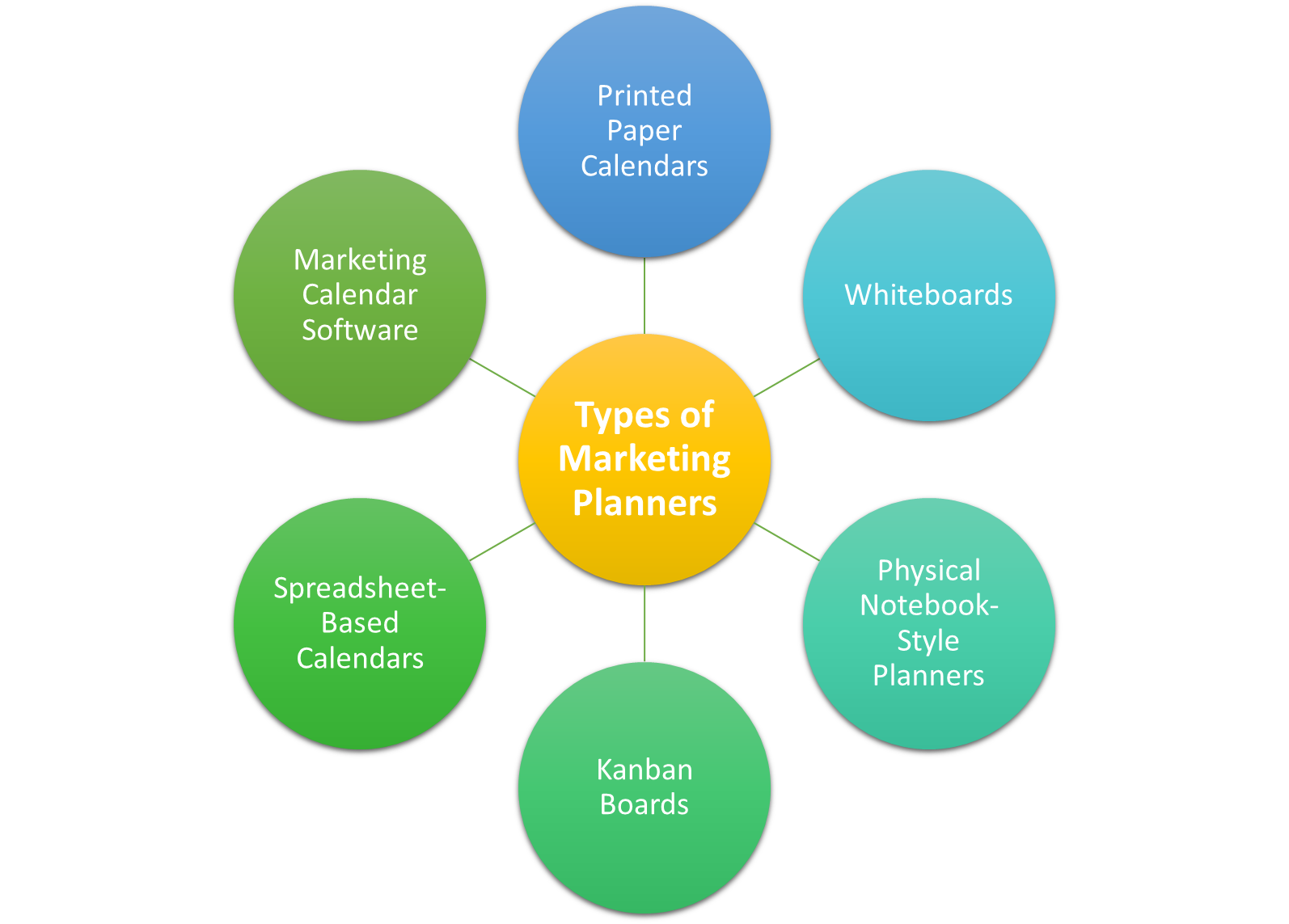 Printed Paper Calendars
When using printed paper calendars for your marketing planners, you can have a monthly, quarterly, or even a yearly overview. Using this, you can plan and map out several of your marketing activities like,
Publish dates for your blog posts, emails, videos, and any other content format that you are planning to use.
Key dates for product launches and the brand awareness campaigns you would be undertaking around it.
Seasons or holidays relevant to your industry like Black Friday, Mother's Day, and social media holidays like International Coffee Day or National Dentist's Day
While using a paper calendar marketing planner, if you change any one deadline, make sure that your other plans on the calendar are not thrown off.
Whiteboards
If your marketing team is one who thinks in a visual manner and likes to keep their processes agile, then whiteboard marketing planners are for them. When your marketing planner is a whiteboard, you can use:
Whiteboard markers or pens
Sticky notes
Or a blend of both.
You can structure your whiteboard marketing planner in several ways like:
Type of content: blog posts, videos, emails, etc
Team members
Team roles: strategist, writer, designer, editor, etc.
Process stage: idea backlog, next up, writing, designing, editing, final approval, and published
Marketing personas
Whiteboard marketing planners are hence great for big picture overviews as well as for day-to-day plans of action. These are easy to update, but this is not so when your marketing team is not working from your office. In this scenario, you will need an online planner that can be accessed and updated from everywhere without needing everyone to be in the same room.
Physical Notebook-Style Planners
A notebook-style marketing planner is a compact version of the printed paper marketing planner. These are quite popular among solo entrepreneurs and bloggers and are also designed as per the specifications of each marketing content.
Considering that they are notebooks that carry your marketing plan, this type of marketing planner cannot be used by a team as it does not facilitate collaboration and idea-sharing. Lastly, because these marketing planners are based on paper, they take a little longer to get updated in case of changes in your campaigns, timelines, or launches.
Kanban Boards
When using Kanban boards as a marketing planner, you would be able to move your marketing projects through its workflow process from left to right- depicting beginning till the end.
A kanban board is made out of columns that represent the stages in your marketing process. The cards in these columns represent each of the individual projects. This means you would have:
Marketing process stages as columns- write, design, edit, review, publish
Marketing projects as cards- blog post on a topic, email marketing campaign that promotes this blog, youtube video interview with an expert, etc.
A kanban project dashboard would hence let you define your process stages, label different content types, assign tasks and mention the publish dates as well.
Considering this, it is evident that marketing planners as kanban boards are one of the best ways of empowering your marketing and associated teams of all sizes, whether in-house or remote, in a manner that they always know what they are supposed to be doing and achieving and also which marketing campaigns to prioritize so that you get maximum result from your marketing campaigns.
Spreadsheet-Based Calendars
If digital marketing planners are what you prefer, then even Kanban boards would become limiting for you. Instead, use spreadsheet-based calendars as your marketing planners. This is because spreadsheets would give you the flexibility that you would love.
You can organize your spreadsheet-based marketing planners in many different ways like:
As a calendar- With columns as days of the week and rows as different weeks
As a list of topics with priority levels, people in charge, current status, etc
As a list of monthly themes with a separate tab for each month
Another advantage of spreadsheet-based marketing planners is that they can stay on the cloud like Google Drive or Office 365 and remain accessible to your entire team.
Marketing Calendar Software
Marketing calendar software tends to have features that allow it to be tailored as per your and your team's needs. Using a marketing calendar software as your marketing planner becomes your central hub for everything that you do as a marketing team. Be it blogging, social media activities, updating your website, or so on, it schedules and assigns it all.
In fact, several of the marketing calendar software lets you:
Switch between calendar and kanban view
Move dates, tasks, and campaigns with a simple drag and drop
Have a big picture overview of content formats, social media campaigns, individual tasks, and more on the timeline.
A marketing planner software will hence let you get full control over your marketing activities. Anything and everything that will help your company to grow can be easily tweaked into the accessible marketing planner's schedule.
5 Steps to Get Started on Your Marketing Planner
After knowing the types of marketing planners and deciding which would be the best for you, the next step is to know how to get started and use it in a manner that you can make the most out of it. There are five steps to it, which are: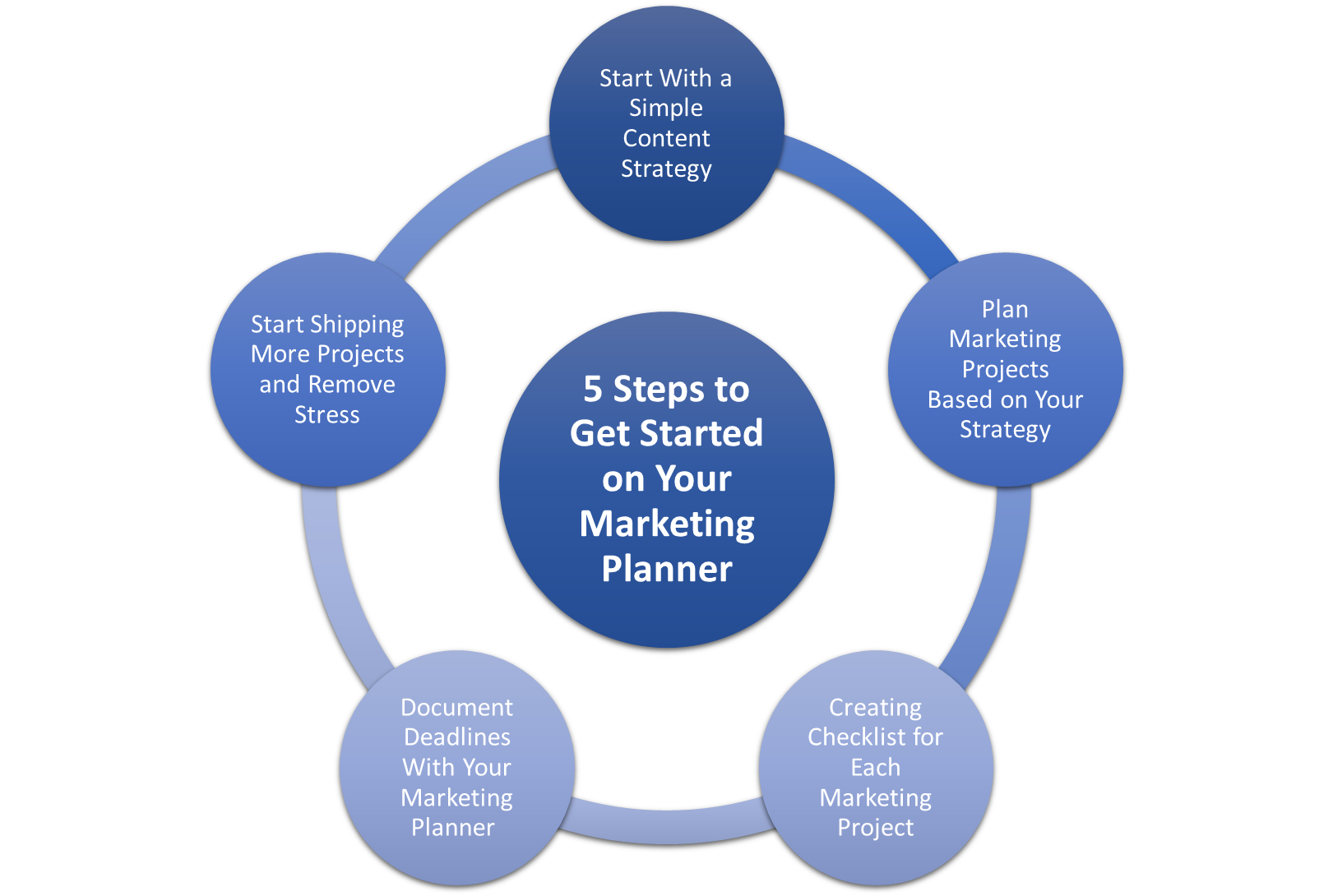 Start With a Simple Content Strategy
One of the core benefits of having a marketing planner is that it will make you laser-focused and organized, but only if you know how to use it strategically. This also means that you should know the goals of your marketing campaigns, as only then would you have a key performance indicator to measure your performance against. These could be marketing key performance indicators, other metrics like ACV and ARR, or even financial KPIs that relate back to marketing.
Here's how you can decide your content strategy:
Determine Your Business Objectives- Do you want to drive more revenue? Do you want to reduce churn? Do you want to increase customer retention or encourage returning customers? Do you want to reposition your brand positioning statement? Or any such other goals? This will help your marketing efforts reach the right part of the funnel at the right time.
Identify Your Target Audience- What are your customer's pain points? What is your buyer persona? What are their challenges? What are their demographic trends? Are they searching for solutions? Where are they searching for solutions? In what format? How can you help them?
Determine Your Content Core- This involves an overlap between what your audience wants and what your business provides. Determining your content core in your marketing planner would involve defining topics and categories most closely related to your content.
Pick Your Content Format and Channel- This ranges from a newsletter, case studies, emails for email marketing, blog posts that can also be a part of content marketing with CTAs, social media content for social media marketing, omnichannel marketing, internet marketing, event marketing, and many such channels that suit your product and services as well as your business the most.
Establish a Regular Publishing Schedule- In your marketing planner, whatever publishing schedule you decide, it should be something that you would be able to maintain in the long run. For example, starting with one blog post a week is an amazing way to start. Over time, you can, of course, develop on this. Additionally, the publishing schedule that you decide should be kept constant across all your marketing formats.
Determine Who is Involved in Your Content Production Process- Do you have a marketing team? Does that team have designers, editors, and social media writers? List down all the people who are going to be a part of your marketing plan and, therefore, your marketing planner.
Plan Marketing Projects Based on Your Strategy
From your earlier step of making your marketing planner, you now have your target audience, content core, and formats. Using these, you would be able to plan your marketing projects. One of the ways of doing this is by:
Write down as many ideas as you can in 10 minutes, and do not hold back.
Score your ideas as 1 for below average, 2 for average, and 3 for exceptional.
Then dedicate your next 10 minutes to brainstorming potential headlines, angles, and resources that will make your ideas and the topics they are presenting stand out.
Once you have the list of ideas, along with their scores, you should decide the channels and formats that will best fit your topics. Some of them are:
Is this idea best covered in writing, video, or audio?
Is there a potential of turning this topic into a series by having more content?
Can you include expert interviews or add other external sources to make this topic even more useful to your target audience?
Are there certain times of the year when certain topics hold more relevance? If yes, these times should be prioritized.
Does your topic support the top, middle as well as bottom of your marketing funnel?
Hence, wherever you list your content topics, note the best formats and channels for them. While doing so, do remember that your content for one channel can be repurposed for another channel by editing it or formatting it accordingly. Your marketing planner will let you focus on the main ones first and then let you re-purpose when you have the gap to do so.
Creating Checklist for Each Marketing Project
Your marketing planner helps you get organized and not miss any of your deadlines or work. This means one of the steps for creating your marketing planner obviously involves creating a checklist for each marketing project so that you do not forget anything.
It is crucial for you to get this part right through your marketing planner because these are those marketing tasks that would take your content from an idea to a reality. All of these tasks are the individual steps that you would take to publish a blog, send an email newsletter, publish an eBook, and so on. The more proactively you plan your projects and tasks, the higher are the chances of you succeeding.
Checklists are useful here not just because they facilitate proactive planning but also because your checklists would outline the process once and which you will simply have to follow the next time you are using the same format. So here's how you can build checklists in your marketing planner-
Identify all the types of projects that you have- For e.g., blog posts, YouTube videos, email newsletters, social campaigns.
List all the current steps as per the project type- For e.g., a blog will have keyword research, outline, writing, editing, proofreading, design, CMS formatting, scheduling, publishing, and then reviewing its performance.
Clean up your list of steps per project type- Are there any steps that you can remove? Can you consolidate any of them?
Determine who's in charge of which step- These roles can be like an SEO strategist, content strategist, writer, designer, editor, or any such other roles that will help you through your marketing.
Add time estimates to tasks- This is important as this will let you plan and schedule all your tasks on a workday.
Determine task deadlines- How long before the publish date does each task need to be completed?
After undertaking this process, your final concluding checklist would look something like this-
Task 1 (2 hours), 2 people, 8 days before the publish date
Task 2 (30 minutes), 1 person, 5 days before the publish date
Task 3 (3 hours), 2 people, 7 days before the publish date
And so on.
Document Deadlines With Your Marketing Planner
On your marketing planner, you should now take the marketing projects that you have planned and define their publish dates. Then take your checklist into consideration and start adding the marketing tasks for those projects on the calendar. If you have a marketing team, then your tasks and deadlines should be public and accessible by every team member of yours.
The benefits of having a team-wide marketing planner and, therefore, calendar are:
Understand the bandwidth of each team member at any given point
Make sure no one is overloaded with tasks
Notice potential bottlenecks and avoid delays and missed deadlines by reassigning the tasks
Start Shipping More Projects and Remove Stress
Once you start using a marketing planner, you will be able to ship more marketing projects with less stress and on time. To ensure that your marketing planner is helping you to achieve your marketing goals, you will have to keep your marketing planner regularly revised. This will help in catching any fluctuations, letting you adjust quickly to them. These fluctuations can be:
Are some tasks taking shorter or longer than anticipated? Take note of it in your checklists.
Are some formats or channels bringing better results than others? Tweak your marketing strategy accordingly so that you can double down on what is working.
Has your bandwidth increased or reduced? Revise your publishing cadence.
After this, review your team's impact and results so that you can adjust your marketing plan going forward.
How Can Deskera Help Your Business With Marketing?
Deskera is a cloud-based software that is dedicated to serving all your business needs. In case of your marketing needs, you have Deskera CRM, which is designed to manage and grow your customer base at ease while also offering an intuitive interface that lets you automate your marketing and support workflows. It lets you track your marketing KPIs so that you can know the performance of your marketing projects and update your marketing planner accordingly.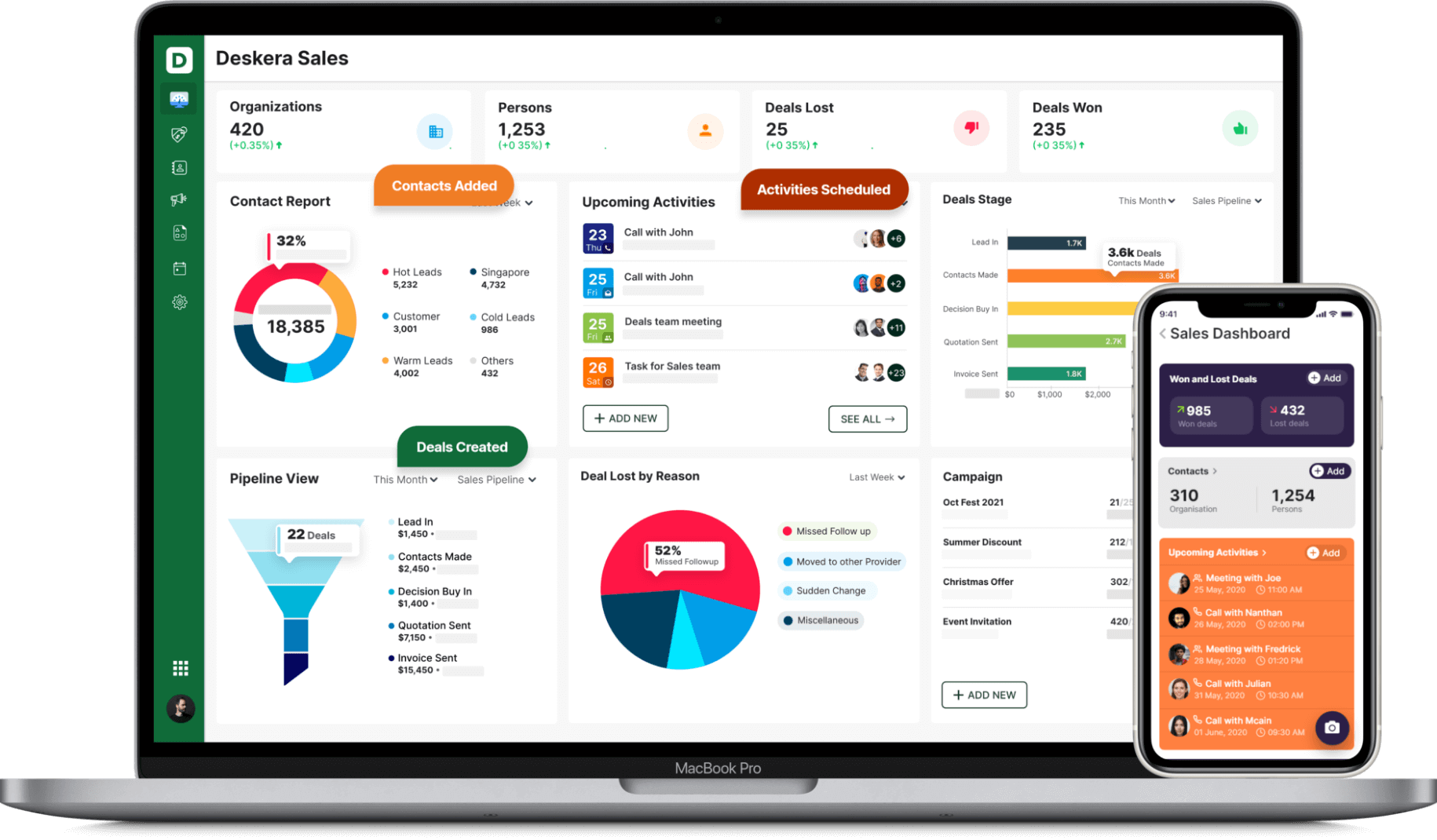 Using Deskera CRM will also help you in accelerating your productivity as you would be able to view and plan all your marketing activities on the calendar. This will increase efficiency while also ensuring that you complete all the required and assigned tasks like meetings, writing of blogs, designing of social media graphics for posts, etc.
Additionally, Deskera CRM+ is a one of its kind CRM software that lets you design and tracks your landing pages, add lead magnets and forms to your pages, and even offers conversion-optimized templates for the same. Deskera CRM+ even lets you segmentize your contacts as per what they have downloaded, where you got the contact form, and so on. This helps in targeting your leads with personalized marketing campaigns.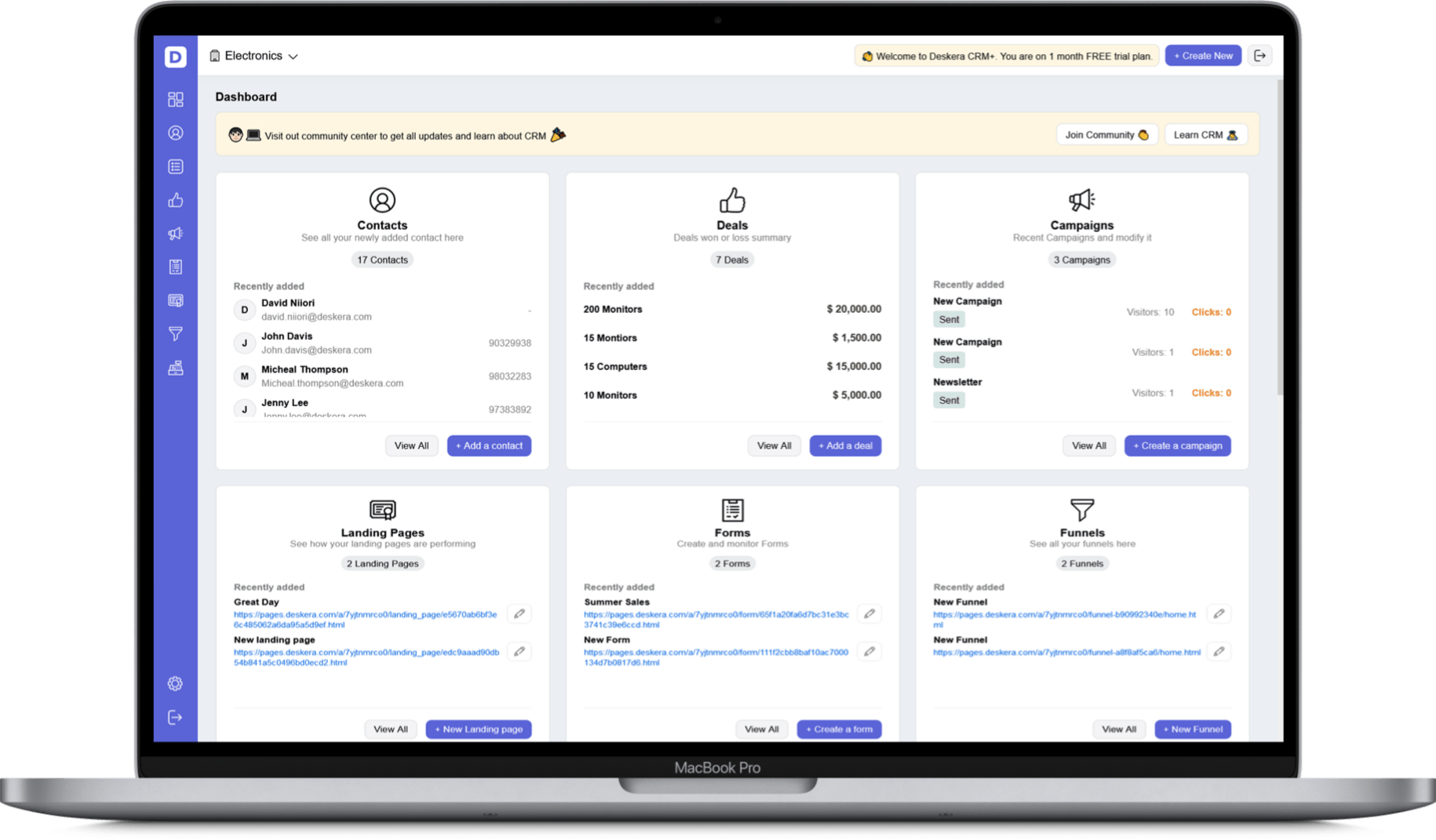 Deskera CRM and CRM+ will hence help you not only in all your marketing needs but also with your marketing planner. In fact, through Deskera web and mobile app, you would even be able to create, manage and track your team's activities. This will also allow you to build linked activities that will let your team take follow-ups and close the deals.
Deskera CRM and CRM+
Automating your marketing
Key Takeaways
Having a marketing planner will make you more organized, efficient, and on target with your marketing and business goals. You will be able to delight your target audience and turn them into loyal readers and customers. By following these five steps, your productivity as a marketing team will increase while also helping you to meet your deadlines. These five steps are:
Start With a Simple Content Strategy
Plan Marketing Projects Based on Your Strategy
Creating Checklist for Each Marketing Project
Document Deadlines With Your Marketing Planner
Start Shipping More Projects and Remove Stress
Your marketing planner will help you to improve your cash flow statement, profit and loss statement, balance sheet, and any other relevant financial statement. It will help you get new customers, retain existing ones and improve your positioning in the market. Using software like Deskera CRM and CRM+ will help in making everything easier, faster, more accurate, and even automated.
Related Articles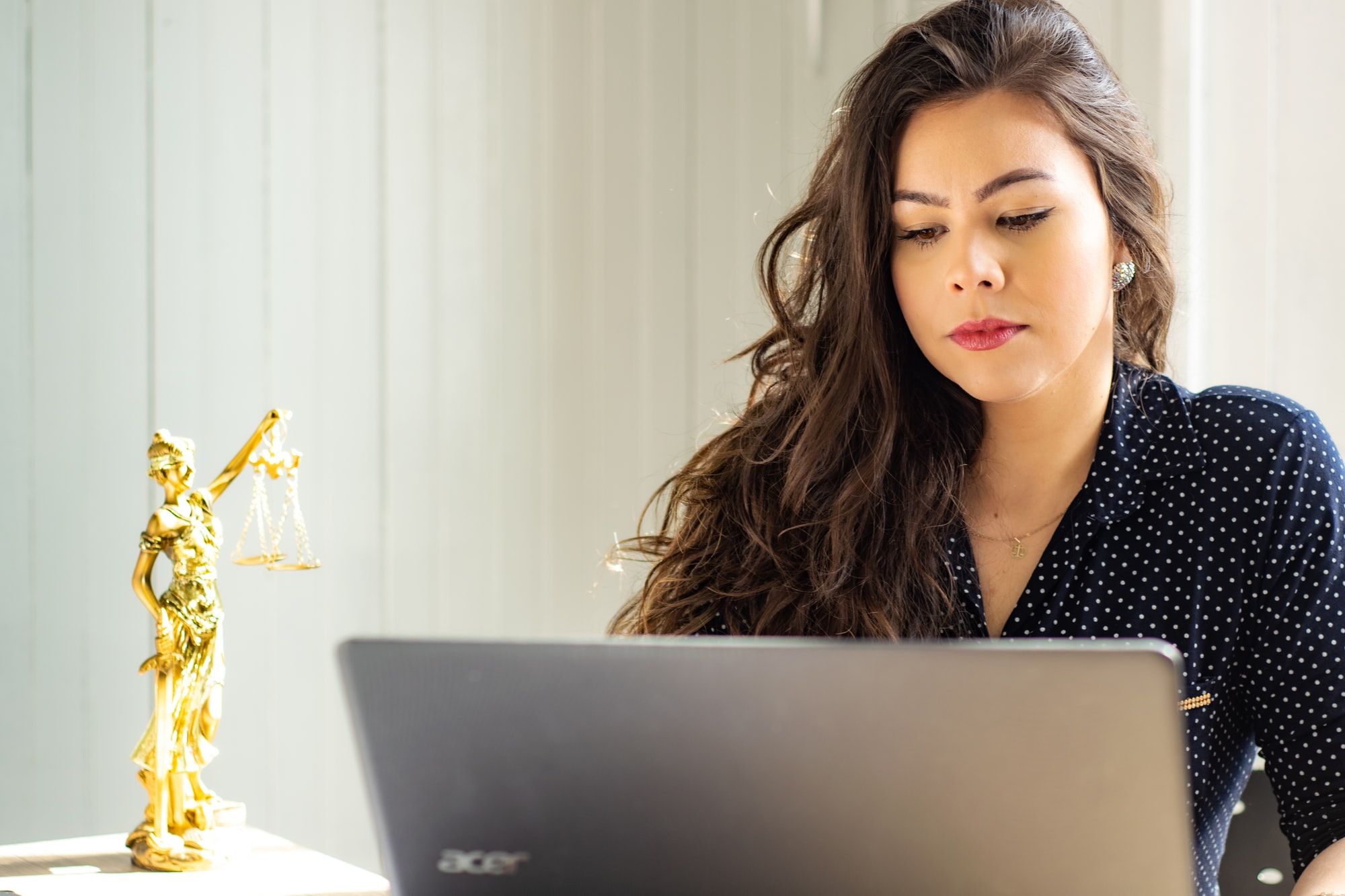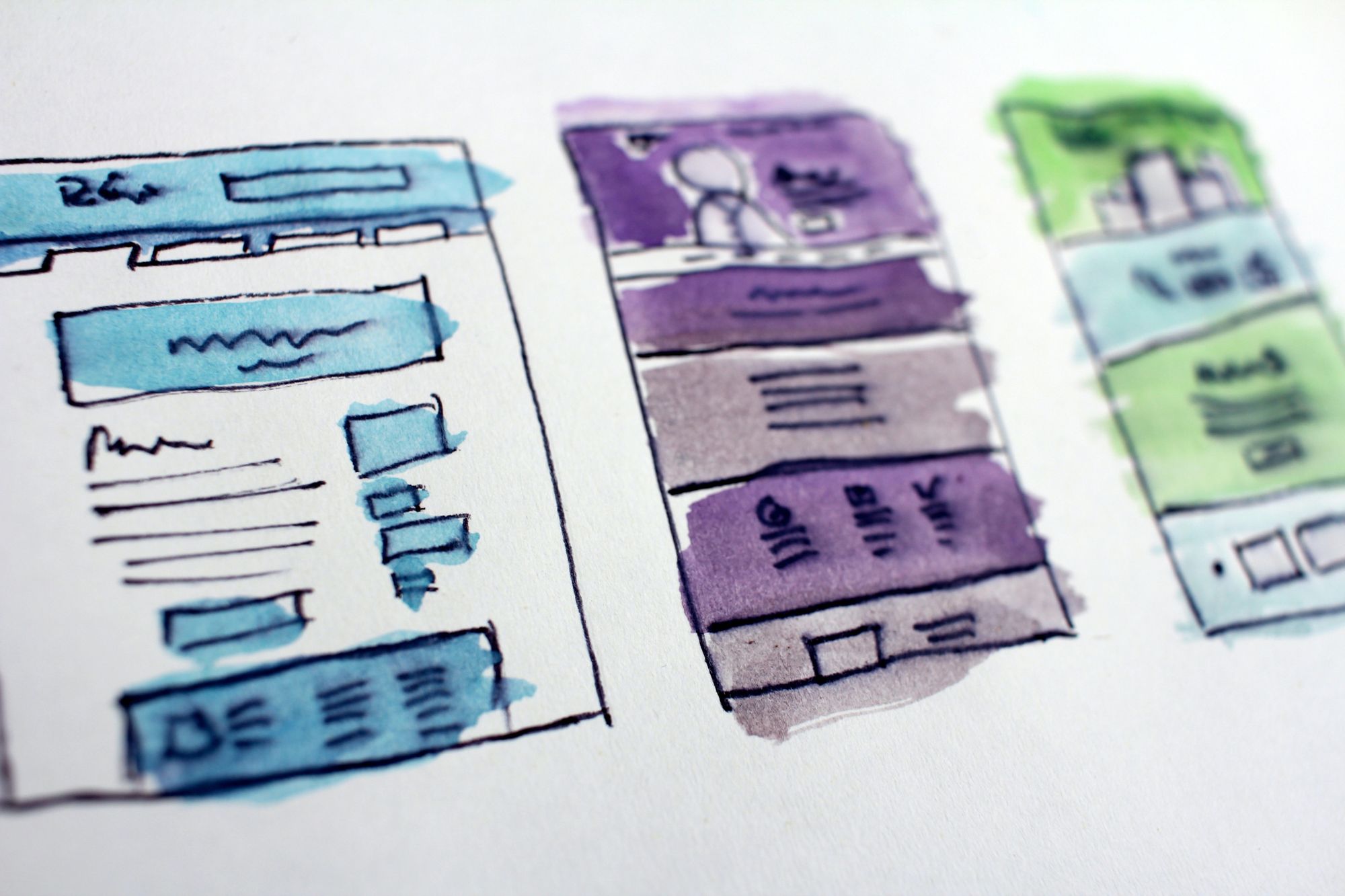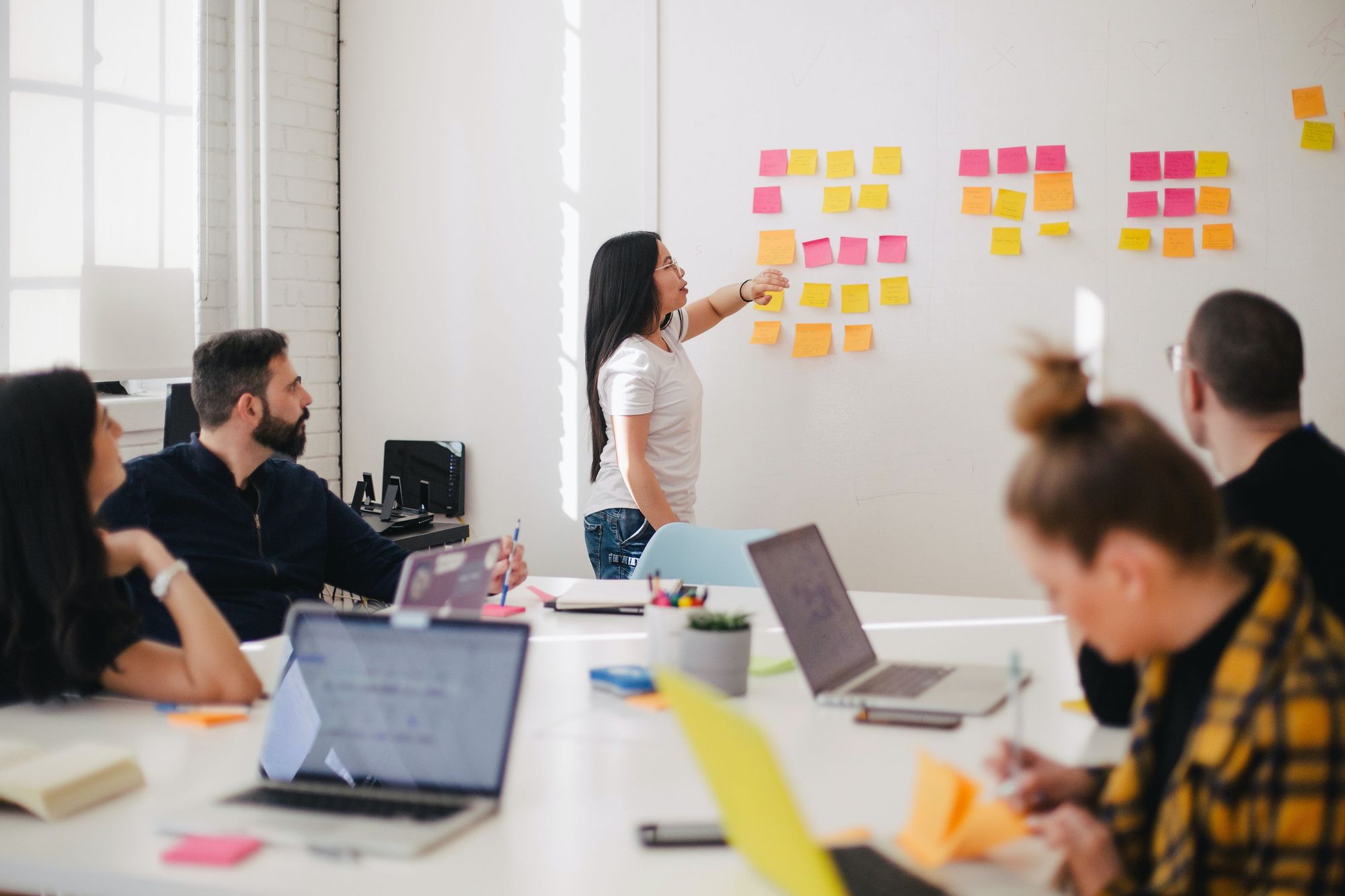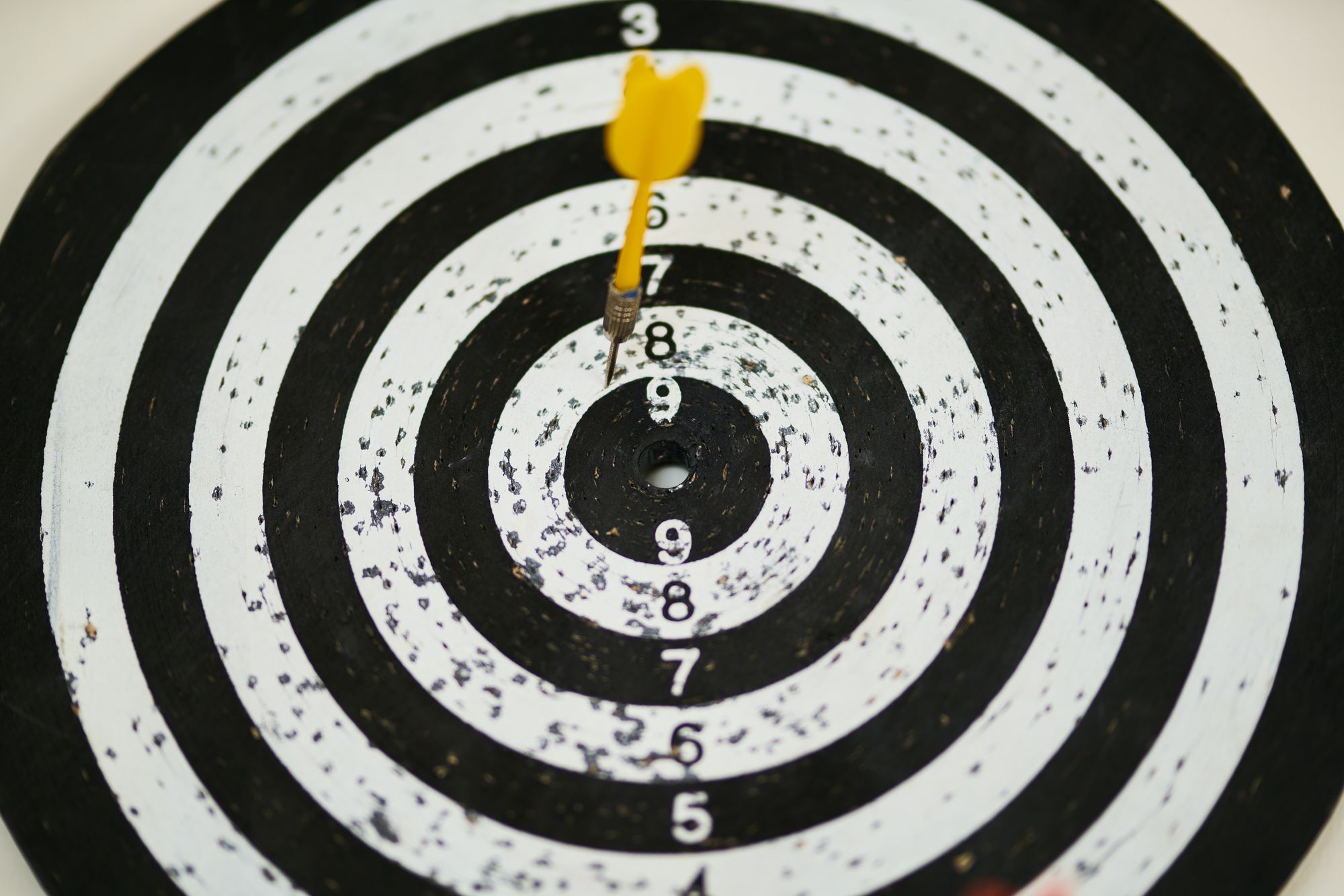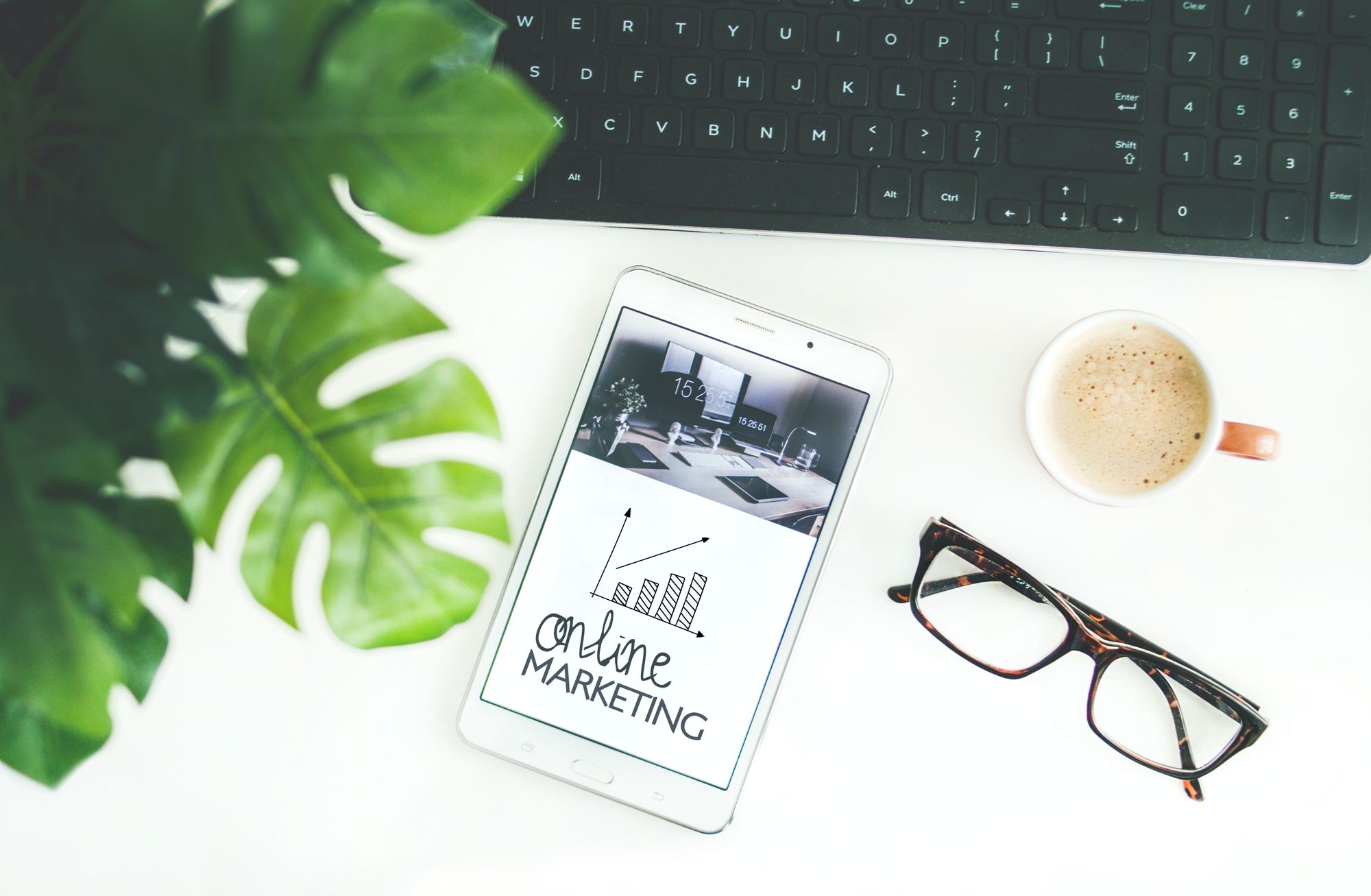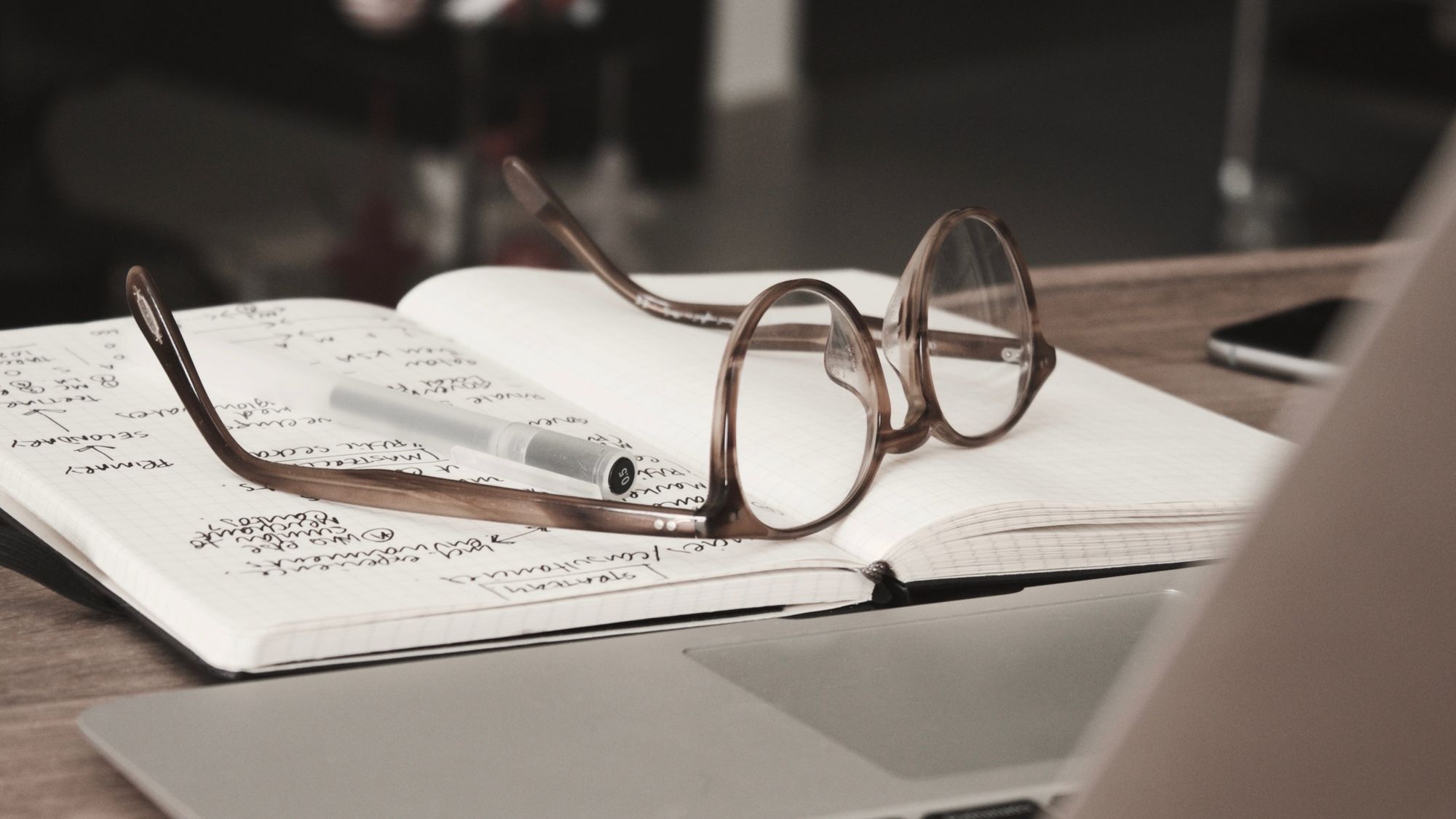 ---
---