With the digital advent and the ECommerce catching up, lead generation and lead magnet ideas have begun to hold the center stage. If you too, are looking to enhance your sales and are looking to amplify your online store business, then lead magnets are the way forward.
In this article, we shall reveal the 10 lead magnet ideas that you could use on your landing page to boost your sales. Here is what we shall cover in this post:
What is a Lead Magnet?
Conversion Path of Lead Magnets
How to create it?
Why every business today needs lead magnets?
10 Lead Magnet ideas to use on Your landing page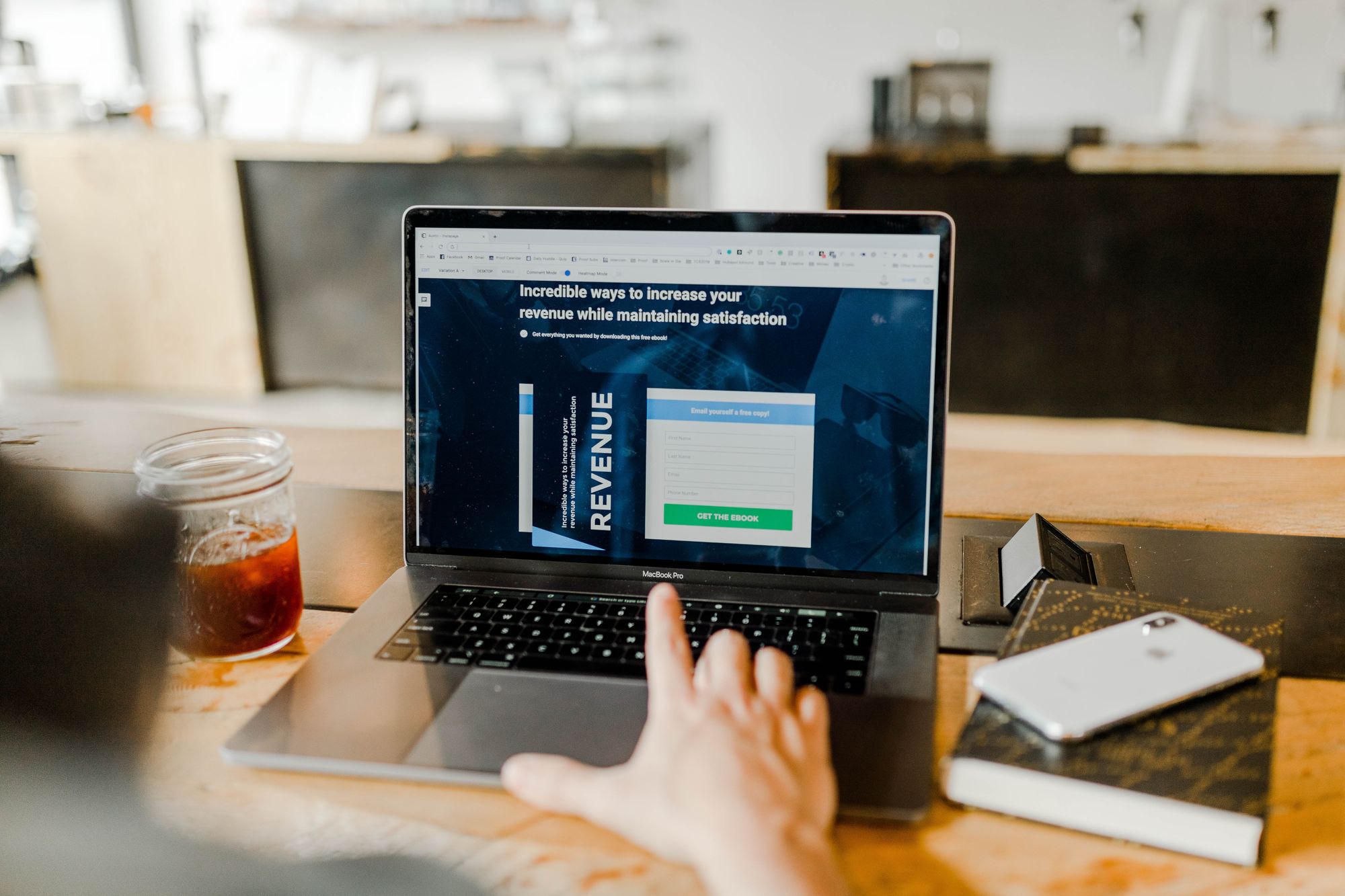 What is a Lead Magnet?
Lead magnets are free resources, marketing tools that attract potential customers to click on your links. They offer a long-form resource for acquiring prospective customer's contact information. You will increase the chances of visitors signing up for your email list and ultimately becoming paying customers, through this free content.
One of the biggest benefits of using lead magnets in your content marketing strategy is they drive leads.
The following characteristics can be found in lead magnets, but they typically include:
Free to deliver (cost-free)
Lead generation (promotes your business)
Value-driven (perceived as valuable, informative, or helpful)
Examples:
Whitepapers
Templates
Downloadable assets
Conversion Path of Lead Magnets
Before moving on to achieving more details, let us understand how the lead magnets work. Here's a quick review of the conversion path through which the website visitors can be turned into your leads.
CTA (Call to Action)
This is presented as a button which the user clicks for accessing the information or the downloadable resource you offer to them. We often come across words like, 'Grab Your Deal Here, 'Avail of the Discount Now!', or simply 'Click Here to Know More About the Deal'. These are all examples of CTA.
Landing Page
A landing page is a page that appears after the user has clicked the CTA button. This is the page where the information provided by the customer is collected. The information could be filled in a form where they provide data like their names, e-mail addresses, contact numbers, and so on.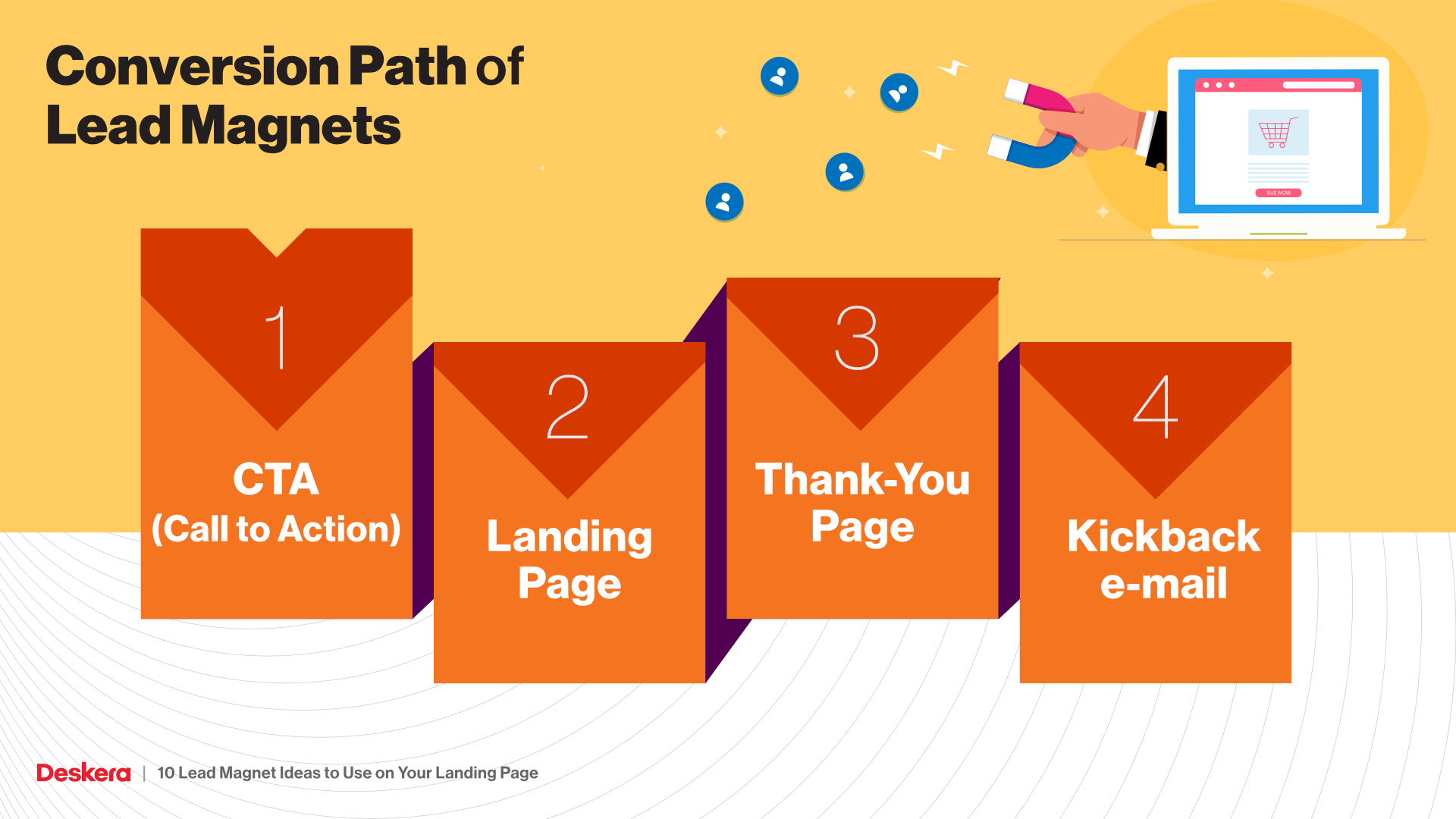 Thank-You Page
This page appears after the visitor (who has now turned lead) has filled in their information. This page provides them access to the resource they sought. Also, with all their information gathered in the previous step, now they are added to your mailing list.
Kickback e-mail
Now you have their information and the kickback e-mails are a way of e-mail marketing where you keep the conversation going with the customer. It is also a great way to keep them engaged with your business. Kickback e-mails are generally sent shortly after the user has signed up with your page.
With this technique, you can possibly convert each post on your blog as a lead-generating tool.
How to Create a Lead Magnet?
The process of creating a lead magnet goes as follows: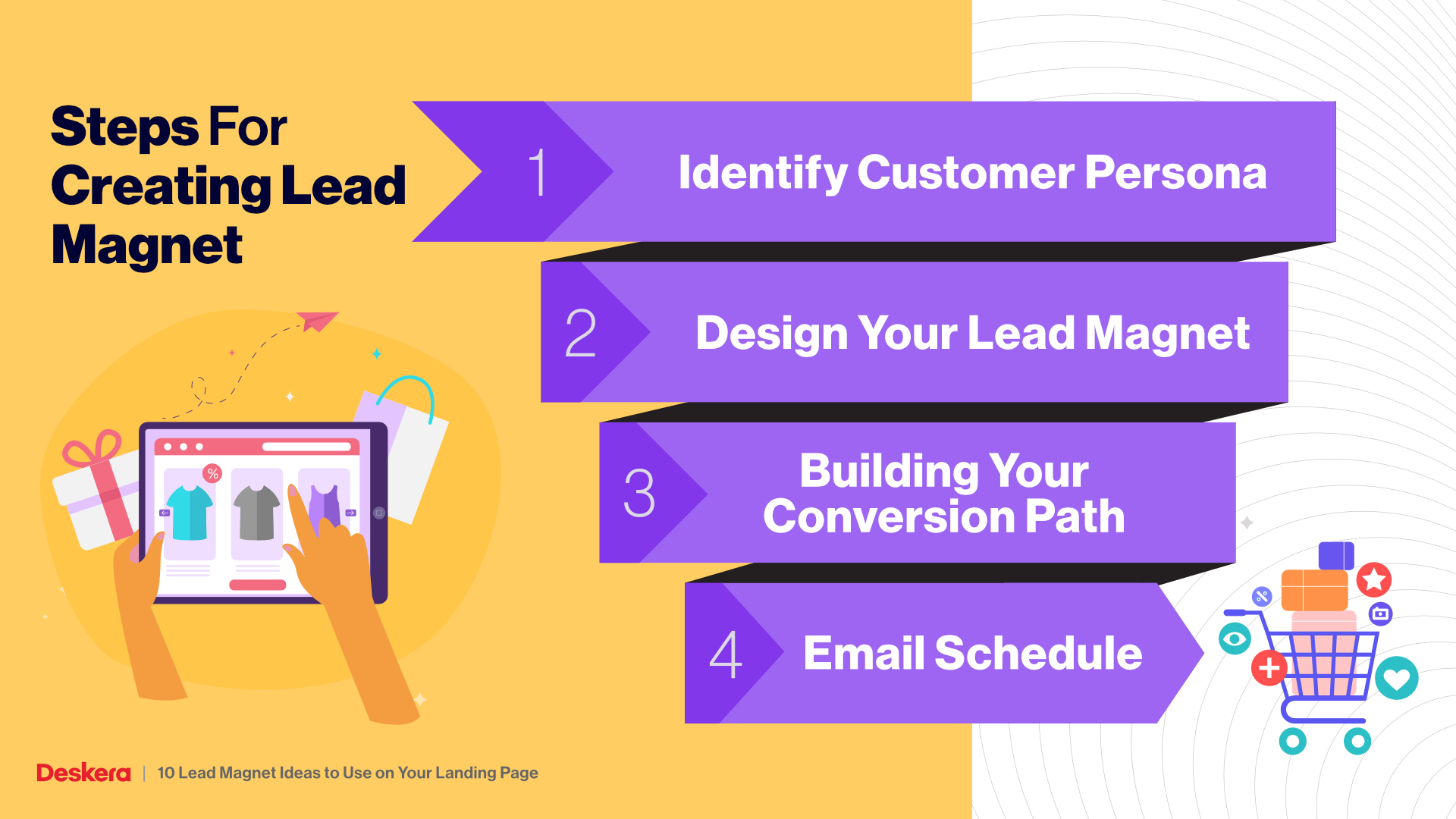 Identify the customer persona and what they are looking for
This is the primary objective of the lead magnet, which is to offer the customer what they want and acquire their contact information in return. For gathering the information of the customer, the lead magnet should be attractive and convincing for them to provide their contact details.
This could include two or three personas with individual needs and pain points that you may want to target. You could also learn about your competitors at this stage to understand what kind of tactics and offers they are creating. Learn about their offers, what all is included in their offers, and get started with your campaign.
Design Your Lead Magnet
This process entails the creation, designing, and naming of your lead magnet. Either choose a platform like Canva for designing or delegate the task to a designer. Canva could be handy as there are in-built templates that are ready for use along with multiple customization options for slides and worksheets.
Once you are done with designing your lead magnet, now is the time to name it. An attractive and appealing name that would ably pull in the crowds and highlight your benefits are certain factors you must consider while naming it.
Examples: 'The Only Guide You Need as an Influencer' or '101 Techniques for Effective Monetization of Your Brand'.
Building Your Conversion Path
Building the conversion path includes a landing page, thank-you page, the form, along with the e-mail chain. Let's learn some of the steps you need to take here:
Dedicated Landing page: In the first step, where you need to hold on to the attention of the customer, you will have to put a dedicated landing page that is devoid of a navigation bar. Through this, you essentially keep the user focussed on the offer.

Writing Clear CTA: The CTA you write should give clear instructions to the customer about what they should do now and what they shall achieve after clicking the CTA button. Choose words that are interesting and easy to understand.

Eye Scanning Patterns: F and Z reading patterns being the most commonly used reading pattern used in western cultures, you may also design your landing pages with the user reading patterns in mind.

Social Proof: Testimonials, reviews, ratings are a great way to tell your users about your credibility and accountability. Adding them could be instrumental in the process of conversion.
While working on your form, name, and email are the 2 information elements you will need to book space for. You may also add other elements such as an address, etc. but that would be optional. A crucial point to be mindful of is that the more information you ask for, the higher are the chances of abandonment. So, restricting your form to only two elements would be a wiser decision to make.
Email Schedule
A lead magnet needs to be updated every half-yearly or yearly based on its type.
For example, you created a report for providing details of the salaries in the field of biotechnology for the year 2021. You will need to update it at the start of the next year as the data provided by you currently may need to be revised and updated in your report. Failing to do so will give away false information to your customers and eventually, it will not hold any value.
Why Every Business Needs a Lead Magnet?
After having read through all the details and descriptions of Lead Magnets, you may wonder why creating a lead magnet is required after all. Well, it is necessary and very much so, for the sole reason that you want your business to sustain itself online.
Let's look at it step by step.
Whether you are a startup or a small business owner, if you want your online store to perform
well, then creating a lead magnet is extremely crucial to your business.
E-mails are confidential: In today's day and age, when the digital identity is akin to the real identity of a person, people hold their email close to themselves. E-mail ids are confidential and people would not want to share their confidential information with anyone they meet online.
If you wish to obtain this part of the information, then your offer needs to be lucrative enough for them to give away their mail ids and other contact information.
Example:
Scenario 1: Your landing page tells the user to sign up with your blog after they have been through an elaborate post on this blog about, say, 'Top Marketing Strategies to Follow in 2021'.
Scenario 2: After a lengthy and informative post, you ask the readers to sign up with their e-mail addresses to get a downloadable PDF of an important Case Study free of cost.
There are greater chances for scenario 2 emerging as a winner, as it has something to offer to the readers that could be beneficial to them.
What Makes a Good Lead Magnet?
This section takes us through the qualities your lead magnet needs to possess to be enticing and irresistible for your readers.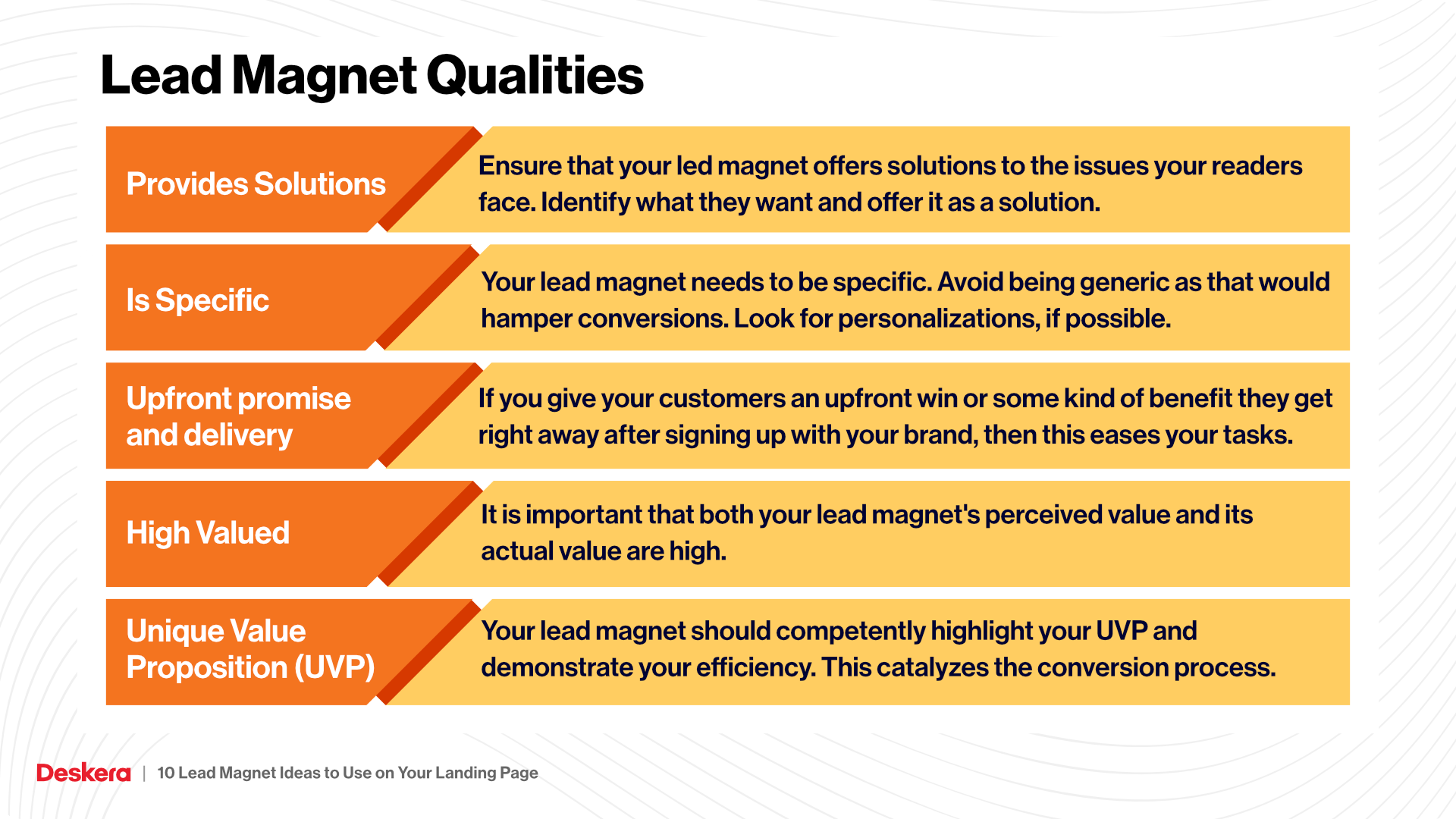 10 Lead Magnet Ideas to Use on Your Landing Page
Here's a list of 10 lead magnet ideas that would be useful on your landing page.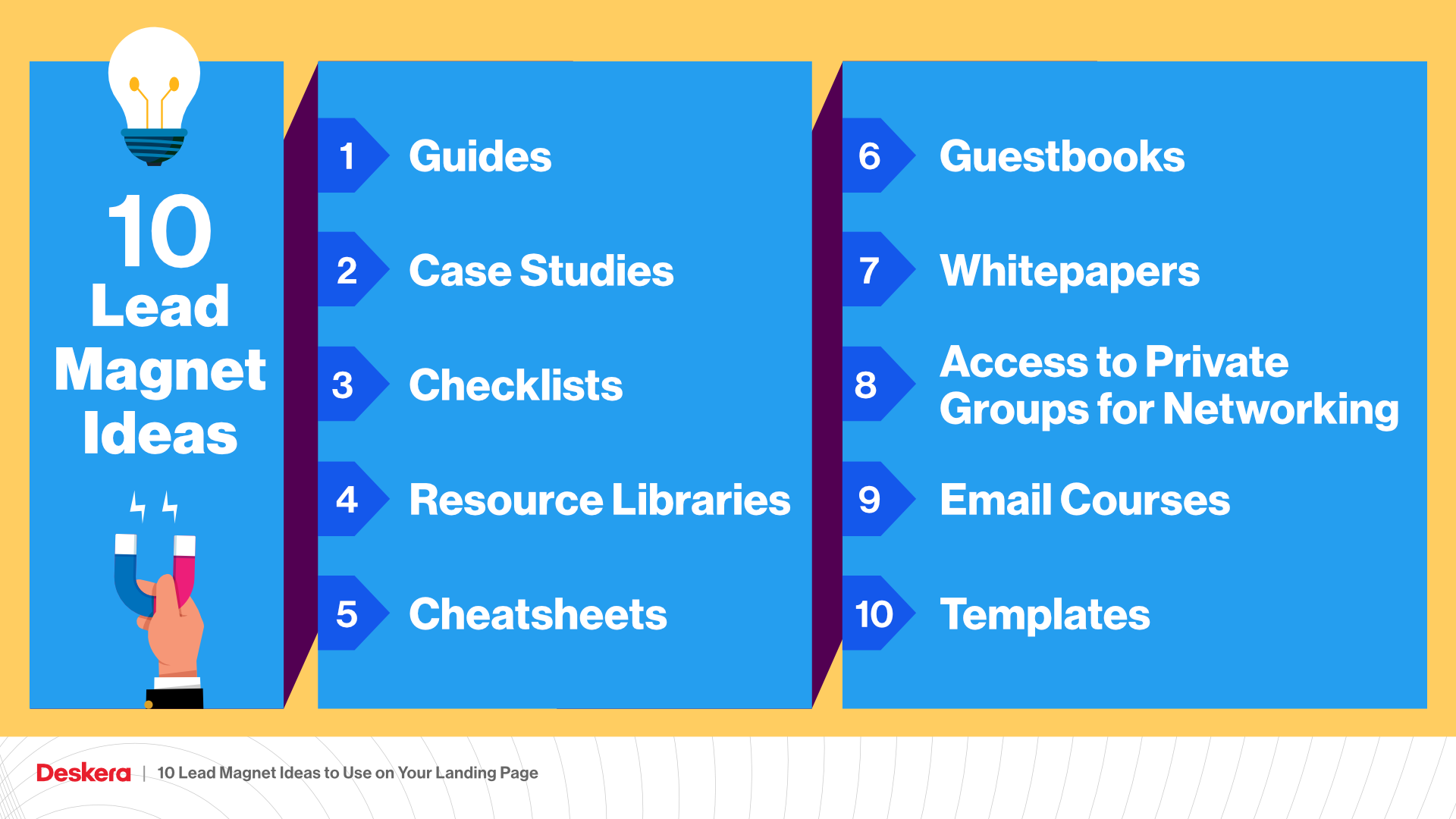 Guides
Guides are an exhaustive collection of information on a topic that requires thorough understanding. Also, guides are books referred to by people when they require comprehensive knowledge on the said topic.
You may face times when a topic has been widely covered and various books are available pertaining to the diverse aspects of the topic. This would be an ideal stage to release a Guide that comprises end-to-end data related to the subject. Guides cover all the aspects related to a topic and an extensive book like this can easily rule out the requirement of any other source of information.
While you attempt presenting a Guide, be careful of and steer clear of any plagiarism. If at all you need to integrate some information from some other book, it would be best to provide the relevant links to the original work in your guide.
Case Studies
If there is a need to present an in-depth and wholesome study of an entity (it could be a person, event, processes, etc.), then there is no better way than presenting it in a case study. The case studies are, indeed a great way to enlighten oneself about the topic of interest.
When you offer case studies to your prospects, the knowledge and the precision with which the topic has been addressed could bring them a step closer to conversion. People may find it helpful and become drawn to the accurate data the case study on your landing page would reveal.
Your aim should be to present a packaged deal of the case study that assures the customer of getting his problems resolved. You can begin by presenting a form that the visitor must fill in. The form shall consist of all the information such as the visitor's e-mail id, name, and so on.  
Checklists
Checklists are a fine way to make notes of the tasks that have been accomplished. Long blog posts when turned into a checklist could offer much better clarity in the tasks and activities. Checklists help simplify and break down the bigger process into smaller units which can be identified better now.
Offering a checklist that can be printed offers an added advantage and will keep the customers coming back. Also, it could help them recognize the remaining operations of their businesses in a much better way.
Resource Libraries
Resource libraries, as the name goes, act as an incredible source of information for people when they are looking to achieve some meaningful outcomes. This could be a great lead magnet.
You could offer a lot of essential and pivotal tools to guide visitors in their goal-achievement process. An offer that says, ' SEM: A Complete Book for Beginners' that can be freely downloaded is a potentially irresistible deal.
Cheatsheets
Cheatsheets are documents that contain a wrapped summary of a difficult topic. When your users are working on something that is tedious and takes time to understand, it would be good to offer them a downloadable cheatsheet. This way they can refer to your glossary and resume where they had stopped.
This kind of easy help which they can avail of at any time could be an attractive lead magnet. After all, who doesn't want their work to get reduced or simplified! Moreover, providing them a compact format of this cheatsheet could well be a tool that will be further recommended by them.
Guestbooks
These are particularly helpful if you are a guest blogger. Gusset blogging has been hugely adopted as a method for backlinking. However, the guest bloggers who have put in a lot of effort cannot republish the content on their independent blogs. This is the practice that is followed.
Republishing the same content adds to duplication which is flagged by Google and nobody is benefited from this kind of action. However, if you offer a guest blogger to compile all their posts in a book format and protecting it behind the lead capture form, nothing like it. The protected or restricted content will not be flagged by Google.
Not only will this be a competent lead magnet, but it could also earn you some extra dollars for the hard work you have done.
Whitepapers
Whitepapers are a compilation of a detailed study or survey that could be referred to by anyone who wants to leverage their knowledge in the future. The findings and reports of your detailed survey could be presented to the prospects in the form of whitepapers.
Apart from setting your content as an informed source of information, it acts as a lead magnet for your business as well.
Access to Private Groups for Networking
In order to create brand loyalty, a business must master community management. The process can also be used to generate leads. Social media platforms like LinkedIn, Facebook, and Slack enable you to use these features together.
Business owners find that many customers value community and prefer a community forum in which they could discuss their challenges and requirements. Providing this dedicated space to them will increase your lead generation and will give you more insight into your audience.
Email Courses
Email courses enable you to share your course with the users over a series of emails. These courses could be shared through 3 to 10 e-mails or even more if the topic needs to be covered in detail. The various benefits of having an e-mail course as your lead magnet are that they are easy to avail of, there is familiarity with the format and it's fast to deploy.
The opportunity to guide your audience along the buyer's journey is also available to you in multiple ways.
Templates
Templates are pre-designed documents that enable the user to expedite and simplify the process they are working on. The benefits include time-saving and process scalability. In essence, it is a solution to what many of us have trouble with such as planning and developing things from the ground up.
Moreover, templates could be applied to a variety of areas including spreadsheets, social media, graphic designs, e-mails, and so on.
How Can Deskera Help?
Deskera CRM+ is a software that has a special section dedicated to landing pages. This section is designed such that it will help you throughout the process of designing, launching, tracking, and optimizing your landing pages.
Deskera CRM+ comes with some pre-installed landing page templates that you can use or you can even choose to design your landing page from the start. Both of these options are supported in the Deskera CRM+'s landing page module. This will ensure that you can create beautiful and professional-looking landing pages that generate leads without the help of any designers or IT professionals.
Deskera CRM helps small businesses get more from each landing page you create. It lets you build and optimize landing pages that prompt you to improve conversions for your business and increase your sales and revenue.
Deskera CRM+ provides you with the tools and template to build customized landing pages as per your business. It provides you the option to modify images, text, customer sign up form, embed custom html and let's you monitor your website visitors behaviour.
Having a focused sign-up landing page, your business will be able to increase it's customer database and will help you retarget your existing customers and also manage customer deals and sales funnel better. Managing your customers using a good CRM system, will save your business lot of time and money in the long run.
Try Deskera CRM Today
Sign Up For Free Trial
Key Takeaways
Let us relook at the major points covered in the post. Here we go:
Lead magnets are free resources, marketing tools that attract potential customers to click on your links.
One of the biggest benefits of using lead magnets in your content marketing strategy is they drive leads.
Cost-free, promoting business, and being value-driven are some of the features of a lead magnet.
Examples of Lead Magnets include Whitepapers, Ebooks, Templates, Guidebooks, Cheastsheets.
Lead magnets follow the conversion path through these steps: CTA, landing page, thank-you page, and Kickback E-mail.
Identifying the customer persona, designing the lead magnet, building the conversion path and the email schedule are the steps to create a lead magnet.
An adept lead magnet is identified if it possesses the qualities such as providing solutions, is specific, has a UVP (Unique Value Proposition)
Related Articles
https://www.deskera.com/blog/retail-store-landing-page/
https://www.deskera.com/blog/ebook-landing-page/
https://www.deskera.com/blog/landing-page-examples/
https://www.deskera.com/blog/landing-page-mistakes/
---
---