The Covid-19 pandemic has been a bumpy ride for the majority of the companies, filled with challenges and changes to adapt to. Especially the shift to remote interactions from actual workspaces, and the changes that came with it have majorly hit your sales team.
The life of your sales team was not any easy before the pandemic, with remote work it has just gotten tougher. Sales motivation is what every team needs right now.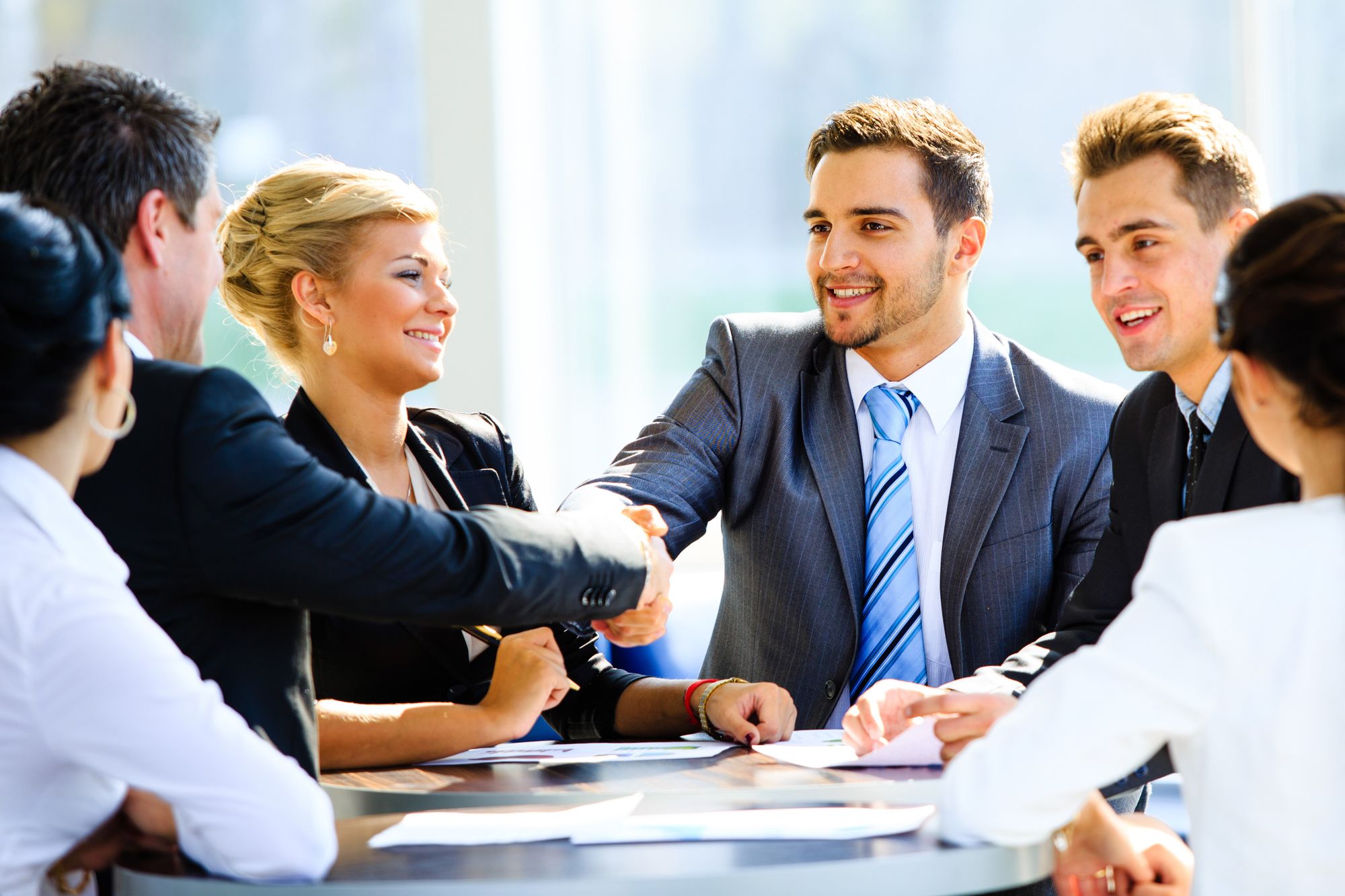 A recent study shows that, on average, a salesperson generates roughly one appointment or referral from every 209 cold calls.
In return to this daily delivery of hundreds of email, making calls, and meetings, your sales team face more rejections than you can imagine. As a result of this continued rejection, your team loses motivation to be at their best.
Fortunately, its not the end of it but rather a beginning to a successful life.
Some of the greatest minds, CEOs, leaders, had also faced rejections when they were starting out in the sales business. But their mantra for success kept them going until they reached their destination.
With the same motive, we have collated 30 motivational sales quotes by some leading entrepreneurs, thinkers, and sales experts to help your sales team not fall weak until they succeed.
30 Motivational Sales Quotes for Your Sales Team
Let us look at some quotes that can keep your sales team motivated: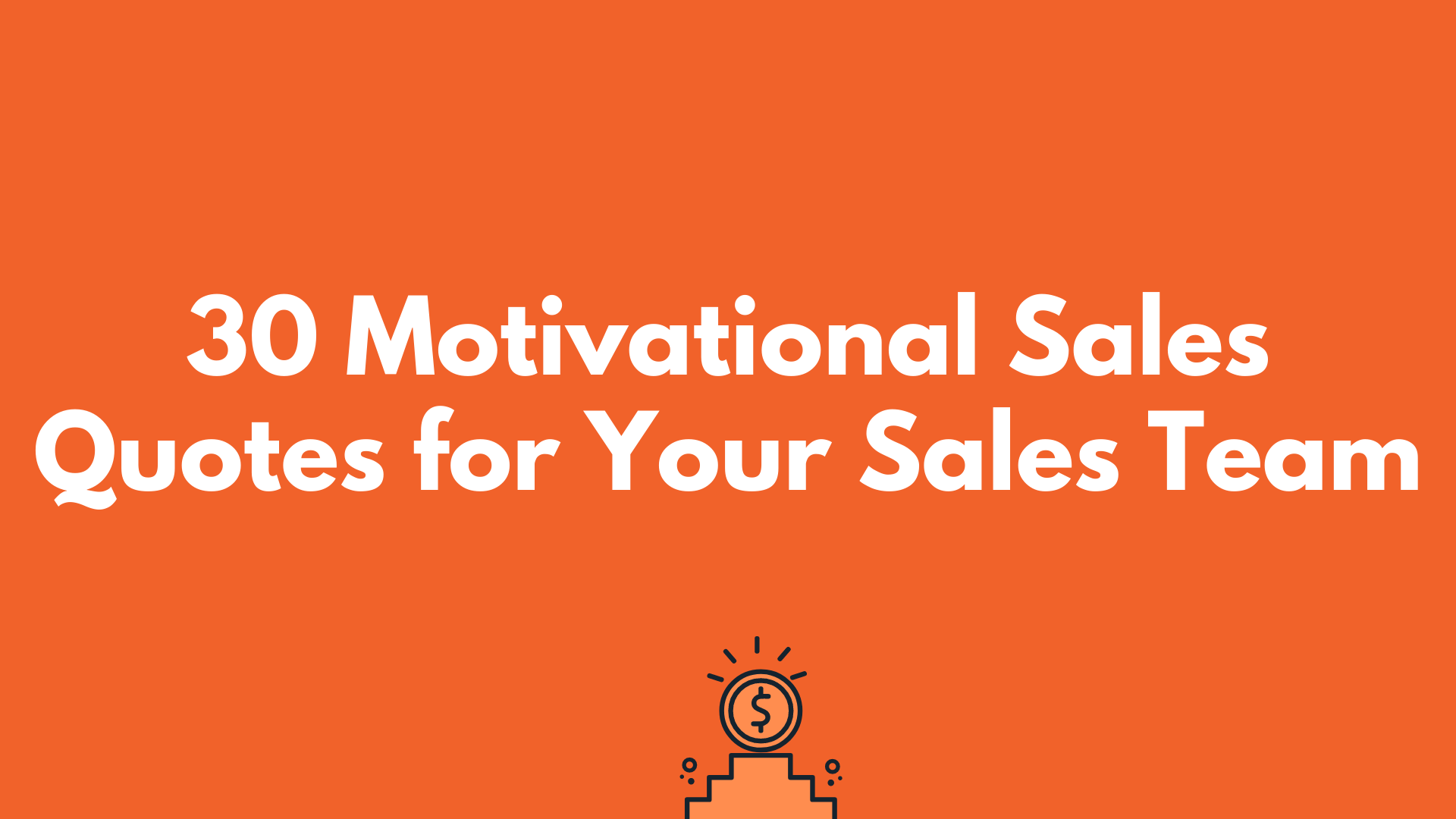 "Success is walking from failure to failure with no loss of enthusiasm." – Winston Churchill

"Opportunities don't happen. You create them." – Chris Grosser

"Quality performance starts with a positive attitude." – Jeffrey Gitomer
4. "In the middle of every difficulty lies opportunity." – Albert Einstein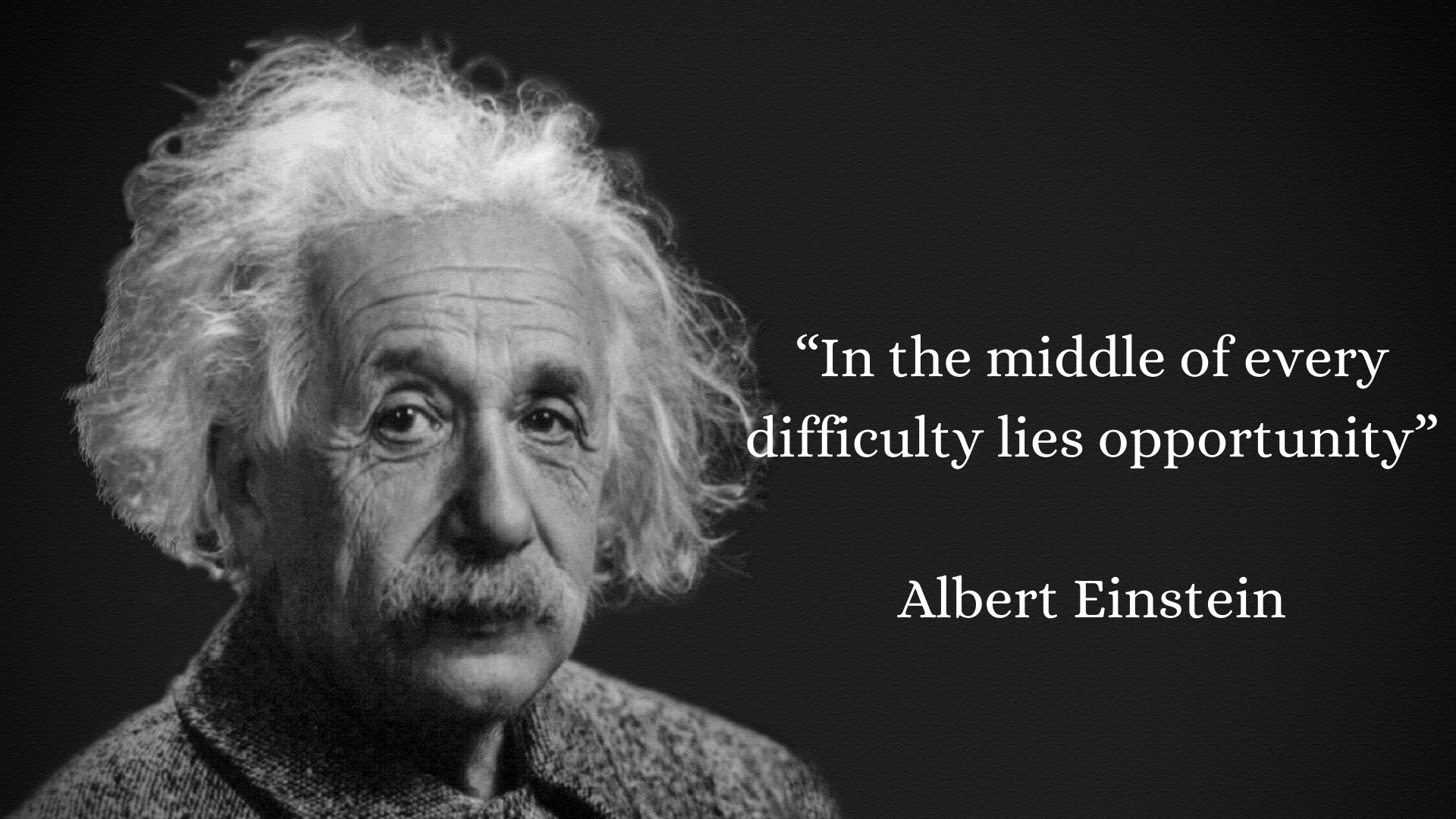 Albert Einstein, synonymous to "genius" is known as the most influential scientists of all times. He introduced the world to the two main pillars, relativity and quantum physics of modern  physics. Einstein received a Nobel prize in the year 1921 for his contributions to theoretical physics.
5. "The harder the conflict, the more glorious the triumph." – Thomas Paine
6. "Great things are done by a series of small things done together." - Vincent Van Gogh
7. "Begin by Always Expecting Good Things To Happen." — Tom Hopkins
8. "Our Greatest Weakness Lies In Giving Up. The Most Certain Way To Succeed Is To Try Just One More Time." - Thomas Eddison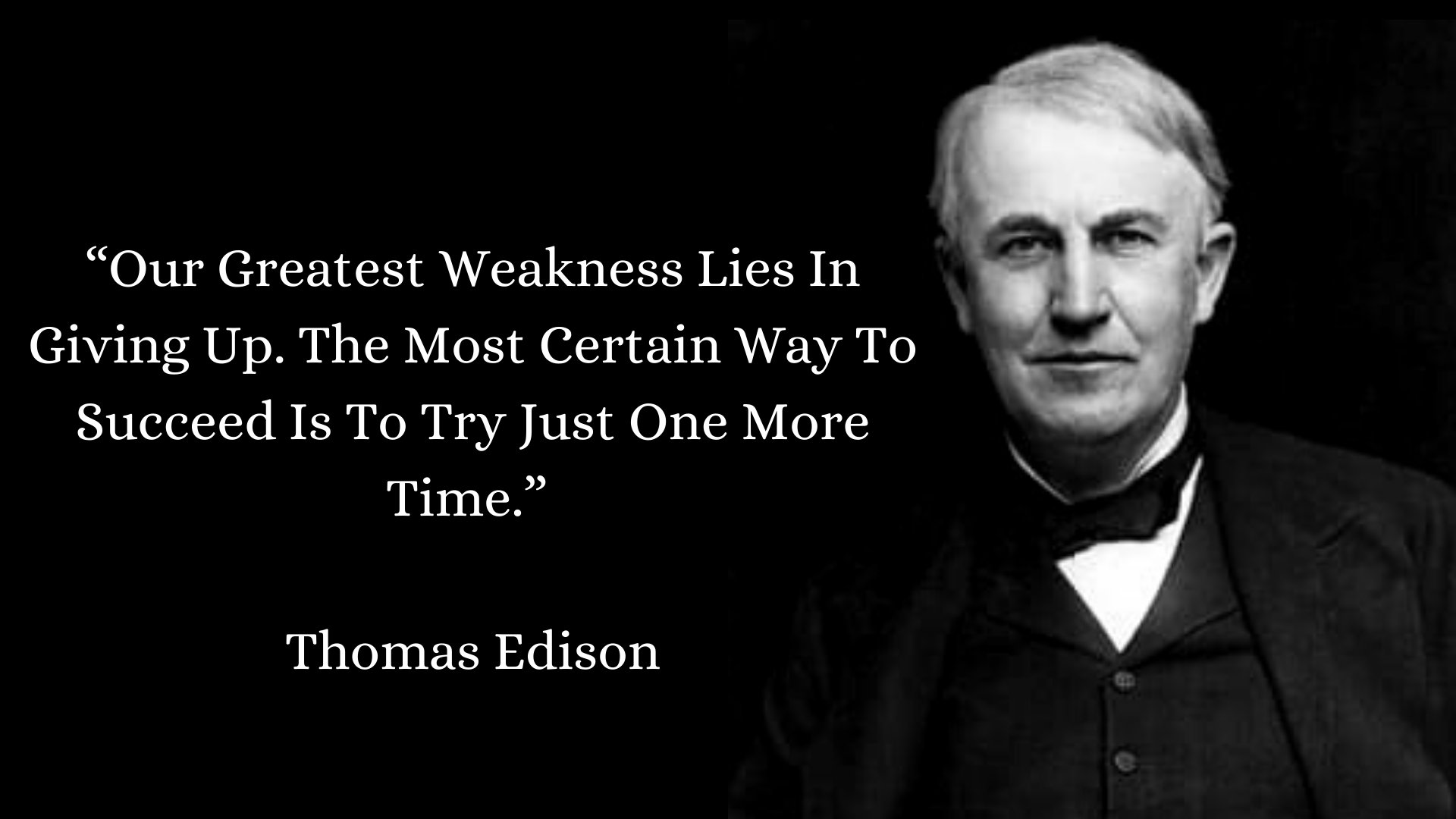 Thomas Alva Edison, was a legendary inventor and entrepreneur. His inventions had an extensive impact on the modern industrialization. Apart from being an inventor, Edison was also a successful manufacturer and businessman, marketing his inventions to the citizens. In today's era too, a lot of CEOs take inspiration from Edison's inventions and entrepreneurship.
9. "You can't build a reputation on what you are going to do." – Henry Ford
10. "Act as if what you do makes a difference. It does." – William James
11. "Make A Customer, Not A Sale." - Katherine Barchetti
12. "Be passionate and move forward with gusto every single hour of every single day until you reach your goal." - Ava DuVernay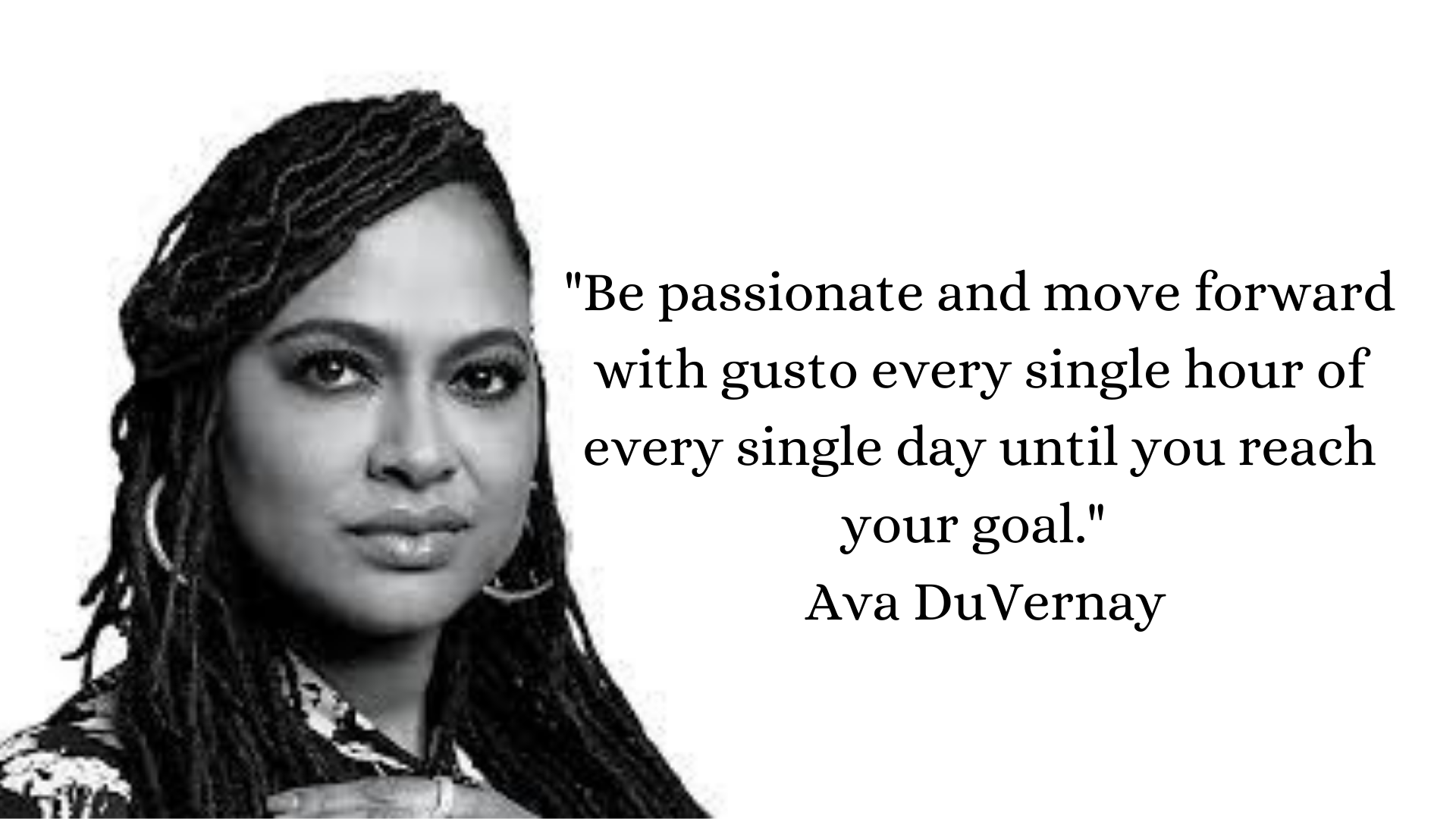 13. "Keep Your Sales Pipeline Full By Prospecting Continuously. Always Have         More People To See Than You Have Time To See Them." - Brian Tracy
14. "The Difference Between A Successful Person And Others Is Not A Lack Of    Strength, Not A Lack Of Knowledge, But Rather A Lack Of Will." — Vince Lombardi
15. "Your Life Can Only Get Better When You Do. Do Something Every Day To Improve Your Key Skill Areas." - Brian Tracy
16. "Approach Each Customer With The Idea Of Helping Him Or Her To Solve A Problem Or Achieve A Goal, Not Of Selling A Product Or Service." - Brian Tracy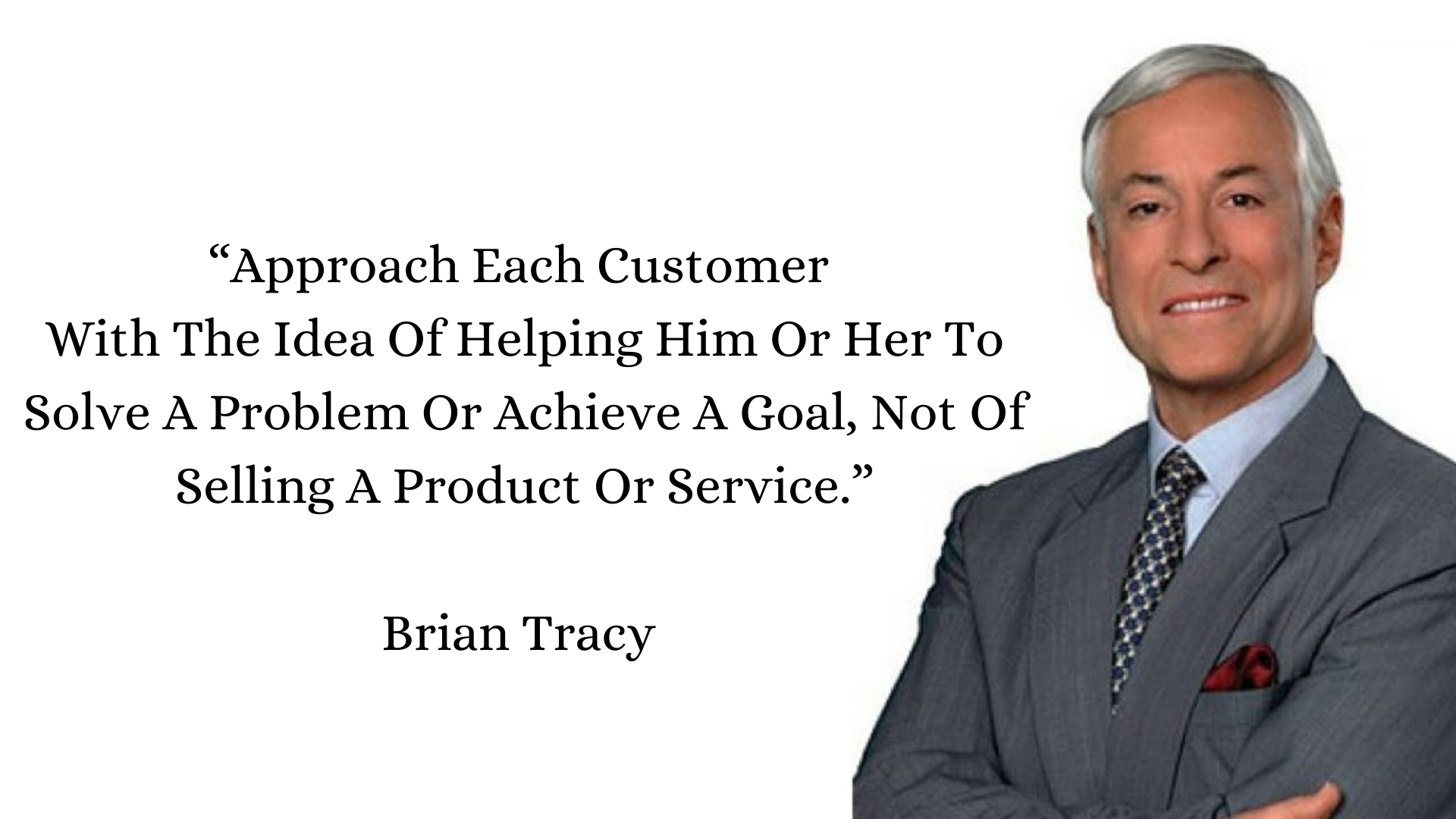 Brian Tracy, Chairman and CEO of Brian Tracy International, a company that aims to train and develop individuals and organizations. Tracy's only goal is to help you find ways in which you can climb up the success ladder faster than you can imagine. His sales and marketing skills are widely talked about, and Brian excels in investments, real estate development, syndication, and many more fields. Apart from how to win sales, Tracy also focuses on customer retention. To help you with quick tips, here is an article on how to improve customer retention.
17. "Everything You've Ever Wanted Is On The Other Side Of Fear." - George Addair
18. "You can never leave footprints that last if you are always walking on tiptoe." -Leymah Gbowee
19. "There's No Lotion Or Potion That Will Make Sales Faster And Easier For You — Unless Your Potion Is Hard Work." - Jeffery Gitomer
20. "To Build A Long-Term, Successful Enterprise, When You Don't Close A Sale, Open A Relationship." - Patricia Fripp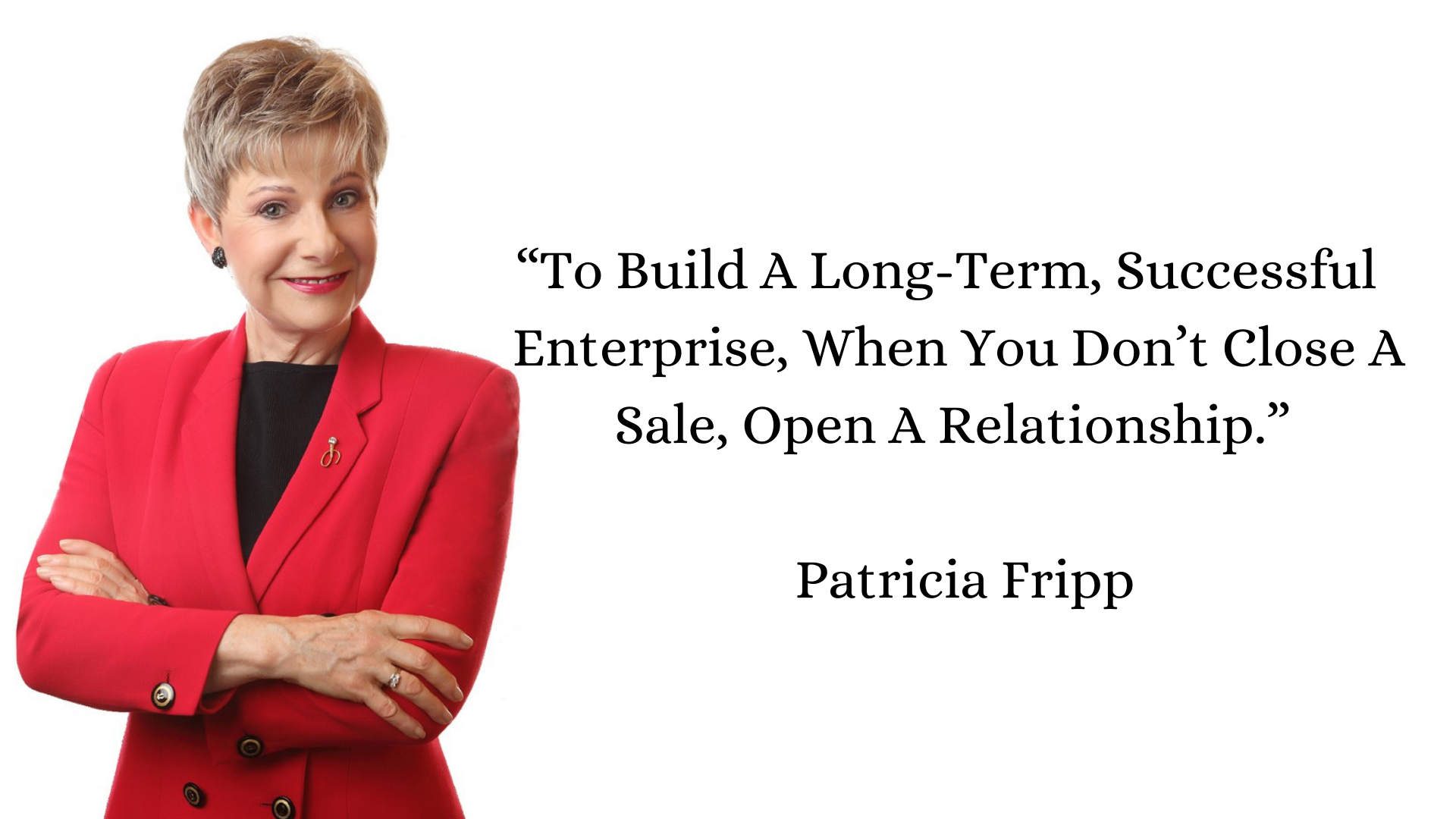 Patricia Fripp, popularly known as queen of presentation and sales. With the focus to assist every company reach their best capacity, Patricia has helped a lot of company's sales teams, executives, financial advisers, leaders,  make more sales, and drive skyrocketing business results. "Hiring Patricia Fripp is the best investment I have ever made in my company, my employees, and myself. She helped us raise millions of dollars." Said, Michael V. Shustek, CEO, MVPREIT.
21. "A goal without a plan is just a wish." ― Antoine de Saint-Exupéry
22. "Sales success comes after you stretch yourself past your limits on a daily basis." – Omar Periu
23.  "Your unhappiest customers are your greatest sources of learning." – Bill Gates
We are often taken aback by complaints and feedback by our customers, but it leads the way to success. Here is an article Ways to Use Customer Feedback to Improve Customer Experience, that will come handy in your sales journey.
24. "Don't Worry About Failures, Worry About The Chances You Miss When You Don't Even Try."- Jack Canfield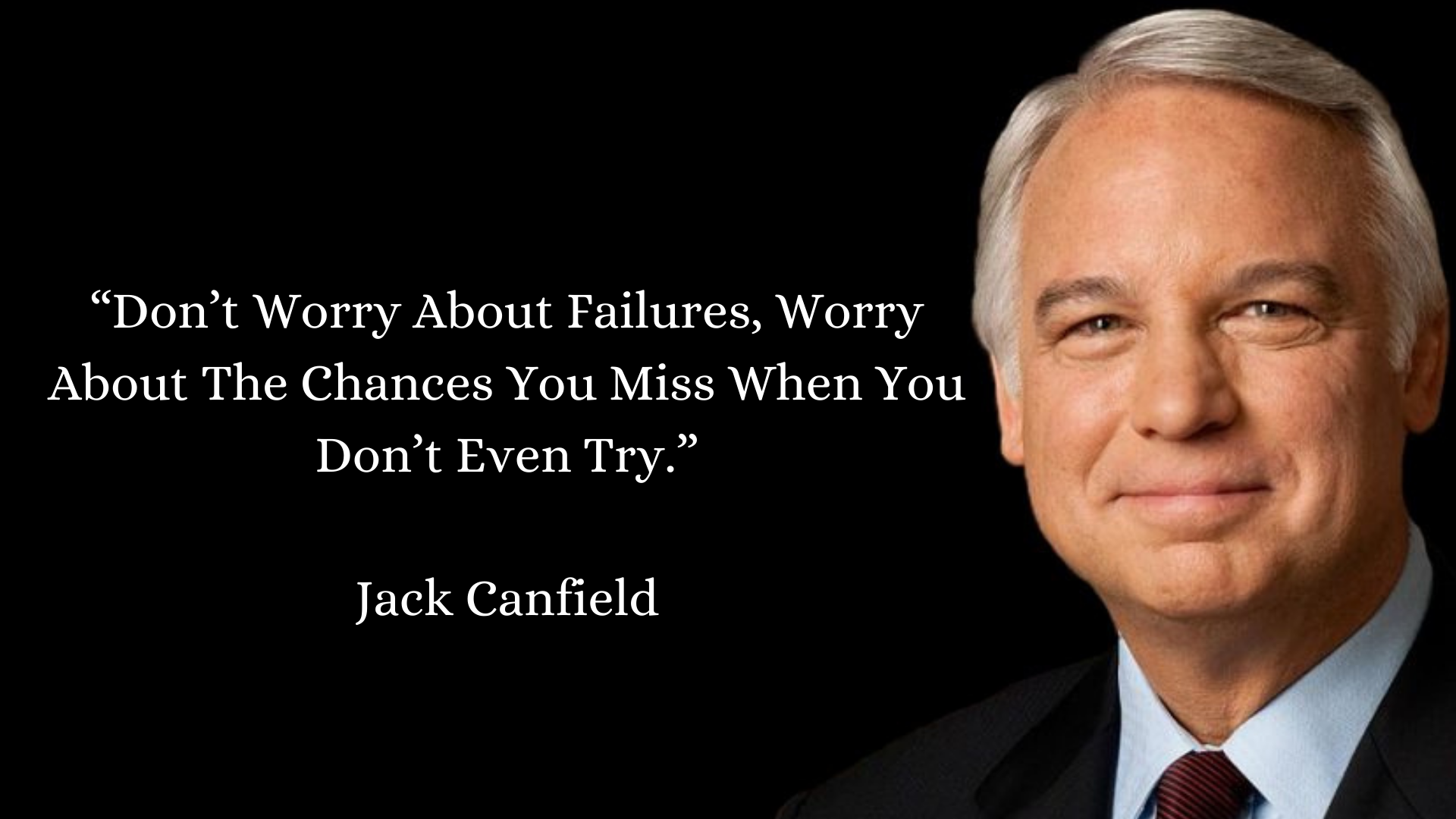 Jack Canfield, beloved author of the popular series Chicken Soup,  is today an educator, an entrepreneur, and a transformational speaker who has taught over millions of businessmen. Jack also holds the Guinness Book World Record for having seven books simultaneously on the New York Times Bestseller List. He is mentored clients like Virgin Records, Sony Pictures, Merrill Lynch, Monsanto, Hartford Insurance, and many more. Canfield believes that, as a business owner you must always listen to the voice of your customer. Here is an article What is Voice of Customer to know your customers better.
25. "Never put off till tomorrow what you can do today." – Thomas Jefferson
26. "Motivation will almost always beat mere talent." -Norman Ralph Augustine
27. "You're not obligated to win. You're obligated to keep trying to do the best you can every day." – Marian Wright Edelman
28. "Success seems to be connected with action. Successful people keep moving. They make mistakes, but they never quit." – Conrad Hilton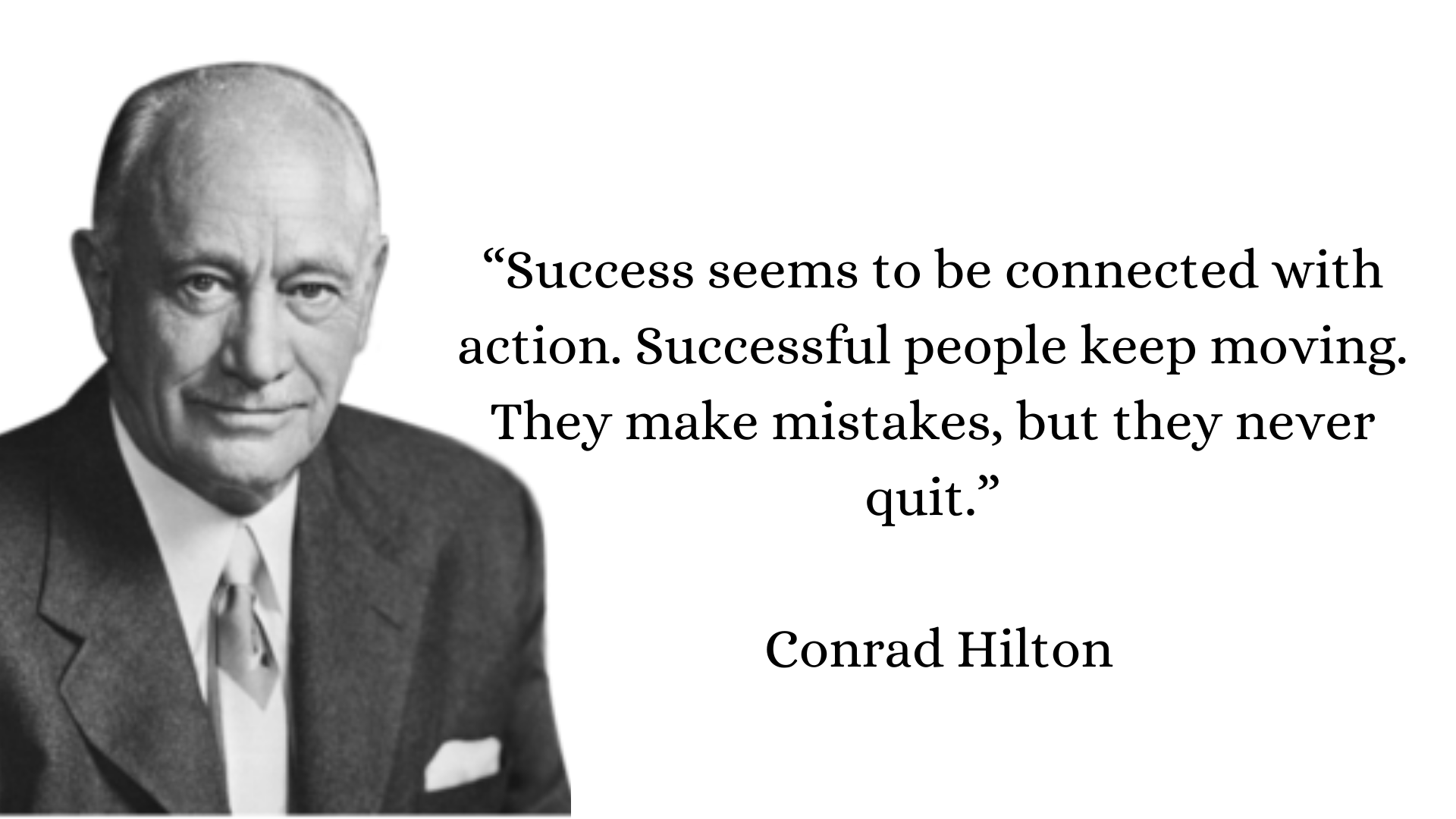 Conrad Hilton, an American entrepreneur, founder of one of the world's largest hotel organizations with 3600 hotels worldwide. Along with his business accomplishments, Hilton introduced the Conrad N. Hilton Foundation in 1944, which awards an annual prize to meritorious organizations that work to end suffering in the world.
29. "I have never worked a day in my life without selling. If I believe in something, I sell it, and I sell it hard." - Estée Lauder
30. "It's not about having the right opportunities. It's about handling the opportunities right." – Mark Hunter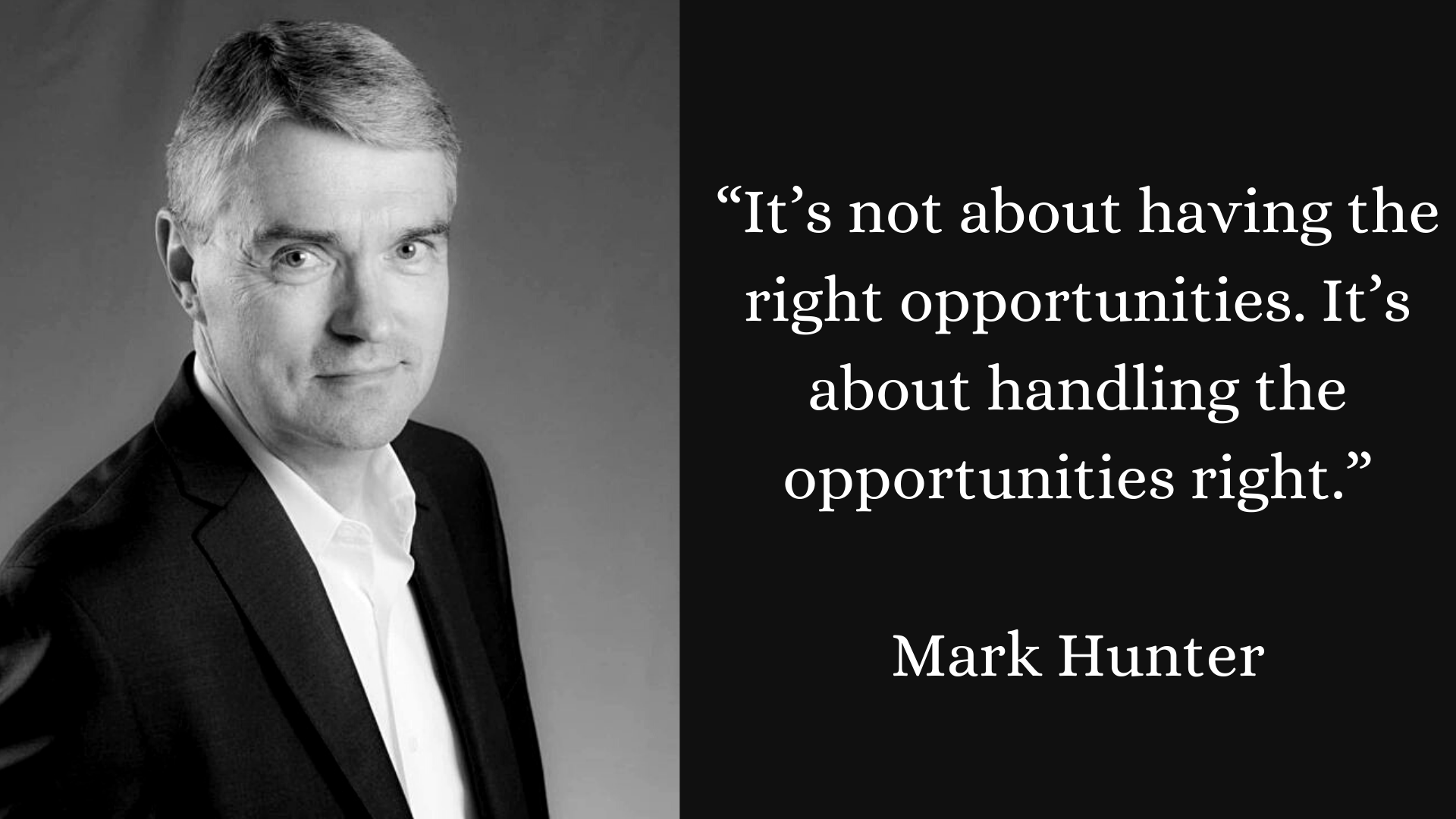 Mark Hunter, popularly known as the sales hunter, is focused on helping companies achieve the impossible. He does not let out motivational quotes out to help his clients but shares some effective actionable that transforms hard work into millions of dollars. "We measured the results and found the 200 new hires Mark trained were outpacing our existing team 3-1!", said, Executive Leader of Lenovo.
Along with these 25 motivational sales quotes it is important that your employees are familiar with sales psychology. Here is an article on Sales Psychology: 9 Tips on Understanding Customers in 2021 to help you know you customers better in this rapidly changing market.
We hope these motivational sales quotes help your sales team reach their best capacity.
How Can Your Sales Team Benefit From Deskera?
If you think these motivational quotes will not be enough to help your employees reach their goals, then Deskera will be a great addition to your company. It will make your sales team's lives easy by optimizing their sales process.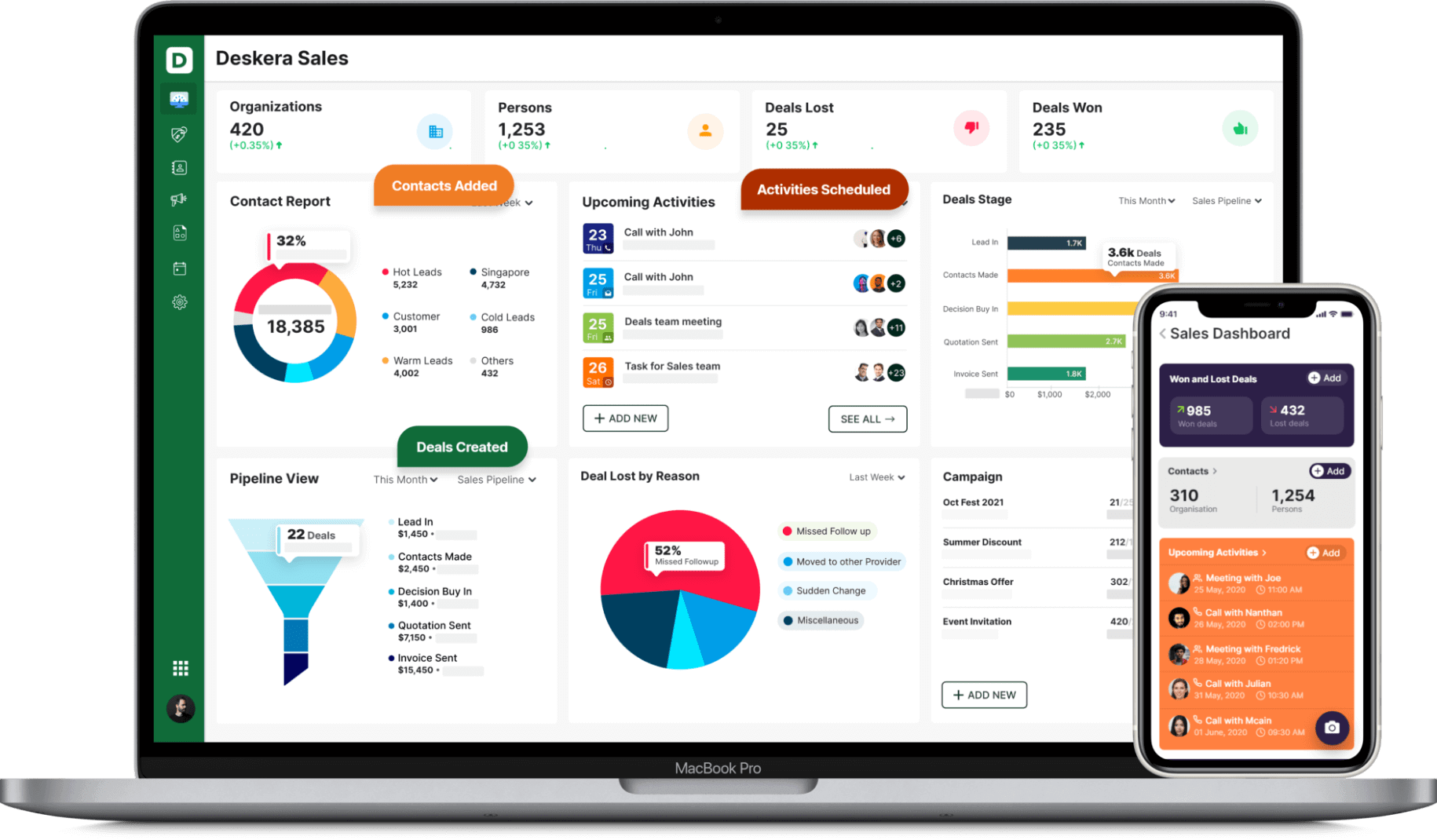 With the help of Deskera Customer Relationship Software (CRM) you will be able to streamline your sales processes and update all the sales insights on the go.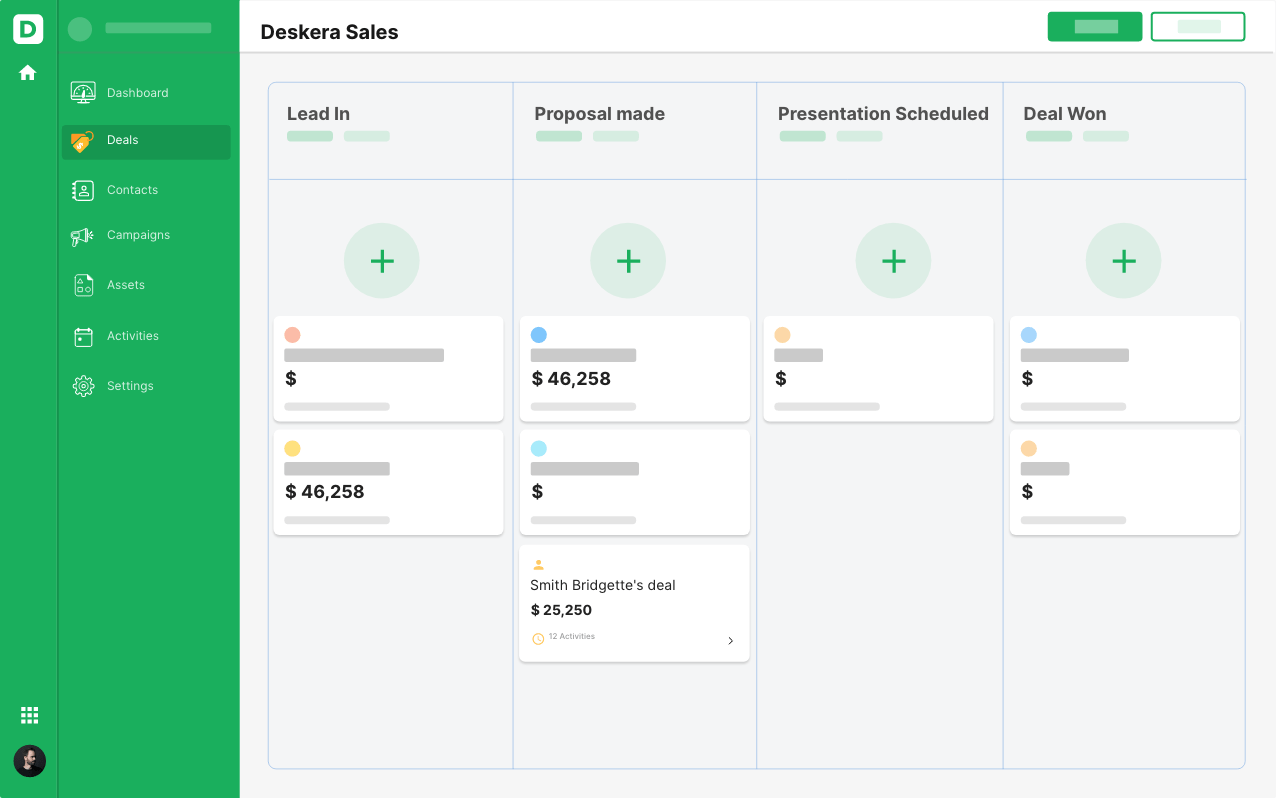 Deskera CRM also enables you to maintain close contact with your loyal customers as well as potential customers. This in return will transform your sales efforts to final deals.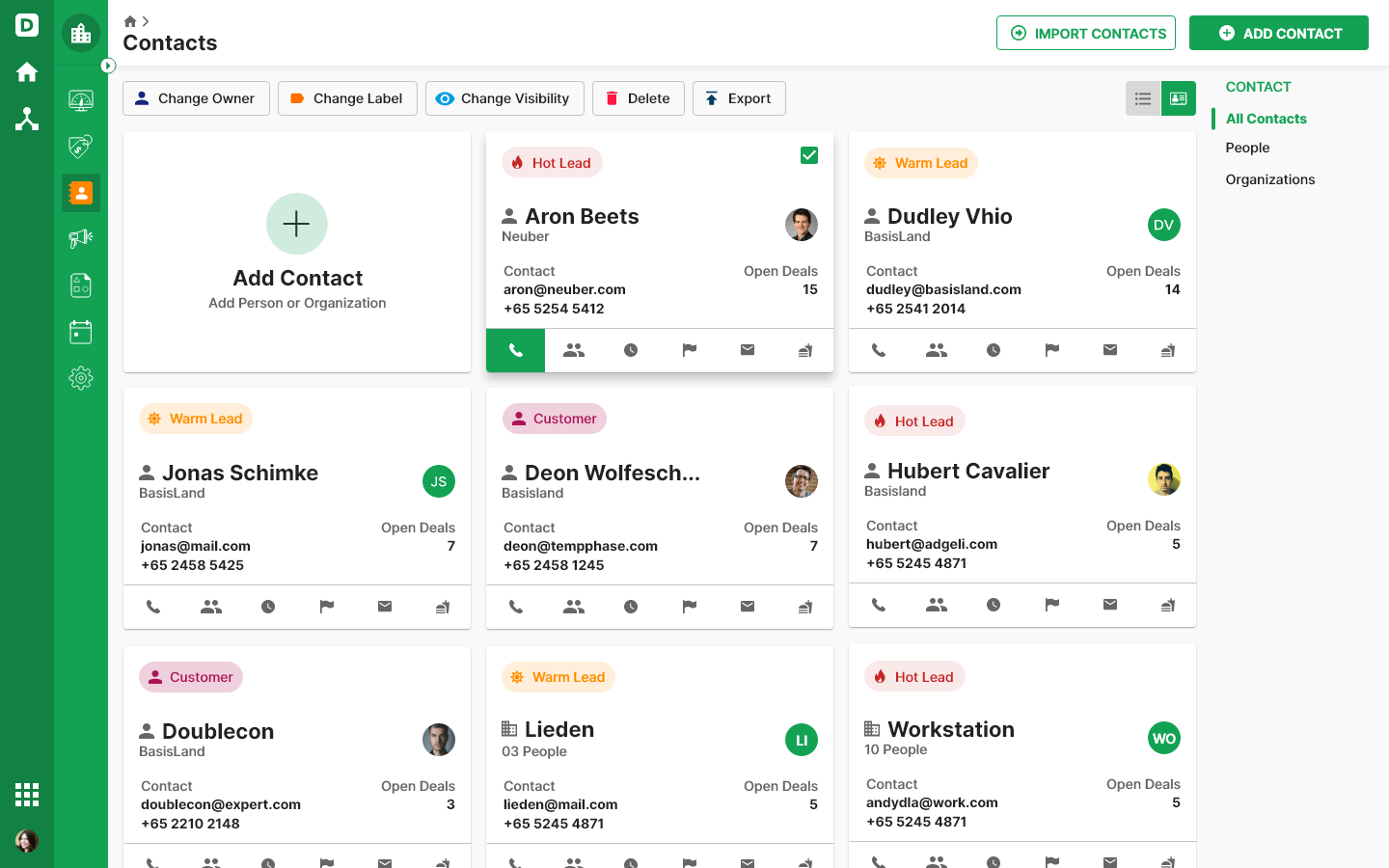 Furthermore, Deskera makes your work easy by letting you create deals within a few taps. Just add details such as, value, expected close date, winning probability, etc., and you are good to go. Deskera aims to transform your work process. If you are still unsure whether or not Deskera will produce expected results, get a free trial today!
Deskera CRM
Manage sales, close deals, and customer support, all in one platform Deskera CRM
Related Articles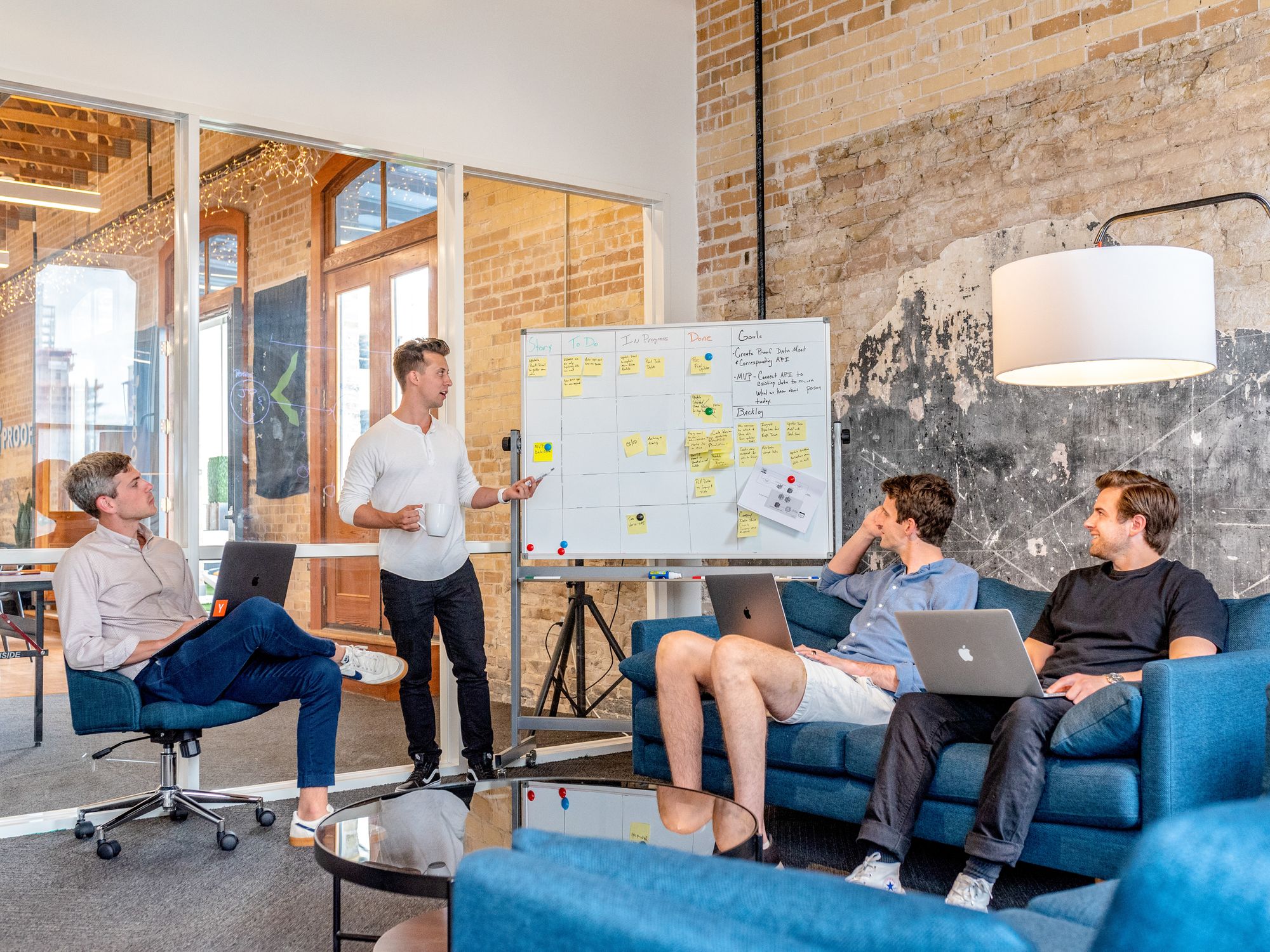 ---
---