In terms of revenue, the book publishing sector is set to depict a market size of $29.8 billion in 2022. However, this translates into anticipation that the market size of the book publishing sector will decrease by 0.2%.
These anticipations are based on the past records noted between 2017 and 2022 when the market size of the US book publishing business decreased by 2.1% year on average. While the US Book Publishing sector is the 328th largest and the 20th largest Information industry in terms of market size, there are several challenges the industry faces.
Does it need to take steps that can bring an overhaul in its market expectations? Does it need to take help from technological advancements like AI (Artificial Intelligence) and Resource planning software systems to see an improvement?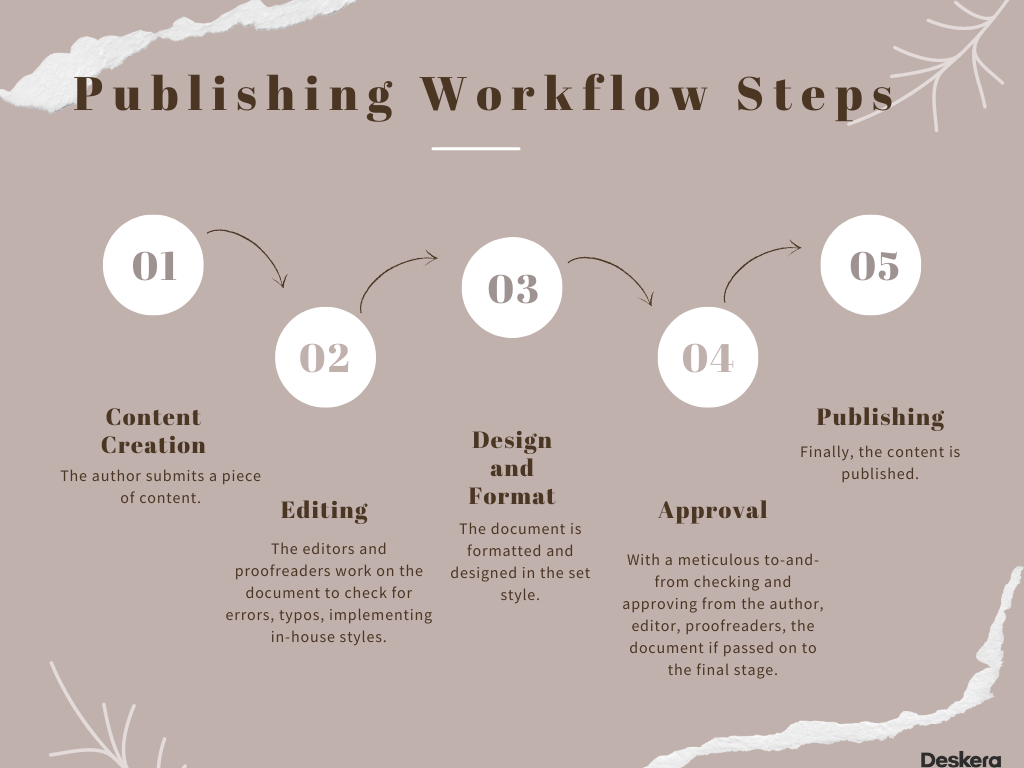 There are many questions on this front, which will also be the topic of conversation in this post. We shall start from the very basics where we learn about the publishing industry and its various operations in the US markets; we shall also look into how an ERP can offer much-needed respite to the sector to regain its strength.
Let's look at what this page takes us through:
Streamline Your Publishing Processes with Deskera ERP
Sign Up for a Free Trial Now!
What is meant by Publishing Industry?
The publishing industry is the business of producing and distributing books, magazines, newspapers, and other forms of written material. It involves the production of content, the printing of books, the distribution of the printed material, and the sale of those materials to consumers.
Publishing, in simple terms, means making information publicly available. The publishing industry predominantly revolves around publishing newspapers, magazines, maps, government information, music, and books.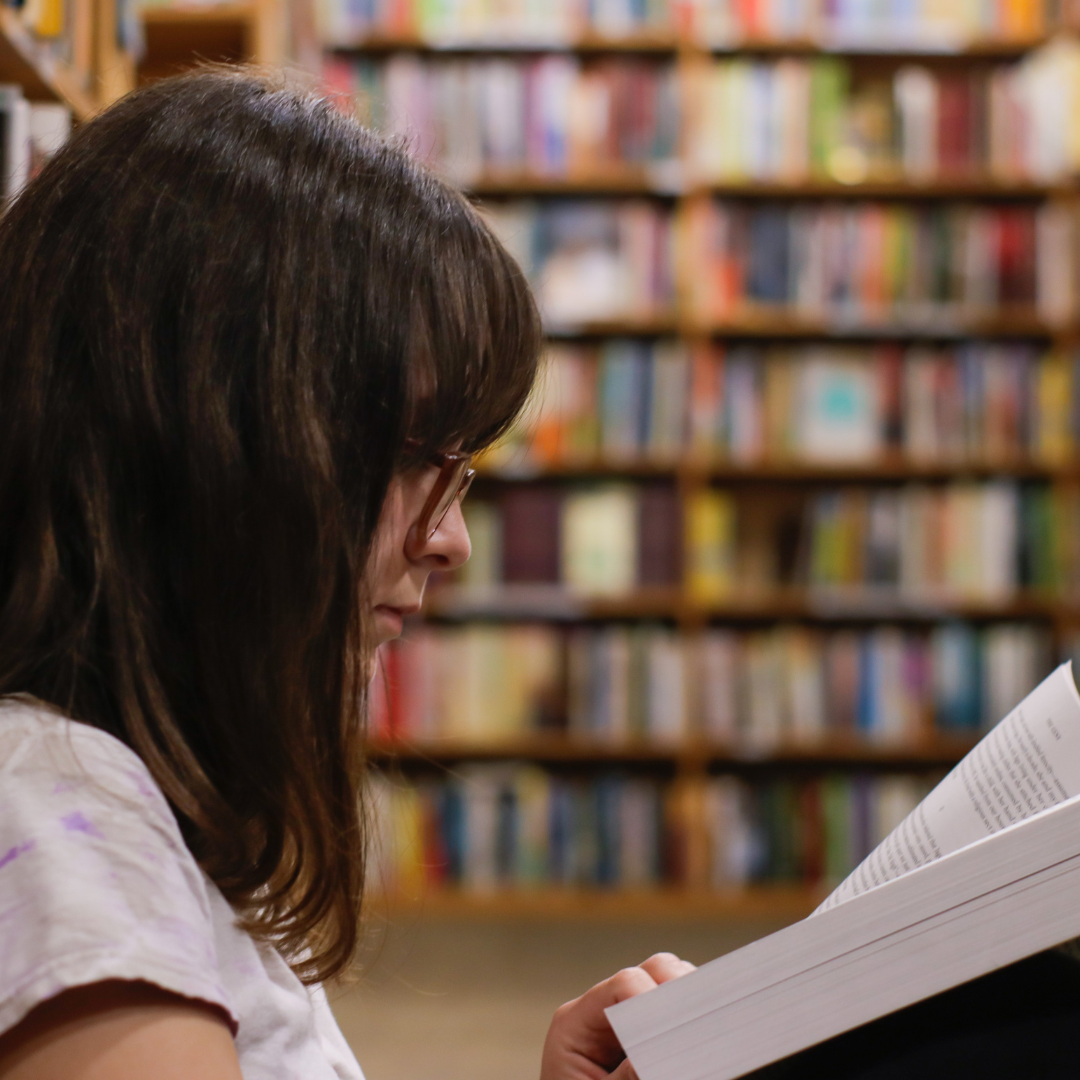 With multiple options for publishing, today, the information can be published and be made available in various formats, including print, websites or digital or e-publishing, DVDs, and apps. While many kinds of information find their way to its audience through one of these mediums of publishing, there are formal and government documents or publications that must adhere to certain compliances before getting published.
In this article, we shall take a long informational tour of the publishing process, including both print and e-publishing.
So, let's get started.
Types and Stages of Publishing
Publishing can be done in a variety of forms, and the one you choose is predominantly determined by the market for the book. Let's understand the types of publishing and the way they work in this sub-section. There are three main types of publishing, as enumerated in the following:
Self-publishing
Hybrid Publishing
Traditional Publishing
Trade Publishing
Educational Publishing
Academic Publishing
Professional Publishing
Vanity Publishing
Digital Publishing
Newspaper Publishing
Magazine Publishing
Book Publishing
Self-publishing
This is when the author decides to publish the book themselves. However, they may still be required to pay for an editor, a proofreader, or an illustrator based on their work requirement. Various self-publishing platforms allow authors to publish their work all by themselves.
Hybrid Publishing
This is one of the least expensive ways to publish. Hybrid publishing is like self-publishing in that the writer or the author typically maintains complete creative control and ownership of their content and materials. Instead of hiring a number of different companies to produce and publish the book, the author may employ just one company to handle every aspect of the publishing process. The hybrid publisher takes all the editing, typesetting, book cover design, etc.
Traditional Publishing: There are many different types and sizes of conventional publishers.
Traditional publishers purchase the rights to publish, sell, and distribute a book from an author by giving them an advance. Most conventional publishers do not accept direct submissions from writers or author contact. To interact with the publisher and land a book deal, you need to have connections in the industry or a literary agency.
Trade Publishing: Trade publishing is a type of publishing that focuses on books intended for the general public, as opposed to academic or professional audiences. Trade publishers work with authors to produce books that are designed to appeal to a broad audience, from novels and nonfiction books to children's books and popular science titles.
Trade publishers are typically larger, established publishing houses and they are often responsible for the marketing, distribution, and printing of the books they publish.
Educational Publishing: Educational publishing is the practice of producing and distributing educational materials, such as textbooks, workbooks, and curriculums. Educational publishing can include any type of educational material, from books to digital content, and is often used to help students, educators, and administrators with the teaching and learning process.
Academic Publishing: Academic publishing is the process of publishing scholarly books, academic journals, and other academic material related to the fields of education and research. Academic publishing usually involves peer review, which is a process of evaluating the quality of a piece of writing or research before it is published. Academic publishing is often done by universities, research institutes, and other specialized publishing companies.
Professional Publishing: Professional publishing is the process of producing and distributing publications (such as books, magazines, and journals) for sale to the public. Professional publishers work with authors to create high quality content and bring it to the public through various channels.
They are responsible for the entire production process, from editing to layout and design, to distributing the publication in print or digital form. Professional publishers also manage the marketing and promotion of the publication, as well as managing the financial aspects of the publishing process.
Vanity Publishing: Vanity publishing is when a person pays a publishing company to produce and distribute their book, in exchange for the author paying for all of the costs involved in the publishing process.
This option is often used by authors who are unable to secure a traditional publishing deal. In contrast to traditional publishing, vanity publishing does not guarantee a return on the author's investment, nor does it provide any marketing or promotion for the book.
Digital Publishing: Digital publishing is the process of creating and distributing digital versions of books, magazines, and other forms of published media. This includes converting printed material into digital formats such as e-books, digital magazines, and other digital documents.
Digital publishing also includes the creation of original content, such as blogs and websites, via a variety of digital channels.
Newspaper Publishing: Newspaper publishing is the business of producing a newspaper, typically involving the gathering and editing of news, the printing and distribution of the finished product, and the marketing of the newspaper.
Newspaper publishing has been around for centuries, and today it is a major industry in many countries. The industry involves creating, gathering, and distributing news and information through print and digital media. Newspaper publishers are responsible for ensuring that the news is up-to-date and accurate, providing readers with quality journalism.
Magazine Publishing: Magazine publishing is the process of creating and distributing printed or digital magazines. It involves overseeing the production of the content, editing, designing, printing, and distributing the magazine.
It also includes marketing efforts and other activities to promote the magazine.
Book Publishing: Book publishing is the process of producing and distributing books to readers. It involves designing, editing, marketing, and distributing printed or digital literary works.
Book publishing usually requires the involvement of a publisher, but can also be self-published. Publishers can be large commercial organizations, small independent companies, university presses, or even an individual's own venture.
Stages of Publishing
Speaking of the stages involved in the process of publishing, there are a number of steps that a book or a written work of art must go through to find its place among the target audience. The process of publishing actually involves multiple stages and can take at least a year. The time period may be shortened if your work is already being considered by a publisher or publishing house. Here are the steps:
Acquisitions
Editing
Design and typesetting
Proofreading
Printing
Sales
Marketing
Publicity
Besides the stages, the publishing process also comprises certain significant practices that must be complied with.
How does a Publishing Company Work?
We have read books and magazines and admired so many of them. However, a lot goes behind the scenes in a publishing company to put together one book or magazine for its target readers.
The following explanation takes us through the tasks that the publishing company undertakes to publish a single book.
Finding Author: The journey starts with acquiring an author who is an SME or subject matter expert on a given topic. Most of the time, the authors themselves approach a publishing house to publish their books.
Often, there are agents that offer to read many manuscripts, which are unpublished books, and try to get in touch with a publisher. Most publishing companies receive manuscripts from agents instead of authors.
Editing: Once the publishing house is convinced about the potential of the book, they buy it from the author and start with their work on the book. The text must go through brutal editing, proofreading, and formatting process, all of which are mostly done based on the in-house style of the publishing house.
The editing process is typical for all books irrespective of the type of book; whether it is a cookbook, a children's comic, a novel, a magazine, etc. All changes suggested by the editor are included in the book after the author's approval.
Production Process: This process involves the work of the production team that is responsible for putting together the book, whether an e-book or a printed version. Also, this team oversees the other teams' work and checks if every operation is on schedule. They ensure that the book publishing does not get delayed and goes live within the set duration.
Sales: The sales team begins its work by initiating a sales pitch for the book to shops and outlets they believe will be successful in selling it. When the book has to be released internationally, the international sales team connects with retailers in other nations. Apart from looking after the sales cycle, the sales team also ensures that the bookstores have enough inventory.
Marketing and Publicity: The marketing teams undertake and run marketing campaigns to guarantee a boost in sales. Marketers typically oversee sponsored advertising and promotions as the campaign's primary goal will be to increase sales. Publicists coordinate book promotion and sales activities as well as attempt to secure media coverage.
Sales and marketing collaborate closely to ensure that retailers are aware of the promotions that are taking place. Bookstores will want to stock additional copies if a publicist was successful in getting the book covered widely in the media. Although the campaign may begin long before a book is released and go on after it is written, most of the activity is often concentrated around a book's release date.
Final Publishing: Once all the above steps are completed, it is time to publish the book. The book is now ready to be presented to the audience or readers.
All the above steps depict the typical path taken to publish a book; however, there may be many other steps involved such as releasing the audio version of the book (an audiobook) or having the book released in different languages. Each of these cases will again require many agents, people, and processes to be incorporated.
Also, while this is how the books have been conventionally published, the publishing sector seeks to rely on and implement new-age technologies like an ERP system to overcome the challenges on its way. We shall be looking at the challenges at a later stage in the post and will also learn what makes an ERP the need of the hour for the sector.
Let's learn in brief, what an ERP is.
What is ERP?
Enterprise Resource Planning or ERP, as the name goes, helps a company to plan and organize its resources in a way that they can be utilized optimally. Numerous units and departments exist within an organization, and innumerable people work in those departments.
Based on the type and size of the business, the departments and their styles may differ; yet, there are some common aspects in every business. While companies try to get all their units to work optimally well, they almost always face challenges. These challenges could be due to a variety of factors, such as teams completing tasks manually, having no access to real-time updates, and so on.
This is when ERP software can work wonders and bring the entire organization on the same page. Let's look at some of the standard features an ERP offers.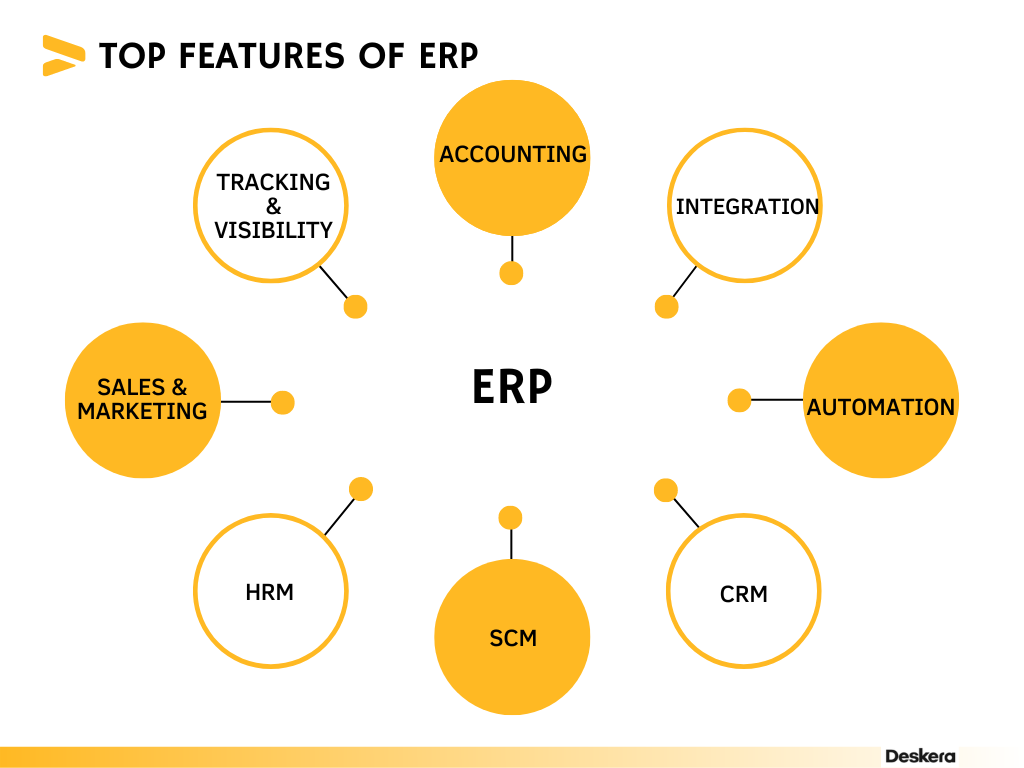 Why does the Publishing Industry Need ERP?
We have known some of the most well-known publishing and printing enterprises to have benefited from the use of ERP. It has been crucial in lowering operating costs, increasing efficiency, minimizing waste, and creating a robust procedural ecosystem.
The following sub-points will take us through the crucial areas where publishing houses need ERP. Let's take a look.
Editorial Management
A workflow management system called Editorial Management (EM) was created to simplify editorial workflows, communications, and file storage. The process is the first stage of the publication process and can be described through the following points:
Author's submission
The author submits a new document or a revised version of an existing document/article or post. They may also share a record that has been updated. This submission is sent to the editor.
Assigning Editor
The document submitted by the author is picked up by an editor who is assigned to check or validate the accuracy or authenticity of the submitted manuscript.
Assigning Tasks
The editor goes through the document for the checks based on the pre-defined in-house styles of document correction. They may also point out any discrepancies, faults, or incorrect inclusions, which will again be redirected toward the reviewer.
Reviewing the document.
The document that comprises the editor's comments and corrections is passed on to a reviewer. They may be external or from an internal team. The reviewer gathers all suggestions, goes through them, and after a discussion with the editor determines if the document or book is ready for publishing.
Decision Making
After a lot f to-and-fro revisions of the book or the written word, the reviewer and editors finally make a decision if the book is good enough to be passed on to the next stage. At this stage, they may also send the book back to the previous stages if they believe certain parts in the book need corrections or improvements.
In other words, the book can not go through this stage if the reviewers are not completely satisfied.
Notifying the Author
Once the review of the book or piece of work is complete, the authors are notified about the decision of the reviewer. If there are revisions to be made, the authors are invited to make the necessary changes; and if the book is through to the publishing stage, then the authors may be notified of the same and are requested to submit another draft of a new document.
This sums up the editorial process in an editorial management system. There are millions of registered users using Editorial Manager worldwide. By establishing specific roles, the Editorial management system facilitates a role-based approach, making it simple for publishers to govern user permissions.
Tracking Royalty and Calculations
The sum that a publisher pays an author in exchange for the right to publish their book is known as book royalty. Percentages of book sales are used to compute royalties. An author might receive 7% royalties on book sales and 20% on e-Book sales, for instance.
ERP enables you to efficiently manage licensing programs and accurately recognize revenue. The publication firms can also manage outgoing royalties using automated procedures and connected ERP systems. Additionally, identifying and monitoring media rights becomes easy with an ERP implementation.
ERP helps publishing companies in increasing visibility into accruals, streamline royalty management procedures, and accurately compute royalties and rights. Tracking and data management are essential to guarantee that the royalties are paid out correctly. All this is possible as the transactional, financial, and master data are all accessible in one place.
Also, with direction from the order-to-cash process, you can now identify the sale of relevant products and decide who should be paid, how much, and when. A module or administrator specifically created to track incentives can accurately assess royalties and rights by automating, verifying, and simplifying the processes that can imply the difference between profit and loss.
Title Lifecycle Management
Managing intellectual property is one of the prime concerns in any business. In the case of the publishing industry, the book titles are intellectual property and these must be managed with extreme meticulousness.
An ERP system enables the editors to utilize the modules to manage title structure types. With a configurable system, the company may also have multiple apps on a single tool to enhance its title management tasks. A title manager can be an initial step that would help with budget planning even though there is a lack of complete information pertaining to the planned title.
You can save time by using a title structure manager app to define the qualities of new titles based on title templates. By choosing from a number of settings, the title metadata editing apps make inserting and modifying metadata extremely flexible. You can design your own user interface for title management by deciding which qualities and data should be used in your workflow.
Sales Price Management
ERP makes it simple to break down complicated price structures. An intelligent, browser-based software simplifies the construction of complicated price structures and offers a clear, thorough overview of all product prices. Give your sales and planning staff the tools they need to manage product sizes and prices for all types of items in an open and transparent manner.
Customers-specific price lists can be created using most sales price manager apps. The models used in the app enable price calculation by product edition or by time period. Complete price history is offered for any reference by any authorized user of the company.
The relationship to a particular product is always apparent because most ERP systems automatically allocate product prices on an ISBN (International Standard Book Number) or the unique article number. Moreover, the system is suitable for foreign sales as well. The integration supports a variety of price types (base price, additional price, and so on) and currencies in addition to the net and gross prices. It also paves the way for generating specific costs for various nations using fully configurable rounding techniques.
Production Management
Production depends directly on the demand of the products in the market. Many of your products must be delivered on time in order for your titles to be produced and released on schedule. You will need to make sure that everything is delivered on schedule. Implement procedures as well to prevent any errors or hiccups in the shipping and delivery process.
Additionally, determining whether a change in vendors or a search for new ones is necessary may be vital. While attempting to optimize your shipping and delivery, you must also ascertain whether your suppliers can simply get in touch with you and contact you regarding the orders they need to discuss.
Your dashboard on the ERP system can help you with all this information so that everything takes place smoothly.
Management of Subscriptions
A thing or a group of items that can be utilized for a subscription, such as regular services, use fees, and one-time costs, is called a subscription plan. A subscription may include several plans. You may now effortlessly manage your subscriptions using ERP software.
A single subscriber may hold multiple subscriptions concurrently. Additionally, the system automatically takes care of managing your subscriptions for you by creating new invoices as they become due; this way, it also takes care of updating the subscription status.
An ERP enables you to add invoicing and pricing details to your subscriptions. Each subscription plan has invoicing and pricing details for a specific item that is tied to it. A single entity can support several subscription plans. You can also introduce various modes or levels of subscriptions such as 'Basic' or a 'Premium' subscription.
You may also choose to manually cancel, restart, recalculate, or update a subscription. You could also use it to define a time window for past-due invoices. If there is an overdue invoice that is not paid even after the waiting period, you may also choose to have a subscription canceled.
Publishing Workflow Management
Workflow usually refers to every procedure you must follow to get the desired outcome. Likewise, publishing companies must ensure that their workflow or operations support their ultimate destination, which is to publish standard and quality content. Consequently, a publishing workflow is made up of everything that must take place before publication.
By acting as a link between people and data, an enterprise system like an ERP can significantly improve workflow management. However, using such solutions successfully requires careful planning and preparation. To map out their processes and modify the workflow models in their ERP software, businesses must thoroughly examine their own operations. Let's look at the basic outline of the publishing workflow.
To achieve cohesiveness through these processes, publishing businesses should:
Bring managers from all disciplines together to determine the processes that various users complete.
Introduce the teams and the managers to the systems that make their tasks easy and help them draw connections between the operations.
Determine and keep track of who is in charge of the respective decision points of the process.
With this kind of process map in place, you can align your backend databases, including the ERP. The entire process will be helpful to align the routinely carried out tasks by developing a functional understanding of the organization across all teams.
There are various advantages of having an ERP for managing your workflow which can be enumerated as follows:
Better communication: No more struggling with lost files or challenges with communication and teamwork.
Automation and scalability: Manage your content with ease owing to automated processes.
Streamlined processes: Save time by streamlining the process, which enables using the time available fruitfully and in productive activities.
Accumulated resources: Once the content has been submitted, it gets stored in the central system and is always available.
Readily available archives: Going back to earlier submissions for future or reconsideration with archived submissions is made easy.
Other content concerns: From tagging and labeling to archiving and storing content for simple retrieval and assessments can be done much more straightforwardly with an automated system.
What are the Challenges in the Publishing Sector?
The challenges of the sector begin with the huge volume of content pouring down on publishers who accept open submissions. This can easily overwhelm the editorial staff as the publishing world simultaneously becomes bigger and more varied.
Modern publishers face three growing challenges:
an abundance of content
escalating market competition, and
dwindling consumer attention
All these call for streamlining the editorial process from calling for submissions to final content that is ready for press. However, streamlining should be done while keeping in mind the reader's preferences as well. The question is: how can one achieve all this, altogether?
The solution is in implementing more effective processes that may produce excellent outcomes without sacrificing the individualized touch that collaboration between editors and writers adds to top-notch material.
Compliance and Copyrights
Intellectual property is seen as a vital tool for economic development. Based on the idea that authors of intellectual property require a motivation to be innovative, the copyright system was developed. This can be accomplished only by defending their creation against infringement or imitation. The digital environment has disturbed the balance between different interest groups over access to and reproduction of copyright material, which has presented several difficulties for copyright owners. There are several ways in which this interruption occurs:
The Internet has made reproduction and access more effortless, and the replicated material can match the original in terms of quality. Additionally, copying and reproducing the content protected by copyright has become increasingly simpler and quicker owing to the many readily available apps and tools.
For small and medium-sized publishing enterprises, keeping up with governmental rules, industry standards, and corporate quality goals has become a challenge. The rules governing the management of electronic data continue to change in addition to the various layers of standards and regulations that your firm must follow. This becomes problematic and difficult to keep a track of. Therefore, you must take the support of industry experts and specialized guidance.
Royalty Management
The proper handling of royalties has proven to be another difficult task. The process requires them to scrutinize legal documents to describe the intricate interaction between publishers and copyright owners. Additionally, it is necessary to diligently and skillfully categorize the relationship between supply chain partners and intellectual property rights owners. It is the responsibility of the companies to ensure that all the legal aspects are covered; as ignoring this issue can make them susceptible to legal troubles.
Any such problem can be simply avoided by making sure that royalties are managed on time and that every legal aspect is specified in the contract. A simple way to prevent it is to deploy an ERP integrated with a royalty management tool. However, despite this fact, managing royalties accurately is still a challenge for most publications.
Optimum Supply Chain Management
The bar for publishing has been lowered during the last few years as a result of the spread of advanced publishing technology. Everyone has the opportunity to self-publish their own work and break into the writing world. Nowadays, he writers sell books, interact with their fans directly, and go on to become well-known authors. The sales of actual paper books are, however, dropping as new forms of publication emerge. It contributes to the publishing market's supply-demand asymmetry.
Some reasons noted for this asymmetry in the publishing sector's supply chain are as follows
Rising costs of shipping containers: Earlier, the shipping containers costed roughly $2500, but now they cost around $25,000.
Increased amount of waiting time at the dock: Even if the books get loaded in a container, the waiting time for the containers at the docks is too long. This takes a toll on the supply chain.
Shortage of workers at the warehouses
COVID-19 has only added fuel to the fire
Without a centralized system, the companies remain under the burden of struggling supply chains.
Reducing the use of Paper and Other Manual Tasks
Like many other sectors, the publishing industry also reals under the struggles of manual and tedious tasks. The tediousness is primarily observed between the editorial and reviewing processes where the staff still manually shares the file they have updated.
This is done mostly through e-mails where the authors share their manuscript to the editors, The editors then work on the first draft and take it forward for further processing. Sometimes their are hiccups in sharing when the files are too large and cannot be shared over an email due to file-size limitations. This creates problems and results in delays.
Aside from the editorial works, there are other departments, too, that undertake manual or paper-based tasks and struggle with delays and errors. The data entry, accounting teams, and sales teams are also subjected to manual tasks which add to the list of challenges the industry faces.
In the absence of a centralized system that helps updating the documents in real-time, these challenges become increasingly problematic.
Inconsistent Revenue
The times have changed and so have the way businesses operate. However, some companies are not yet aligned with the times in terms of the software used and the methods of operations. This is the reason their productivity and revenue suffer.
This applies especially to the small- and medium-sized publishers' financial structures. Publishers will need to diversify their funding sources, streamline their accounting procedures, and perform a thorough credit risk analysis to remedy this situation. They can reduce their operating costs by doing this.
Battle of Digital Vs. Print
While the advent of the digital age has opened up a wide range of new opportunities for all sectors, small and medium publishers are still finding it a challenge to deal with this change. Online reading is becoming more and more popular. Instead of being able to harness the positive side of digitalization, small publishers have been bearing the brunt of it unnecessarily.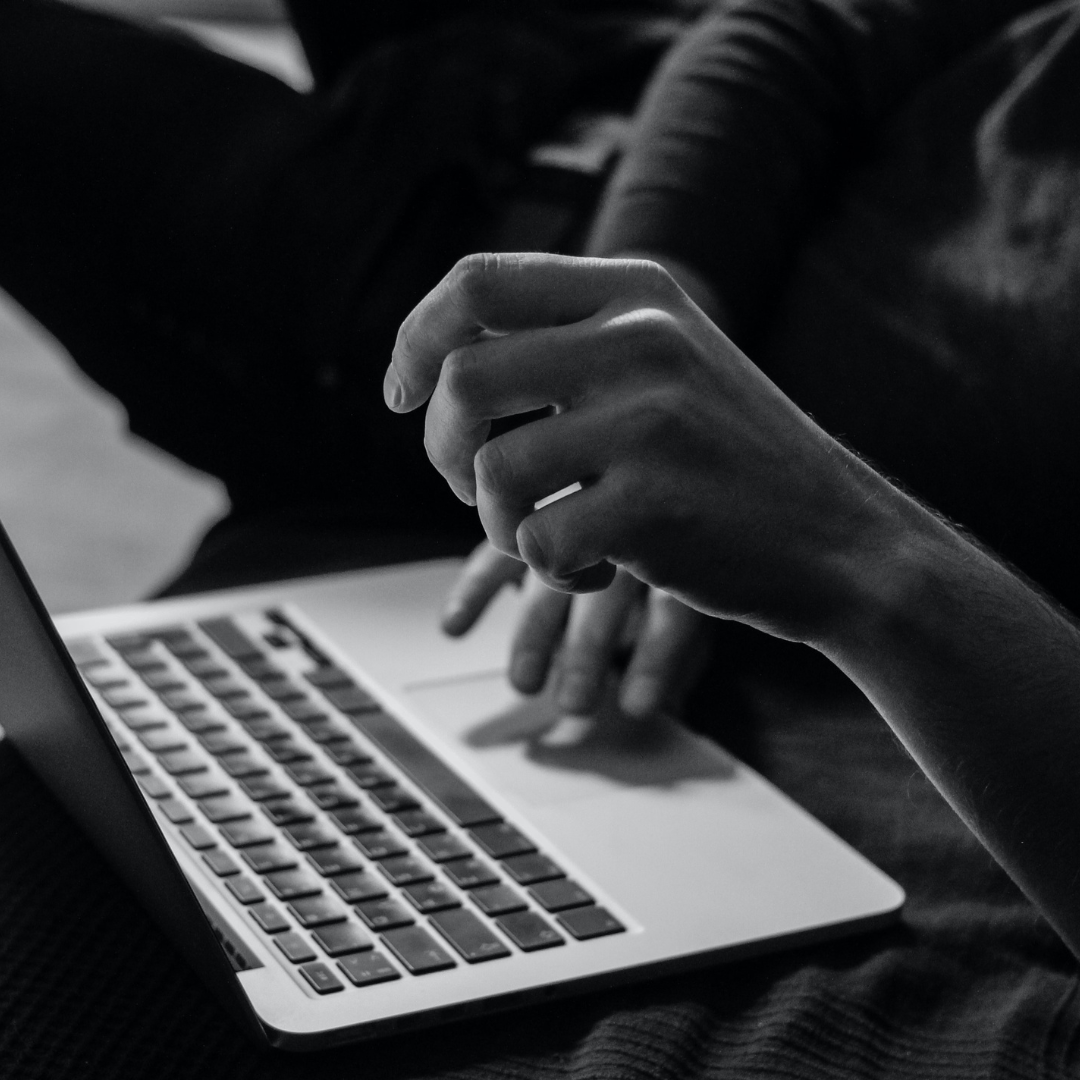 This calls for SMEs to change the way they produce, channel, and share content if they want to thrive and adapt to the future. It will be necessary to use the opportunities that come with digital infrastructure to realign the entire publishing industry to meet the demands and requirements of modern-day readers.
Lack of Successful Digital Marketing Strategy
Recent years have seen tremendous digital transformation, and the publishing sector is no stranger to it. However, two of the main issues the publishing industry has been facing as a result of digital transformation are:
the efficient use of digital channels to acquire new readers
grow a loyal client base
There are many ways in which they can do so. Yet, using marketing channels like enterprise SEO, local SEO, content strategy, or social media effectively can be challenging for many publishers.
Businesses need to focus on providing better digital experiences, website designs, and brand presentations. These are some of their biggest problems. As a part of marketing operations, the environment will encounter a number of difficulties in the coming times. Therefore, the scenario requires companies to work on chalking out marketing strategies to help them overcome the problematic tide.
Demographics
Advertising is one of the mightiest ways you grab the attention of the target audience or your customers. This makes demographics the integral and most critical part of the process. This is because, unless you know who you are selling to, you will not be able to make the right sales pitch; or present the product in the best possible way. Also, understanding demographics is equivalent to understanding the customers' preferences.
Accessing this kind of information can be challenging for a publisher. This information is so crucial that it can impact the overall sustainability of the publishing house. Simple demographics are becoming less and less effective at attracting advertisers. Publishers must gather information on the particular products their audience engages with and the specific demographic that a user belongs to.
Age, purchase purpose, and information about income category are among the crucial elements of advertising. The publishers must think of ways and tools that can help them collect and gather this critical customer information.
How can ERP help the Publishing Industry?
ERP systems, in general, aim at consolidating the different business units and enhancing the individual and overall performance of the company. Reducing operating costs, improving revenue and cash flow, generating profits, and lowering wastage are some of the accomplishments that an ERP system can help a company with.
Speaking of ERP for the publishing sector, we can safely state that the systems are known to manage all the aspects of the printing and publishing sector. By streamlining its enterprise-wide operations and integrating any third-party or existing systems if necessary, ERP can be beneficial in achieving some of the most critical benefits in the field.
This section takes us along the highlights of where ERP can be exceptionally helpful to the publishing industry.
Inventory Management
An enterprise-ready solution allows publishing firms to have real-time visibility of stock availability. It creates provisions for tracking on the basis of the name of the Author, ISBN, Language, edition, and also series and volume of the product.
In order to ensure that stock purchasing, storing, and distributing are coordinated, an ERP system must be optimized for inventory management that automates critical tasks. The system incorporates the inventory requirements of your staff, customers, and suppliers to assist maintain appropriate levels of stock.
Here's how you can start working on improving your inventory:
Tracking your key KPIs
When you begin to measure the growth or performance of a business aspect, you need KPIs to help you. Your inventory KPIs include the following:
Inventory/net sales ratio
Obsolescence ratio
Backorders
Inventory value by year of publication
Also, you must understand the reasons for resistance to efficient inventory management. Gauge your primary inventory challenges like having too much inventory, or inability to track the items stored in the warehouse. Poor processes are to blame for these outcomes.
An ERP will assist you with getting accurate stock details and thus, enable you to refill or reorder your stock well before time. There are various techniques in inventory management that your publishing firm can undertake; these include FIFO and LIFO, among other inventory valuation methods.
An ERP system can also share updates and catalyze the process of managing goods across many sites, warehouses, retail locations, and numerous selling channels. Thus, multi-location inventory management becomes very easy with the software. You can keep an eye on stock levels across all sites using multi-location control, optimizing inventory for efficient order fulfillment.
Strategize Marketing Activities and Drive Sales
Your marketing teams work immensely hard to develop effective campaigns. As a business owner, you must consider a software that automates marketing activities in addition to monitoring the performance of each campaign. By doing so, you can help align the campaigns; thereby, simplifying the tasks for the marketing team.
With ERP, you can establish and monitor your campaigns as soon as they are implemented. This also allows you to designate an executive to handle the leads that each campaign generates. There are instances when you need to thoroughly review a specific campaign's performance. Accounts ERP offers comprehensive data for this, including the leads generated, cost per lead, and orders completed. All of these are instrumental in assisting business owners in making meaningful, well-informed decisions regarding investments in marketing campaigns.
You will be able to understand your marketing plans better with an ERP even if you use the conventional methods that generate key performance indicators. This happens because once you link your campaign to meaningful data that demonstrates KPIs, you get better visibility for a future course of action. Marketing campaigns require a market that is open to new metrics and indicators that may be used to assess the impact of cross-channel marketing.
An ERP guides you to undertake and include all the relevant elements of a successful marketing campaign which can be enumerated as follows:
Defining your target audience
Creating a contact list
Creating the content based on the buyer's persona
Making compelling Call to Action to persuade buyers
Having a Follow-up regime to formally conclude the marketing campaign
The efficiency of running marketing campaigns is demonstrated by the integration of the obtained leads into the CRM under the designated campaign. It is simple to analyze and create a budget based on the facts and figures attained from the campaign.
Comprehensive knowledge of the activities in real-time allows the sales and marketing teams to develop newer and better ideas. They can draft better plans and strategies to attract and retain customers. Some of the steps that they can take are summed up as follows:
Offering discounts and promotions to new customers
The new customers that land on your website would stay longer and may sign up when you have some sort of discount on their first purchase or the first few purchases. For example, something like a 10% discount on the first 2 orders can push the potential customer to make the purchase. Alternatively, something like buy 2 get 1 at half the price is also an offer that is difficult to refuse or overlook.
Then keep tabs on their purchases and the promotions they redeemed. This will allow you to target them more effectively in the future with messaging, improving customer loyalty.
Asking for Referrals: These are a great way to bring new customers through your customers. Your ERP can help you create a master file of all your referring customers and track the effectiveness of the program.
Updating Website: ERP can facilitate reviewing your search engine marketing (SEM) and search engine optimization (SEO) techniques. Along with this, you can ensure that your website is mobile-friendly and works well for all devices.
Reconnecting with Old Customers: Keeping customer information safe is crucial for any business. With the information storage facilitated by the ERP software, you can reconnect with your old customers. You can also track their earlier orders, demographics, telephone numbers, area codes, etc.
Quality Management
The quality of the end product is a vital aspect that reflects the success of the procedures and operations adopted by a company. In the publishing sector, quality control is often brought about by an amalgamation of multiple roles on several levels in the organization. From editors and proofreaders to reviewers and all the other teams in between must ensure that the quality of the product is intact.
Various publishing standards and guidelines are followed and strictly adhered to, to ascertain that there isn't a single instance of compromised quality. This is important not only to remain in business but also to grow further.
ERP can be connected with a quality management system to guarantee that your services and goods adhere to local or international compliance standards. This will assist you in automating quality checks so that unexpected checks and human errors do not catch you off guard. You may maintain your quality-related policies and goals with the aid of the quality management system.
By integrating ERP with a quality management system, you may involve all employees in upholding quality standards rather than just the team in charge of doing so.
ERP systems cover every division within an organization, which is one of the cornerstones of combining ERP with a quality management system. By doing this, you can have all your publishing teams – Editing, Proofreading, Reviewing, Layout, Formatting, and so on – be aligned with and maintained under the quality management module.
Once your quality management process across departments is streamlined by ERP, you can avoid having to monitor several departments to determine if they are upholding their standards and quality.
Customer Relationship Management
ERP's CRM module is a one-stop solution for all your customer-related woes. With this, you shall be able to take feedback from clients and recognize the evolving interests, demands, and preferences of your various target customers. This will aid your business in order to develop products that are even more suited to their requirements.
The CRM module offers a complete summary of all pertinent data with quick access to crucial information. On the dashboard layout, you shall be able to achieve full customization for various user roles.
With the help of an integrated phone system, some ERPs provide automatic contact identification, making it simple to identify the caller and requiring less time and effort from your staff.
Here is what the ERP helps you with when it comes to serving your customers better:
Matching Supply with Demand: By linking sales order management and fulfillment management, your ERP system aids in the delivery of orders. Once preferences have been allocated to specific customers or groups of customers, the system can automate fulfillment depending on those choices.
Aligning Backend Business Procedures: When companies are empowered to deliver goods faster, have improved inventory control, and have enhanced customer communication, they can look forward to positive customer satisfaction. ERP makes all these aspects possible. By streamlining shipping procedures, and creating more room for the automation of manual tasks, the firms can be hopeful of stronger supplier relationships as well.
Improving Customer Experience:
When your firm has a piece of complete information about the customers, it reduces the chances of errors and thus, ensures a good customer experience. Things like prioritization of long-term and loyal customers and offering discounts to them can be automated with ERP.
Furthermore, you can enable an online ordering system for all customers which will again boost the user-friendliness of the website and augment sales.
Simplifying Access to Prominent Customer Information:
Real-time information is the key to serving your customers better. Today's ERP systems facilitate integration on multiple levels and therefore, aid the process of serving customers in a much better way.
Sales Price Management
As a publishing firm, it could seem like an uphill task when you come to sales price management. However, your ERP facilitates making the definition process of these complicated price structures a breeze. You can also chart out a customer-specific price list. With the sales price manager tool of the ERP, you can also determine prices based on time duration and by the product edition.
The relationship to a particular product is always apparent because product prices are always assigned at the level of an ISBN or article number. It is simple to add new price items and change current prices, along with a complete price history that is easily accessible.
Adhere to Industry Rules, Protocols, and Compliances
ERP systems provide you the choice and freedom to choose the kind of modules and tools or applications you want to have with them. These could be in-built functionalities or you can have them designed specifically to suit your business needs. Once you have configured the required tools and applications, the system ensures that suitable security measures, contracts, and technologies are in place to assist you with all regulatory and industry compliances.
A cloud financial management system offers the paperwork needed to lower the risks and expenses of compliance through automated workflows and audit trails. Functionalities like audit trails and user-based security are built into a fully integrated company management system.
With ERP, you can now put the necessary elements in place to comply with laws like HIPAA, GDPR, and sectoral laws. It will also help you make sure you can implement data security, privacy, and other protocols.
ERP also guides you on audits with thorough documentation and security. Assign, monitor, and document all activities relating to compliance and evaluation. Eliminating any chances of overstepping compliance is easy to avoid through ERP; thereby, safeguarding the companies from significant business risk.
Human Resource Management – HRM
HR managers and staff may more effectively devote their time and resources to more productive, profitable tasks thanks to HR software. The majority of modern solutions are cloud-based, subscription-based, easily connected with other data management tools, and highly adaptable to the requirements, objectives, and financial constraints of each unique firm.
Employees and managers inside a business can benefit from HR software by getting help with tasks like time tracking, updating employee directories, and performance management.
Irrespective of the size of your publishing firm, there is HR software available to suit your business needs. The human resources department of a company is helped by HR software, which automates manual activities, organizes employee data, their incentives, benefits, and employee engagement, and generates data-driven reports. It eliminates the need for paper paperwork as everything is handled online.
The following are some of the tasks that HR software can carry out:
establishing workflows and keeping track of approvals
organizing and securing employee data
keeping track of employee training for development
measuring employee satisfaction
monitoring of goals and performance
automation for onboarding and offboarding
using an audit trail to keep track of any data changes
creating personalized reports to offer strategic insight
A Human Resource Management system can potentially reduce many errors and assist in improving document organization. The most important aspect of implementing a human resource system is that it can keep the organizations free from any legal hassles by regularly updating them about federal regulatory compliances.
Conclusion
Running a publishing business is not everyone's cup of tea and publishing business owners have to take care of multiple processes that involve readers from all walks of life. Aligning their demands with the right kind of content is crucial for the success of their business.
There is so much that goes into publishing a single book. There may be multiple authors working on a book, so many editors, reviewers, proofreaders, designing staff, and then the sales team working on it. While the publishing happens only after this step-by-step process is complete, providing all the sections with real-time information on the product is vital.
With ERP manual tasks can be automated, and from the editorial team to the sales and marketing team, every team reaps the advantages of a hands-on system. It is a system that not only lets them know about the latest updates on a product but also expedites their tasks and takes things forward.
With an enterprise-ready system, companies can serve their customers better and more judiciously. In the long run, this helps them earn brand loyalty and earn a reputed name for the company. With different modules like the inventory management module and HRM module, ERP undoubtedly serves as a one-stop solution for most of the challenges the publishing sector faces today.
How Deskera Can Help You?
You are at the right place if you seek to automate key publishing company operations that demand meticulous time and attention. Deskera provides you with an ERP system that is not only quick and simple to set up, but also compliant.
All big and small publishers must take swift action over all the editorial and publishing tasks and maintain a bird's eye perspective of all ongoing business activities in real-time. You can quickly scan all activity and get real-time information for different business modules with Deskera ERP's cloud-based business management.
You may automate a wide range of accounting processes using Deskera Books, including invoicing, expenses, billing, payments, payments in different currencies, and much more.
Utilizing CTAs, landing pages, email marketing, and receiving guidance through the appropriate stages of your sales pipeline, Deskera CRM enables you to access tools that can help you grow your customer base.
Last but not least, use Deskera People to manage all of your payroll and HR procedures. It is astonishingly easy to manage your personnel, their deductions, bonuses, attendance control, and overtime.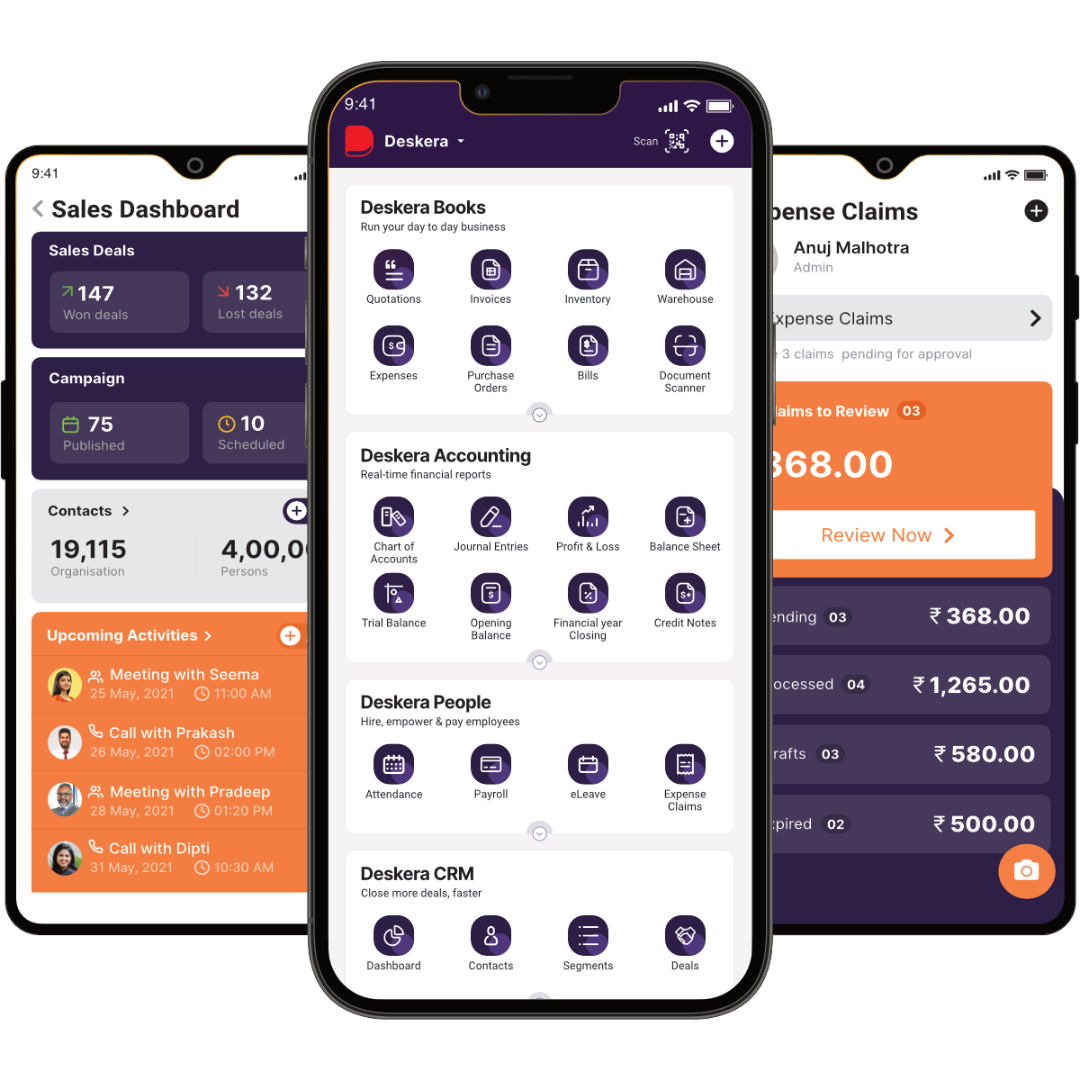 Streamline Your Business Processes with Deskera ERP
Sign Up for a Free Trial now!
Key Takeaways
Publishing in simple terms means making information publicly available. The publishing industry predominantly revolves around the publishing of newspapers, magazines, maps, government information, music, and books.
Self-publishing, hybrid publishing, and traditional publishing are the three types of publishing.
Finding authors, editing, production process, sales, marketing & publicity, and publishing are the stages of publishing a book, magazine, novel, etc.
Enterprise Resource Planning or ERP, as the name goes, helps a company to plan and organize its resources in a way that they can be utilized optimally.
Tracking & visibility, accounting, integration, automation, CRM, SCM, HRM, sales & marketing are some of the top features of ERP.
Editorial management, tracking royalty and calculations, title lifecycle management, production management, management of subscriptions, and publishing workflow management are some of the reasons why the publishing sector needs ERP.
The common challenges faced by the publishing industry are compliance, copyrights, royalty management, inconsistent revenue, managing reader demographics, and a lack of a successful digital marketing strategy.
ERP can be crucial in establishing inventory management, quality management, customer relationship management, human resource management, sales price management, and strategizing marketing activities.
Related Articles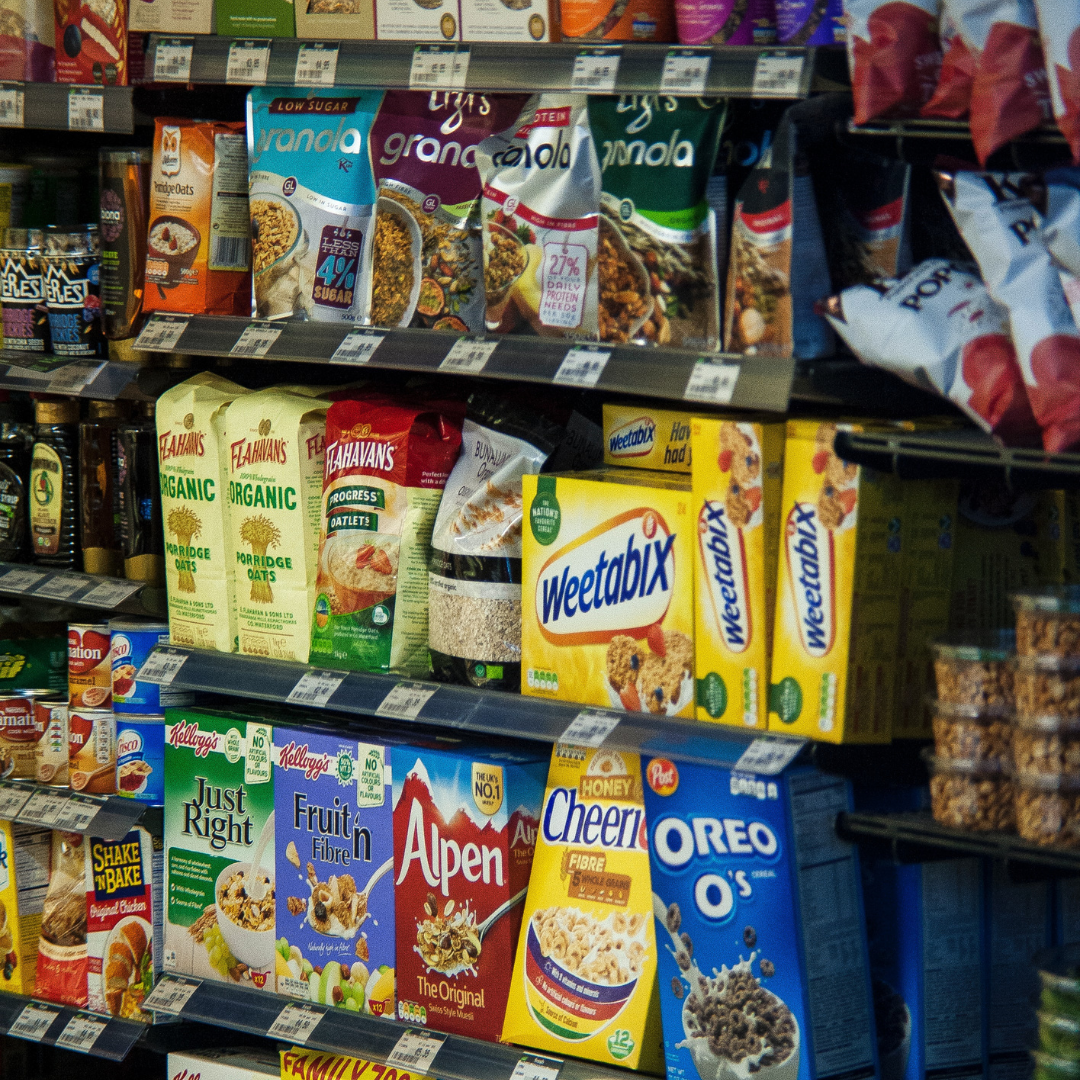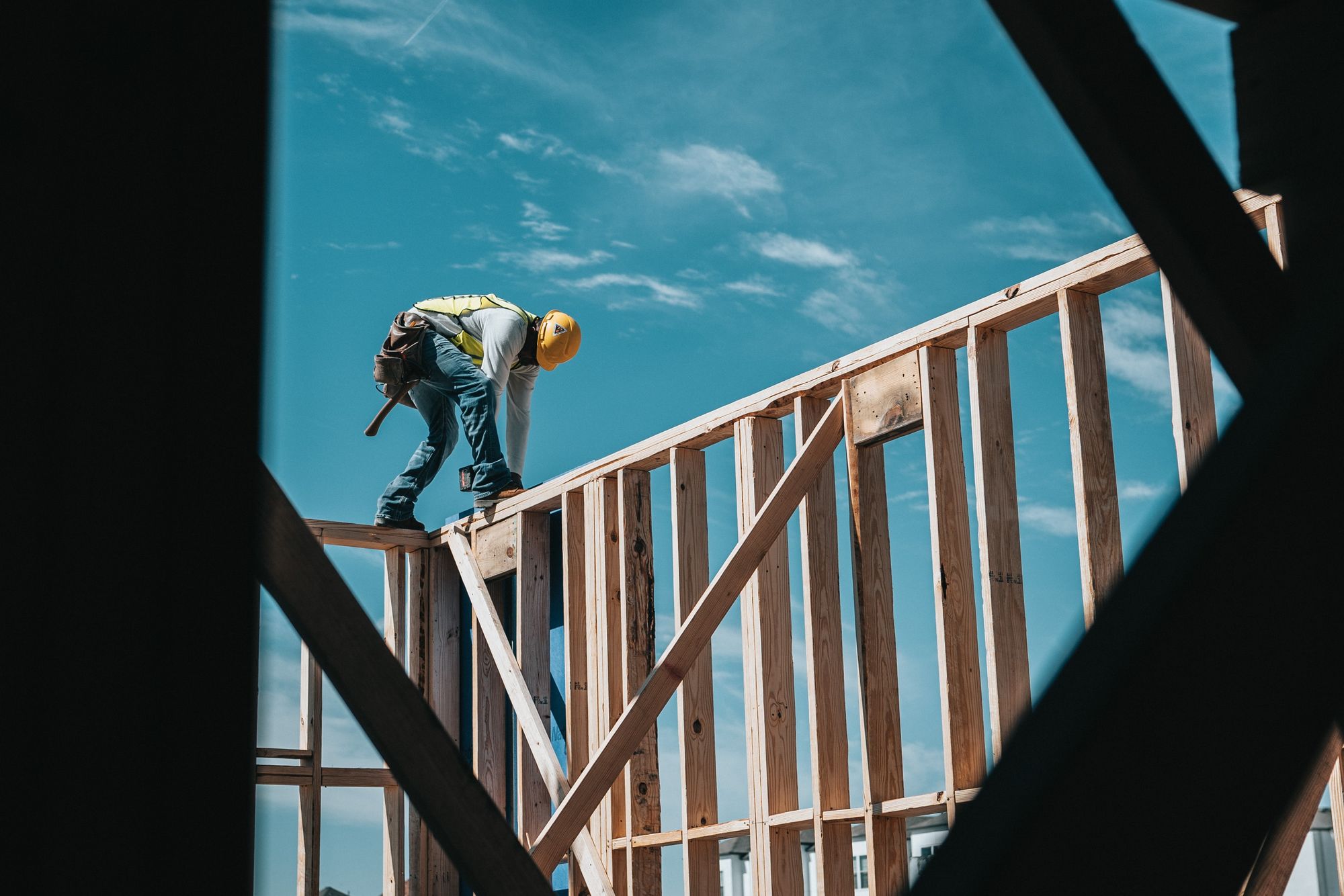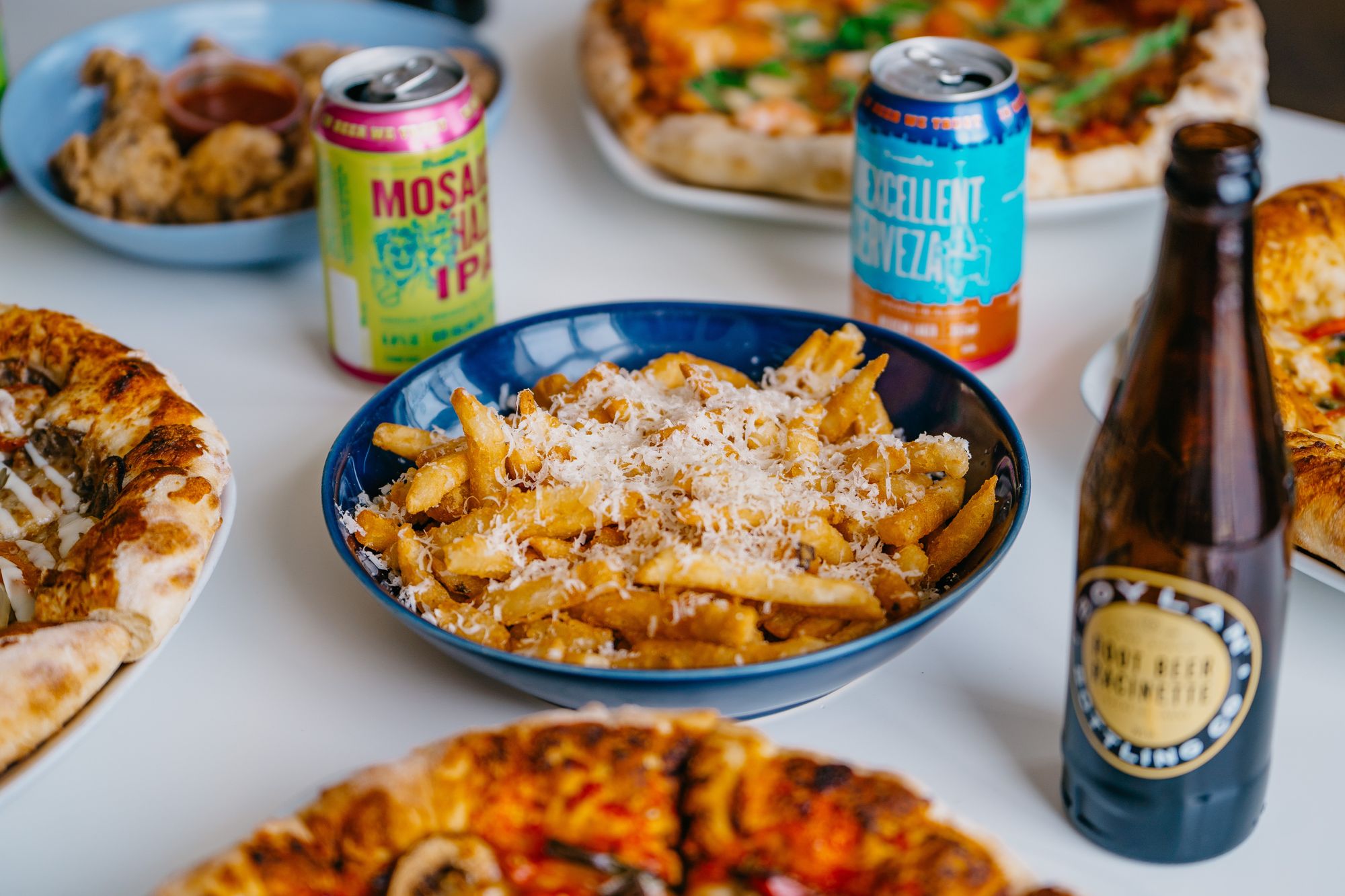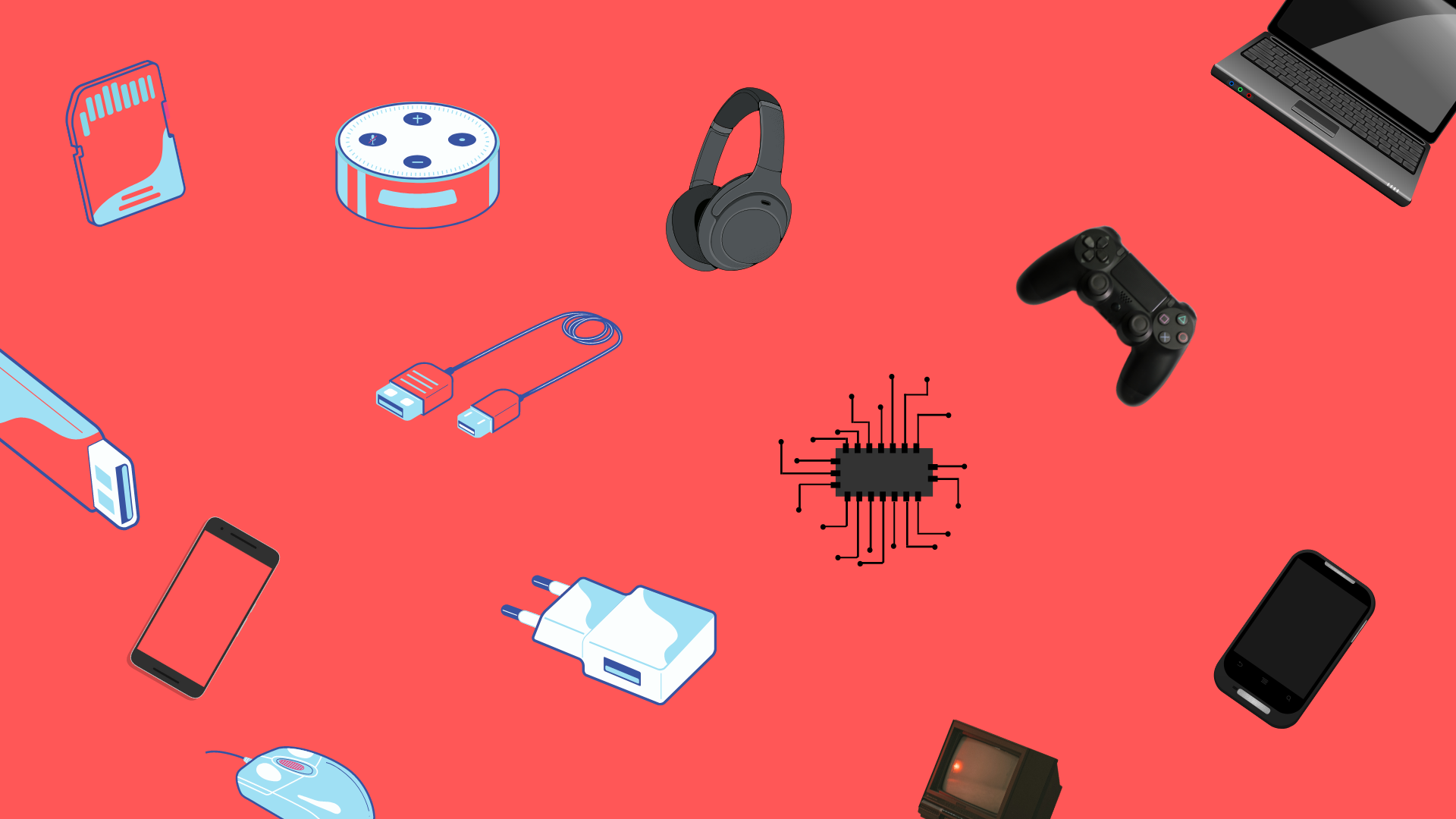 ---
---