As of January 2022, the USA construction industry had employed approximately 7.5 million people. This is roughly 4.8% of the USA workforce, with women accounting for about 10.9% of all construction workers. In fact, the construction industry of the USA accounts for around 4.3% of the GDP, with its value in 2021 placed at $1.589 trillion.
In fact, the average annual turnover rate in the construction industry of the USA is 68% as of 2020, with the industry's revenue having risen at an annualized rate of 2.7% from 2016 to 2021. In 2021, 1,337,800 new housing units were completed, showing an increase of 4% from 2020.
Additionally, in 2020, the US construction industry's market size was valued at around $1.36 trillion. Today, there are over 733,000 employers in the USA construction industry, with the unemployment rate in the construction industry reaching 5% in December 2021 and being on a steady decline post it.
The construction industry of the USA is continuously growing, with the job growth rate within the construction industry matching the 0.4% overall rate of job growth across all the industries in the USA. In fact, the USA's construction industry's revenue has grown at an annualized rate of 2.7%, which is only expected to grow in the coming years.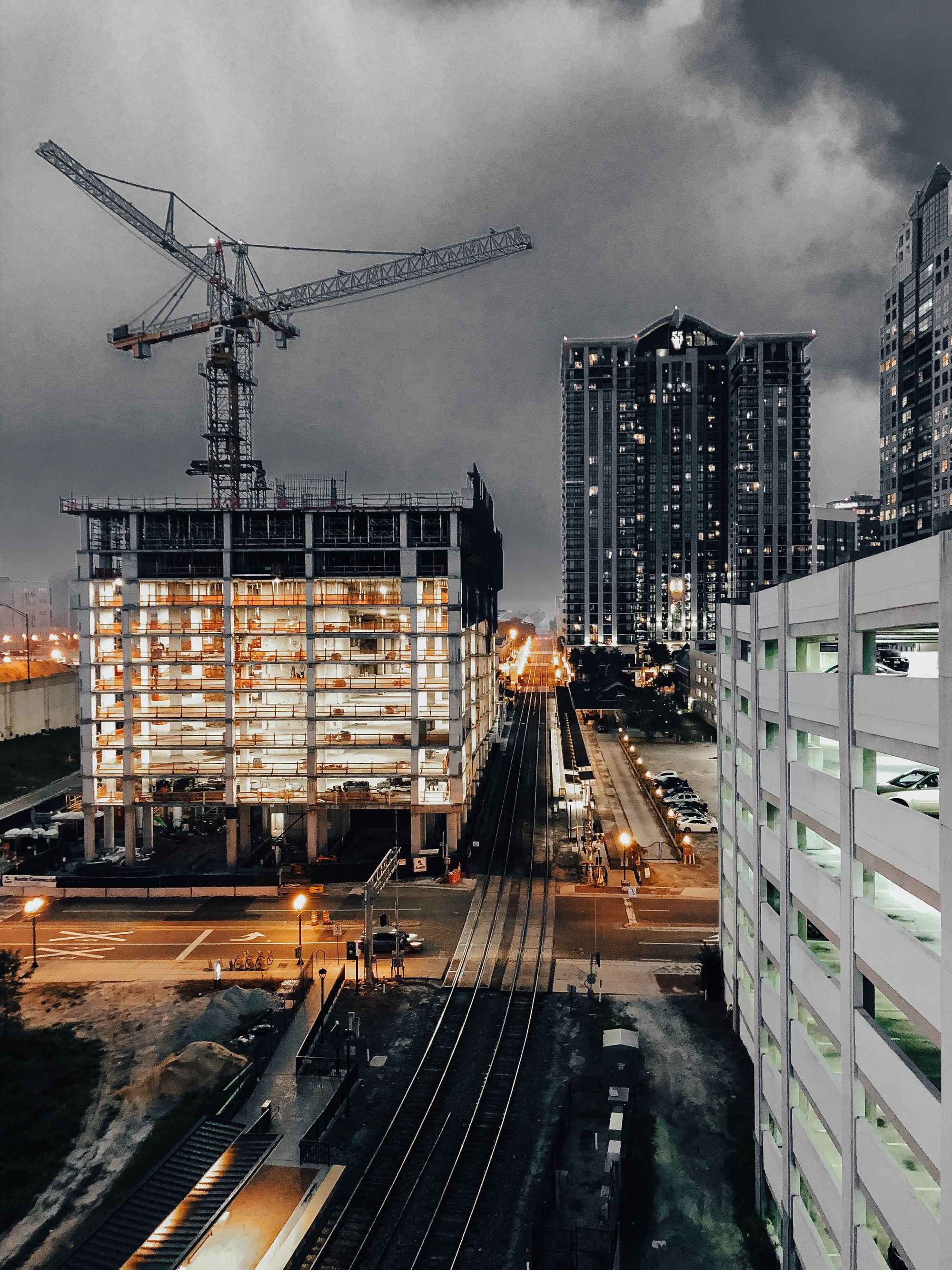 This highlights the almost here future of the construction industry of the USA, which involves a more pronounced focus on digitization, artificial intelligence, automation, and the use of augmented and virtual realities. In addition to this, experts are also pointing towards increased use of robotics, more focus on offsite construction, and greater priority on greener, more sustainable building designs, and practices.
Thus, considering an already complex and challenging industry, which is ever-expanding, as well as its ongoing trends, the only way this industry can keep moving forward in an efficient and profitable manner is through the implementation of an ERP system. With an ERP system, all the core business processes will not only be automated and managed but also streamlined and controlled.
This will help in increasing the gross profit and gross profit margin of the businesses in this industry, with improved customer retention and customer satisfaction, higher net profit ratios, and healthier financial KPIs and financial statements. Together, with the efforts of the business owners, regulatory bodies, employees, and an ERP system, the continued success of the construction industry can be ensured.
Seamlessly Streamline and Integrate Data Across Various Departments and Locations
Get Deskera ERP Today
The topics that will be discussed in this article are:
Construction Industry
The construction industry refers to the industrial branch of manufacturing and trade related to building, repairing, renovating, and maintaining infrastructures. This industry is further divided into three sectors:
Building construction (residential and non-residential)
Infrastructure construction
Industrial construction
This highlights the four types of construction projects that are carried out:
Residential building
Institutional and commercial building
Specialized industrial construction
Infrastructure and heavy construction
Construction differs from manufacturing because, while manufacturing involves mass production of similar items without a designated purchaser, construction typically tends to take place in a specific location for a known client. This industry is directly tied to the fields of civil engineering and architecture.
What this further highlights about the construction industry is that a construction company is not a single entity that carries out one role, but rather, an amalgamation of large-scale multitasking agencies- either part of the same company or of various companies.
The various types of construction companies include but are not limited to construction equipment manufacturers and distributors, architects, subcontractors, and specialty trades, and design professionals. Additionally, it also includes the following types of construction companies:
Civil Engineering Companies
These companies design the structural elements like structural steel, concrete desks, foundations, etc. At the same time, a construction company builds the structure created by civil engineers. Thus, typically, a civil engineering company offers only engineering and surveying services.
A construction company can provide civil engineering services if they have the appropriate personnel on staff or a subcontractor they hire out for. Civil engineering companies thus design and manage the construction while the construction company builds the project.
Further on, civil engineering companies also design and specify the scope of projects, and may even do projects like designing roads or bridges. In contrast, a construction firm does the actual building of the project and works with civil engineers to accomplish it.
This means that construction engineering is a part of civil engineering, due to which a civil engineer can apply for any construction engineering job, but a construction engineer cannot apply for every civil engineering job.
In the construction industry, the role of civil engineering companies is to deal with the design, construction, and maintenance of the physical and naturally built environment. This includes but is not limited to public works such as bridges, roads, dams, canals, airports, sewage systems, pipelines, railways, and structural components of buildings.
Construction Contracting Company / General Contractors
In this type of company belonging to the construction industry, a general construction contractor, prime contractor, or main contractor is responsible for the day-to-day oversight of a construction site, managing trades and vendors, and communicating information to all the involved parties throughout the building project.
Here, the general contractor is responsible for providing all of the material, equipment such as engineering vehicles and tools, labor, and services necessary for the project's construction. In fact, a general contractor often hires specialized subcontractors to perform all or portions of the construction work.
Heavy Engineering and Construction
In this type of construction company, the company is involved in projects like the construction of roads (highways, streets, etc.), bridges, dams, utility systems, and other such heavy and civil engineering projects. It also includes subdivisions of land.
Industrial Infrastructural Companies
Industrial infrastructure refers to any structure, site, building, water dock, pier, industrial park, fixtures, pier or port facilities, equipment, machinery, and related facility, including natural and personal property, or any combination thereof, suitable as a mill, factory, or shop, or as a processing, assembly, manufacturing, or fabricating project, etc.
Infrastructure is the term for the basic physical systems of a business or nation. For example, communication, sewage, transportation, water, and electric systems are all infrastructure. Projects in the construction industry that are related to infrastructure improvements may be funded privately, publicly, or through public-private partnerships.
Industrial construction, industrial infrastructure is a specific form of building that requires expert training and highly experienced workers who can multitask. The projects in these construction companies are run by a bevy of engineers, managers, and architects. In fact, many of the industrial construction companies are large, multinational firms.
Construction companies that are involved in the construction of infrastructure have developments to be done on captive power plants, water supply, roads, drainage, waste management, bridges, dams, effluent treatment, and other such urban infrastructure development projects.
EPC- Engineering, Procurement, and Construction Companies
EPC is a primary form of contracting agreement in the construction industry. In these construction companies, the engineering and construction contractor will carry out the detailed engineering design of the project, procure all the necessary materials and equipment, and then construct to deliver a functioning facility or asset to their clients. Companies that provide EPC projects are thus commonly known as EPC Contractors or EPC Companies.
PMC- Project Management Consultant
PMC stands for Project Management Consultant or Project Management Contract. Under a project management contract, an engineering contractor will overlook the EPC contractor's work to make sure that they are complying with the client's work scope. Project Management Consultants manage the project by applying their skills, knowledge, and experience at various stages.
However, the challenges faced by the PMC companies include design issues, long lead material issues, constructability issues, engineering issues, inter-contractor coordination issues, safety issues, and such other challenges, which can be solved only by a well-organized approach of the PMC.
Real Estate Companies
Real estate is defined as a property consisting of land and the buildings on it, along with its natural resources such as crops, water, or minerals, immovable property of this nature, and an interest vested in this as an item of real property, buildings, or housing in general. Thus, real estate is the land, property, buildings, or air rights above the ground and underground rights below the land.
Residential Real Estate Companies- Residential real estate is an area developed for people to live in and is defined by the local zoning ordinances. Residential real estate cannot be used for industrial or commercial purposes. Such laws vary from location to location and restrict how many buildings are allowed on a single block and what kinds of municipal services reach those buildings.
Commercial Real Estate Companies- Commercial real estate (CRE) is a property that is used exclusively for the purposes of a business or provides a workspace rather than a living space. Most often, commercial real estate is leased to tenants to conduct business. This category of real estate ranges from a single gas station to a giant shopping center. It also includes retailers of all kinds like office space, strip malls, hotels, convenience stores, and restaurants.
Commercial Building Construction Company
Commercial building construction companies are a valuable resource for those looking to build a new project or renovate a project. These companies have the experience and expertise required to get the job done correctly while also being able to provide valuable guidance along the way. Some of the benefits of working with a commercial building construction company include greater safety measures, faster construction times, and more accurate measurements.
MEP Contractors
MEP stands for Mechanical, Electrical, and Plumbing, and is a type of engineering that focuses on creating a safe environment for human use. An MEP consulting firm is as important as a builder or an architect for any renovation or construction project. Mechanical, electrical, and plumbing aspects are often designed by an engineering firm specializing in MEP known as an MEP contractor or MEP consultant.
Small Renovation Contractors
Small renovation contractors refer to those contractors who provide planned renovation to buildings, offices, houses, etc., of various business projects. The term "small renovation contractor" denotes a contractor who takes up projects for the planned renovation of a small area such as an office, place of work, building, etc.
Allied Services
As part of the project development, many associated services must provide a comprehensive solution. Specialized allied services include solutions like:
Refurbishment of hangars
Automation of hangar doors
Erection and painting of heavy steel structures
Restoration and improvement of buildings and services
Re-development
HVAC
Lift and elevators
Fire detection and fire fighting
Sewage treatment plants
Resurfacing of runways
Electrical and plumbing
Rainwater harvesting
Internal water supply
Internal electrification
Plumbing
Fire fighting
Fire detection
Life and elevators
Air conditioning
LAN
Interiors
Acoustic
Water treatment plant
Furniture and woodwork
External water supply
CCTV surveillance
External electrification
Area drainage
HT line with DG works
Sewage treatment plant
Sewage disposal
Road works
Arboriculture
EOT cranes
Overhead water tanks
Racking and warehousing solutions
Mechanical works
Rapid structures
What is ERP?
Also known as Enterprise Resource Planning, ERP consists of systems and technologies that can be used by companies to manage and integrate their core business processes. Some of the core business processes being referred to here are accounting, supply chain operations, project management, risk management, procurement, enterprise performance management, and compliance. These are some of the key business processes that can be automated through an ERP.
Thus, ERP software helps to manage day-to-day business operations by tying together a multitude of business processes and enabling the flow of information between them. In fact, ERP systems also eliminate data duplication by collecting your organization's shared transactional data from multiple sources, thus providing data integrity.
One of the other advantages of ERP these days is that you can not only have it on your premises but also on the cloud, which makes it accessible to everyone and from everywhere. This easy accessibility of data helps in efficiently managing and scheduling all the different processes, and the employees involved to fulfill your client's scope in a timely and efficient manner in the construction industry.
One of the other core benefits of an ERP system is that it imparts transparency to all your business processes by tracking all aspects of your logistics, production, and financials. These integrated systems then act as a business's central hub for end-to-end workflow and data. Access to this workflow and data is given to a variety of departments of an organization, as required, and to the person or people who require it.
Considering that the lifeblood of every modern company is data, ERP makes it easier to collect, organize, analyze, and distribute this information to every individual and department in the organization who needs to best fulfill their role and responsibilities. This ensures the success of your company in the construction industry, with your better performing business metrics, increasing revenue, higher net profit ratio, and strong customer loyalty being indicators of your success.
Recent Trends in the Construction Industry
The U.S. construction industry is a giant of the U.S. economy as it accounts for 4.3% of the country's GDP that also employs around 7.4 million people. However, this is also one of the slowest growing industries, a trend that can be changed through the use of modern technologies. It is this realization that led to the following recent trends in the construction industry, such that construction management and site operations are made more efficient and sustainable:
Building Information Modeling (BIM)
Building planning and designing is a collaborative process that requires inputs from multiple stakeholders, including architects, engineers, builders, and clients, to mention a few. Now, the traditional methods of the construction industry were such that it became difficult to visualize changes in real-time as everyone worked on their unique files that were not automatically and immediately integrated. This led to the generation of multiple versions of the same plan, which further caused chaos and confusion.
This problem was solved by advanced BIM tools, which provided a central database that enabled everyone to work on a single shared model. While a 5D BIM allows for cost and time overlays, 6D BIM also accounts for energy budgeting. These solutions will therefore help identify clashes during the initial stages and, by doing so, improve overall workflow efficiency.
In fact, in combination with AR and VR, building information modeling enables fast testing in simulated environments.
Construction Robotics
The construction industry continues to be one of the most labor-intensive industries, whose one of the challenges is also finding skilled workers. This industry includes many repetitive yet time-consuming tasks which can be carried out faster through robotics and automation. An added benefit of construction robots is that they help to reduce human-induced errors and losses due to fatigue.
For instance, collaborative robots automate bricklaying, welding, painting, rebar tying, and many such repetitive tasks with great precision.
Robotic solutions also automate heavy equipment and fleets for transportation, excavation, concrete works, load lifting, and demolition. This also comes with the advantage that it increases the safety of the construction workers safety, while also significantly reducing operational times and, due to lesser errors and losses, even lowers operating costs.
Simultaneously, construction automation through the use of robots increases the overall productivity of the project, reduces labor requirement, and provides safety from hazardous and dangerous tasks.
Construction Project Management
Digital project management is one of the upcoming trends in the construction industry. Here, cloud-based software is used to achieve the goals of quality, time, and cost. Through project management, the principles for each phase of the construction are already decided in which, in the initial phase, the project manager uses AI-based predictive algorithms to understand the feasibility of the project.
Once approved, the manager sets milestones for everyone and distributes the resources for achieving those milestones. The resources are distributed through an ERP system, which also ensures transparency as well as storage of large volumes of data.
An ERP system is also used by the managers to track the expected and actual outcomes (also known as as-is process analysis) of every task and then even gather insights into the bottlenecks. Towards the end of the project, managers draw block-chain based smart contracts to affirm legal obligations and prevent financial fraud.
All of this highlights how digital construction project management leads to a reduction in waste, an increase in workforce efficiency, and ensures completion of projects by the deadline, which also leads to not only higher customer satisfaction, but also returning customers.
Advanced Building Materials
As the customers and the society at large are shifting more towards a greener and more sustainable construction, the construction industry and the companies therein are also seen shifting to the modular and green approaches that match this trend of their buyer personas. Advanced building materials complement these new ways of construction. For instance, many innovative and sustainable materials like 3D printed concrete and basalt are replacing older ones.
Additionally, materials made from living organisms, like self-healing concrete that uses bacteria are also gaining popularity. Moreover, sustainable materials like mycelium composites, biofoam, and bioplastics, also form a part of this construction industry trend.
The next category of innovative materials includes graphene, spider silk, aerogel, carbon composites, hydroceramics, and nanomaterials. The characteristics of these materials are that they are lighter and with higher water holding capacity.
Advanced aluminum and wooden materials like bamboo, transparent woods, cross-laminated timber, and aluminum foam, too have higher strength and biodegradability. More research is done by start-ups to find sustainable materials that are low-maintenance, durable, and energy efficient.
Offsite Construction
This is one of the emerging trends in the construction industry that allows designing, manufacturing, and fabricating building elements in a factory. In the traditional construction ways, the weather conditions used to lead to an increase in costs due to the introduction of contingency fees and the requirement of extra labor hours. Furthermore, the onsite construction also led to lots of material waste.
On the other hand, offsite construction transformed the construction life-cycle in terms of its sustainability, worker safety, and quality. Offsite construction incorporates a range of innovative materials, novel assembling techniques, and 3D printing technology.
The first part of offsite construction involves volumetric construction, which includes modular and pod construction. The benefit of this technique is that it allows the prefabrication of heavy 3D structures like homes and rooms.
The second part of the offsite construction includes panelized construction, under which the factory develops flat panels for use in floors, walls, or roof panes. This technique is used by modern commercial buildings to install partitions and support elements. This trend has led to the replacement of traditional construction methods by the modular construction solutions provided by start-ups.
Construction Monitoring
It is difficult to manually monitor projects because construction projects are geographically spread and involve many assets and human resources. In fact, construction sites also have various areas that, despite being beyond human reach, still require regular inspections. It is because of this reason that construction companies are adopting technology to streamline construction monitoring.
Value addition from monitoring depends on the level of the monitoring process, which starts from a lightweight audit function to quality assurance. However, advanced monitoring and inspection techniques use drone-based monitoring in combination with LIDAR or thermal sensors.
For the monitoring of construction workers, high-definition (HD) cameras and AI-based facial recognition techniques are used to improve productivity. Additionally, robots also detect faults and failures in structures using embedded sensor technologies with more accuracy than manual inspection.
Using these technologies, the overall efficiency of construction monitoring is improved, thereby also increasing the ratio of accounts receivables to accounts payable of the construction company.
Construction Worker Safety
One of the most overlooked areas in the construction industry is workers' safety. This is because construction companies are continuously looking for ways to minimize labor costs. However, modern-day construction companies strictly comply with worker safety rules.
To ensure workers' safety, immersive technologies help prevent probable onsite accidents, while the PPE (Personal Protective Equipment) acts as a life savior. In order to predict hazards and take safety measures accordingly, construction companies use AI algorithms.
Additionally, to reduce accident probability, VR technologies train field workers for hazardous tasks via immersive training. At the same time, AR allows fabricators to scan through the objects. In fact, to ensure worker safety, companies now use PPE embedded with IoT sensors.
These sensors detect signals in the form of temperature, vibrations, steps, heart rate, and more and send this information for further analysis. This information allows the supervisors to remotely monitor workers' health conditions and productivity. Such advanced safety products benefit both the workers and the company by minimizing physical and financial losses.
Green Building
One of the main trends that are being focused on by the construction industry is sustainability. While currently, it is expensive and time-consuming to identify sustainable materials and processes for construction projects, the green building comes to the rescue.
Green building is a popular concept that adopts environmentally friendly measures from pre-construction planning up to project closure and decommissioning. Green buildings optimize energy and resource utilization, enabling buildings to achieve net-zero carbon emissions, and reduce waste during construction.
For a building to qualify as a green building, it would have to fulfill the parameters as discussed above to get the certification. One of the popular certifications is LEED (Leadership in Energy and Environmental Design) from the US Green Building Council.
Increasingly, advanced materials for construction purposes are also LEED-certified. Green buildings are the future of the construction industry, and today, businesses are developing solutions that will support green construction.
3D Printing
In construction, 3D printing is also known as additive construction. It is a sustainable and efficient method of construction. Construction printers either print entire buildings or only prefabricated building components. 3D printing is a robotic approach that prints the design layer by layer with advanced construction materials and in collaboration with BIM.
It has high design flexibility without the need for formwork. The various methods that are used for printing are power bonding, extrusion, and additive welding. Additionally, when compared to the traditional brick construction methods, 3D construction printings require fewer labor resources, and produce less waste. In fact, the 3D construction process is a fully automated and programmed process that also eliminates human error and improves productivity.
Connected Construction Site
Construction projects tend to have many dynamic parts, and controlling all the elements is crucial for project success. One of the best ways to ensure smooth operation is by connecting construction sites. Creating structured workflows and integrating data at each step of construction work ensures the availability of the right information to each stakeholder.
The other benefit of a connected construction site is that it brings together people, processes, and information using AR, VR, AI, robotics, and wearables.
IoT technologies, in combination with AI, enable predictive logistics to improve worker safety during construction and also to optimize inventory which will help in reducing wastage as well as related costs, ultimately improving the cash flow of the company.
Additionally, computer vision enables instant guidance and support, connecting construction sites to the main office. All such solutions also enable the manager of the company to make faster and more informed decisions based on real-time data.
Challenges Faced by the Construction Industry
The construction industry is one of the largest sectors in the US economy, with nearly $1.4T worth of structures being constructed each year, while simultaneously employing more than seven million workers across 733,000 businesses.
For such a vast industry that houses so many businesses and employees, it is meant to have its own set of challenges that are a risk for its continued success, growth, and development. Added on by the recently passed COVID-19 pandemic, these challenges include but are not limited to having a shortage of qualified workers, supply chain disruptions and materials sourcing issues, inflation, cyber crime, inadequate risk management, and even weather.
While the recent technology advancements, as well as implementation, have helped in combating and even mitigating these challenges, not all businesses in the construction industry have resorted to this solution. Some of the challenges being referred to here are:
Improper Planning
One of the biggest challenges faced by the construction industry is improper planning which leads the construction company to complete their projects at substandard quality, ultimately leading to the downfall of their company because their brand image gets spoiled, they lose their customers, and they start having revenue issues.
Improper planning is such a huge problem in the construction industry that businesses or contractors incur heavy losses in the form of labor costs, and loss of clientele due to untimely completion of targets. Additionally, the delay in project delivery due to improper planning also reflects poorly on the goodwill of the company.
Considering that planning for each construction project involves several departments, teams, locations, and even resources, that all need to be integrated for the project to be carried out smoothly, it becomes a task due to manual efforts and integration, which is prone to data duplication, delay in information sharing, and even human error.
This leads to an absence of effective use of labor and the required raw materials, errors in following the architectural design and plan, mistakes in the scheduling of maintenance, processes, as well as channeling of resources.
All of this adds up to create cash flow problems as well, which goes as far as messing up with the expenses, and the budget. Avoiding unnecessary downtime becomes another challenge in itself, while the possibility of having contractual issues with clients throughout the duration of the project becomes most likely.
Complex and Chaotic Exchange of Information
In the construction industry, one of the most common occurrences is the companies having more than one client at a time. The challenge here then becomes the exchange of information within the company, which in the light of manual processes tends to become tedious and confusing, as well as prone to delays, and errors.
Managing and compiling data for the several tasks involved in fulfilling the demands of the various clients of the companies in the construction industry in the form of PowerPoint presentations or Excel Spreadsheets is a very inefficient and impractical manner, while also being unsafe as it can be easily looked into by those who do not have access to that information. Additionally, without any cloud backup of the same, it is vulnerable to being lost.
Additionally, information managed in such a manner is not updated in real-time, which adds on to this already existing challenge that can be solved through the implementation of an ERP system.
Poor Communication
Companies in the construction industry need to delegate work to various departments, teams, and parties before they can complete a project. This is because construction projects require the expertise of different professionals like those of architects, civil engineers, skilled laborers, electricians, plumbers, and so on. Only with the joint efforts, designing, and planning of all these experts can a construction project be completed as promised to the client.
However, bringing together the efforts of all these experts requires proper communication, which is a challenge in the construction industry. There is an absence of a communication platform on which all the departments and teams can come together, plan, and execute their projects.
Due to this, there is a lack of clear and effective communication, leading to important tasks slipping through the cracks, with the concerned teams coming to know about the issues only when it has become too late to rectify them.
An ERP system will help in having effective communication, even when in-person meetings are not possible, keeping all the stakeholders updated on the progress as well as the obstacles.
Unrealistic Expectations, Bad Forecasting, Inaccurate Estimates
In the construction industry, a deal can be won or lost completely on the basis of the bid you present. This is a highly competitive yet complex industry, wherein bidding the estimated costs of a project involves lots of parameters like labor costs, costs of raw materials, duration of the project, licenses and permissions, inflation, and so on.
Considering all these factors manually to come up with an estimated cost of the project is most likely going to be prone to human errors, outdated data, wrong analysis, and so on, which leads to inaccurate estimation of the construction project. When this happens, the customers lose their faith in the company, become dissatisfied, and the smooth functioning of the project gets affected.
Additionally, another recurring trend and challenge in the construction industry are the high expectations of some clients and stakeholders. This can either involve them wanting a project to be completed on an accelerated schedule or a project to be completed with a limited budget. Such expectations tend to lead to challenges, which need to be assessed in-depth, before promising that you would be able to deliver as per their expectations.
Working with unachievable goals can actually hinder productivity to the extent that even if your employees work overtime, they would still be unable to help you complete the construction project as required only because the client's or the stakeholder's goals are unachievable. No motivation of the employees, extra employee benefits, or other such solutions will work if the quality and accuracy of the construction project is to be maintained.
A related challenge faced by the construction industry is bad forecasting leading to such high and unrealistic expectations. Bad forecasting often happens when the focus is on the long-term instead of on the short-term forecasts. To know whether these forecasts are actually achievable or not, they need to be broken down into monthly, weekly, and daily goals.
Once you have this complete insight, you will be able to communicate the issues (if necessary) to your clients or stakeholders. This can be followed by you providing an alternate plan so that they can see an aggressive yet achievable timeline or budget.
This will help you in managing expectations from the beginning, such that you can set up a winning project, and the best way to ensure that is through the use of an ERP system that will help you through it all with higher efficiency.
Inefficiency in Decision Making
In each project of the construction industry, lots of resources, skilled and unskilled workers, experts of different disciplines, and differing deadlines are the basis from which the final project is built. This means that in order to get things done correctly, efficiently, and at the right time, all of these teams, departments, people, and geographical locations need to be integrated and brought together to achieve one common goal.
Additionally, also considering that a construction project can easily fall behind or run over budget (or both) if the stakeholders do not have a clear idea of what they have at hand and what they need to achieve.
In reaching from where they are, and where they need to be, lots of decisions need to be taken in between after considering the inputs from each of the teams, departments, etc. The challenge in the construction industry is the decision-making process because the information and data received are not always in real-time and updated, which makes the analysis generated either inaccurate or delayed.
Additionally, when done manually, it is prone to human errors, data duplication or misrepresentation, and other such issues. This leads to inefficiency in decision-making, which makes it a major challenge for the companies in such a competitive industry.
Delayed Cash Flow and Inefficient Financial Management
In the construction industry, companies largely rely on invoicing, which considering the expanse of their business, is becoming an outdated system. Due to the reliance on this system, a large number of companies are facing challenges wherein the payments are falling behind, which in turn is impacting the company negatively, as further on it leads to the drying up of company's funds, often causing delays and inconveniences in those projects. This then leads to dissatisfied customers and loss of brand reputation and revenue.
Additionally, construction companies have a large number of statutory obligations to fulfill in order to have a good standing in society as well as in the eyes of the law and to not be penalized. These obligations involve taxation, due payment of bonuses and deductions from the wages of the employees, licensing fees, registration fees, financial reporting and auditing, payment of payroll to the employees as per their industry-specific timelines, and so on. Manually managing all these different aspects of finances of your company has become not only tedious and time-consuming but also prone to human errors.
Need for ERP in the Construction Industry and Benefits to Expect from ERP Implementation
In the construction business, lots of effort is required to systematically manage the tools, resources, and equipment that are involved in the successful execution of any project. With an ERP system in the construction industry, you would get a fool-proof business solution with its analytical tools and features that permit scheduling and integration of data.
An ERP system will integrate the core functions of construction with all the other company modules like inventory and stock management, financial management, human resource management, contractor management, vendor management, bid management, CRM, payroll, and more such business processes.
Some of the most important features of an ERP system that are applicable in the construction industry are:
Centralized database
Project scheduling
Expense management
Inventory management
Workflow management
Reporting and document
Customer relationship management
Procurement of resources
Ease of tender and bid management
Productivity or performance monitoring
Contract and purchase order (PO) management
Easy wage calculation for the human resource
Human resource management and payroll management
Thus, the need for ERP in the construction industry, as well as the benefits that can be expected from ERP implementation, are as follows:
Automation of Operations
Usually, construction companies operate on a large scale, which means that they have multiple operations often spread across different geographical locations as well. Some of these operations are project management, staff management, procurement management, cost estimation, and client handling. Now, depending on the company's size, the individual size of each of these operations might get wide as well. This makes flawless management a challenge that cannot be solved through manual operations.
However, this challenge can be answered through an ERP system as it automates and handles all the tasks with profound accuracy, reducing the chances of human error, as well as saving time and other resources for more strategic tasks like marketing, research, and development, designing, etc.
Optimization of Project Management
In the absence of proper project management, no construction company can survive its life term or have long-term clients. Even a minor flaw in the form of delayed delivery or an error in construction mars the whole project, causing big and long-term losses.
An ERP system is a huge boon for the optimization of project management as by implementing it, companies in the construction industry can effectively manage multiple projects at the same time. Additionally, ERP systems will help ensure better optimization of projects by choosing and applying the right resource at the right time at the right place, which further leads to an increase in profit margin and control on cost.
Effective Internal Communication
One of the biggest factors leading to failure in meeting project deadlines is the absence of good communication across all the departments of a company. An ERP system can solve this challenge immediately because it comes with inbuilt chat forums with video interaction potential, connected calendars, and other such features that improve the internal communication amongst various departments. All these tools, when used by all the members of a particular project, will ensure that all the concerned members get communicated at the same time without any delay.
Mobile Friendly
ERP systems have now become mobile-friendly because of the versatile presence of mobile across all locations and sites. The biggest advantage of this is that having access to project-related information and data through one's mobile speeds up the overall operations of the construction companies, ensuring that there are no delays or mistakes that could have otherwise been prevented. Also, the access to ERP on a mobile device ensures that real-time updates of the project keep taking place from every project site. All of this helps in increasing the overall productivity of the business operations.
Marks 24x7 Presence
The best way to ensure that the deadlines of construction projects are met and it is done so with maximum efficiency is through the implementation of an ERP system. With an ERP, you can ensure that none of your projects suffers any delays because of the absenteeism of any resource and that all the project-related inquiry and information is available to every concerned project member across all locations in real-time. This marks the 24x7 business presence.
With an ERP system, one can have access to all the essential information and documents from a mobile or a laptop, regardless of his or her location. This also imparts work flexibility to the employees of the company while ensuring maximum productivity.
Ease of Data Transfer
The companies in the construction industry have an enormous pool of operations and simultaneous documentation of the same. This means that the overall management and allocation of data becomes a challenging task for the managers, something which becomes even more challenging as the size of the construction company gets bigger.
Implementation of an ERP system helps the construction industry professionals through its database management features that centralize the data effectively, regardless of the company's size. These features of an ERP system also facilitate the safe and quick transfer of data across the departments of the organization so that one can easily access and trace the needed information and records as and when required.
Efficiency in Decision Making
Construction companies tend to be large-scale, with their operations spread across different departments, teams, stakeholders, geographical locations, and so on. This meant that information and data used to be spread across, being inaccessible, not updated in real-time, and more often than not, even overlapping, leading to inefficiencies in decision making.
However, with the implementation of the ERP system that has enabled effective centralization of data and operations, it has become very convenient for the managers to make all the business decisions without any flaws or delays. In fact, due to this centralization, problems can now be foreseen and resolved before they create a bottleneck situation.
Improves the Marketing Strategies
Considering that the implementation of an ERP system in the construction companies offers an in-depth analysis of all the business operations, including business metrics, marketing KPIs, financial KPIs, and so on, this in-depth analysis and insights help in not only improving but also optimizing the marketing strategies of your company.
This is done in a manner that the marketing strategies not only involve the perfect brand marketing but also include other types of marketing like landing pages, CTAs, performance marketing, sustainable marketing, email marketing, etc., as is most relevant to your company and customers.
With the analysis of the data collected from various departments, and then the subsequent designing of a marketing plan, it increases the probability of you being able to achieve all your marketing objectives.
Construction Bid Cost and Revenue Estimations
In the construction industry, marketers need to bid for contractual projects. This bid is made based on cost estimation, and the company with the best pricing wins the bid. Implementation of an ERP system is a huge help in such cost estimates because it helps to make proper cost estimations based on the resources to be used, the expected price fluctuations in the same, and other such relevant parameters.
An ERP system also helps to calculate the overhead liabilities of the project, as well as the estimated income from the project. In fact, an AI-based ERP will ensure that there is minimal deviation in the actual and estimated costs.
Digital Documentation
One of the biggest benefits of ERP implementation in a construction company is that it minimizes the use of paper for documentation. Additionally, the digitally stored data is accessible from any location, at any time of the day, with unauthorized access to the documents getting reduced, which ensures the privacy and the secrecy of confidential information.
Lastly, loss of data and information is prevented as ERP systems tend to be cloud protected, and the employees update information on it in real-time, which means that it stays there on the system, even after a particular employee leaves the company.
How will ERP Help the Construction Industry?
Considering the huge chunk of the GDP that is contributed to by the construction industry, the high employment that it generates, and the whole industry becoming more customer-oriented as well as competitive is making every construction company more conscious about losing opportunities to their rivals.
With such trends and the ever-rising advancements in technology, the days of using separate software applications for construction activities are now obsolete, while the days of using an ERP system that integrates and streamlines all the core business processes have come to the fore.
ERP systems for the construction industry include systematically designed modules that integrate all operations in a single system while also taking care of inventory management, estimation, risk management, scheduling, accounting, financial management and reporting, customer relationship management, human resource management, and other such related activities.
In fact, ERP systems automate all these business processes such that, by doing so, it introduces flawless and error-free methods of adding and updating information that eliminates duplicate data entry while also saving time and other resources.
Additionally, the implementation of ERP systems in the construction industry also aids in fine-tuning business operations while also initiating growth, higher customer retention, and higher profits for the company. Thus, some of the ways in which ERP helps the construction industry are:
Optimize Project Planning and Project Management
Effective project planning plays one of the most crucial roles in the construction industry and the companies in it. The main advantage of effective project planning is that it helps in standardizing each process from the inception to the completion of the project, ensuring that the right resources are used at the right time, quality is maintained, correct methods and processes are followed, and the final project turns out just as was required, and was promised.
If your business does not have strategic planning, then it suffers a downfall because you would not have predefined operational plans and project delivery schedules, which will lead to the allocation of improper raw materials or resources. This often leads to heavy losses in the form of increasing overhead costs, a bad mark on your goodwill, and sometimes even loss of clientele due to the untimely completion of targets.
The lack of strategic project planning becomes even more evident when you are dealing with multiple projects from numerous clients. The best way to have a stringent project management mechanism is through an ERP system, which will help you in controlling your resources and ensuring their timely and budgetary allocation while also managing to avoid unnecessary downtime and other delivery issues throughout the duration of the project.
In fact, performance management is a key aspect of project management, which means that in order to optimize both, keeping everyone on the task is vital. This involves breaking down bigger, project-wide goals into smaller, daily targets for individuals to accomplish. If, on one day, the entire of the daily target is not achieved, then it gets compounded on the next day. This way, all the people are held accountable through set processes and helps in ensuring that the project does not crumble beneath you. Through an ERP system, a calendar, or a workflow chart, daily targets can be assigned to people and even kept track of.
Additionally, the ERP system will also help you maintain the quality of your construction projects while also ensuring that the construction project is carried out as per the design and plan. In fact, the usage of correct methods and processes and as per the schedule can also be ensured through an ERP system. Therefore, with an ERP system, optimized project planning can be secured for your construction company.
Streamline Project Data
It is a regular occurrence in any business, including a construction business, that you are required to deal with more than one client at any given time. However, the complexity of the same is that it makes the exchange of information within the organization and all the relevant departments quite complex and sometimes even confusing. This is to such an extent that errors become almost inevitable.
Managing such multiple data manually becomes a challenge that is prone to human data entry errors, which can later turn into a massive mistake as even a small mistake in the construction industry can cause costly delays while also reflecting your company's inability to provide a satisfactory service.
An ERP system is very helpful in addressing such issues because it automates data tracking and also streamlines project information. With this, you would be able to easily monitor each project's status, correctly identify the raw materials requirement, delegate the assignments to the right staff, select appropriate supplies, and in all, make project management not only simpler for you but also more efficient, accurate, productive and more profitable for you.
Secure Internal Communication
One of the most common challenges of the construction industry is disconnected communications because of the various departments, vendors, suppliers, employees, and even geographical locations involved with each construction project. This disconnection, however, slows down operations and affects the project deadlines. Additionally, when you have more than one client, the exchange of information becomes confusing and tedious.
An ERP system is a huge help here because it gives a centralized database on which each piece of information and data is shared and which is accessible by all the departments and employees who need it. This centralized database also makes communication easier, ensuring everyone is on the same page, whether through calendar planning, or emails, or reminders, or project workflows, etc.
The added yet must required benefit of an ERP system is also that it provides optimal data security, data backup on its cloud and even lets you define user authorization to ensure permission-based access to data stored on it.
Facilitation of Accurate Construction Cost and Revenue Estimations
Construction projects are full of differing client requirements, specifications, design and plans, and even deadlines. Based on these requirements, the proposed project costs also vary. In order to generate the estimated cost of the project, an in-depth analysis of all the aspects of that particular assignment is required.
An ERP system is again a huge help here because using it, it makes the whole process of quote generation much easier. This is because it has all the tools that will allow you to incorporate all the required parameters like labor cost, raw materials, design, and even duration. It then considers all of this information, as well as past data, and future predictions in consideration before deriving an accurate estimated cost, as well as revenue of the project.
Improves Efficiency in Decision Making
In order to adequately channel resources in construction projects, having a precise analysis of the raw materials, manpower, and project duration are a must. With an ERP system in place, you would have real-time data on all these parameters and more, giving you comprehensive insights and analysis that will help you make efficient decisions.
In fact, an ERP system also creates transparency within the organization, making it possible to monitor the business processes in real-time while also getting an idea about the probable internal scenarios- challenges and opportunities that need to be addressed.
This will help in improving operations efficiency, reduce unnecessary downtime, avoid contractual complications with the client, and help in designing appropriate financial budgeting for the assignment. An added advantage of all these successes will be a better brand reputation, increasing customer loyalty, better work efficiency, higher return on investment, and higher revenue for the company, with better financial statements like income statement, balance sheet, and profit and loss statement.
Improved Cash Flow and Financial Management
With the implementation of an ERP system in the construction companies, the overall financial management of the company will get streamlined. A good ERP system comes with in-built statutory obligations that are automatically taken care of when the time comes.
Additionally, it also comes with features that let you set up different payroll schedules for different teams of employees, with further customization for their bonuses or deductions. In fact, an ERP system also allows direct transfer of the payroll to the employees' bank accounts.
ERP system also generates the financial reports, financial statements, and financial analysis and insights on its dashboard, giving important insights into the business functioning while also being the perfect record keeper of the entire organization.
In fact, it also has automated invoice generation with a follow-up system for unpaid invoices, thus ensuring that the cash flow of your business is maintained and other projects are not affected negatively. Also, tracking of partial payments to the employees, experts from different domains, suppliers and vendors, and so on also becomes easier to keep track of.
5 Elements an ERP in Construction Industry Must Have
Nowadays, ERP systems are used widely across most industries, including the construction industry. Implementation of ERP systems helps in delivering outstanding efficiencies in process and synchronization. However, for an ERP system to be a good match for the companies in the construction industry, it needs to perform the functions of a standard ERP with the addition of cost projections and over-runs, as well as managing the entire project life-cycle from bid to hand-over. Thus, the top 5 elements that an ERP in the construction industry must have are:
Estimation Integration
Each construction project can either be completed on time or not, it can either be completed within the budget or not, however, irrespective of this, the end user will not be concerned with whether you made a profit or not, but rather whether you delivered the project as promised in terms of the quality and time, or not. Usually, in case of overruns, there will be penalties and an impact on your pocket and margin.
However, with an ERP system that has features of analysis and forecasts on the basis of streamlining of data and information not only from the present but also from the past and the predictions for the future, accurate estimations can be made, based on which you can deal with your customers and manage their expectations.
Advanced Accounting
In the case of companies in the construction industry, in addition to the usual elements of accounting and book-keeping, the additional elements that will be required to manage the financial aspects of the entire process across multiple projects include but are not limited to:
Subcontract management
Plant and equipment management
Debtor and subcontractor tracking of advances and retentions
Operational inventory management
Cost reporting (accurately compare actual costs to anticipated project costs in real-time)
Purchase and change order management
Additional Payroll Functions
The next step after the calculation of costs in the estimation phase is managing the time vs. activity to complete the construction project on time and in the quality promised. Thus, having accurate information on costs against budget and the payroll of the involved parties is a must, as this will help in tracking and reporting on time and progress against the estimated costs. The additional elements that your ERP must have in order for you to have such a granular analysis include but is not limited to:
Real-time payroll processing
Summary labor cost analysis
Unit cost reports
Unit productivity reports
Direct labor cost control
Multi-project capability
On-demand project cost/revenue consolidations
Plant, Equipment, and Materials
The ERP system that you choose for your company in the construction industry must be able to handle the management of all plants, materials, and equipment across multiple projects that your company will tend to be involved in.
This is vital because the construction industry has a very competitive market with tighter and tighter margins, and thus, in order to get maximum efficiency and profitability, sharing of resources of all kinds across projects and locations is a common practice that is made possible through an ERP system implementation that has the features for the same. Thus, your ERP system should be able to manage and account for a huge variety of construction materials as well as equipment and manpower.
Exhaustive Financial Reporting
In the construction industry, reporting needs to be done in real-time as only then can those margins of profitability be managed. The complexity here is that in this industry, profit and loss cannot be calculated as easily as they can be calculated in other traditional business models. However, an ERP system makes this possible, especially if it is project-focused. The other additional elements that an ERP can have to make this even more smooth and accurate are:
Resource utilization analysis
Profit and loss management by unit, product mix and/or project manager, location
Detailed asset tracking
Multiple location reporting and analysis
Balance sheet management by project, business unit, or function
Liability and equity management by project, business unit, or function
Multiple company consolidated reports and multi-currency translations
How Does Deskera Help with an ERP for the Construction Industry?
Deskera is one of the best ERP systems in the market because it delivers a fully compliant, fully integrated, and quick-to-implement ERP software solution. Deskera is a cloud-based business management software that provides a real-time, holistic view of your business processes in the construction industry.
In fact, because its implementation ensures seamless business operations and scaling of multiple business units, Deskera's ERP solution is one of the most preferred ERP software solutions. Additionally, the Deskera ERP system makes it possible for you to manage multiple locations of your business operations by staying connected with a centralized data source that is shared across all teams and locations.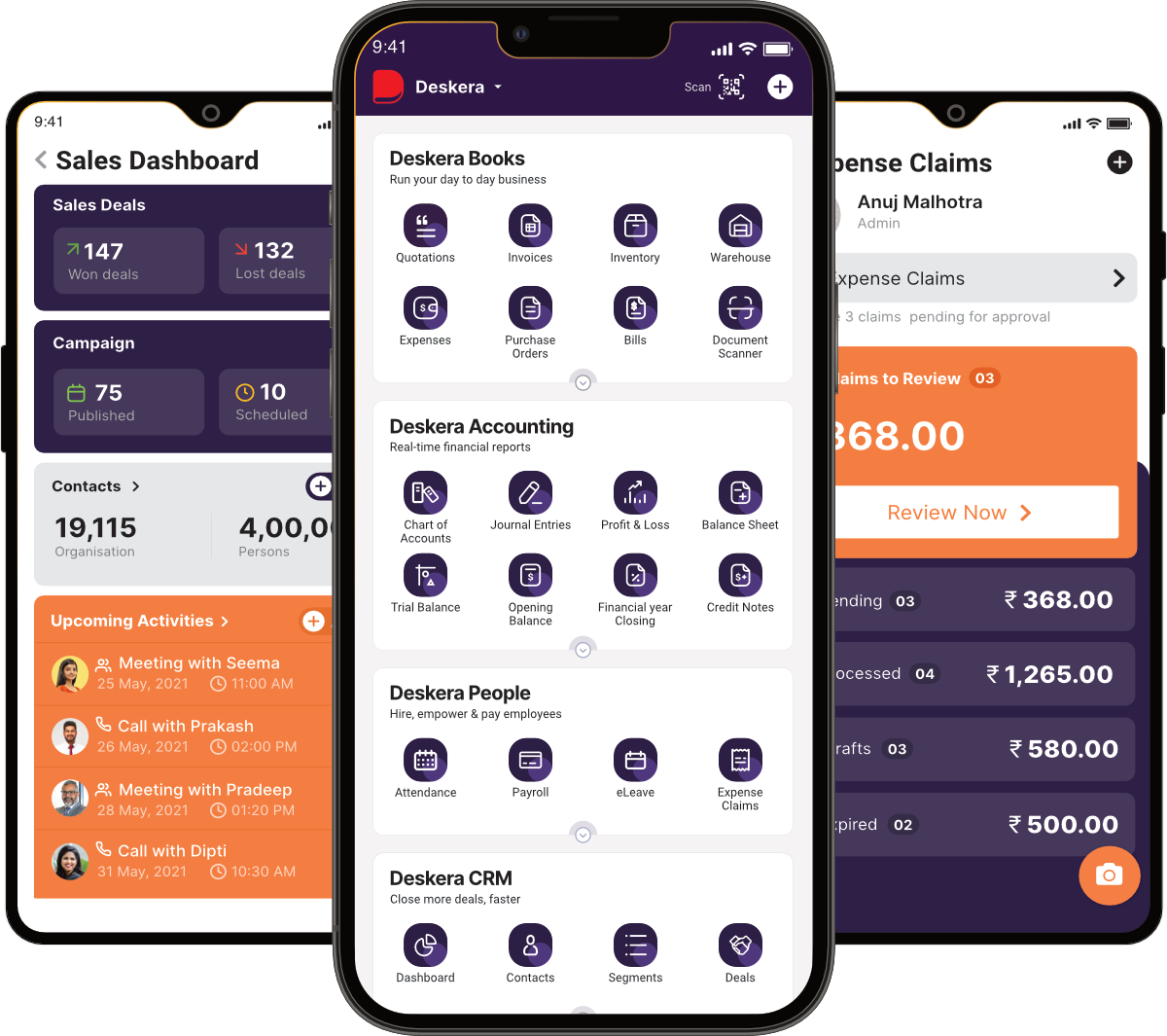 Deskera Books is its accounting software that will automate all your accounting tasks, including but not limited to invoicing, expenses, payments, billing, taxes, reporting, approval flows, and multiple currency payments. Deskera Books also makes it easy to comply with the statutory requirements as well.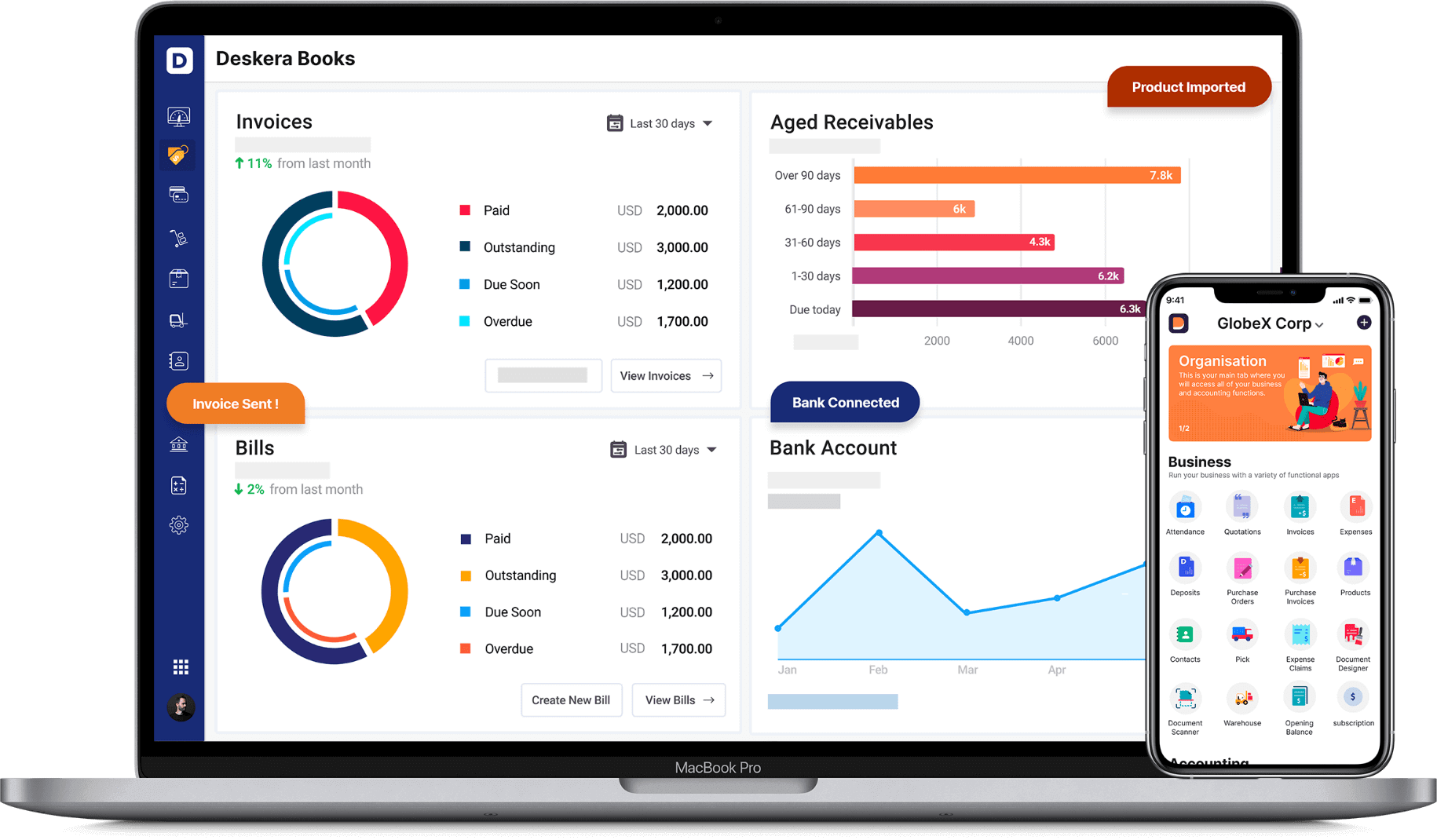 Deskera CRM is your customer relationship management software that is specialized in helping you grow your customer base through landing pages, email marketing, CTAs, sustainable marketing, digital marketing, brand marketing, and so on. It helps you have a marketing plan, having all your marketing strategies such that the marketing objectives and goals are achieved.
Additionally, it also helps you in staying on top of the customer tickets through a dashboard that shows you the resolved and unresolved tickets. In fact, you can even create a customer help desk with the help of Deskera CRM, thus ensuring proactive customer service.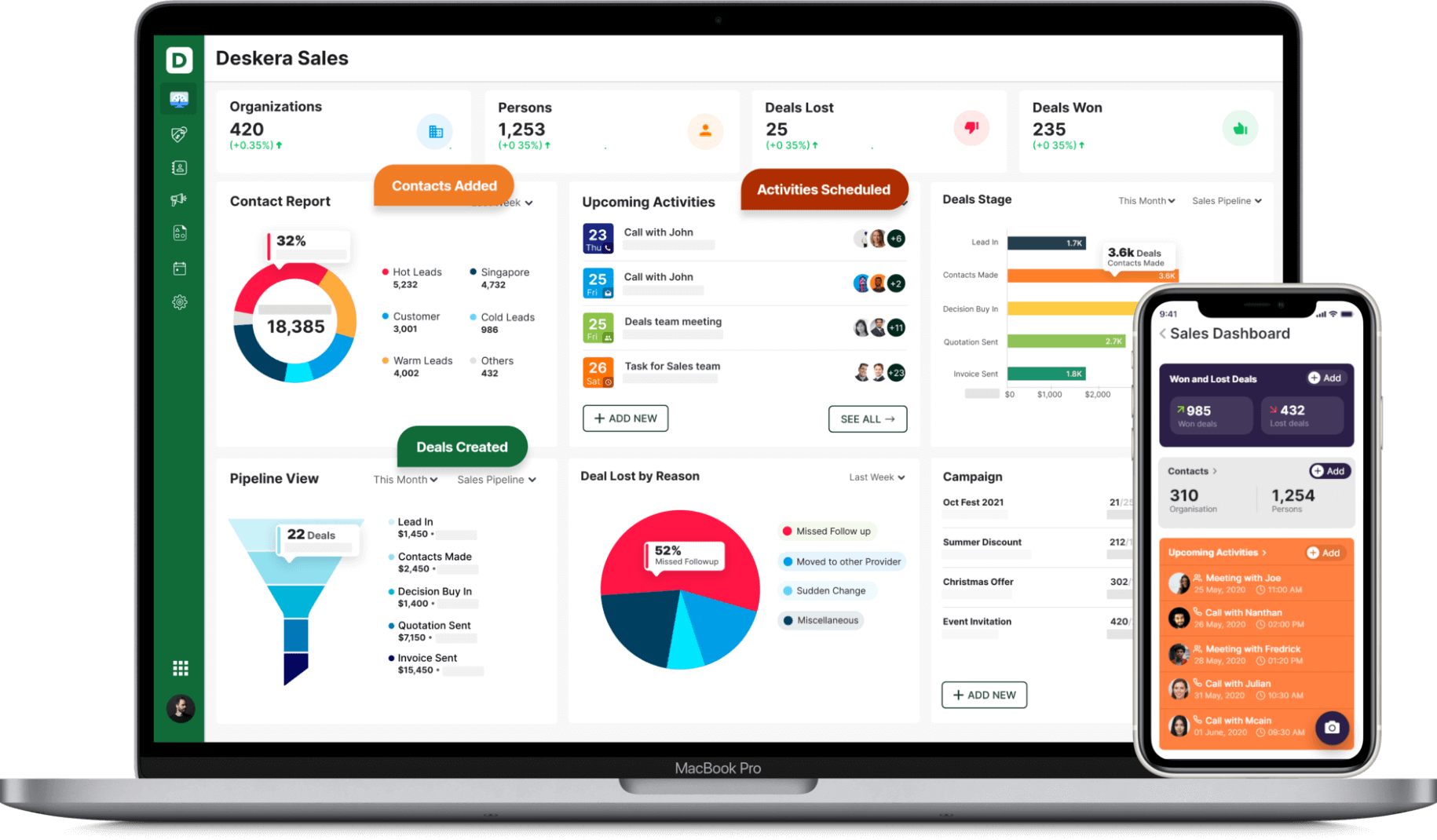 Deskera CRM also lets you automate your sales, including estimation for bids, finalizing deals, and moving the project through its relevant stages of progress. The real-time insights of all of these are given on the dashboard of Deskera CRM, along with many other insights and analysis.
Lastly, Deskera People is an HR specialized software that will let you easily and efficiently handle employees' bonuses, deductions, overtime pays, and payroll as per their industry-specific payroll frequency. In fact, Deskera People also has a self-service portal for your employees where they can apply for their leaves, mark their attendance, track the approval and disapproval of leaves, etc.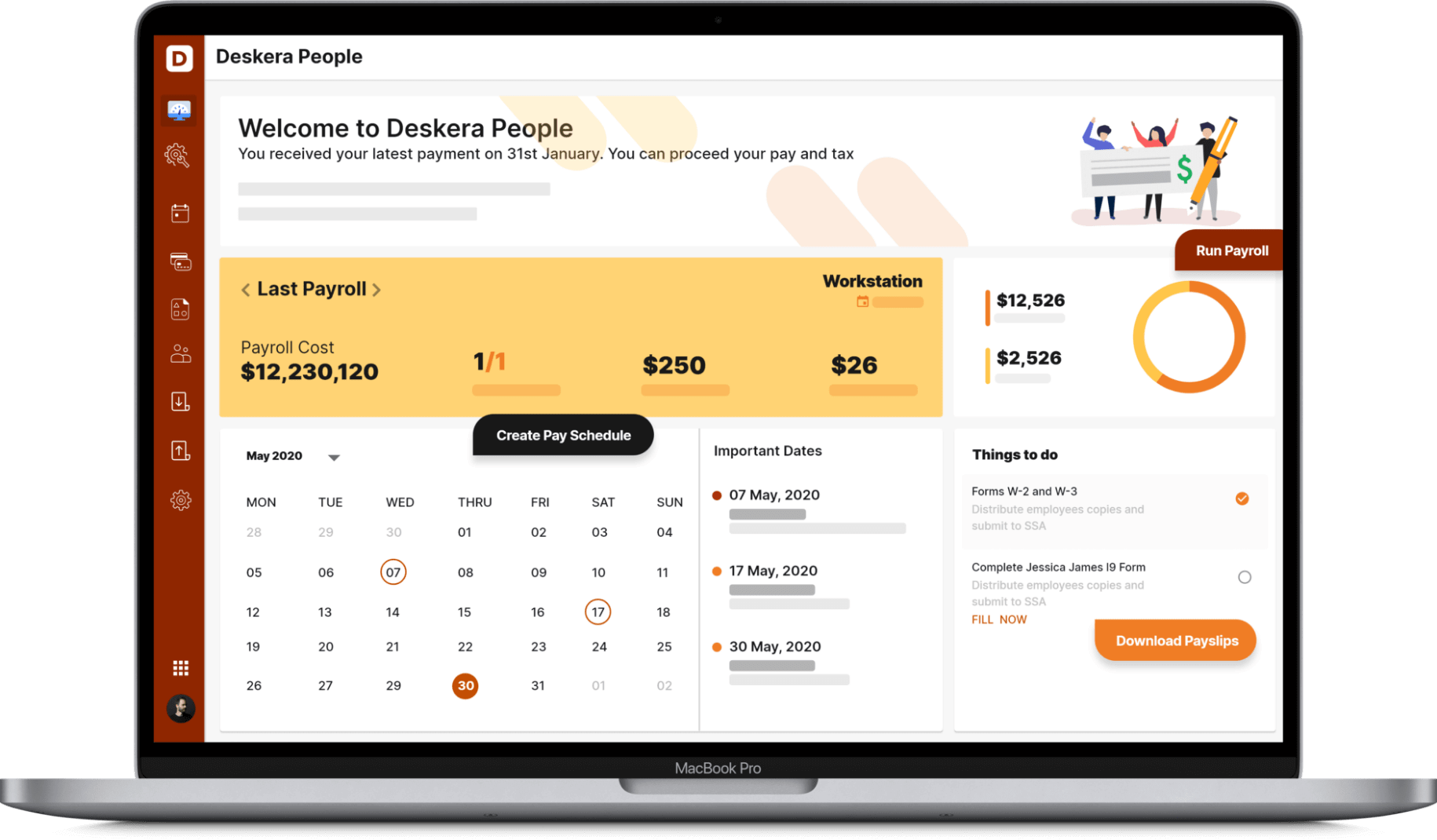 Additionally, as an employer or manager, you would also be able to make customized job applications and design your own hiring workflow so that you can have the skilled employees that you have been looking for.
Thus, the implementation of Deskera ERP in the construction industry will be a boon as it will help in eliminating data redundancy, streamlining and integrating all business operations and subsequent increase in the productivity and profitability of your business.
Seamlessly Streamline and Integrate Data Across Various Departments and Locations
Get Deskera ERP Today
Key Takeaways
An ERP (Enterprise Resource Planning) System for the construction industry is a boon for companies in this industry as it will help the companies in being more efficient, transparent, and integrated, with the business processes being more streamlined than ever before.
Through an ERP system, construction industry companies like yours will be able to manage and optimize their business processes like accounting, finance, production, marketing, estimation, designing and planning, customer service, logistics, scheduling, maintenance, risk management and planning, and so on.
ERP system also helps the construction industry companies in implementing the recent trends, which further on significantly improves their profitability, productivity, worker safety, construction speed, and even implementation of sustainable practices like self-healing concrete, 3D printing, nanomaterials in modular construction, and engineered wood.
In fact, the use of autonomous equipment, drone-based inspection, collaborative robots, and laser-based terrain mapping, and IoT-based wearables like smart helmets and vests that enable worker monitoring and increased worker protection has also become possible due to the ERP system where all the information and data is integrated and streamlined, making scheduling, analysis, and decision making an easier task.
The challenges that are addressed by implementing an ERP system in the construction industry are:
Slow project cycle times
Cost overruns and project delays
Spots of inattention
Outdated processes
Data duplication
Weak internal communication
Delayed cash flow and inefficient financial management
Inefficiency in decision making
The benefits of ERP system implementation in the construction industry are:
Optimized project planning and project management
Streamline project data
Secured internal communication
Facilitation of accurate construction cost and revenue estimation
Efficient decision making
Improved cash flow and financial management
Higher return on investment and revenue
ERP is thus an integrated management system for companies in the construction industry, and one of the best ERP systems that you can resort to is the Deskera ERP system. This is because it easily lets you export all your data from other sources in the system, creates a centralized data source for your business that is backed by the cloud, and is accessible from different devices and locations, as it also has an app. Deskera ERP thus leads to effortless streamlining and integration of all your business processes.
Related Articles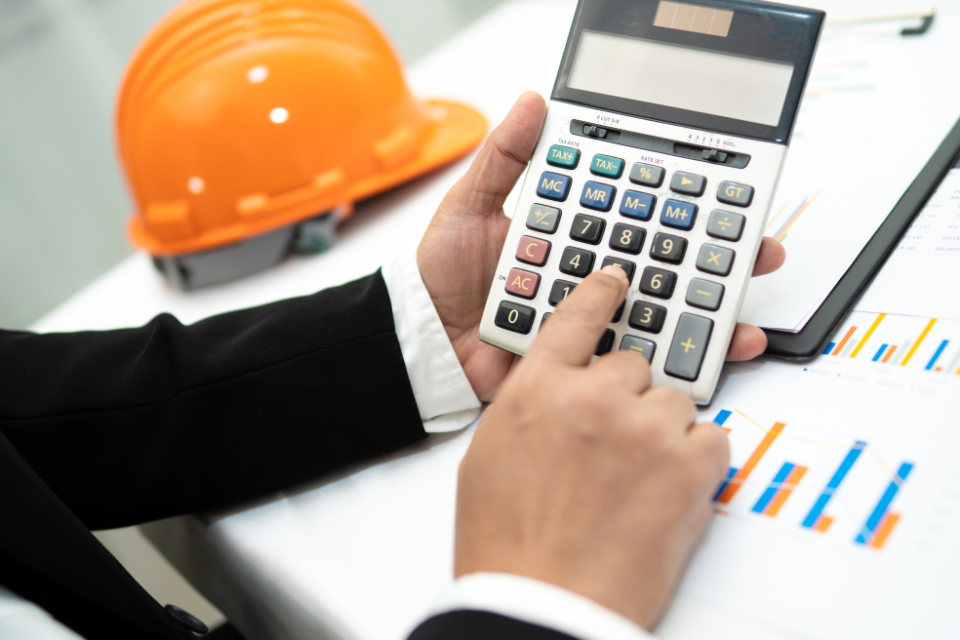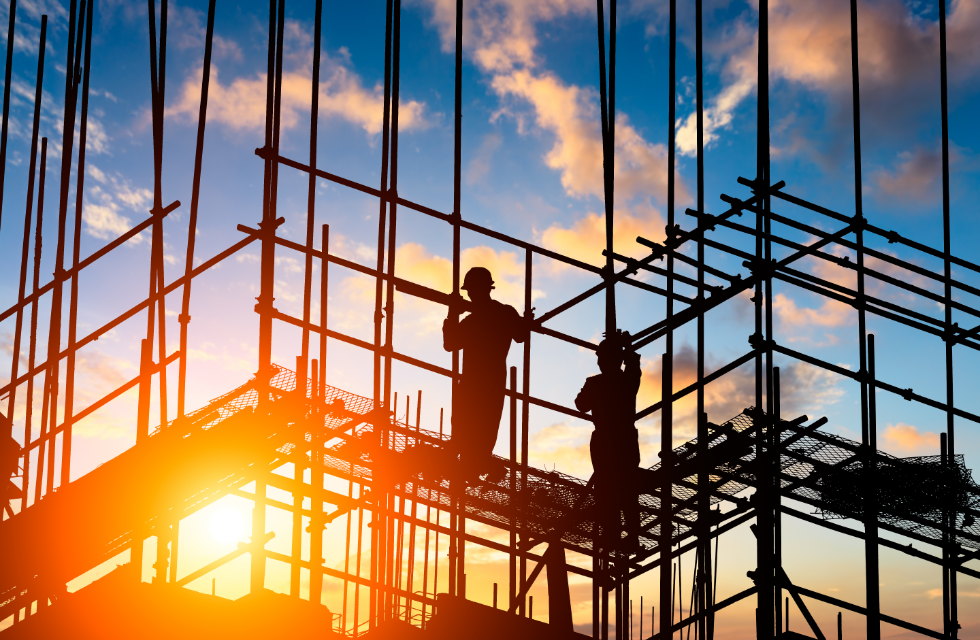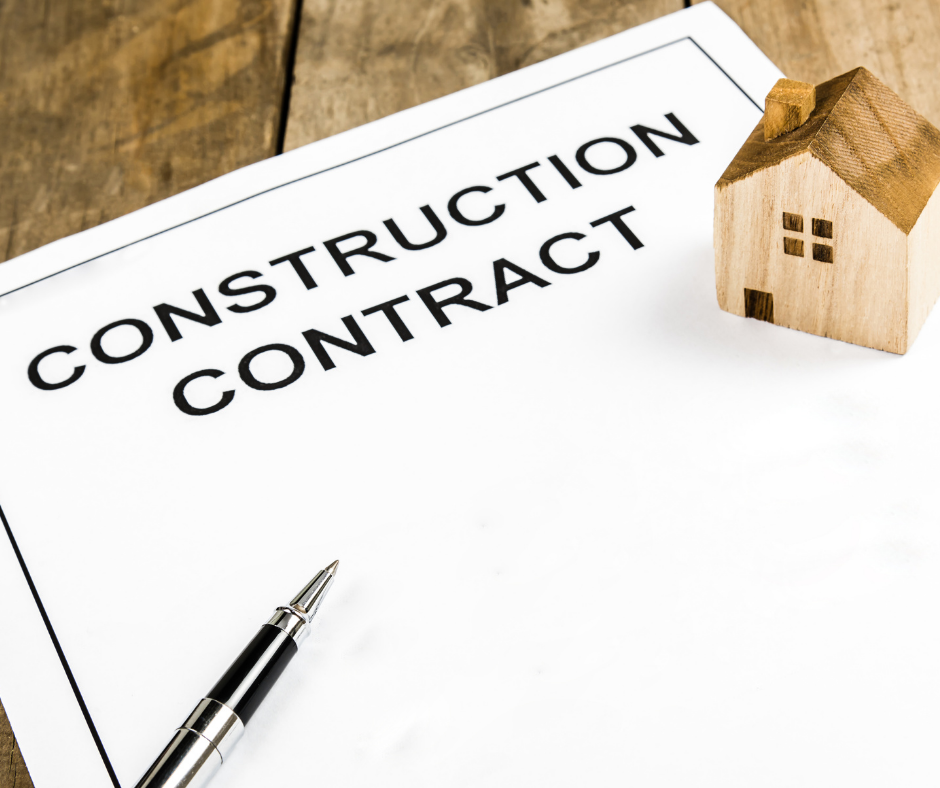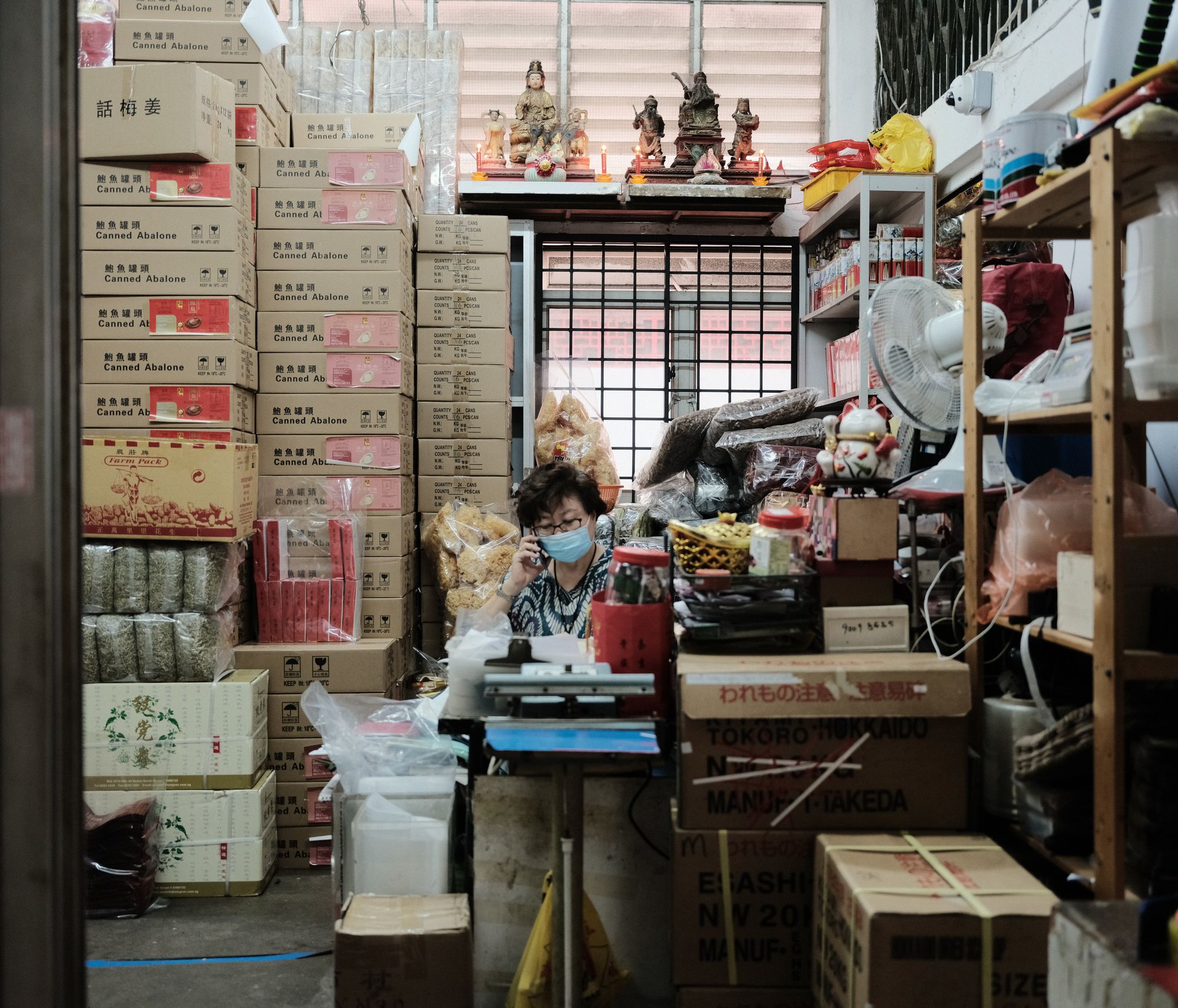 ---
---