The revenue in the consumer electronics market amounts to US$150.20bn in 2022 and is expected to grow annually at 1.44% CAGR. These numbers are no surprise considering the groundbreaking technology or the electronic goods that are taking over the world steadily.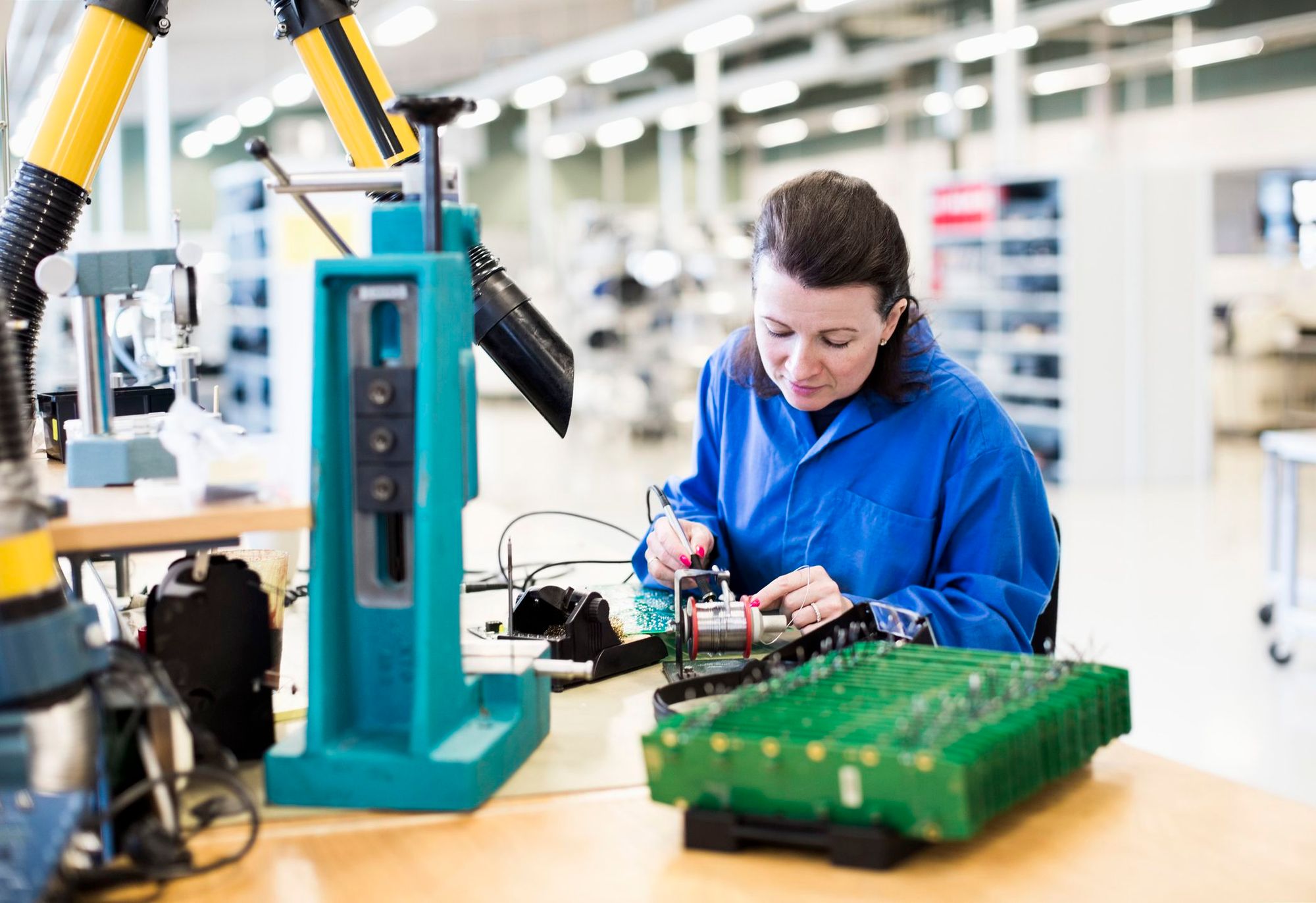 By electronic goods, we don't mean just the tech you see around, but all the electronic devices, their mechanisms, memory, and ancillary or related data storage devices.
However, not limited to computers, televisions, tablets, cellular phones, smartwatches, audio equipment, media recording devices, cameras, camcorders, GPS, and car audio equipment. Even all that we just missed here in the list.
With such a long list of electronic goods, it can be a task to manage everything as a business owner. However, with the advancement of electronic goods, management processes are improving too.
One such system is ERP. A software that can make your life easier and help you bring your A-game to the market. In this article, we will talk all about ERP and its contribution to your business. So let's get started!
This article covers the following:
Get Best ERP System With Deskera Today
Try it for Free Now!
What are the Key Operations in Electronic Goods Industry?
Before we understand all about ERP and how it can help your business, let's take a look at the key operation of the electronic goods industry.  
Product Development and Engineering
The product, development, and engineering department in an electronic goods organization includes conceptualizing an idea of the product and its design. In the product development and engineering department, the teams are expected to design, make prototypes, conduct quality tests, and deliver the final product.
The product development team then makes improvements on products on the basis of the feedback from other teams. They also design innovative tools and techniques to make products at a good speed and without wasting too much capital.
Manufacturing
The manufacturing department of the electronic goods industry is expected to transform a product design into a real workable product. The manufacturing department works in collaboration with other teams, like the design teams, to explore how they can improve the production lines to make products faster and with reduced operational costs. They often collaborate with the supply chain teams to improve efficiency during the manufacturing stage.
Supply Chain
This department is tasked with the procurement and storage of raw materials and distribution of the finished goods to consumers. The supply chain needs to be efficient in order to improve productivity and ensure the goods reach the customers on time.
In order to carry this out, they work in partnership with manufacturing teams to process the orders with the sales channels to manage the inventory and with transportation providers to plan the delivery of products.
Sales
The Sales department is tasked with generating revenue for the business through the sale of the products. They are supposed to work with marketing teams to create plans and strategies that can help in stepping into new markets, maintaining existing markets, and boosting sales performance.
Since they are in direct contact with existing customers, they are expected to provide feedback to the management and design and manufacturing teams on ways to improve the existing products.
Marketing
Marketing involves promoting and creating a good brand image for the company's products so as to grow the company's market share and profit. It is done through various channels, including TV, billboards, social media platforms, customer loyalty programs, and promotional campaigns directed at target markets. The department also performs market research and partners with sales to develop market plans and improve sales performance.
Customer Service
Their main job is to communicate directly with the customers, attend to their queries and resolve them, process their requests, and resolve their complaints. This can be done one-on-one, over the phone, or through online chats. They should then provide feedback and insights to relevant departments.
Finance & Accounting
This department is tasked with all financial operations of the company. This includes financing projects and operations, maintaining accounting records, creating financial and budget controls, preparing financial statements, and managing credit and cash.
Human Resources
The human resources team deals with matters related to employees, including recruitment, compensation, and benefits. They also help the company to sort out its legal obligations like licenses, permits, tax, compliance, etc.
IT Department
The IT department is responsible for planning, establishing, and maintaining networking, communication, office-related infrastructure, and equipment. They are also expected to leverage new technologies to improve products and processes or help design new processes that can help expand markets and increase profits.
Considering the avalanche of different operations that plays a role in the success of an electronic goods business, it can be tough to manage everything. But what if you had one software to manage all the information, track packages, and have employee information all in one place? ERP does exactly that for you. Let's find out in-depth what ERP is and why you need one.
What is ERP?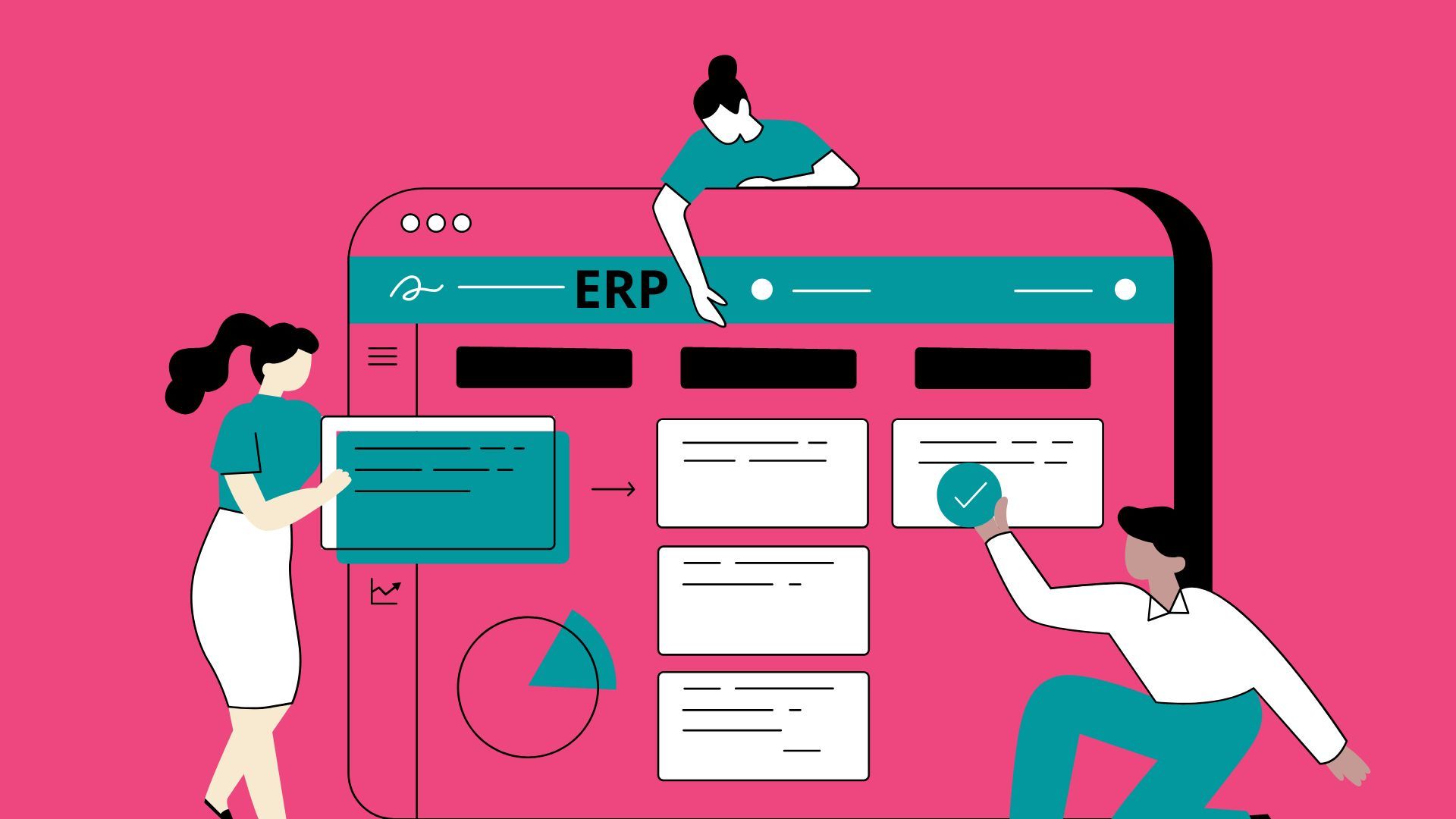 Enterprise Resource Planning (ERP) is a type of software organizations use to manage day-to-day business activities such as accounting, procurement, project management, risk management, compliance, and supply chain operations.
A complete ERP suite also includes enterprise performance management and software that helps plan, budget, predict, and report on an organization's financial results. Sounds like quite a software meant for the growth of your business, but let's find out some major reasons why you need an ERP for your electronic goods business.
Why Do You Need ERP As Electronic Goods Trader?
Here are a few reasons why an ERP system is essential for your electronics business.
Components Sourcing & Purchasing
A component is a functionally independent part of any system. It performs some functions and may require input to produce some output. Component Sourcing is the location, acquisition, and managing components of all the vital inputs required for an organization to operate.
This includes raw materials, parts, products, and labor in all its forms, location, and services. Component sourcing system for PCB assembly projects, only the parts you specified on your BOM are ordered for each of your assembly jobs, No substitutions are ever used without your approval.
Purchasing has been one of the major parts of any manufacturing industry. Purchasing software is business software that allows organizations to automate their entire source-to-pay cycle. Users can gain complete access to control every procurement process operation.
ERP manages everything related to suppliers from the same place and manages their quotations. Manage material and suppliers and keep an eye on stock level. Find the cost of components with its automated components price analysis. Import price lists and comparisons of it help suppliers effectively make better purchasing decisions based on promotions, quantities, and contract terms.
Bill of Material Management
A Bill of Material (BOM) is a comprehensive list of the components that are used in your schematic, along with the detail of the manufacturer's parts, their number, and quantity.
A BOM is a list of raw materials, parts, components, assemblies, and sub-assemblies in a hierarchy format needed to make one unit of the product. The more detailed and accurate the bill of materials is, the better you can make decisions about how to get the product into the customer's hands efficiently and cost-effectively.
A centralized source used to manufacture a product and serves as a basis for product design and manufacturing business activities – R&D, Production, Logistics, Procurement, Inventory, Pricing, and Sales are all dependent on BOM data.
A bill of materials explosion displays an assembly at the highest level broken down into its components and parts at the lowest level, while a BOM implosion displays the linkage of individual parts at the lower level to an assembly at the higher level.
A BOM is often tied to a Production Order, whose issuance may generate Reservations for the components in the Bill of Materials that are in stock and Requisition for the components which are not in stock.
You can analyze the production variance based on the on-site production, and the registered BOM can be the base of your production stock management, with the link to other functions.
It Validates Single-level and Multilevel bills of materials. Evaluate and validate levels of BOM (Bill of Material), accuracy, completeness, and consistency.
Integrated Inventory Management
Inventory management is a very important function that determines the strength of the supply chain as well as the impact on the financial strength of the balance sheet.
Every organization constantly strives to maintain optimum inventory to meet its requirements and avoid over or under inventory that can impact the financial figures.
An inventory management system integrated with ERP systems helps you avoid mistakes and take quick decisions. ERP system enables the most efficient stocking methods for your inventory and helps improve all the internal operations.
ERP systems help you to have a proper reporting mechanism of inventory in your store and your warehouses. This helps the manufacturing department in planning its future production schedules accordingly.
Powerful inventory management which seamlessly integrates with everything, keeps track of every movement of the stocked item. The real-time stock level is maintained so that the sales team can never go wrong while accepting new orders.
An effective ERP inventory management system minimizes overhead and increases efficiency by tackling several common inventory challenges. The benefits continue when one adds inventory management capabilities to forecasting. ERPs protect sensitive electronic components with process visibility.
Production Planning & Resources
An ERP software can easily track every activity of workers, equipment, products, components, and relevant resources. The production planning & scheduling in ERP consider all the phases and steps relevant to a product.
Use the refined planning system designed for electronics to schedule your input and manage production orders efficiently. Resource planning is defined as a method for the effective planning of all resources; ideally, it addresses operational planning in units and financial planning and has a simulation capability to answer.
The process of converting the production plan or the master production schedule into the impact on key resources, e.g., man-hours, machine hours, storage, standard cost dollars, shipping dollars, and inventory levels.
An ERP software enables you to accurately define your work shifts, including the leaves and holidays of the worker. This gives you the overall visibility of your available input time according to the defined shifts.
Once the input time is visible, the same will be used to plan the production orders and utilize resources well. Work orders can be planned either backward or forward based on the date of completion intended.
Displays the count of production team scheduled for each shift, so there is no chance of over/under staffed while planning shifts and workweeks. Capacity planning is interrelated with production planning in ERP.
Manufacturing Using Dynamic Routing
Manufacturing with dynamic routing allows you to command your input time and supervise your routing & resources. Users can visualize order status and get the idea that the order has high priority still the job cannot be started yet.
ERP software allows you to accurately define your work shifts, including your holidays and workers' leaves. That gives you comprehensive visibility of your available input time.
Once the input time is visible, the same is utilized in planning the manufacturing orders. Work orders can be planned backward or forward based on the intended finish date.
Custom logic can create MO (Manufacturing Orders) manually or automatically. Bill of Materials (BOM) and CPL (Component Placement List) can be imported into the system and linked to MO automatically or manually.
A manufacturing business may need many parts for the complicated assembly of a quality product or just a few for making a simple electronic good. Keeping production with dynamic routing costs to a minimum, having good quality control, and excellent sales management are key to reducing the risk in any type of manufacturing.
Regulate Finances
Control your bottom line and prepare for the change in the future with Lighthouse ERP financial management and accounting system. It covers financials, banking, investments -hedging and commodities, payroll, cost and budget accounting, and fixed assets.
The flexible multi-level accounting structure promotes real-time group visibility or for an independent unit Key capabilities include general ledger with multiple charts of accounts, accounts payable, accounts receivable, cash flow management, bank management, general Expenses, and fixed asset management.
Sales Service Record & Reports
Your after-sales technicians, field repair personnel, and on-site operators need to communicate with customers but also with the ERP system to report issues, order parts, write service reports, etc. Key features include a complete cycle of Service Management: Service Scheduling, Execution (Job Cart), Daily Service Reports, and Service Billing.
Logistics
ERP for Logistics helps in tracking goods and stock at different transit points, for instance, at Ports, Depots, warehouses, Storage yards, and Godown. Detailed workflow for Freight Contract against sales or purchase order, Freight Advice, and Payment against Contract, Cash or Credit based Freight Management.
CRM
With an ERP, you get insights as well as core sales force automation functions to go beyond traditional CRM. Your sales teams will sell smarter and provide exceptional service.
Full integration with sales, inventory, and finance provides a 360-degree understanding of customer activity all within a single business management system. Advanced features for Customer status and follow-up, Sales force automation, Warranty/service order management, and Solution knowledge base.
Overall Benefits of ERP
Here are some excellent benefits of ERP that you must take note of: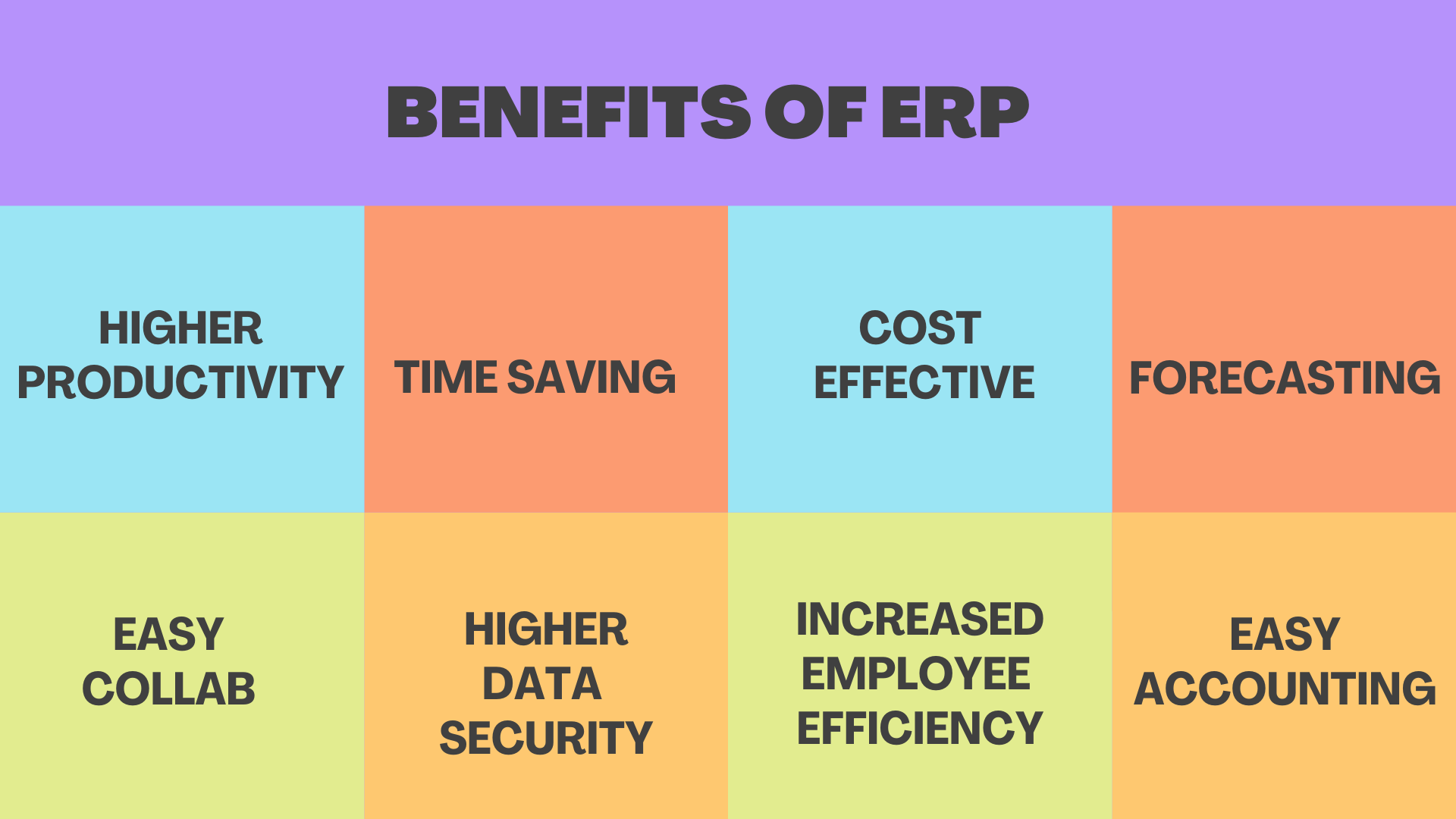 Higher Productivity
ERP lets you manage daily schedules in a timely and systematic manner. It promotes centralized database support and helps management optimize every resource. ERP fosters refined strategic planning, prompt and diligent decision-making, enhanced speed, better synchronization, and managing huge chunks of data.
Here are a few ways in which ERP improves business productivity.
It streamlines financial operations and manages the sales process and other departmental processes.
An Enterprise Resource Planning solution provides accurate, real-time information for better decision-making.
A modern ERP system ensures prompt communication between employees for better collaboration and greater productivity.
It integrates departmental data and makes it easily accessible to employees.
Cost Effective & Time Saving
Reduced business costs help to improve profits and growth, which is the goal of every business owner. When tasks are automated and information is consolidated in a single platform, ERP eliminates the need for revising, searching for, and storing paper documents. ERP reduces errors, saves time, and ensures no additional costs crop up.
Here are the perks of using ERP:
You don't have to invest in multiple software programs
More work can be done in less time
Operational expenses are cut while improving employee efficiency
IT can focus more on the critical areas of business
ERP decreases costs and improves profitability in an organization. It encourages lean manufacturing, which helps to:
Lower financial expenditures
Reduce supply expenses
Modernize your marketing efforts
Boost efficient time strategies
Improve your employees' skills
Retain your customers
Improves product quality
Forecasting
Before we find out how ERP helps you with forecasting, let's take a look at the four reasons why forecasting is important for your business.
To understand the factors that are responsible for enhanced sales (e.g., season, trends, etc.)
To determine optimal inventory levels
To boost sales and encourage better customer relationships
To ensure enough stock is on hand to meet customer demand
In manufacturing organizations, planners usually face a crisis-like situation when their company experiences an unexpected demand for a particular product. It is the same scenario when in a slack season, the warehouse overloads with unsold excess inventory.
Thus, to avoid such unfavorable situations, businesses prefer to use an enterprise resource planning software system that does not disturb the logistics and the entire supply chain process.
ERP brings sanity to production, sales, procurement, and inventory plans. It helps you generate forecasts and sales reports based on historical transactions. This avoids problems by minimizing out-of-stock or excess inventory situations.
Plus, its intelligent report capabilities ensure that the company responds easily to complex data. Users can also run their reports without relying on IT personnel. User-friendly ERP modules make the life of planners easier and less tedious.
With ERP, there is no more manually fetching data and spending hours creating reports. Users can predict future demand and design material requirement plans appropriately. Powerful business intelligence tools make reporting simpler so that management can get a view of the entire organization.
Easy Collaboration
Is your data still divided into different databases, and is it difficult to access? ERP holds the key to integrating disparate organizational data and making it easily accessible for users.
With an ERP system, there isn't the need to invest in multiple software such as CRM, HRM, MRP, and accounting tools. You get all of this functionality in a single system with centralized data that is easily accessible.
ERP eliminates redundancy and helps you maintain the consistency, accuracy, and quality of the organizational data.
Consolidated data helps with employee efficiency and productivity.
It promotes inter-departmental collaborative efforts.
Higher Data Security
Data helps with a company's growth, so it's important to have a secure infrastructure. ERP systems have excellent data security. And managers and supervisors can enhance data restrictions on their projects and requirement.
Whatever data you insert in the ERP system is secured and coded. Older ERP systems were vulnerable to cyber thefts because they required manual updates to every component of the software. With new technologies, the ERP provider releases auto-updates timely, eliminating the risk of data theft.
Increased Employee Efficiency
ERP users can access business data from their mobile phone, tablet, laptop, or computer anywhere and at any time. Mobile-friendly ERP enables employees easy access to documents to edit and approve on the go. Mobile-friendly applications for the shop floor, warehouse management, etc., help floor managers leverage information.
A One-Stop-Shop
To help organizations generate new business and maintain customer and supplier relationships. All relevant supplier, customer, and prospect documents, communications, office locations, and company contacts can be safely stored in one place. Activities and tasks such as calls or emails can be scheduled against a contact, so it appears on the user's dashboard.
Projects
In ERP, you can think of project functions as a glue that binds together various data and business processes, including engineering, sales, planning and scheduling, supply chain, warehousing, manufacturing, service, and finance and accounting.
Many engineer-to-order high-tech and electronics manufacturers, particularly low-volume / high-mix manufacturers, apply significant resources to manage customer-specific orders.
For these types of companies, it becomes critical that they manage resources and profitability on a project-by-project basis. These companies need project functionality to plan, schedule, track, and account for many associated activities.
In addition to evaluating actuals against budgets and estimates on schedule, cost, and profit dimensions, they can avail themselves of project invoicing methods and project revenue recognition policies.
What is As-is Process Analysis?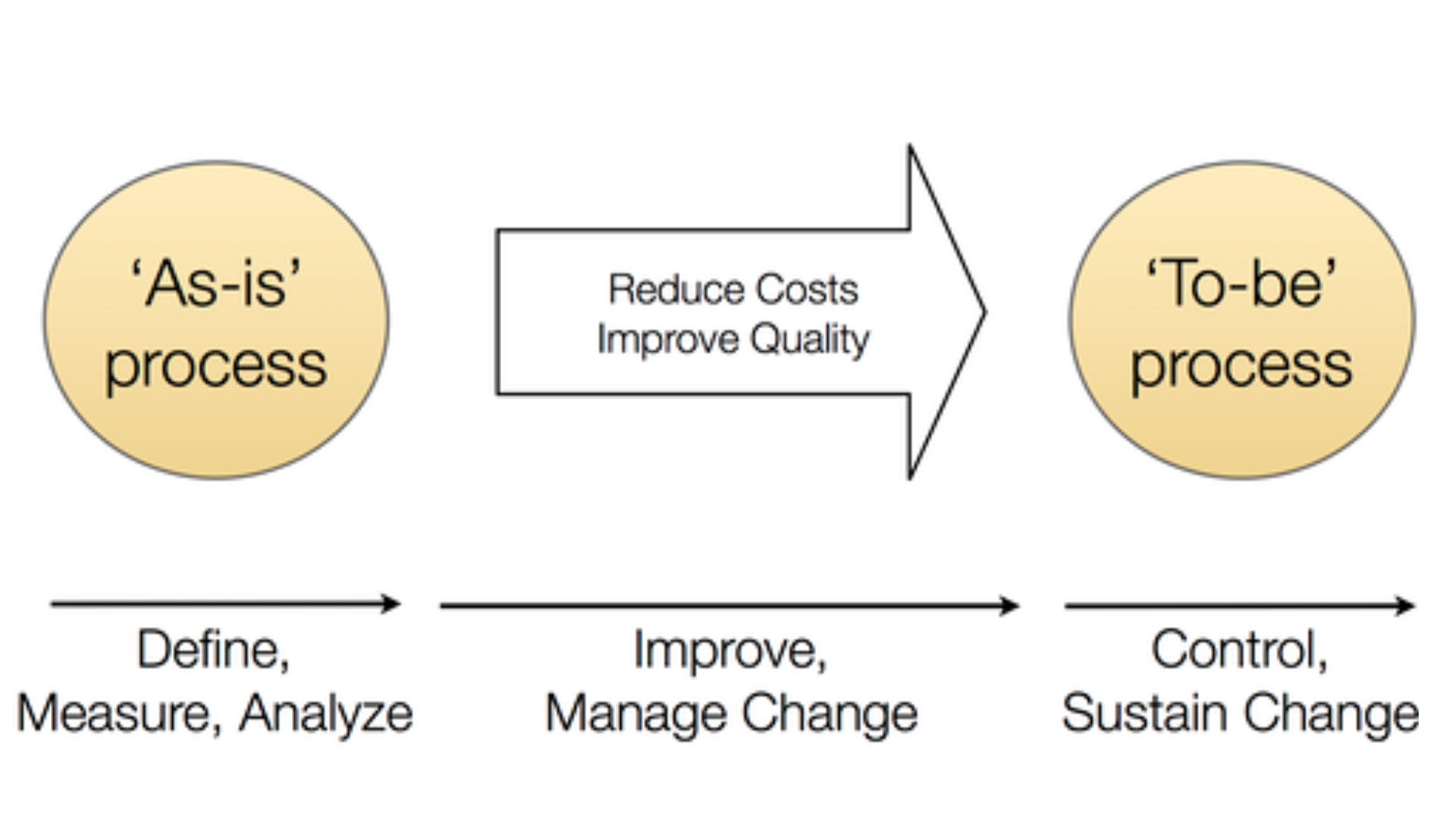 An as-is process analysis or current state analysis is a process management strategy that identifies and evaluates a business's current processes. It not only helps you spot the loopholes in your current system but offers an opportunity to improve your business processes.
With As-Is process analysis, you can focus on an entire business organization or on one or more specific processes within a department or team. Mentioned below are some of the key areas in which As-is process analysis can prove fruitful:
Putting money in the right place
Making processes cost-effective
Improving existing processes or creating new processes in the electronic goods industry
Boosting customer satisfaction
Improving business coordination and organizational responsiveness
Complying with new regulatory standards released by the government
Adapting processes following a merger or acquisition
These are some of the benefits of as-is process analysis, but is it crucial for your electronic goods industry, too? Let's find out!
Get Where You Want To Be With As-Is Process Analysis
The key benefit of as-is process analysis is that it helps you build a concrete foundation in an organization's processes. If you will not be aware of the weak points of your business processes, it can be difficult to manage and improve the systems in place.
By conducting as-is process analysis, you can expect the following perks for your organization:
Align the operations of your business with a pre-aligned business strategy.
Increase operational efficiency.
Increase control and consistency across the organization.
Gain a competitive edge in the market.
Improve process communication and training.
Help you identify reasons to adopt new systems like ERP to take your business a level up.
What are Some of the Biggest Challenges in Electronic Goods Industry?
Every profitable business comes with challenges, and an electronic goods business often faces some major challenges in its journey to success; let's find out what these challenges are and how an ERP system can help overcome them.
Complex Supply Chain
For the most part, the days of creating a product from start to finish in-house are long gone. Most electronics industry companies outsource at least some of their operations to be efficient and economical.
While outsourcing offers many benefits, it also creates a complex supply chain with far more points where things can become lost, out of compliance, or otherwise problematic.
Quality Management
The same complex supply chain also introduces the potential for quality control and management issues. Keeping components and processes in-house allows for easy visibility into quality.
Outsourcing makes it harder to keep an eye on what everyone is doing and how. In the end, the primary manufacturer is responsible for quality when it comes to clients, so it must manage these processes, regardless of how complex the supply chain is.
Unforeseen Customer Demand
Every manufacturing-related industry is tied to customer demand, but the electronics industry is particularly challenging to predict. Customers expect new, high-quality technology as soon as it's possible to manufacture it. Companies, however, need to carefully balance supply and demand, operating leanly to meet customer needs without having too much or too little stock.
Short Lifespan of the Product
With quickly changing consumer tastes and preferences, EMS companies and contract manufacturers need to have effective New Product Introduction (NPI) processes in place. Closed-loop communication between sales, manufacturing, and engineering is vital to ensure product launches hit time, volume, and quality targets.
Uncertain Demand
Aggregately, economic volatility and cyclical demand cause fluctuations in production. On a more granular level, consumer preference can cause spikes in demand for an individual product or company. Efficient lean capabilities must be in place to keep inventory aligned with demand.
Sustainability
Emerging regulations and standards are forcing companies to account more and more for Corporate Social Responsibility (CSR) in decisions. E-Waste, a popular topic today, is driving conversations about the disposal of products and their impact on the environment. Companies must now consider the complete product lifecycle in decisions.
Lack of Storage
Most consumer electronics are delicate (fragile) and expensive, which requires special or dedicated storage where they are kept safe from theft and under the right temperature. But most warehouses are designed to manage and store all types of goods alike.
Manually assigning spaces for electronic products and uniquely recording these items for special handling is labor-intensive work. Poorly managing big-ticket items like these can also result in breakage or damage, which is a big loss. So, proper care, storage, and handling processes are vital.
Product Serial Code Management
Another challenge unique to consumer electronics is serial code management. In industries like fashion or cosmetics, there can be thousands of the same product. For example, a medium-size red t-shirt.
If a customer orders this product, the brand or warehouse partner will pick any one of the medium-size red t-shirts from the corresponding stockpile and send it to the consumer.
But with electronics, it's not so simple. In addition to scanning the product SKU, the Electronic Serial Number (ESN) or Mobile Equipment ID (IMEI) must be recorded at the time of storing.
In case the product has a defect or issue and the warranty must be claimed or serviced, these details are essential. The ESN and IMEI are unique identification numbers that must be recorded when a product is assembled, sent to suppliers or distributors, sold, returned, or resold.
So the inventory tracking for electronics is more granular. Each product must be mapped through the serialization process and tracked from start to finish. This is a tedious process that can easily lead to mistakes.
Inaccurate Sales Data
New phones, laptops, and electronic accessories come out every year. Some with new features, others with improvements to the existing design and storage space. This translates to a short lifecycle for consumer electronics as the newer one has greater demand.
For example, new iPhones are launched almost every year, and consumers in the market for a new phone are interested in the latest products. They rarely linger on the previous year's model as it may be outdated or lack the new and improved upgrades.
Moreover, the previous year's phone model will be twice as old as the following year's. This mentality dramatically affects electronic sales making it challenging for retailers and distributors to predict the right stock quantities. Ordering too little of a product could lead to stock out, and too much could create unsold, outdated stockpiles.
Difficulty Processing B2B and B2C Orders
Warehouse operators often receive B2B and B2C orders. In most cases, B2B orders will include larger quantities and a different invoicing and fulfillment process compared to B2C orders.
Warehouses must be equipped to meet both requirements without duplications or mistakes. They need to assess the inventory available and determine how much of the order they can fulfill.
Additionally, being connected with the point of sales will ensure they receive order details immediately and have orders processed and fulfilled quickly. But, most warehouses have limited integration technology to help with these processes and therefore struggle with B2B orders and B2C eCommerce.
Product Recalls
Product recalls can be costly and damaging to a company's reputation. They can also lead to legal problems if customers are injured, or products are found to be defective. This is why it's important to have traceability software implemented now, to be ready for such a scenario.
Managing Service and Warranty of Products
Having good quality control measures in place ensures that only high-quality products are produced. However, sometimes things go wrong, and being able to service faulty parts as opposed to replacing products under warranty saves both time and money. It also allows electronics manufacturers to provide a greater level of customer service and increase trust in their brand.
Difficulty in Identifying Stocks
While handling products with multiple variances as a boxed movement, traders find it difficult to identify the stock which leads to time consumption and customer dissatisfaction in certain scenarios. This can be eliminated by the Stock Keeping Management Feature.
What are the Ways to Overcome Electronic Good Industry Challenges with ERP?
Now that you have understood the number of challenges faced by the electronic goods business, let's find out how an ERP system in place can help you overcome these challenges.
Expiry Date tracking
Shelf life management can help ensure that electronic devices are used within their optimal timeframe and avoid potential damage or performance issues associated with outdated devices.
With the expiry date tracking feature of ERP, you can keep accurate records of when devices were purchased or acquired, which can be helpful for insurance or warranty claims. Finally, expiry date tracking can help businesses to manage their inventory more effectively and ensure that they are not stocking outdated devices.
Inventory Management
Easily track your raw materials, WIP, and finished goods inventory from suppliers, along your electronics process, and out the door to the customer. But what about manufacturing with multiple factories, warehouses, or even outsourced projects?
An ERP system can help you track your items at several locations and even globally. The ERP system can automatically allocate items to manufacturing and sales orders based on your bill of material specifications required to complete that order.
COGs and Manufacturing Costs
ERP software accurately tracks production costs based on the price of ingredients and the cost of your electronics manufacturing process. This allows you to track the profitability of your sales.
Over at the sales screen, you can see the cost of goods sold and profit for all your sales orders. These cost calculations are performed automatically, so you don't have to worry.
End-to-End Product Traceability
Quality assurance is of the utmost importance when manufacturing electronic goods.
Proper end-to-end product traceability allows manufacturers to quickly:
Organize a product recall
Launch an investigation
Respond to a warranty claim
This feature will allow you to get complete visibility of your item's journey to uncover which batch a product came from, the raw materials used, or which supplier sold you the components used.
Contract Manufacturing
ERP system automates your production tracking and monitoring with your contract manufacturers based anywhere globally. With ERP, you can have raw materials sent directly to your CM while monitoring inventory levels and the status of tasks from their end.
If you use a CM for building sub-assemblies, no problem. With ERP, you can also issue them a manufacturing order instead and keep an eye on production via the ERP software.
Dropshipping
Dropshipping is a retail technique used for order fulfillment processes to sell products or items without possessing inventory or a warehouse. Besides, when drop shippers receive any order, they send customers' information, product order number, shipping address, and other related data to the third party.
They further handle packaging, labeling, and shipping those orders to customers. Considering the number of steps involved in the safe delivery of products, it is necessary for you to keep track of the package and all the information. With ERP, this is made effortless and safe.
Increase Transparency with ERP
Electronics manufacturers should have an ERP system that offers real-time visibility all throughout the organization. This calls for intuitive tracking of materials, costs, production processes, supply chain, machines, etc.
In other words, managers and sales professionals should get instant access to all the key metrics and KPIs pertaining to production, supply, order, materials, costs, sales, etc., to help them make informed decisions and forecast better.
The list of must-have ERP features for the electronics manufacturing industry is never complete without a cloud model. Yes, with a partly cloud-based ERP for Electronics Manufacturers, companies straightaway save a great amount of money on infrastructure, hardware, software, and IT support. In fact, with a cloud-based model, businesses can enjoy ERP anytime, anywhere.
FSN Product Management
Fast, slow and non-moving goods are the items in your stock that are utilized regularly. There are usually basic day-to-day items that are used by customers regularly. There can be fast-moving and need to be produced on a regular basis.
Considering the flow of goods until they reach the customer, tracking these goods and keeping tabs on their processes is essential. One way to do it is by using an ERP system that optimizes your FSN system and keeps a record of every movement you can track later.
Reorder Levels Alert
Reorder level is the stock level of a specific product based on which order for new stocks is placed. There are often times that you are not updated with the inventory reorder levels and fail to deliver to your customers. To avoid this from happening, you can use an ERP system that keeps track of stock levels and sends you an alert when you require to restock products.
Barcoded Inventory
There is an avalanche of products that you have to manage and even more barcodes to track, followed by invoicing. When this is done manually, it is not even difficult but consumes a lot of your time and money.
With an ERP system, you can easily do the invoicing of your products, and all the details for your products will be recorded in one place for you to easily access and track when required.
How to Choose the Right ERP Software?
Learned all about ERP and its perks, but still worried about which ERP software you should use? Worry not; here is a checklist of things you can do to pick the correct ERP software for your business.
Align Your Business Requirements
Develop a clear and comprehensive list of your requirements for your ERP.  Use every resource available to make this list excellent.  Talk to your production workers and your purchasing manager.  
Listen to executive management and your customers and suppliers.  Call in former employees and current salespeople. When every thought is written, then prioritize the entire list.  
Reach a solid consensus as to which requirements are absolute "must have." The next priority tier includes things that are not mandatory, but there is general agreement that including them will benefit the company.  Any other listed items are in a lower category, merely "nice to have."
Take your priority list around to the same people who provided your inputs.  Do they agree with the requirement list? Does it need to be updated? Can someone provide a solid case to elevate a point from tier 2 to tier 1?
Functional Requirements
Your business has certain functional requirements that must be satisfied even before your change and update requirements.  Does this ERP support sales orders that include both physical products related and services? If that is what your business sells, it has to.  
Your business operates in multiple countries around the globe. Do the accounting components of ERP include multiple currencies and the ability to work with the variety of tax systems in those countries?
Think about any ERP components not required by your business.  If your business is distribution and you perform no manufacturing, can you easily work around any work-in-process demands made by an integrated inventory system included in some ERPs?  Your ERP should make things easier - not harder - on all departments.
Easy Integration
It is not necessary that once you have an ERP, you cannot use other software to carry out the tasks ERP can't help you out with. In such cases, you will require ERP software that will help you with easy integrations with other systems.
Almost always, there are common data elements.  Can ERP read and use the existing data in that other system?  Will you allow the same data to exist, and how will you keep those separately updated data elements compatible?  Will you be better served by changing the other system to use that data from ERP?
It should have simple integration, such as .csv files for occasional data updates. That type of update is inefficient and likely too slow for everyday use. Web services and XML files that allow different systems to quickly transfer data between systems are a more modern way to work.
Future Technology
These concerns apply to the software used to develop your ERP system and to the hardware required to use that ERP.  We know there will be ongoing developments and improvements in both domains.
You might not want either to perform on the bleeding edge of technology, but neither do you want either one to use obsolete technology today.  At the same time, you want to buy your ERP from a provider that has a good record of accomplishment in keeping up with technology developments and who promises to maintain that strategy.
Customization
The perfect ERP will never require any customization.  Since none are likely to be perfect, any customization will be a selection criterion.  Understand among your team what customization is desired and whether it truly is essential.  
Today's ERP systems use the knowledge gained from thousands of customers. Is there some component of your business that is unique from every other business around the world?  Not likely.
If your desired customization can be worked around easily using an existing ERP, that customization is not a selection criterion. If that customization can be deferred while you use an existing ERP and evaluated later, it is not immediately a criterion, but the ability to implement that customization later is a criterion.
On the other hand, if your desired customization is required, look at ERP systems with an eye toward the ease and efficiency of that customization.  Do you have developers skilled in the programming language required? Are developers with that skill available in the employment market?
How will your ERP handle the customization?  Can you use business objects or other validation techniques to ensure compatibility with other components of the ERP?  Can you introduce your customization with no adverse effects on other components of ERP? Are some of the questions that you must ask before picking and ERP system for your business.
Bonus: Keeping Up With Electronic Industry Global Trends
Here are a few trends that you need to keep up with as an electronic goods trader.
Advanced Materials
The semiconductor industry has been reliant on silicon for decades, but there is a limit to how far you can etch, lithograph, and pattern a silicon material. As a result, innovation to increase the performance of integrated circuits is coming from new materials and architectures.
Startups and scaleups are developing silicon alternatives and other semiconductor materials or composites such as graphene and nanomaterials for high performance and efficiency.
Organic Electronics
Organic Electronics offer massive advantages over traditional inorganic electronics. They are cost-effective, flexible, indissoluble, optically transparent, lightweight, and consume low power.
In addition, the rise in awareness of sustainable development and eco-friendly manufacturing attracts manufacturers to opt for organic electronics. Designing circuits with microbial components or producing devices with biodegradable and recyclable materials is seen to be the next electronics manufacturing trend.
Moreover, the application of organic materials to manufacture electronic devices enables electronics manufacturers to use safer, fewer, and more abundantly available raw materials. Hence, it creates new business opportunities for companies and this is sure to give them a competitive edge in the long run.
Artificial Intelligence
AI-powered solutions are gaining popularity in every sector. AI impacts the growth of semiconductor manufacturing in two ways, one is by building demand for innovative AI-capable electronics components, and two, by enhancing the product manufacturing and design processes.
The conventional methods have limitations in reshaping product development cycles, improving product design processes, and reducing defects. But the application of AI is solving all these limitations.
The implementation of predictive maintenance in the production lines also allows manufacturers to reduce downtime. Hence, artificial intelligence is one of the most important technologies among the electronics manufacturing trends.
Internet of Things
The rapid growth of the internet of things represents an unprecedented opportunity for the electronics manufacturing industry. It re-evaluates the fabrication process and manages practices that are found to be difficult to achieve with conventional approaches.
In other ways, the IoT enables electronic manufacturing machines to self-process and store data while being digitally connected. Continuous improvements in the fabrication of sensors are also required since sensors are the key components that enable IoT applications. Further, the transition to 5G-enabled devices requires flawless, innovative chips with more efficient architectures at lower costs.
Embedded Systems
Embedded systems are an unavoidable part of any electronic device nowadays and it has a crucial role in deciding the speed, security, size, and power of the devices. Since we are in the transition phase of a connected world, there is high demand for embedded systems.
So the designing and manufacturing sector of such systems is undergoing numerous innovations to improve performance, security, and connectivity capabilities. Further, in electronics manufacturing facilities, these systems are useful for increasing machine control and monitoring.
Printed Electronics
Printing electronic components on a semiconductor substrate is the most effective way to reduce the overall cost of the manufacturing process. So, manufacturers are always trying to tackle this challenge by searching for new technologies and advancements in conventional printing technologies.
Unlike traditional semiconductors that use tiny wires as circuits, printed electronics rely on conductive inks and often flexible films. Further, the advancements in printing technologies allow the flexible hybrid electronics field to obtain enough momentum. Therefore, startups and scaleups are developing solutions for advanced printing technologies.
Advanced IC Packaging
In recent years, chip packaging has become a hot topic along with chip design. The traditional way to scale a device based on Moore's law has limitations nowadays. The other way to get the benefits of scaling is to put multiple complex devices in an advanced package.
So, semiconductor manufacturers develop new advanced IC packaging technologies to provide greater silicon integration in increasingly miniaturized packages.
This also enables manufacturers to offer customization and improve yields by vertically stacking modular components. Besides, advanced IC packaging optimizes manufacturing to balance customer needs against overall costs.
Miniaturized Electronics
Miniaturization enabled the use of electronics in several novel application areas. Particularly, healthcare and automotive industry applications have space limitations in terms of implementing specific devices.
Previously, the miniaturization concept was limited by its practical handling, display, and battery, but not by the built-in electronics. There are innovations happening to make electronic components as small as possible by maintaining speed, reliability, and efficiency.
Another important aspect of miniaturization is the integration of more and more features into a single component. For example, nanonet sensors and worksheet FET are a couple of recent developments in miniaturized electronic components.
Additive Manufacturing
3D Printing in electronics manufacturing eliminates the need for flat circuit boards. It enables new innovative designs and shapes that cannot be produced through conventional means.
3D printers also fabricate electronic components as a single, continuous part, effectively creating fully functional electronics that require little or no assembly. Consequently, the implementation of this electronics manufacturing trend speeds up prototyping, offers mass customization, and decentralizes parts production.
In general, 3D printing technology made possible electronic components production in terms of 3D design and not only 2D, with new ways of stacking the circuits.
Immersive Technologies
There is a high dependency on the human workforce in different stages of electronics manufacturing. There are possibilities for human errors and it definitely affects the overall manufacturing efficiency.
The adoption of immersive technologies is an effective solution to overcome these challenges. Such solutions inspect design objects at all possible scales, thereby eliminating defects in products at the design stage.
Specifically, they detect design errors in the circuitry as well as common manufacturing errors ranging from slivers, missing solder pads, and starved terminals before fabrication. In addition, it facilitates personnel training, prototype development, and assembly maintenance and enables operators to visualize workflows.
Hope this helped you understand all about ERP and its benefits for your electronic goods business. Now that you have understood the importance of ERP let's find out what Deskera has in store for you.
Get Best ERP System With Deskera
Try it for Free Now!
How Does Deskera Help with an ERP for Electronic Goods Industry?
Keeping in mind the manifold benefits of ERP, you must adopt ERP software to run your electronic goods business on autopilot. One such ERP software is Deskera. It helps you with accounting, HR processes, and CRM.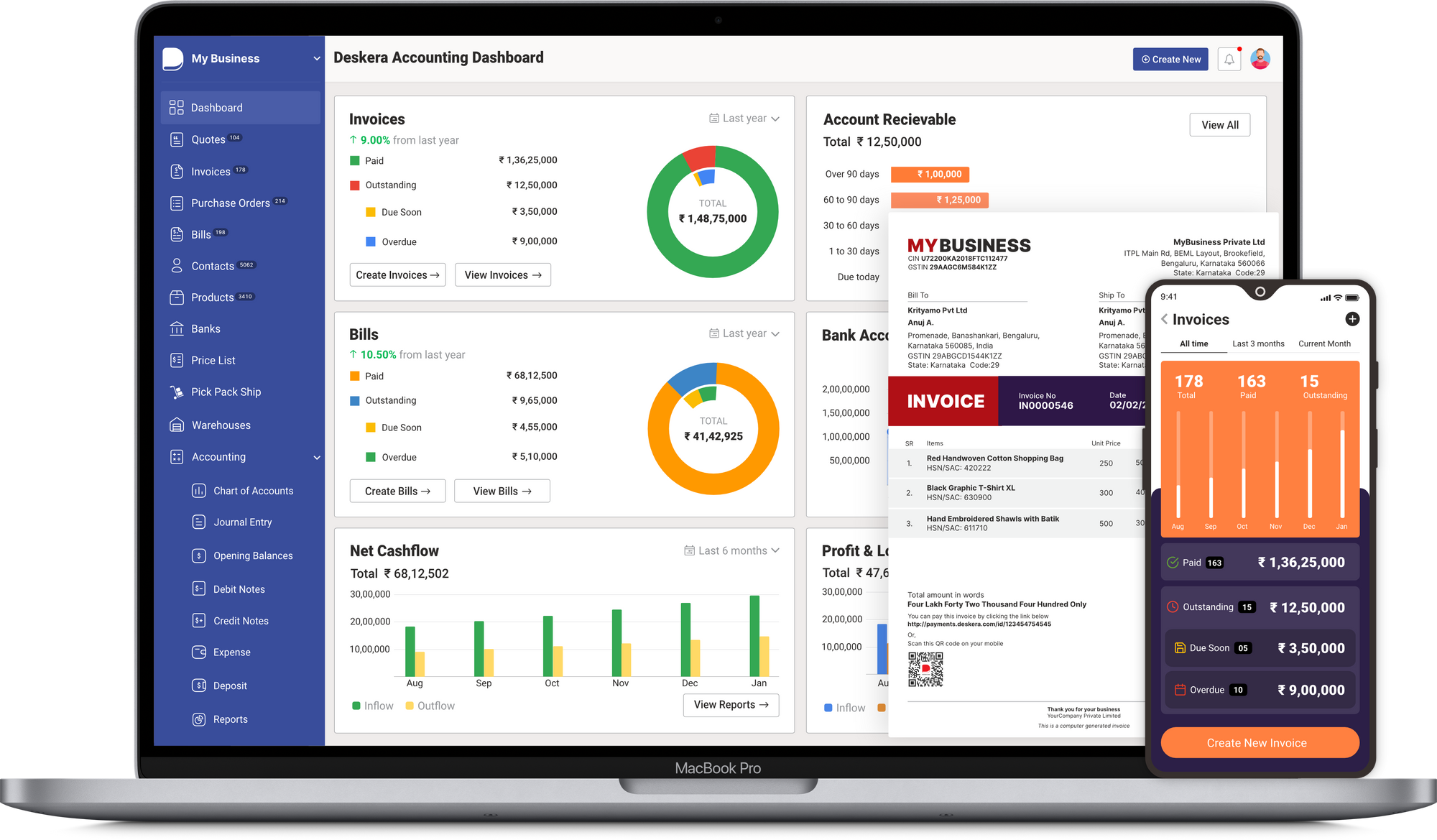 Moreover, you can also manage your employee's payroll, leave, attendance, and so on, all with Deskera People.
Key Takeaways:
Enterprise Resource Planning (ERP) is a type of software organizations use to manage day-to-day business activities such as accounting, procurement, project management, risk management, compliance, and supply chain operations.
ERP lets you manage daily schedules in a timely and systematic manner.
It promotes centralized database support and helps management optimize every resource.
ERP reduces errors, saves time, and ensures no additional costs crop up.
ERP helps you generate forecasts and sales reports based on historical transactions.
ERP holds the key to integrating disparate organizational data and making it easily accessible for users.
Whatever data you insert in the ERP system is secured and coded.
Mobile-friendly ERP enables employees easy access to documents to edit and approve on the go.
Related Articles: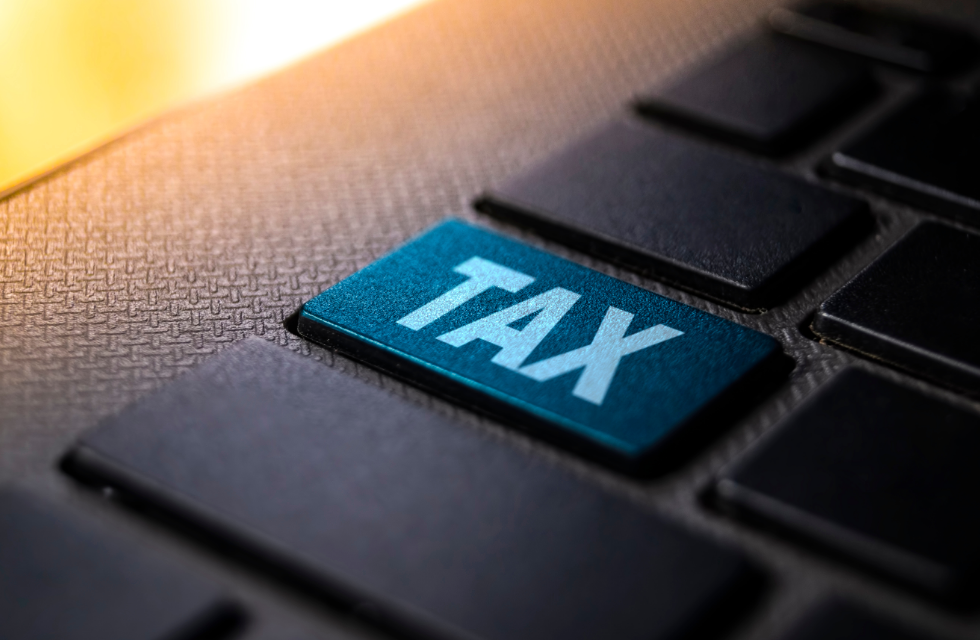 ---
---