The food and beverage industry is an essential part of the US economy because between agriculture, manufacturing, retail, and food service, the sector makes up roughly 5% of the country's GDP and 10% of employment, with its sales totaling to $1.4 trillion.
In fact, as per the report by the US Committee for Economic Development, the food and beverage industry consists of close to 27,000 organizations and employs almost 1.5 million people.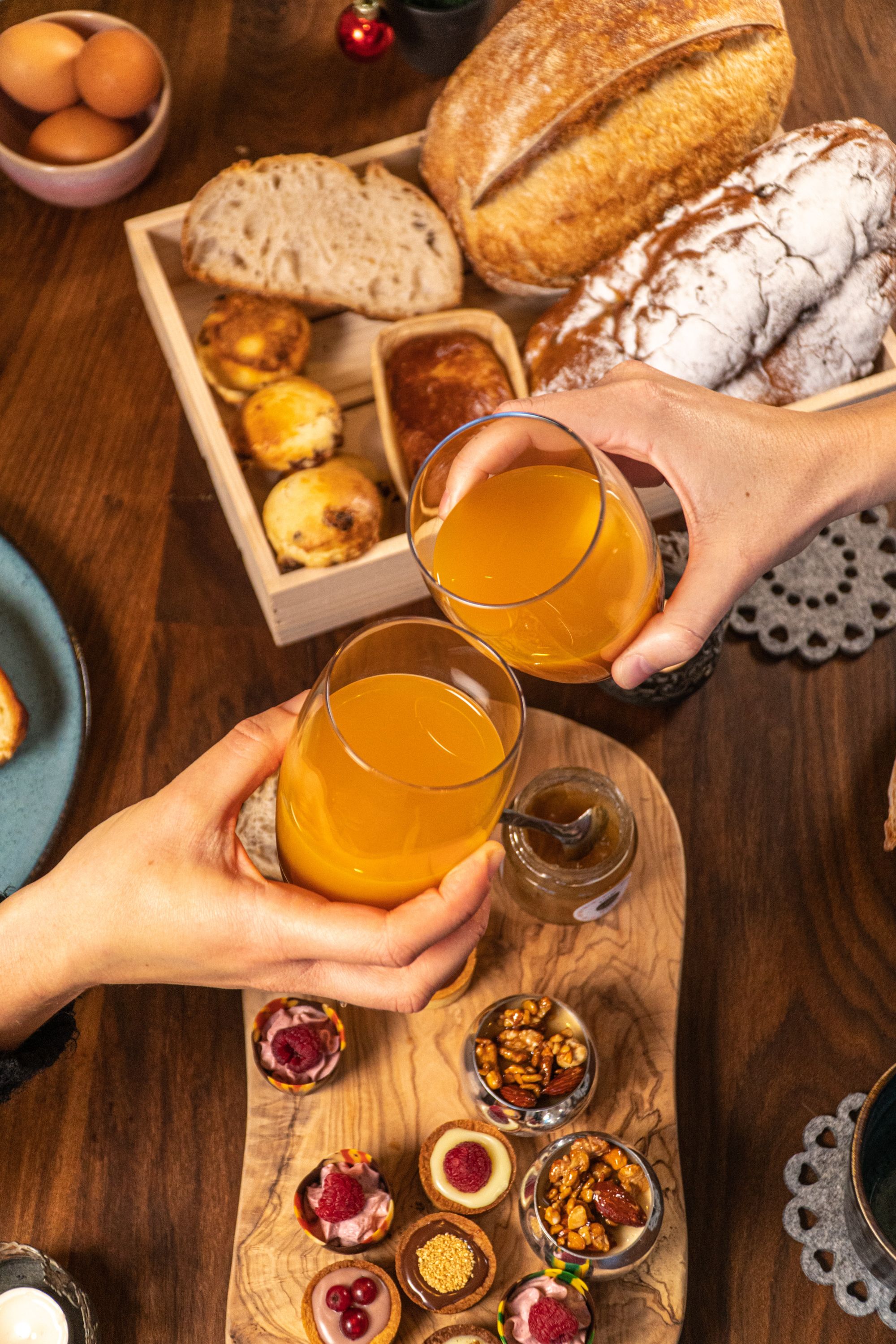 While the growth of this industry is relatively low, its benefits lie in the fact that it is more stable than other US manufacturing industries. This is because demand for food remains steady. What contributes to this stability are the prices of agricultural commodities, which have also stayed low and consistent.
In the case of the USA beverage industry, the industry is valued at $146 billion, with nonalcoholic drink sales amounting to $414.8 million in 2021. In the USA alcoholic beverage market, beer covers the largest segment with a volume value of $109,028 million. In fact, it is estimated that the average American adult consumes 94.38 liters of alcoholic drinks, which costs around $748.20 every year.
The profit margins of the food and beverage industry are traditionally small, but it is not expected that they will shrink in the coming years. However, what does contribute to the narrow profit margins is the considerable amount of price competition in the industry, as companies offer the most appealing deals in order to gain market share.
In fact, because of this competitive nature of the market, there have been several mergers and acquisitions in recent years. A trend that is expected to not only continue but also get accelerated as companies continue to look for ways to sustain themselves in the highly competitive environment.
Considering that the food and beverage industry consists of fresh, prepared, or packaged food, as well as alcoholic and nonalcoholic beverages, it includes manufacturing, packaging, and distribution, which requires lots of coordination and integration amongst different departments, locations, and people. Only then would maintaining the expiries and satisfying the consumer demand in a timely and efficient manner would be possible. This highlights the need for ERP in the very competitive, vast, and complex food and beverage industry.
An ERP software like Deskera comes with strategic and powerful business process management tools that will assist in managing information in the organization while easing the information flow between different organizations.
Such ERP software will help in increasing the revenue and gross profit of the organization, ensure customer satisfaction and customer retention, and lead to healthier financial statements, financial KPIs, and business metrics, and therefore the continued success of this industry in the USA.
Seamlessly Streamline and Integrate Data Across Various Departments and Locations
Get Deskera ERP Today
The topics that will be discussed in this article are:
Food and Beverage Industry
Food and Beverage Industry is an all-encompassing word that includes fresh, prepared, or packaged food, as well as non-alcoholic and alcoholic beverages. The industry includes the manufacturing, packaging, and distribution of food and beverages such that it meets consumer demand.
Some of the examples of food and beverage include, but are not limited to, naturally-sourced products like juice, water, plant-based alternatives, jerky, and other edible, eco-friendly products. It also includes catering businesses, cafeterias, restaurants, pubs, delis, fast food joints, and food manufacturing operations, which highlights how serving food and beverages is also a part of this industry. In all, however, the food and beverage industry is all about transforming raw agricultural goods into consumer food and beverage products.
The two forms of the food and beverage industry are:
Commercial Sector- This includes all the food and beverage service establishments, which account for location-oriented food and beverage expenditures. The commercial sector accounts for all those places that prepare, serve, and sell food to the general public for the purposes of earning profit. This accounts for a larger portion of this industry and includes but is not limited to,
Hotels, Motels, and Resorts
Restaurants
Takeaway Outlets
Fast Food Outlets
Food Delivery
Caterers
Cafeterias
Food Courts
Pubs and Wine Bars
Note: Often, such places are located inside facilities that do not primarily engage in dispensing meals and snacks. This can include places of recreation, lodging, or retail.
Non-Commercial Sector- This is a secondary support service inside educational institutions and organizations, which means that providing food and beverages is not the main purpose of these enterprises but rather that it supports the main purpose of the enterprise. This tends to have a smaller chunk of the food and beverage industry at about 20% as opposed to around 80% covered by the commercial sector. Often called "institutional food service" facilities, the several operations that it includes but is not limited to are:
Schools
Nursing Homes
Clubs
Hospitals
Military
Prisons
Colleges/ Universities
Transport Catering
Industrial Catering
Institutional Catering
Thus, while both the commercial and non-commercial food and beverage service operations provide the same outcome- i.e., providing food and beverages to those that are in the facility, the core difference lies in the form and structure of the operations, as well as in how these operations are supported.
What is ERP?
ERP is also known as Enterprise Resource Planning. It consists of systems and technologies that companies use to manage and integrate their core business processes. Some of the core business processes that can be integrated and managed with ERP are project management, accounting, supply chain operations, procurement, risk management, enterprise performance management, and compliance, to highlight the key processes that can be automated through ERP.
An ERP software thus is one that helps to manage day-to-day business operations by tying together a multitude of business processes and enabling the flow of information between them. In fact, by collecting your organization's shared transactional data from multiple sources, ERP systems eliminate data duplication, thus providing data integrity.
One of the other advantages of ERP systems these days is that you can have it on-premises, or you can also have it in the cloud. This makes the ERP system itself, as well as the data therein, accessible to everyone and from everywhere. This feature helps in managing all the production-based or distribution businesses as you can find in the food and beverage industry.
One of the other core benefits of an ERP system is that it imparts transparency to all your business processes by tracking all aspects of logistics, production, and financials. These integrated systems then act as a business's central hub for end-to-end workflow and data. Access to this workflow and data is given to a variety of departments of an organization, as required, and to the person or people who require it.
As the lifeblood of every modern company is data, ERP makes it easier to collect, organize, analyze, and distribute this information to every individual, and department in an organization, so as to best fulfill their role and responsibilities.
Recent Trends in the Food and Beverage Industry
The American food preferences are shifting, with its population becoming more health-conscious, demanding more natural and organic products, and consuming less packaged and heavily processed foods. Consumers in the USA are now eating less meat, fat, and sugar. This has vastly changed the buyer personas, bringing a simultaneous change in the marketing plan of the organizations in this industry.
However, the complexity here is that though there is now an increased focus on healthy diets, the demand for vegetables and fruits continues to be the same. This highlights that the focus is more on the type and source of the produce, rather than on the quantity.
This brings the need to have labels that mention the type and source of the produce on their packets. With ERP software, making and customizing such labels becomes not only possible but in a much easier way at that.
Another trend that is being observed amongst the US consumers of the food and beverage industry is their concern with sustainability, which is making them increasingly willing to pay more for products that are from companies that are environmentally friendly and socially responsible.
This involves locally and responsibly sourced materials, green packaging, and water and energy-efficient products, which are gaining more attention and demand. While these lead to higher expenses and, therefore, higher cost of goods sold (COGS), it also increases the market share of the organizations which undertake it, thereby giving them a good return on investment (ROI).
Again, marketing, marketing strategies, and most importantly, brand marketing becomes very important here to inform potential consumers about the values and ethics of your company. An ERP software will allow these tasks to be simplified and coordinated such that it improves customer loyalty and increases sales.
Another trend that is being observed among the USA users of the food and beverage industry is the growing popularity of e-commerce and delivery. Considering the high internet penetration and growing demand for convenience, consumers are ordering groceries and other food products online in an ever-increasing percentage.
This has led to services like Amazon Fresh growing in number, as it lets its consumers shop for fresh produce without leaving the house. This, however, requires inventory management and order fulfillment across different locations, and departments, in order to be able to fulfill the demand of consumers in a timely and efficient manner.
Yet another popular fad in the food and beverage industry of the USA is subscription services. This includes everything, from snacks to specialty products to meal kits, that come with everything needed to cook a meal from scratch. Such kits will require instructions, labels, expiry date labels, and so on, which again becomes easy to make and manage through ERP software.
Some of the other trends that you can expect in the food and beverage industry of the USA in 2022 and beyond are:
An Optimized Supply Chain
The food and beverage companies in the USA must optimize their supply chain to make them resilient, agile, and visible in real time. This will enable them to reduce time to market, eliminate costly inefficiencies, save costs, optimize operations, and drive sales and profitability. An optimized supply chain will become possible with ERP software.
Use of Modern Technologies
The use of technologies like automation, AI and ML, and advanced analytics is enabling the food and beverage industry's companies to cut down on product wastage, reduce human error, reduce lead time, lower storage and transportation costs, optimize service time and quality, and create happier customers. Here as well, ERP software would be the most beneficial to an organization in this industry.
Transparency and Sustainability
Consumers these days are getting increasingly keen to know more about where their food comes from and how it is made. It is because of this reason that the food and beverage companies must up their transparency and sustainability game to ensure that their consumers know how humane and sustainable their products are.
This will help them maintain their competitive edge while keeping their consumers happy and thereby increasing customer retention. An ERP system will help food and beverage companies to attain transparency and sustainability and ensure that it reaches their customers.
Waste Reduction
This is an important trend that is being highlighted upon not by the organizations themselves but also by their consumers, who want the food and beverage companies that they buy from to be socially responsible and not increase their carbon footprint. Thus, reduction in food waste is essential not only because it will help in cutting down unnecessary costs and improve their cash flow but also to reduce their planetary impact and optimize organization sustainability.
Proper integration and unification of different departments and locations of a food and beverage company will largely help in the reduction of waste. Such integration and unification can be achieved through an ERP system.
Increase in Demand for Plant-Based Foods
Consumers of the food and beverage industry of the USA are seeking more plant-based foods to increase their fitness, support their weight loss, and lead a healthier lifestyle. Due to this, food and beverage companies across the industry are beginning to launch vegetarian or vegan alternatives to their products. The stock and inventory management of a new product, supply chain management, regulation of sales cycle, and even the marketing of these alternatives becomes not only possible but easier with an ERP system.
Challenges Faced by the Food and Beverage Industry
The food and beverage industry is one of the most complex and competitive industries in the USA as it keeps on facing multiple challenges like shifting consumer demands, the need for constant innovation, globalization, margin squeeze, seasonal demands, fierce competition, etc.
Right from bulk manufacturers to short-cycle produce, it has become increasingly important for companies in the food and beverage industry to develop new products of superior quality, such that they cater to today's market demands while simultaneously ensuring that they are complying with the stringent food safety regulations. Without ERP software, such challenges and more become almost impossible to achieve.
Some of the challenges faced by the food and beverage industry include, but are not limited to:
Data Management
One of the biggest challenges for the food and beverage industry is data management. This is especially so for this industry because before the final product of food or beverage is made, it tends to involve lots of steps, additions, testing, vendors or suppliers, packaging specifications, and even statutory compliances to be followed in between.
This means that the whole process before the final product is made goes through several departments of your company, oftentimes even at several places outside of your company or at the several facilities of your company. Integrating and coordinating information as well as business processes in a timely and efficient manner has definitely become a challenge for this industry. This challenge affects not only your business's ability to comply with statutory regulations but also affects your customer's loyalty and your brand reputation.
Increasing Concerns on Food and Beverage Traceability
Today's consumers have become increasingly aware of food contamination dangers in the food supply chain, wanting to know where their food comes from, where it is going, what is used in it, how it is being used, its nutritional value, whether it is sustainable or not, and other such details.
A consumer in the food and beverage industry now prefers to buy from a business that is sustainable, accountable, and socially responsible. Having this vast and long traceability across all the products, and for each step and ingredient, across all the departments and facilities has become a huge challenge for this industry, which can also be solved with an ERP system.
Food Safety and Compliance with Statutory Regulations
The food and beverage industry is filled with lots of statutory regulations and compliances that need to be fulfilled by each business in this industry. An added challenge to this is that these regulations and compliance requirements keep on changing, as per the change in consumer demands and government regulations, which makes keeping track of them a tedious process that, more often than not, can lead to errors.
Additionally, ensuring food safety through its long supply chain, which involves several ingredients, processes, and departments, becomes increasingly challenging, especially due to the perishable nature of these products. Thus, from their sources to their expiry dates and content, keeping an accurate record of every big and small detail is a challenge that can be solved best with an ERP system.
Quality Control and Management
Quality has become one of the topmost priorities of consumers in the food and beverage industry. In fact, a company can make or break its reputation based on the quality it is offering to its customers and, consequently, also customer satisfaction and loyalty.
In an industry like food and beverage, where there are so many complexities are involved before the final product is made, starting from the right allergens, expiry, ingredients, consistency, appearance, and so on, maintaining a consistent and standard quality at each step of the process, and therefore in the final product has become a task. This is especially because it involves lots of raw materials, suppliers or vendors, departments, packaging, and distributors.
Thus, quality control and management have become a huge challenge for this industry, which is best solved by the integrated, streamlined, and automated processes of the data through the ERP functionalities.
Errors and Scheduling Difficulties
In the food and beverage industry, making one error, either in maintenance, or in the recipe, or anywhere along the supply chain can cause issues as major as having to recall or withdraw an entire product line, and lose customer trust and brand loyalty in the process.
In fact, there are so many things that are involved in the business processes of the companies of this industry that keeping track of them becomes a huge challenge and one that is prone to errors, especially when done manually.
Additionally, if your employee leaves before noting down all the information that he or she has with him or her, it can create a huge loss or risk for your company. This, as well as the above-mentioned problems, can all be avoided if there is an ERP system in place that unifies the information from the departments and also ensures that all the information is added to its interface, thereby preventing its loss.
Inventory Management and Forecasting
This, again, is a huge challenge for the food and beverage industry because there are lots of raw materials and ingredients involved, which are spread across different departments and locations. This makes it difficult to have an efficient inventory control system in place, especially if your business has a perpetual inventory system in place instead of a periodic inventory system.
Further on, the problem only gets worse if the SKU numbers for certain products are not assigned properly. This can lead to worsening your inventory turnover ratio, which can lead to cash flow problems. Thus, warehouse management and stock management, along with inventory management, is also a challenge for this industry.
Adding to this already existing complexity is the global supply chain, due to which the manufacturers and wholesalers or the suppliers of raw materials get to determine what is shipped, when, and how. Coordinating between all these different lead times, tracking the various shipments, and then planning your production cycles and delivery times accordingly while also matching consumer demand at the right time takes away a lot of resources from this industry, which could have otherwise been used for more strategic objectives and goals.
In fact, not only this, but even inventory forecasting is a challenge because compiling the data and trends from different sources and departments in order to be able to forecast the customer demands and changes in the same often becomes a long and tedious process that is also prone to giving outdated information.
Having an automatic ERP system that does it all for you, including the ascertainment of the inventory, inventory reorder point, the establishment of a just-in-time inventory system, and efficient inventory management, is the perfect solution for this challenge of the food and beverage industry.
Need for ERP in the Food and Beverage Industry and Benefits to Expect from ERP Implementation
If you are in the food and beverage industry, then you are very well aware of the vast array of challenges that are faced in this industry, which in fact, are, at certain times, more so than the challenges faced by the other industries.
This is because when you are in the food and beverage industry, you have strict regulatory requirements, highly complex and competitive supply infrastructure, and smart and impactful tactics that you are required to apply to remain relevant and profitable within your market space.
While ERP software offers benefits to all businesses across varied industries, it is particularly useful for those in the food and beverage industry. The reason behind this is that it provides a wide range of useful features and functions that are invaluable when managing perishable stock. Some of these features include batch tracking, batch traceability, predictive stock management, QA monitoring, and warehousing applications.
Some of the benefits that an ERP software can bring to your business in the food and beverage industry of the USA are:
Compliance and Regulation
Within the food and beverage industry of the USA, regulatory compliance is notoriously stringent as it is a perishable product that can affect the well-being of consumers. The challenge here is not only that the regulatory compliance is notoriously stringent but also that they are rapidly evolving, with new and emerging regulations keeping food and beverage businesses like yours on their toes.
With a well-managed ERP software, which comes with in-built regulatory compliances for the USA, and reminders for the same, staying abreast with the changing regulations and trends will be safeguarded, aiding stock management and transparency throughout your supply chain.
Stock Management and Tracking
Efficient management of perishable stock is like a juggling act. This also involves ensuring that the goods reach your consumers or stockists in a fresh, usable condition. This becomes even more challenging when profit and cash flow are added to the equation.
An ERP system simplifies perishable stock management by increasing traceability and easing the management of sell-by-date items. To make this possible, the ERP software has in-built tools such as batch tracking and predictive stock management. In fact, such a software also makes the development of a watertight product cycle a sustainable and viable practice.
Mobility and eCommerce Capabilities
The food and beverage industry of the USA is challenged by the shifting consumer demands coupled with a digital-centric marketplace, which requires all the businesses in this industry to reassess and adjust their work practices accordingly. In the food and beverage industry, just like in other industries, eCommerce and mobility are becoming increasingly common as a means of aiding flexibility and efficiency.
Considering that the modern ERP software supports multi-device access, you and your team will be able to work effectively across desktops as well as mobile devices and even with cloud-connected equipment. This will not only improve efficiency and flexibility but will also help you in other areas of your business, like proactive customer service and simpler cross-departmental collaboration.
Data Management
One of the other key benefits of ERP software is a centralized database that can be accessed easily by all the relevant business functions and people connected therewith. Be it warehousing, logistics, marketing, sales, or quality control, all the areas of your business will benefit from ready access to data that is free from data duplication.
In fact, in this industry, simple data access will make it considerably easier to monitor and track perishables stock throughout your supply chain. With all your departments being able to access real-time stock data, it will become much easier to safeguard against waste and surplus stock.
All of this together will aid in efficiency while ensuring that you can bag all the opportunities, thereby improving your cash flow and net profit ratio.
Consistency and Quality Control
In the food and beverage industry of the USA, maintaining quality is one of the most important tasks. With future sales and consumer advocacy on the line, food and beverage companies invest a great deal of their resources and time into quality control and management so that the majority of their end products meet consumer expectations.
However, effective quality management is a huge task in itself. This is because, to ensure that the food or beverage reaches in perfect quality, you will have to pay attention from the raw material stage of the food or beverage till its packing. This means that you will have to carefully manage the food and beverage products throughout the supply chain, making consistency a key at every stage.
An ERP system will be a huge help here because it comes with tools that will let you track and monitor quality at every stage of a product's life cycle.
Customer Service
Considering that competition is fierce in the food and beverage industry of the USA and that trends tend to change rapidly, improving and maintaining your customer service is vital to have the edge over your competitors. Customers want to buy from brands that offer both high-quality products and excellent service and to ensure both of these, a considered approach and careful balance are a must.
An ERP platform can help enormously with maintaining customer service. When integrated with a CRM (customer relationship management) module, the software will help in unifying and managing customer data, transactions, and interactions- streamlining communications, and making it easier to log queries and respond to individual requests.
Decision Making
The key to effective decision-making is having up-to-date, real-time data and them being available to the right people at the right time. This can be ensured through an ERP system, which integrates and streamlines data from all your business activities. This assurance will lead to a reduction in workflow bottlenecks while also facilitating improved process management across the food industry supply chain.
Data is an invaluable asset for decision-makers at all levels of your organization. Whether this is on the factory floor, within marketing teams, or in product buying, the insights and intelligence which can be gathered from up-to-date data will help your business in seizing opportunities, avoiding pain points, including customer pain points, and making effective decisions that will drive your organization even more forward.
An added benefit of having an ERP system here is that it will automatically draw up analysis and KPIs like financial KPIs, marketing KPIs, and other relevant key performance indicators of your business activities.
Competitive Edge
The truth about the food and beverage industry of the USA is that it is highly competitive, with familiar brands and names jostling for their share of the market. Hence, to one-up their competitors, businesses in this industry must employ a range of tactics, with the employment of ERP systems in their business functioning being a highly effective strategy.
This is because a modern and well-managed ERP system will be an invaluable tool at every level by offering the ability to automate processes and activities which other brands might be doing manually. This can lead to improvements in all aspects of your business, thereby providing you with an invaluable competitive edge in this frenetic market space.
How will ERP Help the Food and Beverage Industry?
In the highly competitive and complex industry of food and beverages, companies are always on the lookout for maximizing their revenues, reducing their operating costs, increasing the ratio of accounts receivable to accounts payable, and having a larger number of loyal customers.
In their quest to have the edge over their competitors, satisfy the demands of their consumers at the right time and in the right manner, and help their organization survive and thrive, companies in the food and beverage industry resort to means like higher-quality ingredients, an innovative new manufacturing process, a new technological device that could save the company some money, lower their costs so that they can offer more competitive prices to their consumers, and so on, as is relevant as per their organization's needs. The majority of the time, the key to competitive advantage lies in increasing your production capacity and profitability.
However, what also needs to be answered while looking into ways to increase your organization's production capacity and profitability are the following questions:
Which of the potential improvements in front of you are worth pursuing?
How much time, money, and resources will your company have to invest?
How long will it be before you see the results due to these improvements?
Will it be worth it in the end?
While finding accurate answers to all these questions is difficult, especially considering the rapid evolution of the food and beverage industry across various fronts, one solution that is guaranteed to have a lasting positive impact on your organization, regardless of the size or nature of your operations, is the ERP system.
While implementation of an ERP system will require preparations on your part and investment of lots of time and resources to set it up, the transformative results wherein nearly every facet of your business will be improved will make it worth all the efforts.
Some of the most important ERP features that will bring qualitative changes in your organization in the food and beverage industry are:
Comprehensive Visibility with Single, Integrated Database
As the businesses in the food and beverage industry grow, whether organically or through mergers or acquisitions, their needs change. If you are one such company, growing or looking to grow, then you know that basic business software or even manual-record keeping will quickly get outdated, unable to provide the agility and transparency necessary to run a larger and more efficient business in such a competitive industry.
If you implement an ERP system in your business, then it would help you by breaking down the information silos that might exist in the individual departments of your organization. An ERP system does this by acting as a unified "source of truth" across all teams and facilities of your business.
This means that with an ERP system, all the figures and facts- from yield analysis to quality metrics to financials, will be maintained and updated in real-time via one highly accessible interface.
The benefit of this is that with complete visibility of real-time information, more effective decisions can be made, which are further aided by the built-in analytical tools of your ERP system, which will give you more actionable insights like business metrics (updated in real-time) that are relevant to your business.
This will help you improve on your efficiency numbers by letting you know of the root causes behind issues, thereby ensuring an improvement on a holistic level. Also, due to real-time access to data and information, you will always be able to keep track of your business's critical processes.
Simplified End-to-End Traceability
As per the recent trends, it has become very important to customers to know where their products are coming from, how they are made, and what are their nutritional values. Today's customers of the food and beverage industry want to know that businesses in this industry responsibly and sustainably source the materials to make food or a beverage. This is to such an extent that customers tend to show more loyalty towards brands that are transparent about what is in the food and beverage products made by them.
With an ERP system, you will be able to ensure end-to-end supply chain traceability, as it is now no longer enough that your organization captures information only one step forward and one step back. Rather, your organization needs all the details from every stop and critical tracking point (CTP).
While in order to coordinate sharing information, it will involve fostering the right relationships with your suppliers, distributors, and vendors, but your ERP system will help out by doing all the heavy lifting of maintaining and updating these records, preserving and adding to them throughout your ingredients' journey from source to the factory to store.
One of the added advantages of having complete data collection like this is that it will keep your company better prepared in the case of a food safety emergency, as you would now have complete and accurate traceability of the entire journey of your food or beverage.
Guaranteed Food Safety and Compliance
It is quite evident that no food and beverage company would want to deal with a recall or a withdrawal, or be unprepared to deal with increasing consumer demands or have more stringent government and regulatory body standards. This makes food safety a very important matter to ensure by all the companies in the food and beverage industry.
An ERP system is a huge help here as most of them are designed to keep organizations like yours in compliance with all the relevant regulations while simultaneously ensuring that you are ready in the event of a recall or audit. This means that an ERP system will make sure that you are not caught scrambling if it is found that your products contain an unlabelled allergen or other hazardous material. With an ERP system implementation in your business processes, you will have all the relevant paperwork and records in hand at a moment's notice to deal with such a crisis.
The above-discussed traceability tools of ERP will help you capture the granular data you would need to determine not only what ended up in your products but also what surfaces or other materials they may have come in contact with. This is especially important if you are one of those manufacturers who work with allergens.
Additionally, the complete traceability will also help in figuring out where contamination has occurred, what may have been affected due to it, and where exactly it is in the supply chain. Together, all of this will ensure food safety and compliance.
Streamlined Quality Assurance
Today's consumers of the food and beverage industry are increasingly discerning, making brand reputation and customer satisfaction among the most important concerns for the companies in this industry. One of the easiest and most accurate ways of ensuring that the product that leaves your facility is up to the quality standards, then the quality assurance functionalities of an ERP system would be most useful.
This includes but is not limited to automated checks with smart scales and sensors and intelligent AI-driven image analysis for the detection of anomalies. An ERP system comes with all the tools that will guarantee that everything coming off the end of a line is meeting not only your organization's standards but also those of the regulatory bodies.
An added benefit of implementing an ERP system is also that it will make it possible for you to rectify your quality issues before they become a serious problem due to them getting updated in real-time.
Whether its volume, appearance, consistency, or other factors that are most critical for your products, most of the ERP systems will be able to track your readings and flag deviations from perfections, thereby securing customer loyalty and the continued survival of your business, which is the end goal for businesses in this industry.
Peace of Mind with Automation and Scheduling
Humans are prone to mistakes, but if mistakes are made in the food and beverage industry, then it can range from being very serious to being deadly. What remains constant irrespective of the severity is the bad credit to your brand name, loss of customer trust and loyalty, and fall in your revenue.
In an industry that is as perishable and vulnerable to wrong contents as the food and beverage industry, having your critical procedures scheduled in advance by your system, and them being carried out automatically, will ensure that you never have to worry about slip-ups or errors.
This will also include tasks like cleaning and maintenance, which is extremely vital for businesses like yours, and with an ERP, it would be made sure that all the necessary sanitation and upkeep are performed regularly and on time. Furthermore, with an ERP system, you would be able to schedule these activities at such times that you can minimize production downtime.
In fact, with the implementation of an ERP system in your organization, quality assurance measures and safety inspections can also be automated and calibrated to take advantage of the connected devices that you are using in your facilities. Additionally, the teams responsible for monitoring these aspects of operations can easily keep tabs on performance with a consistent flow of the latest data reflected on the interface.
Lastly, touching on the human factor related to data and information flows, it is important to keep in mind that an employee is likely to leave your organization, and this might result in loss of information if it is not recorded. Thus, here as well, digitally preserving all the data relevant to your critical processes is vital, making ERP systems the perfect way to enter and maintain such vital information.
Robust Inventory Management and Forecasting
In the food and beverage industry, it is very important that you know what you have on hand and what are the anticipated demands of your customers. Knowing this will help you stay flexible while also ensuring that you do not run low on a critical ingredient at the wrong time.
The best way of ensuring this is the implementation of an ERP system, which will track your material levels and update them in real time so that you and the concerned teams of your organization will always know exactly what is left. This information will then aid in making smart purchasing decisions.
Additionally, the projection tools of your ERP system will give you a glimpse into the future demands, and how you can best prepare for what is ahead. These functionalities will be especially useful for minimizing waste and maintaining success regardless of the circumstances if your organization is prone to seasonal fluctuations or disruption in processes due to weather patterns.
One other strength of ERP systems' inventory management features is the sheer amount of data captured for each lot that moves through your facilities. This means that if you need to find out where a certain ingredient is being stored, where it comes from, and what it will be used in, then this system will let you know all of that just from a few selections and clicks.
Most Common Features of an ERP for the Food and Beverage Industry
While no two platforms are exactly the same, there are some features that are shared by all the food and beverage ERPs. However, the idea is to find a solution that is best suited and aligned with your company's needs. Some of the most common features of an ERP for the food and beverage industry are:
Inventory Management
With this feature, you will be able to maintain and find everything in your inventory more easily, especially with real-time information.
Recipe and Formula Management
The secret to success in the food and beverage industry is also recipes and formulas that are followed. This makes this feature of the food and beverage ERP important, as with it, you will be able to create and manage several recipes and formulas to know how much of a specific raw ingredient is needed to complete the product. These recipes and formulas will then be saved on the system.
Reporting and Analytics
With this feature of the ERP, the processes of measuring and evaluating the essential KPIs will get automated. Additionally, it will make it much easier to draft vital reports, especially with real-time insights. All of this will lead to more well-informed business decisions.
The Lot and Batch Tracking and Traceability
This feature of the ERP will let you track all your products and batches across your production floor and supply chain with ease. Additionally, the real-time data about the same will help you in catching and rectifying the bottlenecks.
Compliance
With this feature of the ERP, you will be able to align your practices and quality assessments with the FDA and other regulatory standards that are relevant to your company. This will help in ensuring that your facility and products are on par and safe for the public.
How Does Deskera Help with an ERP for the Food and Beverage Industry?
Deskera is one of the best ERP systems available in the market because it delivers a fully compliant, fully integrated, and quick-to-deploy ERP software solution. It is a cloud-based business management software that will provide a real-time, holistic view of your business in the food and beverage industry.
In fact, Deskera's ERP solution is one of the most preferred software for seamless business operations and scaling with multiple business units. Not only that, but it will also let your organization be able to manage multiple locations while staying connected with a centralized data source that is shared across all teams and locations.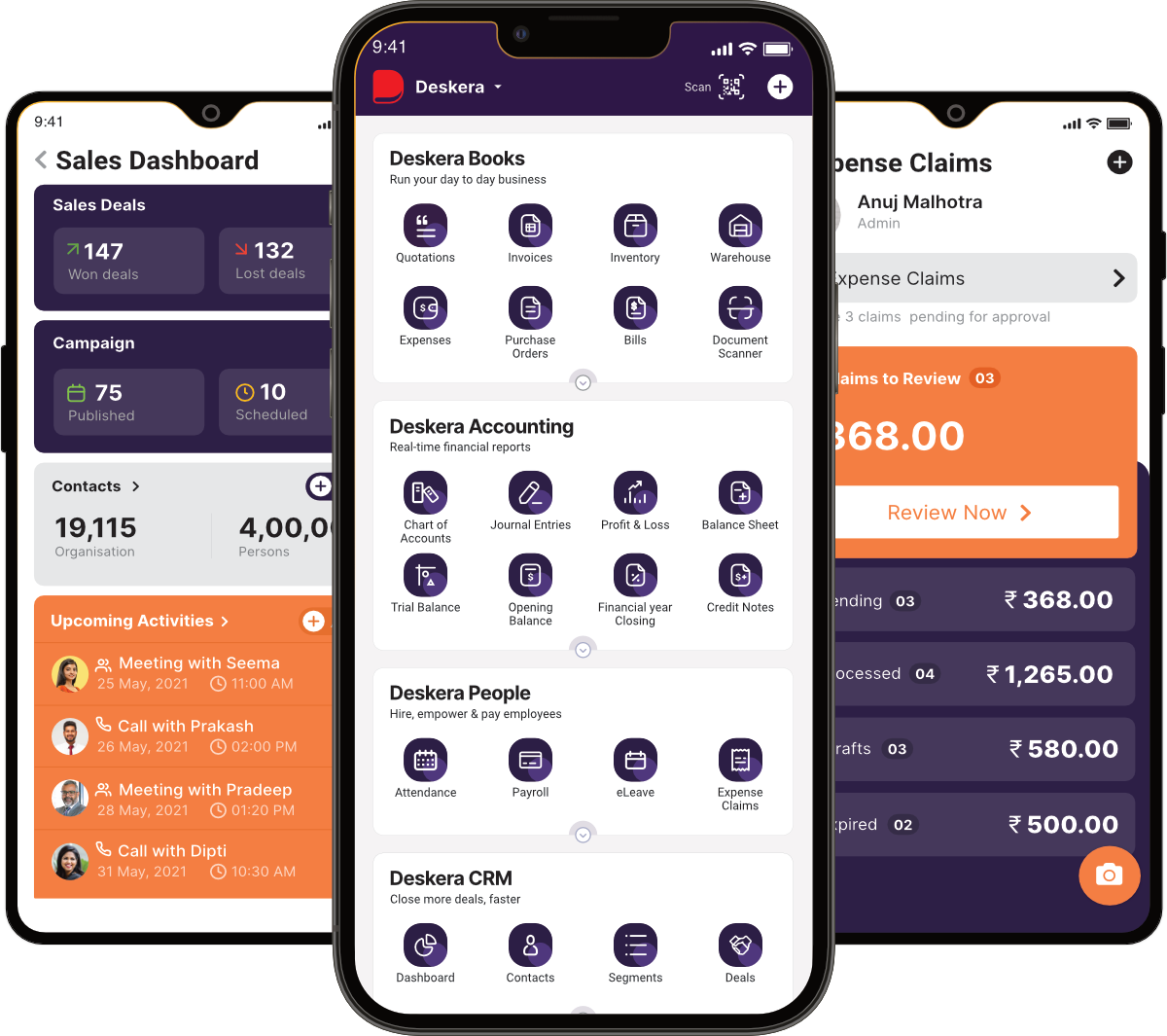 Its accounting specialist is Deskera Books, with which you will be able to automate all your accounting tasks, including invoicing, expenses, billing, payments, reporting, taxes, multiple currency payments, approval flows, and many more. Deskera Books also makes it easy to comply with the statutory requirements as well.
Deskera CRM is the software you are looking for if you want one that is specialized for growing the customer base through CTAs, landing pages, email marketing, and so on. It also helps you stay on top of the customer tickets, by having a dashboard that shows the resolved and unresolved tickets.
Such proactive customer service is also made easier through chat, email, help desk options, and so on. Additionally, this software also lets you automate your sales, including finalizing the deals and moving them through their relevant stages in the sales pipeline. All the while, it gives real-time insights on its dashboard of all these processes and more.
Lastly, with Deskera People, which is an HR specialized software, you will be able to handle not only your employees' deductions, bonuses, overtime pays, and payrolls but also the industry specification of the payroll frequency.
Additionally, your employees will have a self-service portal at their disposal for applying for leaves, marking their attendance, tracking the approval or disapproval of their leaves, and so on. As an employer or manager, you would also be able to make customized job applications, design your own hiring workflow, and even have payroll insights with this software.
Thus, with Deskera ERP, you would be able to eliminate data redundancy, streamline all operations, and increase the productivity and profitability of your business.
Seamlessly Streamline and Integrate Data Across Various Departments and Locations
Get Deskera ERP Today
Key Takeaways
An ERP (Enterprise Resource Planning) for the food and beverage industry can be a helpful solution for companies in this industry as it will help them be more transparent and achieve greater efficiency as well as visibility in the supply chain.
Through an ERP system, food and beverage companies like yours will be able to manage and optimize their business processes like sales, accounting, purchasing, finance, production, marketing, and logistics, to mention a few processes. This involves ordering raw materials, processing orders, managing and optimizing recipes, billing, production planning, and a lot more.
Another role played by the ERP systems for the companies in the food and beverage industry is that it helps in complying with industry regulations while also ensuring product traceability and quality control. This is especially important because consumers of today now expect to have full transparency of their food or beverage, and with an ERP, visualization of these flows of goods and data is made possible.
Some of the benefits of an ERP in the food and beverage industry are:
Improvement in the manufacturing process
Increase in the production efficiency
Enable traceability and control over inventory
Reduction in wastage of raw materials to minimize production costs
Improve end-to-end vendor/supplier management
Controlling food quality throughout the processes
Provide access to real-time data
Induce enterprise-wide visibility and communication
Maximize sales opportunities
Optimize operational efficiency
Ensure customer satisfaction
ERP hence is an integrated management system for companies in the food and beverage industry. One of the best ERP systems that you can resort to for your business in the food and beverage industry is the Deskera ERP system, as it will easily let you export all your data in the system, create a centralized data source for your business that is backed by the cloud, and is accessible from different devices, and different locations, thereby effortlessly streamlining and integrating all your business processes.
Related Articles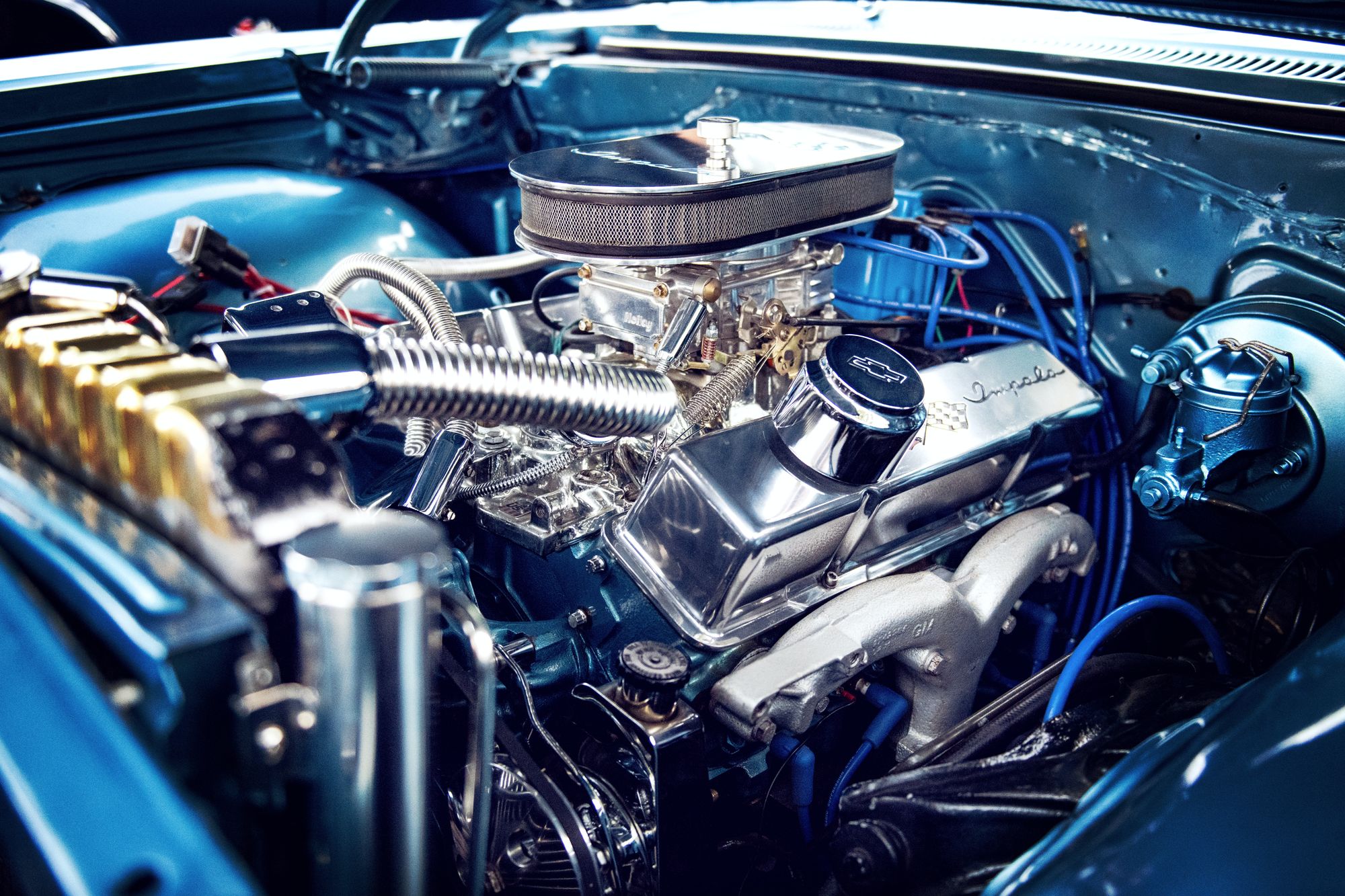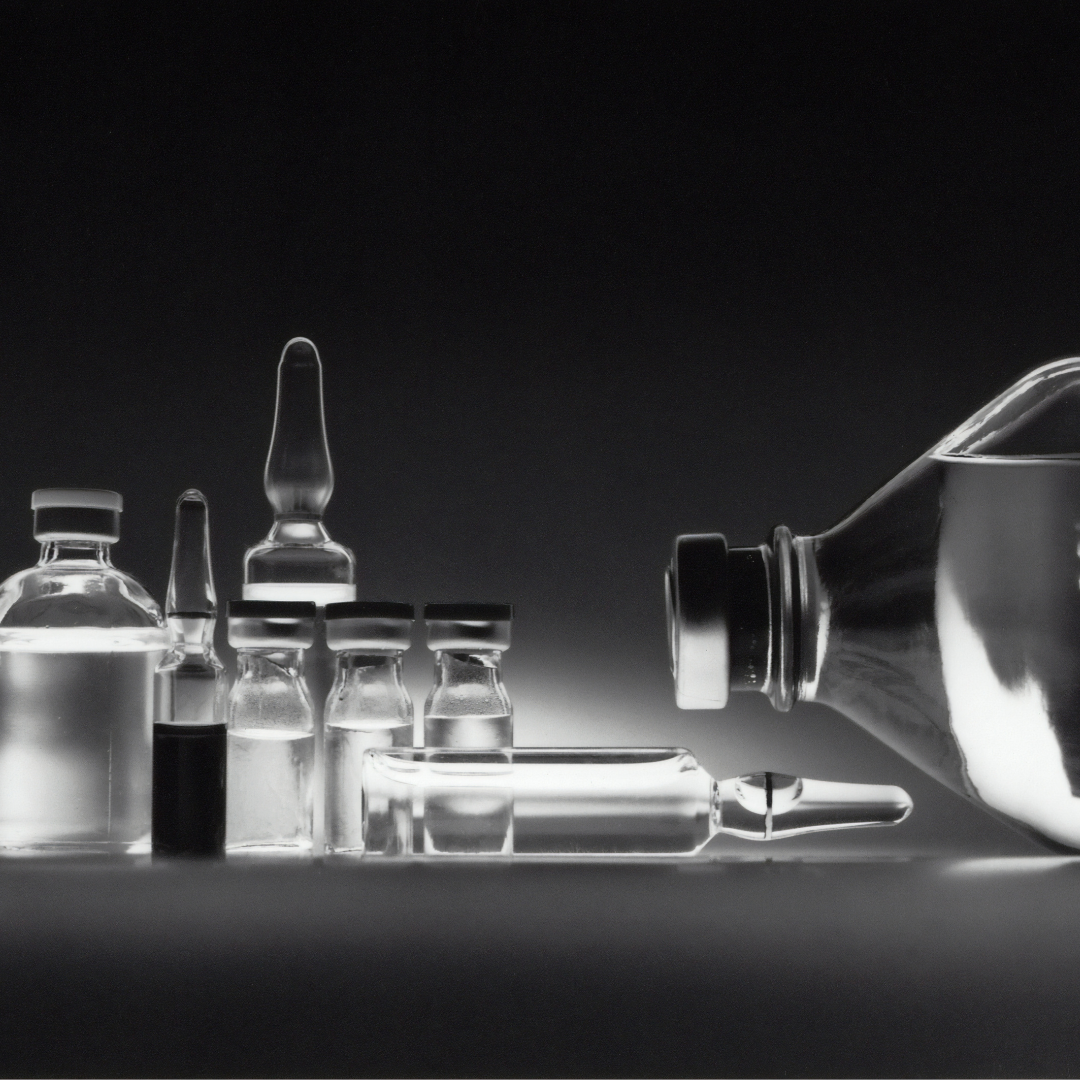 ---
---