Digital Marketing is all about the myriad inter-related terms such as SEO, PPC, landing pages, and so on. We shall focus on PPC landing pages in this post and learn about their importance and benefits in the process of driving traffic and accomplishing the objectives of your marketing campaign.
In this article:
We shall learn about PPC landing pages.
10 Best practices you may follow to optimize your landing page
We shall observe the ways in which the landing pages benefit your PPC campaign.
Landing page mistakes you can avoid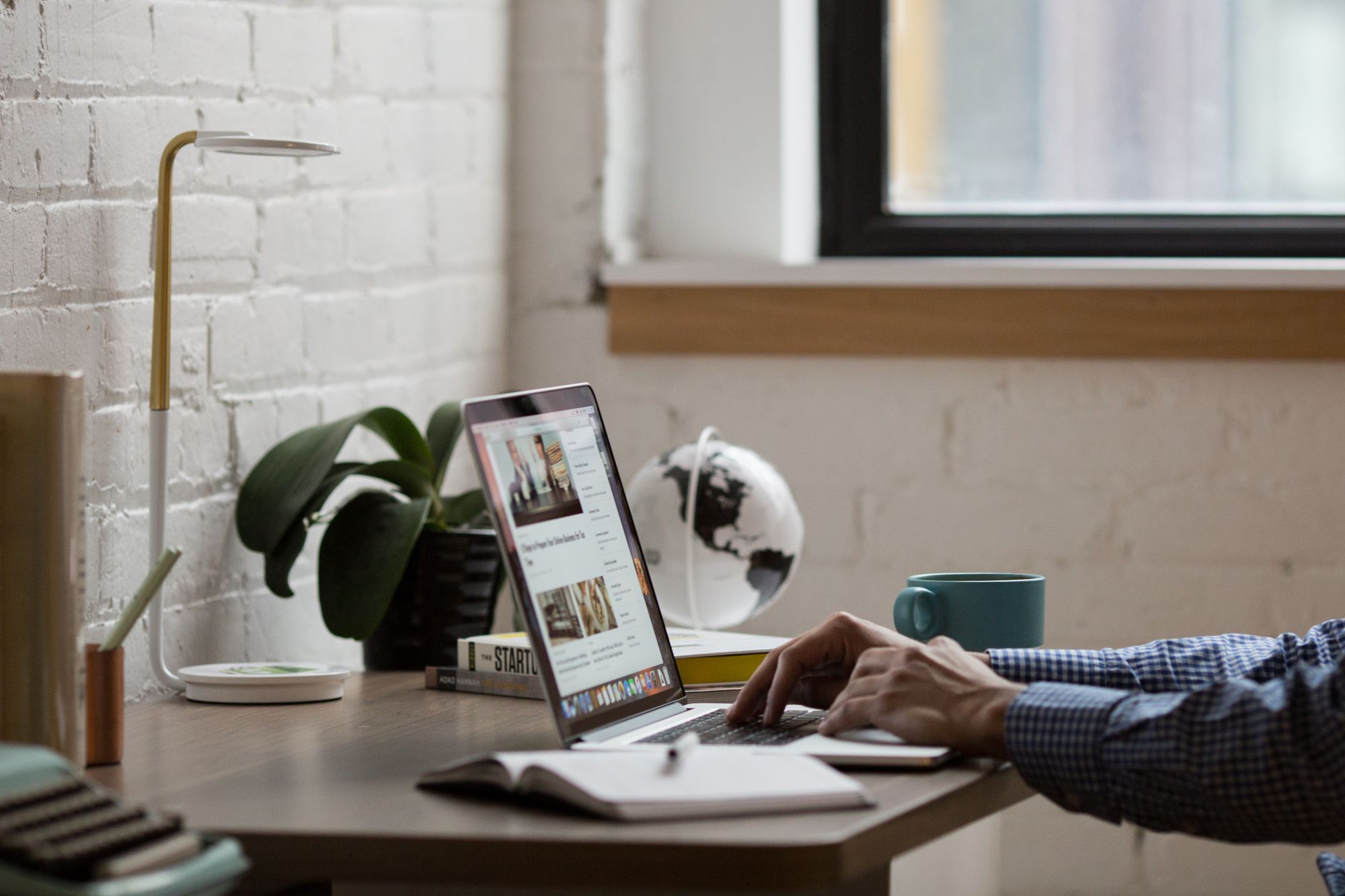 What is a PPC Landing Page?
A PPC Landing page is a specialized and independent web page that is created with an aim to drive the paid campaign on various platforms (Bing Ads, AdWords, and so on). It is the page on which the visitors land upon clicking a Pay-Per-Click ad.
A good Landing Page has the following attributes:
It has simple, yet relevant content.
It comprises of and focuses on a single campaign without wavering or diverting from the main point.
It has a clear CTA or Call-to-Action.
What is Landing Page Optimization?
Optimization of a landing page is the process of addressing the issues pertaining to the key elements of the landing page to enhance conversions. The process oversees and ensures that all the elements are functioning optimally to drive traffic and conversions.
The process of optimization offers many advantages. Performing optimization even before the page goes live is one of them. Marketers can conduct surveys and fetch an outline of customer expectations to optimize the page.
Once the PPC landing page goes live, it could provide better insights into the improvement areas and what further advancements need to be done to achieve better results.
10 Best Practices for Optimizing PPC Landing Pages
Optimization of your landing pages with best practices can drastically improve your website conversion rates. Creating a page is the first step of the process that continues long after you publish it.
In this section, we will learn about some of the best practices for PPC Landing Pages.
#1 Make campaign-specific pages
This is to say that when you have different campaigns, then why not have different campaign pages for each of them! Diverse campaigns should not lead users to the same landing page. For diverse needs, people would not want to land on the same page.
Also, ensure that you do not choose your homepage as your landing page. Your homepage is important but it has a different role to play. Your well-optimized landing page that has a clearly mentioned CTA will yield more fruitful results than the homepage.
#2 Ensure matching Headline, Offer, and CTA
When it comes to PPC ads, ensure that you have a clear CTA that enables the customers to know what exactly they have to do and where they should go now.
For example, if you have a new year's sale offering for the customers, your promotions could read as 'Get 10% Off - No Minimum Order!!' For this campaign, your CTA could be like: Save 10% Now or Save Now.
Besides, some easy hacks for effective CTAs could be
Pick Up Here
Join Now
Try for Free
Click to Download
Having a clear CTA can also work wonders. So, all you need to do is align or match the 3 components well.
#3 Feature images and creative design
Visuals are a great way to convey your product's highlights, it is crucial to utilize them effectively. In addition to headlines and CTAs, visuals are also vital.
For example, if you are offering attractive offers on chocolates, then adding images of other perishables should be avoided. Instead, you could use graphics and images on your PPC landing page that conveys your idea of offering chocolates at great discounts.s
Remember, visuals encourage people to move towards the CTA and a creative image will only make it easier for you.
#4 Concise and Compelling proposal
Your visitors will pick up a lot of information from the words of your copy. So, not only should your copy be appealing but also informative enough for the visitors to move ahead. Keep it simple by writing brief yet engaging copy.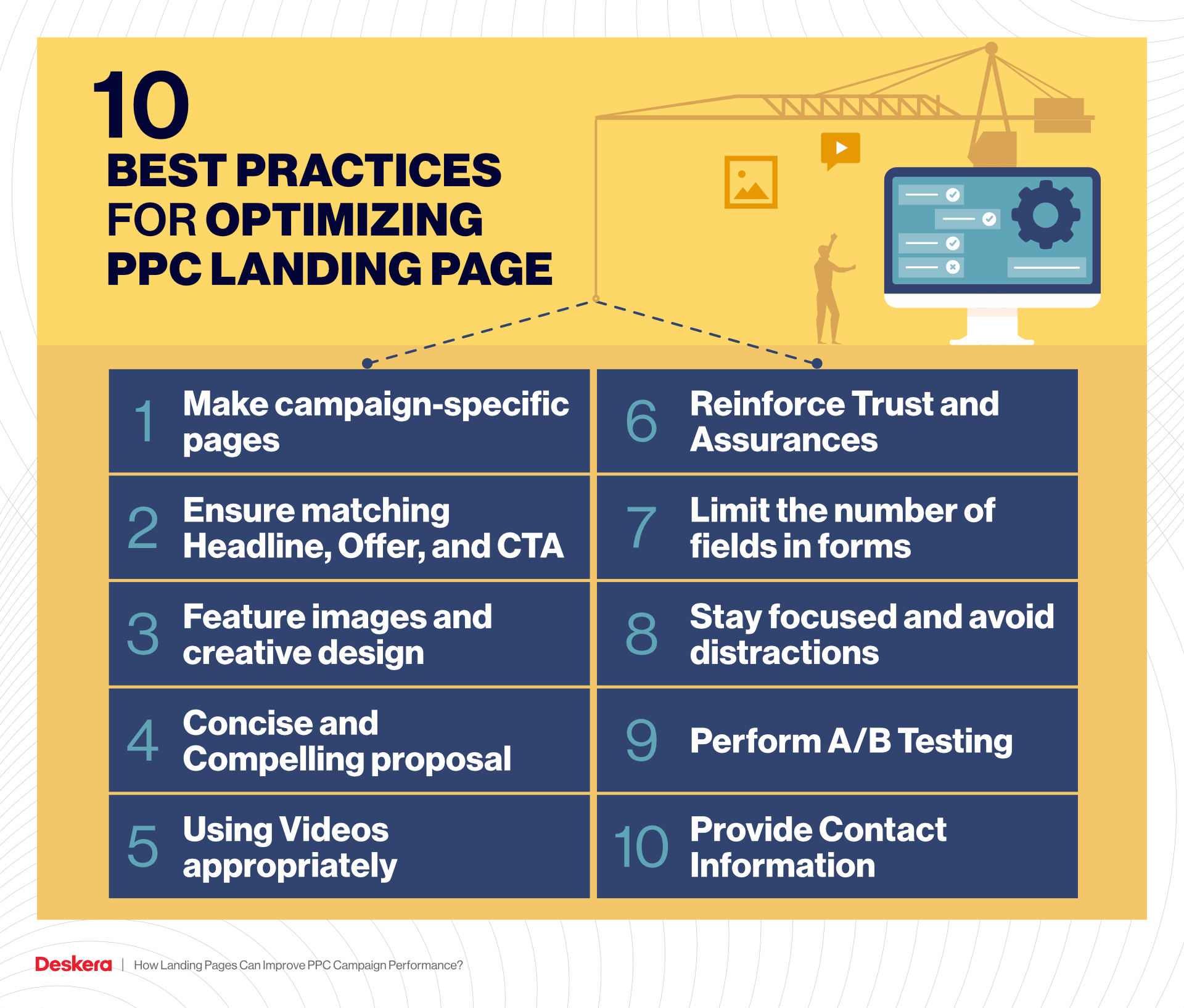 #5 Using Videos appropriately
Videos that are absolutely pertinent to your objective can be used on the landing page. You can scan through the various techniques to make your videos appealing to the customers and bringing them a step closer to conversion.
#6 Reinforce Trust and Assurances
Unfamiliarity leads to a lack of confidence. Therefore, confidence in your products is the first thing you would want to build with the visitors. Moreover, the visitors may also want to know the opinions and experiences of other people. This works like a testimonial and assures the new people of your credibility. Displaying certificates or guarantees will be instrumental in sealing their trust.
#7 Limit the number of fields in forms
As a thumb rule, the more fields you have for the visitors to fill in, the lesser are the chances of conversions. Therefore, it would be best to limit your fields and spare the visitor the trouble to give out too many personal details.
An ideal approach would be to ask them only some basic and essential information like their Name and E-mail id. You may add a field or two more based on the specific requirement of your business.
#8 Stay focused and avoid distractions
Limited form fields, safety assurances, illustrations, images/videos, and persuasive copy are the essential elements of an efficient landing page. However, with so many elements at play, you must ensure that the visitor does not get distracted from the primary agenda, which is to take action.
For implementing this, you need to ensure that there are no distractive or too many elements that play spoilers here. Links near the footer, pop-ups on mobile phones, too many videos or images all add to being distractions. Anything that takes the visitor's attention away from your campaign will lead to unsatisfactory outcomes and should be avoided.
#9 Perform A/B Testing
Testing is a continuous process and you must experiment with the permutations and combinations of the factors on your landing page. It is recommended that you test one element at a time rather than going for all of them simultaneously.
#10 Provide Contact Information
A contact information form on your landing page in which you provide your phone and email address could be how you let your visitors know about you. It is a way they can reach out to you in case of queries or complaints.
Alternatively, you may also give links for customer support or help centers.
Benefits of Landing Pages in PPC Campaigns
It is frequently observed that organic and paid search is the first point of contact for a potential customer with a brand. Therefore, landing pages, in a way, act as interfaces to serve as an introduction to your brand.
It is a place where you can share content that encourages lead generation or create sales leads using forms.
Essentially, PPC campaigns that exclude landing pages lack an element of validity. This section puts together what all benefits can landing pages bring in for you as a business.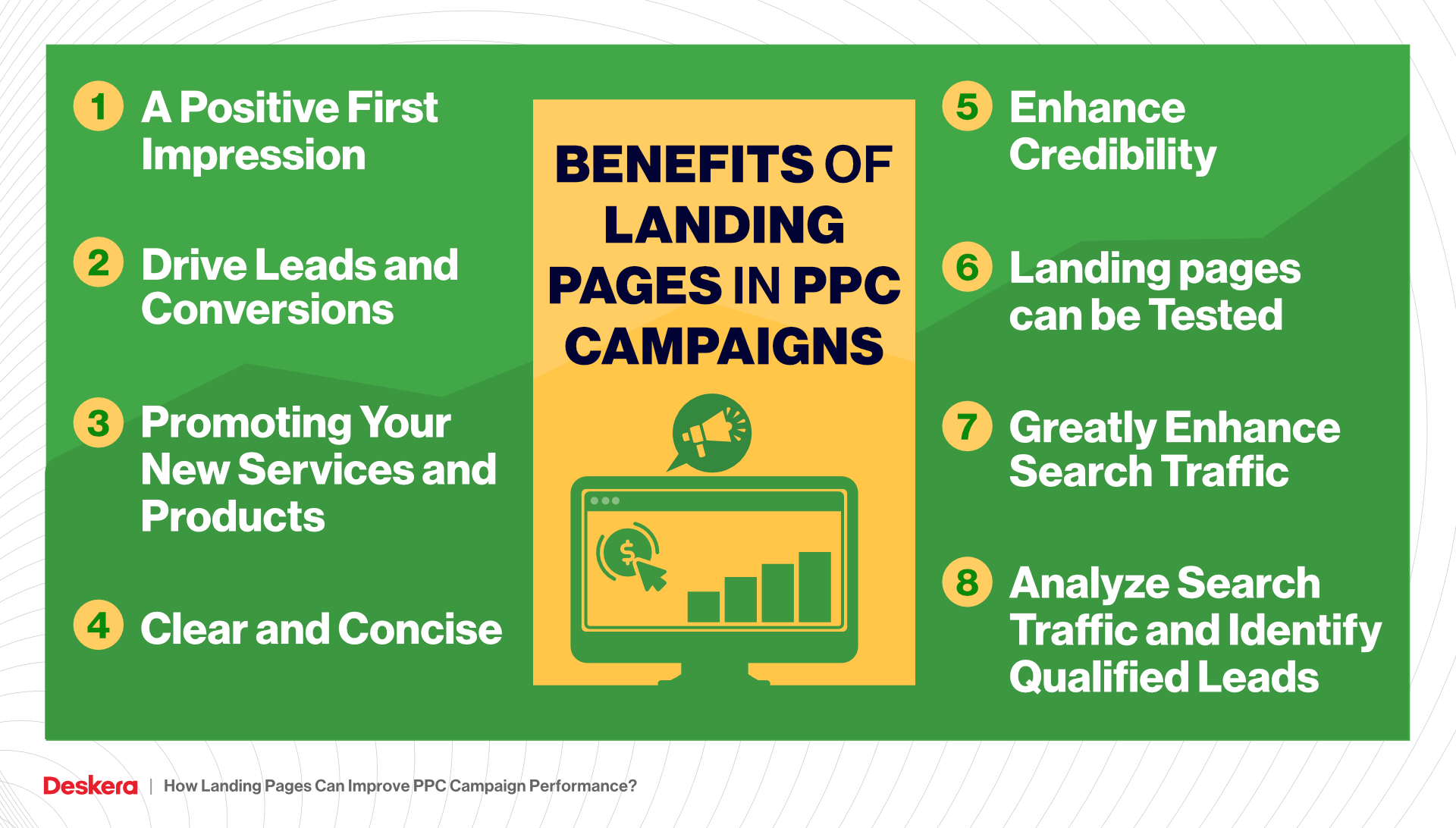 A Positive First Impression
Most of your visitors find your site through organic search and many of them turn customers from just potential customers. So, with this fact in mind, we witness the reiterated importance of the PPC landing pages. You can make it as appealing as you want and ensure that your customers receive all the important information you want to convey to them.
Effective landing pages are the ones that comprise of and direct the customers towards the next steps. To encourage the customer to take those steps, a landing page could be pivotal.
Drive Leads and Conversions
Through landing pages, you present fill-in forms; in exchange for which you offer exclusive insights and downloadable assets in the area of interest of the customers. Anyone who has genuinely come in search of these solutions would be tempted to fill in the form for the unique offering you have made.
With this fact, we can assuringly state that PPC landing pages certainly drive more sales and qualified leads. These ultimately lead to a higher conversion rate and smoother business operations.
Promoting Your New Services and Products
When you have new products that you want to introduce to your new customers, landing pages could provide you the way. In any business, there are upgrades, technical innovations, and many such new components are being incorporated consistently. You would certainly want to share the innovation with your customers to let them know you have so much more to offer now.
Press releases and social networks have anyway, always been the way to announce to all about a new feat and a new achievement. However, if you have a separate landing page dedicated to it, that could stand out as a very compelling format for getting more business.
At this point, it would be good to remember that over 80% of customers get impressed if the vendor can ably show an ROI and captivating reasons to do business with them.
Clear and Concise
When you are working on your landing pages, ensure that there is no room for ambiguity. More so, if the page describes your product or service, as in this case, the customers want a clear and concise explanation. A clear-cut overview and a concise presentation of the way things actually are would be more apt for the customers when designing landing pages.
Therefore, landing pages are seen coming in with this benefit that they don't sidestep or mince words. When done correctly, this could possibly be what your customers want after all.
Enhance Credibility
Visitors can see that your company can provide relief to whatever problem they're dealing with by landing pages that take a solution-oriented approach. At this point, you could display some of your past and current satisfied clients' feedback and references to really drive the point home.
You can even add a display of company logos of former clients that immediately establishes credibility with visitors. The joy of working with your brand is highlighted in a positive customer review, tailoring the customer experience for potential leads.
By doing this, you achieve more trust from your new visitors. After going through the testimonials, they are now assured of equivalently superior service as you have provided in the past.
Landing pages can be Tested
Testing a page for the various factors can be tedious but results in a successful landing page. When you create a landing page, you have videos, images, text, and other elements that are placed at strategic points on the page. However, it is only through testing that you would know which position or placement works best for a video or an image or any other element for that matter.
Testing is one of the key factors that need to be included while optimizing a landing page. Through testing, you can figure out which aspect works the best for driving engagement and results in quality leads. The landing page facilitates you with an A/B testing technique through which you can gauge the content and come up with a perfect page that covers all your goals.
Greatly Enhance Search Traffic
PPC landing pages exhibit search-friendliness. Moreover, they cover all the thumb rules of Search Engine optimization by using targeted keywords and other practices that help generate improved organic traffic.
Analyze Search Traffic and Identify Qualified Leads
Attaining organic traffic is something all businesses yearn for. Now that you have achieved that, relying too much on it and being satisfied would not be wise. You shall also ascertain if they are genuine leads or qualified leads. Are they taking action after landing on your page? Analyze these questions to understand the actual percentage of people who move ahead in the funnel.
Internal linking could come in as a rescue here. It is an eminent part of marketing that enables the visitors to find a direction to walk ahead towards stronger engagement. Thus, concise clear CTAs and internal linking could work hand-in-hand to avoid the customers from bouncing off the fence.
Landing Page Not Converting : 5 Mistakes to Avoid
Your landing page is the first thing potential customers see when they visit your website. Visitor interaction is one of the most important steps in the buyer's journey. Visitor frustration or confusion could drive them to abandon your site without a second glance. You can easily fix these mistakes to improve your landing page design and increase conversion rates.
Cluttered Layouts
Efficiencies are everything on the internet, and if your landing page doesn't support that goal, visitors will leave without making a purchase. A simple website design should be your overarching goal when it comes to web design.
Amazon and other E-commerce giants have become so successful because they are easy to work with. Searching the internet shouldn't be too difficult. Following the same principle should be the goal of your landing page. Keeping your landing page simple and clutter-free will make it easier for visitors to scan. Customers will be more likely to make it all the way to the bottom of your sales funnel if they do not face any obstacles during their flow.
Avoid Overusing Gimmicky Marketing Tactics
Too many marketing tactics such as Pop-Ups and Push Notifications could spoil the campaign and overrun the efforts you have put in so far. A website with forced interactions will annoy your users and make them scurry away. You should limit the use of these gimmicks as much as possible.
You should also evaluate what other aspects might upset your visitors. People are likelier to close tabs and never return if videos play at full volume automatically. Therefore, it would be best to not play any kind of music on your landing page.
Tricky Navigation Menus
A clear, easy-to-use navigation menu helps users find the information they need since no two people look for the same things. Ensure that your customers can easily gather information about your brand and your products; as having complex menus will drive them away.
Your marketing strategy will fail if you are unable to retain them on your site for the first few seconds. You must provide them with the information they came looking for within that amount of time. Having easy access to information will lead people closer to conversion.  
Excessive Information
When you go overboard with providing your information, the visitor may be interested only for a few seconds in it. After that, they may most possibly want to quit. Oversharing or sharing too much information can be a big no with regards to the landing page.
Potential customers will not be attracted to long strings of text that make them feel overwhelmed. They may even turn away before they can read the second sentence.
Make the content easier to manage by using headers, images, videos. By using bullet points, you can help visitors scan your content more quickly. It would help if you included the specifics on the other pages of your websites and leave the landing page to a minimum.
Providing Insufficient Information
The reason people visit your website is to discover your brand, services, and products. Having a simple and straightforward page is good; however, it is essential to consider adding the crucial aspects to your page. You must oversee that the simplicity does not end up looking vague and that it does not lack information. Without the appropriate information, again the risks of the visitors drifting away from conversion increases.
When users have to click on multiple pages to find the information they need, it's more likely they'll leave for a more informative site. So, the key here is that your landing page should be designed to attract new visitors. Consider a scenario where your company is unknown to them. Don't hesitate to explain to others what you do right away, as concisely as possible.
A compelling value proposition that quickly and concisely gives away the summary of your business is the finest way to offer an insight to the customers.
Bad User Flow
When designing your landing page, consider the path your customers will take on your website. Your landing page should behave like an interface between your brand and visitors. Unnecessary descriptions of things and events that don't matter to them will only add to reasons for them to bounce away.
Therefore, it is of utmost importance for you to ensure that the information on the landing page is relevant to the page's selling point and that it reads logically.
Badly Crafted CTA Buttons
It is important to make your CTA button visually appealing and clear. Be mindful of the color schemes and ensure that the CTA button does not blend and fade away with the background color. Select a color that stands out from your website.
Apart from the color, conversions are also influenced by the size of your CTA buttons. CTA buttons need to be aptly large so that they are clearly visible but do not overthrow the rest of the text. But when viewing your CTA on mobile devices, making your CTA button too large can detract from the user experience.  
Opting for Wrong Colors
Did you know that there are different colors to describe different personality types? From soft hues to bold, from greys to shades of red, all colors tell something about your website. Moreover, the colors you use on your page appeals to your visitors differently.
So, when so much relies on the color schemes, it wouldn't be wise to pass them off as a mere aesthetic. Determine the kind of products you sell and the type of customers it would attract; based on which you could apply colors or a combination of colors to keep your website interesting.
How Can Deskera Assist You With Your Landing Pages?
Deskera CRM+ is a software that has a special section dedicated to landing pages. This section is designed such that it will help you throughout the process of designing, launching, tracking and optimizing your landing pages.
Deskera CRM+ comes with some pre-installed landing page templates that you can use or you can even choose to design your landing page from the start. Both of these options are supported in the Deskera CRM+'s landing page module. This will ensure that you can create beautiful and professional-looking landing pages that generate leads without the help of any designers or IT professionals.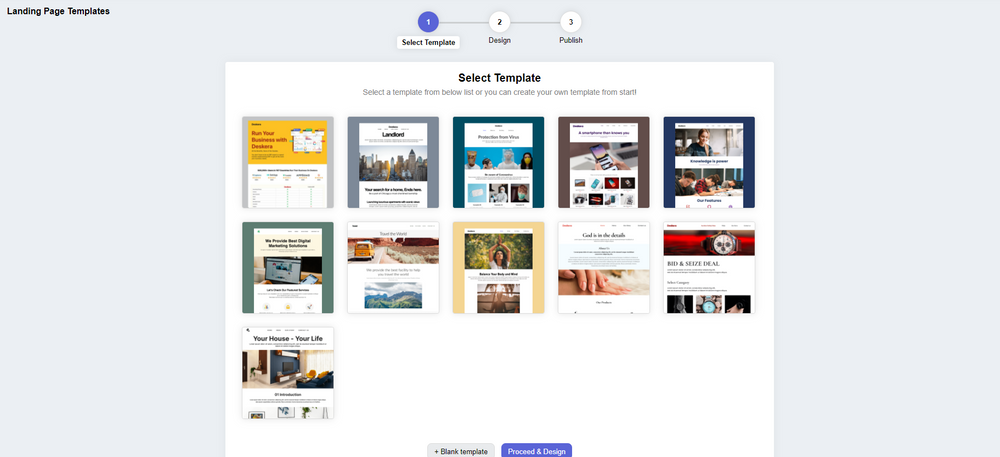 Its the best platform that can help you with contact and deal administration, sales pipeline management, email marketing campaigns, to name a few. Not only this, but you can also generate leads for your business by creating email campaigns and view performance with detailed analytics on open rates and click-through rates (CTR).
Deskera CRM helps small businesses get more from each landing page you create. It lets you build and optimize landing pages that prompt you to improve conversions for your business and increase your sales and revenue. You can create good lead magnets to generate better responsive landing pages.
Deskera CRM+ provides you with the tools and template to build customized landing pages as per your business. It provides you the option to modify images, text, customer sign up form, embed custom html and let's you monitor your website visitors behaviour.
Having a focused sign-up landing page, your business will be able to increase it's customer database and will help you retarget your existing customers and also manage customer deals and sales funnel better. Managing your customers using a good CRM system, will save your business lot of time and money in the long run.
So, don't wait anymore, get going with Deskera and ensure the success of your business!
Key Takeaways
We hope you found this article useful. Let's revisit the important points.
A PPC Landing page is a specialized and independent web page that is created with an aim to drive the paid campaign on various platforms.
A good Landing Page has simple, yet relevant content.
It comprises of and focuses on a single campaign.
It has a clear CTA or Call-to-Action.
Optimization of a landing page is the process of addressing the issues pertaining to the key elements of the landing page to enhance conversions.
Making campaign-specific pages, limiting the number of form fields, and performing A/B testing are some of the best practices to follow for the optimization of the PPC landing page.
A PPC landing page can benefit the campaign by giving out a positive first impression, enhancing your credibility, promoting new products and services, and greatly enhance search traffic.
Related Links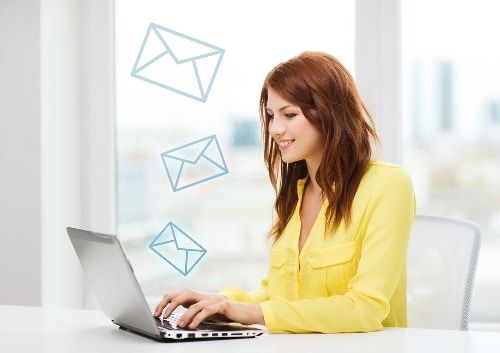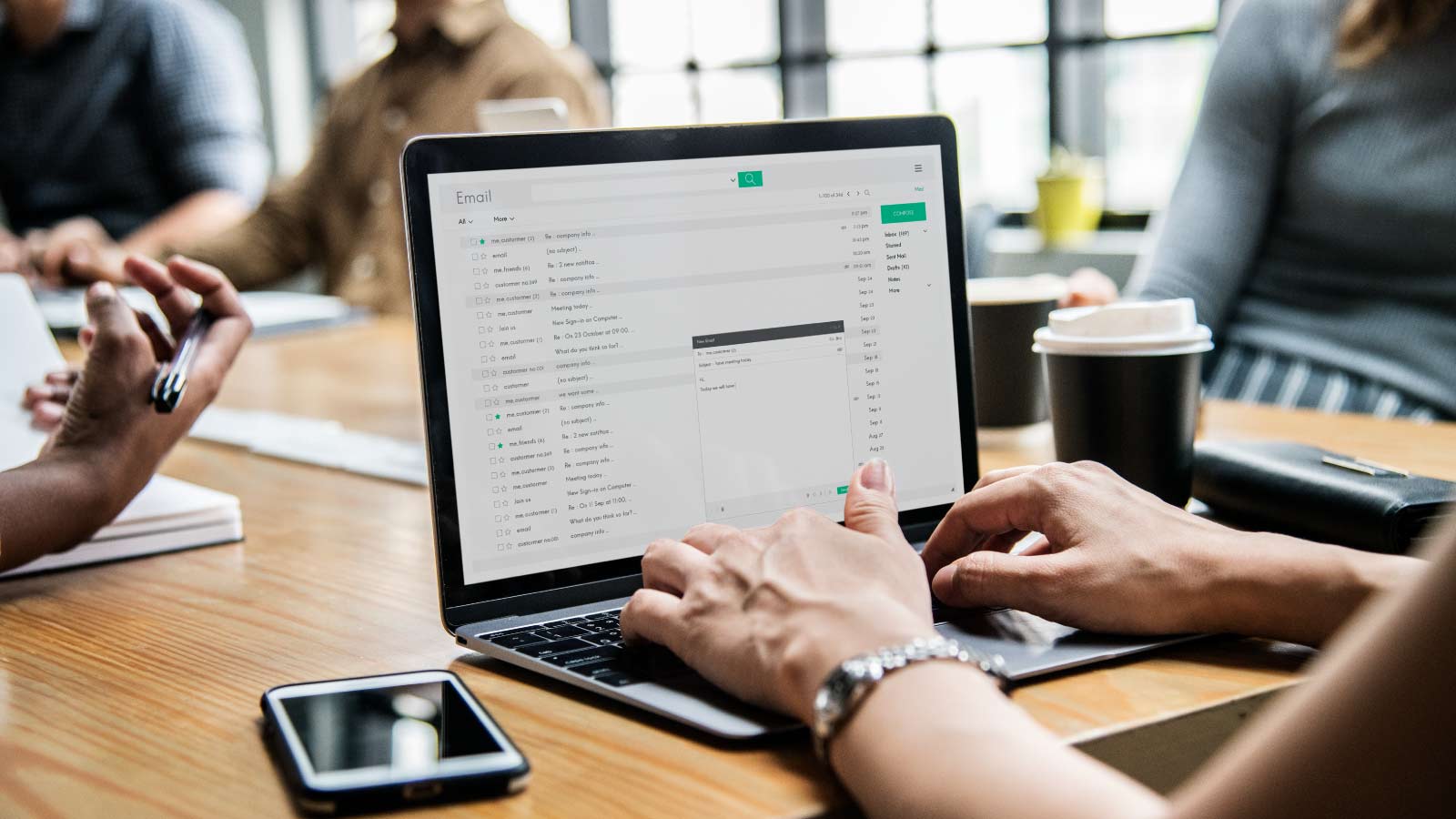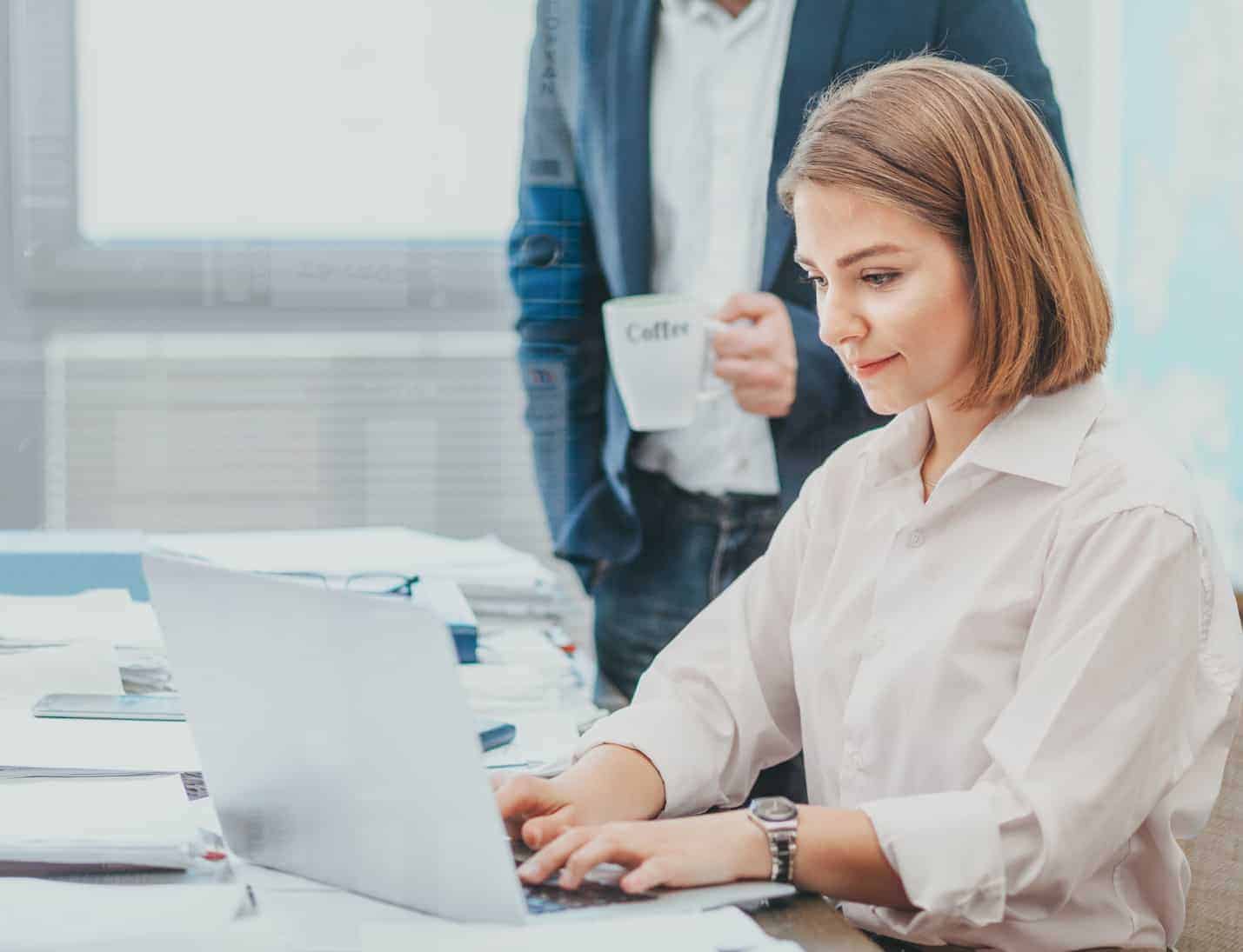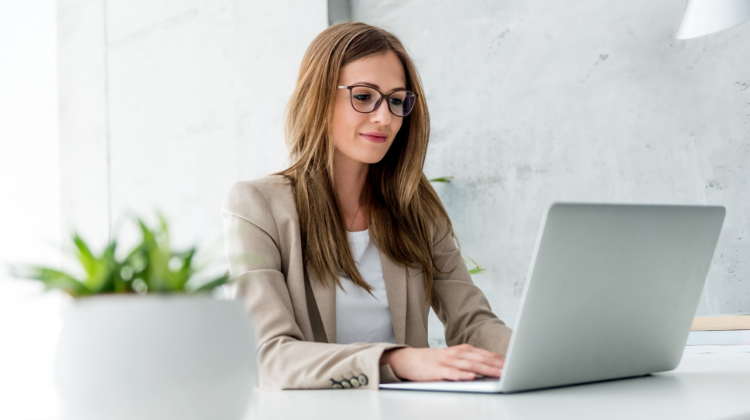 ---
---