An eCommerce Business is in vogue these days. With the ever-expanding reach of the world wide web and the increasing reliance on online work and shopping due to the pandemic, this type of business has many opportunities lined up for itself.
However, with opportunities comes duties, responsibilities and even threats. As a business owner, you should be prepared for it all and the one way to do it is by being well versed with everything that concerns your business.

As an eCommerce business, one concept and practice that is of paramount importance is eCommerce Funnel. Understanding each stage of the eCommerce funnel will help you to understand what to do and take care of along the process to improve sales for your eCommerce business. This article will focus on:
What is an eCommerce Funnel?
Types of eCommerce Funnel
5 Tips to Improve Sales for Your eCommerce Business
How can Deskera Assist in Improving Sales for Your eCommerce Business?
Key Takeaways
Related Articles
What is an eCommerce Funnel?
eCommerce funnel is the base to understanding an eCommerce business. eCommerce funnel will also help us understand how it affects your business sales.

An eCommerce funnel also known as conversion funnel on eCommerce is the route your customers take from first becoming aware of your brand to making a purchase.

The eCommerce Funnel is made of these 5 steps:
Discovery
Add To Cart
Checkout
Payment
Upsell
Looking at it as a layman, they are quite simple to understand. You would have been a part of the eCommerce funnel more than once.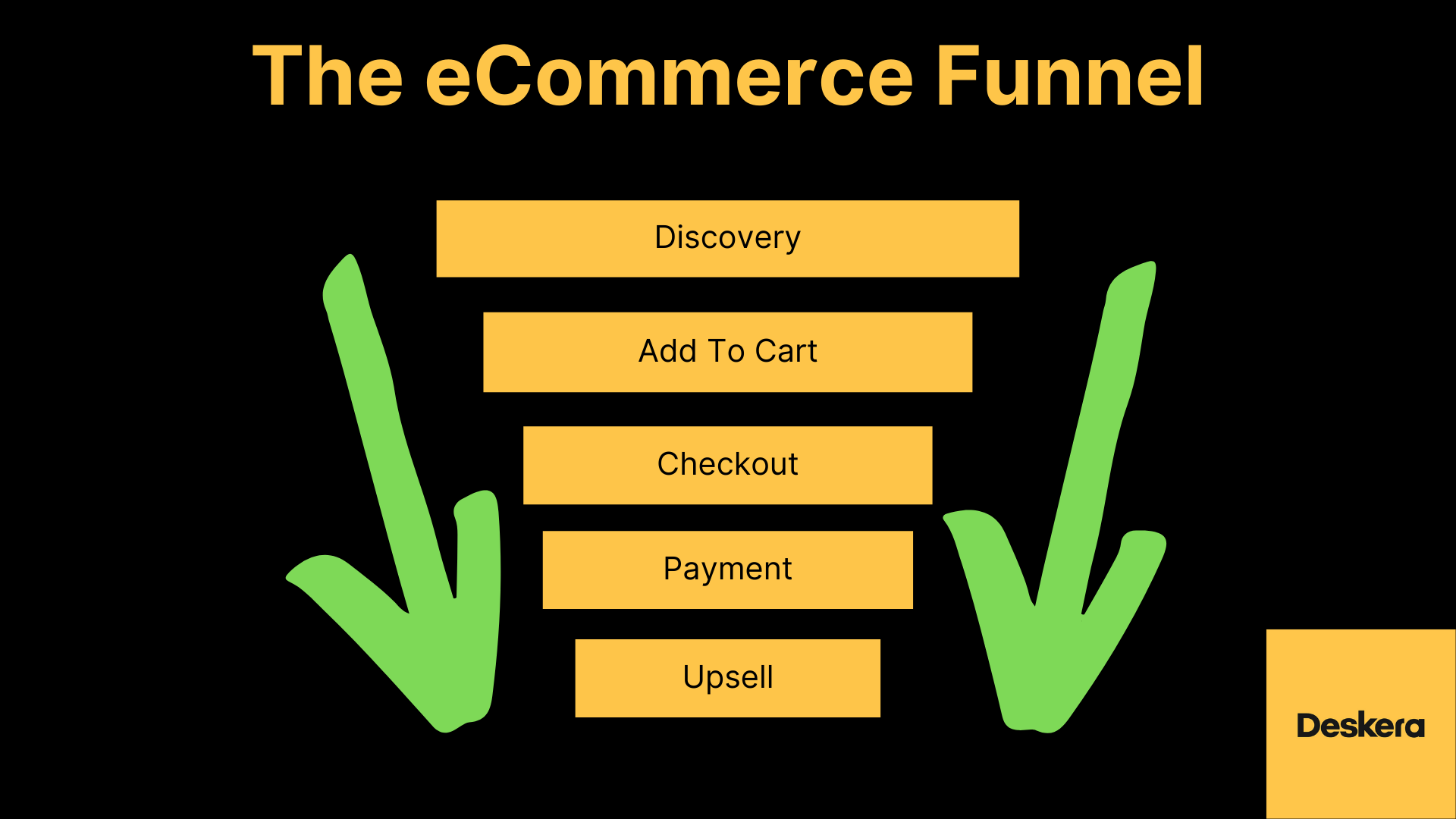 However, as someone whose business relies on the eCommerce funnel, deeper understanding and insights are essential. This will help you to improve your sales, improve customer retention, increase your revenue and gross profits, ensure a positive cash flow and have healthy financial statements.

An eCommerce funnel hence includes upselling, cross-selling and subscription-based models. It is also a great way to measure and optimize the process of finding new potential customers, closing sales and getting repeat business.

The goal of the eCommerce funnel is to educate visitors, qualify them as buyers and turn leads into customers. All of this is to be done as efficiently as possible. It is one of the most important mechanisms your business can use for getting sales through advertising, on-site experience, engagement and remarketing.
Deskera
To have all your business records on platform, hence saving time and efforts.
Types of eCommerce Funnel?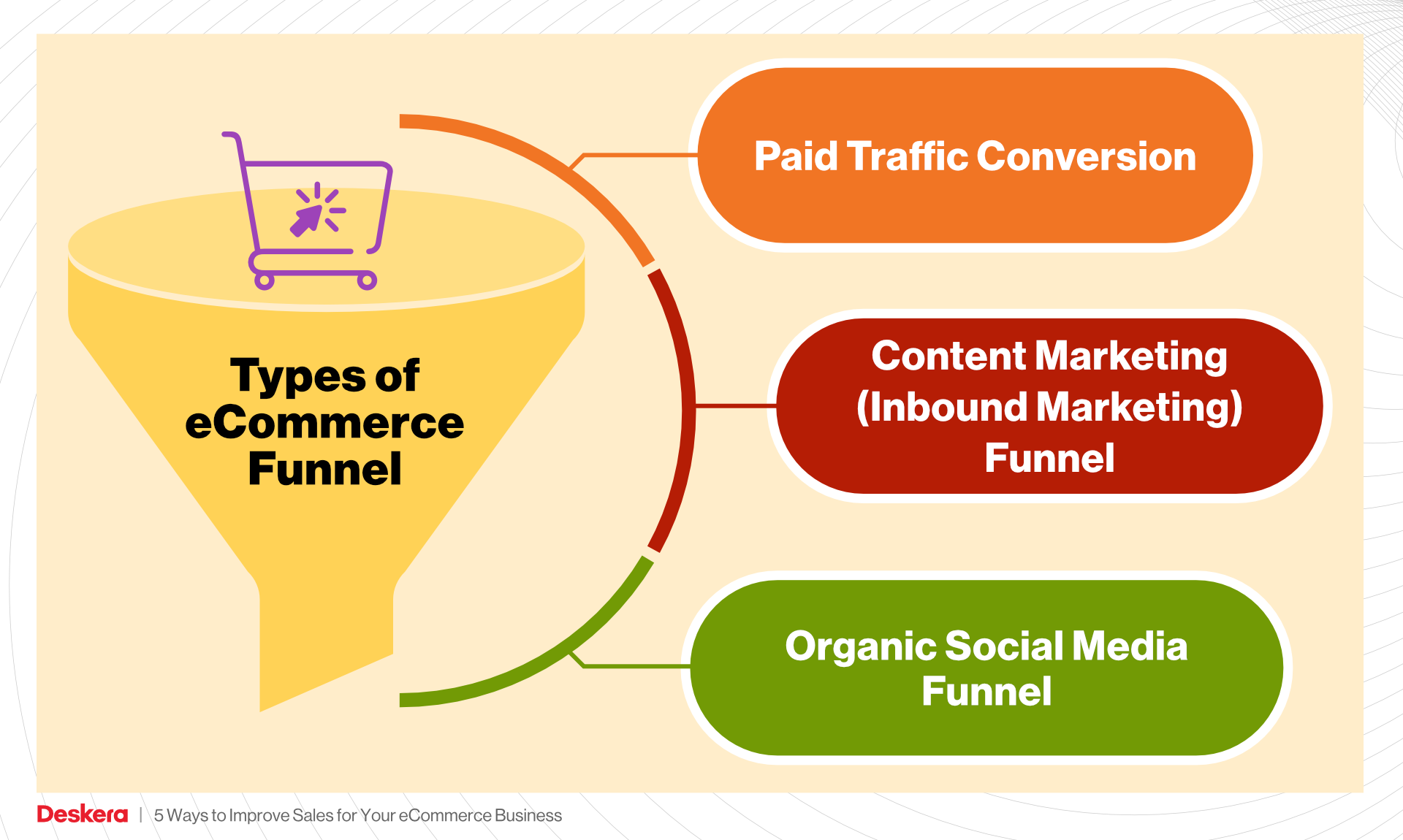 The 3 main and most frequently used types of eCommerce Funnel are:
Paid Traffic Conversion Funnel
With a paid traffic conversion funnel, you have already your audience, have warmed them up to you and gained their trust. Now, it is time to convert all that hard work into actual sales in the most cost-effective way possible.
Content Marketing (Inbound Marketing) Funnel
A content marketing funnel is a system that introduces new leads to your business through different types of content. These leads are then converted into possible customers by progressively "funnelling" them through more types of content.
Organic Social Media Funnel
Organic social media funnel is mainly focused on bringing brand awareness and gaining the interest of your customers through social media. The content created should be shareable and engaging for your customers on each social media, with the goal being to attract, engage and retain your target audience.
When this converts into your audience progressing to your website or other marketing channels, it is a bonus that should be used most effectively. The community that you make through your social media becomes the strength of your business. Social selling is involved with this type of eCommerce funnel.
By understanding the steps of these types of eCommerce funnel, you will be able to know not only when something breaks, but also when a particular step is under-performing.
This process is a major part of the eCommerce performance analysis and reporting of your business. To get this automatically, in real-time and efficiently, using cloud systems like Deskera becomes a life-saver- literally! For your business.
5 Tips to Improve Sales for Your eCommerce Business
An eCommerce business is as vulnerable to the dynamic trends of a business as a physical business. Sometimes, these dynamic trends are even more fast changing and being prepared for it all, having the necessary defenses in place to not become a prey to them and ensuring to have your sales constantly improving can prove to be challenging.
In this section of the article, we will discuss 5 eCommerce tips to improve sales for your eCommerce business.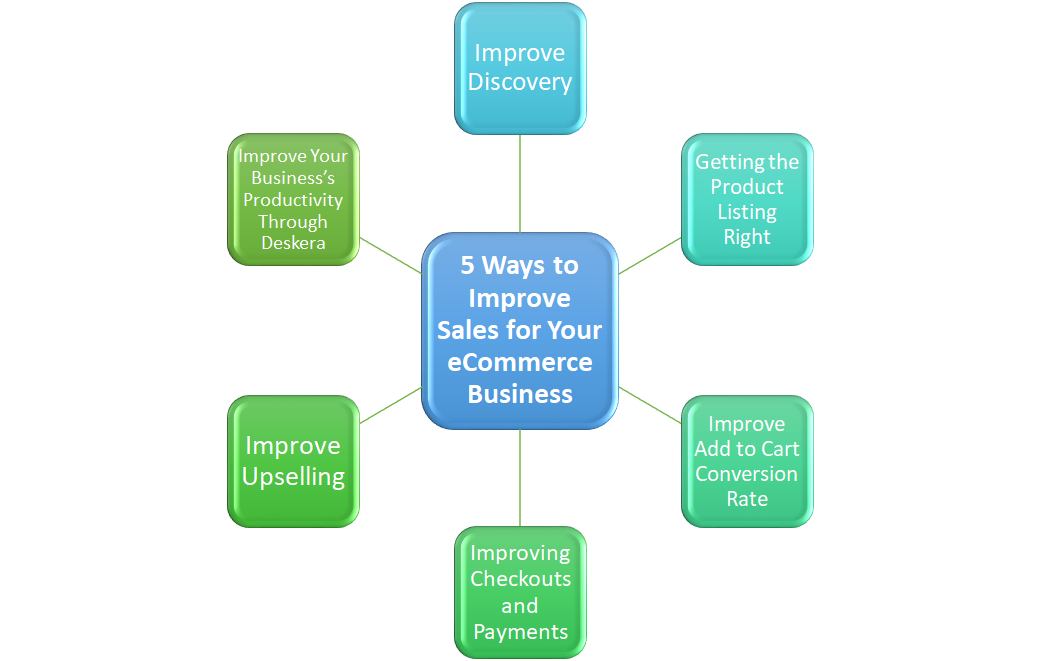 Improve Discovery
Discovery refers to when your customers will search for a product/service on google or amazon or Flipkart or your site. The product listings that appear is what the customers will follow through.

How to ensure that your product comes on the top of the product listing and what are the best practices to improve the chances of being discovered by the buyer. The 1st step of the eCommerce funnel focuses on these 2 aspects.  

Some tips to improve discovery and grab the customers' attention are:
Include the name of the product in the title, and make sure the title is not too long.
Include the size of the product in the title (when applicable) as such a detail would be the immediate determinant of whether your product would be a good match for your customer or not
Your title should be specific, clear and concise to give as deep an insight into your product as possible. Here, usage of correct words and not misleading words are important too.
Use proper product images and not a computer-generated image so that it gives a feeling of realism. The product images should be professional and of high resolution.
The brand, color, pattern and occasion usability of the product should be visible in the image, title and listing such that your customers do not have to read through detailed descriptions to know that. This makes buying an easier and more convenient process for your customers.
Offer coupons on immediate buying
Show all the available variants of the product
Usage of emojis and bullet points in product details. The emojis should be used cleverly, for instance, at the start of the bullet points to highlight it.
The product description should use simpler words that can be understood by all your customers. Additionally, the product description should target those aspects of the product which will be looked for by the majority of your target market. Basically, talk about the value it will bring to your customers.
Following these eCommerce tips will ensure that you rank high on discovery and search results. The number of reviews on your product is hence not the only determining factor for having your product/service placed high on search results.
Getting Product Listing Right
To make sure that your business's products and services are discovered the most and come to the top of the search results, it is important to get your product listing right. The steps to do so are:
Choose the right product category
Include target keywords and related keywords in the title and description
Use bullet points and keep it scannable
Write about value for the customers and not its features
Get professional, high resolution, actual images.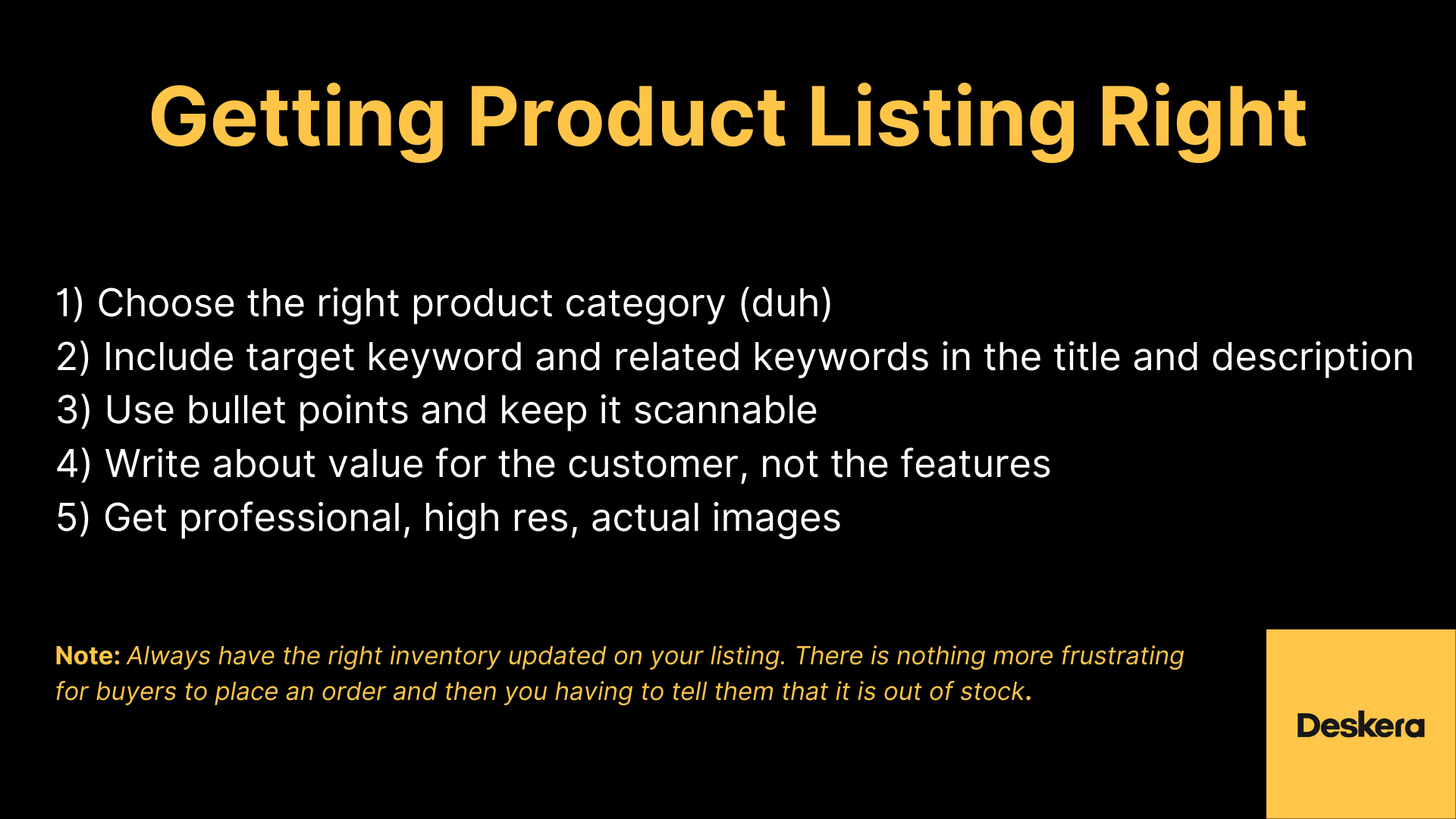 Choosing the right product category will ensure that your product is shown in the correct lists. It will also ensure that relevant related products are shown with your product.
In addition to the keywords, it is also essential to add relevant phrases in the title and description. By doing this, you will be making sure that even those who do not know the technical terms would be able to find your product- the one they are looking for. For example, if you are selling charger plates, your relevant phrase would be elegant dinnerware set, fancy dining set, etc.
Your product description should not have more than 4-5 bullet points. The start of the bullet points should be in all caps or bold or use an emoji to make it stand out.
This will ensure that your potential customers' attention goes to the points you want them to read. If not followed, it would result in a big block of text that will break your potential customers' attention.
When you write about your product from the perspective of what value it will bring to your customer, you are making your customers feel valued and considered. It is almost like encouraging the voice of customers and all the benefits that it brings to your business.
Getting professional, high-resolution images is easier than ever before with the mobile cameras delivering good quality images. All that needs to be ensured is that you use a green screen in the background which can be later removed, one external light to justify your product and necessary editing of the photographs.
This is vital as your potential customers will zoom in to your product images to get an idea about the size, quality, how it looks from different angles and other such features.
Add at least 4-6 images of the different variants of a product that you are offering. This will ensure that in case of the unavailability of one variant, your customers would not skip your product entirely.
Lastly, make sure that your inventory related to your listed products is updated in real-time. If you do not do this, it will either lead to late deliveries of your products, or in certain cases, unable to deliver your products at all because you have no inventory for them.
Preventing this will make you more reliable and trustworthy for your customers, while also increasing their customer satisfaction and your sales. It will also make sure you do not get bad reviews.
One easy way to do this is to have an integrated inventory system with the page on which your products are listed. Your customers will be willing to wait for the product to come back in stock if they see value in it. But once they have placed their orders, they will not be willing to wait.
Other than these tips, to increase your visibility on Amazon, follow these eCommerce tips: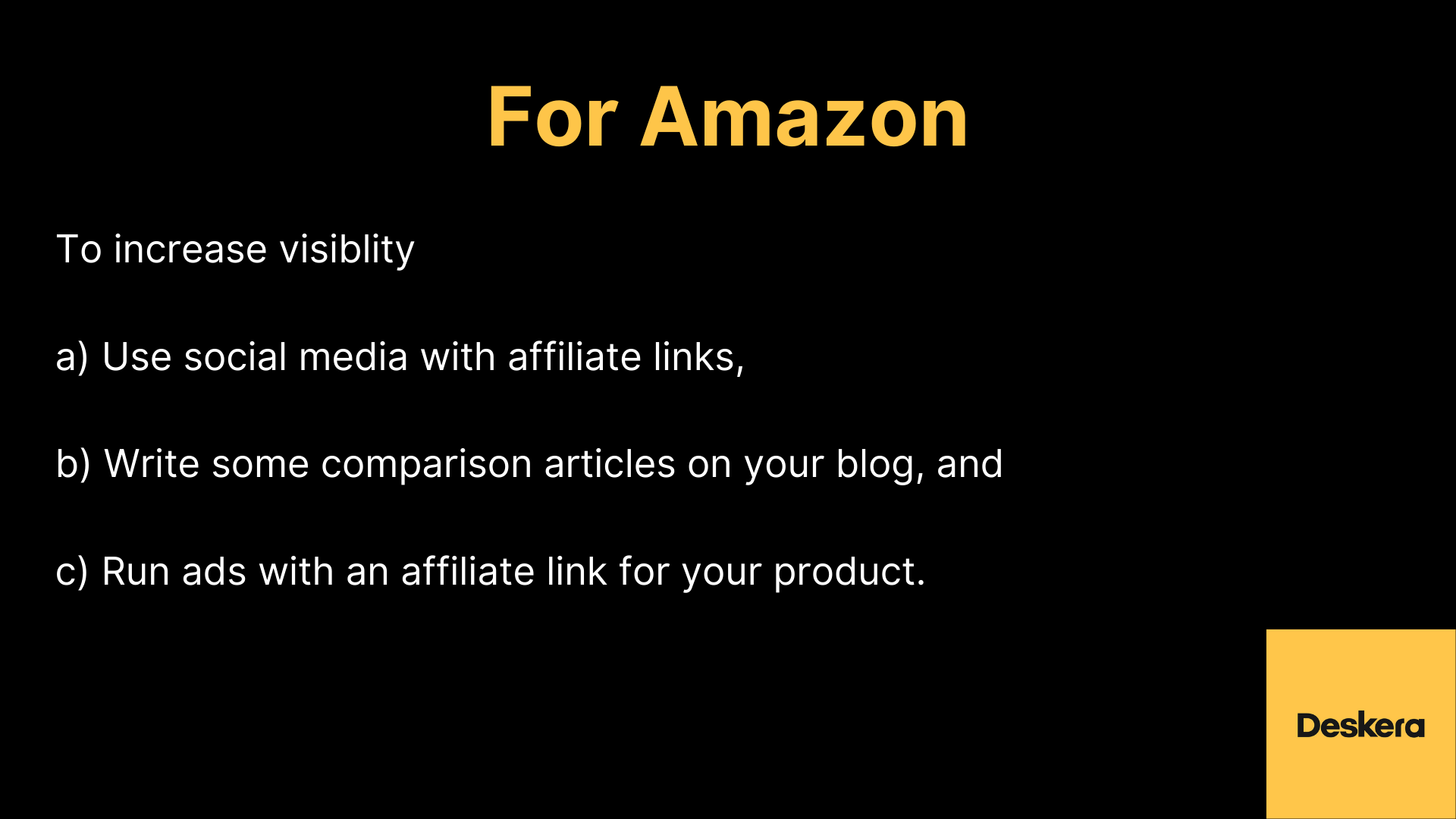 For each product that you have listed on Amazon, you will get your own affiliate links which you should promote on your social media.
Start a blog and write comparison articles on your blog especially featuring your own products and how it is better. Especially for products that have only product listing coming in their search, such blogs will tend to get higher rankings.
Run advertisements with an affiliate link for your product. This will give you double benefits as you are advertising an affiliate link and you are also selling your product.

To increase your visibility on Shopify or WooCommerce or your eCommerce platform, follow these eCommerce tips: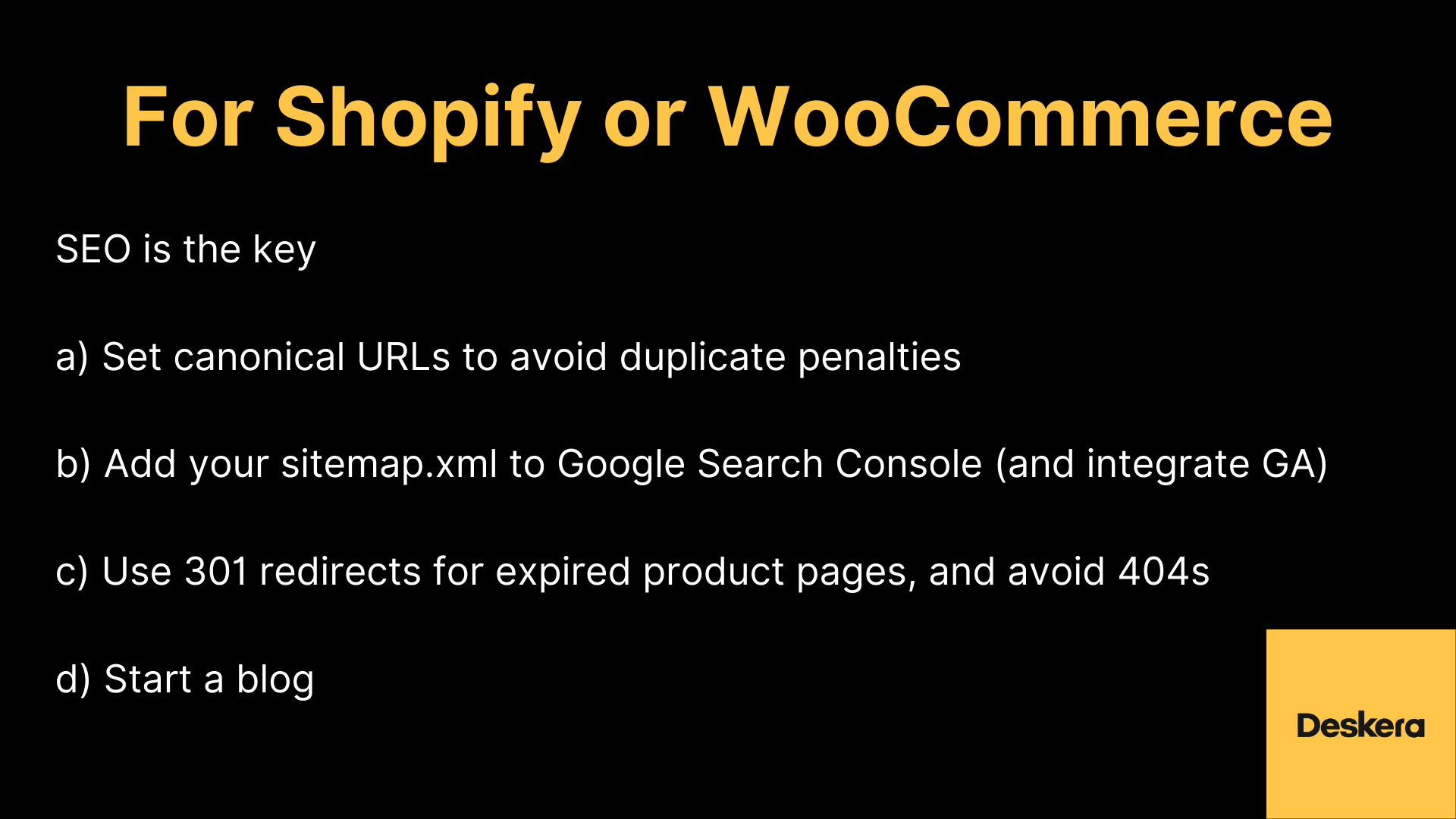 SEO, also known as search engine optimization, is the Key.
1.Set canonical URLs to avoid duplicate penalties: If your product categories or subcategories result in it appearing across multiple search results, Google would read it as a duplicate page. None of the pages appearing in such results would get a higher ranking.

Canonical URL is the method by which you tell the search engine which one URL is primary and which others are duplicate.
So instead of the search engine think that you have multiple pages with the same content across it, you are telling the search engine how they are different through the primary URLs. This will save your business from duplicate penalties.  

2. Add your sitemap.xml to Google search console (and integrate GA): Once you have connected your sitemap (sitemap.xml) with the google search console, it will keep getting updated automatically.
What google search console will do is that each time you add a new page or a product, you can request it to be indexed, rather than waiting for it to do so at its own pace.
Even if you make any changes to your product listing, go to the google search console and request for a reindexing of the same.

3. Use 301 redirects for expired product pages and avoid 404s: In cases when your product is out of stock or unavailable, you do not want your customers to land on that page as this is more likely to make them close your page.
Rather, redirect them to a page that has related products or similar products or other products which can add value to your potential customer's life.
To find the 404 error pages for your website, use site audit tools. Once you have found them, make sure all the 404s are redirected to a proper landing page by using 301 redirects.

4. Start a blog: Start a blog on topics that are connected to your business products/services. Talk about the problems solved by your products/services. Keep adding those things which you think the customers would be looking for in your products and write your blogs accordingly.
Use SEO smartly here. Writing blogs will help a lot in getting organic traffic to your landing pages. Make sure you have inbuilt shopping links on your blog page for your products/services.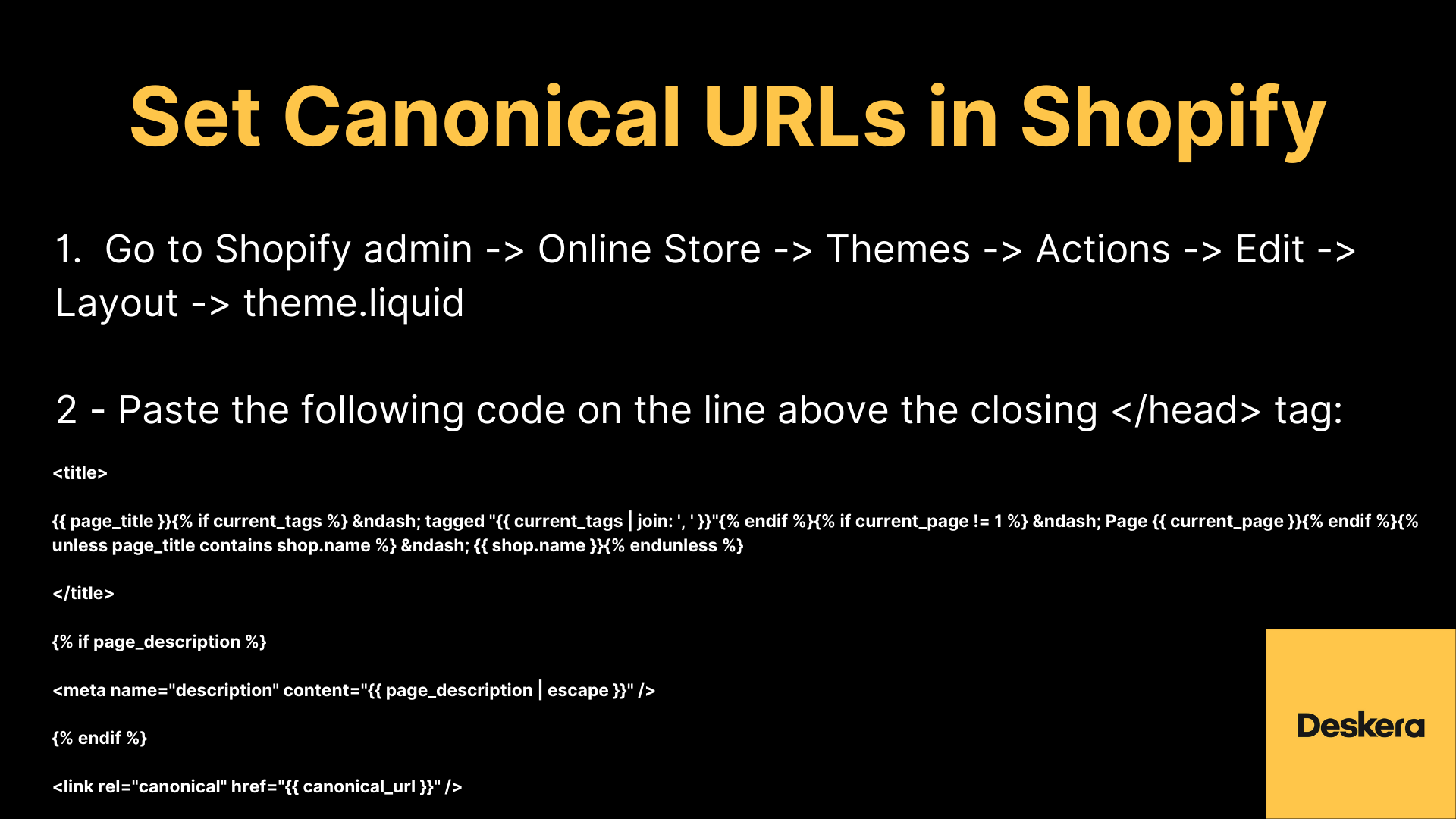 Improve Add to Cart Conversion Rate
Your potential customers might not add a product to their cart or add to their cart and not buy it because of reasons like:
Cluttered information
Lack of urgency
No promotions/coupons
Lack of trust
Social validation
Technical issues (for example, slow, unresponsive site/app)
Higher than expected price
Different brand
Absence of certain features and so on.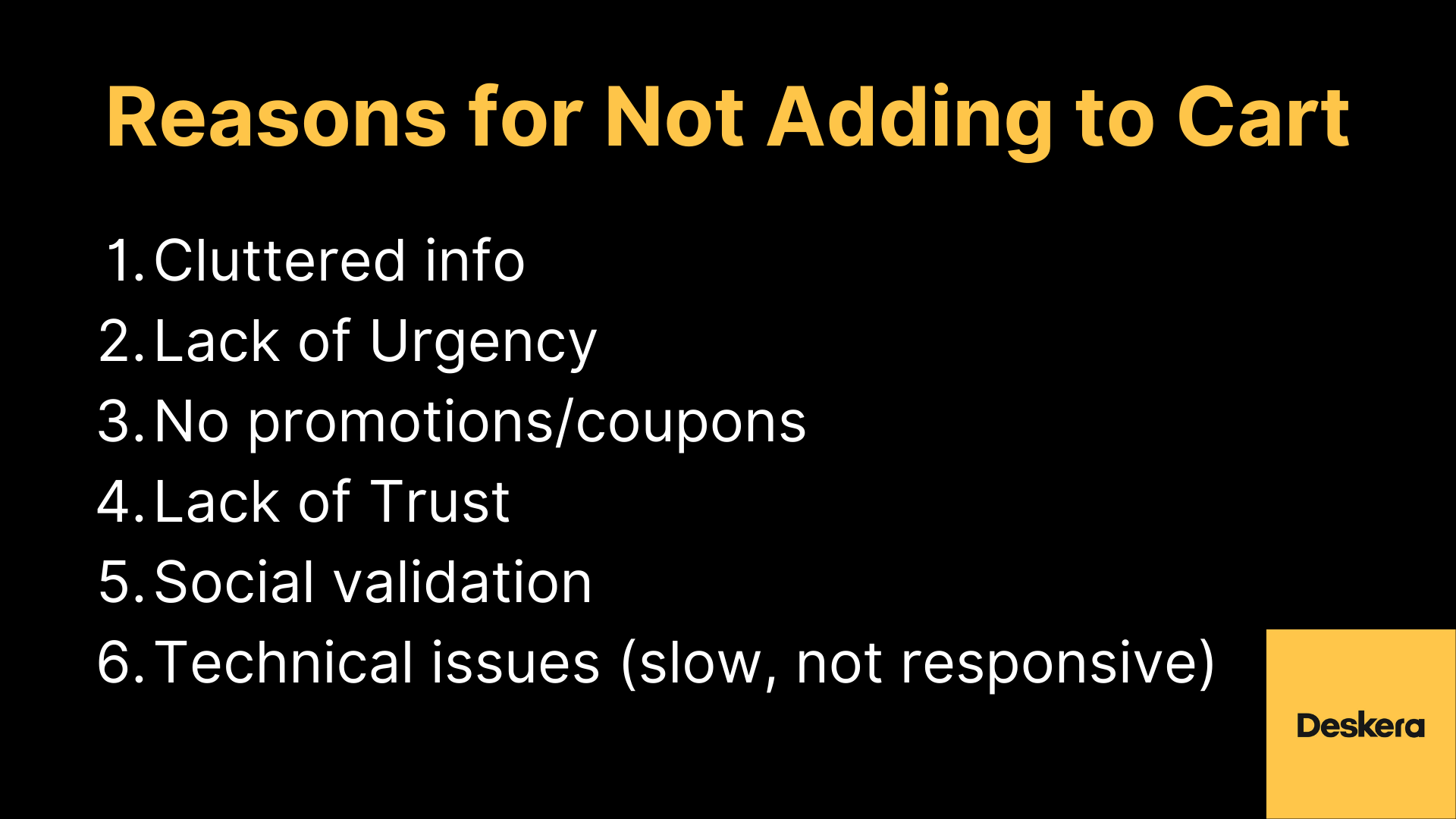 One important key performance indicator to measure how well your products are doing in regards to customer's buying behavior is add to cart conversion rate.

Add to cart conversion rate= No. of times product added to cart/ No. of times product viewed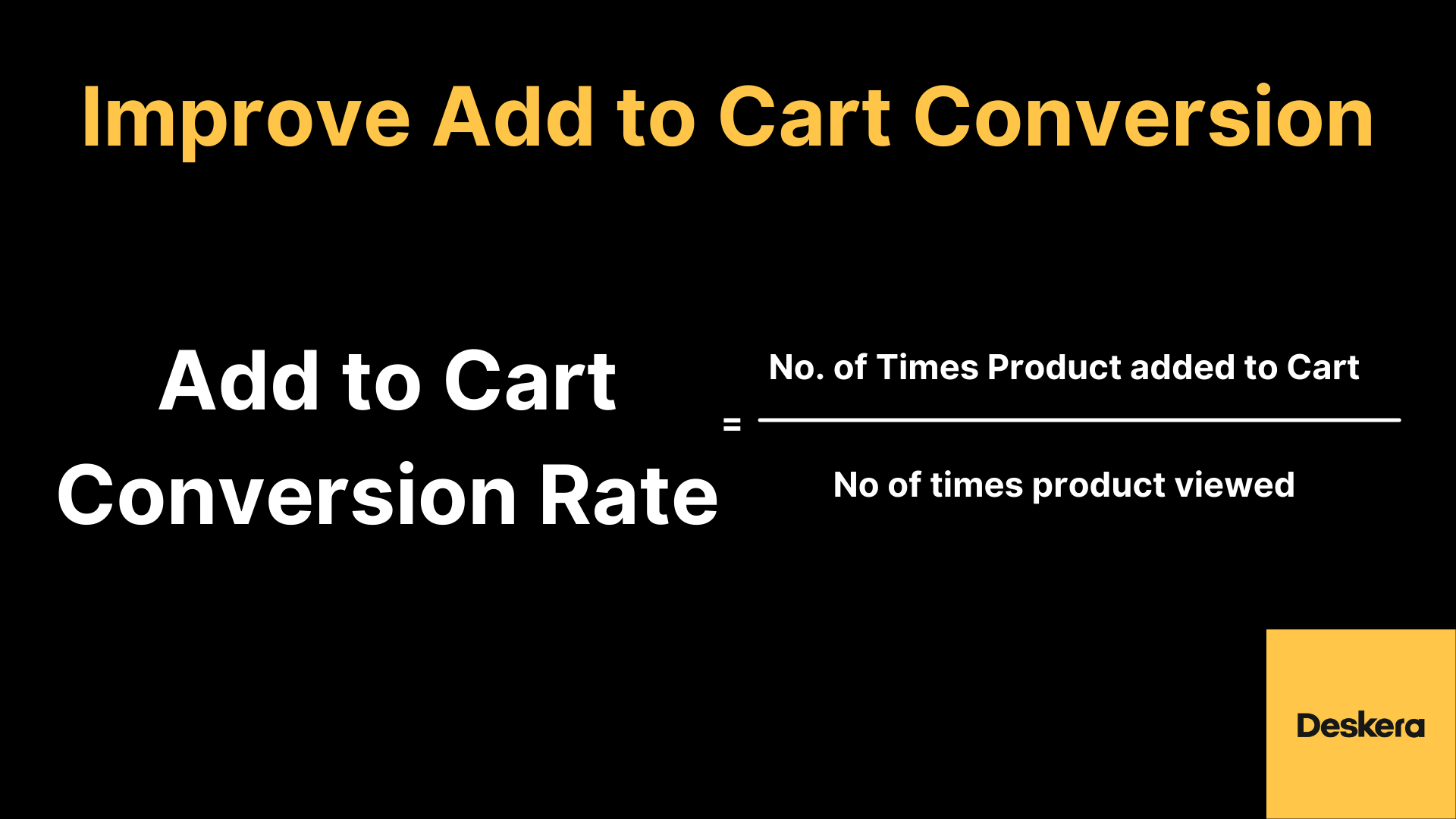 For example, you are selling blue sapphire cuff-links and that product page has been viewed 100 times and added to the cart 25 times. In that case,
Add to cart conversion rate= 25/100= ¼= 25%

A feeling of urgency can be created by giving time-based offers and feeling of FOMO (i.e. Fear of missing out). Such an urgency would lead to a higher cart conversion rate.
Adding a countdown clock to your offer will further accelerate the urgency to buy your product/services, after your customer's first interest in it. Hence, lack of urgency and no promotion/coupons go hand in hand.

Between the things that are wanted and needed by your customers, need gets prioritized. However, by adding a sense of urgency to the wanted products, it will lead to more buying.
For countless reasons, you want your customers to be able to justify their spending with some benefit and one of the best ways to do it is through coupons and promotions. This will greatly help your eCommerce business to increase its add to cart conversion rate.

If your website does not look professional, aesthetic and well managed, it will make your customers mistrust it. Furthermore, an extra-long URL along with a page with lots of ads and apps popping up will also add to the mistrust.

Another way of losing trust or your potential customers is if your website does not have social validations like authentic positive customer reviews and how many products have been sold.

Lastly, if your page takes too long to load or it is not properly designed for different devices, it will make your customers lose interest as well as trust in you. This too will lead to the products not being added to the cart from their product listing.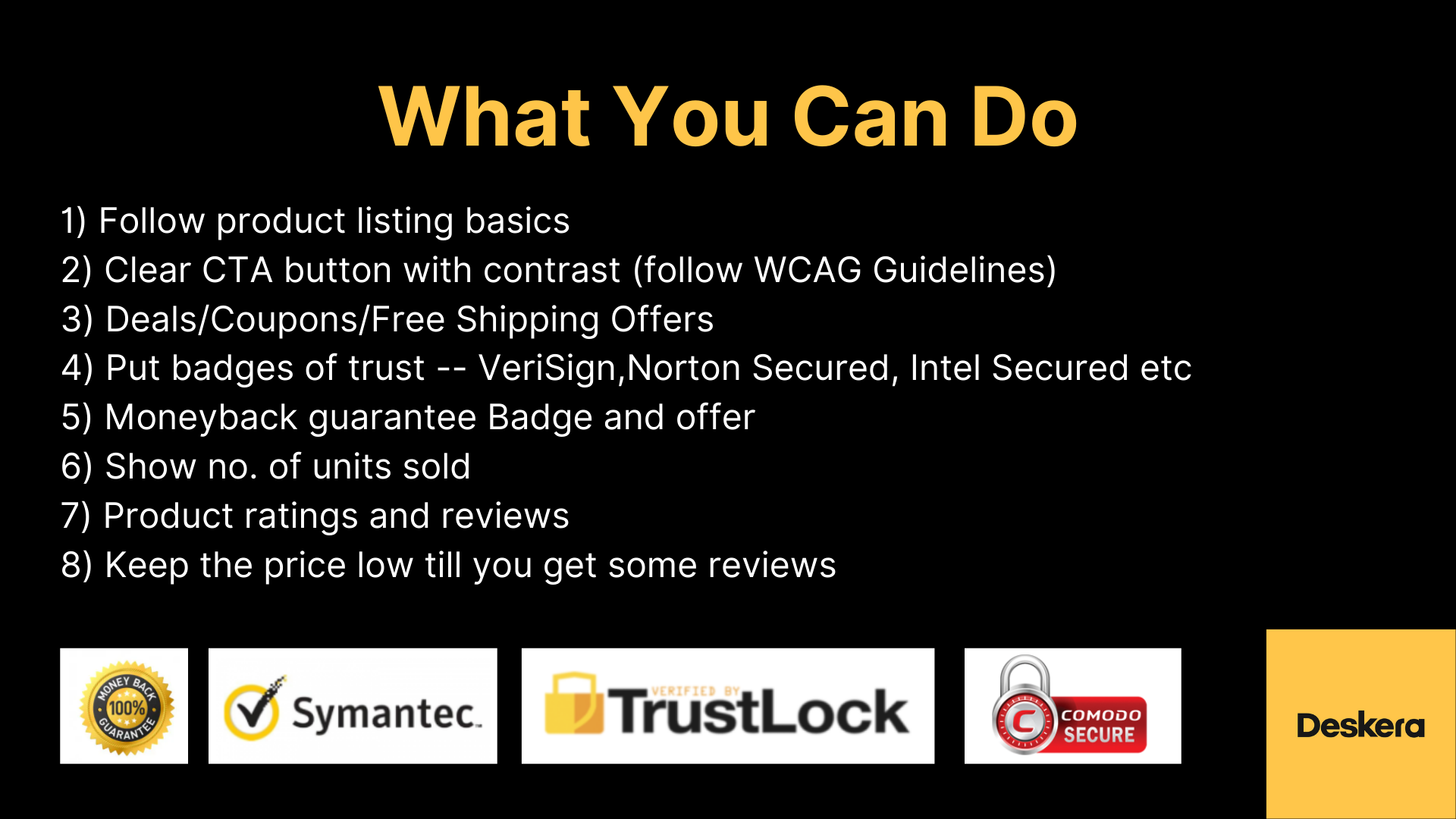 So what are the eCommerce tips to help you improve your add to cart conversion rate? They are:
Follow product listing basics (as discussed earlier in this article)
Clear CTA (i.e. call to action) button with contrast. Here it is about the add to cart button which should stand out from all the other buttons. Make sure that the contrast ratio between the button and page background is 4:1, as given in WCAG (i.e. web content accessibility guidelines) guidelines. To check whether you are following the WCAG guidelines, install WCAG checker extensions to your browsers which are available for free.
Deals/ Coupons/ Free shipping offers which should be time-based and throwing FOMO effect
Put badges of trust like VeriSign, Norton Secured, COMODO Secured and Intel Secured after getting your site verified from them
Money-back guarantee badge and offer in case if something goes wrong for the customer. This will make the customers make the purchase even if they are afraid of the purchase. This will improve their trust in your product and will give them the reason to purchase even when they are not 100% sure about it. This badge and offer should be placed in a manner that is clearly visible amidst all the other information.
Showing the number of units sold will add to social validation, reduce their risk averted and improve trust.
Product ratings and reviews serve the same purpose as showing the number of units sold. In case you have just started your own eCommerce business, you can get product ratings and reviews by sending out free samples to experts, offering discounts to the customers who leave behind a review for your product/services.
However, sites like amazon which bans the sellers who incentivize giving reviews for the customers, use Amazon Early Review Programme and Amazon Vine.
In the case of sites like Shopify and WooCommerce which give your own platform for product listing, you can set up an email sequence for buyers to review products. You can also use discounts, coupons and free shipping offer as incentives.
Make it easy to leave reviews by the customers. This can be ensured by not making comment reviews mandatory and giving the option of giving star reviews. This will get you a review as well as a return customer.
Keep the price low till you get some reviews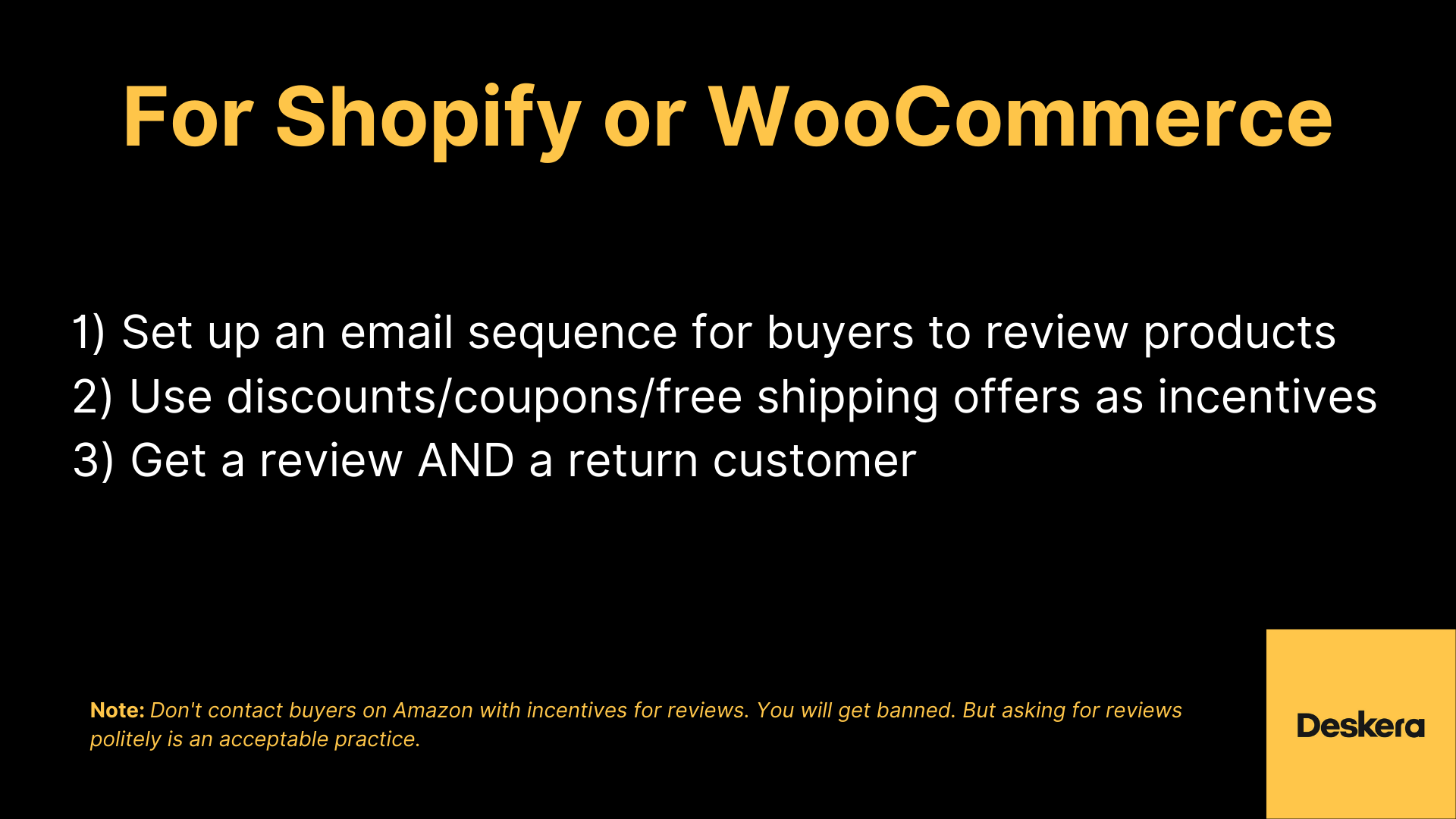 Improving Checkouts and Payments
Even after the product is added to the cart, you still have to make sure that the checkout and payment are carried out.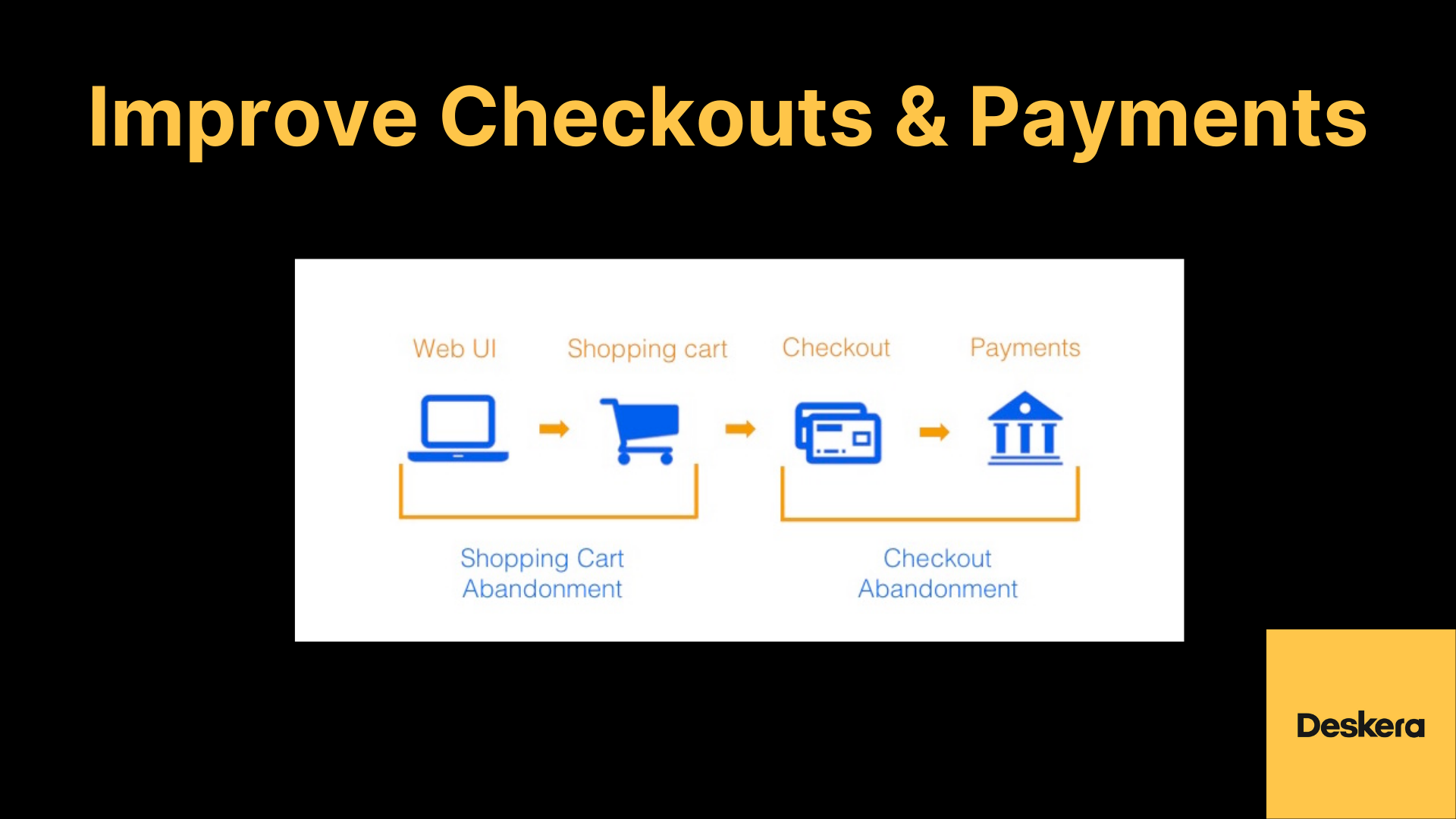 However, several businesses face the challenge of customers abandoning their carts at the checkout stage or the payment stage. Top abandonment reasons are:
Extra costs like shipping charges are too high
The site needing an account to be created
Too long/complicated checkout process
Unable to see/calculate total order cost up-front
Unable to trust your site with credit card information
Your website had several errors or crashed multiple times
The predicted delivery date was too slow
Unsatisfactory return policy
Absence of enough payment methods
The credit card was declined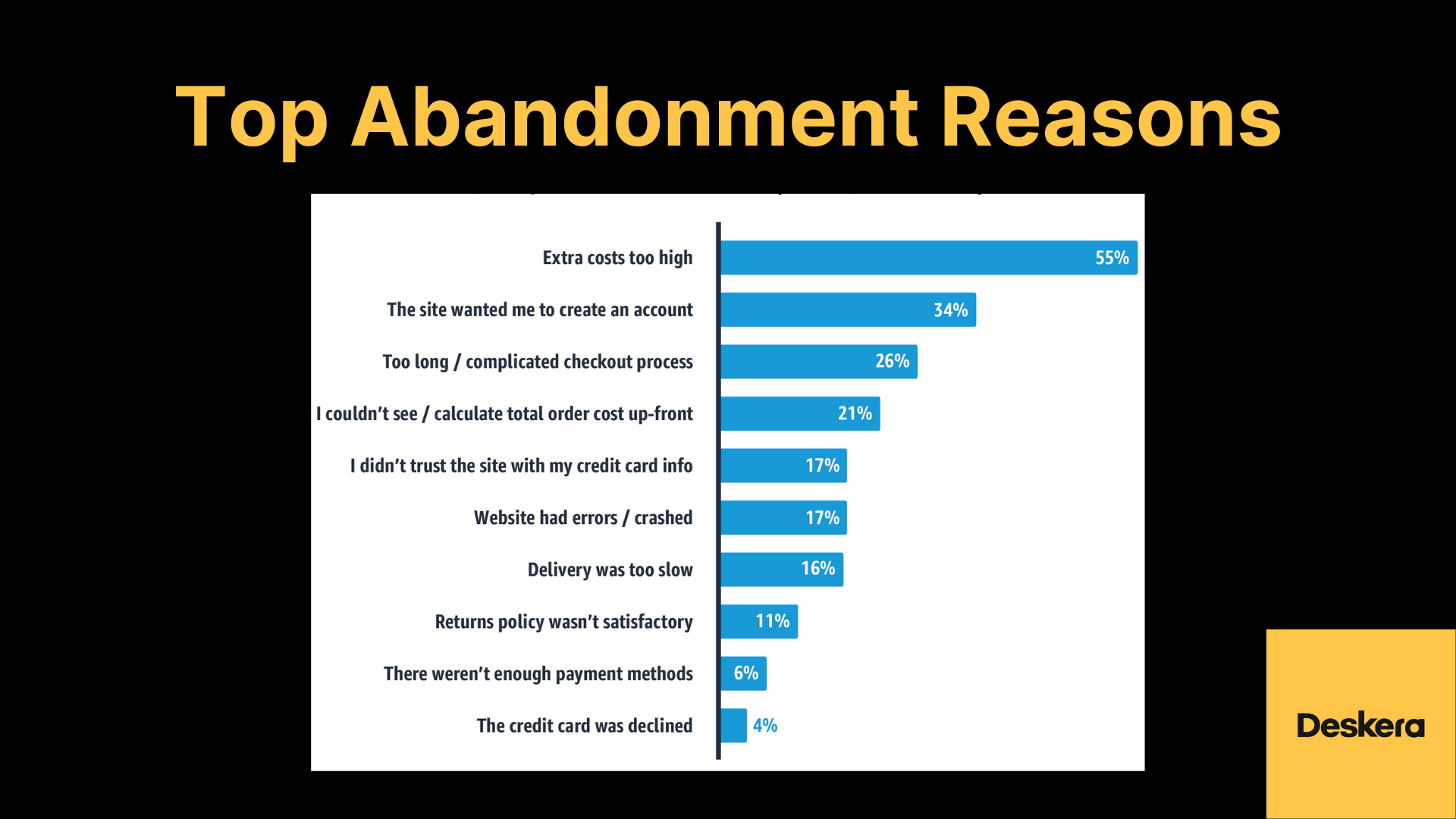 If there has been a misrepresentation of any of this information from your listing page till your checkout page, then your buyer will feel they cannot trust you or they are being taken advantage of or they can be cheated and tricked.

The key to not getting into this mess is by making sure that you are transparent with your customers from the start. For instance, as a buyer, you would know your extra costs since the start.

The way to maintain the customer's trust and not lose them at the checkout point is by informing them about these extra costs from the start of the listing page. If possible, provide them with free shipping on minimum order size, or on first order offers, etc.

Reinforce the trust on your site on your checkout page by putting the badges and assurances on the checkout page as well. By doing so, customers who are about to put their money into your business will feel more confident and assured.
Also, provide them with different payment options, including cash on delivery options wherever possible.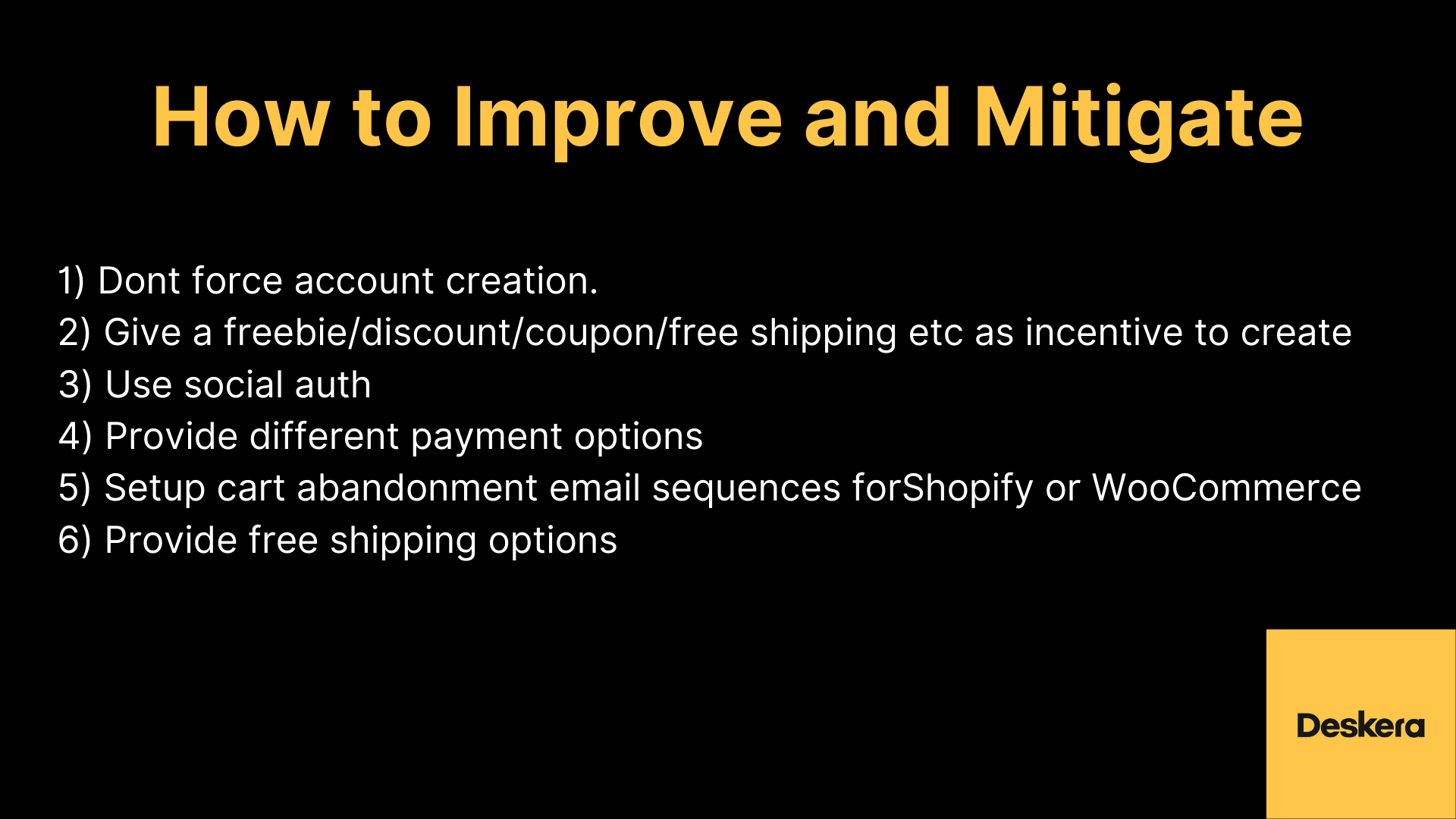 Do not force your customers to create an account as even if they order, you will be getting the necessary information for retargeting them if it is your own site. But by forcing them to create accounts, might lead you to lose your customers entirely. Once you have their email, you can resort to email retargeting to encourage more purchases and customer loyalty.

After checkout, you can incentivise your customers to create an account. By doing so, you will be able to ensure complete conversion of a potential customer to a customer and even get him logged into your site.
Customers can be incentivised to create accounts by giving a freebie, discount, coupon or free shipping for the next order. Lastly, set up cart abandonment email sequences for Shopify and WooCommerce so that the reasons given to you can help you in correcting your processes and thereby increase your sales and gross profits.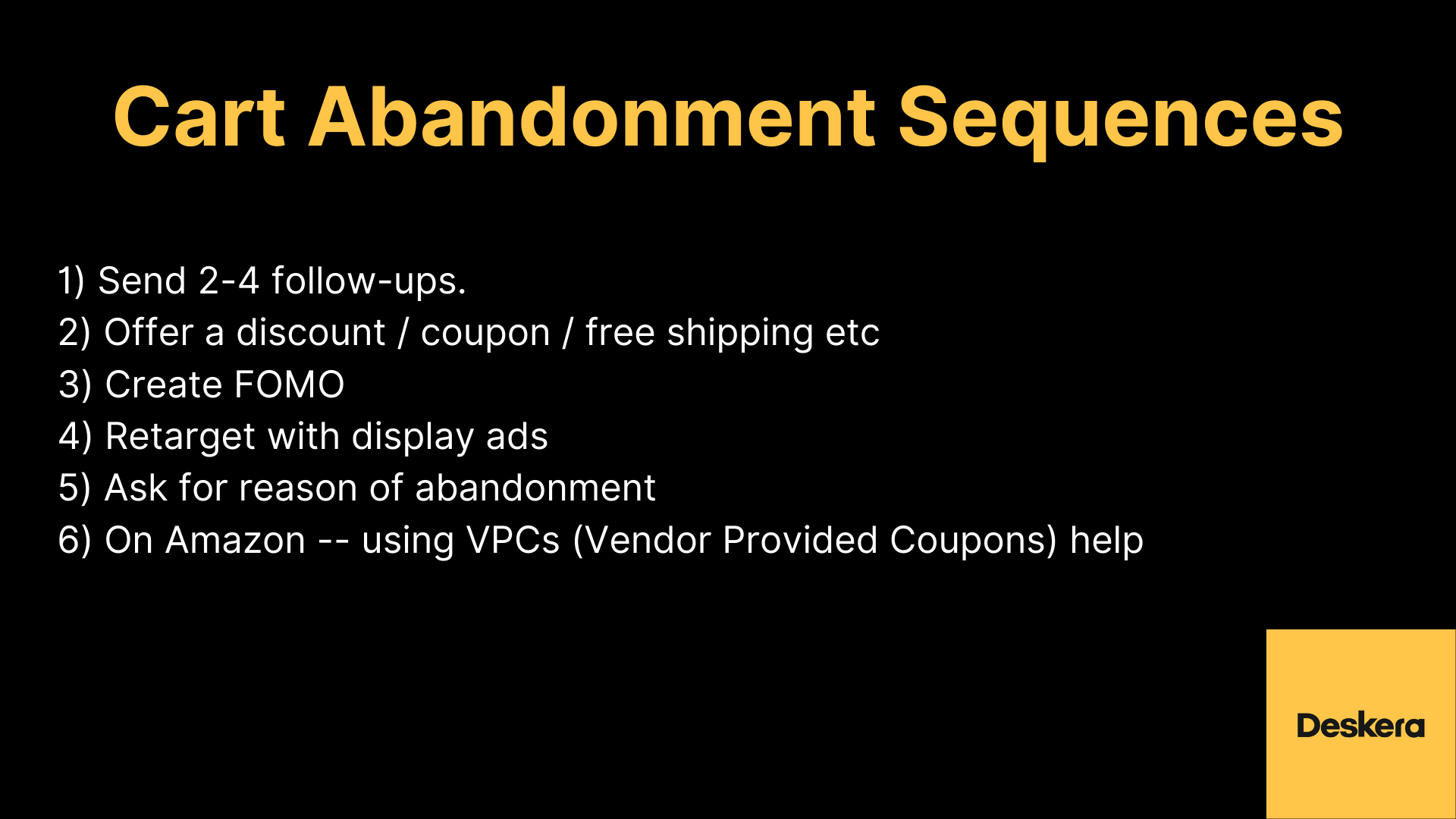 If you already have your potential customer's email address, you can take up the cart abandonment sequence as follows:
Send 2-4 follow up emails (for example, you have products sitting in your cart- go ahead and process your cart) spread over a couple of weeks
In addition to that, offer a discount, coupon or free shipping for a certain time period.
Create a sense of urgency and FOMO through time-based offers. Another way of doing this is by clearing out their shopping carts after a certain amount of time. Before clearing their shopping carts, give them a couple of reminders for the same. Such follow-up emails will lead to less of them being sent in the spam folder and thereby paid more heed to.
Retarget with display ads (it is possible on Shopify and WooCommerce and not on Amazon)
Ask for a reason for abandonment as customer feedback can help in increasing customer satisfaction
On Amazon- using VPCs (Vendor Provided Coupons) help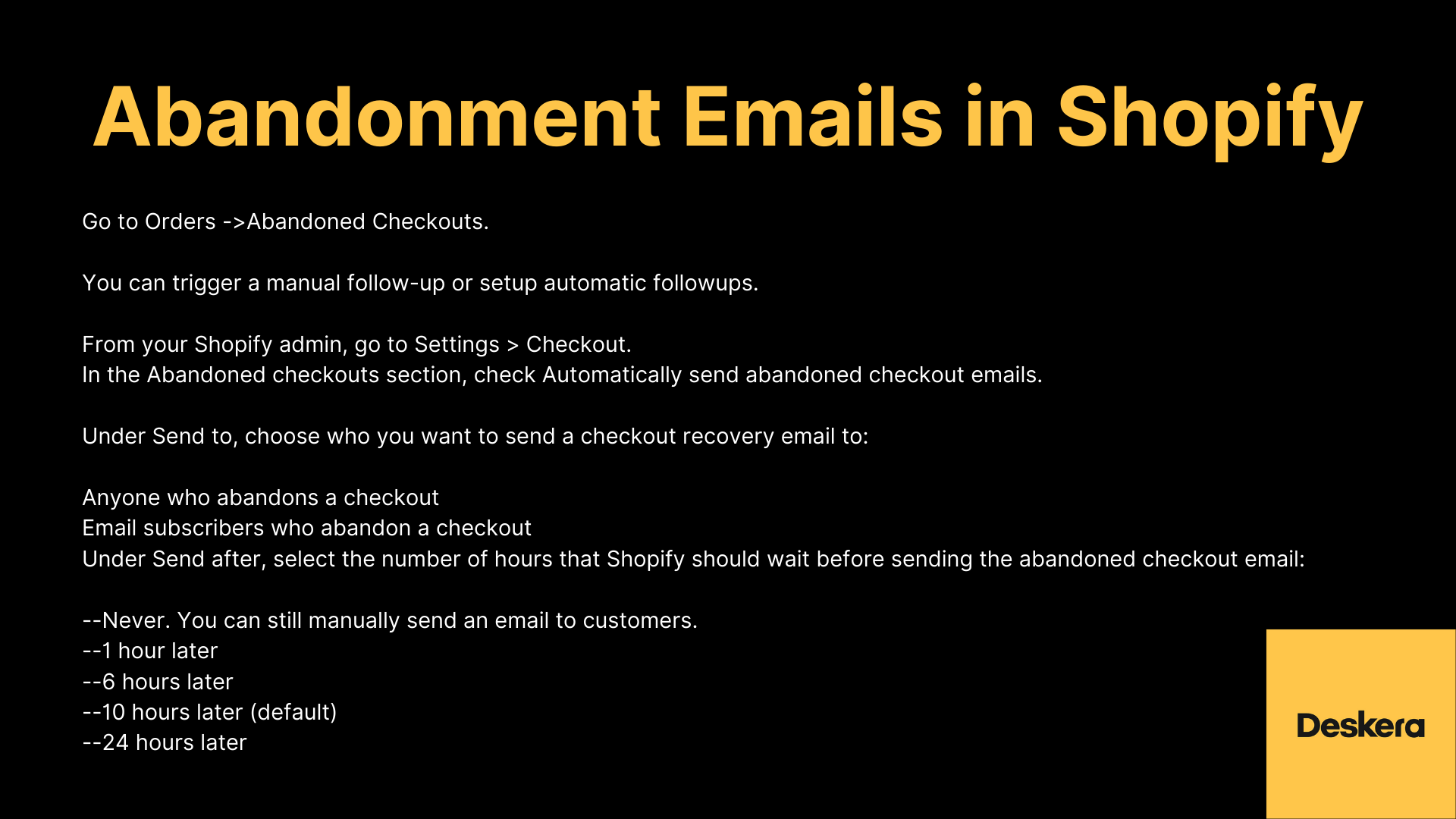 Improve Upselling

The last stage of the funnel or pseudo funnel stage as you have already closed the deal up to this point is upselling. If you want to sell more to your customers and make them return to your site, your product page and buy more from you the steps to be followed are: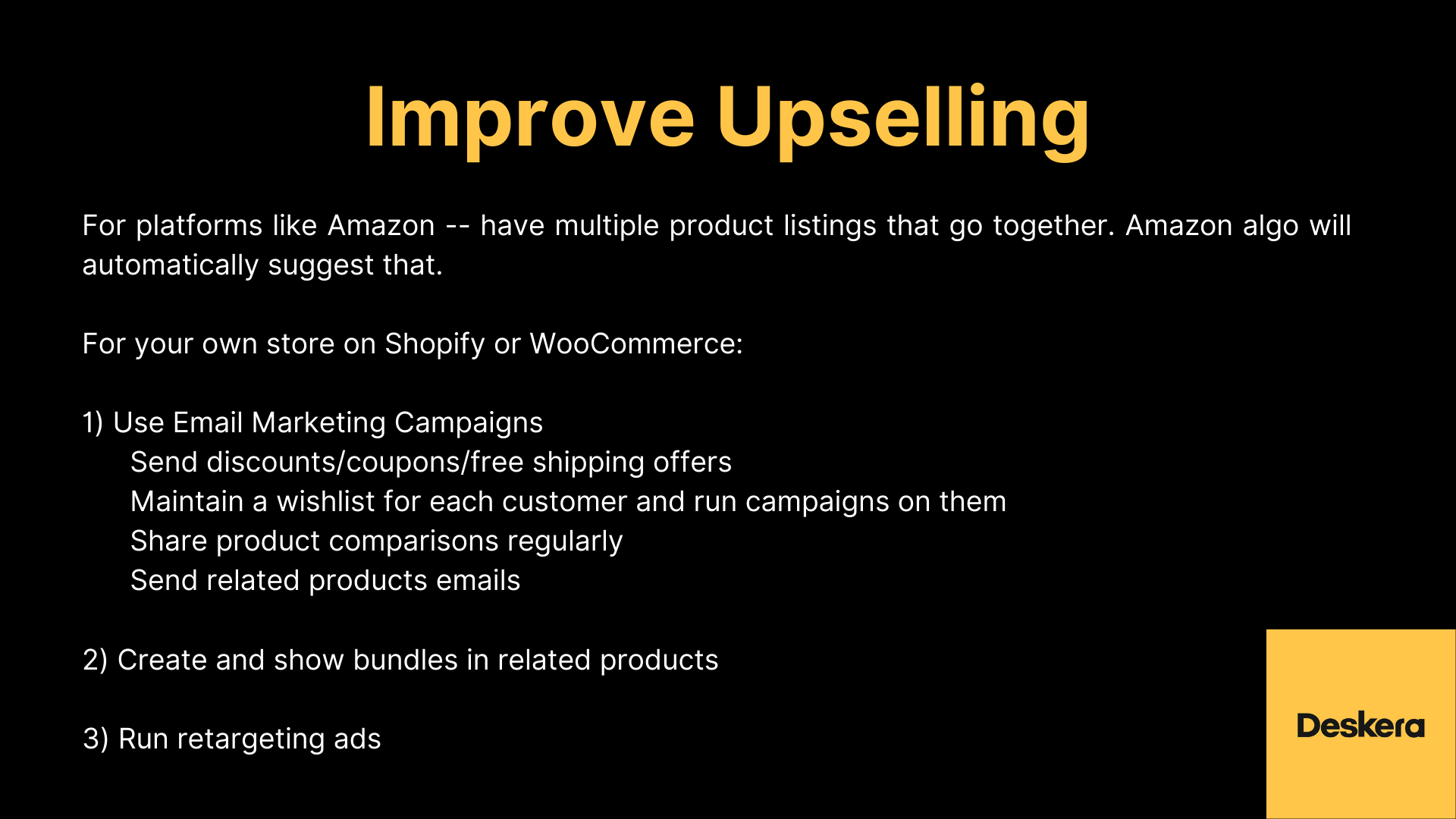 For platforms like Amazon, Alibaba, it will automatically suggest listings that go together with the product already purchased by your customer. The same seller can have a bundle of products that typically go together- which are then suggested to your customer. If you have fulfilled all the steps discussed above, these sites will tend to drive more of your customers to your other products.
To improve upselling, it is important to identify your customer's patterns of purchasing and have the same accompanying items available from your store. This will ensure that the buyer comes back and will buy from you instead of going to a competitor's store.
If you have your store on sites like Shopify or WooCommerce, the eCommerce tips to improve your upselling are:
i. Use email marketing campaigns: Send discounts/coupons/free shipping orders to your customers after their purchases. You can also maintain a wishlist for each of the customers and run campaigns on them at a later stage. You can win your customer's trust, by being transparent with them and showing them product comparison lists.
Such comparisons will assist your customers to make decisions in the long run. Having a balance between generic, informational emails and sales-oriented emails keeps your customers engaged and interested in your business. Such a practice would be largely beneficial to you. Lastly, send them related products lists on a timely basis.
ii. Create and show bundles in your related products section.
iii. Run retargeting advertising campaigns: Because retargeting ads are display ads, which means it might end up showing products that your customers have already purchased, these should be backed by other strategies, campaigns and eCommerce tips to improve sales as discussed above.

How can Deskera Assist in Improving Sales for Your eCommerce Business?
When you are running your own business, there are tons of duties and responsibilities that you have to fulfill. Your time is essential and has to be saved at all costs to develop your business further. This can be ensured by integrating your store of Amazon/ Shopify/ WooCommerce with the Deskera system.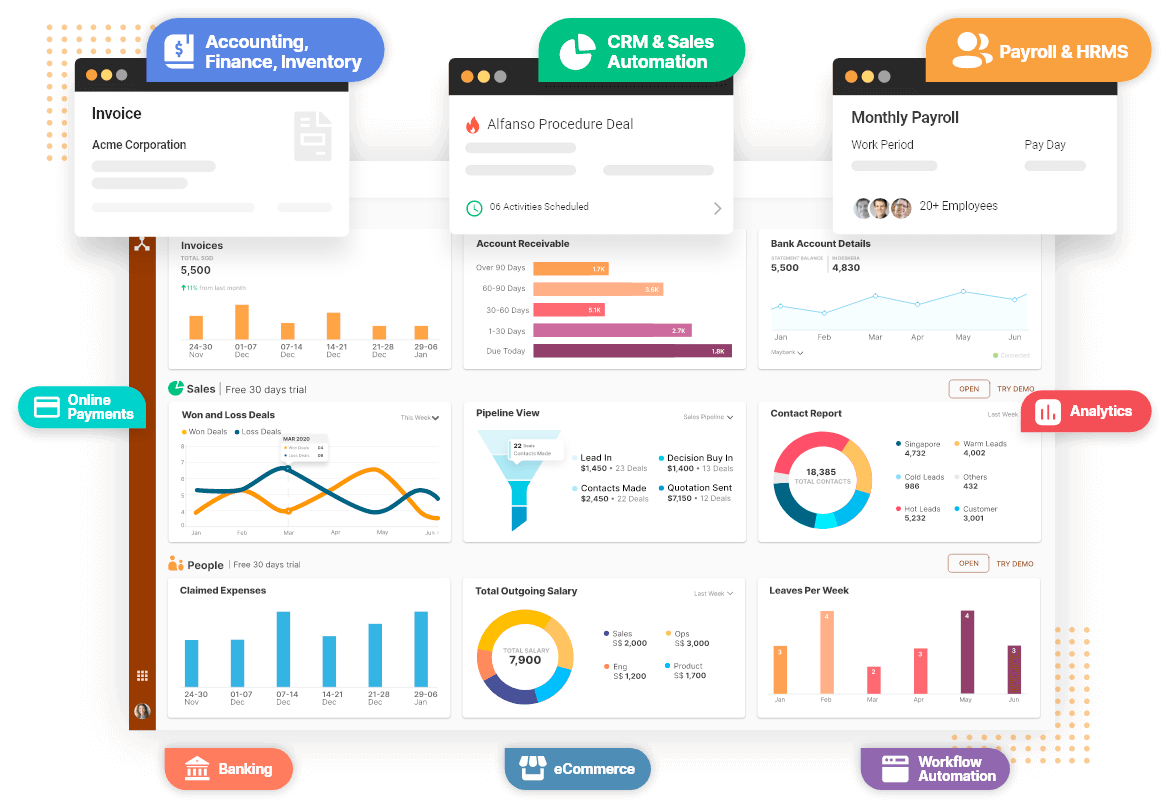 Doing so will help you to save the time taken in transferring data between the different systems. It will also assist you with real-time updates about your business like cash flow status, inventory management, sales, purchases, purchase orders, customer tickets, customer satisfaction, revenues, profit and loss statements and balance sheet.
It would also help in integrating customer contact across different platforms onto one system so that you have a consolidated list for email campaigns, leads management and sales pipeline to mention a few.
It will also help you to sync between your orders, payments, taxes, refunds, product variants, sending out invoices and reminders, facilitating invoice management, and even undertaking follow-ups and advertisement campaigns.
Such a consolidated platform will help you to improve sales for your eCommerce business by also facilitating faster and well-informed decision making. It will help you in strengthening your opportunities and being braced for the threats.
Undue expenses and penalties arising out of mistakes in invoicing, taxations, late deliveries, etc will be prevented as well.
The expenses would be kept under a constant check, with an approval system set in place for each department when a certain amount is crossed.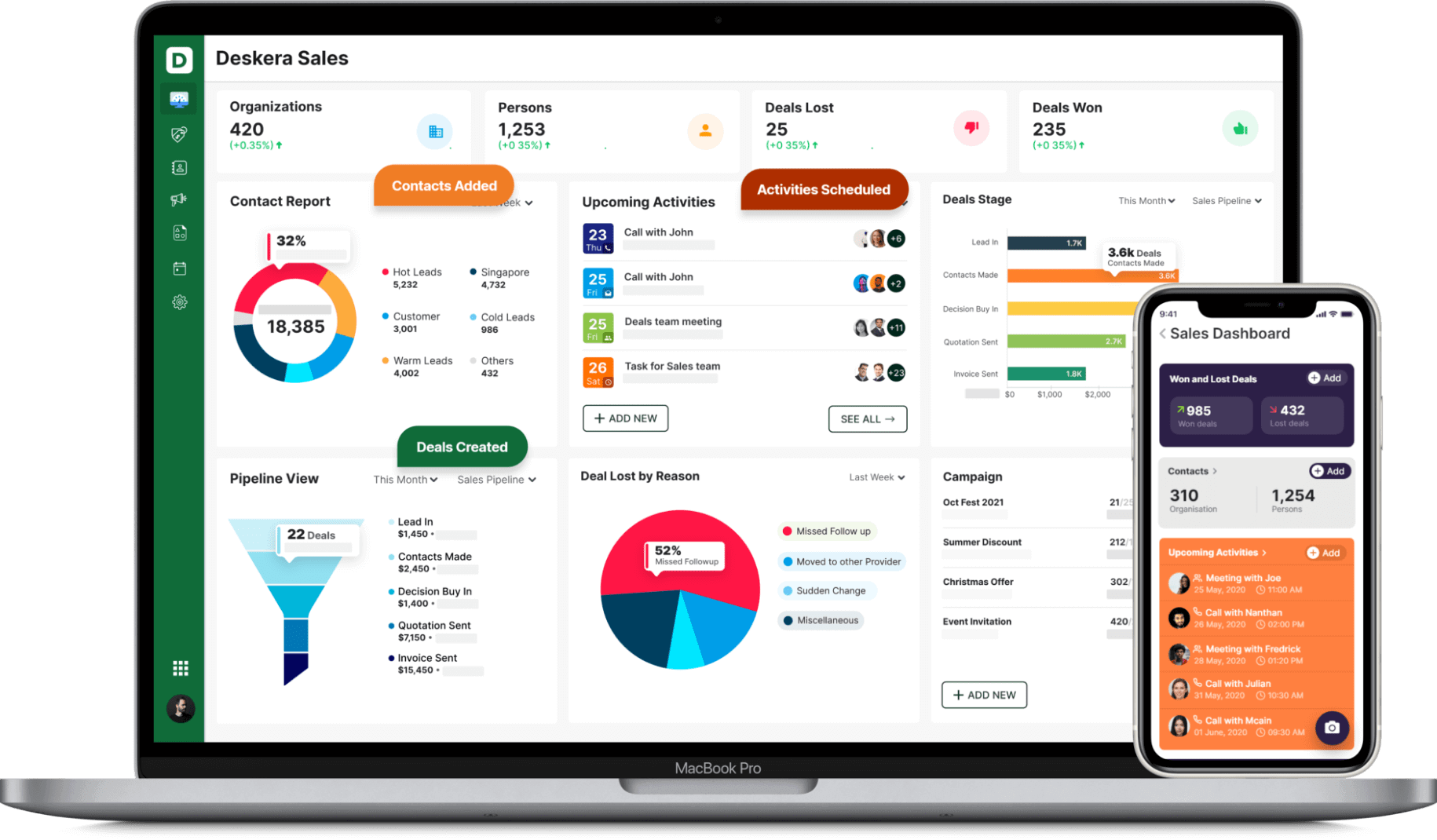 Deskera books and Deskera CRM will also be able to ensure the highest customer satisfaction and thereby an increase in net revenues and net profits.
Deskera Books and CRM
To improve sales of your eCommerce business
Key Takeaways
eCommerce tips are several, but the ones that will be beneficial to your business- whether a new one or an existing one are:
Improve Discovery
Getting the Product Listing Right
Improve Add to Cart Conversion Rate
Improving Checkouts and Payments
Improve Upselling
Improve Your Business's Productivity Through Deskera

Following these tips will help you to improve sales for your eCommerce business, rewarding you with a flourishing and successful business that you are proud of.
Related Articles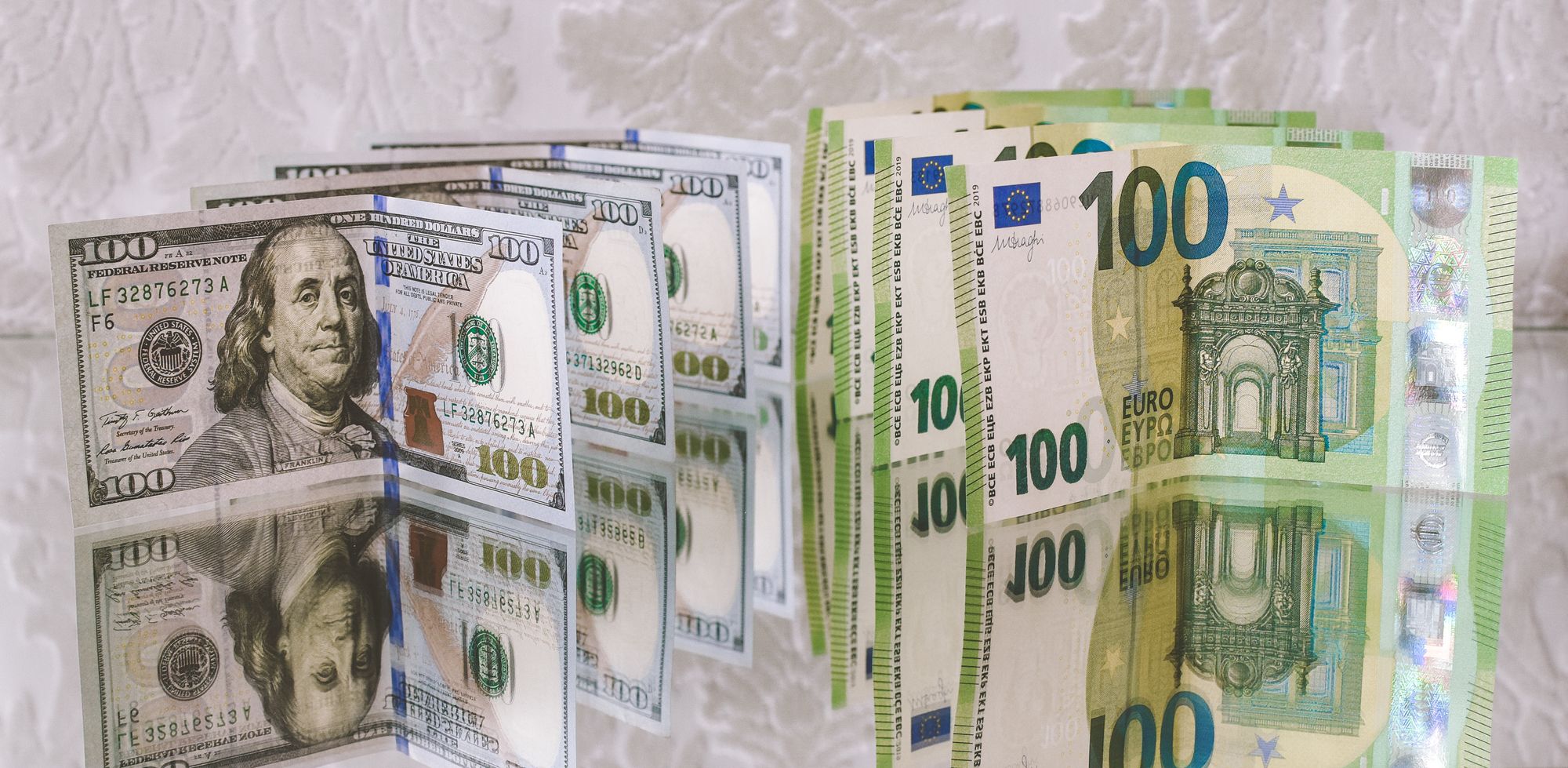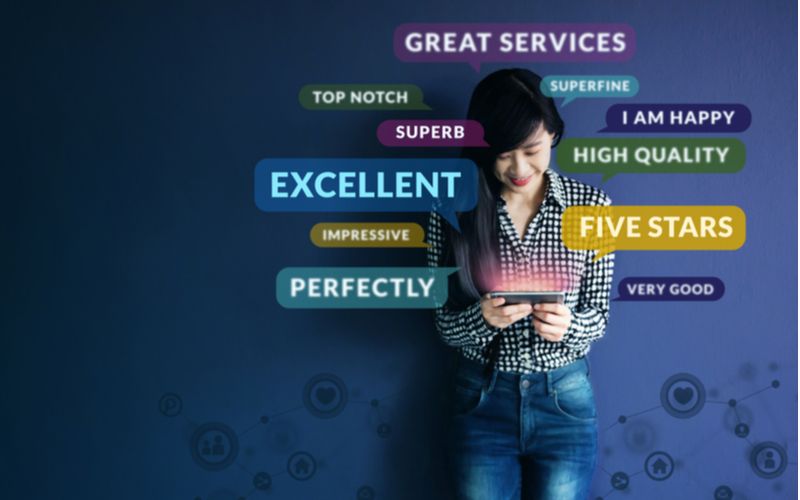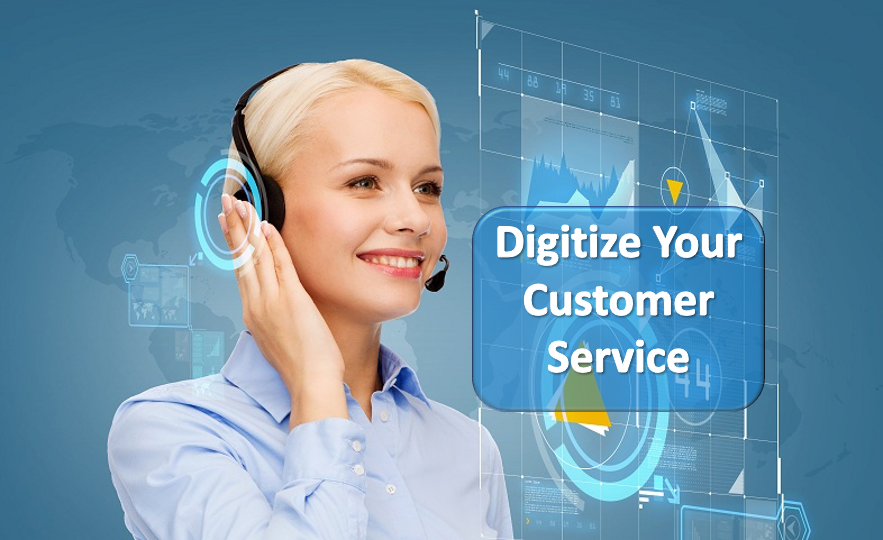 ---
---