Marketing channels and trends are constantly evolving over time. While trends come and go, one of the channels that has remained the same is email marketing. In fact, email marketing continues to be the top channel for both B2C and B2B marketing. One of these critical challenges businesses face is simply the amount of time it takes to create a good-looking, informed, and relevant email from scratch.
Without efficient marketing tools, marketers may end up spending a lot of time creating and sending out emails. This hinders the productivity and efficiency of your marketing team.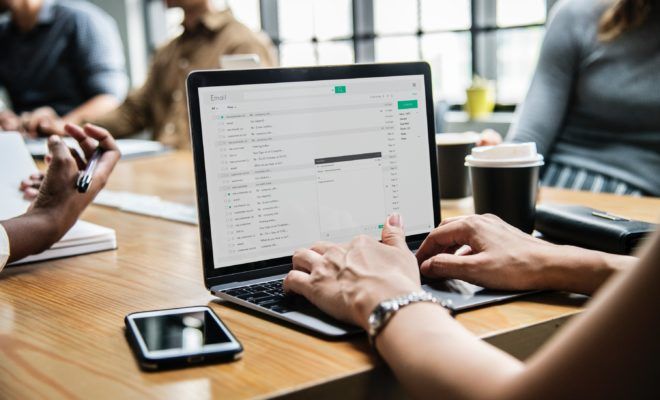 Email marketing automation tool is an excellent concept for such situations. It is one of those things that can give you lots of benefits without costing you much effort on a day-to-day basis. Current data indicates that businesses using automation software or email marketing automation tools generate twice the number of leads than those using just broadcast emails.
In other words, if you are a business, doing anything online, email marketing automation might be something that is worth getting into. To help you with that, in this article, we will look into the top email marketing automation tools available and which is best suited for your business.
But let us first try to understand what email marketing automation is and what to look for in an automation tool.
What is Email Marketing Automation?
Email marketing automation is the ability to send out action or time-triggered emails to your customers or subscribers with the relevant and required information. An email marketing automation tool is helpful for multiple marketing purposes. For example, it can be used from a triggered workflow that helps nurture new leads to birthday greetings that add a personal touch for your customers. It can also be used for automated blog updates that take the legwork out of staying in touch with your subscribers. An email marketing automation tool makes email marketing more time-efficient, personalized, and relevant.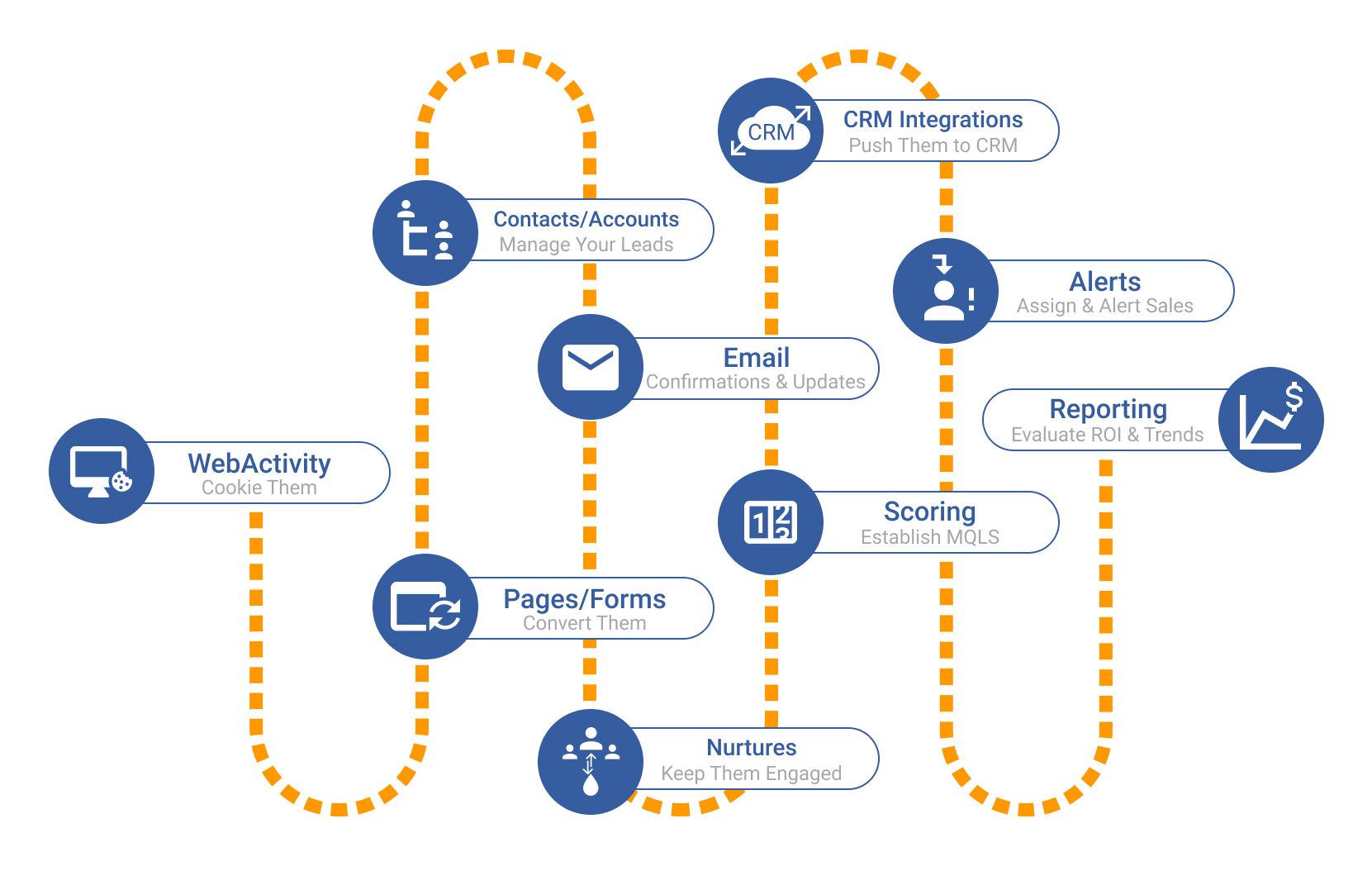 Using automation for email campaigns is an efficient method of communicating with prospective customers and leads who have a genuine interest in your product updates, business, or brand. With email marketing automation tools, you do not have to miss another opportunity to generate leads, sales, and revenue again.
With a good email marketing automation software, you can gain useful insight into the needs and wants of your target audience and gain a better understanding of your preferred demographics.
What Makes a Good Email Marketing Automation Tool?
Before we get into different tools and their pros and cons, let us look at what makes a good email marketing automation tools.
There are a handful of critical factors worth considering:
The ability to quickly and easily set up advanced communication sequences with customer segments
Have different communication paths going on at the same time, and with the same customer possibly taking multiple courses at the same time
Various types of drip campaigns or emails can be sent based on the customer's activity or inactivity and behavior
Include advanced stats, which include not only clicks and conversions on individual emails but also the efficiency of a whole sequence, like indicating bottlenecks in communication such as where people usually drop off, etc.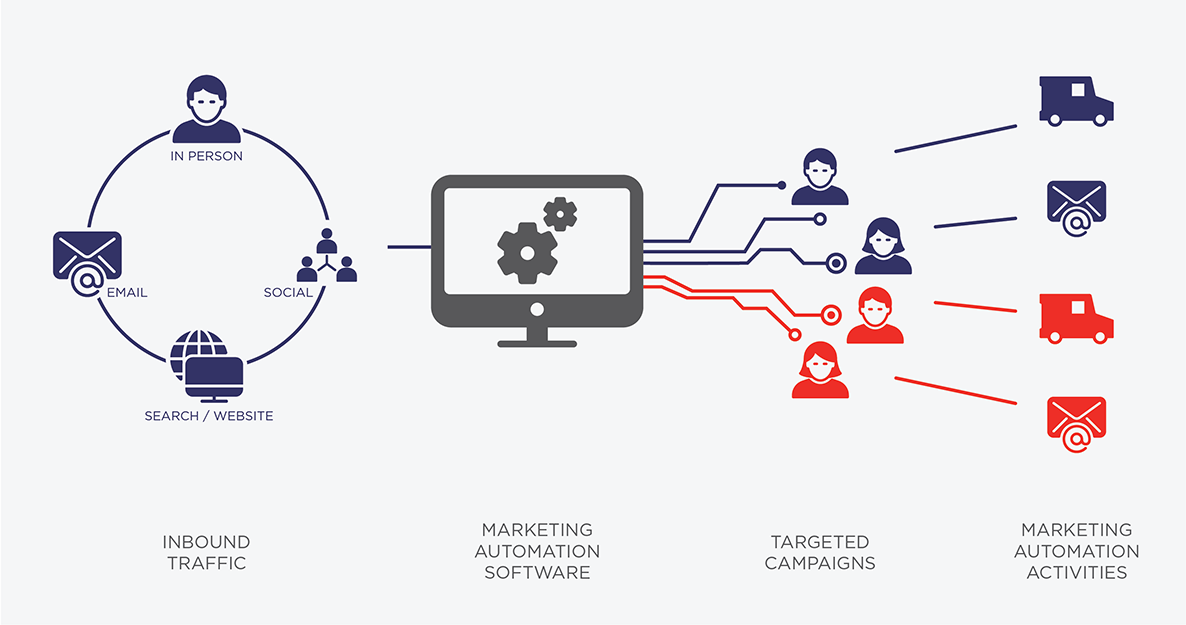 We can see subscriber personas, the sequences they went through, and a panel to check how a given person interacts with our email and messages, their engagement, etc.
Integration with e-commerce is vital. You should be able to send emails when someone makes a purchase, abandons the cart, visits a product page multiple times, or is specifically exploring a certain
Here are the top best email marketing automation tools compared and tested.
What are the Top Email Marketing Automation Tools?
Listed below are the top email marketing automation tools for your business:
HubSpot Email Marketing
HubSpot is known for its easy-to-use marketing automation platform. They recently launched a free email marketing software that can support a lot of small business email needs. You can send emails from lead offers, thank you emails after purchase, or promote current campaigns using the free version. The tool comes equipped with free templates to get you started and running.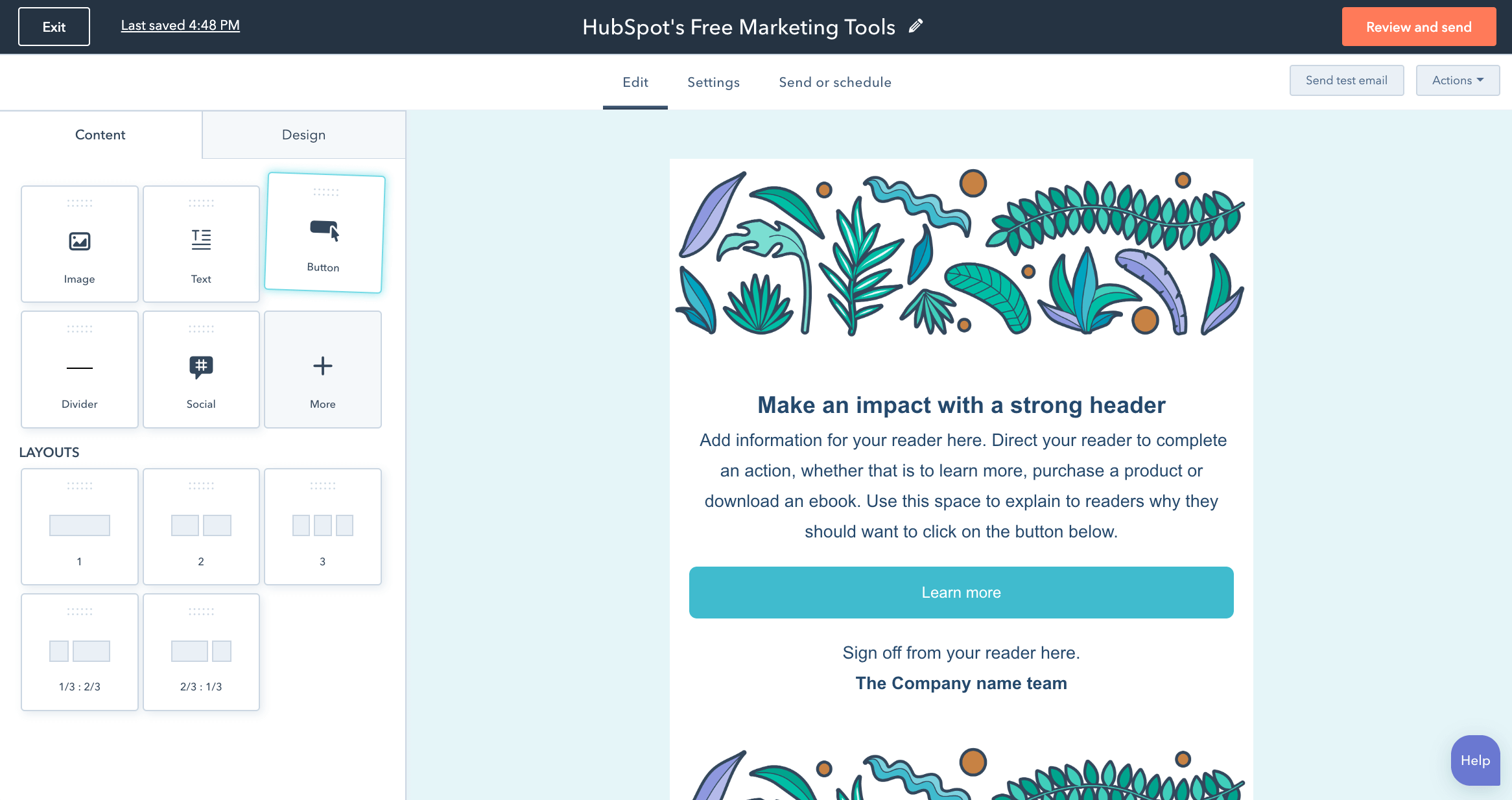 With HubSpot, you get access to multiple tools. For example, you can create a centralized database, organize lists, manage and track email performance after creating an account with Hubspot. In addition, HubSpot offers several different automation - including sequences, task automation and workflows. The thing is, as HubSpot has so many different plans, bundles and suites, it can get quite confusing.
Deskera CRM
Deskera's email marketing automation tool quickly creates beautiful and professional email templates that show perfectly across all devices.
You can select any one of our email templates or create an email template from scratch. You can then make it your own by customizing the layout, modify content, colors, and add your logo to reflect your brand. Deskera provides free, professionally designed email templates and dynamic fields to send out personalized emails based on your customer's data.
Deskera offers enterprise-grade automation at an SME-level price. Deskera is an all-in-one cloud software that helps small to medium business run their business efficiently anytime, anywhere, on any device.
Deskera's platform caters to small business's needs and is committed to transforming how companies run across the globe. So, if you are just starting off with email automation for your business, you can start with Deskera CRM at a very affordable price of just $9/month.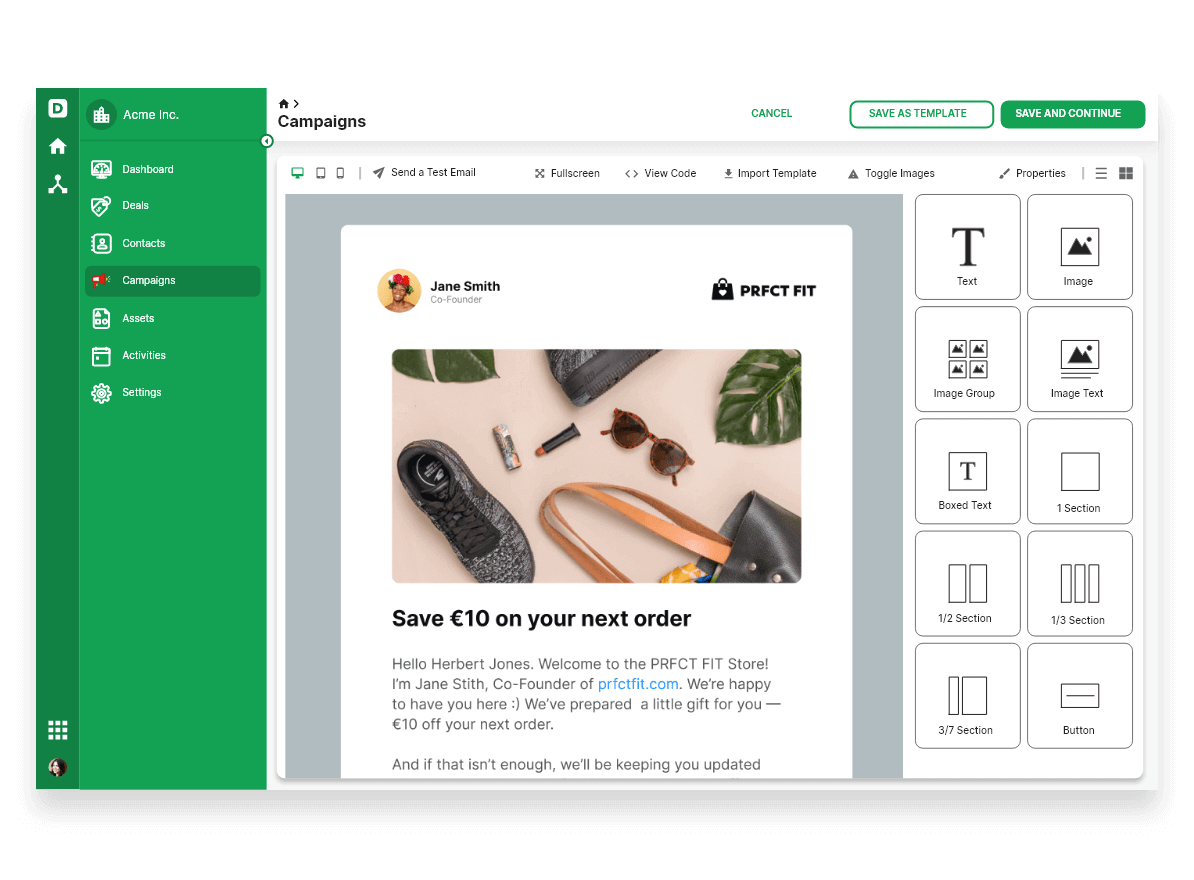 Deskera CRM provides a single messaging system for each user, an efficient and easy-to-use function to send messages to anyone in your network. You can easily configure multiple online email accounts in your Deskera CRM. Create target lists for your campaigns by importing prospective customers from your leads, contacts, and accounts or quickly adding them as your target contacts. With Deskera CRM, you can set your email campaigns to send out at a specific date and time, quickly create beautiful and professional email templates and measure the results of your email campaigns.
In addition, Deskera CRM enables you to easily view and manage emails through single-click mail previews, folder management capabilities, building email marketing funnel, rich-text formatting, and more. You can funnel leads from web pages into the CRM by using Deskera forms. Segment contacts based on your nurturing process, and make attractive emails. Schedule campaign launches and tracks your stats with detailed analytics.
MailChimp
Mailchimp is a leader among email marketing automation tools. Mailchimp is a popular email marketing automation tool as they provide you with basic email marketing features such as email creation and scheduling.
What makes Mailchimp an excellent email automation tool is its intelligent recommendations feature. This tool which you with valuable audience insights to optimize your marketing efforts.
Designing emails on the platform is easy as you can store your images and files within for easy access later. In addition, Mailchimp lets you automate your emails at each crucial step of the buyer journey. This enables you can easily send out welcome emails, order confirmations, abandoned cart reminders, and more.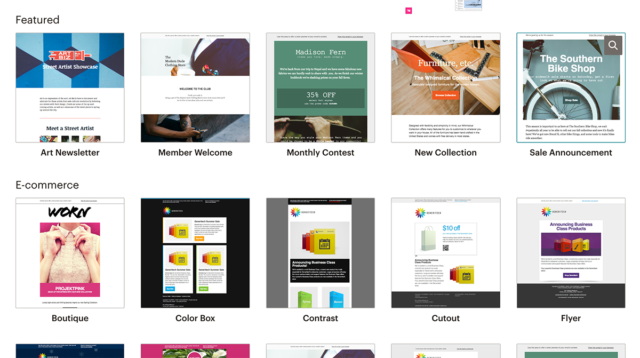 Mailchimp comes with autoresponders, an easy drag-and-drop email builder, segmenting contacts into groups, and simple tracking for analytics.
Mailchimp allows you to set up delivery times that is based on your user's timezones. In addition, you can set up segmenting based on demography and geolocation. You can easily integrate MailChimp with Magento, Shopify, WordPress, and many other platforms.
Mailchimp offers a free plan which allows you to send 12,000 emails for up to 2,000 subscribers. However, the plan is pretty limited because you do not get features like advanced segmentation, send-time optimization, multi-variate testing, etc.
Campaign Monitor
With Campaign Monitor, you can easily automate email marketing campaigns to test, track and optimize your email campaigns. Campaign monitor features interactive analytics that are easy to review and act upon. Campaign Monitor is a powerful marketing tool for email automation. It is quite easy to use and has a drag-and-drop email builder and professionally designed templates that help you execute email campaigns quickly and with ease.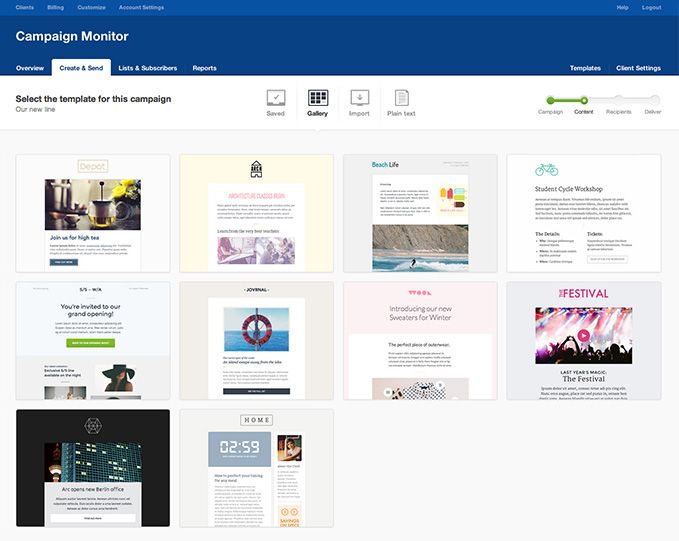 You may schedule your emails and keep your audience engaged per their click behavior. You can personalize and segment your audience to send out super-relevant emails. You can also use your audience behavioral data to build relationships at each stage. The pricing plans for Campaign Monitor start at $9/month, but for better automation features, you will want at least the Unlimited plan ($29/month). The plans for CM Commerce also start at $9/month.
ActiveCampaign
ActiveCampaign is a popular email marketing automation tools among small businesses with over 130,000 customers. ActiveCampaign offers a collection of customer experience automation (CXA) tools, from SMS, email marketing to site messaging and CRM functionality.  At the heart of ActiveCampaign's platform is a basic automation builder. It is a visual canvas for building automated marketing sequences across channels.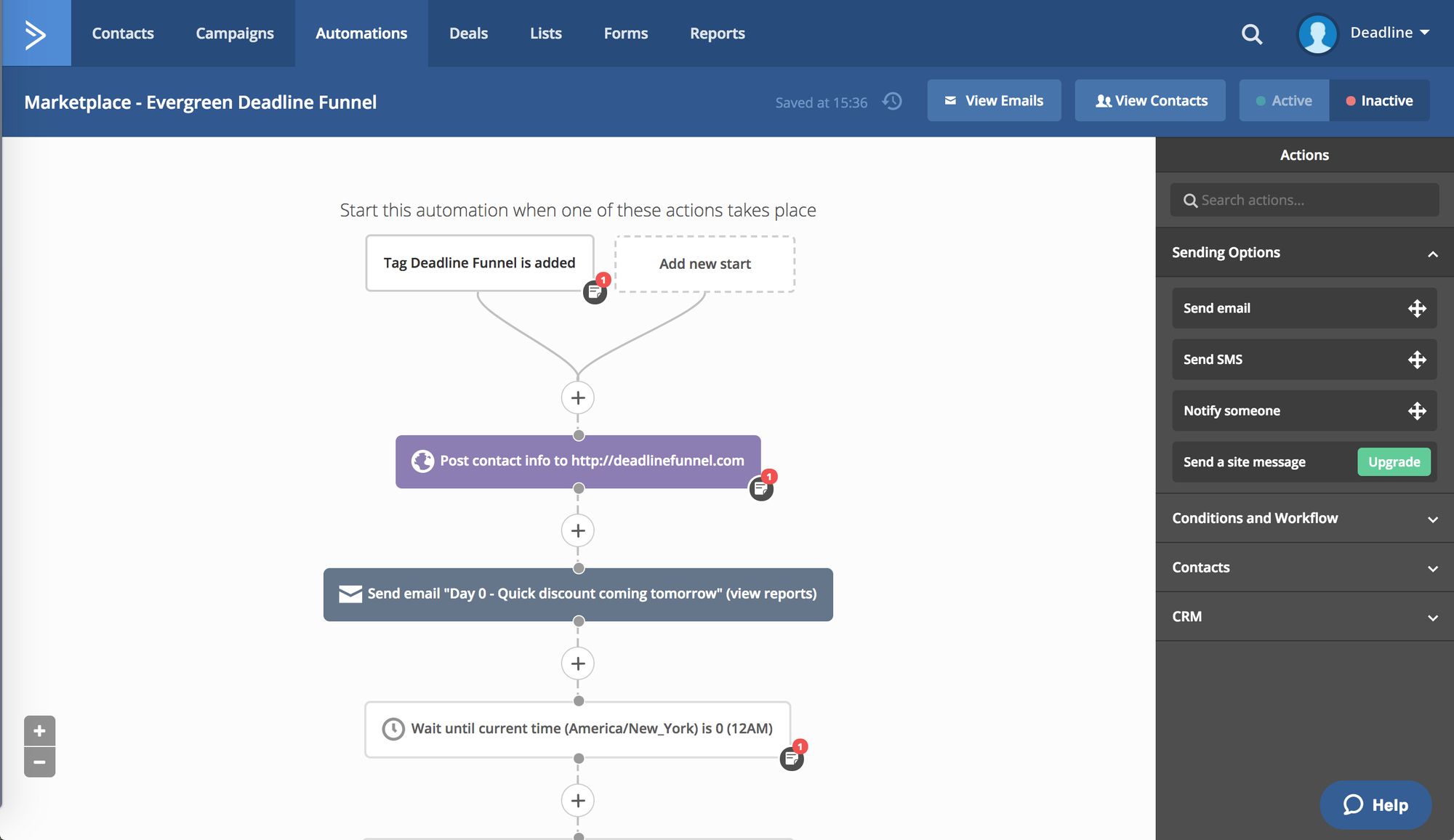 ActiveCampaign comes with an in-built CRM system to manage your sales, live chat, and ofcourse, email marketing automation in one place. ActiveCampaign starts with a price tag that is almost 1/10th of many email marketing tools featured in this guide. It starts at $9/month based on the features you need.
If you are ready to dive straight into the deep end of marketing automation, ActiveCampaign provides plenty.  We are talking about dynamic content, segmentation, site tracking, lead scoring, and much more. Its inbuilt CRM, allows you to link up your sales and marketing data, and set up automations for sales follow-ups. In addition, ActiveCampaign's intuitive web design enables anyone to design and create powerful email automation sequences from scratch or by importing one of their 500+ automation recipes.
EngageBay
EngageBay is widely known for its affordable marketing automation platform. The software has autoresponders to help you send out emails on birthdays and anniversaries, as well as transactions and new signups. The email broadcast feature can be used to send out personalized newsletters, promotions, and relevant content.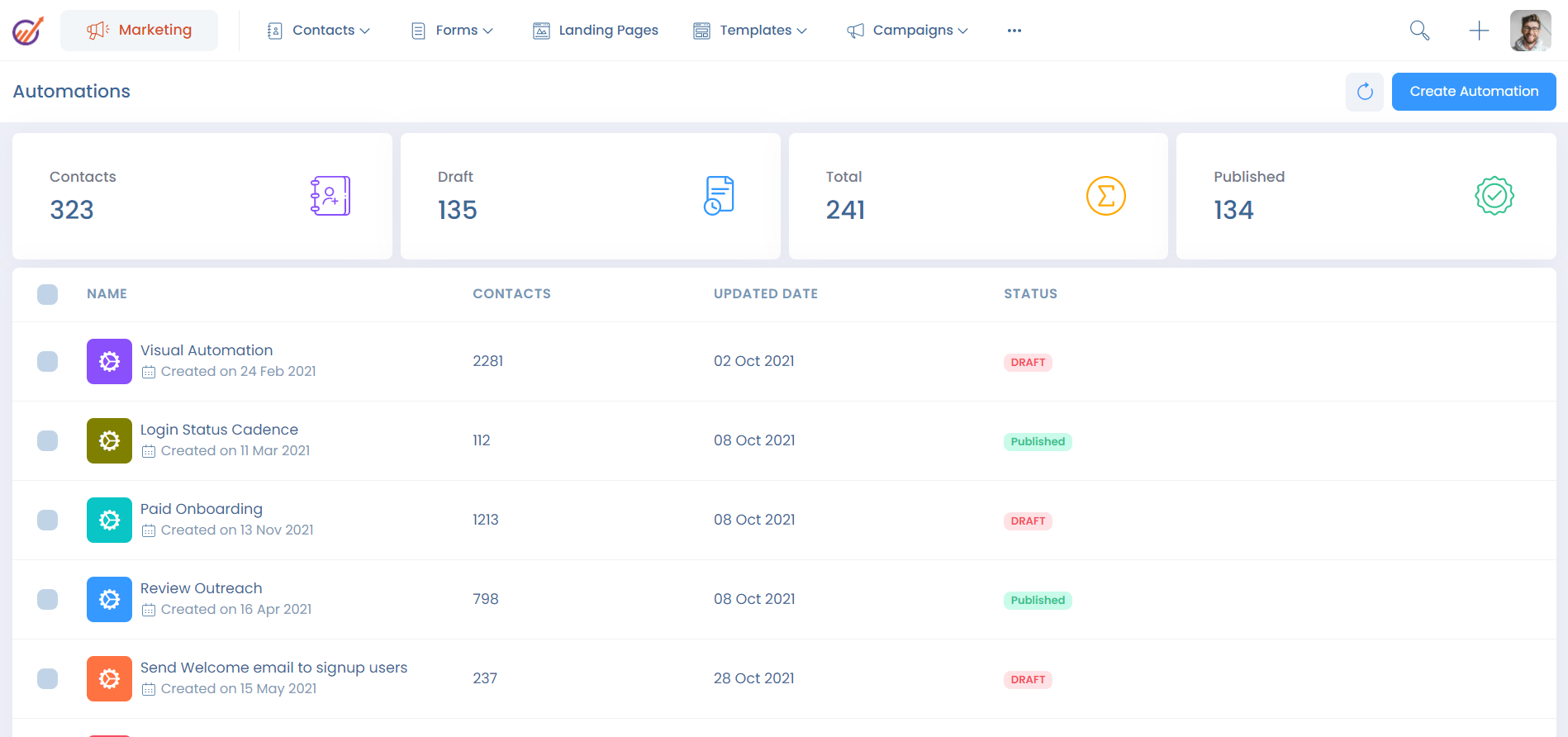 EngageBay's drip campaigns can help you nurture your leads over a period of time. You also have the ability to qualify your leads through predictive lead scoring. With advanced segmentation, you can segregate your contacts into lists based on various factors, including country, date, demographics, and tags.
SendX
SendX is one of the most versatile email marketing platforms that will enable you to send an email marketing campaign, build your email list, and automate an advanced email sequence. You can easily design, schedule, and track unlimited email campaigns that will generate a sales increase in your marketing funnel.
Apart from being able to upload an opted-in email list, you will be able to reach your subscribers through drip campaigns packed with triggered emails, web forms, mobile-optimized emails, autoresponder emails, customer surveys, etc.
SendX enables you to broadcast email campaigns, and receive detailed reports on valuable campaign performance insights like clicks, opens, and more. High-converting email popup forms play an instrumental role in developing a foolproof email marketing strategy. Along with inline forms and landing pages, popup forms are at your disposal, so you can learn how to build an email list that converts every time.
Besides list building, subscriber management is another essential factor for organizing and maintaining a stable workflow. With SendX, you can add, filter, and organize your subscribers, with all of your interest groups being separated by tags. SendX lays out the segmentation details in one place, and you can find any group or an individual by setting filters based on tags, sign-up date, time zone, campaigns, inactive time, etc.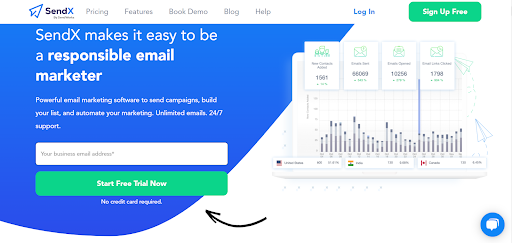 SyncSpider
Successful businesses opt for synchronization and automation. To synchronize all your tools, including apps, platforms, marketplaces, and software, you'll need an integrated solution such as SyncSpider.
SyncSpider provides seamless integration and automation without an extensive budget or coding. You can easily track orders, shipping, and products, pull leads, connect your ERP system, or use templates for the most-used integrations and implement them for your workflow.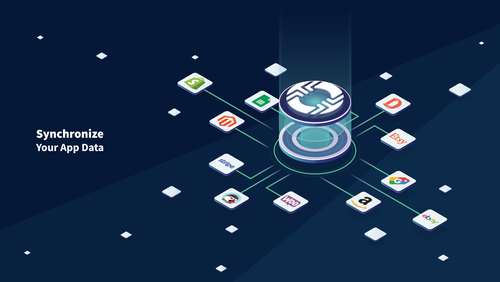 Conclusion:  The Best Email Marketing Automation Tool
There are several email marketing automation tools out there, and we want to make sure you choose the right one for your business needs. Below is our expert pick:
If you run an online store/e-commerce website, we recommend using Hubspot because it's the best eCommerce email marketing automation tools. In addition, their personalization and automation features are compelling.
If you are starting your own business and are unsure what to start with, our safest bet is, to begin with Deskera CRM and set up your business end-to-end. They offer an easy-to-use platform with advanced segmentation and funnels and multiple integrations with other parts of the enterprise. In addition, Deskera is affordable with multiple features and is highly recommended for its easy-to-use features and for starting off with your email automation.
---
---